Got some extra egg yolks and looking for a way to put them to good use? Make these egg yolk recipes from leftover yolks and have fun cooking!
If an egg is a chest, the yolk is the treasure hiding within. The yolk contains most of the egg's nutrients, including a chunk of your daily iron, folate, and vitamin intake.
It's also where most of the flavor is concentrated! Egg yolks are an excellent focus for a recipe, offering a unique texture, a binding agent, or an easy way to deepen the flavor.
Plus, they're cheap and easy to access. You most likely have some sitting in your pantry right now!
From desserts to savory dishes, egg yolks are at home across the entire spectrum of recipes. Let's dive into thirty-one ways you can use egg yolk to up your meal game.
Check out this collection of recipes and enjoy your next meal!
Source: cuisineandtravel.com
This authentic Greek recipe uses a lot of egg yolks to make an extra creamy soup base. It's a wonderfully warm and hearty soup recipe packed with vegetables and chicken.
The lemon in the orzo soup makes it light enough to enjoy year-round, whether it's pouring with rain outside or the sun is shining bright.
Source: theforkedspoon.com
We've all heard of pineapple upside-down cake, but have you ever tried this classic dessert with a twist? Blood oranges are stunning, with a deep orange color that soaks into the upside-down cake.
Combined with light citrus notes and deep, dark sweetness, the look and taste of this cake are out of this world. Plus, it only takes ten minutes to prepare. Have your cake and eat it too in almost no time at all!
This is one of the leftover egg yolks recipes you're going to want to make over and over again. One of the delicious desserts you can have with a cup of tea or a cup of coffee.
Source: mapleandmango.com
Knowing how to make homemade custard puts you in the top rankings of home chefs everywhere, especially when you pair it with a compote.
Custard's main ingredient is egg, which gives it a rich and luxurious taste with the heated cream. As the egg cooks slowly, the sweet custard thickens naturally.
This delicious recipe uses maple syrup to sweeten the custard rather than standard white sugar. Once you've got this recipe under your belt, you can whip it out for any number of tasty desserts.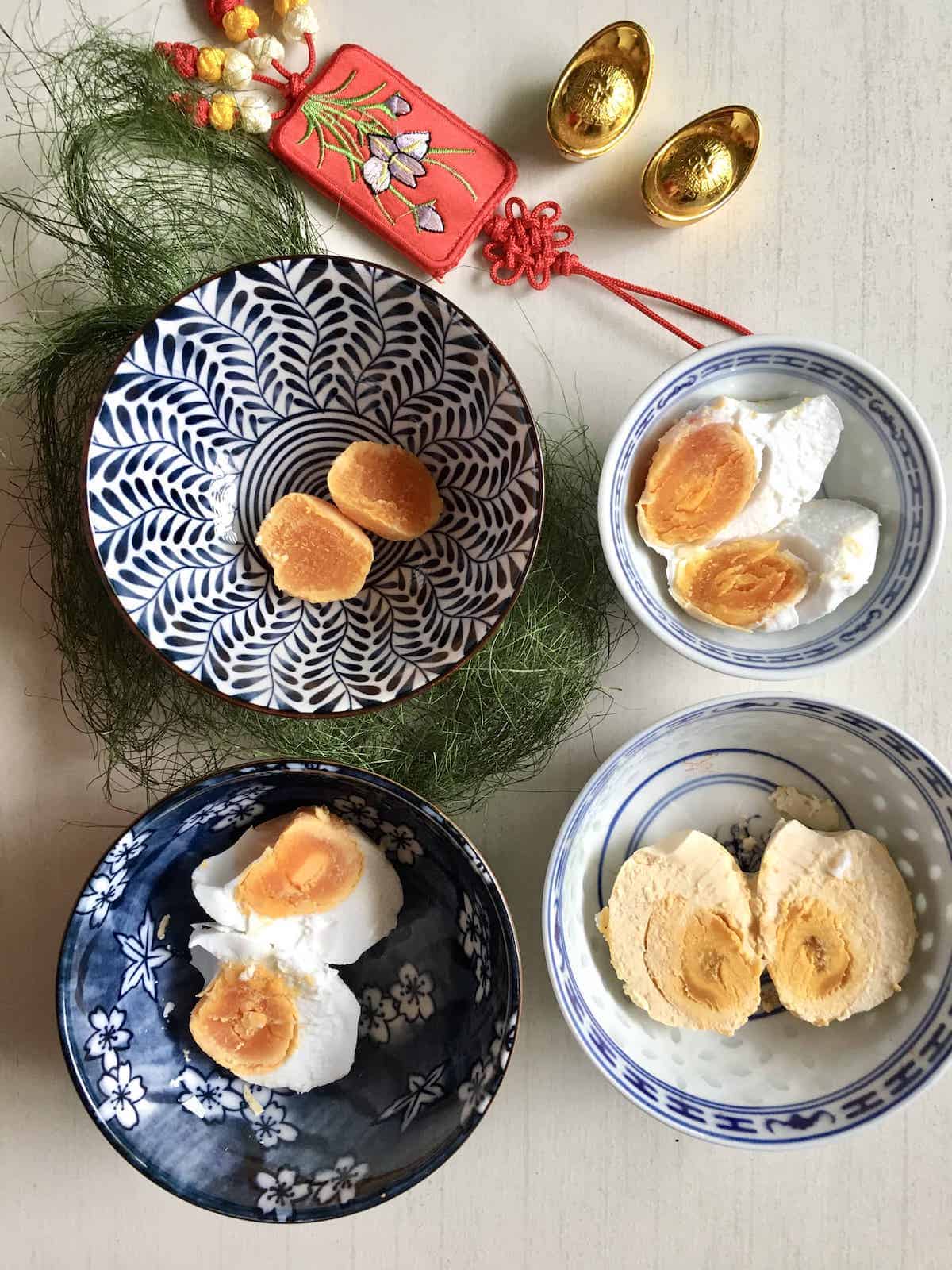 Source: greedygirlgourmet.com
Are you bored of the same old popcorn seasonings? This Asian-inspired salted egg yolk popcorn is bursting with umami. The punchy, in-your-face flavor is not for the faint of heart!
You can buy salted eggs from your local Asian supermarket, but it is even better if you make them at home.
Making your own salted eggs is super simple, especially if you get your hands on some duck eggs.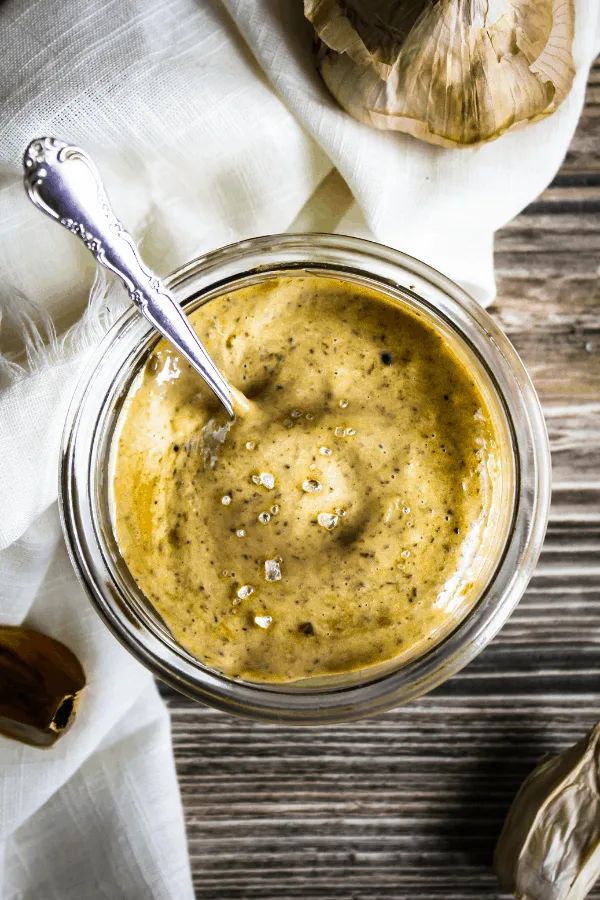 Source: taoofspice.com
Did someone say homemade aioli? Making your own aioli is a lot simpler than people think. The core ingredients are egg yolks and oil, whipped into a frenzy until enough air is incorporated.
This version will use black garlic and salt to add a deep, earthy flavor to the light aioli. The result is a totally addictive condiment that effortlessly trumps anything you can buy at the store.
Source: ketofocus.com
In the realm of dressings, here's another one you can make at home with egg yolks as your core ingredient. I could easily eat this with a spoon; that's how creamy and flavorful it is.
The key to getting this right is slowly adding the oil into the beaten eggs yolks and mixing it thoroughly. If you half mix or pour too fast, the yolks can split, and you might need to start again. Once you nail it, it's incredible!
This is a homemade dressing you're going to love. A delicious addition to any keto salad!
Source: throughthefibrofog.com
A good vegetable fritter is a perfect recipe to have in your arsenal. It's the ideal solution when you're not sure what to make for lunch or dinner; healthy, tasty, and super simple to make.
In this case, the large egg yolk acts as a binding agent to keep all the vegetable shavings and better together. This also helps the fritter become lovely and crispy in the pan.
Source: ifoodreal.com
Deviled eggs typically use mayonnaise or aioli to mix with the removed egg yolk, but this recipe is different. It uses the lighter option of Greek yogurt to mix with the egg yolks.
This makes them lighter on the waistline, but it also means you can eat more of them before they become too heavy. I call that a win-win situation!
Source: throughthefibrofog.com
When Fall is approaching, and the first leaves start to turn, these cardamom apple fritters are the perfect thing to put you in the Fall spirit. They're as in keeping with the season as pumpkin spiced lattes!
Egg yolks make a rich batter combined with flour, sugar, and a healthy dose of delicious cardamom. These are like bite-sized apple pies, bursting with warmth and comfort in every mouthful.
Source: thehealthyepicurean.com
Here's a wintry take on a classic Italian dish! Carbonara is typically a fresh and light pasta dish that uses egg yolks as a final sauce, but this time we're adding roasted butternut squash to mellow the dish.
The egg yolks combine with the butternut squash to form a rich yellow sauce, perfect for adorning a plate of pasta. It's heaven in a bowl with bacon, pepper, and sauteed onion sprinkled throughout the pasta.
Source: ihearteating.com
Brioche is an enriched bread that contains more fats and dairy than other bread types. That's what makes it such an incredible choice for French toast!
Pair that with a rich mixture of egg yolk and sugar, then fry it to perfection, and you've got a winner on your hands. The egg yolk softens the bread and adds even more flavor than a whole egg.
It creates the perfect balance for a toast you're going to love!
Source: inthekitch.net
There's making your own mayonnaise, and then there's making your own kimchi mayonnaise. With the rich, slightly tangy taste of kimchi accenting the creamy mayo, there's almost nothing better.
This mayonnaise is excellent in anything, from sandwiches to deviled eggs, and adds a lovely unexpected twist to your meals. Plus, it's super simple to make in large batches and keep on hand in your fridge.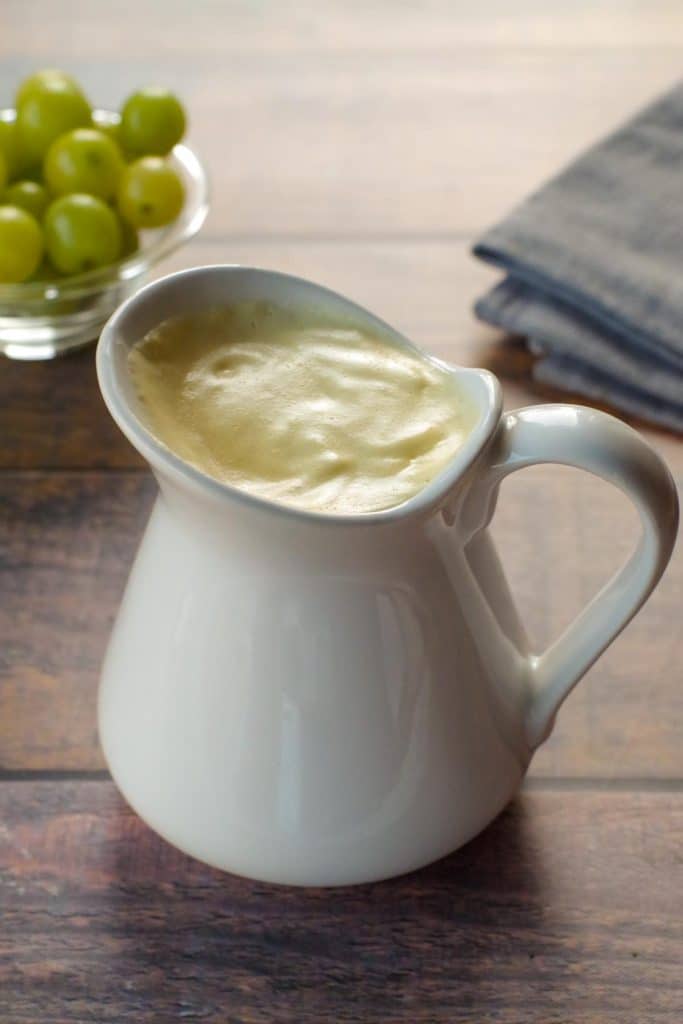 Source: foodmeanderings.com
One of the five French mother sauces, Hollandaise is an essential sauce to learn as a home cook. Knowing how to whip one of these up will improve your eggs benedict ten-fold!
Traditional hollandaise sauce is full of oil and fat, but this take uses a blender to incorporate air into the egg yolk mixture. Using a blender also means this sauce is super simple to make in a hurry.
Source: thepeasantsdaughter.net
Kefir is a fermented type of raw milk known for being rich in probiotics and nutrients. This smoothie builds on that nutrient density, adding egg yolks, collagen, and berries for a massive morning kick starter.
The egg yolks add much-needed protein, while the berries help the smoothie taste sweet and fresh. All in all, it's a fantastic way to start your day.
Source: joyfilledeats.com
If you've never made homemade ice cream before, you might not know that egg yolks are a vital ingredient! They help form the custard, whipped and frozen to create the ice cream.
This incredible cannoli ice cream incorporates ricotta, cinnamon, and the slightest hint of vanilla. Every bite is smooth, cold, and mellow, perfect for a summer's day.
When you're looking for ice cream recipes, this is the only thing you'll want to make. An easy recipe that tastes delicious.
Source: spendwithpennies.com
Eggs benedict uses egg yolks in two ways: the sauce and the egg itself. A traditional Hollandaise sauce is vibrant and delicious, glazing the egg in a blanket of yellow buttery goodness.
Combined with a perfectly poached egg (just slightly runny), this is a simple breakfast that will impress. Serve the dish with bacon, or put a twist on a classic with some smoked salmon instead.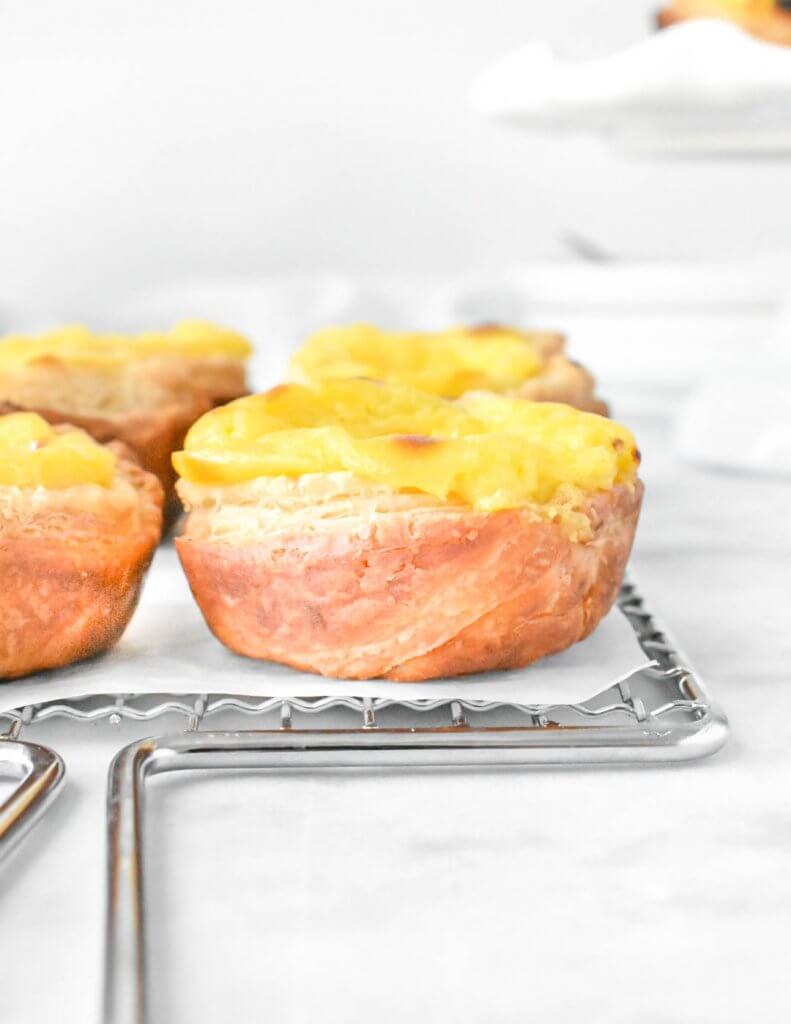 Source: herbsandflour.com
Here's another way to utilize rich custard: baked Portuguese custard tarts! When baked, the egg yolks in custard harden to a silky smooth texture, making it the ideal tart filling.
These tarts are bite-sized and delicious when eaten either warm or cold. Serve them up for your next brunch gathering with a pot of coffee and a side of cream, and watch them disappear!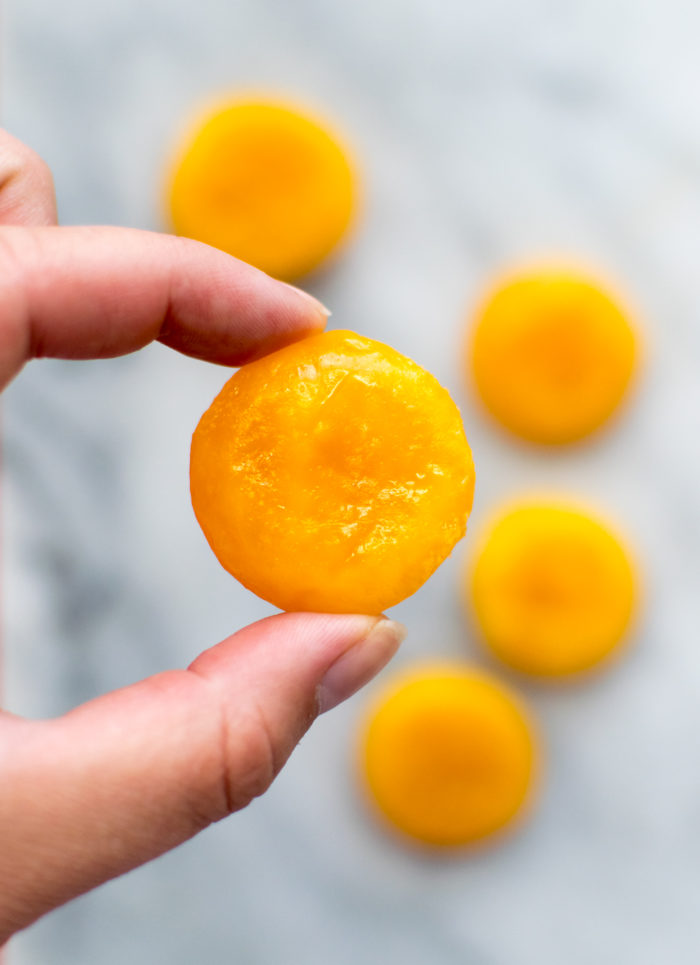 Source: carolynscooking.com
We've talked about egg yolks being the center of all the egg's umami flavor… so why not capitalize on that? Rather than hiding the egg yolk away in something, make it the star of the show!
This recipe demonstrates a method for curing egg yolks. They transform into little balls of delicious yellow flavor, ready to be grated or crumbled over your next dish to add a healthy dose of umami.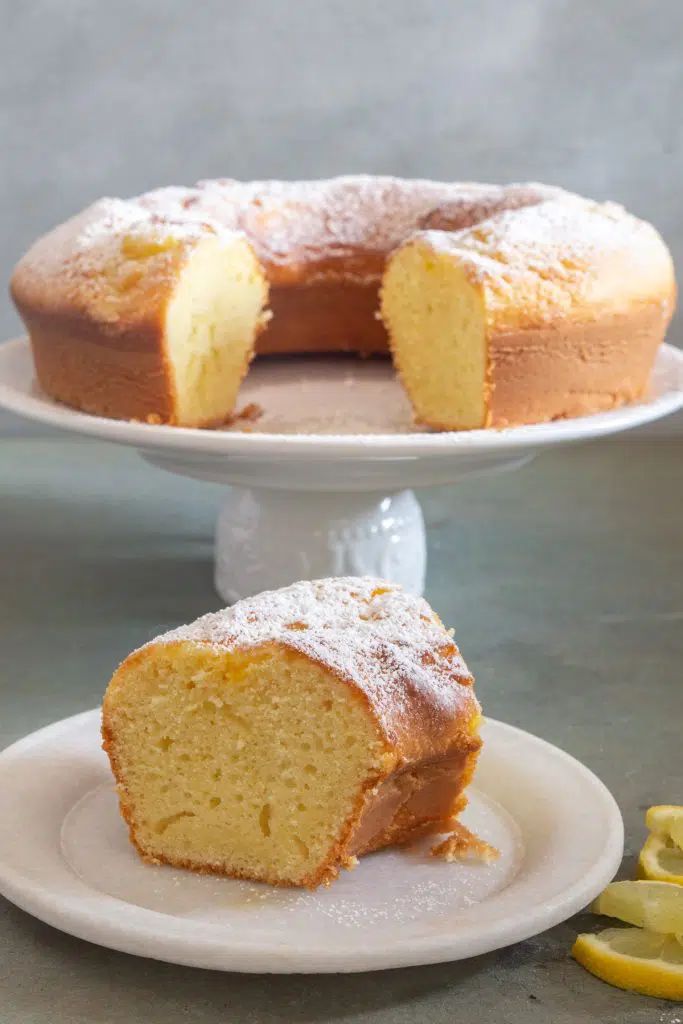 Source: anitalianinmykitchen.com
If you're baking and only have to use egg whites, don't toss the egg yolks out! Take an extra twenty minutes to whip up this deliciously dense egg yolk lemon cake with the leftovers.
This cake has a tight, dense crumb ideal for soaking in sugar syrup. The flavor is sweet and rich, so it's the perfect way to cap off a dinner or birthday party!
Source: abakingjourney.com
A good sables cookie walks the line between sweet and savory, using salt and an egg yolk wash to pull the cookies along that line. These buttery and delicious French specialties are to die for.
What makes them even better is how simple they are to make! You only need five ingredients to make these cookies happen. The beautiful golden-brown result will have your cookie recipients drooling.
Make these chewy cookies next time you want to meal prep your snacks. Just store them in an airtight container and you have sweet treats for the week to come.
Check out more low-calorie cookies!
Source: theviewfromgreatisland.com
The one thing any good pudding needs is a dose of luxury. This creamy, smooth, decadent butterscotch pudding hits that nail on the head. Using egg yolks as a custard base, you can easily create this at home.
A dollop of fresh cream perfectly offsets the dark sweetness hiding within each pudding cup. Trust me; once you get a taste of this one, you won't be able to stop making it!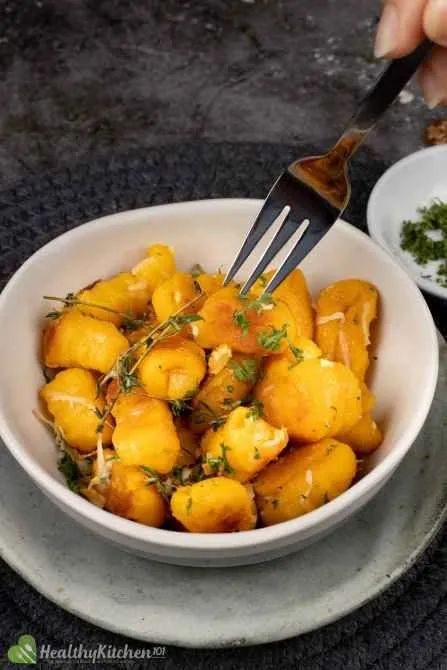 Source: healthyrecipes101.com
Gnocchi is typically made with standard potatoes, but sweet potato gnocchi is a great idea if you're looking for something a little different. They're sweet and earthy, and they look stunning on the plate.
Once again, the egg acts as a binding agent in these little gems, adding to their spongy and light texture. Pair this with a burnt butter sauce or serve it alone as an appetizer; you won't be disappointed!
Source: mrsjoneskitchen.com
Mashed potatoes are fantastic on their own, but these Duchess potatoes offer a fancier version that's great for dinner parties. These little parcels are delicious, enriched with egg yolk, and baked to a crisp.
The great news is, despite how restaurant-quality these look and taste, they're not much more challenging to make than mashed potatoes. All you need is a piping tip and a sheet tray to create the swirled shapes.
This is a perfect recipe when you're craving savoury dishes and want to find new favorite ways to make your potatoes.
Check out more foods that start with D here.
Source: marleysmenu.com
If you're a fan of the classic cocktail, why not put a spin on it and turn it into a dessert? These margarita cookies are thin, shortbread cookies glazed in a tequila lime sugar syrup, and they're to die for.
Shortbread cookies don't typically incorporate eggs, but this recipe uses a dough enriched with egg yolk. The result is a delightfully crispy and golden brown cookie that proudly carries that tequila lime glaze.
Love this dessert? Check out these banana desserts!
Source: abakingjourney.com
Passionfruit is deliciously light, sweet, and tangy, perfect for accenting your next batch of pancakes! Whip up a large batch and store it in the fridge to bring out whenever the urge for sweetness strikes.
This recipe is nice and straightforward, but it might require a little practice to get good at making curd. The good news is that the ingredients are cheap, and the process is straightforward!
This curd is also a fantastic way to sweeten Greek yogurt at breakfast, or you can even substitute it for a lemon meringue pie. The possibilities are endless.
Source: carolynscooking.com
Aglio e Olio is a traditional Italian egg yolk pasta dish perfect for making on a weeknight. It's super simple and utterly delicious, requiring only garlic and oil to come to life.
But we're going to put a little spin on it. Using the cured egg yolks mentioned earlier in this list, you can boost the umami in this dish ten-fold with barely any effort. Simply grate like parmesan, and you're done!
Source: boulderlocavore.com
A good shortcake is crumbly and layered with fresh fruit and heavy cream, making it the perfect summer dessert. Bring a batch of these to your next potluck celebration and become the neighborhood favorite!
Using egg yolks in the shortcake dough creates an enriched dough that's perfect for contrasting against the light cream. Experiment with your favorite fruits to create your signature combination.
Source: theviewfromgreatisland.com
Not many people know that you can use excess egg yolks as a thickener in soup broth, much like in custard! This Israeli chicken lemon soup is a testament to how good that can be.
Delicious poached chicken, light yet hearty soup, and chewy pearl couscous combine into the perfect summertime soup. This quick and easy crowd-pleaser is ideal for weeknight cooking.
This is one of the leftover egg yolk recipes you'll love. Check out more low calorie chicken recipes here!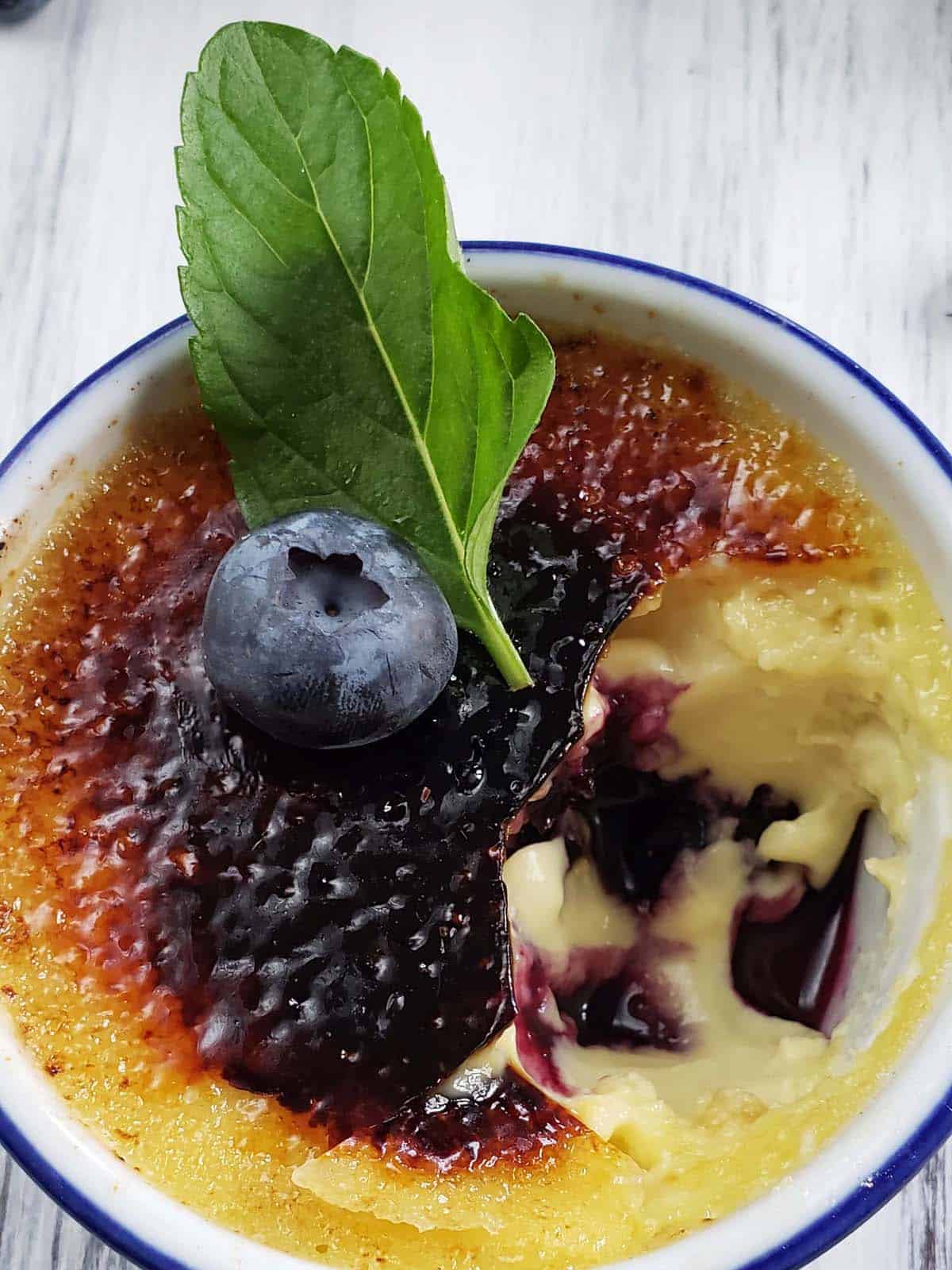 Source: raspberriesandkohlrabi.com
Crème Brulee is a French dessert with an unrivaled richness and luxury reputation. Few desserts can compete with that cracked sugar top and delicious custard interior.
Having this recipe in your back pocket will level up your recipe game! This blueberry crème Brulee has a refreshing bite to counteract all that richness, so you'll keep coming back for more.
Use those extra yolks to make this dessert for special occasions. This is one of the decadent desserts everyone loves!
Source: babaganosh.org
Standard eclairs are filled with cream and dipped in chocolate, but there are many flavor combinations to try! For instance, these eclairs are filled with delicious lime custard and topped with a citrusy meringue.
These are elegant and delicious, so they're great as a gift or a nice addition to the menu of a sophisticated dinner party.
Source: itsnotcomplicatedrecipes.com
Tired of lemon curd? Finally, we have another take on a delicious fruit curd: this time, it's blood orange. Blood orange has a unique flavor and color, so the curd is super distinctive and vibrant.
Each bite rings with a tangy sweetness. You don't need any special equipment or a whole lot of time, which makes this super simple to create. This also allows you to experiment with other fruit curds!
31 Leftover Egg Yolk Recipes (Sweet & Savory)
Looking for ways to use those leftover egg yolks? Try these Egg Yolk Recipes and try new delicious foods you've never eaten!
Ingredients
1. Greek Chicken Lemon Orzo Soup
2. Blood Orange Upside Down Cake
3. Maple Custard with Strawberry Compote
4. Salted Egg Yolk Popcorn
5. Black Garlic Aioli
6. Keto Caesar Salad Dressing
7. Zucchini and Mascarpone Fritters
8. Greek Yogurt Healthy Deviled Eggs
9. Cardamom Apple Fritters
10. Butternut Squash Spaghetti Carbonara
11. Brioche French Toast
12. Kimchi Mayo
13. Healthy Hollandaise Sauce
14. Raw Kefir Smoothie
15. Cannoli Ice Cream
16. Eggs Benedict
17. Portuguese Custard Tarts
18. Cured Egg Yolks
19. Egg Yolk Lemon Cake
20. Sables Bretons Cookies
21. Butterscotch Pudding
22. Sweet Potato Gnocchi
23. Duchess Potatoes
24. Margarita Cookies
25. Passionfruit Curd
26. Aglio e Olio with Cured Egg Yolk
27. Berry Buttermilk Shortcake
28. Lemon Soup with Chicken and Israeli Couscous
29. Blueberry Crème Brûlée
30. Lime Meringue Mini Eclairs
31. Blood Orange Curd
Instructions
Scroll up to get a bunch of easy, yummy, and delicious recipes. Don't be afraid to get creative with the ingredients, you might discover a flavor you didn't know you liked.
Get your shopping list going and make sure you've got all the ingredients.
Get cooking and make your next Leftover Egg Yolk Recipe!
Notes
Which one of these recipes was your favorite? Let me know in the comment section or on Pinterest!