Chicken in a skillet? Here are the most mouth-watering chicken skillet recipes to choose from! I dare you to pick just one!
Put your beloved cast-iron skillet to use with these delicious chicken recipes made in a skillet in the best way!
Whether you're cooking boneless chicken breasts, thighs, ground chicken, or you're simply looking for a nutritious chicken dinner idea.
This roundup with simple ingredients is your best bet to ensure a tasty meal with tender chicken!
Nothing too fancy or complicated. Just plain cooking in its best form! Nail the perfect chicken doneness with these delights. And discover many new ways to cook this lean protein.
Is It Better to Cook Chicken in a Skillet or Pan?
It all depends on how you're cooking the chicken and what you're making. If you want to saute cubes of chicken to toss it in a creamy sauce, a pan can also do the job well.
But if you're looking for that lovely golden sear on chicken breasts or thighs, then nothing beats a heavy-bottomed skillet like cast iron.
I may be biased here since I love my cast iron skillet so much, but I'll choose skillet over pan anytime for stovetop chicken breast recipes.
What Temperature Do You Cook On a Skillet?
Again, this depends on what you're making.
But after cooking chicken at different temperatures and testing many doneness results, I am certain that the "medium" stovetop option works best.
That comes down to 375 degrees F, or about 190 degrees C.
If you want to brown it quickly, then start at "medium-high," then reduce to "medium."
Chicken Breast Skillet Recipes
Chicken breast on the menu tonight? Then try one of these easy chicken recipe ideas.
Source: allnutritious.com
Looking for the perfect way to cook chicken breast in a skillet? Then, it really doesn't get better than this family favorite recipe!
This is the ultimate recipe to get you started. It is just plain meat, spices, and a touch of lemon zest to make the dish flavorful.
But it tastes so good, it will feel like you've been cooking chicken your whole life. Even if you're an absolute newbie in the kitchen.
Ideally seared, juicy, tender, and never dry, this is how you skillet-cook chicken perfectly!
Source: cookingwithmammac.com
This easy dinner idea is so easy to make, and yet it looks and tastes so fancy. That's all thanks to the Marsala wine that gives it that oomph you simply cannot get with broth or cream.
The recipe also uses some lemon juice, which, in combination with the wine, gives the meat a refreshing and flavorful touch.
The mushrooms are buttery and seasoned with salt and pepper. But if you want to make them look even more elegant, opt for a more distinctive type, not button mushrooms.
Source: ameessavorydish.com
Chicken with prosciutto and mushrooms in a tarragon cream that will have your guests licking their plates. That ought to sum this up!
The recipe also uses a cup of white wine for a flavorful infusion. But if you want to, you can use a combo of broth and half and half instead.
It is best to use fresh herbs in this recipe, as they really transform the flavor.
Bacon can be used instead of prosciutto, although it will result in a change in flavor and texture.
Source: nibbleanddine.com
Buttery. Lemony. And incredibly creamy! Plus, seared to perfection and rich in caramelized-onion flavors. Who is crazy to resist that?
The key to having juicy and tender meat? Use thin cuts of breasts for this recipe.
All out of citrus fruits? You can even omit the lemon. But that zing that the zest and juice give this sauce is incredibly delicious.
Source: cookingwithmammac.com
If you're a fan of chicken fast food, then you must love making breaded chicken at home. But if you still haven't nailed the perfect texture, this recipe will help you do just that.
So tender on the inside and crispy on the outside. Plus, an inviting golden color that keeps your guests refilling their plates.
Serve this Italian chicken recipe with some dipping sauce and fries for a true fast-food-at-home dinner adventure.
Source: seasonalcravings.com
It takes only five ingredients and 20 minutes in total. And this lovely Italian chicken will be on your table.
Tomatoes, mozzarella, and balsamic syrup. And your chicken breasts will get a real caprese makeover.
If you love chicken and caprese salad, then this is the perfect combination for you to try.
And it is very versatile, too. You can serve this dish with pasta, rice, or potatoes on the side.
You must try these other easy chicken and tomato recipes!
Source: urbanblisslife.com
Garlic and butter. If you ask me, those are the flavors I need in my creamy chicken. Period. And this recipe checks all of my boxes.
It is made with a generous stick of butter, so it is super silky and smooth, too.
It also includes soy sauce and broth, which gives it a depth in flavor and some creaminess.
This chicken is served with asparagus spears, and I wouldn't change a thing about it.
Source: emilyfabulous.com
This is a one-skillet recipe that will satisfy absolutely everyone.
It is packed with chicken breasts, fried rice, and veggies, and it is also baked in the oven. And has runny eggs on top. How delicious does that sound?
It takes an hour to make, but it is very fuss-free and simple.
It includes Asian ingredients for a homemade Teriyaki flavor. But you can cut your work in half if you have store-bought Teriyaki sauce.
Source: urbanblisslife.com
Who is this recipe for? Anyone who is in the mood for some chicken and tomatoes? Especially those who love bruschetta.
This recipe is for skillet-fried chicken with a tomato bruschetta topping.
Plus, it also features mozzarella cheese to make things even more irresistible.
The key is having fresh tomatoes and basil, so don't settle for anything less.
Source: deliciouslittlebites.com
Garlic and lemon flavor up this chicken and orzo dish. And let me tell you, it tastes just amazing.
This recipe is a one-skillet meal that will require minimal cleanup afterward.
The meat will turn out tender, juicy, and never dry. It is super fragrant, too.
The recipe recommends white wine or sherry, but I seriously recommend the latter.
Such a filling and nutritious dish that is ready in 50 minutes and feeds a family of four.
Source: deliciouslittlebites.com
This dish is really all in one. It is low in carbs. Also, it is filling. It is nutritious. Absolutely tasty. And it is made in just one pan. How great is that?
Instead of rice, this recipe uses cauliflower, and you won't even miss the grain.
It is rich in lemony and thyme flavors. And it is also very creamy.
All in all, it's definitely a recipe you should give a try!
Source: eatmovemake.com
Ah, speaking of lemony flavors… The citrusy infusion in this recipe packs a flavorful punch.
It also includes a handful of seasonings. And it is spicy, creamy, buttery, and simply delicious.
This skillet dish is ready in 30 minutes. It can be paired with rice, pasta, or potatoes. Or any other side dish, really.
A one-pan meal that you should definitely have on meal rotation.
Source: thetoastykitchen.com
In less than 30 minutes, a filling and wholesome meal will be served. And it has a bit of everything, really. Meat, veggies, and grains.
It is loaded with orzo, chicken breasts, and broccoli. And they are drowned in a cheesy cream that wraps everything nicely.
If you don't like broccoli, you can use other veggies instead. Asparagus or green beans will also be great additions.
Source: thetoastykitchen.com
You only need 30 minutes and a single pan for this recipe. This chicken and bacon pasta comes together so quickly. And it will become your go-to weeknight dinner, for sure.
Rich in Ranch seasoning and sharp cheddar cheese. It has a deep flavor that will satisfy everyone. Especially those who do not enjoy lightly-seasoned dishes.
If you don't have bacon, you can add prosciutto. Even salami can give you that extra fat and protein.
Top with parmesan cheese, and enjoy this creamy goodness.
Source: cookingwithcarlee.com
If you're in the mood for a rich and veggie-loaded dish, then try this chicken and rice delight!
It combines peppers, onions, corn, beans, salsa, and cheese. Plus, all of your beloved Mexican flavors, too. And a touch of lime juice for some fresh and zesty hints.
The recipe uses three colors of peppers for a more vibrant dish. But whatever you have on hand will work.
The chicken will soak up all of the juices and will be moist and delicious. Yum!
Source: thefoodblog.net
Have you ever had chicken with peaches before? Trust me, this isn't as exotic as it may sound. The dosh has a subtle sweetness, and it is so juicy and tender. You simply have to give it a try.
This recipe also combines peppers, peanuts, garlic, and a decent amount of ginger. That gives it flavor and a pungent touch that works well with the peaches.
The peaches used in this recipe are canned. And they're extra soft and sweet. Find more one-pan chicken recipes!
Source: ameessavorydish.com
This recipe combines mushrooms, pesto sauce, and parmesan cheese. And it is a creamy chicken dish that is simply dying to be paired with rice or noodles.
Made in the skillet in just 25 minutes. This lovely dinner can satisfy 6 people. It packs a bit over 400 calories, and it is as filling as it is delicious.
Chicken Thigh Skillet Recipes
Planning on cooking chicken thighs for dinner? Then I've got some irresistible, easy recipes for you to try for juicy chicken.
Source: seasonalcravings.com
If you love sticky and glazed thighs, this recipe is absolutely made to please your taste buds.
It is marinated in a slightly spicy soy sauce and brown sugar mixture. And like most Asian dishes, this one is also flavored with ginger and garlic.
It is best to leave the chicken to soak up all of the juices for at least two hours. I cannot stress this enough.
If you're really in a hurry, you can skip the marinating part. But keep in mind that the meat will not be as juicy or flavorful.
Source: adashofmegnut.com
There's a lot to love about this recipe. It is dairy and gluten-free. Also, it is healthy. Nutritious. And it will fill you up in no time.
And when it comes to cooking it, it is a breeze. You only have 15 minutes of hands-on cooking. And it is all in one pot.
Plus, you use bone-in meat chicken and rice meat that is lemon-flavored and cooked to perfection. So darn good!
These other chicken breast on the bone recipes will wow your taste buds!
Source: scrummylane.com
This recipe is probably the easiest chicken dish you can make that packs such a flavorful punch.
It is ready in just 20 minutes. It will feed the whole family. And it is loaded with saffron. Yup, that's where most of the flavor and color is coming from!
Bone-in chicken thighs from the skillet have never tasted so good. They're made with rice. So, really, this is a full dish that doesn't require any sides. Maybe a fresh green salad only.
Source: boulderlocavore.com
Chicken and rice the Mexican way, straight from the skillet!
This one-pot dish is filling, nutritious, and loaded with veggies, too.
The rice is packed with beans, corn, tomatoes, and peppers. Plus, all of the Mexican flavors that go with such a dish.
If you don't like spicy food at all, omit the Chipotle. If you want it to have just a hint of spiciness, use a bit of chili flakes instead in this Mexican chicken recipe.
Source: healthyrecipes101.com
Pan seared and simmered until juicy and tender. These crispy chicken thighs offer a light but wholesome and full dinner.
They are paired with baby potatoes and lemon. And they are really as flavorful and filling as they sound.
Best of all, these are so well-seasoned and tasty that even the pickiest eaters will be satisfied. And yes, I'm talking about the kiddos, too.
Source: wewanttoeat.com
These chicken thighs are drowning in pesto creaminess.
The sauce is made with onions, tomatoes, heavy cream, pesto sauce, and parmesan. And it is buttery and silky. With an incredibly smooth texture.
This recipe uses thighs, and they are so juicy and tasty. But if you're running late, even leftover chicken can be added to this amazing sauce.
Pair with rice or pasta. Or serve with some garlic bread on the side.
Source: eatloveeats.com
This looks like something from Nanna's kitchen. Crispy chicken thighs with halved cherries and garlic.
It also features pomegranate molasses, lemon, and thyme. And you can only imagine how flavorful and rich in aroma this dish is.
It is also sweet and sour at the same time. But the thing you'll love most is how juicy and tender the meat is. Plus, it takes on fruity notes that make it even more delicious.
Source: laurenfromscratch.com
These chicken thighs take on Mediterranean flavors. They are made with peppers, olives, tomatoes, garlic, and red onions.
Plus, they're flavored with oregano and basil. Which makes them even more Italian and/or Greek.
This recipe serves four people. And it's versatile enough to be served with many side dishes. I love simple fluffy rice with this, and I hope you will, too.
Source: debsdailydish.com
Jalapeno orange relish is the star of this recipe. It is sweet and spicy and gives a nice kick to the chicken. Every Mexican food fan will enjoy that.
The relish is placed under the skin of the thighs. So, technically, you can say that these are stuffed thighs.
They are also baked in the oven until they turn out golden and incredibly crispy. Serve with potatoes on the side, and enjoy.
Find more chicken thigh recipes here!
Source: killingthyme.net
Nestled onto a bed of creamy orzo, these golden chicken thighs will surely please a crowd.
They are crispy and flavorful, and no one could resist having a second portion.
This dinner looks so colorful and gorgeous. And yet, it is a simple one-pan delight.
It is ready in just 40 minutes and will be a weeknight dish you will regularly go to.
Ground Chicken Skillet Recipes
If you have ground chicken meat, then these are the skillet chicken recipes you simply have to cook.
Source: saltedplains.com
Ground meat recipes are simple and quick. And this dish is no exception. It is made in just 30 minutes, and it is a full meal that you will love to enjoy after a long day.
It is made with ground chicken, noodles, and peppers. But the thing you'll love the most is the lovely Asian sauce.
Tamari, garlic, and almond butter make such a creamy, sweet, and somewhat tangy glaze.
Source: masonfit.com
Rice and chicken the Greek way. This ground meat skillet combines white rice, veggies, and loads of fresh herbs.
The veggies of choice are peppers, zucchini, tomatoes, and red onions. And this dish also relies on lemon for some fresh zestiness.
The crumbled feta is really a must, and it simply wraps up the whole story.
Source: thetravelpalate.com
This recipe is made for the bold gourmets. It is packed with orange juice and chili flakes. It features soy sauce, brown sugar, and ginger.
The meat cooks in the orange sauce for 15 minutes. And you only need 20 to make it from scratch.
This simple yet flavorful recipe has to be something that every chicken and orange lover will try.
Source: saltandlavender.com
With a tasty Asian sauce you make from scratch, this lovely dish is spicy, filling, and an easy weeknight dinner.
It features rice, cashews, and veggies. The sauce is made with ginger, garlic, brown sugar, Hoisin sauce, and a touch of vinegar.
It is sweet, spicy, tangy, and has bold flavors that will please your buds. Find more spicy chicken recipes here.
Source: therecipewell.com
This dish is a deconstructed stuffed-pepper delight. It features peppers, rice, ground chicken, beans, and tomatoes.
So, all of your stuffed pepper ingredients, minus the stuffing and all the fuss. This recipe comes together in 35 minutes.
And it is loaded with spices that will warm you up instantly.
I just love fresh parmesan cheese on top of this dish. And I suggest you try it, too.
You'll want to know these other easy ground chicken recipes for dinner!
Healthy Chicken Skillet Recipes
Trying to follow a healthier diet? Then these nutritious chicken recipes from the skillet are something you have to try!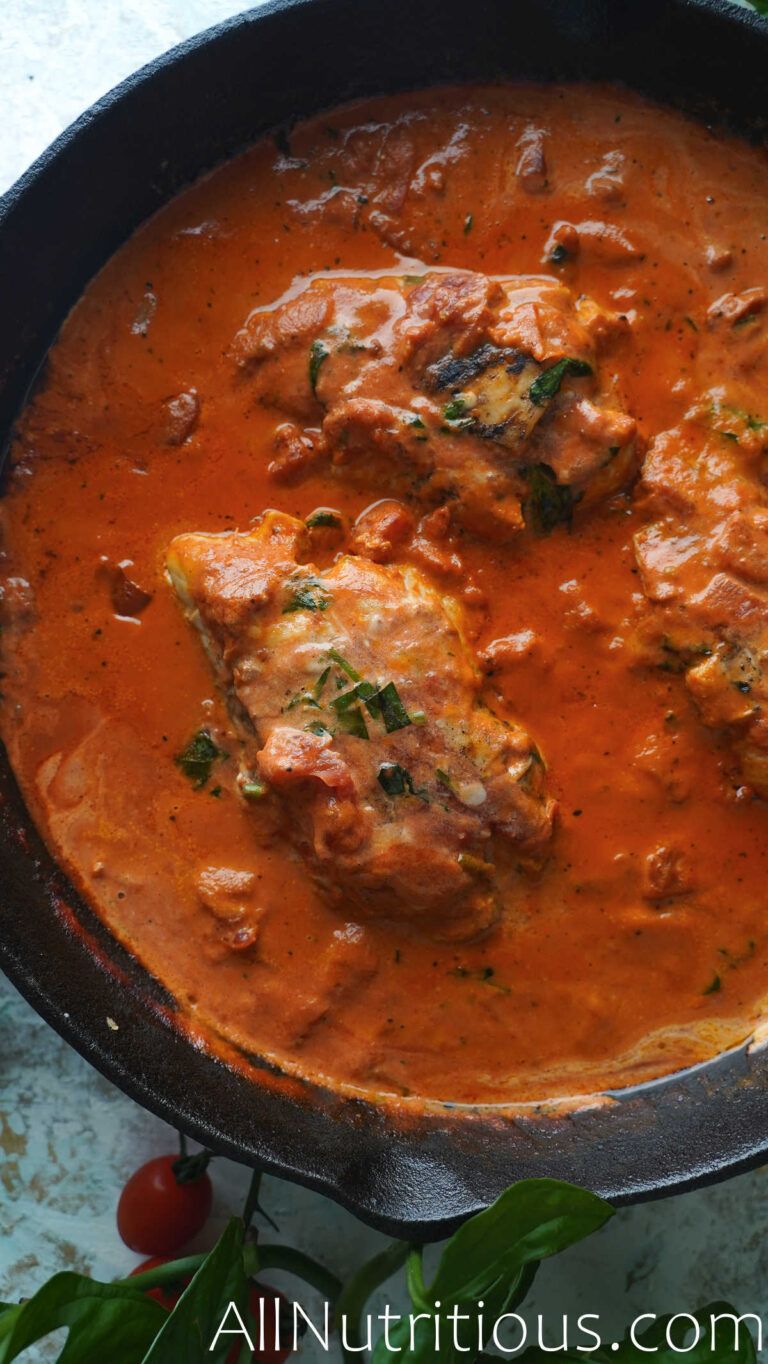 Source: allnutritious.com
If you're into creamy dishes but are trying to eat healthy, then you probably won't find a better-suited recipe for you.
Smothered in tomato sauce. These lean chicken breasts offer a meaty taste of Italy.
The sauce is creamy, garlicky, and packed with herbs. And it really begs you to dip your bread into it.
It also has heavy cream and parmesan cheese and the silkiest texture ever.
Source: heartbeetkitchen.com
White beans, corn, peppers, and salsa verde. The chicken is combined with these nutritious ingredients. And it is so flavorful that you will devour it even without the chips.
This dip is perfect for large get-togethers. And it can be whipped up in just 30 minutes.
If you don't want it to be spicy, use tomato sauce instead of salsa.
The lime can be substituted with lemon. But other than that, I wouldn't touch a thing.
Source: twokooksinthekitchen.com
Sauteed veggies in garlic, drowned in broth, and combined with chicken. This recipe is nourishing, warming, filling, and just the pick-me-up you need on a cold day.
It is packed with carrots, peppers, celery, and spinach. And it is super healthy.
If this doesn't qualify as food for your soul, then I don't know what does.
Source: homemadefoodjunkie.com
Sun-dried tomatoes, pasta, mozzarella cheese, basil, and Italian seasonings. Isn't this the most Italian chicken dish you've ever tried?
The recipe also uses roasted peppers and garlic. But it is the half and half that gives such thick creaminess to the dish.
Instead of pasta, you can also serve this dish with rice.
Source: simplebites.net
Chicken and zucchini with Parmesan cheese, straight from the skillet. It is drowned in tomato sauce and enriched with Mozzarella.
This comfort food dish is filling healthy, and will pair with some pasta on the side easily.
It is ready in an hour and leaves only one pan dirty.
Source: kleinworthco.com/
Chicken with cashews in a silky glaze of soy and chili garlic sauce.
It also packs nutritious veggies such as carrots, broccoli, peppers, and onions.
It is an Asian-inspired and healthy dish that can be easily whipped on a busy night.
The veggies can be customized, so use whatever you have on hand.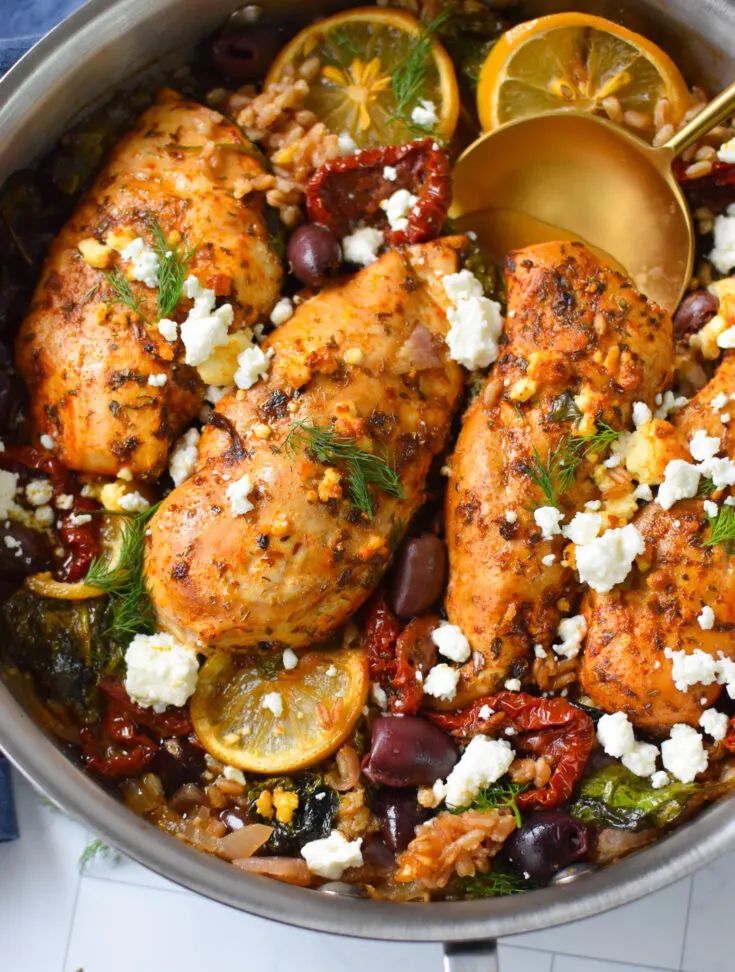 Source: acedarspoon.com
A hearty dish for the whole family!
This chicken with sun-dried tomatoes also combines farro, spinach, olives, and feta cheese. It is also loaded with lemon juice, which gives it a touch of acidity that the veggies need.
The spices are warm, the flavor incredible, and the meat juicy and tender. Plus, it is ready in 50 minutes. How's that for a weeknight dinner?
Source: healthycookingtour.net
Chicken and broccoli are a classic combo that is healthy, nutritious, and can also be incredibly tasty.
This dish also uses mushrooms and onions, and it is coated with the yummiest glaze.
Garlic, ginger, soy sauce, and pepper flakes make the spicy and tangy sauce.
And it is an authentic stir-fry that's ready in just 30 minutes. Plus, it easily serves four people.
Source: deliciousnutritiousfood.com
Vibrant in yellow color, this turmeric-seasoned chicken is full of flavor and spiked with nutrients.
It is combined with green beans. It has a handful of seasonings and spices that give it incredible flavor and aroma.
I'd suggest serving this delight with fluffy white rice. But other side dishes like potatoes or pasta can work, too.
It is ready in just 25 minutes. Perfect for those who don't have too much time for dinner.
41 Yummy Chicken Skillet Recipes
Explore a world of flavors with these quick and easy chicken skillet recipes for any night of the week.
Ingredients
1. Cast Iron Chicken Breast
2. Chicken Marsala
3. Tarragon Chicken
4. Lemon Butter Chicken
5. Breaded Italian Chicken Cutlets
6. 5 Ingredient Chicken Cutlets
7. Soy Garlic Butter Chicken Bites
8. Teriyaki Chicken Fried Rice
9. Chicken Bruschetta
10. Lemon Garlic Chicken Orzo
11. Creamy Lemon Chicken Cauliflower Skillet
12. Spicy Lemon Garlic Chicken
13. Cheesy Chicken Broccoli and Orzo
14. Chicken Bacon Ranch Pasta
15. Southwest Chicken and Rice
16. Thai Peach Chicken
17. Pesto Chicken
18. Hawaiian Shoyu Chicken
19. One Pot Chicken Rice
20. Stove Top Chicken and Rice
21. Mexican Chicken and Rice
22. Braised Chicken
23. Creamy Pesto Chicken Thighs
24. Cast Iron Chicken Thighs
25. Chicken Thighs with Olives, Peppers, Onions, Garlic and Tomatoes
26. Jalapeno Chicken Thighs
27. Chicken Puttanesca with Creamy Orzo
28. Ground Chicken Stir Fry
29. Greek Ground Chicken and Rice Skillet
30. Ground Orange Chicken
31. Spicy Ground Chicken Stir Fry
32. Stuffed Pepper Skillet
33. Creamy Tomato Chicken
34. White Chicken Chili Dip
35. Smothered Chicken
36. Chicken Pasta with Sun-Dried Tomatoes
37. Creamy Tomato Chicken
38. Cashew Chicken
39. Sun Dried Tomato Farro Chicken
40. Chicken Broccoli Stir Fry
41. Turmeric Black Pepper Chicken
Instructions
Scroll up to get a bunch of easy, yummy, and delicious chicken skillet recipes. Don't be afraid to get creative with the ingredients, you might discover a flavor you didn't know you liked
Get your shopping list going and make sure you've got all the ingredients.
Get cooking and make your next Chicken Skillet Recipe!
Notes
Which one of these recipes was your favorite? Let me know in the comment section or on Pinterest!