One pan chicken recipes are a game-changer in the world of cooking. They are the ultimate time-saver, ensuring you spend less time in the kitchen and more time enjoying delicious meals.
If you've seen any of my recipes before, you'll know that I'm a particular fan of these easy dinner recipes.
These easy weeknight dinner ideas are ideal for a mid-week meal, especially when life is throwing everything it can at you.
That's why I've gathered 51 mouthwatering one-pan chicken recipes for you to revive your meal plan.
These versatile recipe ideas are not only easy to make with simple ingredients but also bursting with flavors, and all have a quick clean up time!
Whether you're a fan of spicy, savory, or sweet chicken dishes, there's something here that will tickle your fancy.
So, roll up your sleeves, grab your trusty skillet or baking sheet, and let's get started on dinner tonight!
What to Add to Chicken to Make It Taste Good?
Chicken is a lean and mean protein that's great at absorbing the flavors around it. That's great for two reasons:
It's super easy to cook chicken to tender perfection.
You can customize the flavors of your chicken dish with ease.
There are some wonderful ways to make your chicken more flavorful without compromising the convenience of the one-pan dinner.
For example, you could try brining your chicken. This entails soaking your chicken in stock or water with a high salt content, which naturally flavors it. It's the best way to build a foundation of flavor.
From there, it's time to break open your spice cabinet. When roasting in the oven, the best way to flavor your chicken is to use dry spice rubs, herb mixes, and flavored oils.
Cooking your chicken with vegetables or other flavors in the same pan also makes a big difference. The vegetables help to keep the chicken tender and gift all their natural flavors to the meat, too.
One Pan Chicken Thigh Recipes
Source: acedarspoon.com
Transport your taste buds to the bustling markets of Marrakesh with this delightful Moroccan chicken thighs recipe. Here, succulent chicken thighs are lovingly coated in a fragrant blend of spices.
From there, they're simmered to perfection in a luscious tomato sauce studded with green olives and preserved lemons. The result? A tantalizing dish that's as visually appealing as it is flavorful.
Source: acedarspoon.com
If you're seeking a fiery adventure in your kitchen, look no further than this harissa chicken recipe. Harissa paste, with its bold and smoky heat, takes center stage in this dish.
The chicken thighs, coated in this spicy red pepper paste, are pan-seared to create a beautiful crust before being baked to tender perfection.
The result is a spicy, savory, and slightly sweet chicken dish that's positively addictive. Served with a side of couscous or warm flatbread, it's a meal that packs a punch.
Source: all-thats-jas.com
Indulge in the rich and complex flavors of India with this one-pan chicken tikka masala. Succulent pieces of chicken are marinated in yogurt and a medley of aromatic spices.
This lends them a delightful tenderness and a burst of flavor. They're then simmered in a creamy tomato-based sauce that's infused with more spices, creating a comforting and satisfying dish.
The vibrant colors and bold flavors make it a feast for both the eyes and the palate.
Source: brooklynactivemama.com
For a harmonious blend of sweet and savory, this apple chicken thighs skillet recipe hits all the right notes. In this dish, tender chicken thighs are lovingly nestled among slices of sweet and tart apples.
A flavorful sauce, enriched with a hint of cinnamon and a touch of honey, ties everything together.
As it cooks, the apples soften, releasing their natural juices and infusing the chicken with a delightful sweetness.
The result is a comforting, autumn-inspired meal that's perfect for family gatherings or a cozy night in.
Source: all-thats-jas.com
Simplify your dinner routine and minimize cleanup with this one-pot chicken and rice recipe. This dish is a testament to the beauty of convenience without compromising on flavor.
Chicken, rice, and vegetables are all cooked together in a single pan, allowing them to meld into a symphony of tastes and textures. The chicken imparts its savory essence to the rice.
The vegetables add freshness and color. The best part? Just one pan to wash!
Source: ameessavorydish.com
The fragrance of fresh rosemary fills your kitchen as chicken thighs roast to perfection alongside crispy golden potatoes. The crispy skin of the chicken contrasts beautifully with the tender meat.
This dish is a true crowd-pleaser, offering a comforting and hearty meal that's surprisingly easy to prepare. The roasted potatoes soak up all the savory juices, creating a harmonious balance of flavors.
Source: ameessavorydish.com
For those looking to enjoy the flavors of Greece while keeping things low-carb and gluten-free, this Greek chicken stew with cauliflower rice is a brilliant choice.
The traditional rice is swapped for cauliflower rice, which soaks up the vibrant Mediterranean flavors of tomatoes, olives, and feta cheese. Succulent chicken pieces complete the ensemble!
You also need to try this flavorful Greek sheet pan chicken dinner!
Source: killingthyme.net
Italy beckons with this tantalizing chicken puttanesca recipe. The star of the show is a vibrant and zesty sauce that marries tomatoes, olives, capers, and anchovies.
The sauce bathes tender chicken breasts, infusing them with a bold, umami-rich flavor. To add a touch of creaminess, this dish is served over a bed of luscious orzo pasta.
Source: thegourmetbonvivant.com
Indulge in comfort with this creamy tomato spinach chicken recipe. Here, juicy chicken breasts are nestled in a velvety tomato and spinach sauce.
The creaminess of the sauce contrasts beautifully with the earthy spinach and the savory chicken. Served over a bed of pasta or accompanied by a slice of crusty bread, it's a simple yet satisfying meal.
Source: theroastedroot.net
Embark on a culinary journey to the Mediterranean with this vibrant sheet pan chicken recipe. The colors and flavors of the Mediterranean come to life as chicken and vegetables roast to perfection.
This dish not only delights the palate but also fills your kitchen with the inviting aromas of sun-drenched coastlines and seaside markets.
Not only is this Chicken sheet pan dinner easy, but it's a super balanced meal from one of the healthiest regions in the world!
One Pan Chicken Breast Recipes
Source: thecleaneatingcouple.com
Picture this: tender, juicy chicken nestled in a bed of al dente pasta, all smothered in a luscious marinara sauce and crowned with melted cheese.
That's what you get with this one pan chicken parmesan pasta recipe. It's a symphony of Italian flavors in a single skillet.
Source: nibbleanddine.com
For a burst of citrusy delight, look no further than this lemon butter chicken. It's a harmonious blend of succulent chicken, zesty lemon, and velvety butter.
I love this dish because it's both comforting and refreshing. No matter the season, this would be at home on your dining table. One pan, one hour, one delicious dish. What's not to love?
Source: dishnthekitchen.com
Take your taste buds on an exotic journey with these spicy peanut noodles.
Here, tender chicken meets a tantalizing peanut sauce, creating an explosion of flavors that are reminiscent of your favorite Asian takeout.
Source: craftycookingbyanna.com
Ditch the fuss of traditional chicken parmesan recipes and embrace the simplicity of this one pan wonder.
With crispy, golden chicken and a rich, tomatoey sauce, it's everything you love about the classic dish, minus the hassle.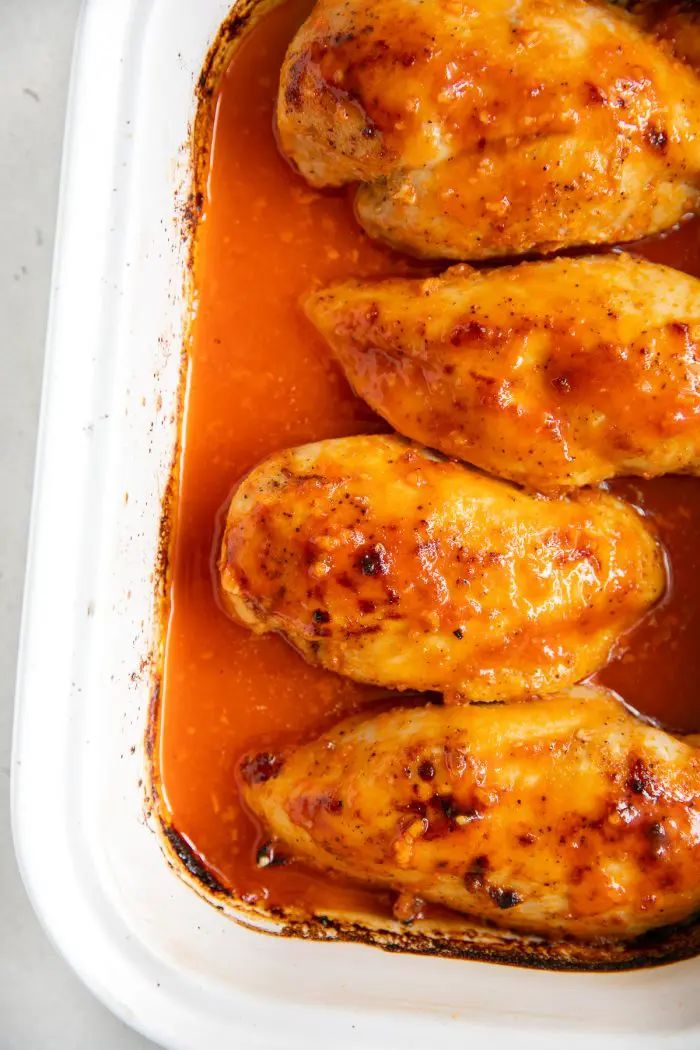 Source: theforkedspoon.com
Get your taste buds tingling with the spicy kick of buffalo chicken cooked to crispy perfection in a single pan. The chicken is drenched in zesty buffalo sauce, giving it that signature fiery flavor.
Whether you're serving it as an appetizer or a main course, this dish is a game-day favorite that's bound to please spice enthusiasts.
Source: all-thats-jas.com
A simple yet satisfying dish, this one pan chicken and potatoes recipe is a complete meal in itself. Juicy chicken thighs roast alongside perfectly seasoned potatoes, creating a harmonious flavor blend.
It's one of the most wholesome and easy-to-make sheet pan dinners that's perfect for busy weeknights when you need a hearty meal without the fuss.
Source: foodmeanderings.com
Indulge in the fresh and vibrant flavors of a Caprese salad paired with juicy chicken breasts—all on one pan.
Ripe tomatoes, creamy mozzarella, and fragrant basil come together to create a colorful and flavorful topping for perfectly cooked chicken breasts.
Drizzle it with balsamic glaze for an extra layer of something tasty.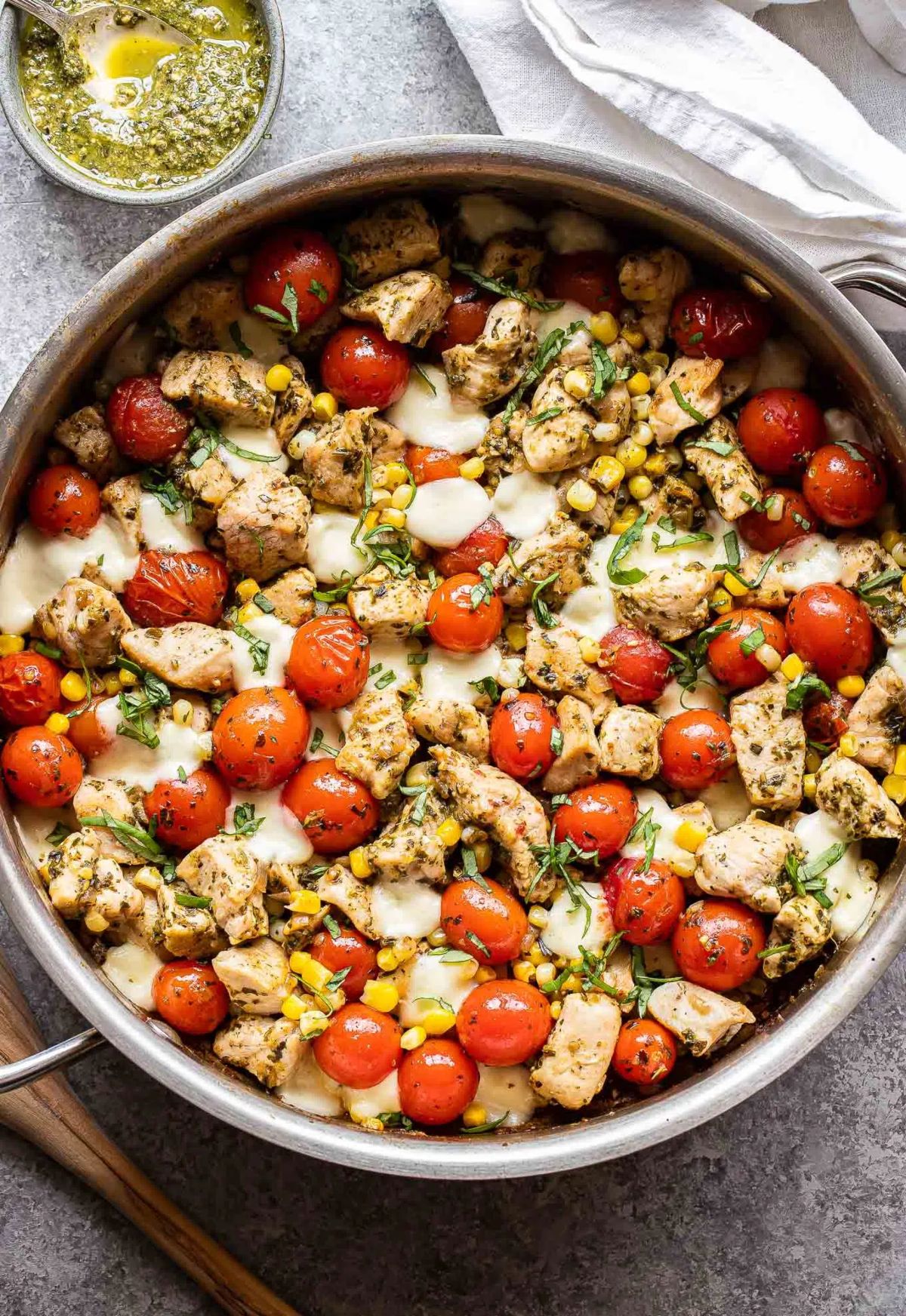 Source: reciperunner.com
Combine the richness of pesto with the sweetness of corn and tomatoes in this delightful one pan dish. Chicken is seared to perfection and then coated in a luscious pesto sauce.
The addition of juicy tomatoes and sweet corn adds a burst of freshness. It's a simple yet impressive dish that celebrates the flavors of summer.
Source: thedizzycook.com
Savor the aromatic spices of India with this easy chicken ruby curry, all made in one pan for your convenience. Tender chicken pieces are simmered in a flavorful tomato-based curry sauce.
The sauce, in my opinion, is the hero. It's both spicy and fragrant without tipping overboard! Serve it with rice or naan for a satisfying meal that will transport your taste buds to the streets of Mumbai.
Source: thedizzycook.com
Creamy, herby, and incredibly delicious, this one pan Boursin chicken is a crowd-pleaser. The chicken is smothered in a velvety Boursin cheese sauce that's infused with garlic and herbs.
The result is a dish that's elegant enough for a special occasion but easy enough for a weeknight dinner.
Source: eatmovemake.com
Next up, give your taste buds a zesty jolt with this spicy lemon garlic chicken that's bursting with flavor.
Chicken thighs are seared until crispy, then bathed in a mouthwatering lemon garlic sauce with a kick of red pepper flakes.
This is a dish that's bold and vibrant, perfect for those who crave a little heat in their meals.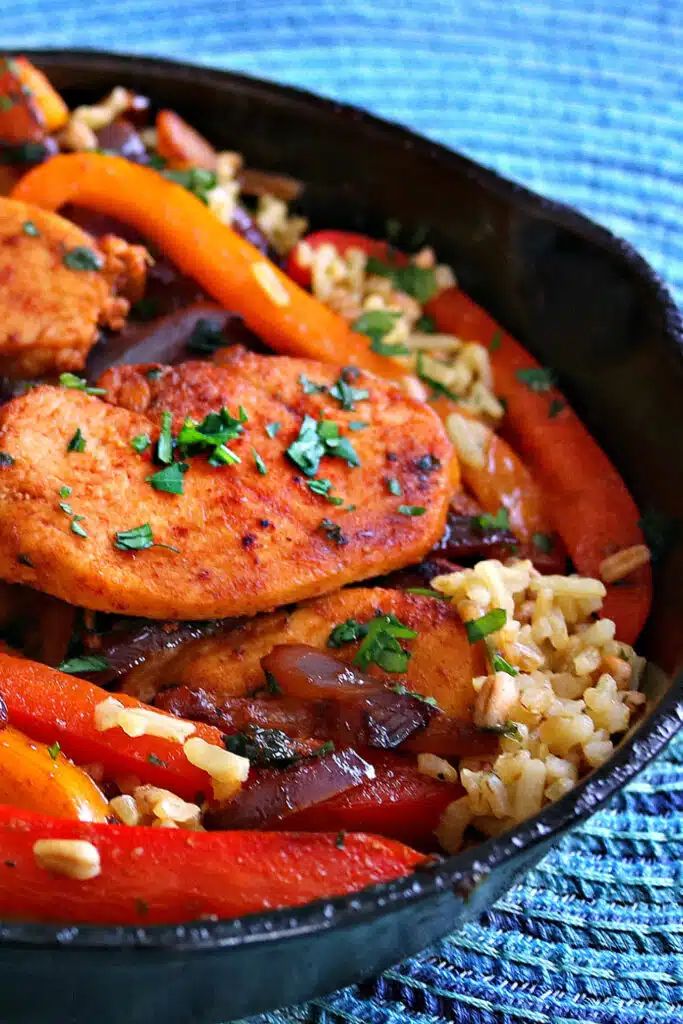 Source: inspiringsavings.com
Enjoy the Tex-Mex flavors of chicken fajitas and rice in one convenient and tasty skillet meal. Tender strips of chicken are sautéed with colorful bell peppers and onions, creating a medley of flavors.
Served over rice and garnished with your favorite toppings, this dish offers an easy way to make something balanced on a busy night.
One Pan Chicken Tenderloin Recipes
Source: nutfreewok.com
If you're seeking a quick and easy taste of Asia, this chicken tenderloin stir-fry is the answer to your cravings. Succulent chicken pieces are stir-fried to perfection enveloped in a medley of vegetables.
From there, they're coated in a balanced sweet and savory sauce. A harmonious symphony of flavors and textures that will transport your taste buds to the bustling streets of Asia.
Source: myminichefs.com
A cherished family favorite, these crispy chicken tenders take comfort food to new heights. Each tender morsel of chicken is lovingly coated in a golden layer of Parmesan cheese and breadcrumbs.
Served alongside a generous helping of marinara sauce, this dish is a true crowd-pleaser, bringing warmth and nostalgia to your dining table.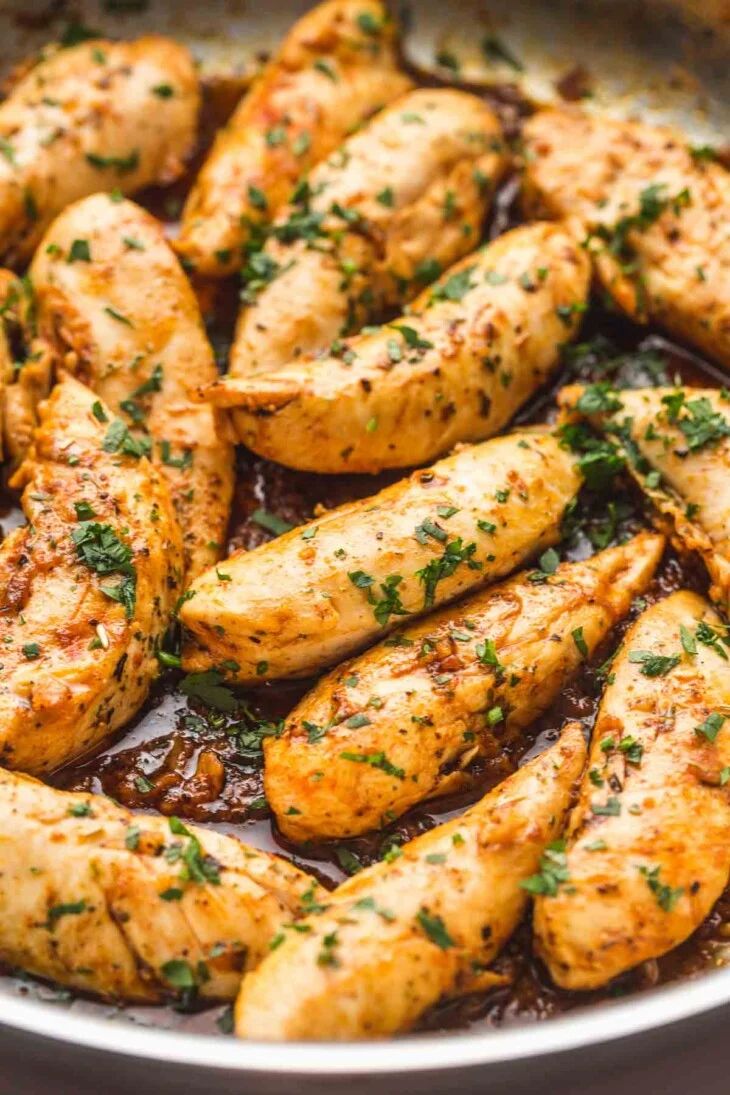 Source: littlesunnykitchen.com
Craving something that's simple yet utterly satisfying? Look no further than these homemade crispy chicken tenders. They are the epitome of comfort food!
I'm in love with any recipe that promises crunchy chicken without deep frying or piles of dishes.
Each bite has a satisfyingly crunchy exterior, making this dish a timeless classic. Add your favorite dipping sauce!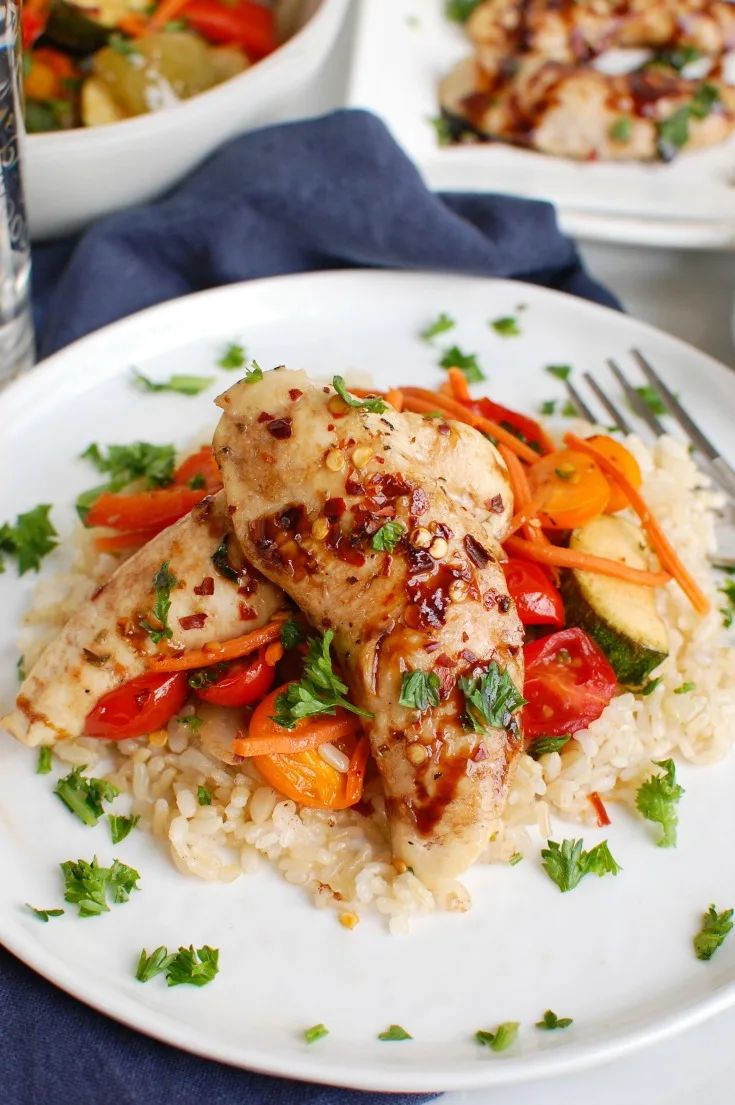 Source: acedarspoon.com
For those seeking a complete meal that's both sweet and savory, this sheet pan recipe is a culinary triumph.
It combines succulent chicken tenders with an array of roasted vegetables bathed in a luscious honey balsamic glaze.
The result is a harmonious marriage of flavors and colors that not only tantalizes your taste buds but also makes for an Instagram-worthy dinner.
You'll also enjoy these other easy sheet pan recipes for an easy meal!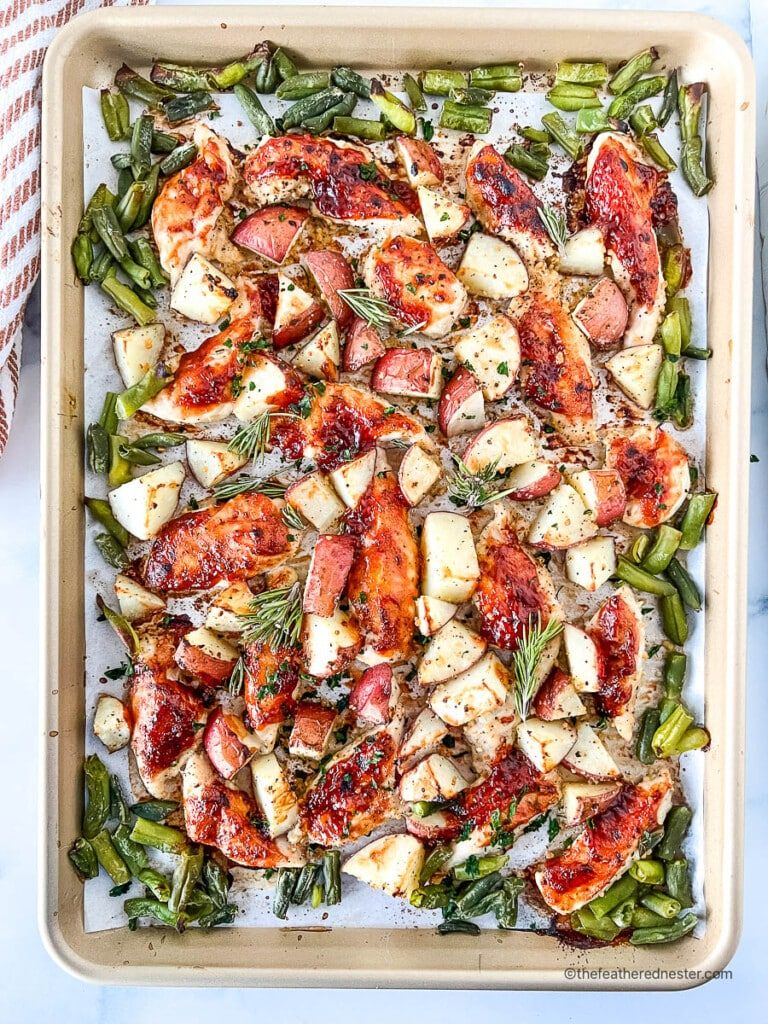 Source: thefeatherednester.com
As the aroma of barbecue sauce fills the air, you know you're in for a treat with these baked BBQ chicken tenders.
These tender pieces of chicken are lovingly coated in a smoky and tangy barbecue sauce and then baked to juicy perfection. This dish is a summer sensation, making it perfect for picnics or potlucks.
Source: acedarspoon.com
Tangy lemon zest and the rich flavors of Parmesan cheese are brought together in perfect harmony in this delightful dish.
The chicken tenders are coated in a zesty Parmesan mixture. When baked, this creates a crispy, golden-brown crust that's simply irresistible. So easy to make and great for family dinners!
One Pan Keto Chicken Recipes
Source: cookwithkushi.com
For those on a keto journey, this garlic-infused chicken dish is a perfect balance of flavor and health-consciousness.
It's not hard to find great chicken recipes that suit a keto diet, and here's proof!
The chicken is cooked to tender perfection and bathed in a garlic sauce that's rich and aromatic, all while being low in carbs.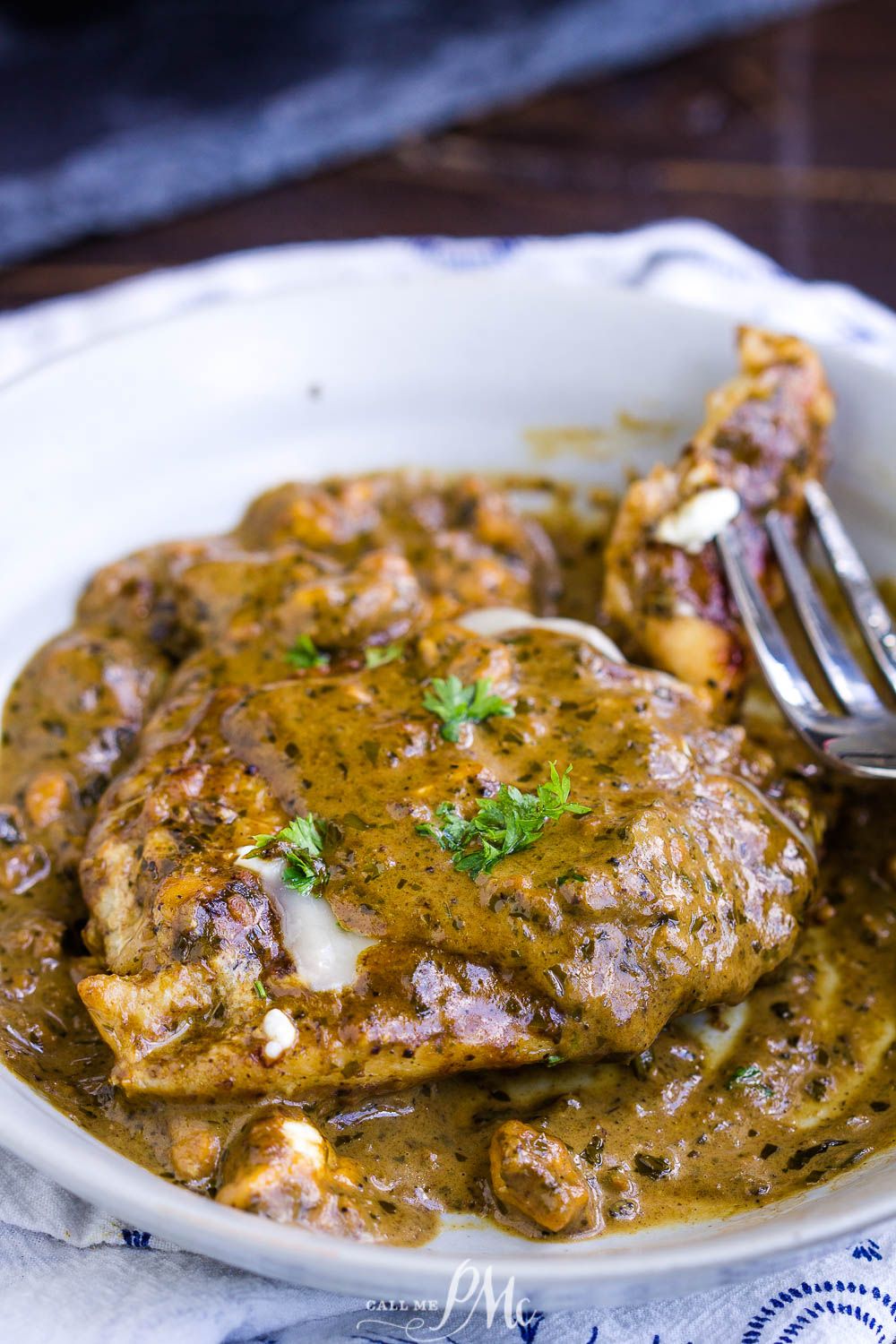 Source: callmepmc.com
Pesto enthusiasts, get ready to be amazed by this one-pan wonder. Succulent chicken is nestled in a bed of vibrant green pesto, creating a dish that's both visually stunning and incredibly flavorful.
It's the perfect marriage of protein and herbaceous goodness, making it an ideal choice for those embracing a keto lifestyle.
Source: joyfilledeats.com
If you're in the mood for a taste of Italy, this Italian herb-infused chicken is a culinary voyage to the heart of Mediterranean flavors.
The chicken is generously seasoned with a blend of aromatic herbs that infuse every bite with a burst of authentic Italian taste. This comforting dish is perfect for a cozy family dinner.
Source: bobbiskozykitchen.com
Next up, we have a keto-friendly pasta dish that brings together tender chicken, vibrant asparagus, and the bright zest of lemon. This recipe satisfies your pasta cravings while keeping carbs in check!
You only need about an hour in the kitchen for this one, offering a refreshing and zesty twist to your dinner routine. I'm a big fan of this dish because it holds up well for a long time.
It's great for meal prepping!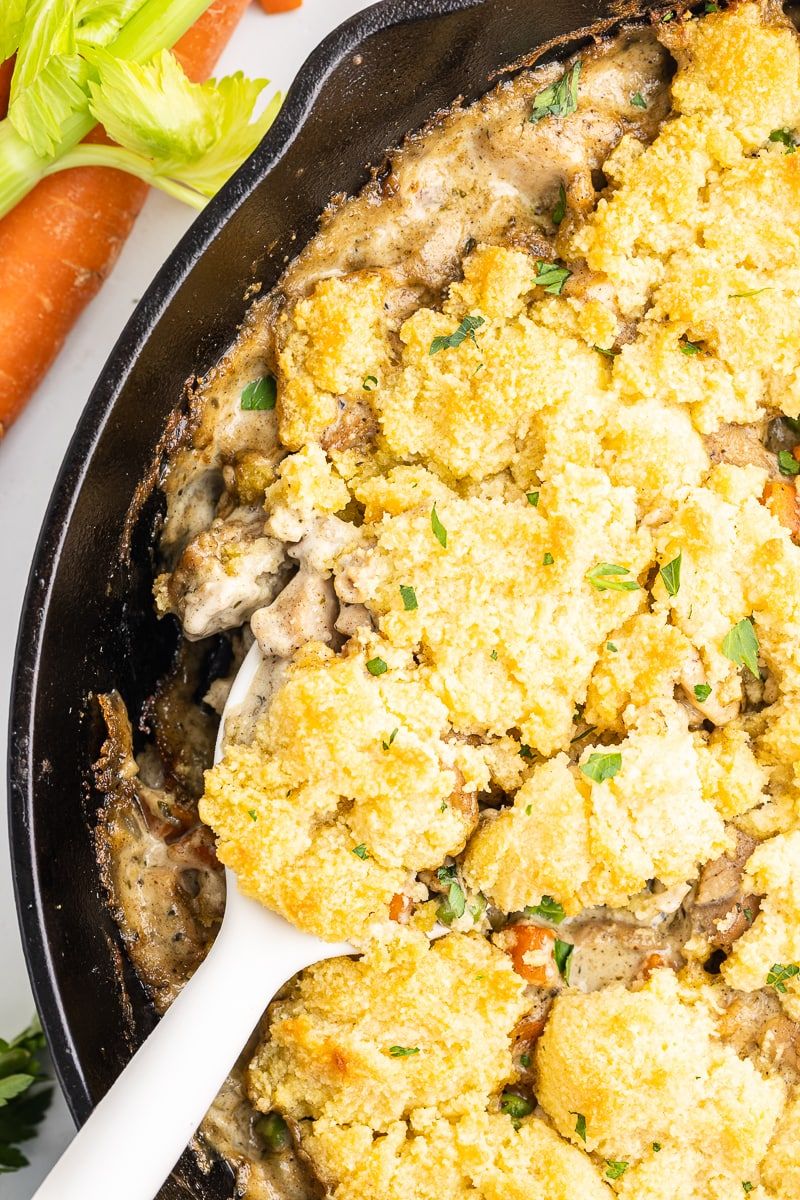 Source: bobbiskozykitchen.com
Picture this: tender chunks of chicken enveloped in a creamy, savory sauce, all nestled beneath a blanket of golden-brown, keto-friendly biscuits.
This comforting casserole is a testament to the fact that even on a low-carb diet, you can enjoy the cozy pleasure of biscuits and gravy.
It's a dish that invites you to savor every bite, all while staying true to your dietary goals.
Source: joyfilledeats.com
Transport your senses to the sun-soaked landscapes of Italy with this luscious Pomodoro chicken. This dish takes tender chicken pieces and bathes them in a rich, tomato-based sauce.
This whole dish is infused with aromatic herbs. It's a taste of the Mediterranean that's both comforting and exotic, making it perfect for a special dinner at home. Date night, here we come!
Source: jenniferbanz.com
Creamy, decadent, and oh-so-delicious, this butter chicken is a keto masterpiece. Tender chicken morsels are enveloped in a rich and creamy tomato sauce that's imbued with aromatic spices.
It's a dish that's fit for royalty, yet it's tailored for those seeking a low-carb lifestyle. Find more fall chicken recipes.
Source: jenniferbanz.com
Looking for a balanced meal that's hassle-free to prepare? Look no further than this one-pan wonder that combines succulent chicken with an assortment of colorful and nutritious vegetables.
It's a dish that's as pleasing to the eyes as it is to the palate, offering a complete meal in one pan. Say goodbye to multiple pots and pans.
This recipe simplifies your cooking routine without sacrificing flavor. Find more sheet pan recipes here.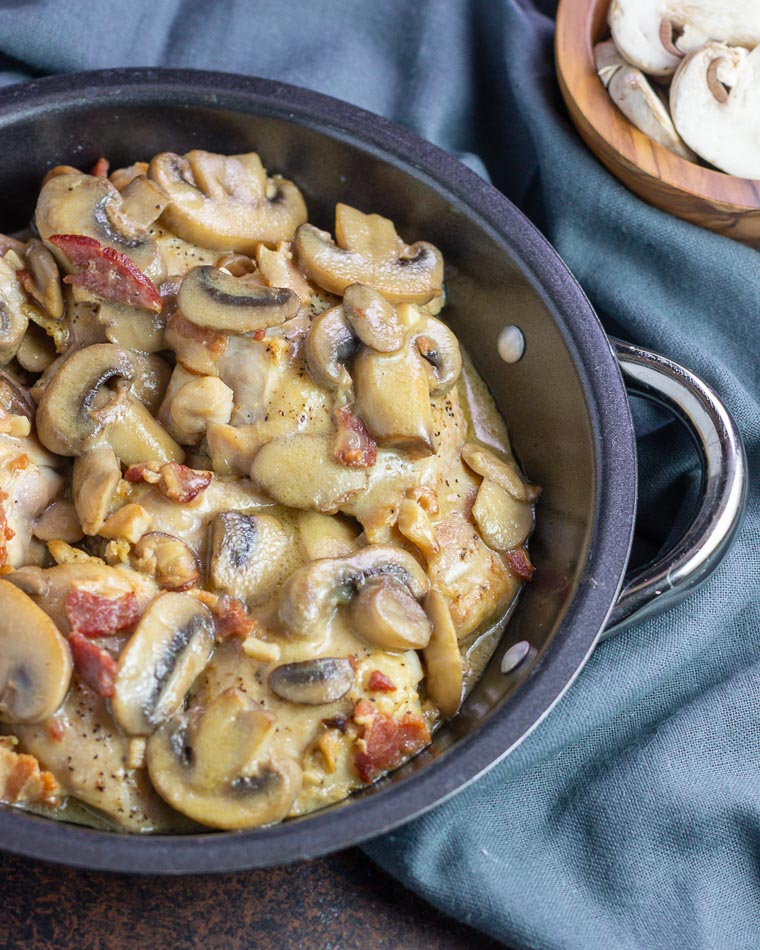 Source: beautyandthefoodie.com
When it comes to comfort food, few dishes rival the hearty goodness of chicken smothered in bacon mushroom gravy. This keto-friendly masterpiece brings together tender chicken with a velvety gravy.
Every dollop is loaded with the savory flavors of bacon and mushrooms. It's a dish that warms your soul and fills your belly, all while keeping your carb count in check.
Had a rough day? This is the dish for you.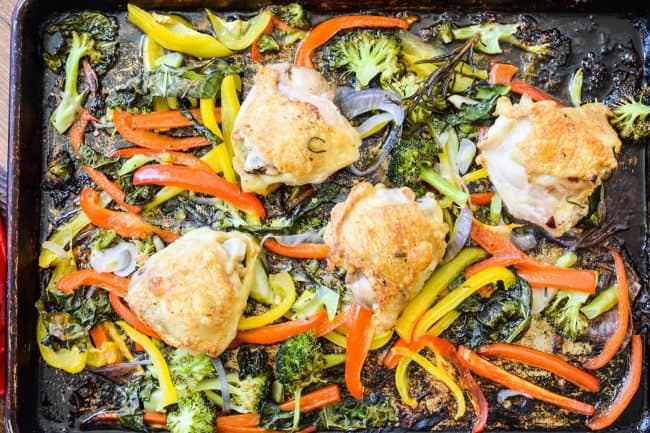 Source: thecastawaykitchen.com
Next up, the secret to crispy keto chicken thighs! Chicken thighs are lovingly seasoned and baked to a crispy perfection alongside a medley of colorful vegetables.
The result is a symphony of flavors and textures that caters to both keto and paleo dietary preferences. This is a recipe that proves you don't need an elaborate meal to satisfy your taste buds.
Best One Pan Chicken Recipes
Source: all-thats-jas.com
Imagine the delightful aroma that fills your kitchen as the chicken simmers away, absorbing all the nutty goodness.
The sauce, with its perfect blend of spices, creates a harmony of sweet, savory, and slightly spicy notes that dance on your taste buds with every bite. And the best part?
You can make it all in one pan, minimizing cleanup and maximizing satisfaction. Whether you're a seasoned home cook or just starting your culinary journey, this dish is a must-try.
Source: hauteandhealthyliving.com
Say hello to a healthier and more delicious weeknight dinner option – the Healthy Chicken Stir-Fry. Bursting with vibrant colors and fresh ingredients, this dish is a feast for both the eyes and palate.
Succulent chicken strips meet a rainbow of crisp vegetables. All stir-fried to perfection in a savory sauce that strikes a balance between sweet and tangy.
What makes this recipe truly special is its simplicity. With minimal effort and just one pan, you can create a wholesome and satisfying meal for your loved ones.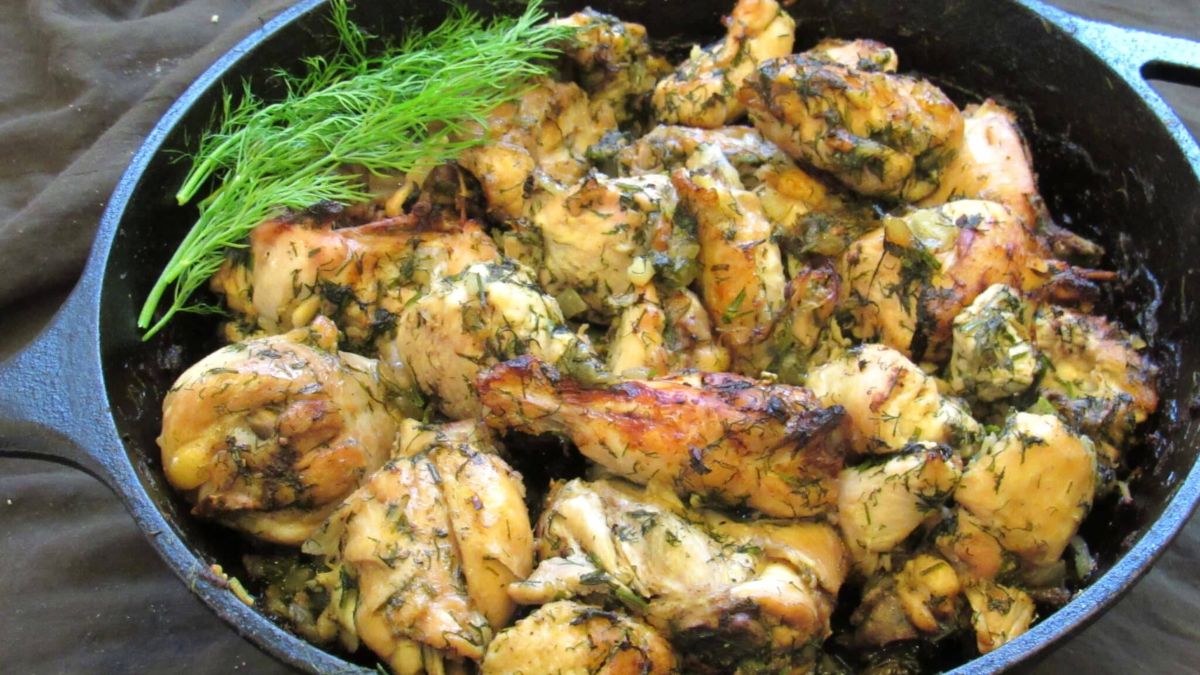 Source: deliciousnutritiousfood.com
Next up, this dish is proof that you don't need a complex recipe to create something extraordinary. It's comfort food at its finest, and you'll wonder why you didn't discover it sooner.
One pan, a few ingredients, and a whole lot of deliciousness – that's the magic of the Best Baked Dill Chicken. The chicken? Crispy on the outside, tender and juicy on the inside. Perfection!
Source: cinnamonandkale.co.uk
This recipe is a celebration of simplicity and healthiness, as it combines lean chicken with a colorful medley of roasted vegetables. The result that will leave your taste buds dancing with delight.
Imagine tender chicken nestled among perfectly roasted vegetables – crispy on the outside, tender on the inside, and bursting with natural sweetness.
The secret here is the combination of herbs and spices that elevate the dish to gourmet levels. The best part? It's all cooked in a single pan, making cleanup a breeze.
Source: healthyrecipes101.com
Get ready for a flavor-packed adventure with this Chicken Chow Fun recipe! Tender chicken strips stir-fried with wide rice noodles, crisp veggies, and a savory sauce make this dish a weeknight winner.
It's all made in one pan for easy cleanup, so you can enjoy a delicious homemade Chinese favorite without the hassle.
Source: healthyrecipes101.com
As you take your first bite, you'll be transported to sun-soaked Spanish landscapes. The tender chicken is infused with the essence of the saffron-kissed rice.
In under an hour, you'll be creating a symphony of taste that dances on your palate. It's a vibrant and savory dish that's as pleasing to the eyes as it is to the taste buds.
This makes it a perfect low-stress centerpiece for any gathering.
Source: mikhaeats.com
Next up, classic chicken teriyaki! Experience the irresistible allure of Japanese cuisine without the hassle. This brings the flavors of Japan right to your kitchen, and it's as simple as it is delicious.
The glossy, caramelized sauce clings to each morsel of chicken, delivering a delightful combination of sweet and savory in every bite. It's a quick and satisfying meal that will blow your mind!
Source: littlesunnykitchen.com
Next up is the recipe that wins both hearts and tastebuds!
In this one-pan wonder, you'll bring together tender chicken breasts, a luxuriously creamy tomato sauce, wilted spinach, and a garden of fresh herbs.
As you take that first forkful, the creamy tomato sauce envelops the chicken. Infusing it with a luscious and comforting flavor.
Find more chicken breast recipes.
Source: littlesunnykitchen.com
Inspired by the vibrant flavors of Italy, this dish brings together tender chicken breasts, juicy ripe tomatoes, fragrant fresh basil, and creamy mozzarella cheese.
A drizzle of balsamic glaze adds the final flourish, making it a feast for both the eyes and the taste buds. With just one pan, you'll create a dish that's both simple and elegant.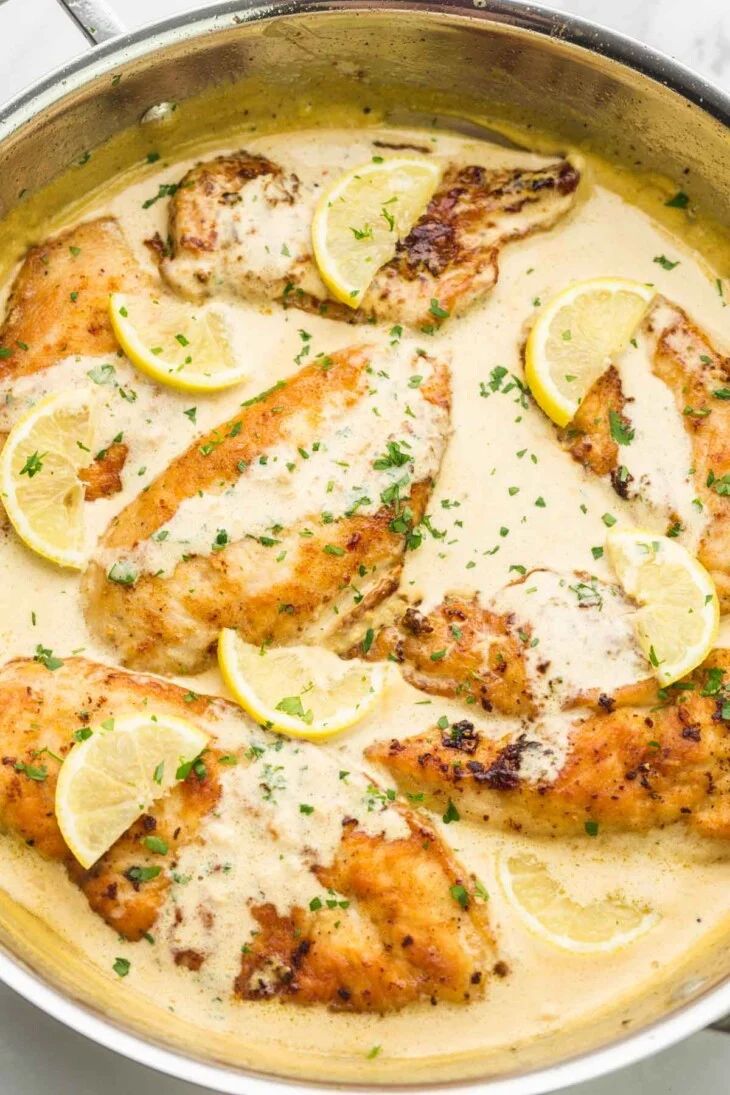 Source: littlesunnykitchen.com
Prepare to embark on a culinary journey with this delightful Creamy Lemon Chicken recipe. Imagine succulent chicken breasts bathed in a luscious lemon cream sauce, all cooked in just one pan.
The vibrant, lemony zest dances on your taste buds, perfectly complementing the tender chicken. This dish not only tantalizes your senses but also simplifies your cooking experience.
You might also enjoy these delicious lemon chicken thighs for dinner!
Source: eatloveeats.com
The ultimate comfort food awaits with these Cast Iron Chicken Thighs. Picture this: crispy, golden-brown skin encasing juicy and flavorful chicken thighs.
What's more, this culinary wonder is achieved with the magic of a cast iron skillet, making it incredibly easy to prepare in just one pan. I guarantee this will be an instant favorite for everyone.
Source: scarlatifamilykitchen.com
In the heart of your kitchen, the flavors of tender chicken, tangy capers, and a zesty lemony sauce blend. Just you, one pan, and your stove for less than an hour!
The result is a dish that embodies the essence of Italian cuisine. It's so simple to make, but I guarantee it will also be a crowd favorite.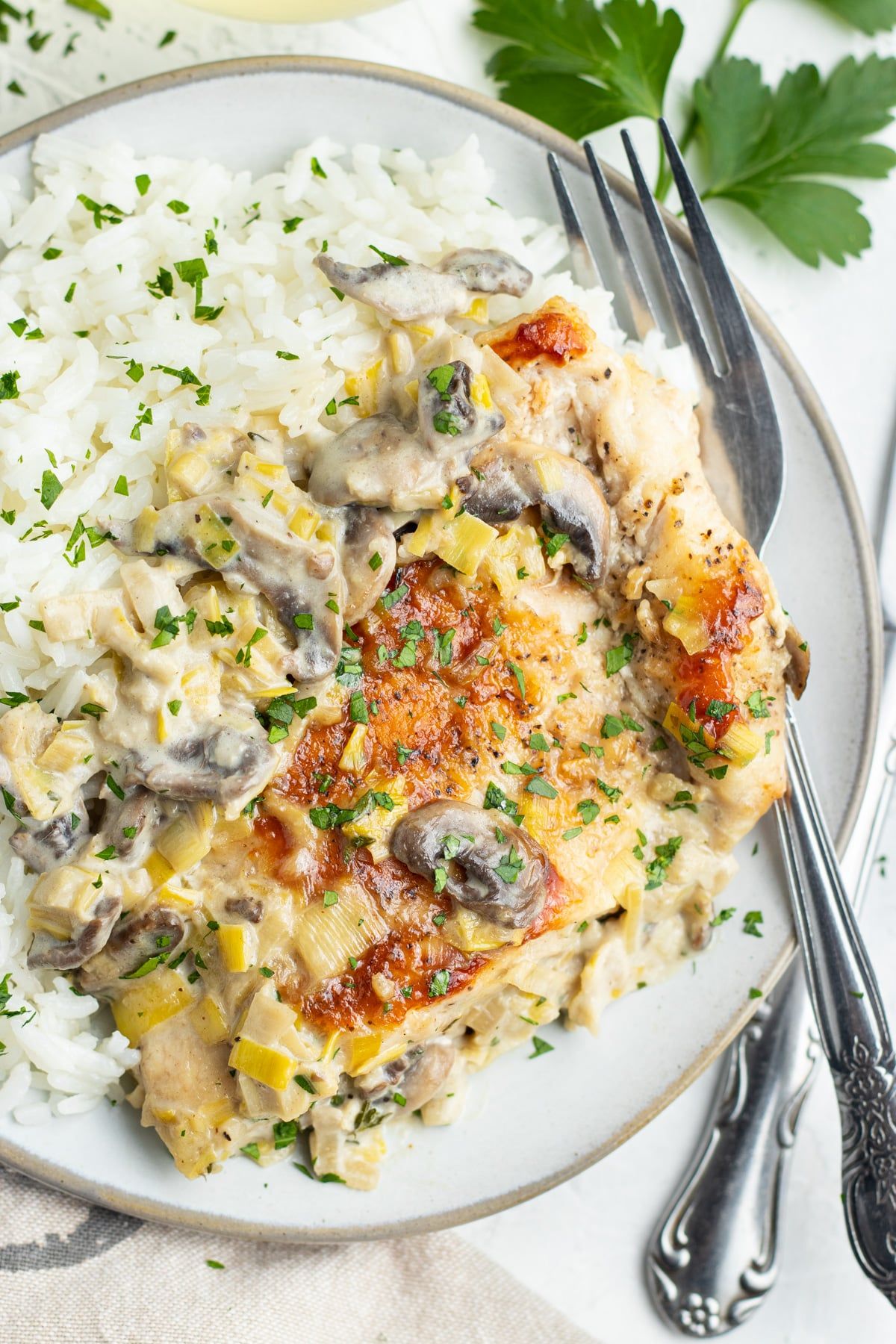 Source: sprinkledwithbalance.com
Finally, it's time for creamy Dijon chicken! As the sauce envelops the chicken, it mingles with the earthy mushrooms and fragrant leeks.
This one-pan wonder is the kind of thing that every home cook looks for and seldom finds. Whether you're feeding a family or cooking for date night, this recipe is on your side.
And there you have it! Fifty-one delicious one-pan chicken recipes are a testament to how tasty and convenient recipes can be.
One of the things I love most about these recipes is how versatile they are.
Whether you're in the mood for international flavors or classic comfort food, you can tailor the one-pan chicken formula to suit your favorite tastes.
No matter what, with just one pan, your weeknights will be a breeze. I hope you've enjoyed this culinary journey through one of my favorite parts of the recipe world!
If there are any essential one-pan chicken recipes waiting in your repertoire, share them below! There can never be too many, in my opinion. Otherwise, happy cooking, and I'll see you next time!
51 Easy One Pan Chicken Recipes
Simplify your meal planning with our one-pan chicken recipes. These versatile dishes are ideal for batch cooking and meal prepping.
Ingredients
1. Moroccan Chicken Thighs
2. Harissa Chicken
3. Chicken Tikka Masala
4. Apple Chicken Thighs
5. Chicken Rice
6. Rosemary Chicken and Potatoes
7. Greek Chicken Stew
8. Chicken Puttanesca
9. Creamy Tomato Spinach Chicken
10. Mediterranean Sheet Pan Chicken
11. Chicken Parmesan Pasta
12. Lemon Butter Chicken
13. Spicy Peanut Noodles
14. Chicken Parmesan
15. Buffalo Chicken Recipe
16. Sheet Pan Chicken and Potatoes
17. Caprese Chicken
18. Pesto Chicken Tomato and Corn
19. Chicken Ruby Curry
20. Boursin Chicken
21. Lemon Garlic Chicken
22. Chicken Fajita Rice
23. Chicken Tenderloin
24. Parmesan Chicken Tenders
25. Chicken Tenders
26. Honey Balsamic Chicken Tenders
27. Baked BBQ Chicken Tenders
28. Lemon Parmesan Chicken Tenders
29. Garlic Chicken
30. Pesto Chicken
31. Italian Herb Chicken
32. Lemon Asparagus Chicken Pasta
33. Chicken and Biscuit Casserole
34. Pomodoro Chicken
35. Butter Chicken
36. Chicken and Veggies
37. Chicken with Bacon Mushroom Gravy
38. Crispy Chicken Thigh and Vegetables
39. Chicken Peanut Stew
40. Healthy Chicken Stir Fry
41. Baked Dill Chicken
42. Healthy Chicken Tray Bake
43. Chicken Chow Fun
44. Chicken Paella
45. Chicken Teriyaki
46. Marry Me Chicken
47. Chicken Caprese
48. Creamy Lemon Chicken
49. Cast Iron Chicken Thighs
50. Chicken Piccata
51. Creamy Dijon Chicken, Mushrooms, and Leeks
Instructions
Scroll up to get a bunch of easy, yummy, and delicious one-pan recipes. Don't be afraid to get creative with the ingredients, you might discover a flavor you didn't know you liked.
Get your shopping list going, and make sure you've got all the ingredients.
Get cooking and make your next One Pan Chicken Recipe!
Notes
Which one of these recipes was your favorite? Let me know in the comment section or on Pinterest!