Chicken and tomatoes are a dynamic duo in the culinary world, creating dishes bursting with flavor, color, and nutrients. You'll love these chicken breast and tomato recipes.
From the Italian countryside to the coastlines of India, this is a popular combination all over the world. So, of course, there are plenty of recipes to choose from!
Whether you're a fan of savory stews, zesty pasta, or hearty casseroles, this is your ultimate guide to 41 chicken and tomato recipes.
I've scoured the internet to bring you a wide variety of dishes that showcase the wonderful marriage of tender chicken and juicy tomatoes.
Let's dive in and explore these mouthwatering recipes that are sure to satisfy your cravings!
Chicken and Sun Dried Tomato Recipes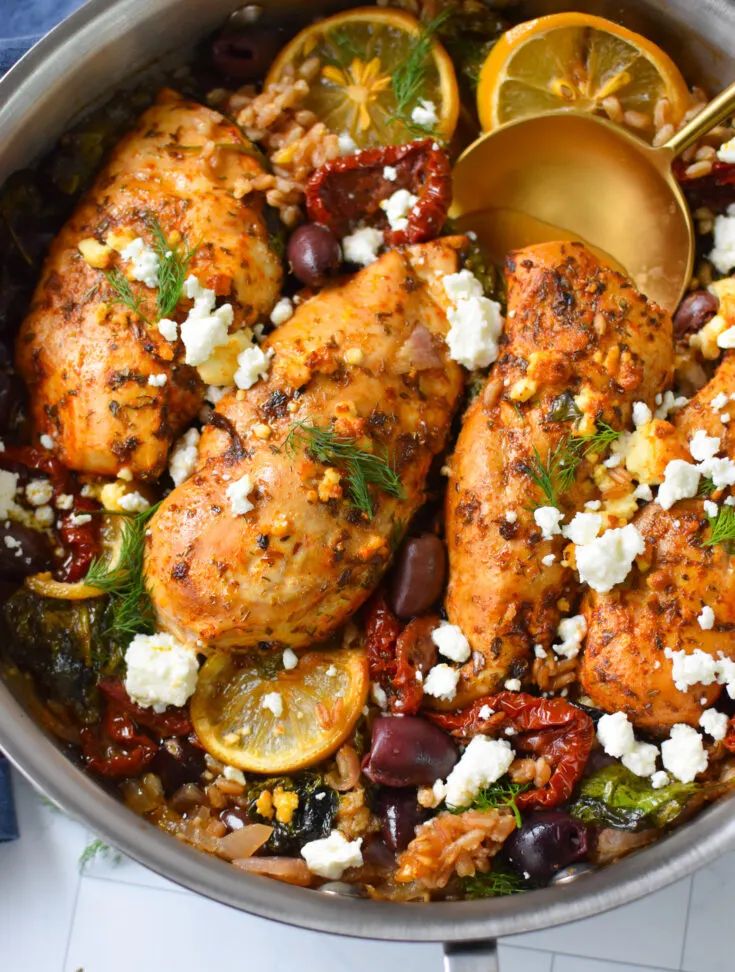 Source: acedarspoon.com
Imagine a wholesome one-pan meal where tender chicken meets nutty farro, all embraced by the intense flavors of sun-dried tomatoes.
This dish with tender chicken breasts is not only a feast for your taste buds but also a warm, comforting hug on a plate.
The earthy grain complements the juicy chicken breasts, while the sun-dried tomatoes infuse every bite.
Every plateful is a burst of Mediterranean sunshine. It's perfect for a cozy family dinner and the best part? Minimal cleanup is required!
Source: thefoodblog.net
Prepare to fall head over heels for Marry Me Chicken – a dish so delectable it might just lead to a marriage proposal!
Simple ingredients like chicken thighs, red pepper flakes, fresh basil, parmesan cheese, heavy cream, and chicken broth make up this chicken and tomatoes recipe!
Served over pasta, it's a dish that combines elegance with comfort, making it ideal for date night or a special family gathering.
Each bite of this easy chicken dinner is a love story between your taste buds and this unforgettable recipe.
Source: acedarspoon.com
Transport your senses to Italy with Chicken Bryan, a dish inspired by the flavors of the Mediterranean.
Succulent chicken breasts are adorned with sun-dried tomatoes and crowned with a luscious lemon-butter sauce.
The combination of bright citrus and sweet, tart tomatoes creates a symphony of tastes.
Serve it with a side of pasta or roasted vegetables for a memorable Italian feast that will have you saying, "Buon appetito!"
Source: nutmegandvinegar.com
Picture yourself in the heart of Tuscany as you savor this exquisite Tuscan Chicken dish.
The essence of Italy comes alive with chicken cooked to tender perfection, earthy spinach, and sun-kissed tomatoes.
Each bite is like a stroll through a Tuscan vineyard, where flavors harmonize in a delightful dance.
The marriage of ingredients is so perfect you might find yourself longing for more. Just like a true Italian romance.
You'll enjoy these other chicken and spinach recipes as well!
Source: goodlifeeats.com
Prepare to reimagine a classic with Chicken Parmesan kissed by the sun-dried tomato magic.
This dish with skinless chicken breasts takes the traditional favorite to new heights, infusing it with a tangy, simple tomato sauce with tomato paste and Italian seasoning.
As the cheese melts and melds with the tomatoes, it creates a symphony of textures and flavors that's simply irresistible.
Serve it over pasta or with a side of crusty bread to soak up every drop of that mouthwatering sauce. Get ready to fall in love all over again with this revamped classic.
Source: saltandlavender.com
Risotto is a dish that oozes sophistication, and when you add tender chicken and vibrant tomatoes to the mix, you elevate it to a gourmet masterpiece.
Creamy and comforting, this risotto showcases the Italian trinity of flavors: chicken, tomatoes, black pepper, and creamy Arborio rice.
Each spoonful is a symphony of creamy richness and bright tomato acidity. It's a labor of love that's surprisingly simple to prepare, making it perfect for a special occasion or a cozy night in.
Source: babaganosh.org
Here, succulent chicken breasts swim in a velvety pool of cream sauce infused with the robust flavor of sun-dried tomatoes.
The richness of the sauce is balanced beautifully by the slight tang of the tomatoes, creating a luxurious experience for your taste buds.
Served over pasta or with a side of mashed potatoes, this fall chicken recipe is a meal that transforms dinner into a memorable event.
Source: dinneratthezoo.com
Looking for a quick yet incredibly flavorful weeknight dinner? Sun-Dried Tomato Chicken to the rescue. The perfect solution for those evenings when you want a restaurant-quality meal at home.
This dish is a symphony of bold flavors, where the sun-dried tomatoes take center stage alongside tender chicken. This recipe proves that gourmet dining doesn't always require hours in the kitchen.
Chicken Breast and Tomato Recipes
Source: allnutritious.com
If you're a fan of surprises, this Mozzarella-Stuffed Chicken Breast will certainly delight your senses. Picture plump chicken breasts, each harboring a molten core of gooey mozzarella cheese.
As you slice through the tender chicken, the cheese oozes out, mingling with the vibrant tomato sauce. It's a dish that marries comfort food with gourmet flair.
Whether you're cooking for a special occasion or simply indulging in a weeknight treat, this recipe is sure to impress.
You need to know these other delicious stuffed chicken recipes for dinner!
Source: reciperunner.com
This dish combines the bright, briny flavors of feta cheese with the robust sweetness of tomatoes to create a meal that's a true delight for the senses.
The chicken becomes tender and flavorful as it simmers in this harmonious medley. It's just the right balance of savory and tangy.
An excellent choice for those who appreciate the simplicity of Mediterranean cuisine.
Source: foodmeanderings.com
Caprese Sheet Pan Chicken Breast combines the beloved flavors of ripe tomatoes, fresh mozzarella, balsamic vinegar, and fragrant basil with succulent chicken.
Roasting it all on a sheet pan allows the ingredients to meld together, creating a chicken breast recipe that's both effortless and elegant that the whole family will enjoy.
The aromatic basil and sweet balsamic glaze elevate this meal to a culinary masterpiece that's perfect for any occasion, even busy weeknights.
Source: foodmeanderings.com
This chicken takes on a delightful caramelized flavor as it roasts alongside ripe cherry tomatoes, all glazed with a luscious balsamic reduction.
The result is a dish that's both visually stunning and a taste sensation. Serve it with a side of crusty bread or over a bed of fluffy rice to savor every drop of that delectable sauce.
Source: seasonalcravings.com
This dish marries the traditional flavors of chicken Parmesan with the zesty punch of pepperoni. The result is a dish that's both nostalgic and exciting.
It features layers of gooey cheese, tangy tomato sauce, and crispy pepperoni. It's comfort food with a spicy kick, and it's sure to become a new family favorite.
Source: chocolatemoosey.com
This recipe is designed for those special moments when you want to savor each other's company and indulge in a meal that's both intimate and indulgent.
The chicken is seared to perfection and then simmered in a balsamic tomato sauce that's both sweet and savory. It's a dish that celebrates love, good food, and the joy of cooking together.
Source: jawnsicooked.com
In this recipe, tender chicken is adorned with salty prosciutto and creamy mozzarella. The real star, however, is the balsamic tomato and artichoke pan sauce.
It's a sauce that's complex yet approachable, creating a dish that's fit for a special occasion but easy enough for a cozy night in.
Source: joyfilledeats.com
Next up, this dish showcases the beauty of simplicity, with chicken bathing in a rich and flavorful tomato sauce. The sauce is a celebration of ripe tomatoes, aromatic garlic, and fragrant basil.
Each bite is like a taste of Italy, minus the carbs. Serve it over cauliflower rice or zucchini noodles for a guilt-free yet indulgent experience.
Source: divinelifestyle.com
Lasagna, meet chicken, and tomatoes – a match made in comfort food heaven. This recipe takes the beloved layers of pasta, cheese, and sauce and infuses them with tender pieces of chicken.
Add a medley of fresh vegetables, and what do you have? A lasagna that's hearty yet vibrant, perfect for those who want a touch of garden-fresh goodness in every bite.
Chicken and Canned Tomato Recipes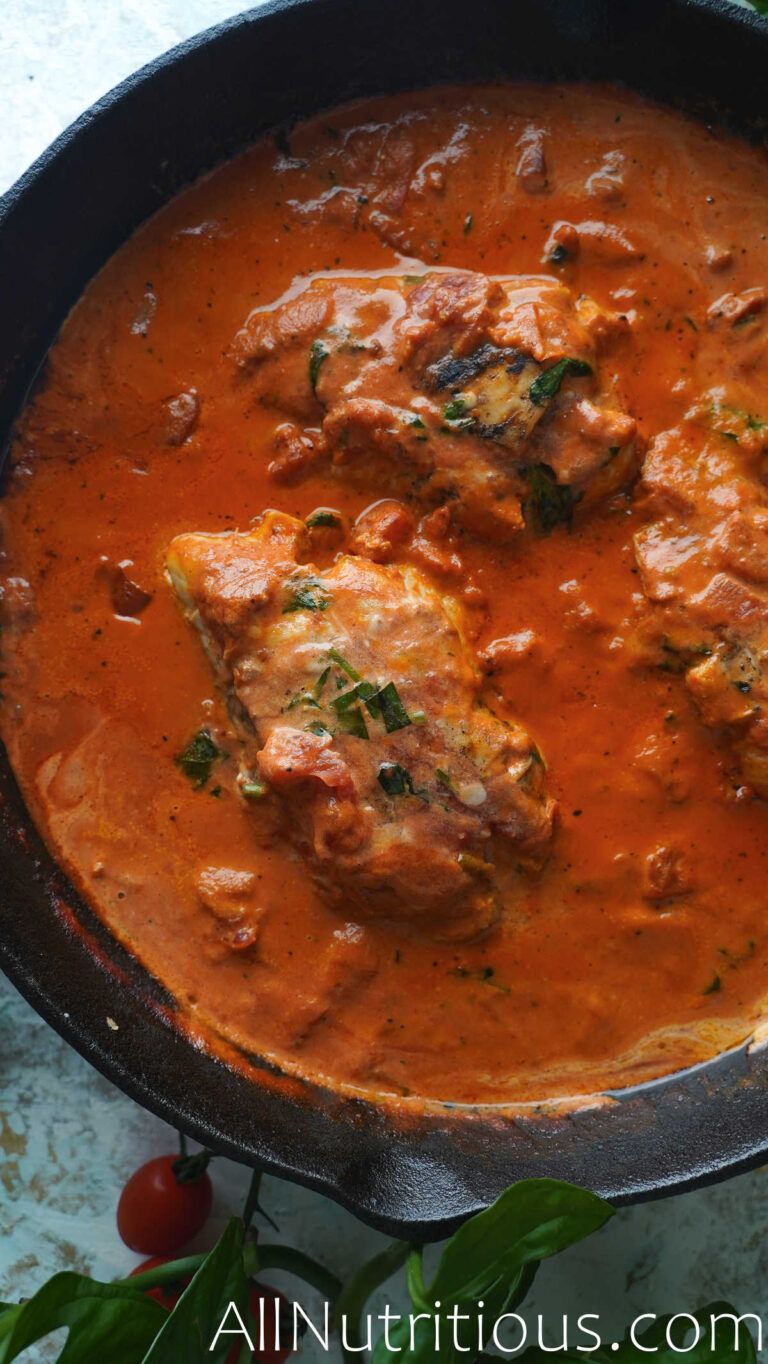 Source: allnutritious.com
This is another one of mine! The creamy tomato sauce embraces tender chicken, creating a dish that's as satisfying as it is straightforward.
This recipe is perfect for those evenings when you want a delicious meal without the fuss of a multi-step cooking process.
The beauty of a skillet meal is that it's easy to prepare, easy to clean up, and leaves you with more time to savor the company of loved ones.
Source: katykicker.com
Next up, here's a dish that marries the tender goodness of chicken with a tomato-based curry sauce that's rich and aromatic.
The slow cooker does the heavy lifting, allowing the spices to meld together and infuse the chicken with irresistible flavors.
Serve it over rice or with naan bread for a comforting meal that's sure to warm you up from the inside out.
Source: hungryhealthyhappy.com
This dish is a celebration of bold Indian spices and the zesty kick of tomatoes and garlic. As the chicken simmers in this aromatic sauce, it absorbs the rich, complex flavors.
The result is a curry that's both satisfying and exciting. Whether you're an experienced curry lover or new to this world of spice, this recipe promises an unforgettable dining experience.
Source: thefoodblog.net
Calling all chili lovers! This hearty and creamy chili combines chunks of tender chicken with the classic chili flavors you know and love.
The secret ingredient that takes it over the top is cream cheese, which adds a luxurious, velvety texture to the dish.
It's perfect for game day gatherings, cozy winter evenings, or any time you crave a comforting bowl of chili that's anything but ordinary.
Source: thepetitecook.com
Pollo alla Cacciatora, or Hunter's Chicken, is a rustic Italian dish that brings together the savory goodness of chicken with the comforting embrace of tomatoes.
In this recipe, chicken simmers alongside aromatic herbs, mushrooms, and tomatoes, creating a dish that's as heartwarming as it is delicious.
Source: theforkedspoon.com
Warm up on a chilly day with a bowl of Chicken Tortilla Soup that's brimming with bold flavors. This soup is a Tex-Mex delight, featuring tender chicken, tomatoes, and a medley of spices.
Topped with crunchy tortilla strips, creamy avocado, and zesty lime, each spoonful is a symphony of textures and tastes.
Source: hauteandhealthyliving.com
For those seeking a healthier option that doesn't compromise on flavor, Chicken Zucchini Casserole is a must-try.
This recipe combines chicken with garden-fresh zucchini and juicy tomatoes in a wholesome, cheesy casserole.
It's a dish that's as nourishing as it is satisfying, making it perfect for those who want to incorporate more veggies into their meals without sacrificing taste.
Source: joyfoodsunshine.com
This recipe is a breeze to make – simply set it and forget it in your slow cooker. As the chicken simmers with beans and tomatoes, it absorbs all the smoky, spicy goodness of chili seasoning.
This crockpot chicken recipe is a dish that's perfect for a crowd or for batch cooking and freezing for busy days ahead.
Source: quichemygrits.com
When you crave a hearty and protein-packed soup, Three-Bean Chicken Soup comes to the rescue. Here's a soup that's not only nutritious but also deeply satisfying.
It's the kind of meal that warms your soul and leaves you feeling nourished from the inside out. Whether you're seeking comfort or simply want a wholesome bowl of goodness, this soup has it all.
Source: thatskinnychickcanbake.com
Prepare to be delighted by the harmonious pairing of chicken and feta in this Chicken Feta Casserole. The tangy feta balances beautifully with the sweetness of tomatoes.
You're creating a casserole that's as visually appealing as it is delicious with this recipe! It's comfort food with a Mediterranean twist, perfect for family dinners or special occasions.
Chicken and Tomato Pasta Recipes
Source: savorywithsoul.com
This is no ordinary spaghetti; it's a flavor-packed, spicy extravaganza that'll set your taste buds on fire.
The secret ingredient here is Rotel tomatoes, adding a tantalizing kick of heat to the creamy chicken spaghetti. It's a delightful twist on a classic dish that's sure to please spice enthusiasts.
Source: eatinginaninstant.com
In need of a quick and delicious meal? Look no further than this Instant Pot bruschetta chicken pasta. This recipe seamlessly marries the flavors of Italy with American comfort food.
The succulent chicken, fragrant basil, and ripe tomatoes create a symphony of flavors that'll leave your taste buds singing.
Source: hungryhealthyhappy.com
Sometimes, all you need is a comforting pasta bake to soothe your soul. This dish is a true crowd-pleaser.
Imagine tender chicken pieces nestled in a bed of pasta, all enveloped in a luscious, cheesy, and tomato-infused sauce. It's a hug on a plate, perfect for family dinners or gatherings with friends.
Source: nourishedbynic.com
For those days when you crave a delicious meal without the hassle of multiple pots and pans, this one-pan creamy chicken and tomato pasta is your savior.
The dish is a symphony of flavors and textures, with the creamy sauce melding perfectly with the tender chicken and ripe tomatoes.
Source: therusticfoodie.com
Next up, a recipe that calls all spaghetti lovers (especially the ones trying to be healthy without compromising on taste).
It's a hearty and wholesome creation featuring chicken, sausage, kale, and a burst of tomato goodness.
The flavors are robust and deeply satisfying, making it a great choice for those looking for a well-rounded meal.
Source: ambitiousfoodie.com
If you're a cheese lover, this chicken mozzarella pasta will make your heart skip a beat.
Picture tender pieces of chicken and juicy tomatoes smothered in a creamy, melted mozzarella cheese sauce. It's a decadent indulgence that's worth every bite.
Source: chefnotrequired.com
Sweet cherry tomatoes take the spotlight in this pasta dish. Their natural sweetness and vibrant flavor add a burst of freshness to every bite.
Paired with tender chicken, this dish strikes a delightful balance between savory and sweet.
Source: thecookreport.co.uk
Transport your taste buds to the Mediterranean with this creamy Italian chicken skillet.
Sun-dried tomatoes, fragrant basil, and succulent chicken create a harmonious fusion of flavors. The creamy sauce ties it all together, making it a dish to remember.
Source: currytrail.in
A velvety tomato sauce wraps around tender chicken and perfectly cooked pasta in this recipe. The creaminess and tanginess of the sauce complement each other beautifully.
It's a dish that strikes the ideal balance of simple yet luxurious. Best of all, it's easy to make any night of the week!
Source: saltandspoon.co
When the weather warms up, a refreshing pasta salad is the answer. This chicken pesto pasta salad combines the freshness of pesto and cherry tomatoes with succulent pieces of chicken.
It's a perfect choice for a light and satisfying summer meal. Light, bright, and green, here's something that will delight your guests no matter the season.
Source: kitchenfunwithmy3sons.com
In this classic recipe, chicken, pesto, and tomatoes unite to create a quick and delightful weeknight dinner.
The pesto infuses the dish with a burst of basil and garlic flavor, while the tomatoes add a juicy and tangy element.
Source: letscookchicken.com
Give the traditional beef Bolognese a flavorful twist by using chicken. It's a lighter and equally delicious version of this Italian classic.
The rich tomato sauce and tender chicken make for a memorable pasta dish that's perfect for any occasion.
Source: blessthismeal.com
Indulge in the decadence of vodka sauce pasta with tender chunks of chicken. The creamy and tomato-rich vodka sauce lends a luxurious touch to this dish.
This makes it a standout choice for special occasions or when you want to treat yourself.
Source: thecookinchicks.com
This bruschetta chicken pasta brings the flavors of a classic Italian appetizer to your dinner table. This is a creative way to enjoy the classic bruschetta flavors in a different form.
The combination of fresh tomatoes, basil, garlic, and tender chicken creates a vibrant and satisfying dish that's both comforting and refreshing.
Bruschetta is so popular, so why wouldn't its pasta twin be, too?
With these 41 chicken and tomato recipes at your fingertips, you'll never run out of delicious meal ideas. I hope you found a few you'd like to add to your weekly meal rotation! I certainly did.
Whether you're in the mood for a comforting classic or a fresh and vibrant dish, these recipes offer a wide range of options to suit your taste buds. Did I miss any vital additions?
Leave them in the comments!
So, roll up your sleeves, gather your ingredients, and get ready to savor the delightful combination of chicken and tomatoes in every bite.
If you're looking for more chicken recipes, you will also enjoy these delicious chicken sausage recipes. Happy cooking!
41 Easy Chicken and Tomato Recipes
Bring a burst of color and flavor to your table with these delightful chicken and tomato recipes.
Ingredients
1. Sun Dried Tomato Farro Chicken Bake
2. Marry Me Chicken
3. Chicken Bryan
4. Tuscan Chicken
5. Chicken Parmesan
6. Risotto
7. Chicken with Sun Dried Tomatoes
8. Sun Dried Tomato Chicken
9. Mozzarella Stuffed Chicken Breast
10. Chicken with Feta and Tomatoes
11. Caprese Sheet Pan Chicken
12. Balsamic Chicken with Roasted Tomatoes
13. Chicken Parmesan with Pepperoni
14. Balsamic Tomato Chicken Skillet
15. Prosciutto Mozzarella Chicken
16. Pomodoro Chicken
17. Chicken and Vegetable Lasagna
18. Creamy Tomato Chicken Skillet
19. Chicken Curry
20. Tomato and Garlic Chicken Curry
21. Cream Cheese Chicken Chili
22. Pollo alla Cacciatora
23. Chicken Tortilla Soup
24. Chicken Zucchini Casserole
25. Crockpot Chicken Chili
26. Three Bean Chicken Soup
27. Chicken Feta Casserole
28. Chicken Spaghetti with Rotel
29. Bruschetta Chicken Pasta
30. Creamy Tomato and Chicken Pasta Bake
31. Chicken and Tomato Pasta
32. Chicken Sausage Kale Spaghetti
33. Chicken Mozzarella Pasta
34. Cherry Tomato Chicken Pasta
35. Italian Chicken Spaghetti
36. Creamy Tomato Chicken Pasta
37. Chicken Pesto Pasta Salad
38. Chicken Pesto Pasta with Tomatoes
39. Chicken Bolognese
40. Pasta with Chicken and Vodka Sauce
41. Bruschetta Chicken Pasta
Instructions
Scroll up to get a bunch of easy, yummy, and delicious recipes. Don't be afraid to get creative with the ingredients, you might discover a flavor you didn't know you liked.
Get your shopping list going and make sure you've got all the ingredients.
Get cooking and make your next Chicken and Tomato Recipe!
Notes
Which one of these recipes was your favorite? Let me know in the comment section or on Pinterest!