With just 0.4g of net carbs per bite, these broccoli egg bites are keto-friendly, gluten-free, and low-calorie. Easy to make, flavorful, vegetarian, and great for meal prep.
Are you looking for an easy, delicious grab-and-go snack? These broccoli egg bites are a great option.
Believe it or not, these bites only take a few minutes to prepare. They are also gluten-free and keto-friendly.
The best part about these egg bites is the addition of tasty cheddar cheese. Broccoli and cheddar pair very well together.
This recipe is much healthier than resorting to traditional broccoli cheddar soup or a casserole. You will kick that savory craving in no time with this easy, enjoyable recipe.
What Are Broccoli Bites?
Broccoli bites are basically small muffins that can be consumed in one bite. Thus, they're easy to make and make for a great addition to a healthy diet.
Each bite only has 31 calories. You could easily have a few for a snack or add some to a breakfast or lunch meal.
Broccoli is full of vitamins. It is also very high in fiber and antioxidants.
On top of that, eggs provide high-quality protein and are a great source of omega-3 fatty acids. Thus, pairing broccoli and eggs make these bites a great superfood snack.
Broccoli egg bites store easily, too. You can keep them in the fridge and grab-and-go as you need them.
They can be stored in these mini reusable bags and pre-portioned to make things even easier for you. Simply grab a bag from the fridge and head out the door.
You can heat them up again or enjoy them cold. Whatever you prefer.
The bites are not just low calorie. They also have 1.6 grams of protein per bite.
There is less than a gram each of sugar and carbohydrates in each bite.
You can eat them in the morning for your daily energy boost. They are also great before and after workout snacks.
Much better than some of the packaged protein snacks that are full of ingredients you cannot even understand.
The broccoli egg bites are easy to make and contain whole foods. All you need is a few simple ingredients.
You do not even need to plan too far ahead to make these. They can be prepared in less than 30 minutes.
Ingredients You'll Need
large eggs
heavy cream
broccoli
cheddar
salt and black pepper
How to Make Broccoli Egg Bites
Start by gathering all your ingredients. Preheat the oven to 350F.
Prepare the muffin pan by greasing it with olive oil or using a non-stick cooking spray.
A silicone muffin pan or a non-stick muffin pan will work great for this recipe.
Step 1: Grate Cheese
Shred the cheddar cheese. But, it's best to buy a block of cheddar cheese to assure you are eating the cleanest product.
Some pre-packaged cheese has additives to help keep the cheese fresh and to keep it from clumping out. Thus, buy the whole block if you are following an organic or clean diet.
It's also much cheaper! Don't worry if you don't use the whole block all at once.
You can freeze shredded cheese for future uses.
Step 2: Chop Broccoli
Firstly, chop the broccoli into small bites. Remember that these are going into mini muffin/bite sized portions.
Chopping the broccoli into very small pieces will ensure that you get enough delicious broccoli into each bite.
Afterward, add the eggs, whisk them. Then, add in broccoli and seasonings into a large bowl.
Step 3: Combine All Ingredients for Mini Muffins
Mix all of the ingredients except the cheddar cheese. Using a whisk here will be best for light and fluffy bites.
The whisk helps create natural air bubbles that add to the texture of the bite.
Make sure that you have greased the pan even if you are using a non-stick pan. You want the bites to pop out very easily.
Now, pour the mixture into the mini muffin pan. A small measuring spoon will help assure that each bite is the same size.
Moreover, it will help keep things clean around the edges of the pan.
You will want each bite to be about 2/3 full in the muffin pan. They will puff up a little bit while cooking.
Sprinkle the cheese on top of the bites so that each bite is covered equally.
Bake the bites for 12-15 minutes or until the eggs are completely cooked.
They should be firm and not liquid anymore.
Remove the egg bites from the oven. Allow the mini muffins to cool completely before trying to remove them from the pan.
They will fall apart if you try to remove them too quickly.
Enjoy them as a snack! They also make a great side option for a keto salad or soup.
How Do You Keep Egg Bites from Sticking?
You really want to avoid the egg bites from falling apart after you've put in the work to make them.
Again, using the right non-stick mini muffin pan will be helpful here.
Using a spray will also prevent the egg bites from sticking. There are a lot of great options for non-stick sprays that are clean and healthy.
You can find non-stick sprays with olive oil, avocado oil, and even coconut oil.
Be sure to store any leftover egg bites in the refrigerator. You can even freeze them.
Freeze the egg bites on a baking tray first. Then store in a good air-tight container.
They can keep for 3-6 months in the freezer. Simply reheat in the toaster oven or microwave when you want a quick snack.
Watch Full Tutorial on How to Make These Broccoli Egg Bites
More Keto Breakfast Ideas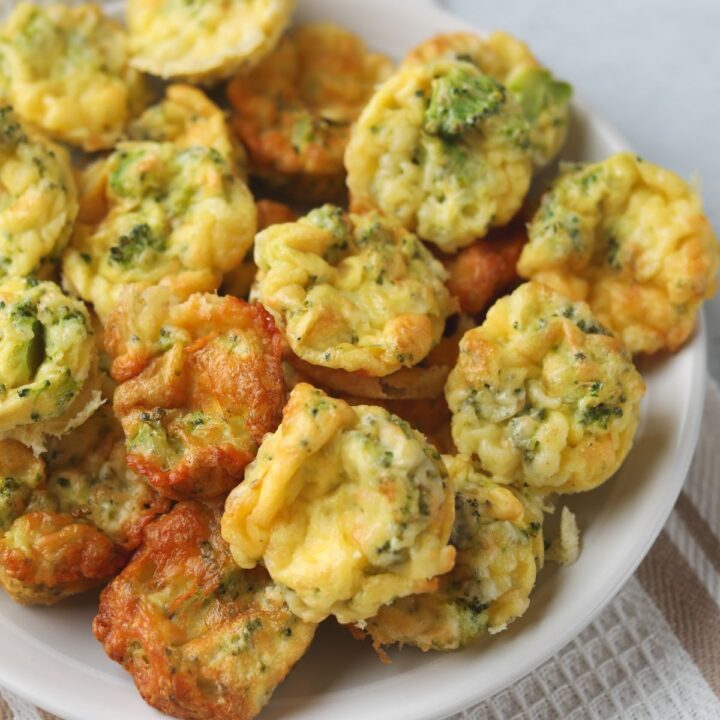 Broccoli Egg Bites
These keto broccoli egg bites are a perfect keto breakfast or snack for the family! A great way to incorporate veggies into your family's diet and have nice treats without breaking ketosis. Gluten-free and keto-friendly.
Ingredients
4 large eggs
1/3 cup heavy cream
1 cup broccoli (chopped)
1/3 cup cheddar (grated)
a pinch of salt and black pepper
Instructions
Preheat the oven to 350F. Now, make sure to grease up the mini muffin tin with olive oil or use some cooking spray.
Chop broccoli and grate the cheddar. Then, whisk the eggs in a bowl and add in the rest of the ingredients except for the cheddar cheese.
Mix well until well combined. Pour the batter into the mini muffin tins. They should be around 2/3 full.
Sprinkle the mini muffins with grated cheese and bake for 10-12 minutes until egg bites are fully cooked.
Let the mini muffins cool down before serving!
Nutrition Information:
Yield:

24 egg bites
Serving Size:

1 egg bite
Amount Per Serving:
Calories:

31
Total Fat:

2.5g
Saturated Fat:

1.3g
Trans Fat:

0.1g
Unsaturated Fat:

1g
Cholesterol:

36mg
Sodium:

48mg
Carbohydrates:

0.5g
Net Carbohydrates:

0.4g
Fiber:

0.1g
Sugar:

0.2g
Protein:

1.6g
Nutritional values were obtained with automatic software using the amounts of products used. To get the most accurate representation of the nutritional values, you should calculate them with the actual ingredients used in your recipe. You are solely responsible for the nutritional information obtained to be accurate.