Crustless, cheesy, rich in flavors and filling, this cheese and tomato quiche is a perfect breakfast meal when you're following a low carb diet, vegetarian, gluten-free, keto, or high protein diet.
Quiche is a kitchen staple that's easy to make, comforting, and can be good for you.
You just need to alter and omit a few ingredients. Then you have a wholesome, healthy meal or even meal prep.
Therefore, quiche can easily be a regular menu item when following a gluten-free or keto diet.
After all, they are so versatile. You can mix and match several ingredients and always come out with a delicious meal.
This recipe makes six very generous servings.
The cheese will be the savory crust instead of using a traditional dough-based crust. Why? Because it will harden, and the bottom will crisp up really nicely.
Most importantly, you won't even be able to tell the difference! The richness of the cheese surely outdoes the bland, flour-based crust.
Twelve whole eggs will go into this recipe. This allows each serving to have 23 grams of protein.
This is a great amount of protein for an individual serving while following a keto or low carb diet.
Most of the ingredients that are in this quiche are easy to find. For all you know, you might even have them in your kitchen already.
Ingredients You'll Need
cheddar
large eggs
cream cheese
butter
tomatoes
onion
thyme
dried parsley
salt & black pepper
How to Make Cheese and Tomato Quiche
First of all, preheat the oven and gather the ingredients. The oven will need to be set at 325F.
Step 1: Prepare the Cheese Base
Then, shred the cheddar cheese with a cheese grater. It's always best to use a fresh, whole block of cheese.
That's mostly because this is the most cost-efficient option. Buying shredded cheese is more expensive.
Additionally, bags of shredded cheese often have questionable additives that prevent the cheese from going bad and clumping up.
Once you have shredded the cheese, spread 1.5 cups evenly into the bottom of your baking dish (12″ x 8″).
Make sure that it covers the bottom evenly. Remember, this is going to be your crust.
It's ok if there are some holes, and the egg mixture might seep through. But you want that crunchy flavor in each bite.
Step 2: Prepare the Egg Mixture
Now, prepare the rest of your ingredients.
First of all, we'll chop the tomatoes into small pieces. You may want to remove the seeds and pulp from the tomatoes.
This part of the tomato holds a lot of water that might make your quiche soggy. You can reduce this by soaking up some of the liquid with a paper towel while the tomatoes are still on the cutting board.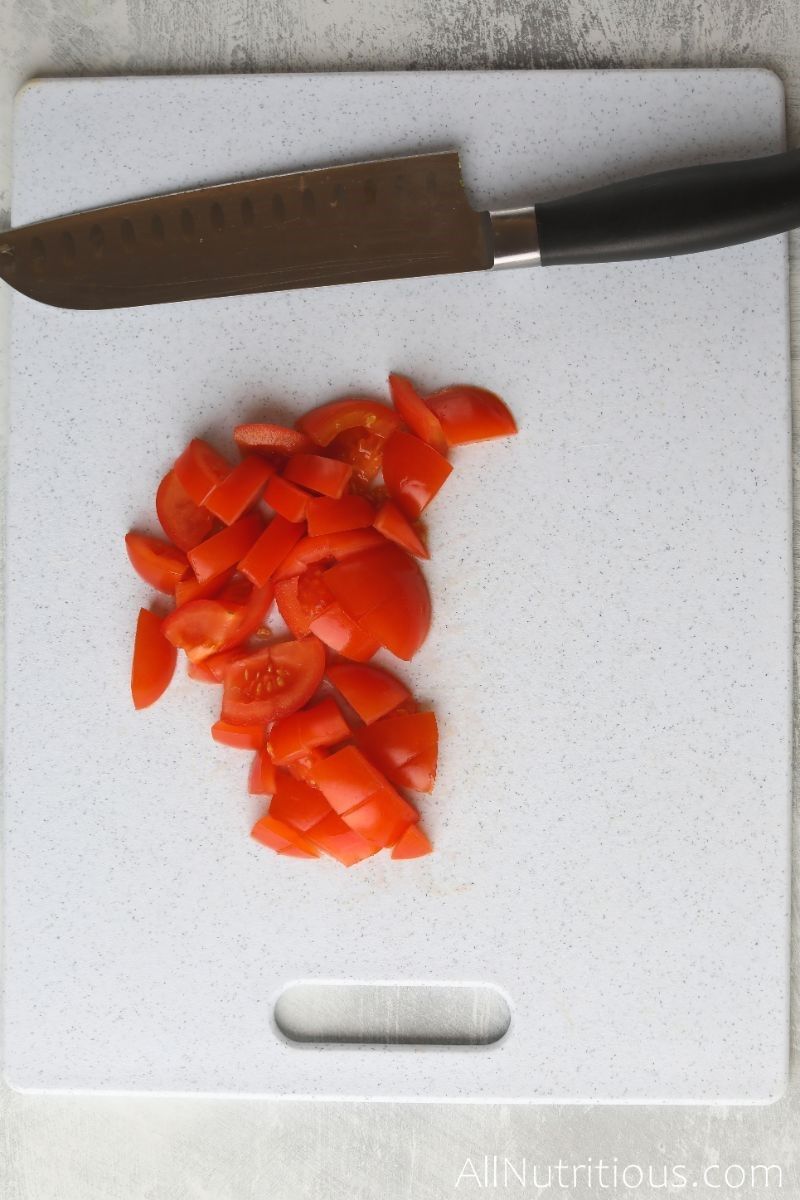 Now, chop the onion into small pieces. Make sure you are using a very sharp knife to avoid any "onion tears"!
Then, melt the butter in the microwave.
Add the eggs, tomatoes, onions, and cream cheese into a food processor. Then add the seasonings.
Process all the ingredients until everything is blended and smooth.
It's ok if you don't have a food processor. You can always look for one another time.
They are a great kitchen tool that has a lot of uses. This food processor is a good affordable option.
For now, a whisk will work just fine. You will want the cream cheese to be at room temperature so that it mixes easily.
You also might want to cut the tomatoes and onions into smaller, equal-sized pieces as well. This will ensure the same smooth consistency as if you were using a processor.
As you are mixing or processing the ingredients, slowly pour in the melted butter.
Step 3: Prepare the Quiche
Finally, pour the mixture over the cheese in the baking dish (12″ x 8″).
Sprinkle the remaining ½ cup of cheese on top of the egg mixture.
Bake the quiche for 45 minutes.
The quiche should be firm around the edges and slightly jiggly in the middle.
Now, let the quiche cool before serving. It will fall apart if you try to cut into it too soon.
Serve and enjoy! This quiche pairs well with a simple green salad.
What Cheese are Good for Quiche?
There are a lot of great cheese options for quiche.
Harder cheese will be easier to shred. Plus, they will have a richer flavor.
Some delicious options are cheddar, pepper jack, and gruyere.
Softer cheese will work, too. They might just be harder to mix in evenly.
Feta and goat cheese are fun options to try.
After all, just feel free to mix and match. Each cheese combination will provide a different and unique flavor!
Does Quiche Always Have Cheese?
Cheese is a traditional ingredient in a quiche. But that doesn't mean you have to use it!
It's ok if you want to omit it if you are following a dairy-free diet.
Keep in mind that it might not be as creamy and rich as a quiche that has cheese.
You could compensate with other ingredients that add the salty flavor that cheese provides.
Some examples would be adding ham, bacon, or simply adding more vegetables.
What Can I Use Instead of Cream Cheese in Quiche?
It's ok if you don't have or don't want to use cream cheese.
Here are some cream cheese substitutes for this recipe:
Greek yogurt
Sour cream
Tofu (dairy-free)
Ricotta
Plant-based cream cheese, almond or cashew cream cheese (dairy-free)
Watch Full Instructions
Check out the video if you want a more visual guide!
More Keto Breakfast Ideas
Cheese and Tomato Quiche
Total Time:
1 hour
10 minutes
Keto quiche is a fun, easy breakfast anyone can make. This cheese and tomato quiche is flavorful, savory, cheesy, and will keep you in ketosis.
Ingredients
2 cups cheddar cheese (grated)
12 large eggs
1/2 cup cream cheese
12 tbsp butter (melted)
1 medium or 2 small tomatoes (chopped)
1/4 cup onion (chopped)
1/8 tsp thyme
1/4 tsp dried parsley
salt & black pepper (to taste)
Instructions
Add 1.5 cups of cheddar cheese to a baking dish (8" x 12").
Melt butter in a microwave.
Now add eggs, cream cheese, tomatoes, and onion to the food processor. Add in thyme, dried parsley, and salt with pepper. If you don't own a food processor, whisk eggs in a bowl with cream cheese and mix in tomatoes with onions with the rest of the ingredients.
While processing the ingredients, slowly start pouring in melted butter. In the case of no processor, just pour in the butter while mixing all the ingredients together.
Now, pour the egg mixture over the shredded cheese into a baking dish.
Sprinkle with the remaining ½ cups of cheese.
Bake in the oven at 325F for 45 minutes. The outside should be completely cooked, while the middle only a little jiggly.
Cooldown before serving! The recipe is freezer-friendly!
Nutrition Information:
Yield:

6 slices
Serving Size:

1 slice
Amount Per Serving:
Calories:

573
Total Fat:

52g
Saturated Fat:

29g
Trans Fat:

1.3g
Unsaturated Fat:

18.6g
Cholesterol:

490mg
Sodium:

730mg
Carbohydrates:

4.6g
Net Carbohydrates:

4.1g
Fiber:

0.5g
Sugar:

2.1g
Protein:

23g
Nutritional values were obtained with automatic software using the amounts of products used. To get the most accurate representation of the nutritional values, you should calculate them with the actual ingredients used in your recipe. You are solely responsible for the nutritional information obtained to be accurate.