Flavorful, cheesy, filling, and salty – this keto egg casserole is a perfect meal for breakfast, brunch, or lunch. Even dinner! It's keto-friendly and gluten-free.
Casseroles are great comfort food. They are the meal option for many of us in the winter.
So, I thought I would share with you a casserole that's great for any time of the day. Whether it's breakfast, lunch, or even dinner.
Keto Egg Casserole with Bacon and Broccoli is salty, cheesy and full of flavor. It's gluten-free and keto-friendly.
Even though it's low carb, the casserole has plenty of protein. Each serving contains around 23 grams of protein.
The servings are very generous, too! The casserole can make six large portion sizes.
Protein-packed ingredients like bacon and eggs are essential components to this dish. Broccoli adds on the vitamins and minerals that we need in our daily diet.
Cheese also makes everything better. This ingredient is a great addition to your diet in moderate amounts.
Cheese also adds calcium to your diet to keep your bones healthy and strong. Best of all, it gives the casserole a perfect comfort food flavor.
Ingredients You'll Need for the Casserole
Bacon (go for thinly sliced)
broccoli florets (I used fresh ones, but you can use frozen ones too to make the broccoli rice)
cheddar (I went for mature because that's my favorite!)
eggs
heavy whipping cream
salt
black pepper
onion powder
garlic powder
thyme
oregano
How to Make Keto Egg Casserole
First of all, let's start by preheating the oven to 375F.
Lay the bacon slices on a large baking tray. Make sure that the slices are not overlapping.
Why? Because they will not cook evenly if the bacon slices are touching.
Step 1: Prepare Crumbled Bacon
Bake in the oven for 18-20 minutes or until the bacon is nice and crispy.
Carefully remove the bacon from the tray and place it on a few paper towels. Using a good pair of kitchen tongs will help with this, so you don't burn your fingers.
The paper towels will absorb any excess fat from the bacon.
Place the bacon strips into a food processor. Then, pulse the bacon until it is processed into crumbled bits.
Finally, remove the bacon from the food processor and set it aside.
Now, time to bring the oven temperature down to 350F.
Next, cut the broccoli into small pieces so that it can fit into the food processor.
Step 2: Prepare Broccoli Rice
Afterward, pulse the food processor so that the broccoli breaks down into small, rice-sized pieces.
Remove the broccoli from the food processor. Prepare to steam the broccoli.
Steam the broccoli until it is tender by using a steaming basket like this. Or use your favorite steaming method if you do not have a steaming basket. You don't want it to get too mushy, though.
This won't take much time now that the broccoli is in such small pieces. It took me a total of 10-12 minutes.
Now you will shred the cheddar cheese.
Grease the bottom of a large baking dish. You can use olive oil or a non-stick spray.
A silicone brush like this will help you spread the olive oil out evenly. This will also keep your hands from getting too messy and oily.
Pour the steamed broccoli into the pan. Spread it out and press it down so that it covers the bottom of the whole pan.
Sprinkle ½ cup of the cheese over the broccoli.
Step 3: Prepare Eggs
Now you will prepare the egg filling mixture.
Crack all the eggs into a large bowl. Whisk them together.
Add the heavy cream, salt, black pepper, onion, garlic powder, thyme, and oregano. Gently fold in all the ingredients to fully combine.
Step 4: Assemble All Ingredients in a Baking Dish
Pour the egg mixture over the broccoli and cheese.
Sprinkle the crumbled bacon and remaining cheese on top.
Bake the casserole for 45 minutes or until it's completely firm and the top has started to brown.
Let the casserole cool for a few minutes before serving. Cut into six equal portions and enjoy!
How Do You Know When Egg Casserole is Done?
It's important that you cook the casserole long enough so that the eggs are done completely. Eating raw eggs is not a good idea, and you could get very sick.
The casserole will be firm to touch when it's cooked through. You do not want any part of the casserole to still look like liquid when it's done.
How to Freeze This Casserole?
You can easily make this casserole ahead of time and freeze it for a future meal. Another great idea would be to make two of them.
Enjoy one now and freeze one for later.
Bake the casserole per the instructions and allow it to cool completely.
You can then freeze in its original baking dish if you have a suitable cover. A baking dish like this would work great.
You could also freeze into single-serving portions. Once the casserole is cooled off, cut it up into six equal portions.
Portion out eat slice into a small, freezer-friendly container.
Make sure that you label and date the portion that you are freezing. The casserole will be good in the freezer for 3-6 months.
It's best to let the casserole thaw prior to re-heating. If heating the entire casserole, it should take about 20-30 minutes in a 350F oven.
You can reheat the single-serving portions in the microwave. This is a great option for an easy lunch.
This casserole can be enjoyed in many ways! Be sure to try it for a healthy, fulfilling meal option.
Watch Full Instructions
More of a visual learner? Here is a full video on how to make this recipe and more.
More Keto Breakfast Recipes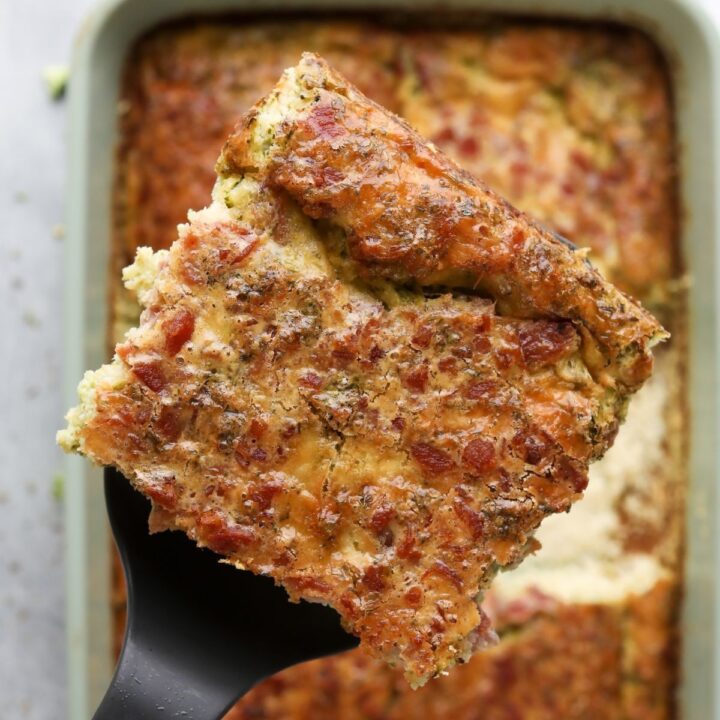 Keto Egg Casserole with Bacon and Broccoli
Cook Time:
1 hour
5 minutes
Total Time:
1 hour
30 minutes
Nothing better than starting your day with a keto egg casserole! This casserole is full of flavors, savory, filling, and delicious. The casserole is gluten-free and keto-friendly.
Ingredients
8 oz bacon (225g)
6 cups broccoli florets
1 cup cheddar (shredded)
10 eggs
1/2 cup heavy whipping cream
1 tsp salt
1/4 tsp black pepper
1/2 tsp onion powder
1/2 tsp garlic powder
1/4 tsp thyme
1/2 tsp oregano
Instructions
Preheat the oven to 375F.
Lay your baking tray with bacon and lay the bacon slices flat on it. Bake in the oven for 18-20 minutes until the bacon is crispy and fully cooked.
Remove from the oven and lay your bacon slice on paper towels to remove the fat. Once it's cooled down, pulse the bacon through a food processor until it's broken into bits.
Decrease the oven's temperature to 350 F.
Pulse broccoli florets in a food processor until rice-like texture. Then, steam the broccoli for 10-12 minutes.
Now oil the baking dish either with olive oil or cooking spray.
Spread the broccoli rice into the dish. Make sure you do it evenly.
Sprinkle over 1/2 cup of cheddar cheese.
Now whisk the eggs, add in heavy cream, salt, black pepper, onion, garlic powder, thyme, and oregano. Give it a good mix.
Pour the egg mixture over the broccoli, evenly covering the whole dish.
Cover the casserole with processed bacon.
Bake the egg casserole in the oven for 45 minutes until it is lightly browned and fully cooked in the middle.
Nutrition Information:
Yield:

6 slices
Serving Size:

1 slice
Amount Per Serving:
Calories:

453
Total Fat:

37g
Saturated Fat:

16g
Trans Fat:

0.5g
Unsaturated Fat:

17.6g
Cholesterol:

376mg
Sodium:

914mg
Carbohydrates:

8.7g
Net Carbohydrates:

6.2g
Fiber:

2.5g
Sugar:

2.9g
Protein:

23g
Nutritional values were obtained with automatic software using the amounts of products used. To get the most accurate representation of the nutritional values, you should calculate them with the actual ingredients used in your recipe. You are solely responsible for the nutritional information obtained to be accurate.