This avocado egg bake is an absolutely delicious, flavorful keto breakfast that feels like a treat. It's rich, yummy, low carb, high protein, gluten-free, dairy-free, Whole30 and Paleo-friendly.
Did you think that avocados are just for guacamole and toast? Think again!
Did you know you can cook with avocados? This is a perfect keto breakfast recipe to try when cooking an avocado for the first time.
This avocado bake recipe will provide you a fresh new way to prepare this superfood. We've all heard of (and probably tried) avocado toast for breakfast.
But that can get a little old.
This is a great alternative when you're tired of that dish and ready for a more keto-friendly version.
This is also a great gluten-free option.
Avocados are a great addition to your diet. They are low carb and full of the healthy fats our body needs.
You have a very delicious meal option when you add the egg and tasty seasonings. It's also easy to prepare.
In fact, it takes less than 20 minutes!
Are Eggs and Avocado Good for You?
Believe it or not, avocados are a fruit. But unlike other fruits, there are very low in sugar and carbohydrates.
They are full of nutrients. Avocados contain 20 different vitamins and minerals. These vitamins and minerals include folate and vitamins K, C, B5, B6, and E.
One 3.5 serving of avocado is about 160 calories and 2 grams of protein.
One serving does have 9 grams of carbs, but 7 of those carbs are fiber. Therefore, there are only 2 net carbs per serving of avocado.
This is great while you're on a Keto diet.
Eggs also contain the healthy high amounts of protein needed while following a keto diet. One egg contains a total of 6 grams of protein.
Eggs are low carb and have less than 100 calories per egg.
Avocado and eggs paired together make the perfect keto meal and snack. There are no heavy carbs involved in this recipe, yet you'll still end up feeling completely satisfied.
Eggs and avocados are two simple, delicious, and healthy ingredients. Add a few of the additional ingredients below, and you have a flavorsome meal.
Ingredients You'll Need
1 large avocado
2 medium eggs
A pinch of salt & black pepper
A dash of Italian seasoning
1 tbsp salsa
Scallions (chopped)
How to Make Avocado Egg Bake
This recipe is going to make two servings. One half of an avocado is one serving.
First of all, you will want to preheat the oven to 425F.
Then, do make sure that your avocados are ripe and not too hard. They won't be usable or taste good if you cut into them before they ripen.
Afterward, cut the avocado in half and remove the pit. You will want to scoop out a little bit of the avocado around the area where the pit was.
This is going to make room for the eggs.
Carefully crack one egg into each of the avocado halves.
Pour the eggs one at a time into a small bowl first if you're a little worried about eggshells. This way, you can easily remove them without having to dig out of the avocado.
It's ok if the eggs spill out of the hole after you pour. You'll still be able to enjoy the whole egg as everything will bake together nicely.
Gently move the eggs into a small baking dish. Try to find the smallest dish that will fit both the avocados.
This will help prevent the avocados from tipping over. Even better, if you have baking beans, you can lay those on the bottom of the dish and nest the avocados right on top of the beans.
This will surely prevent them from tipping over and spilling.
Season with the salt, pepper, and Italian seasoning once the eggs are nestled in the baking dish.
Now, place the baking dish in the oven and make sure to bake for 12-15 minutes or until the eggs are completely cooked.
Once the eggs are cooked, remove them from the baking dish carefully.
Garnish with salsa and sliced scallions.
Make sure that you are using a salsa that is sugar-free. There are lots of great options, like this one.
Why are Eggs and Avocadoes Good for Keto Diet?
Eggs and avocados are great food options when following a keto diet.
Both of the ingredients are both very low in carbs and contain healthy fats. This is the perfect combination for a keto-friendly food item.
This combination of eggs and avocado provide 7.9 grams of protein per serving. That's going to help you keep your energy up for the day.
Avocados and eggs are also great metabolism boosters. Their high protein content helps your metabolism.
Eating foods that are high in protein can burn an extra 80-100 calories a day.
Avocados and eggs are also high in fiber. This is great while following a keto diet.
Avocado egg bake can be enjoyed for breakfast, lunch, and even dinner. Get creative and mix it up with different salsas or even adding a dash of hot sauce!
Watch Full Instructions
Love more of a visual guide? Check out the recipe in the video!
More Keto Breakfast Recipes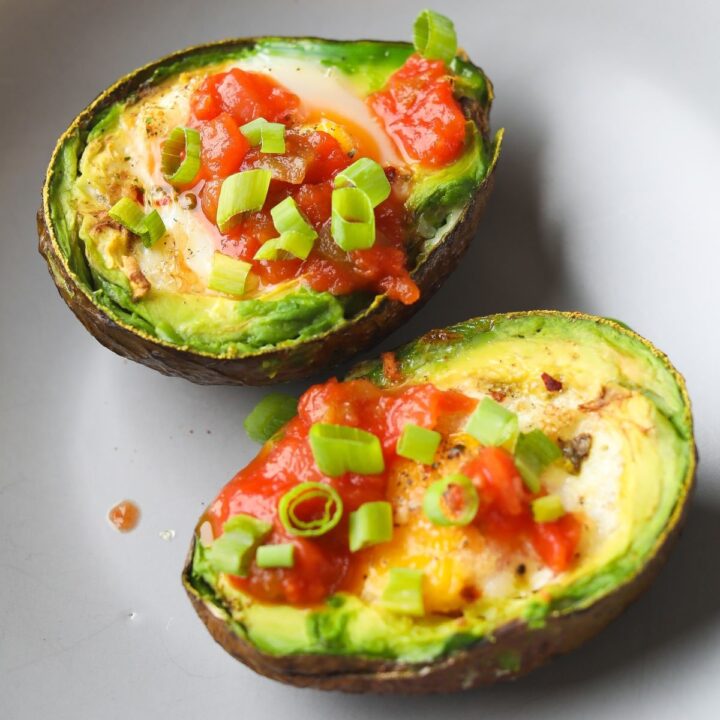 Avocado Egg Bake (Keto)
Quick, easy, yummy, and naturally sweet - avocado egg bakes are a perfect keto breakfast to have. These baked avocado egg boats are low in carbs, high in protein and fiber.
Ingredients
1 large avocado
2 medium eggs
A pinch of salt & black pepper
A dash of Italian seasoning
1 tbsp salsa
Scallions (chopped)
Instructions
Preheat the oven to 425F.
First, cut the avocado in half and then take out the seed. Now, scoop out some of the avocado flesh, making an indent for the egg.
Place avocado on a plate or board. Crack 1 egg into each avocado half. Some of the egg white might come out because the indent is too small, don't worry about that, don't try to get into the avocado.
Place the avocados in a smaller baking dish. The smaller, the better because we want to make sure that our avocados don't tip over while baking.
Sprinkle with salt, black pepper, and Italian seasoning.
Bake in the oven for 12-15 minutes until the egg is fully cooked.
Drizzle with some salsa and top with scallions before serving.
Nutrition Information:
Yield:

2 avocado boats
Serving Size:

1 avocado boat
Amount Per Serving:
Calories:

232
Total Fat:

19g
Saturated Fat:

3.5g
Trans Fat:

0g
Unsaturated Fat:

13.7g
Cholesterol:

164mg
Sodium:

201mg
Carbohydrates:

11g
Net Carbohydrates:

3.6g
Fiber:

7.4g
Sugar:

1.4g
Protein:

7.9g
Nutritional values were obtained with automatic software using the amounts of products used. To get the most accurate representation of the nutritional values, you should calculate them with the actual ingredients used in your recipe. You are solely responsible for the nutritional information obtained to be accurate.