Wondering what to make for a breakfast potluck? Here are the ultimate breakfast potluck ideas that will be a total hit among larger groups!
Have you just been invited to a breakfast potluck? Then this roundup of breakfast ideas has definitely got you covered.
These yummy delicacies do not only serve a crowd, but they are also super delicious too. Perfect for holidays, work gatherings, or large get-togethers!
Whether you want crowd-pleasing breakfast food in a jiffy, without baking, or something that is suitable for the office, I guarantee you'll find your match here.
And the best thing? Each of these breakfast recipes will work with brunch gatherings, too! Just something to have in mind.
What Do You Bring to a Breakfast Potluck?
When planning food for a potluck, you have to have in mind that you're practically serving a small village. So you need something that can easily please a crowd.
And breakfast or brunch potluck is no different than any potluck, really!
You may like your eggs super spicy, but you need to be mindful of other people, too.
For a dish that everyone will be raving about, stick to the basics. Classic ingredients, nothing too exotic. Keep the seasonings mild, and don't experiment too much.
For breakfast potluck recipes, you can also include traditional frittatas, bread, muffins, and casseroles.
And if you haven't got that many ideas, the next recipe will help you out.
No Cook Breakfast Potluck Ideas
Don't have time for cooking? Here are some great potluck ideas that you can bring along for your breakfast gathering. And none of them requires an oven.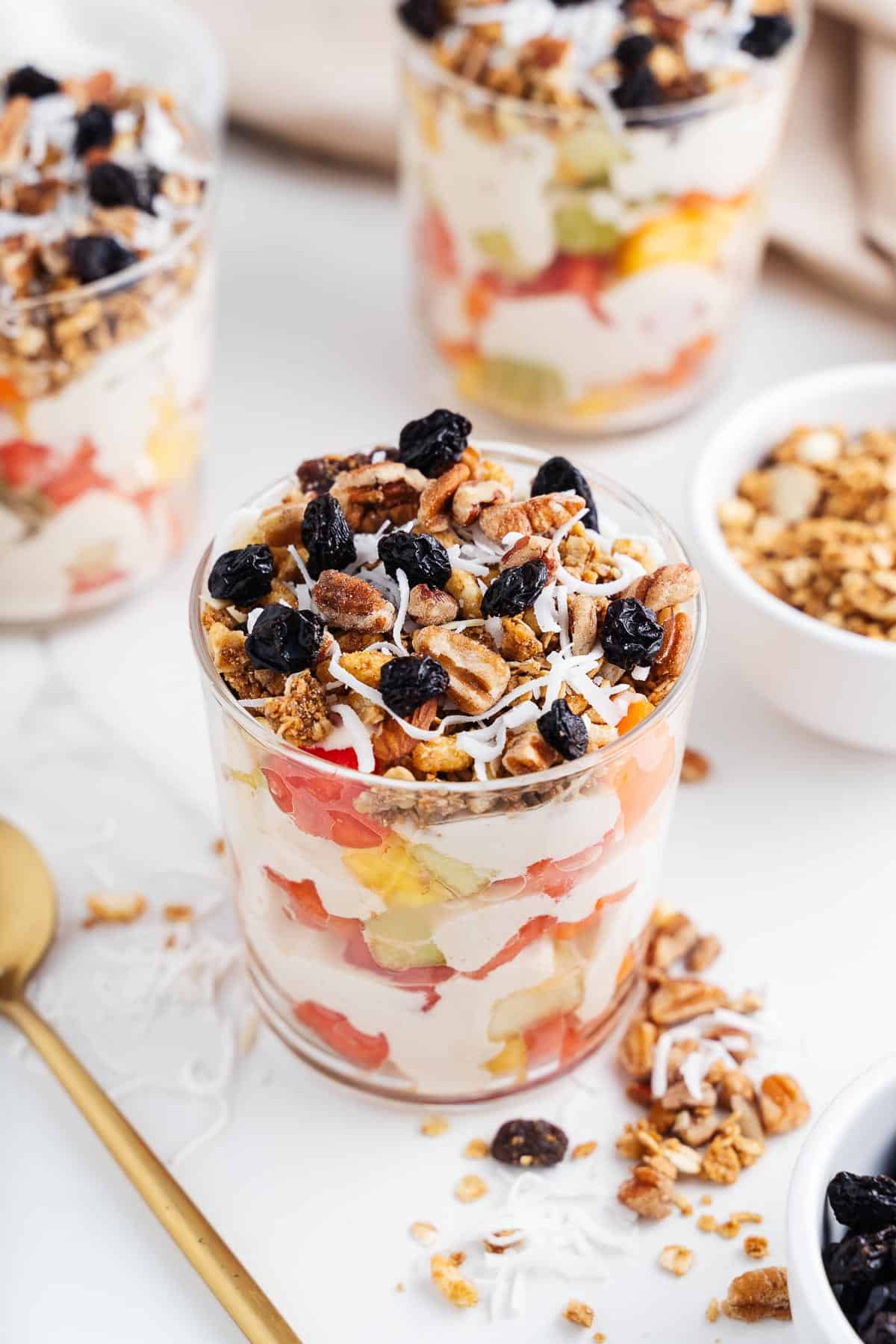 Source: brokebankvegan.com
Fruit salad is a great choice for healthy breakfasts and potlucks. I mean, it's fruit. How can you possibly go wrong with that? And who doesn't want fruit for breakfast?
It is on the lighter side, creamy, and oh-so-sweet. Since it's breakfast, I suggest you top it with crunchy granola. That will not only give this sweet recipe some texture, but it will also be more filling.
This recipe makes individual bowls. Which is pretty convenient if you know the number of people. If not, then layer it up in a large bowl, the trifle style. Everyone will be thrilled!
Source: happykitchen.rocks
Everybody needs some muesli for breakfast. It is crunchy, delicious, and packed with nutrients.
And the best part? It is pretty quick to make, too! Just 10 minutes of mixing it all up, and your big jar of crunchiness is ready to be served.
If you follow the instructions, you're in for some treat. However, feel free to customize it to taste. Cereals, nuts, dried fruits, fresh fruits… the sky's the limit.
Source: easyanddelish.com
Do you feel like bringing cookies but are not in the mood for baking? Then these lazy, 15-minute bites are the perfect choice for you.
Pumpkin, oats, peanut butter, maple syrup and chia seeds. Crunchy, chewy, and incredibly nourishing at the same time.
With a glass of milk, these will be the first thing to disappear from the potluck brunch table.
Source: twohealthykitchens.com
Who doesn't like blueberry oatmeal? And even if there are such people, this recipe will quickly change their minds.
A classic breakfast choice that will never fail you! With milk, yogurt, coconut, almonds, and berries. This creamy oatmeal will both fill you up and satisfy you.
If bringing to a potluck, you might want to make these overnight oats in a larger bowl. That way, everyone can scoop their own portion.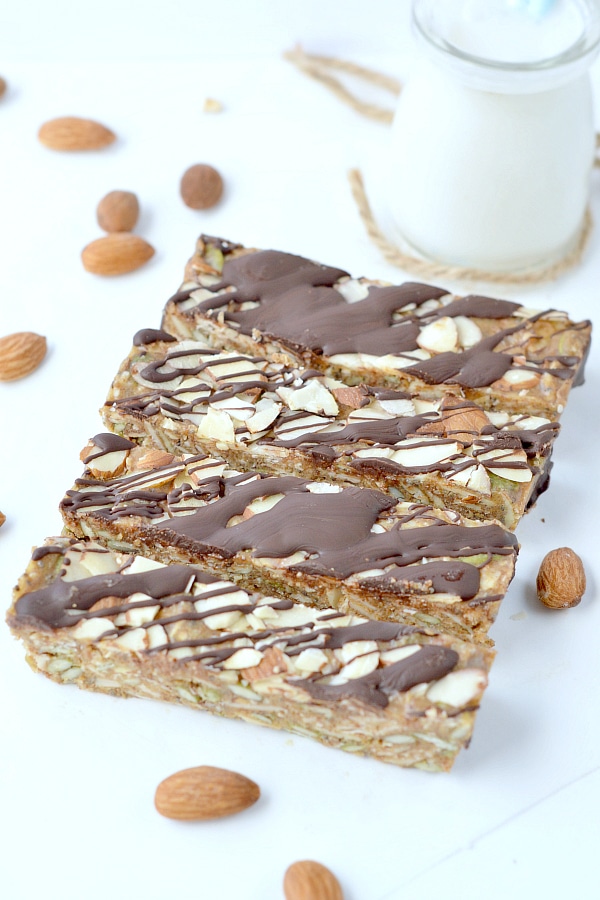 Source: sweetashoney.co
Granola bars can be a great option for a morning potluck. Plus, they're super convenient to eat, too.
These hand-held breakfast bars are actually much softer than your usual granola. Which makes them even more tempting.
The best part? You can freeze a batch, and have them thaw just a few hours before.
They are healthy, keto, gluten-free, and sugar-free. This means they will definitely please a large group.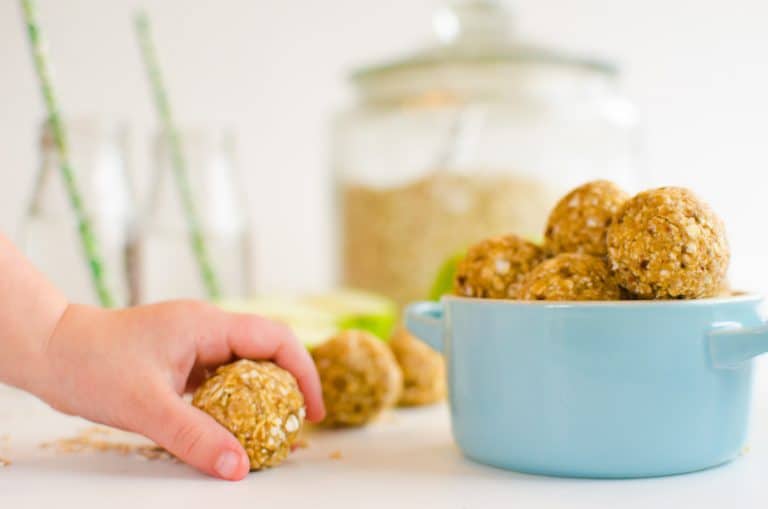 Source: mykidslickthebowl.com
Energy balls for healthy and fruity bites. They also offer a touch of protein, which makes them even more nutritious.
Of course, you can customize this with whatever fruit you have sitting in your kitchen. The recipe also uses peanut butter. But it can be equally delicious with another nut butter.
If you don't like oatmeal, this is a great way to sneak this grain into your diet.
Easy Breakfast Potluck Ideas
If you hate cooking in the morning, these easy recipes will have you prepare a meal for a crowd in no time.
Source: recipesfromapantry.com
Warm, delicious, and an absolute breakfast favorite! This frittata with mushrooms, spinach, and cheese, is the perfect thing to have in the morning with a glass of orange juice.
And the easiest way to prepare this easy recipe? In the Air Fryer, of course!
Just whip everything up and add to your Air Fryer. Then go about your morning, and 15 minutes after, ta-da! Your crowd-favorite potluck breakfast is ready.
Source: fantabulosity.com
Most people love cookies for breakfast. Which is why having this as an option for a breakfast potluck is a pretty safe choice. And a super yummy one, too!
Gluten-free, chewy, crispy, and with tons of flavor. These cookies with chocolate, peanut butter, oats, and applesauce, are the perfect morning energizer.
Packed with cinnamon, these are comforting and warming at the same time.
Source: easycheesyvegetarian.com
A berry breakfast cake with oats and cottage cheese. Is there anything more delicious with your morning brew? I don't think so.
Add your favorite fruits (raspberries and blueberries are used in this recipe), and enjoy this almost guilt-free pleasure.
This recipe makes one 9-inch square pan. But feel free to cut into smaller bars if bringing to a large group.
Source: allnutritious.com
If you want to bring eggs to your breakfast gathering, then look no more. This creamy and low-carb recipe will add some nutrition to the potluck table.
The spinach and egg bake is drizzled with spicy butter, which makes this dish smooth and perfectly seasoned.
Plus, it also comes with a garlicky yogurt that you should serve on the side. Super filling!
If baked eggs are your thing you will enjoy this yummy breakfast skillet with sweet potatoes.
Source: hotrodsrecipes.com
With 10 minutes of prep time, you can whip this up in no time. Plus, this breakfast bake is as easy as it can possibly be.
With frozen hashbrowns, Bisquick, eggs, ham, and cheese, you can create a satisfying meal that will easily please a crowd.
This recipe is enough for one 9×13-inch dish, but double the batch if going to a particularly large party.
Source: sweetmouthjoy.com
Banana bread, but vegan! This is not only a tasty, satisfying, and filling breakfast, but it is probably one of the safest options.
With so many people intolerant to grains and dairy, this plant-based and gluten-free loaf can be enjoyed by anyone.
The thing you shouldn't omit here? The chopped nuts. They give the bread some crunchiness that pairs perfectly with the soft interior.
This tasty banana bread recipe would also make an easy breakfast for kids!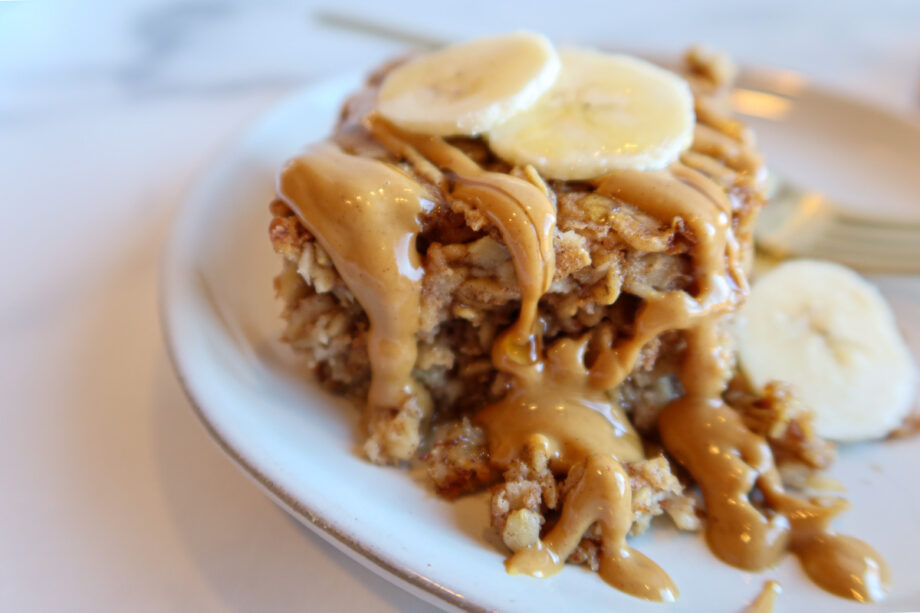 Source: garlicsaltandlime.com
Baked oatmeal with peanut butter will feel like cake. A perfect way to trick your kids into having their grains.
And a perfect way to feed a crowd, too! This recipe serves 9, but if you lower the portions, you can easily get 18 servings out of it. Perfect for potlucks!
Loaded with bananas and spices, there is nothing but intense flavors in this pan.
Source: runningonrealfood.com
Seriously, this has to be one of the sweetest and funniest breakfasts ever. Sugary and cinnamon pull-apart dough? That you eat with your hands? Of course, it will be a great hit!
We all need some monkey business from time to time. And this bread will surely make us feel like kids again.
Especially if you decide to drizzle some glaze over. Sticky fingers are inevitable!
Are you vegan? Check out the best vegan brunch recipes!
Work Breakfast Potluck Ideas
Looking for a dish that can satisfy everyone from your office? These morning delights are perfect for the workplace.
Source: allnutritious.com
These protein-rich egg muffins will be enjoyed even by the fussiest eaters from the office.
Because they are free of dairy and gluten. And can pack an energizing punch.
Plus, they're easy to customize. This recipe uses broccoli, peppers, onions, and spinach. A perfectly nutritious combo for a great start to your day.
If you want to, you can add some shredded cheese, too.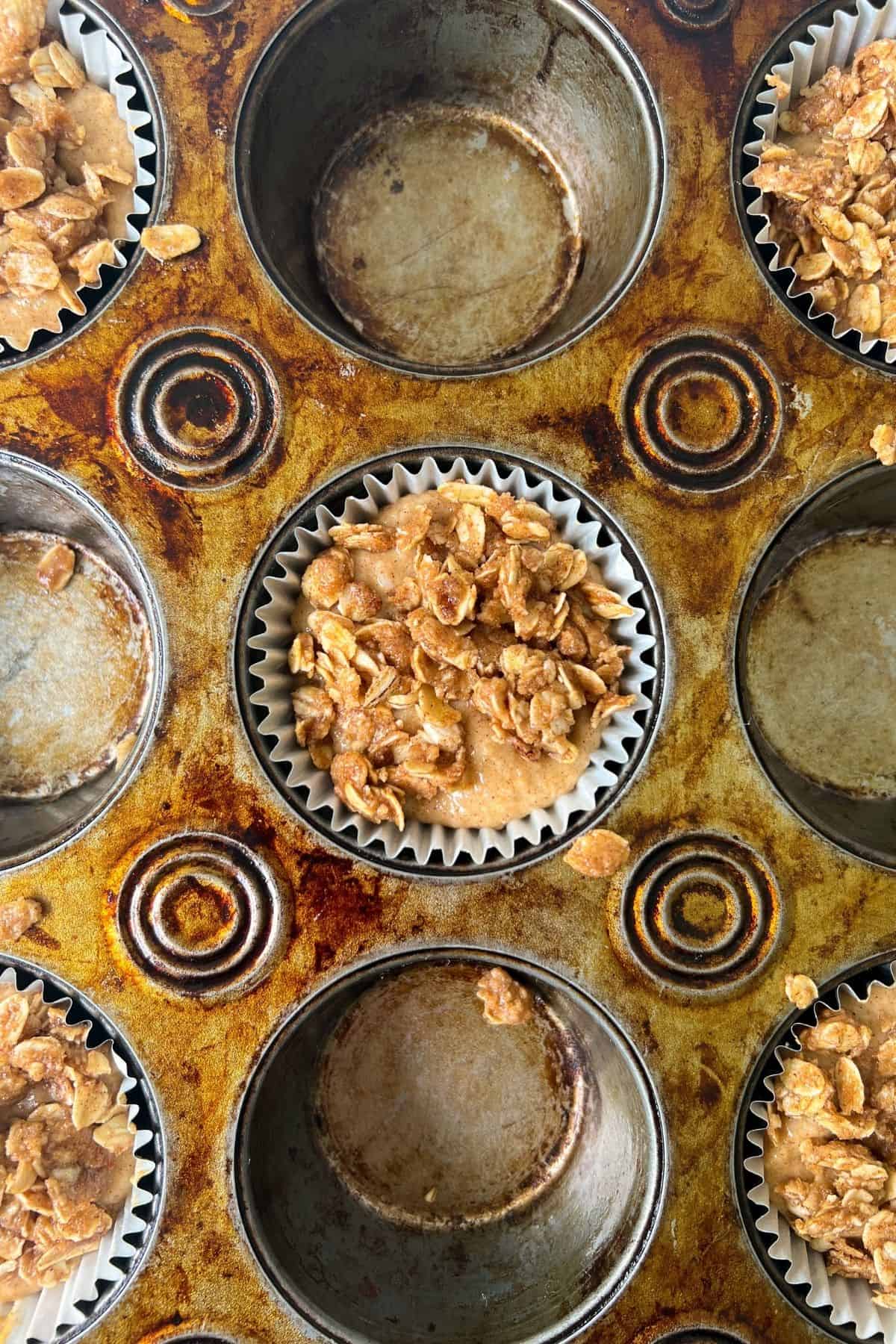 Source: feastytravels.com
Coffee cake with your morning coffee? What better way to energize yourself and boost your morning?
To avoid the trouble of slicing and cutting, these individual cakes are the perfect hand-held treat for the office.
Applesauce and cinnamon muffins, topped with some crumbly oats. Free of gluten but rich in taste!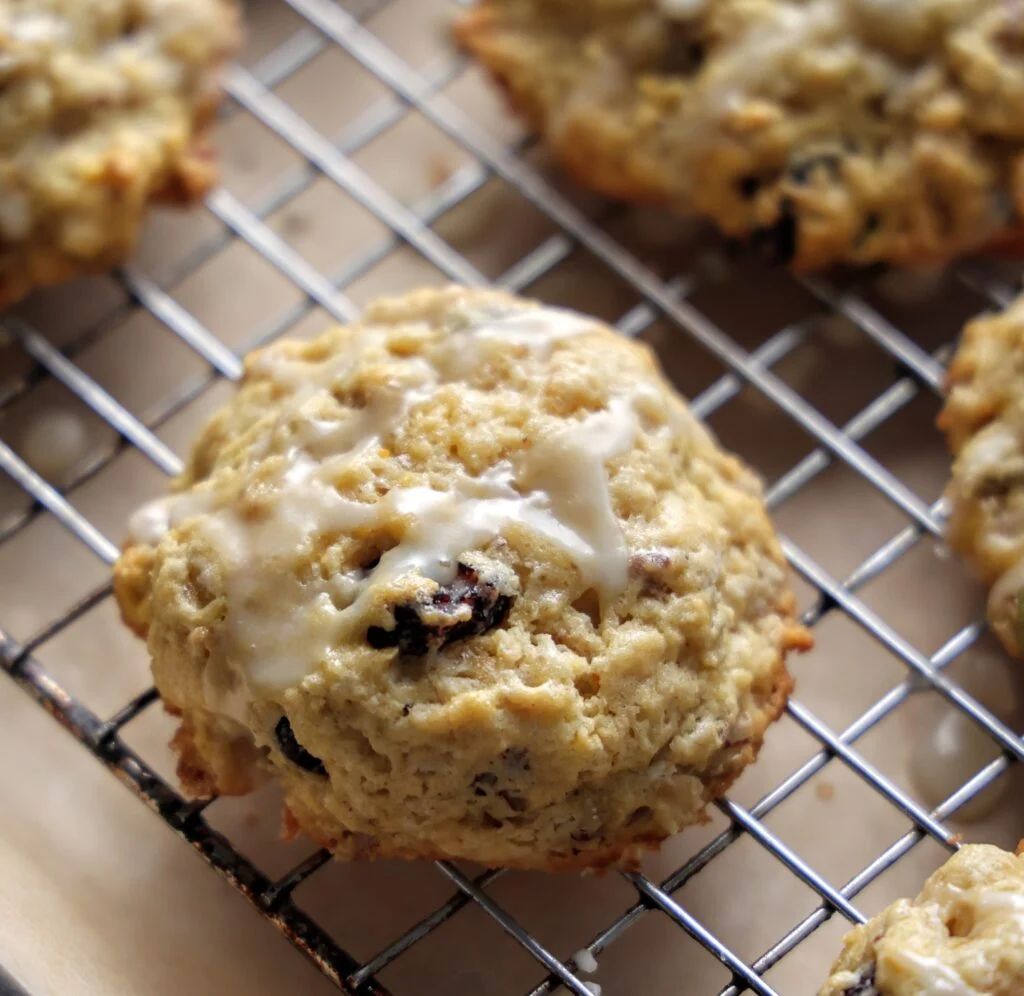 Source: flavor-feed.com
If you're a fan of your old-fashioned plain scones, you will love these loaded bites, too.
Cookie-shaped and topped with an orange glaze, they seem almost like a desert.
Flaky, crunchy, and super fruity. How's that for a delicious breakfast? Loaded with pecans, pepitas, and dried fruits. Plus, a rich citrusy note that flavors every bite.
Source: fitasafiddlelife.com
Asparagus frittata for a filling and nutrient-packed morning is one of the best ideas. With leeks, potatoes, and feta cheese, this asparagus egg bake is just the thing you need for your workplace potluck for a healthy breakfast option.
This frittata serves eight people. But if you want to, you can cut this healthy recipe into smaller cubes. Delicious egg bites seem like a more convenient option, after all.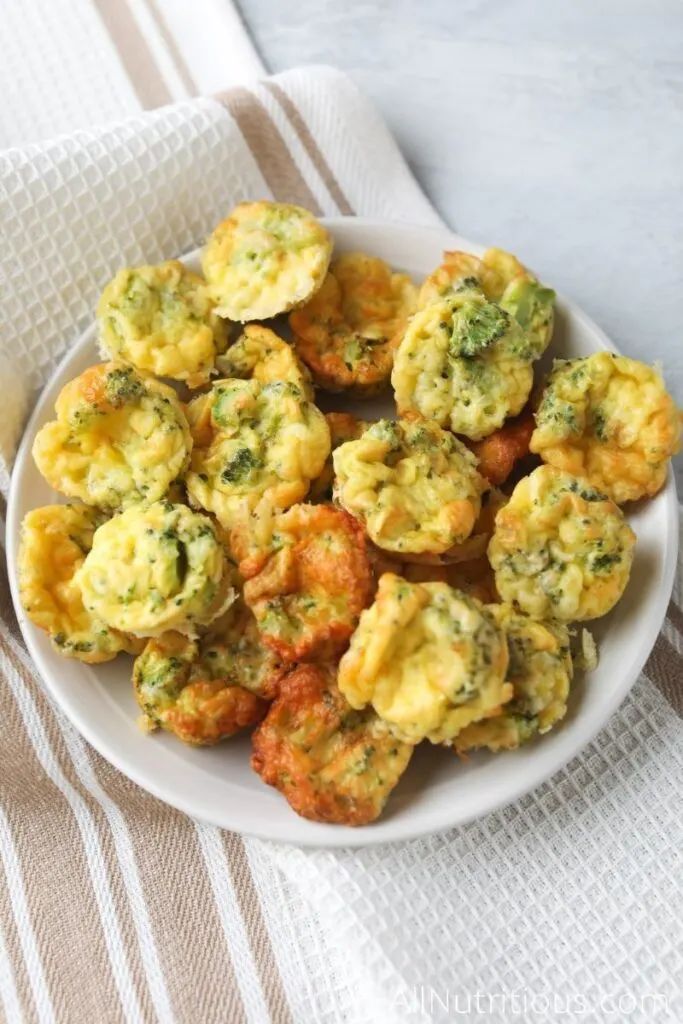 Source: allnutritious.com
Baked in a muffin pan, these broccoli egg cups will be the perfect pick-me-up-with-your-hand potluck treat.
With a touch of cheese and some cream, they are moist and super delicious.
If you are not a broccoli fan, you can easily swap it with other veggies. If using moist veggies, make sure to saute them first.
These little egg bites would also make an easy breakfast ideas for toddlers!
Source: earthtoveg.com
This is one of the most unexpected breakfast potluck ideas. With juicy rhubarb butter in the middle and chopped rhubarb on top, this unusual and yummy dish will be the talk of the office.
Seriously, get ready for sharing the recipe with your coworkers, because everyone will want to know how this delight is made.
How to serve? Just like you would any other loaf. With a generous cup of milk.
Source: livinglou.com
If you want to be that person who brings a whole pie to your potluck, then this savory breakfast potluck idea is the perfect choice for breakfast. A spinach and cheese quiche to get your day started.
To make things quicker and easier? Use a store-bought pie crust.
With some shallots, fresh spinach, and cheddar, you will create a culinary masterpiece. Perfect for those flaky-crust craving mornings.
Source: apaigeofpositivity.com
Everyone in the office will go crazy for this coffee cake. And can you blame them?
Moist, buttery, sweet, and packed with deep cinnamon flavors. Pair it with your cup of Joe, and you've got yourself one well-rounded breakfast treat.
Topped with sweet butter and drizzled with icing, you will be licking your fingers after every bite.
Best Breakfast Potluck Ideas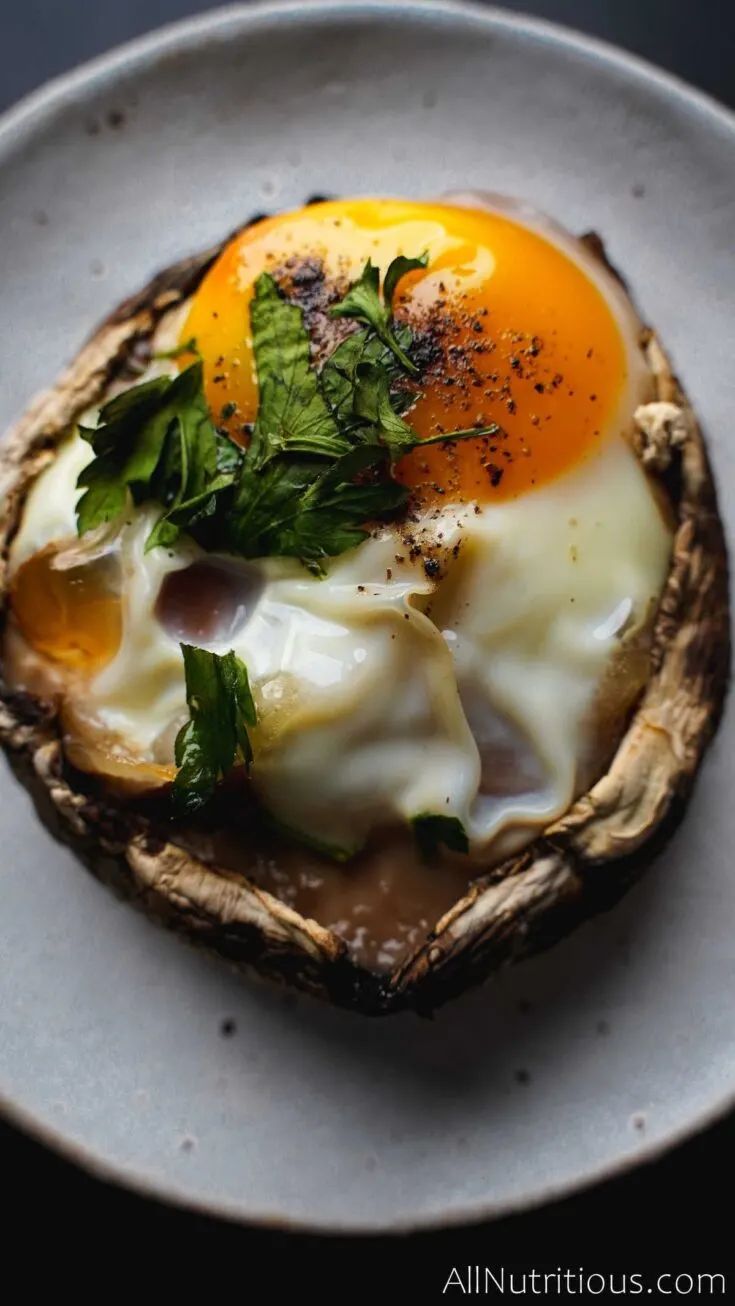 Source: allnutritious.com
No, these are not egg muffins with mushrooms. They are actually eggs in mushroom cups. Pretty creative, right?
All you need is some Portobello mushrooms, prosciutto, and eggs. And the spices of your choice. So easy and simple, and yet so nutritious and wow-worthy.
Make a large batch, and everyone will be impressed.
If you enjoy mushrooms you will enjoy these spicy mushroom wraps!
Source: bitzngiggles.com
Omelet from the oven? If it means I won't stand in front of the stove – yes, please!
This egg bake is loaded with ham, cheese, onions, and peppers. But you can add pretty much whatever your heart desires to it.
Cut into smaller portions, arrange beautifully on a platter, and you're all set for your breakfast potluck.
Source: happykitchen.rocks
Aren't you tired of cinnamon rolls in the office? Well, this sweet potato version will have everyone hooked. Really, you might want to consider baking a large batch. Everyone will want a piece.
Sweet potato dough, topped with chopped nuts, cinnamon, and sugar. Rolled into pinwheels, and baked to perfection.
All that's missing is a cup of coffee.
Source: flavormosaic.com
A quiche is a nutritious and protein-rich dish that is perfect for feeding a crowd. It is delicious, easy, and the perfect way to use up any meat or veggie leftovers.
This recipe uses pre-made pie crust, leftover ham, broccoli, and cheese. And it yields eight generous potions.
Source: easycheesyvegetarian.com
This tortilla bake consists of mushroom, pepper, and cheese tortillas, rolled, and baked until bubbly and golden.
Think of it as lighter and more nutritious enchiladas for breakfast.
Of course, you can use pretty much all veggies here.
For potlucks, I really suggest baking and slicing the tortillas into small pinwheel-sized bites. That way, everyone can have a bite. Plus, it will be much more convenient.
Source: easycheesyvegetarian.com
Three layers of pancake pieces with berry filling in between. Then soaked in yogurt and cinnamon mixture, and baked until super golden.
Perfect with some whipped cream on top, I love devouring this lovely pudding warm.
Plus, if you have some leftover pancakes, this is the perfect way to use them.
Source: allnutritious.com
This breakfast skillet is bursting with nutrition. With sweet potatoes, spinach, peppers, bacon, and eggs, how can it not?
It also includes some nourishing spices, which give them extra flavor and an immunity boost.
I love devouring this with some yogurt on top. It goes perfectly with the spices, and it provides a fresh touch.
Source: recipesfromapantry.com
Pumpkins and pumpkin pie spice combos are what you need in the fall. And if you're having a workplace potluck this October, then, this warming recipe will definitely satisfy you.
Thanks to a super rich amount of espresso powder, these muffins are quite energizing, too. And deep in flavor.
Source: livinglou.com
Have some stale bread? Don't let it go to waste. Instead, make this eggnog toast bake.
Soaked in the eggnog overnight, this bubbly and golden French toast bake with cinnamon flavor is to die for. Really, it is probably one of the most delicious ways to use leftover ingredients.
Because let's face it. There will always be some extra bread and eggnog after Christmas.
31 Best Breakfast Potluck Ideas
Wndering what food to bring to a potluck? We are sharing the best breakfast potluck ideas to please a crowd!
Ingredients
1. Mexican Fruit Salad Bowls
2. Muesli
3. No Bake Pumpkin Spice Latte Breakfast Cookies
4. Blueberry Almond Oatmeal Overnight Oats
5. Granola Bars
6. Apple Oat No Bake Bites
7. Breakfast Frittata
8. Oatmeal Breakfast Cookies
9. Oaty Breakfast Bars
10. Baked Eggs with Spinach
11. Green Chilli Breakfast Bake
12. Vegan Banana Bread
13. Peanut Butter Baked Oatmeal
14. Vegan Monkey Bread
15. Egg Muffin Cups
16. Coffee Cake Muffins
17. Granola Scones
18. Asparagus Frittata
19. Broccoli Egg Bites
20. Rhubarb Loaf
21. Quiche Florentine
22. Cinnamon Streusal Coffee Cake
23. Mushroom Egg Cups
24. Oven Baked Omelette
25. Sweet Potato Rolls
26. Ham and Broccoli Quiche
27. Cheesy Tortilla Bake
28. Pancake Pudding
29. Breakfast Skillet
30. Pumpkin Spice Muffin
31. Eggnog French Toast
Instructions
Scroll up to get a bunch of easy, yummy, and delicious recipes. Don't be afraid to get creative with the ingredients, you might discover a flavor you didn't know you liked.
Get your shopping list going and make sure you've got all the ingredients.
Get cooking and make your next Breakfast Potluck Idea!
Notes
Which one of these recipes was your favorite? Let me know in the comment section or on Pinterest!