These baked eggs with spinach are creamy, buttery, a little spiced, and yummy. A great low-calorie breakfast that's high in protein, low carb, vegetarian, gluten-free, and Whole30 – friendly.
Creamy, buttery, soft eggs for breakfast must be one of the best ways to start the day? This Baked Eggs with Spinach breakfast is filling and utterly delicious!
If you like eggs, soft set, and oozing, you will love this quick-cook high protein low-carb breakfast, and it's a great way to eat some nutritious greens too.
Dip some toasted bread fingers into the buttery yolks if you like. Yummy!
Baked eggs are quick and easy to prepare for protein breakfast. There's no boiling water and messy whites everywhere, and you can cook these eggs to your liking just by eye.
If you start your day with stir-frying onions, you will fill your kitchen with tasty aromas to get your appetite started, and once you have the dish in the oven, the work is over.
The spinach is a great nutritious addition to these eggs, and the addition of the garlic yogurt and spice butter drizzled over will keep your hunger under wraps as these are both so filling!
Ingredients You'll Need
Olive oil – Choose a good quality one – you don't need the extra-virgin variety for frying, but a good quality one is still good
White onion – A medium onion would be good here, cut finely so you can cook it quickly – you want these to be soft. Red onion could also be used here instead.
Spinach – Spinach is full of iron and Vitamin – both great for your blood health. It also provides lots of fiber. Kale and other leafy greens are substitutes!
Lemon – Zingy, zesty lemon always boosts a dish's flavors, so make sure you add this!
Sea salt – Use which brand you like here, but this one is always a favorite!
Eggs – Use large ones here, always best. If you can find organic ones, you may find the yolks more deliciously yellow, definitely worth it!
Garlic Yoghurt
Greek yogurt – Choose a plain one, low fat with no unnecessary added ingredients for the best taste.
Garlic – Have you tried smoked garlic? Slightly sweeter and mellow, this can be something new to try here. But any garlic would be absolutely fine.
Sea salt
Spiced butter
Butter – Organic, grass-fed butter has so much more flavor than regular, and when using butter to drizzle, it's all about the taste.
Red pepper flakes – Choose your favorite brand as some are hotter than others. You could omit this altogether if you don't want it too hot.
Paprika – Smokey and earthy and the perfect partner to eggs, you could use a smoked or sweet variety here.
Parsley – Fresh herbs not only look pretty, but they taste great! If you find you use lots, it's worth growing your own pots in the kitchen. Fresh thyme or oregano would be a tasty switch if you have these to hand.
How to Make Baked Eggs with Spinach
First, preheat the oven to 300F and add 3 tbsp of olive oil to a pan and place over a medium heat.
Add your chopped onion to the pan and stir for about 5 minutes. You want your onion to be soft but translucent so keep an eye on the temperature as you may need to reduce it.
Next, add the spinach, lemon juice, and salt and cook for 4-5 minutes. You need to stir continuously here, so you coat the spinach in all the soft onion and help it wilt evenly.
Spoon the cooked spinach and onion into a medium baking dish but leave behind any excess liquid as you don't want that.
Make 4 indentations using the back of a spoon in the spinach, making sure they are well spaced out.
Carefully, break 1 egg into each indentation, trying hard to keep the egg inside the space and not leaking out too much. You want the eggs to stay contained in the gaps if you can.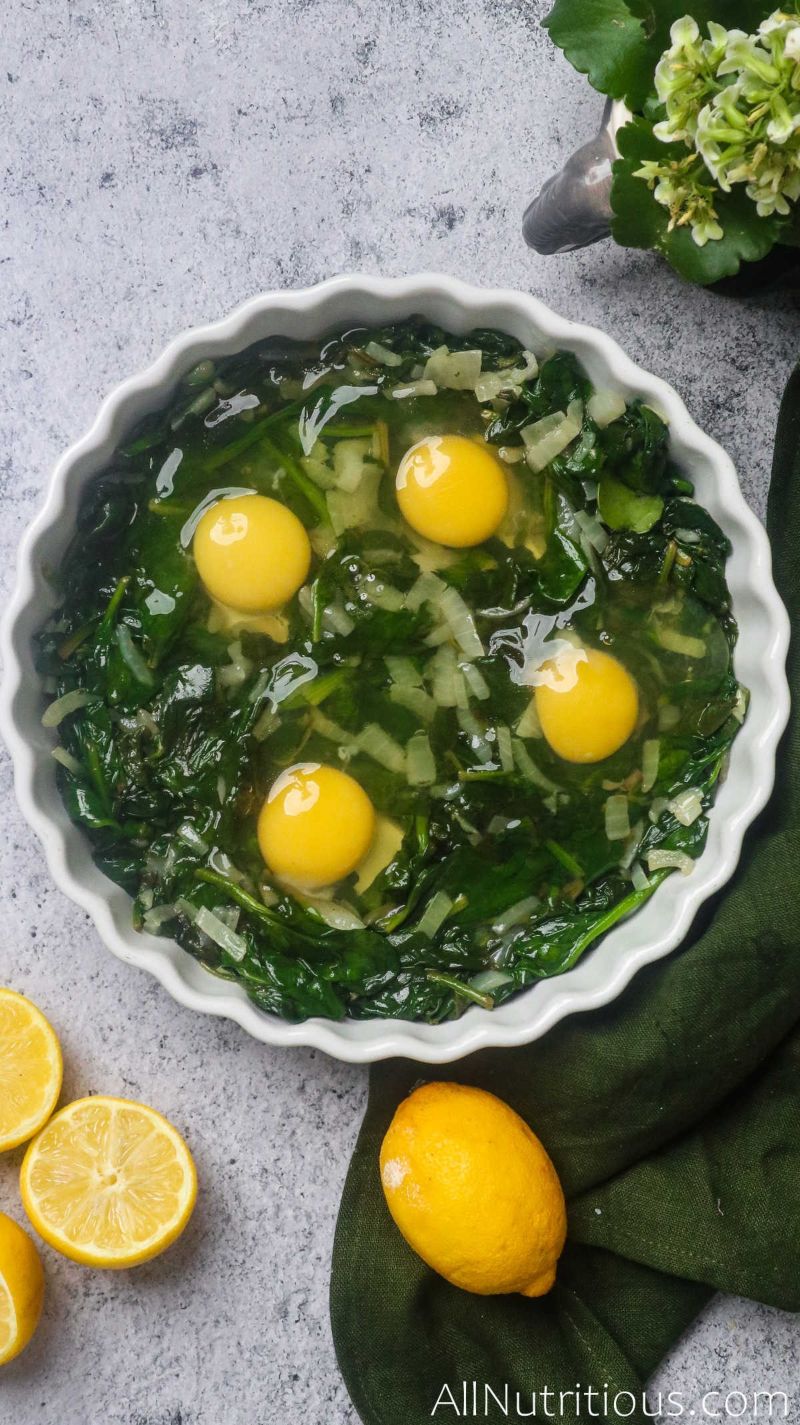 Pop the dish into the oven and bake for 10-15 minutes or until the eggs are cooked to your liking. You can have a peak near the end of the cooking time to check.
Garlic Yogurt
While the eggs are cooking, make the garlic yogurt. In a bowl, mix the yogurt, garlic, and a little salt together.
Spiced Butter
For the Spiced Butter, melt the butter in a small saucepan over low heat.
Add the crushed red pepper flakes and paprika and cook for 1-2 minutes until the butter starts to foam.
Add chopped parsley and cook for another 30 seconds.
When the eggs have cooked, remove from the oven and drizzle the butter sauce all over the top.
Add a spoonful of garlic yogurt to each serving.
Are Eggs and Spinach Good for You?
Absolutely! Spinach is a powerhouse of super nutrition – it's why Popeye loved it! It's excellent for blood heath and energy, but it's also a dark leafy green vegetable packed with Vitamin C and antioxidants.
Eggs contain Vitamin D, an essential nutrient that many of us lack during winter months or if you work inside lots. Eggs can help boost this and help with bone health.
They also contain Vitamin B12, and if you don't eat lots of meat protein, they will provide you with this essential nutrient and other B vitamins.
What Happens if You Cook an Egg in the Oven?
Cooking an egg in the oven is simple. No peeling, boiling, or mess! You can also see when it's cooked to your liking.
If you do have a little hard skin on top of your egg, the spiced butter will soften that beautifully.
You can also cook lots of eggs together this way which saves a lot of mess and pans.
How Do You Tell if Baked Eggs are Done?
The whites of your eggs are the first way to check if your egg is cooked. If there is still a translucent edge to your whites, the egg won't be ready.
When your egg white has set, your yolk will be next to check. Does the yolk wobble if you shake it? Does it feel very springy when you touch it with your finger – if yes, and you like a light/medium set egg, remove it from the oven.
A firm set egg will feel harder, and it won't wobble. You can choose how to cook the eggs; it's simple!
This quick, easy, and tasty Baked Eggs and Spinach dish is only 236 calories and will fill you up ready to start the day!
Other Recipes You Might Like
Baked Eggs with Spinach
This spinach egg bake is creamy, buttery, and a little spiced. A yummy low carb, low calorie, high protein, vegetarian, gluten-free, and Whole30 breakfast.
Ingredients
3 tbsp olive oil
1/2 white onion (chopped)
10 cups spinach (10 oz / 300g)
1 tsp lemon juice (freshly squeezed)
a pinch of sea salt
4 large eggs
Garlic Yogurt
2/3 cup plain Greek yogurt
1 garlic clove (minced)
a pinch of sea salt
Spiced Butter
1 tbsp butter
1/4 tsp crushed red pepper flakes
a pinch of paprika
1 tbsp fresh parsley (chopped)
Instructions
Preheat the oven to 300F
Add 3 tbsp of olive oil to a pan over medium heat.
Add onion, reduce the heat and cook until the onion is soft.
Add spinach, lemon juice, and a pinch of salt. Increase the heat to medium-high and cook for 4-5 minutes. Continuously stir during this time.
Now, transfer cooked spinach to a baking dish leaving behind all the excess liquid.
Make 4 indentations and break an egg into each hollow.
Pop in the oven and bake for 10-15 minutes or until the eggs are cooked to your liking.
Garlic Yoghurt
While baking the eggs, mix yogurt, minced garlic with a bit of salt in a bowl.
Spiced Butter
Melt butter in a small saucepan over low heat. Add crushed red pepper flakes, paprika and cook for 1-2 minutes until the butter starts to foam. Add chopped parsley and cook for another 30 seconds.
Once eggs are cooked, drizzle the butter sauce all over the baking dish. Serve with a spoonful of garlic yogurt.
Nutrition Information:
Yield:

4 egg slices
Serving Size:

1 egg slice
Amount Per Serving:
Calories:

236
Total Fat:

18g
Saturated Fat:

4.9g
Trans Fat:

0.1g
Unsaturated Fat:

12.3g
Cholesterol:

196mg
Sodium:

235mg
Carbohydrates:

6.8g
Net Carbohydrates:

4.7g
Fiber:

2.1g
Sugar:

2.6g
Protein:

13g
Nutritional values were obtained with automatic software using the amounts of products used. To get the most accurate representation of the nutritional values, you should calculate them with the actual ingredients used in your recipe. You are solely responsible for the nutritional information obtained to be accurate.