This easy keto egg salad is packed with flavors. It's creamy, has fresh herbs, and a little mustard. It's a perfect keto lunch or a side dish when you want something vegetarian yet low carb.
Egg salad is a fantastic healthy lunch or brunch option.
Eggs are great for high protein meals that are vegetarian. That's because one large egg contains about 6 grams of protein and only 78 calories.
They're high in vitamin D and choline as well.
The latter can help boost your metabolism. This is a great nutrient to add to your diet when you're trying to lose weight.
This egg salad recipe contains extra protein from greek yogurt. The greek yogurt is a much healthier option than using traditional mayonnaise.
Why? Well, there are fewer calories and less fat in greek yogurt.
You can eat this salad plain or serve with lettuce cups. A bit of crunchiness makes the salad even more enjoyable!
How Many Carbs are in Egg Salad?
This salad has only 5 grams of carbs per serving.
This makes it a great recipe to have on hand while following a keto or low carb diet.
Most mustards do not have sugar, but honey mustard does. So, try not to substitute with honey mustard and stick to yellow mustard.
Adding fresh herbs to the salad and using a little bit of freshly squeezed lemon juice brings it to a whole new level. It's flavorful and just yummy!
How to Make Keto Egg Salad
This salad can be made ahead of time if you are trying to meal prep.
Ingredients You Will Need
large eggs
greek yogurt
fresh lemon juice (squeezed out of lemon)
yellow mustard
garlic powder
onion powder
salt
black pepper
fresh parsley
Step-by-step Instructions
You will need hard-boiled eggs for this recipe. If you haven't already boiled them, here are some tips.
Start by gently placing your eggs into a saucepan. Add cold water to cover the eggs.
You want to have about an inch of water above the eggs.
Then, place the saucepan on the stove and turn the heat on high. Bring the water to a boil.
Next, cover the saucepan with a lid and lower the heat. Let the eggs cook for 12 minutes.
Once the eggs are done, immediately remove them from the water. Place them in a bowl filled with iced water.
This will stop the eggs from cooking any further, and the shells will be easy to peel.
This will help the eggshells fall off a bit easier.
Now, bring all of the eggs to a cutting board. Chop them up into small pieces for the salad.
The other tablespoon of parsley will be a garnish.
Gently mix everything.
Garnish with the remaining parsley and serve.
Why Does Egg Salad Get Runny?
Sometimes egg salad can get a little runny if made ahead of time. Don't worry. We can fix this!
The best solution is to always use fresh products. Otherwise, here are a few hacks that will help you to keep your salad fresh for longer:
1. Let the eggs completely cool down before peeling them. This will help get rid of any extra moisture from the cooking process.
2. Make sure your yogurt is well mixed. Sometimes water can separate from the yogurt and sit on top of the container.
3. If you're making the salad ahead of time, keep the dressing and hard ingredients separate. Mix them just before you need the egg salad served on the table.
4. When meal prepping, keep the dressing and chopped tomatoes in separate containers. Mix them together before serving.
How to Serve Your Egg Salad
It also goes well on your favorite salad. The egg salad is a good protein option for a bed of greens and fresh vegetables.
You could also serve it on top of a thick slice of tomato or make a stuffed avocado.
How to Store Egg Salad
But what if you have leftovers? They will still be fine.
Store the egg salad in a glass food container. If the salad does get a little watery, simply pour off the excess water. Then mix everything back together to incorporate again.
Are Eggs OK On Keto Diet?
Eggs are a great option if you are following a keto diet. One egg generally has less than 1 gram of carbs and has 6 grams of protein.
That's a pretty good option when following a low carb diet. Plus, eggs are so versatile.
Creamy egg salads are not the only option. This recipe is just one of many for this superfood.
Other Recipes You May Like
Watch Full Instructions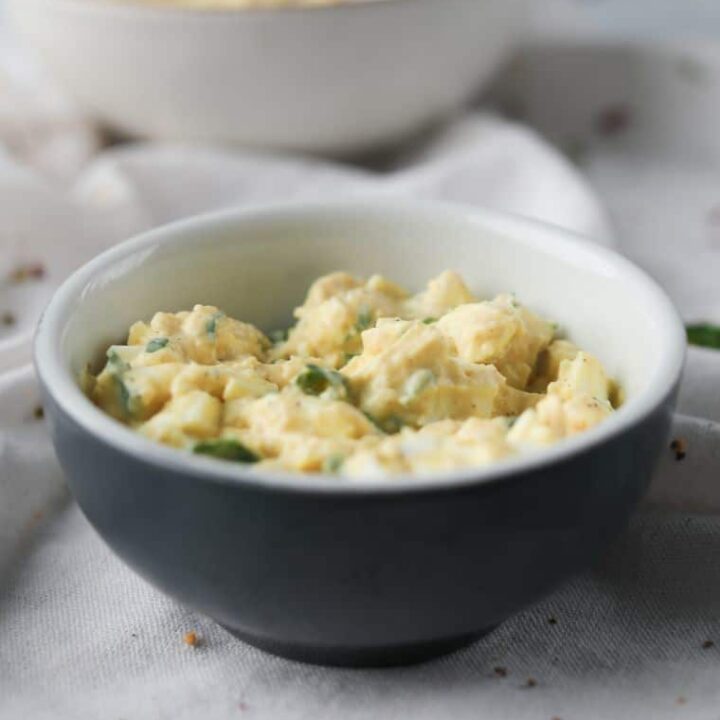 Keto Egg Salad (Quick & Easy)
Prepare this keto egg salad in just minutes and have it ready for lunch or dinner. It's flavorful and yummy. On top of that, vegetarian, gluten-free, and keto-friendly.
Ingredients
6 large eggs (hard-boiled, chopped)
5 tbsp greek yogurt
1 tsp fresh lemon juice
1 tsp yellow mustard
½ tsp garlic powder
½ tsp onion powder
¼ tsp salt
¼ tsp black pepper
4 tbsp fresh parsley (chopped)
Instructions
Stir together eggs, greek yogurt, lemon juice, mustard, garlic powder, onion powder, salt, black pepper, and 1 tablespoon of fresh parsley.
Sprinkle the remaining parsley on the salad before serving.
Nutrition Information:
Yield:

2 bowls
Serving Size:

1 bowl
Amount Per Serving:
Calories:

264
Total Fat:

16g
Saturated Fat:

5g
Trans Fat:

0g
Unsaturated Fat:

8.4g
Cholesterol:

561mg
Sodium:

522mg
Carbohydrates:

5g
Net Carbohydrates:

4.4g
Fiber:

0.6g
Sugar:

3g
Protein:

23g
Nutritional values were obtained with automatic software using the amounts of products used. To get the most accurate representation of the nutritional values, you should calculate them with the actual ingredients used in your recipe. You are solely responsible for the nutritional information obtained to be accurate.