On a high protein diet? Start your day right with high-protein breakfast recipes like these and have fun cooking them up. They're great to start your mornings with.
Ready to kickstart your day? Starting your morning with a tasty and healthy breakfast can fuel you for the rest of the day.
While picking up something high in carbs can often be easier, eating a dish that's higher in proteins will definitely benefit you more. It'll give you some of the slower and longer-lasting energy that you might as well need.
Research also suggests that eating meals that are high in protein content will help you to feel fuller. That can lead to easier weight management and weight loss.
All of that said, here are some of the delicious high-protein breakfast recipes that you should try.
1. Scrumptious Cinnamon Roll Pancakes
Credit: amagicalmess.com
Want to start your day with a sweet treat? Pancakes are usually just high in sugar and don't have a lot to offer in terms of other macros.
However, if you adjust a few ingredients, you can change that in seconds! Use coconut flour instead of regular wheat flour to introduce more healthy fats.
On top of that, to increase the amount of protein in these cinnamon roll pancakes, you'll need to add protein powder.
Per Serving:
Calories: 110.6
Fats: 3.6g
Protein: 6.8g
Carbs: 13.6g
Fiber: 1.7g
Sugar: 6.4g
2. Cheesy Hash Brown Breakfast Muffins
Credit: masonfit.com
Loving the hash browns? Or anything cheesy? Then, you'll like these breakfast muffins.
Since these muffins are so high in protein, they're very filling. Also, you can cook them in batches, therefore the whole family will be able to have a nice and healthy breakfast meal.
Love this recipe? Check out these egg muffin cups that are high protein! My very own recipe!
Per Serving:
Calories: 82
Fats: 2g
Protein: 10g
Carbs: 6g
Fiber: 1.3g
Sugar: 2.5g
3. BLT ''Egg'' Buns
Credit: cleanfoodcrush.com
While these buns might look quite fancy, they're very easy to make. On top of that, they're delicious, full of fats and protein too.
Additionally, they're so low in carbs, you can make them as a ketogenic snack. Otherwise, these egg buns will definitely prove to be a success amongst the kids.
They look so good, it's hard to resist them. Also, you can always incorporate your favorite veggies into the bun to improve the taste to your liking.
Definitely try these with pickles or mustard! Here are more high protein low carb breakfast recipes.
Per Serving (1 bun):
Calories: 132
Fats: 9.4g
Protein: 9.6g
Carbs: 1.7g
Fiber: 0.3g
Sugar: 1.2g
4. Apple Protein Muffins
Credit: onecleverchef.com
Are you just one of those people who love cupcakes or muffins? Well, you can make your own muffins that are healthier and have more nutritional value.
Since you can bake a batch of them, you can just eat them every morning for multiple days. Make sure you get good-quality organic rolled oats for this one.
Per Serving:
Calories: 152
Fats: 2g
Protein: 10g
Carbs: 22g
Fiber: 3g
Sugar: 6g
5. Sweet Potato Protein Breakfast Bowl
Credit: fitmittenkitchen.com
Change up your morning routine with this delicious breakfast bowl. It's such a simple recipe, you can use whatever toppings you want and just enjoy the deliciousness.
There is nothing better than starting your day with a bowl of sweet potatoes, raspberries, and blueberries. The berries are low in carbs and sugars but they still have some of the natural sweetness.
Sweet potatoes, on the other hand, are full of vitamins, fiber, and more complex carbs. They're also high in antioxidants! Check out this high protein breakfast power bowl just like this one.
Per Serving:
Calories: 302
Fats: 1g
Protein: 23g
Carbs: 54g
Fiber: 9g
Sugar: 24g
6. High Protein Breakfast Casserole
Credit: adaptedeats.com
Now if you're a big casserole fan because they're just so convenient to make, you should give this recipe a try. It's also just great if you need to cook for a large family.
The casserole is made mostly out of veggies, turkey bacon, and cheese. So, it's very easy to bake and you don't need to have any fancy ingredients at home to make it happen.
Per Serving:
Calories: 158
Fats: 2.2g
Protein: 23.3g
Carbs: 8.7g
Fiber: 3.4g
Sugar: 2.2g
7. Easy Keto Ham and Cheese Rolls
Credit: yummly.co.uk
Just as the name suggests, these cheese rolls are keto-friendly. So, if you are on a ketogenic diet, save this recipe. These rolls are made out of 3 different kinds of cheese, eggs, and ham.
So, it comes as no surprise that they're full of fats and protein as well as low in carbs. What's so lovely about them is that they're so easy to make.
If you use the right herbs and spices, even your kids will love them. These are also great as high-protein snacks!
Per Serving:
Calories: 170
Fats: 12g
Protein: 15g
Carbs: 2g
Fiber: 0g
Sugar: 0g
8. Asparagus and Pine Nut Frittata
Credit: skinnyms.com
If you're feeling like eating something Italian in the morning, the frittata is exactly the meal to make. Since it's an egg-based dish, you know that it'll be a good source of proteins and fats.
Also, if you're just tired of eating eggs that are done the same way all the time, it offers a truly nice change.
Per Serving:
Calories: 309
Fats: 23g
Protein: 18g
Carbs: 8g
Fiber: 3g
Sugar: 1g
9. Keto Breakfast Sandwich
Credit: heyketomama.com
Most of us begin our mornings with a sandwich. There are definitely ways to make it more nutritious and delicious.
This ketogenic sandwich is a prime example of that. It's full of fats, protein and doesn't have a ton of carbs if you're avoiding those.
The good thing about this sandwich is that it's so rich in calories, fats, and protein that you'll feel full for a good amount of day. So, if you need to start your morning strong, try the recipe.
Per Serving:
Calories: 603
Fats: 54g
Protein: 22g
Carbs: 7g
Fiber: 3g
Sugar: 2g
10. Simple Poached Egg and Avocado Toast
Credit: pinchofyum.com
Poached egg and avocado on toast are just one of those easy-to-make breakfast meals that look so fancy. On top of that, both eggs and avocadoes are nutritious and delicious.
It's truly one of those 5-minute breakfast recipes that's just so easy to make and looks so good. Thus, if you have guests over, try the recipe.
The toast looks impressive and is just so easy to make.
Per Serving:
Calories: 393
Fats: 20.4g
Protein: 23.3g
Carbs: 30.1g
Fiber: 7.7g
Sugar: 5.7g
11. Ham & Cheese Egg Cups
Credit: delish.com
These egg cups look absolutely amazing but also they are rich in protein and fats. The preparation time for these is very short – only under 5 minutes.
It does take around 20 minutes to bake them but it's well worth the wait. I also adore the fact that you can make a bunch of these and feed the whole family.
It's an overall great breakfast idea for all types of family occasions. Love the recipe? You might also like these egg muffin cups with veggies.
Per Serving (per cup):
Calories: 145
Fats: 9.7g
Protein: 13g
Carbs: 1g
Fiber: 0.2g
Sugar: 0.26g
12. High Protein Snickers Oatmeal
Credit: mugsformuscles.com
If a combination of chocolate, peanut butter, and oats sounds amazing to you, try this recipe. It's totally a sweet treat for everyone out there.
It's perfect for the weekends or just the days when you feel like you need something special. For this one, you'll need powdered peanut butter like this product here.
Also, protein powder to increase the amount of protein is a must.
Also, caramel syrup is quite important here. Make sure the one you get is sugar-free.
You might also like this protein peanut butter overnight oats!
Per Serving:
Calories: 246
Fats: 8g
Protein: 22g
Carbs: 22g
Fiber: 2.9g
Sugar: 15g
13. Chocolate Cashew Protein Bars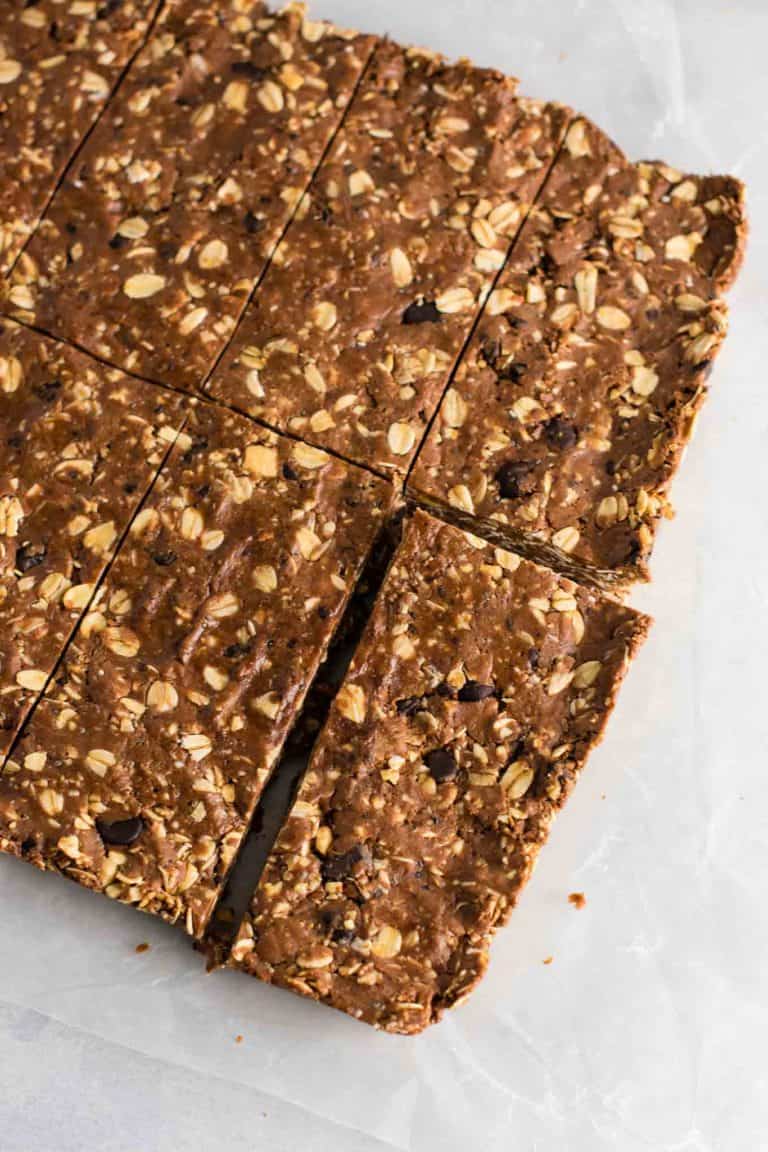 Credit: buildyourbite.com
These cashew protein bars are delicious. What's truly great about them is that they require only simple ingredients to be made.
Like with most bars, you can easily meal prep them. So, it can truly be a quick breakfast meal.
Per Serving:
Calories: 595
Fats: 33g
Protein: 26g
Carbs: 56g
Fiber: 7g
Sugar: 26g
14. Spinach and Egg Breakfast Pizza
Credit: skinnyms.com
A fan of pizza? Well, now you have an opportunity to have it for breakfast. Obviously, it's a version of an Italian pizza but well worth the try.
Different types of cheese, spinach, and eggs are the key ingredients to make this pizza truly special. The meal is also full of all macros that are so essential to keeping your energy high for the rest of the day.
Per Serving:
Calories: 367
Fats: 21g
Protein: 20g
Carbs: 27g
Fiber: 1g
Sugar: 1g
15. High Protein Vanilla Chia Pudding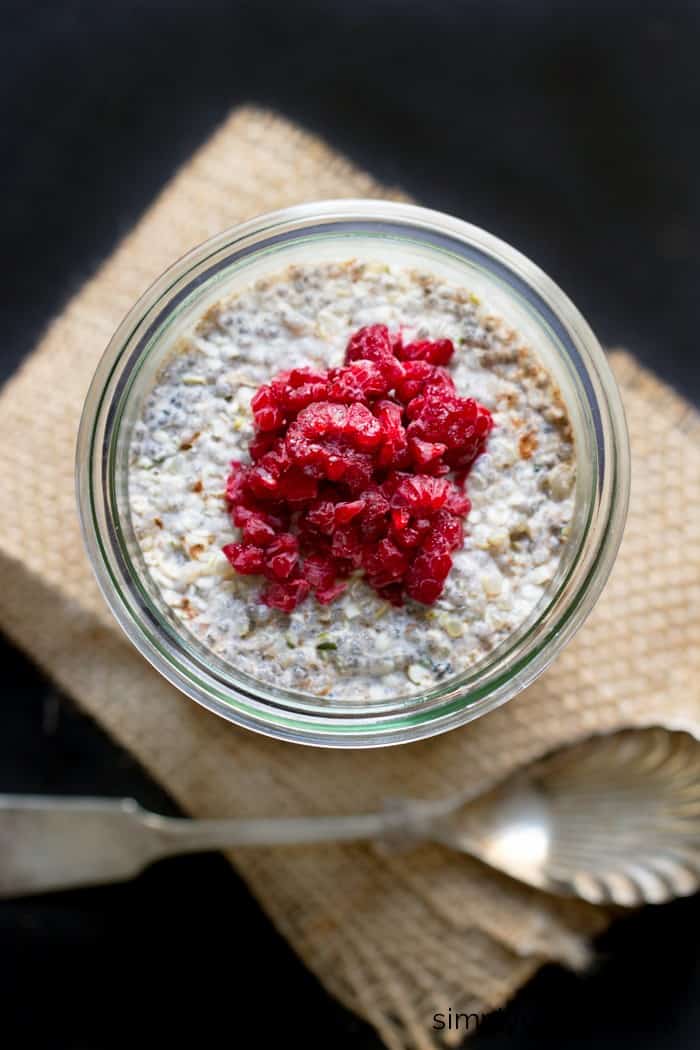 Credit: simplyquinoa.com
This pudding is packed with protein. The good thing is that you don't actually need to use any protein powders to achieve that.
Chia seeds are packed with fiber, protein, and healthy fats. Which pretty much makes it the ultimate superfood.
No wonder why this pudding truly doesn't require any protein powder! Love this recipe? You might enjoy these protein smoothie recipes.
Per Serving:
Calories: 258
Fats: 16g
Protein: 13g
Carbs: 13g
Fiber: 2g
Sugar: 5g
16. Green Vegan Gluten-Free Protein Pancakes
Credit: runningonrealfood.com
These vegan pancakes are great for anyone who loves pancakes and are vegan. The key ingredients for this meal are chickpea flour, vegan protein powder, and stevia powder.
Chickpea flour has a good amount of proteins and it's full of carbs which will provide you with fast energy. To keep the pancakes vegan, you obviously need to choose a vegan protein powder.
Also, for a sweetener, I usually like to use erythritol. It's one of the healthiest sweeteners out there since it doesn't damage your gut lining. You can also just go with stevia if it makes things easier.
Per Serving:
Calories: 338
Fats: 4g
Protein: 34g
Carbs: 43g
Fiber: 12g
Sugar: 2g
17. Chocolate Almond Protein Bars
Credit: popsugar.co.uk
If you're lactose intolerant or giving up dairy altogether, these almond protein bars will act as a savior. It's a vegan-friendly recipe that's definitely worth a try!
You will need to use vegan protein powder to make sure each bar is high in protein. Also, the recipe requires maple syrup which can often be very high in sugar.
So, do check out the label before using your favorite product.
Per Serving:
Calories: 166
Fats: 6g
Protein: 12.8g
Carbs: 17.6g
Fiber: 2.9g
Sugar 7.4g
18. Sausage and Egg Breakfast Enchiladas
Credit: letsdishrecipes.com
Bring in those Mexican cuisine vibes into your home with these breakfast enchiladas. They're stuffed with cheese, eggs, and sausage.
While it's not a meal to have for every morning. It's truly a more special breakfast recipe for more special occasions or the weekends.
The enchiladas are packed with proteins and fats! So, definitely a great source of energy for the day.
Per Serving:
Calories: 428
Fats: 31g
Protein: 21.8g
Carbs: 16g
Fiber: 2.7g
Sugar: 2.8g
19. High Protein Breakfast Nacho Boats
Credit: masonfit.com
These nacho boats are an absolute treat. All you need to get for these are your favorite bell peppers, meats, and different types of cheese.
They do take a little longer to make – around 35 minutes. So, obviously, it's not a breakfast idea for every day but it's too special not to be shared here!
Per Serving (3 Nacho Boats, Calculated):
Calories: 141
Fats: 1.5g
Protein: 14.2g
Carbs: 6.4g
Fiber: 1.5g
Sugar: 4g
20. Protein Salmon and Eggs on Toast
Credit: masonfit.com
To finish up the list, I wanted to share this lovely egg and salmon toast. It just goes to show that you don't have to make anything fancy to keep your protein intake high.
A little bit of smoked salmon in the mornings can add very much-needed protein and fats to your diet. Also, it's just something different to eat and to enrich your flavor palette.
Per Serving:
Calories: 247
Fats: 9g
Protein: 20g
Carbs: 22g
Fiber: 3g
Sugar 2g
20 High Protein Breakfast Ideas That'll Fill You Up
Start your morning right with a High Protein Breakfast. These recipes are healthy, nutritious, yummy and super easy to make.
Ingredients
meat
eggs
wholemeal bread/oatcakes
veggies or fruits
seasoning
sweetener
protein powder
flour
Instructions
Scroll up to get a bunch of easy, yummy, and delicious recipes. Don't be afraid to get creative with the ingredients, you might discover a flavor you didn't know you liked.
Get your shopping list going and make sure you've got all the ingredients.
Get cooking and make your next High Protein Breakfast!
Notes
Which one of these recipes was your favorite? Let me know in the comment section or on Pinterest!