This vegetable bake for breakfast is light, yummy, and herby. Easy to make for the whole family, vegetarian, high protein, dairy-free, Whole30, Paleo, and low calorie.
A breakfast full of vegetables, lightly baked in eggs with tasty herbs, is the perfect start to any day.
You could add what vegetables you like, and it's a great way to use up any you have that, so pack them in!
It's a great vegetarian dish that anyone will love, gluten-free and full of flavor.
Something filling for breakfast is the best way to start the day, right? How about something that can be prepared ahead of time, so it's quick to cook on a busy morning?
This vegetable bake can feed the whole family too, so there's no excuse for leaving the house hungry.
And when this is cooking and releasing delicious aromas, your family will be asking to try some anyway.
Move over breakfast cereals! This vegetable bake is a tasty change!
Here's a secret – if you prepare this the night before, you can pour the egg mix over the pre-roasted vegetables in the morning and cook in 15 minutes. It will be fresh, oozing, and full of flavor.
No additives, sugars, or preservatives – this breakfast is made from simple, nutritious ingredients that taste great.
So, get it in the oven!
Ingredients You'll Need
Red onion – the sweetness of these onions is hard to beat! When roasted in olive oil, they are rich, sweet, and juicy. Choose a large one!
Red bell pepper –these delicious peppers provide a boost of beta-carotene and Vitamin C, which your body will love! The red ones are ripe and sweet, but you could choose a different color.
Mushrooms – These are full of vitamin D, the sunshine vitamin, and one of the only non-animal sources of this essential nutrient, worth remembering if you are considering a vegan diet.
Zucchini – Lots of potassium here to help maintain a healthy blood pressure, and they are so easy to cook!
Eggs – Choose large eggs and the best quality as these provide the energy boost in this dish, a tasty protein for breakfast.
Parsley – This herb is so good to have handy. Grow some at home in your kitchen, ready to cook with; it looks pretty and makes your dishes come to life.
Olive oil – Choose the best you can find as your vegetables will love its peppery flavor, and it's full of heart-healthy monounsaturated fat.
Salt & black pepper – It's essential to season your cooking, use your favorite salt, and always freshly grind your pepper. Yummy!
How to Make Vegetable Bake for Breakfast
Preheat the oven to 400°F first; you need it ready, nice, and hot. Get a baking dish out ready to use.
Peel your red onion and slice it thinly. Add to your baking dish.
De-seed your bell pepper, cut into chunks, add to your baking dish, and add your 1 zucchini sliced.
Finally, slice your mushrooms and add them to your baking dish too – easy!
Now, drizzle over that lovely olive oil and season with your salt and pepper. Give everything a really good toss to coat all of your vegetables.
Pop your baking dish into the oven and roast your vegetables for 25-30 minutes. Half through your cooking time, stir them round to make sure nothing is sticking and to cook evenly. You want everything soft and lightly golden.
(If you wanted to cook this for breakfast super quick, you could now put your baking dish in the refrigerator at this point, ready for the next stage in the morning)
Next, in a bowl, add your eggs and your parsley. Using a whisk, this one is so easy to use, beat well. You want it frothy and thoroughly mixed up.
Pour the egg mixture all over the vegetables and return the dish to the oven for a further 10 minutes.
(For 5 minutes longer if you are using your baking dish from the refrigerator)
Yummy! So golden and delicious!
If you can wait, allow it to cool for 5 minutes as it will be easier to cut and serve, that's enough time to grab a cup of coffee.
Serve 6 breakfasts, any morning of the week.
Can I Freeze Vegetable Bake?
Yes! You can cook and freeze, ready to defrost overnight in the refrigerator, and then pop in the oven for 10-15 minutes to heat through thoroughly.
What Vegetables are Good for Breakfast?
Vegetables for breakfast are such a great idea and can give you some tasty fiber to start the day.
Use any of your favorite mushrooms – there are so many to choose from. Any bell pepper would work so well!
You could add some juicy, fresh tomatoes to this bake too. How about eggplant or sweet potato?
If you add harder vegetables such as squash, or sweet potato, you may need to give them a 10-minute head start in the oven as they take a little longer to cook.
Herbs are great for breakfast – fresh oregano and thyme are delicious here.
If you fancied a change, how about sprinkling over some shredded parmesan before baking with the eggs?
This tasty Vegetable Bake only has 119 calories per serving, yet still so filling for your breakfast!
Other Recipes You Might Like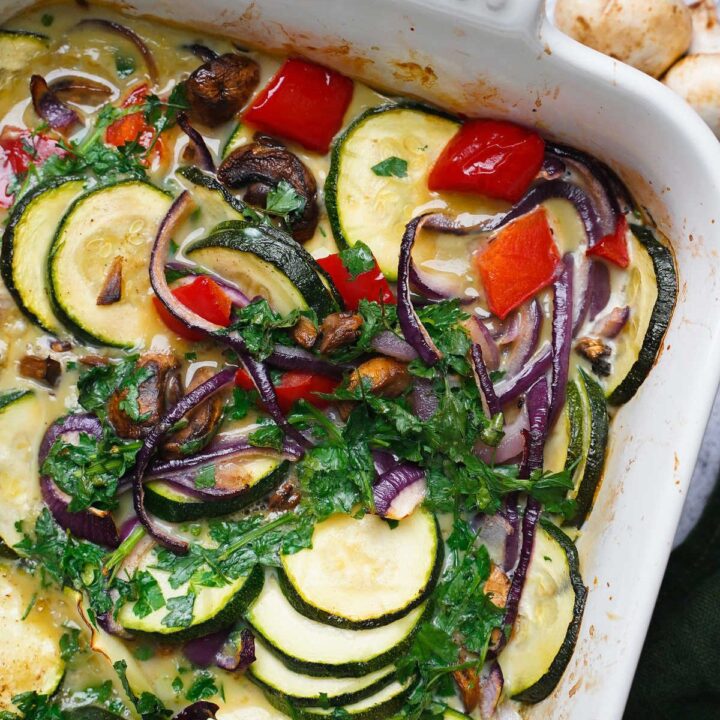 Vegetable Egg Bake for Breakfast
Total Time:
1 hour
1 minute
This vegetable egg bake is a great breakfast meal. It's low calorie, light, vegetarian, high in protein, Whole30, Paleo and dairy-free.
Ingredients
1 large red onion (sliced)
1 large red bell pepper (de-seeded and cut into chunks)
1 1/2 cup mushrooms (sliced)
1 zucchini (sliced)
a pinch of salt & black pepper
1 tbsp olive oil
6 large eggs
3 tbsp fresh parsley (chopped)
Instructions
Preheat the oven to 400F.
Add all the vegetables to a baking dish. Add a pinch of salt with black pepper and drizzle over the olive oil. Toss to mix and roast in the oven for 20-25 mins until the veggies are tender. Give it a mix midway.
In a separate bowl, beat the eggs and mix in the parsley.
Pour the egg mixture over the veggies in the baking dish. Return to the oven and bake for another 10 minutes until the egg is fully set.
Let it cool down for 5 minutes or so before serving.
Nutrition Information:
Yield:

6 slices
Serving Size:

1 slice
Amount Per Serving:
Calories:

119
Total Fat:

7.3g
Saturated Fat:

1.9g
Trans Fat:

0g
Unsaturated Fat:

4.8g
Cholesterol:

186mg
Sodium:

99mg
Carbohydrates:

6g
Net Carbohydrates:

4.4g
Fiber:

1.6g
Sugar:

3.3g
Protein:

7.8g
Nutritional values were obtained with automatic software using the amounts of products used. To get the most accurate representation of the nutritional values, you should calculate them with the actual ingredients used in your recipe. You are solely responsible for the nutritional information obtained to be accurate.