The Anaheim pepper is a California staple, bringing mild heat and big flavor to warmer climes worldwide. These Anaheim pepper recipes will spice up your life.
While Anaheim chiles can grow in most places, the pepper is named for its popularity in Anaheim, CA.
They're closer to bell peppers than a jalapeno pepper when it comes to Scoville heat units. So, many people enjoy these popular peppers raw!
That's what makes Anaheim chile peppers such a great jalapeno alternative.
If you're a little sensitive to spice, or you just happen to have some of these California chilis handy, this list of anaheim pepper recipes is for you.
What Can You Use Anaheim Pepper for?
Like other tasty peppers, you can use Anaheim chilies in any best dishes you like. These chili peppers add a mild amount of spice and a good amount of chili flavor.
So, if you love spicy food for the flavor, but the heat puts you off, this is the mild pepper for you.
Explore twenty-one of the most delicious ways and favorite recipes to make this popular pepper shine.
Best Anaheim Pepper Recipes
Source: 4sonrus.com
Heading to a tailgating party and not sure what to bring? Our first recipe has the answer buried in a bowl of cheesy goodness. This is the perfect appetizer for watching the game.
Pair with an assortment of crunchy staples – nachos, potato chips, even vegetables – to prepare your palate for a day of big flavor. This isn't too spicy, so everyone can enjoy a bite.
Source: theforkedspoon.com
Instead of red chili, try this delicious green chili recipe with white beans to warm your soul this winter. Every spoonful hums with an undercurrent of spice, just enough to tickle the tastebuds.
The white beans and crumbled cheese make this an extra creamy and comforting chili. You can have this ready in about an hour, so it's great for weeknights when you need something simple.
This is a great Sunday family dinner idea everyone will enjoy!
Source: temeculablogs.com
If you grow your peppers, don't let them go to waste! Instead, create this delicious green pepper jelly to preserve the flavor of these natural delights.
This pepper jelly is great as an ingredient, but you can also serve it as-is. Add a handful of chips and cream cheese, and you have a recipe for a super easy healthy snack.
Source: servedfromscratch.com
Salsa verde – or 'green salsa' – is essential to any good Mexican night. That said, if you shy away from spice, getting one you can handle can be tough.
Well, no more! This fresh salsa verde is bursting with refreshing flavors and only a little heat. The Anaheim peppers are the perfect base for this acidic, light, vibrant dressing.
Source: hildaskitchenblog.com
The great thing about Anaheim peppers is that you can substitute them for other peppers across various recipes. Rajas con crema is one such recipe.
Instead of poblano peppers, which are a little spicier, you can achieve the same flavor with a tolerable spice level. This creamy meal is perfect for kids or spice-shy dinner guests.
Source: 24bite.com
Roasting chile peppers makes them smoky, bringing out their flavor while dampening the heat. That's why this soup recipe is perfect for the Anaheim pepper.
Enjoy a rich green pepper flavor without the punch of heat at the end. Served with tortilla strips, this soup is like enchiladas in a bowl. There's nothing better on a cold winter's night.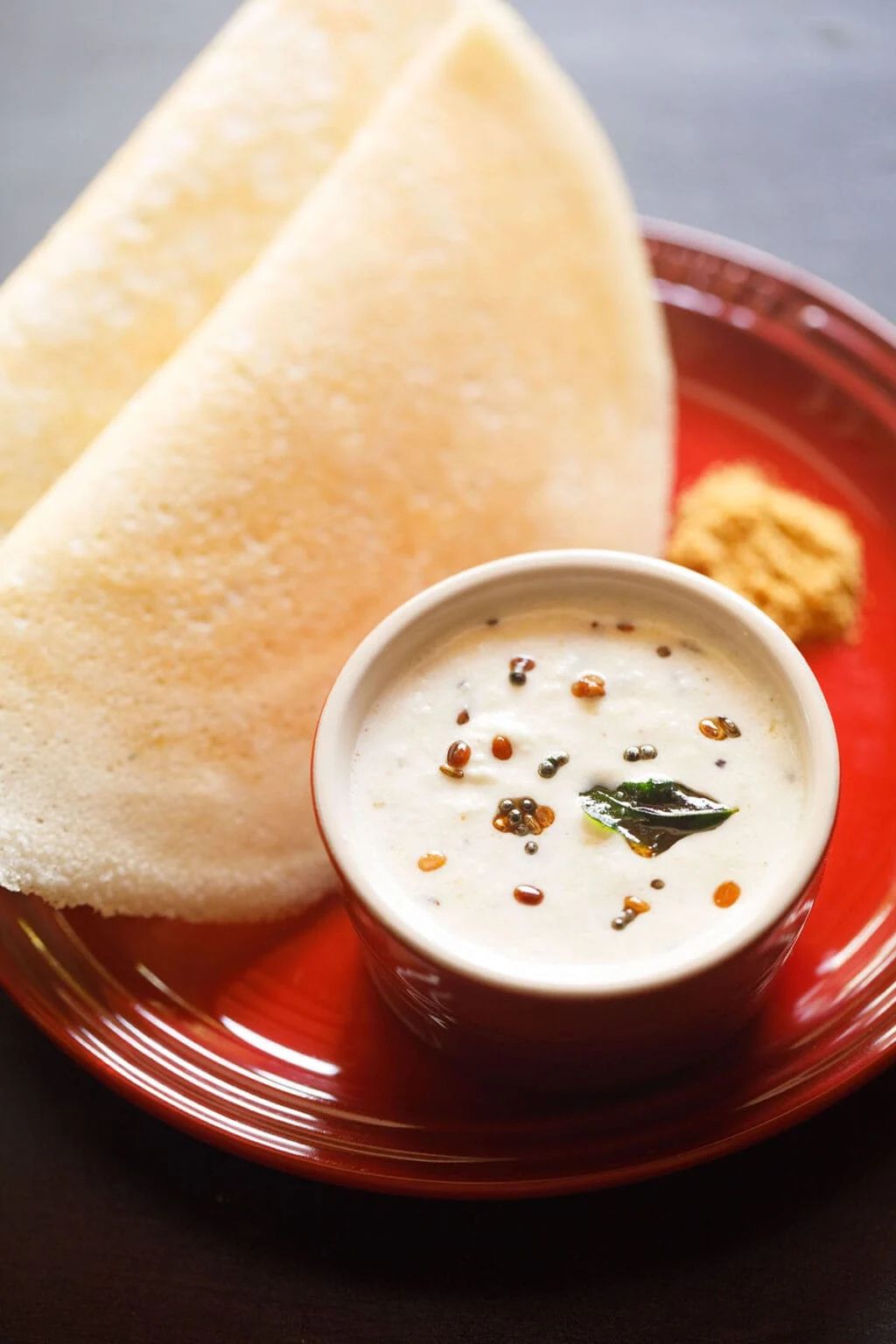 Source: vegrecipesofindia.com
All good chutneys need an element of spice and an element of sweetness. This coconut chutney has both in perfect balance. The mellow coconut is sweet and perfect for taking the edge off any heat.
The peppers add some crunch but mostly contribute their signature chile flavor. Whip this condiment in just fifteen minutes to accompany any South Indian dishes.
Source: panningtheglobe.com
Keep things simple, bold, and comforting with this award-winning chili recipe with ground beef. No matter who sits down to dinner, this chili recipe captivates their tastebuds.
The secret to this incredible recipe is simmering the chili for a long time on low heat. 'Low and slow' is the motto of the chili-making community, and it's easy to see why.
Adding some mozzarella cheese on top will compliment the bold flavors and extra spice of the chili powder, black pepper, and jalapeno chile.
Not sure what to serve with this heart chili? Check out these best side dishes for chili!
Source: muybuenocookbook.com
If you're looking for something new, you can't surpass this chile rellenos recipe. Imagine this: peppers filled with Oaxaca queso, coated in batter, and fried.
There are arguably the best stuffed peppers out there. They just ooze cheese! They're only slightly spicy, and the crunchy coating takes the cake. Plus, you can make them in under an hour!
Source: cookeatgo.com
In my humble opinion, bacon makes everything better. That includes the Anaheim pepper. These bacon-wrapped peppers make for a mouth-watering appetizer on game day.
Aside from the bacon, of course, the best part is that you can make a big batch of these in just over half an hour. Feed the team with very little hassle and a whole lot of love.
Everyone will love this mind-blowingly good potluck recipe!
Source: beyondthechickencoop.com
Here's another take on salsa verde! Packed with tomatillos, green chiles, and onions, this is the ultimate sauce to have in your back pocket when cooking Mexican food.
From enchiladas to frijoles, this sauce will add a little kick of heat without overwhelming the dish. Best of all, you can store it in an airtight jar in the fridge or freezer for easy access later.
Source: boulderlocavore.com
Take the classic bacon-wrapped chile peppers and crank them up a notch. Smoked blue cheese adds a layer of extra flavor to this game-day classic.
These not-so-hot peppers make perfect stuffing vessel. Everyone will love the bacon-wrapped stuffed anaheim peppers as a side dish!
I'm telling you, the effort required to make these is worth it. Whip this out for a fun grill day with friends, or prepare the chiles in advance for game day to save yourself some time.
Source: dinneratthezoo.com
Take chile rellenos to the next level by enjoying them in casserole form! This is an amazing hack that makes cooking chile rellenos that much easier, just watch as the cheese melts.
Serve with your favorite casserole dish, fresh salsa, Monterey or pepper jack cheese, and plenty of sour cream for the perfect weeknight dinner.
Have too much sour cream? Check out the genius recipes with leftover sour cream!
Source: farmhouseonboone.com
Okay, the name doesn't do much for this recipe but trust me. It's delicious! This fermented hot sauce is a must-have in any fridge. It's spicy and tangy but not too hot for the milder spice lovers.
The best part about this dish being fermented is that it contains many beneficial probiotics to keep your gut healthy. Preparing the sauce only takes ten minutes, but it takes about five days to ferment.
Source: pinchandswirl.com
If you want a quicker hot sauce, this green enchilada sauce certainly fits the bill! You only need quality time with your blender to get a perfect consistency.
I love when a sauce is super easy to make because it means you can pack your dish with as much flavor as possible in as little time as possible. Have this recipe in your back pocket for any spicy meal.
Source: thefreshcooky.com
Chicken noodle soup will become a thing of the past once you've tried this delicious creamy chicken poblano soup. The combination of creamy soup base and mild peppers is absolutely addictive.
On a winter night, when it's chilly and raining outside, there's nothing better than sipping on a bowl of this stuff. It's super easy to make, so you can enjoy it any day of the week.
Source: theflavorbender.com
Stuff your chiles to bursting with these luxurious spiced pork peppers. This is the last word in comfort food, with an insane amount of cheese and delicious pork flavor in every bite.
If you have leftovers hanging around in your fridge, this is a great way to use them. Toss any leftover vegetables into the pork mixture as you're trying to pack this with even more nutrients!
Check out these great side dishes for stuffed peppers to complete your meal!
Source: beyondthechickencoop.com
Need an easy-make casserole recipe on your side for an upcoming busy week? Look no further than this green chile chicken and rice casserole.
Moist chicken, sea salt, mild peppers, shredded cheese, and creamy sauce are the orders of the day. Don't forget the generous layer of cheddar cheese on top, which feeds your stomach and soul.
Source: theflavorbender.com
As all grandmothers worldwide will tell you, the secret to a good meal is always the sauce. That's why knowing how to make a salsa verde like this is essential if you eat Mexican food.
The good news is that it's much easier to make than expected. You create a natural smoky flavor by roasting off the peppers and tomatillo. Just blend with some oil and herbs, then serve.
Source: lemonblossoms.com
On nights when the takeout menus beckon, don't give in. Instead, reach for your Instant Pot and make this fragrant, warming, comforting Mexican stew.
This might be the ultimate way to use any green chiles that come into your life. They come to life in the stew's broth, taking on a vibrancy that's tough to compete with. Just try it; trust me.
Source: theforkedspoon.com
Finally, you must know how to make chimichurri if you're a Mexican food fan. Luckily, it takes all of five minutes to create the perfect chimichurri if you have the right ingredients.
Parsley, green chiles, oil, and a little bit of onion are all you need. Blast them into oblivion using your blender, then dress anything you see fit with this gorgeous bright green flavor bomb.
There you have it! Twenty-one wonderful ways to use the Anaheim pepper that bring out the very best of this gorgeous vegetable.
Which one was your favorite? Which ones – heaven forbid – did I miss?
Find more ways to use your favorite ingredients with my Recipe Roundups! From key ingredients to locations worldwide, I explore the many ways you can make your life better with food.
21 Best Anaheim Pepper Recipes You Should Make
Want to add color and flavor to your plate? These Anaheim pepper recipes are just what you need!
Ingredients
1. Cheesy Pulled Pork Dip
2. Pork Green Chili with White Beans
3. Homemade Green Pepper Jelly
4. Fresh Salsa Verde
5. Rajas Con Crema
6. Green Chile Chicken Soup
7. Coconut Chutney
8. Chili
9. Chiles Rellenos
10. Grilled Bacon Wrapped Stuffed Anaheim Peppers
11. Green Chili Sauce
12. Smoked Blue Cheese Stuffed Bacon-Wrapped Chile Peppers
13. Chile Relleno Casserole
14. Fermented Hot Sauce
15. Green Enchilada Sauce
16. Creamy Chicken Poblano Soup
17. Spiced Pork Stuffed Hatch Chile
18. Green Chile Chicken and Rice
19. Roasted Poblano Tomatillo Salsa Verde
20. Chile Verde Pork
21. Chimichurri
Instructions
Scroll up to get a bunch of easy, yummy, and delicious Anaheim pepper recipes. Don't be afraid to get creative with the ingredients, you might discover a flavor you didn't know you liked.
Get your shopping list going and make sure you've got all the ingredients.
Get cooking and make your next Anaheim Pepper Recipe!
Notes
Which one of these recipes was your favorite? Let me know in the comment section or on Pinterest!