All stocked up on sour cream? Here are some tasty sour cream recipes you simply have to try! These favorite recipes will make you want to grab that sour cream container from the back of your fridge and get cooking!
Bought more sour cream than you know what to do with? Don't worry, it will not go to waste!
Apart from topping your spicy Mexican delights with it, sour cream is a pretty versatile ingredient. And there's a good reason why. It is light, thick, creamy, and deliciously tangy.
From main dishes, pasta, casseroles, and salads, to baked goods and desserts. This article gives you 41 best sour cream recipes you can whip up with some sour cream.
Can I Freeze Sour Cream?
Word of advice, don't freeze the sour cream that you would like to use as a topping. Freezing and thawing sour cream will change its structure and make it runnier and way less creamy.
But, sour cream is freezable. If you have more sour cream than you need, go ahead.
Frozen (and thawed) sour cream is a great addition to many recipes. Keep reading for some ideas.
What Can You Mix Sour Cream With?
Creamy and tangy, sour cream pairs well with a lot of your kitchen staples. If you want to spice up your sour cream and boost the flavor, the options are endless.
You can try adding your favorite herbs and spices. Go with Worcestershire sauce and lemon juice. Caramelized onions. Diced pickles and a dash of pickle juice. A touch of honey for sweetness…
You really cannot go wrong here. And the bottom line is, mix with whatever your taste buds like the best.
What Can You Do with Sour Cream?
As versatile as it is, sour cream can be used in a lot of different ways to add a tangy flavor, besides the obvious dollop of sour cream on top of your tacos, chili, soups, or roasted potatoes.
You can add it to your pasta and salads to make them creamier. Incorporate in biscuits to make them flakier. Add to your scrambled eggs. To your casseroles. Sauces. Cakes and muffins…
Sour cream can add creaminess and texture to your meals. Therefore, it is always a nice addition. You can even make your own homemade sour cream.
Dinner Recipes with Sour Cream
Not sure how to use sour cream in your main dishes? Here are some tasty recipes for you to try for easy dinners.
Source: urbancowgirllife.com
White enchiladas, anyone? This sour cream enchilada sauce will go perfectly with your chicken tortilla wraps and is the first thing you'll want to make.
Buttery and creamy, you will fall in love with this sauce in an instant. And how can you not when there is a generous cup of sour cream inside?
The tortilla wraps are covered with Monterrey Jack, but you can use mozzarella instead.
Source: thriftandspice.com
Sauces with sour creams are incredibly tangy and satisfying. And this creamy chipotle and tomato sauce proves just that. And yes, it is loaded with sour cream to add that much-needed zing of acidity.
Perfectly seasoned and smooth, this velvety savory sauce is the perfect coating for your chicken breast.
I suggest you serve this with some crusty bread so you can dunk it into the sauce. Otherwise, you will be licking your fingers. Guaranteed!
Source: mindyscookingobsession.com
This is technically a side dish, but hey. Potato salad for dinner is always a good idea. If you top them off with some cheese, even better.
These tender potato pieces are boiled and mixed with the creamiest sauce ever. With one cup of each sour cream and milk plus some butter, you can only imagine the smooth silkiness here.
Add some chopped onions and your favorite spices and seasonings to this mix, and you will not be able to stop yourself from eating the whole bowl.
Source: swirlsofflavor.com
With a decent amount of bacon, tomatoes, lettuce, and a combo of sour cream and mayo, this BLT salad is a delicious way to sneak up more nutrition into your diet.
And, it makes one great dinner if combined with some crusty bread.
Plus, it uses low-fat mayo, so it is really light. And thanks to the chives and dill, it is super refreshing, too.
Source: bakeitwithlove.com
Hashbrown casseroles are not an only-breakfast meal! They also make a great addition to your dinner table.
Savory. Buttery. Chicken-flavored. And with two cups of each, sour cream and cheese. That has to be the creamiest hashbrowns ever.
Plus, so versatile that you can pair it with anything. Your favorite cuts of meat, too!
It is so delicious that even the pickiest of kids will ask for seconds. Adults, too!
Source: inmamamaggieskitchen.com
Cheesy, rich, tangy, and super creamy sauce. Loaded with roasted poblano peppers.
The recipe uses Monterey Jack cheese, but cheddar or Gruyere will be perfect here, too.
The butter gives it silkiness, so do not use oil instead.
Serve with crusty bread. Or tortilla chips. Or anything that has a bit of crunchy texture. Then go ahead and enjoy every single bite of this spicy indulgence.
Source: twopinkpeonies.com
Green bean casserole loaded with sour cream and a generous amount of cheddar and Parmesan cheese. Plus, all your favorite spices!
And if that's not enough, then imagine crispy fried onions on top, along with some crushed buttery crackers.
This is one of the best side dishes for your dinner table, right?
This mouth-watering casserole would be a crowd pleaser as a Christmas recipe.
Source: twopinkpeonies.com
Chicken and Dijon mustard is a combination we all love. But add some sour cream to the game and you get this incredible creamy texture, plus Worcestershire and honey, and a whole new taste is created in the finished product.
The creamy sauce also features sliced mushrooms.
So, chicken, creamy sauce, mushrooms? I'm sold! And, this recipe tastes as yummy as it sounds.
For an extra touch of that something, garnish with grated Parmesan cheese and fresh herbs.
Source: pressurecookrecipes.com
Chicken curry but the fuss. Without any dirty bowls, either. This Instant Pot version of the comfort classic practically cooks itself!
Carrots and potatoes for starchiness. Curry, garlic, ginger, and tomato paste for flavor.
A tip, though? Use sour cream instead of coconut cream. It will be creamier. And the tangy touch will make it more delicious. Just give it a try.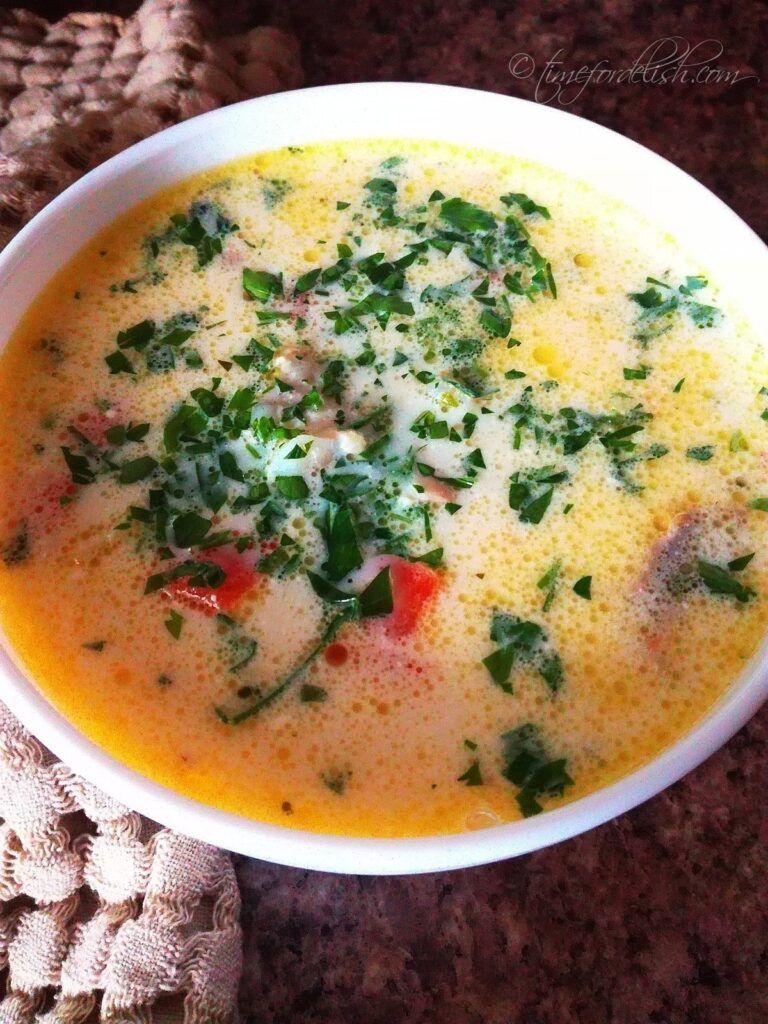 Source: timefordelish.com
We all have a favorite chicken soup recipe. But this garlic and sour cream one is more than just nourishing. It is downright irresistible, too!
Silky, creamy, and packed with flavor, you really cannot have just one bowl of this warm comfort.
It also includes carrots, parsnips, onions, and celery. The recipe uses chicken thighs, but any part will do fine.
This recipe with great flavor can easily be transformed by adding some yummy egg noodles!
Source: pressurecookrecipes.com
This classic Indian rice dish is spicy and loaded with garlic. Classic Indian seasonings and bay leaves are the main flavor boosters.
Made in the Instant Pot, it is really hard not to nail it. Fluffy and delicious every single time!
Technically, the recipe doesn't include sour cream. But, it is a much-needed topping. Or simply stir it in right after it's cooked, for tangy creaminess.
Pasta Recipes with Sour Cream
Forget about your heavy cream, because sour cream pasta will become your new favorite with these recipes.
Source: smallfarmbiglife.com
Beef and mushrooms are usually red-wine sauteed, but this sour cream sauce is to die for.
It also includes cream cheese, Worcestershire sauce, herbs, onions, and plenty of garlic. And yes, it is as flavorful as it sounds.
Pasta stroganoff like you haven't tasted before!
Source: thelazyslowcooker.com
Taco pasta is as tasty as it sounds. Ground beef, diced tomatoes, peppers, corn, and chiles. With the must-have add-ins – cheese and sour cream.
The taco seasoning wraps everything up deliciously. You will not be able to resist diving straight into this bowl of goodness.
It is cooked slowly, in a crockpot, and that intensifies the flavor.
Check out these other easy crockpot recipes.
Source: krumpli.co.uk
Pasta with smoky and crispy bacon, cabbage, mustard, and sour cream.
The ingredients are pretty simple. The cooking method is straightforward. But this crowd-pleaser is nothing short of yummy.
Creamy, tangy, and vibrant in color, this dish is something that will always satisfy your family.
Make sure to serve some bread with it on the side, because the leftover sauce at the bottom of the plate is something you'll want to soak up.
Source: spendwithpennies.com
Pasta salads with sour cream and mayo are an incredible lunch option. And the thing I love the most? You don't need to go over the top to make them delicious.
In fact, all you need are simple ingredients. Dill, pickles, onion, and some diced cheddar. That's all it takes for the creamy shell pasta to take on a crunchy and tangy note.
Great for your lunch box, and absolutely convenient for potlucks.
Source: theblondcook.com
Every family reunion needs a creamy pasta salad on the table. And this colorful, veggie-packed bowl is a yummy option.
With peppers, onions, peas, and celery. This pasta is as crunchy and satisfying as it is vibrant to look at.
Also, it is smothered in a creamy dressing. The creaminess includes mayo and sour cream, but it is the generous amount of pickle relish that steals the show.
Source: thewoodenspooneffect.com
Crunchy bacon, tomatoes, peas, and cheddar. Plus mayo, sour cream, and some dry ranch dip mix that adds a flavor you'll get hooked on in just a bite.
Creamy, smoky, crunchy, juicy… you name it.
Perfect for any time of the day, this delicious pasta salad is a must-try.
Healthy Recipes with Sour Cream
Looking for something creamy, rich, a bit tangy, but super healthy? Then check out these nutritious sour cream recipes.
Source: nourishedkitchen.com
Satisfying earthy notes flow throughout each smooth mouthfeel. This creamy and velvety leek and carrot soup is the perfect start to every meal.
Plus, it makes a great standalone meal option for lunch.
With vibrant and flavorful thyme and tangy sour cream, it really is as delicious as it sounds.
You will love this recipe for a healthy fall soup.
Source: inmamamaggieskitchen.com
Mexican chicken salad that is packed with enough creaminess to make you lick the bottom of the bowl.
Chicken and veggies are dressed in a mustardy and lemony mayo and sour cream dressing.
The recipe uses potatoes, peas, carrots, and corn. So, a lot of starches. But, you can customize this and add the vegetables you prefer.
Source: strengthandsunshine.com
If you love a good stroganoff but are steering clear from red meat, here is a delicious mushroom-only option you have to try.
The recipe is creamy, meatless, and the perfect topping for your cooked pasta.
This is a vegan recipe and uses vegan butter and vegan sour cream. But feel free to use regular dairy products if you don't need it to be plant-based.
Source: celebratednest.com
A package of stuffing. A cup of sour cream. A can of cream celery soup. Two generous sticks of butter. Loads of cheddar cheese. And sliced zucchini and squash.
Yes, that is the list of ingredients. And let me tell you just how amazingly they complement each other.
Cheesy, creamy, crispy, and nutritious! This delicious side dish will be perfect for your dinner get-togethers.
Source: how2doketo.com
Baked salmon topped with the most amazing cream sauce ever!
With mayo, sour cream, lemon, and dill, you can bet there is a lot of freshness packed into this creaminess.
The touch of Dijon and garlic also add special notes that only boost the flavor.
Source: how2doketo.com
This keto wedge salad is just what you think it is. A wedge of lettuce with toppings. But what you don't know is just how delicious it tastes.
Crunchy lettuce topped with crispy bacon and a creamy blue cheese dressing.
Except for the cheese, the dressing is loaded with sour cream, mayonnaise, buttermilk, and all the right spices.
Source: spendwithpennies.com
These sour cream cranberry bars are the perfect fruity and tart treat you need to satisfy your sudden sweet tooth.
And it couldn't be simpler to make!
Sugar, butter, oats, and flour make the base and crispy topping. But it is the tangy cranberry and sour cream filling that is so satisfying.
Get your ice cream out of the freezer, and enjoy!
Baking Recipes with Sour Cream
Adding sour cream to your baked goods makes them flakier and adds a touch of tanginess. Here are the best things to bake with sour cream.
Source: theunlikelybaker.com
Are you craving an old-fashioned cake on a hot summer day? Then this delight is the perfect way to satisfy your taste buds. And use up all of those fresh peaches.
Soft, buttery, sweet, fruity, and a touch tangy at the same time.
This peach cake is topped with cinnamon sugar, which only makes it sweeter.
You can also use cinnamon in the batter if you are in love with this warm spice.
Source: fearlessdining.com
Individual cakes always surprise guests. And these moist and light melt-in-your-mouth lemony treats will be just as enjoyed.
With gluten-free flour, sour cream, almond milk, and lemon juice, you can imagine how creamy and airy they must taste.
Plus, they whip up pretty easily.
Source: serenabakessimplyfromscratch.com
Zesty, tangy, and super sweet sour cream coffee cake. Filled with cream cheese and blackberry filling. And topped with crunchy almonds.
Doesn't that sound like coffee's perfect companion?
Great for brunch, and even better as a late afternoon treat, there's nothing I would change about this soft and delicious cake.
Source: ottawamommyclub.ca
Chocolatey coffee bread with peppermint notes.
Beware, this recipe uses a quarter of a cup of granulated coffee. So it is quite the pick-me-up treat.
For the minty flavors, you can either use peppermint extract or chocolate peppermint chips.
So many flavors and textures, that everyone will think it is a pastry-shop delight. In fact? It is a 5-minute prep cake.
Source: savingtalents.com
Simple sugar cookies with sour cream for a crumbly, fluffy, and light treat. Plus, they are coated with finger-licking cream cheese frosting.
Children will absolutely love this recipe. And how can they not? Cutting your favorite shapes out of the cookie dough. Then decorating as desired? How much fun is that?
The sour cream here makes all the difference, so do not substitute.
Source: bostongirlbakes.com
Cinnamon and coffee? Of course, they go perfectly together. So have no doubt that this soft cake can upgrade your coffee get-together.
Moist, fluffy, and rich in flavor. And with a sugary streusel layer in between the soft sponges.
The chopped pecans on top are a nice crunchy touch.
Source: bostongirlbakes.com
Unlike your regular donuts, these old-fashioned treats feature no yeast. Hence their rustic, cracked surface.
But these fried treats are incredibly soft and satisfying.
They are also dipped in vanilla glaze, which is why you won't be able to stop yourself from eating.
Not the healthiest treat, I know, but sometimes we deserve some guilty pleasures.
Source: richanddelish.com
Chocolate pound cake made with sour cream, butter, and a touch of espresso powder.
This sour cream pound cake is also coated with silky chocolate ganache, which makes it look super elegant on your table.
It's hard not to wash away these spongy chocolatey bites with a few gulps of milk. Or coffee. Super delicious!
Source: livetosweet.com
Buttery and sour cream dough, dotted with colorful sprinkles. Then brushed with sugary cinnamon. And glazed with a sweet cream cheese topping.
I promise you, if you're hosting a party and have some kids over, this will be a total hit among them.
For the best result, proof the dough in the fridge, overnight.
Dessert Recipes with Sour Cream
Sour cream is a great way to give your desserts a luscious touch. It increases the moisture, mellows out the sugar, and introduces a tangy touch that combines sweet ingredients well in these sweet treats. Here are the best recipes.
Source: thriftandspice.com
Fresas con crema or, in English, strawberries and cream. It is a classic, quick and easy treat that we whip up to refresh and satisfy our palate in the summer.
Have you ever tried it with sour cream and condensed milk? If not, then this recipe should definitely go on your "recipes to try next" list.
Source: thatskinnychickcanbake.com
A classic vanilla-flavored pound cake, made in a bundt pan.
Dense, soft, spongy, and super satisfying, this simple dessert is perfect with some fruits and cream on the side.
For this recipe, use full-fat sour cream, for a cake that is much richer in taste.
You can even whip up some powdered sugar glaze and drizzle it all over for a fancier look.
This tangy cake makes a lovely fall dessert.
Source: whatagirleats.com
Light, airy, and not overly sweet. Just as a souffle should be.
Packed with cottage cheese, cream cheese, and sour cream, it's also super creamy.
The recipe includes orange juice, but you can easily substitute it with lemons if you want it a bit tangier.
Love cottage cheese? Check out these best cottage cheese recipes.
Source: findingzest.com
Refreshing and delicious strawberry jello bowl. It is made with chopped fruits, sour cream, whipped topping, and mini marshmallows.
The recipe uses pineapples, mandarins, and strawberries. But you can obviously change the types of fruit here.
Canned fruit works well in this recipe. So feel free to use whatever you have sitting in your pantry.
Source: fantabulosity.com
Strawberry cheesecake. But with a crunchy bite that will keep you coming back for more. And more. Because, people, it is that good!
It uses strawberry preserves and some strawberry Jell-O powder. But feel free to use pureed strawberries or strawberry jam instead.
Source: mexicanmademeatless.com
Escape from your boring routine into a tropical paradise. Because, yes, a scoop of this ice cream will make you feel like you're somewhere exotic.
And, you only need 4 ingredients to whip this ice cream up.
If you don't like mangoes, feel free to swap them with your favorite type of fruit. Just make sure it is soft and sweet.
Source: thisdelicioushouse.com
Once you try your brownies with sour cream, you will never bake them differently again. These moist, chewy, and scrumptious chocolate squares are the perfect dessert.
Do you appreciate your chocolate flavor coming from buttery chocolate, and not cocoa? Then this is just what your sweet tooth desires.
Like that's not enough, the brownies are also frosted.
Source: artofnaturalliving.com
Only have five minutes to spare for making a dessert? Don't worry! This lovely treat will not take any longer to make.
Just clean and cut your strawberries, top with sour cream, and sprinkle brown sugar on top.
Make sure that you use brown sugar for this simple dessert. It gives a deeper, almost caramel-like taste, that simply tastes better.
41 Recipes with Leftover Sour Cream
Why not try these amazing sour cream recipes to use up your leftovers? From dinners to desserts, there are so many ways to use this ingredient.
Ingredients
1. Chicken Enchiladas
2. Creamy Chipotle Chicken
3. Creamy Potatoes
4. BLT Salad
5. Hashbrown Casserole
6. Rajas con Crema
7. Green Bean Casserole
8. Dijon Chicken
9. Chicken Curry
10. Garlic Chicken Soup
11. Instant Pot Chicken Briyani
12. Creamy Beef and Mushroom Pasta
13. Slow Cooker Taco Pasta
14. Cabbage and Bacon Pasta
15. Dill Pickle Pasta Salad
16. Classic Macaroni Salad
17. Creamy Bacon and Tomato Pasta Salad
18. Carrot Leek Soup
19. Ensalada de Pollo
20. Vegan Mushroom Stroganoff
21. Zucchini and Yellow Squash Casserole
22. Baked Keto Salmon
23. Keto Wedge Salad
24. Cranberry Bars
25. Peach Cake
26. Lemon Souffle Cake
27. Blackberry Cream Cheese Coffee Cake
28. Peppermint Mocha Bread
29. Sugar Cookies
30. Cinnamon Coffee Cake
31. Sour Cream Donuts
32. Chocolate Pound Cake
33. Funfetti Cinnamon Rolls
34. Fresas con Crema
35. Pound Cake
36. Blintz Souffle with Blueberry Sauce
37. Strawberry Fluff
38. Strawberry Crunch Cheesecake
39. Mango Ice Cream
40. Brownies
41. Strawberries with Sour Cream and Brown Sugar
Instructions
Scroll up to get a bunch of easy, yummy, and delicious recipes. Don't be afraid to get creative with the ingredients, you might discover a flavor you didn't know you liked.
Get your shopping list going and make sure you've got all the ingredients.
Get cooking and make your next Recipe with Leftover Sour Cream!
Notes
Which one of these recipes was your favorite? Let me know in the comment section or on Pinterest!