America is known all around the world for being a food-lovers mecca. That's why there are so many different delicious American breakfast foods to choose from!
Thanks to the mix of different cultures and resources, the range of traditional American foods is massive. And if there's one thing Americans really love, it's their breakfasts.
I've assembled just fifty-one American breakfast recipes in this list. Check them out to find your favorite!
What is a Typical American Breakfast?
That depends!
If you're feeling healthy, classic American breakfast foods can look like oatmeal, high-fiber cereals with milk, or a selection of fruits.
Your morning meal could also be a low-carb egg-based dish like an egg white omelet.
However, if you feel like something more luxurious, there are plenty of popular breakfast food options for you too!
Pancakes, waffles, a full fry-up with sausage, bacon, and hashbrowns. There are so many tasty choices for a good breakfast.
There are also plenty of sweet treats in North America, including donuts, banana bread, and muffins.
Don't forget the all-important breakfast hash or home fries, which is a busy home cook's best friend and has few dishes to do.
The long and short of it is that there are many different options and different variations for American breakfast dishes, so you have plenty of scope to choose from for a typical breakfast.
Check out just a few of the best breakfast foods below! Just make sure to serve your breakfast with a fresh glass of orange juice!
Traditional American Breakfast Ideas
With the family crowded around the table and the warming smell of fresh coffee in the air, these best American breakfast foods are the ones to reach for.
Designed to feed many hungry mouths without putting you out of commission, these traditional American breakfast ideas are perfect for a quiet Sunday morning.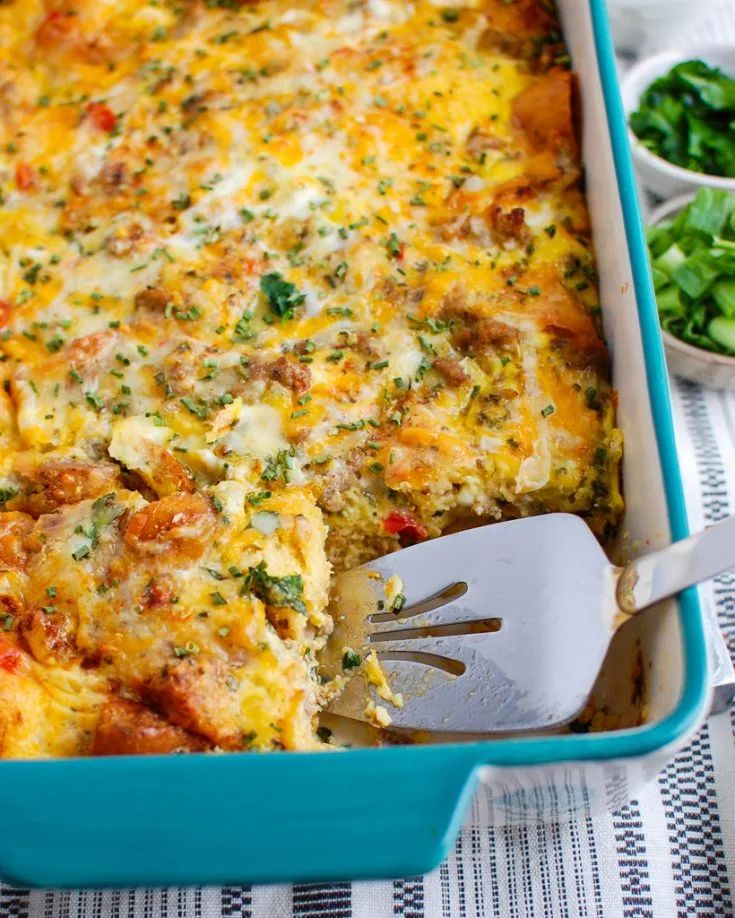 Source: acedarspoon.com
First things first, we can't have a list of American breakfast foods without an egg casserole! This is a quick, protein-heavy, healthy way to feed the entire family.
Plus, you can customize it to suit your tastes.
Pack this delicious casserole full of vegetables or keep it lean and mean, whatever you think your family would enjoy. This is also a great make-ahead recipe!
Source: thecookingduo.com
I'm not sure about you, but if I've been offered a waffle, my answer is almost always going to be a 'Yes, please'. These homemade waffles are the absolute best for a hearty breakfast!
Crispy, soft in the middle, and a little sweet, especially when paired with real maple syrup.
The thing about waffles is that they're great for feeding crowds. A waffle maker is quick and easy to clean, and so are the dishes required to make a batter.
So, even if you have a few friends over for breakfast, you won't have to deal with your kitchen being a disaster once all is said and done with this breakfast staple.
This waffle recipe is also one of the best easy breakfast ideas for kids!
Source: dashofjazz.com
If you're more of a pancakes person, why not try this amazing blueberry pancakes recipe for the best meal of the day?
This is another classic American breakfast, especially with the addition of the blueberry compote.
Don't worry if you've never made a compote before. It might sound fancy – and taste it, too – but it's actually a super simple fruit sauce ideal for adding a fresh spin to a stack of pancakes.
Source: cuisineandtravel.com
A skillet is a simple way of saying a 'one-pan meal,' and I, for one, am a fan. This breakfast sausage and pepper skillet is a great way to inject a kick of protein into the start of your day.
Not only is this skillet a great way to kick off a busy day, nutrition-wise, but it's also great for minimizing the effort and time it takes to make breakfast.
What's better than the ultimate convenient breakfast?
This would be a delicious camping breakfast idea to cook over the fire!
Source: theheirloompantry.co
If you're looking for something a little more luxurious, I've got you covered with this breakfast toast recipe.
This sourdough French toast is both savory and sweet, with a plethora of possible accompaniments.
Top your French toast with fresh berries, dollop on some fresh cream, or go nuts with the Nutella (I won't tell).
This is the kind of American food you can absolutely make your own for a complete breakfast.
Source: carriesexperimentalkitchen.com
This breakfast is like three things in one, making it a popular option because there are plenty of things that America does well and one of them is getting inventive with their breakfast food.
So, this is French toast made with cinnamon rolls, arranged into a casserole dish, and baked. Not only is this utterly delicious, but it's also super easy to feed a crowd with!
Source: twokooksinthekitchen.com
If you're lucky enough to own a sous vide machine, then you have to try this take on eggs benedict! The hollandaise sauce is the real hero of this dish, but the eggs are a close second.
Using a sous vide machine means you'll get perfectly-cooked eggs every single time. That's good news if you're getting started on breakfast before you've had your first coffee of the day.
Source: baking-sense.com
Simple, nutritious, and hardy. These are the three words I'd use to describe apple maple-baked oatmeal. Because baked oatmeal offers a great way to get your day started!
Oh wait, there's one more word: delicious! This incredibly delicious breakfast has floral notes of maple next to the natural sweetness of apple, all paired with nutty oatmeal.
This oatmeal is a great make-ahead meal or meal prep breakfast to make your mornings quick and convenient.
This oatmeal is a must-have if you are looking for breakfast potluck recipes!
Source: urbanblisslife.com
Banana and chocolate chip waffles are in a league of their own! Bananas ensure these waffles are super moist, and the dots of melted chocolate chips only help that endeavor along.
Enjoy these as a simple stack, or bring out the toppings for a super fun, luxurious breakfast experience. This is the best thing to serve someone on their birthday morning!
Source: sweetteaandthyme.com
There's nothing more traditionally American than a plate of buttermilk biscuits to start the day. Biscuits are a pastry all their own, a little bit like scones but also very much not.
Buttery, savory, and so comforting, a plate of these biscuits is the ultimate treat. I defy you to enjoy a plate of these and not have the best day you've had all week.
These biscuits would pair perfectly with this fresh mango spinach smoothie.
Source: cookingwithcarlee.com
Who doesn't want to enjoy cinnamon rolls for breakfast? This is a delicious wholewheat cinnamon roll recipe with a giant twist… it's gigantic! A single cinnamon roll takes over a whole skillet.
Not only is this creative, but it's also a super fun way to treat a loved one to an interesting breakfast. Whip this up on their birthday, or make a random Sunday special with this amazing treat!
Source: sweetteaandthyme.com
Or, if you're looking for a savory option, look no further than Southern-fried potatoes and onions. Any dish with the words 'Southern-fried' in it is going to be good, and this breakfast delivers.
Pull this breakfast together in just thirty minutes so you can even feed the whole family in a breeze! This is a great breakfast for carbo-loading ahead of a busy or exciting weekend spent with the family.
Source: modernhoney.com
Speaking of carb-loading, who wants chocolate chip pancakes? These perfectly fluffy pancakes are dotted with little gems of melted chocolate throughout each golden disc. In other words: heaven.
While you probably won't need anything more to make these pancakes a hit, you can serve these with a bowl of whipped cream, syrup, or even ice cream.
Source: healthyrecipes101.com
Classic eggs benedict may have originated in England, but its popularity is unmatched in America!
This eggs benedict is a wonderful way to start your day because it's so customizable to suit your tastes.
Enjoy with bacon, salmon, or mushrooms as your base protein. You can even swap out the toast for a hash brown if you want an extra luxurious meal.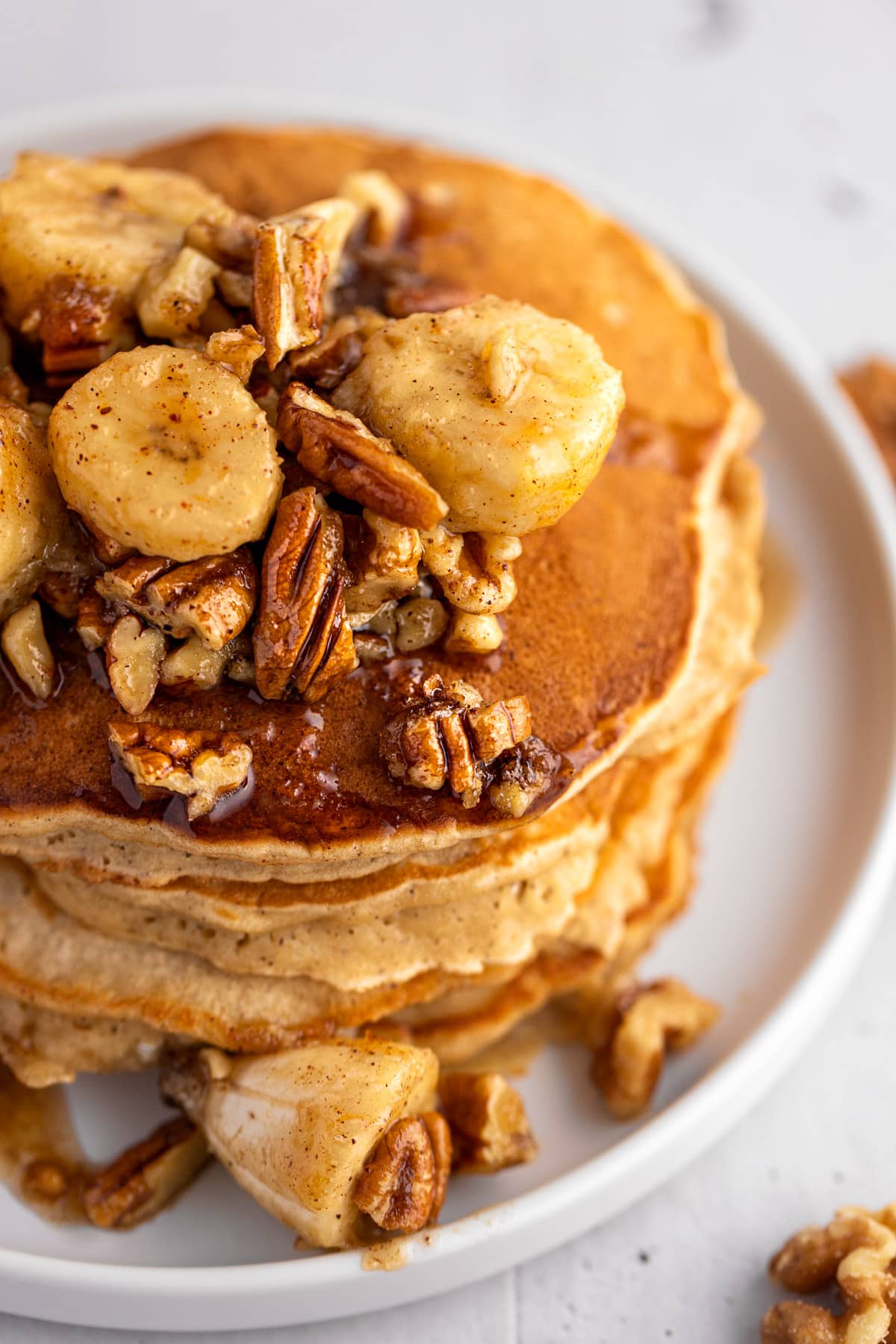 Source: thelittlestcrumb.com
Bananas Foster is a classic American dessert. Since it contains fruit, it's only natural to translate it into a wonderful breakfast. Hence these delicious bananas foster pancakes!
This is a unique breakfast option that will delight and impress the whole family.
Source: pipingpotcurry.com
Bread pudding is already a triumph, but introduce banana bread into the mix, and it's a whole new ball game. The moist, dense banana bread is perfect for soaking up the bread pudding mixture.
Baked to squidgy perfection, this is exactly the kind of meal that lives in the grey area between dessert and breakfast. Happily, it's a fairly healthy way to start the day, using only natural sugars!
Full American Breakfast Ideas
Make sure everyone has enough calories and nutrients to keep them going for the big day ahead! These popular American breakfasts aren't messing around.
Featuring plenty of delicious elements and packed with flavor to boot, each one of these recipes is guaranteed to satisfy everyone who is sitting down to breakfast.
Source: allnutritious.com
I'm no stranger to a good American-style breakfast, which is why the first recipe in this category is mine! This is a one-pan American breakfast skillet that packs a wallop.
Instead of starchy white potatoes, enjoy the smooth sweetness of sweet potatoes to kick your day off with a bang. Featuring a few other nutritious ingredients, this will keep you fuller for longer.
This is the perfect power breakfast recipe to start your day right!
Source: thetoastykitchen.com
If you've ever seen a movie about the South, then you've most likely heard of grits. For the uninitiated, grits are essentially stone-ground corn that's been boiled.
It's much tastier than it sounds! Plus, that foundation is often served with toppings to make it even better. That's why this grits breakfast bowl is the perfect way to enjoy this classic American dish.
Source: allnutritious.com
Pile on the protein and the flavor with this amazing sweet potato breakfast bowl. I'm a huge fan of incorporating as many vegetables as possible into your breakfast to get a head start on the day.
So, I crafted this recipe to be super nutritious and easy to make!
The ingredients mimic an American-style fry-up with a healthy spin, so you can enjoy great flavors without any guilt or tiredness.
Enjoy these other yummy healthy breakfast bowl ideas as well!
Source: theforkedspoon.com
Aside from cereal or skipping breakfast altogether, there's no simpler way to start your day than with a breakfast casserole. It's literally a dump-and-go meal, needing almost no effort to come together.
Case in point: this delicious American-style breakfast casserole. Customize it to suit your tastes, or roll with the recipe. The world is your oyster!
Source: thegoodheartedwoman.com
A good old-fashioned breakfast hash typically uses white potatoes, but this sweet potato breakfast hash is in a league of its own.
The natural sweetness from the potatoes adds a whole new dimension!
The carrots help with that, chipping in with a little bit of extra fiber and a lot of extra flavor. This comes together in a single pan, meaning you can easily start your day with a clean kitchen.
Source: thetoastykitchen.com
However, if you're an adamant fan of the classic breakfast hash skillet, this is the recipe for you! Hash browns, eggs, and sausage combine into the perfect start for your day.
Add a couple of your favorite vegetables in for a healthy twist, or keep things simple for a quick, energy-filled start to your day. Either way, this is a protein-filled skillet that will keep you going!
Source: cookingwithcarlee.com
Here's another take on an American breakfast casserole. This time, however, we're heroing hashbrowns! This tasty dish has plenty of protein and energy to prepare you for a busy day.
Since this is a casserole, it's also super easy to prepare ahead of time. Take just half an hour out of your morning to get this beauty on the table and watch your family members descend.
Source: thesuburbansoapbox.com
Corned beef is another traditional American ingredient, but I don't think it gets enough love! This versatile protein is perfect on virtually any breakfast dish and is super flavorful.
This corned beef hash packs a punch, singing with the taste of herbs and some well-chosen spices. Topped with a runny egg, this is one of the best ways you could possibly start your day.
Source: whatagirleats.com
Kick your day off the healthy way with a protein-packed spinach and mushroom casserole, the likes of which you've never eaten before! This is super moist and flavorful, with an addictive texture.
Best of all, it only has a hands-on cooking time of about ten minutes. The rest of the half-hour required to whip this up is dedicated to its time in the oven. Talk about convenience!
Source: senseandedibility.com
However, sometimes you just want to throw health out the window and go for broke. That's when you summon this chicken and waffles recipe. I can't express how good this is.
The chicken will add some time to your morning cook, but you can prepare it as much as possible the night before to save some time. In fact, this will help the chicken become extra tender and juicy.
Topped with a honey butter so addictive it might as well be illegal, this is the kind of dish that will have your neighbors salivating with envy.
Source: uniquecooks.com
Hosting a brunch, or need something quick for a busy day ahead? Try out this quick and easy frittata! This is basically an omelet with oomph, providing the perfect foundation for a ton of vegetables.
With eggs, mushrooms, spinach, and feta in the mix, this is truly a party where only protein is invited. The corn offers a bite of much-needed sweetness to balance everything out.
Source: simplyhappyfoodie.com
When you need everyone to sit down, eat breakfast, and get out the door, this tater tot breakfast casserole is what you use.
The scent of this roaming through the house is as good as the sound of a dinner bell. Your family will come running. Plus, the tater tots will make even the pickiest eaters forgive a vegetable or two.
Source: twohealthykitchens.com
This recipe is like scrambled eggs on steroids, and that's why I love it. The Southwestern spices add a delicious kick to your morning, while the vegetables ensure you're getting your five-a-day.
Hearty, healthy, and satisfying, this is so easy to whip up. In just thirty minutes, you can be sitting down to breakfast with the whole family ahead of an exciting day!
Source: thegunnysack.com
Who doesn't love the idea of pizza for breakfast? And this isn't cold, leftover pizza from last night. Oh no, this is fresh, hot, and humming with all your favorite breakfast ingredients.
Pre-made puff pastry is your friend here, offering a quick and easy way to create a breakfast-friendly pizza crust. Top with your favorite ingredients, or get the family to each make one of their own!
Source: gritsandgouda.com
French toast casseroles are a genius invention, which is why I've featured a few of them on this list. They're also an iconic American invention, meaning they're bold, full of flavor, and super convenient.
This peanut butter and jelly variation lives up to those promises. Imagine peanut butter and jelly sandwiches layered over and over again to create an almost pastry-like casserole dish.
Now, imagine the slices are French toast. That's one heck of a way to start your day!
Source: mydiasporakitchen.com
The only thing better than having bacon with your pancakes is putting the bacon in your pancakes! This isn't just convenient. It's nigh-on perfection.
The salty bacon is an ideal contrast to the rich fluffiness of these delightful pancakes. And what's more American than taking something that tastes good and making it a hundred times better?
Source: theorganickitchen.org
Crispy potatoes are a reward unto themselves, but now imagine them with a side of fluffy eggs. Now, imagine you could make all of that in thirty minutes with just a single pan.
This is the promise of this recipe, and trust me. It does not disappoint. Make sure you have plenty of this to serve because everyone in the house will come running as soon as they smell it.
Easy American Breakfast Ideas
They say breakfast is the most important meal of the day, but that doesn't mean you have to spend hours making it!
These super simple American breakfast ideas are here to save you on a busy morning.
Jump in and whip up these breakfasts with high nutritional value, the low effort required, and barely any dishes to do once you're done. They're the trifecta of convenience!
Source: allnutritious.com
I'm a huge fan of breakfast skillets, which is why I have quite a few of them in my recipe book. But none of them is more convenient than my three-ingredient breakfast skillet.
This is the ultimate quick starter for a busy day. It's a little bit like shakshuka but considerably heartier, so you know you'll be full and raring to go for the long day ahead.
Source: simplyscrumptiouseats.com
Meal prep your breakfasts in advance with this super easy cinnamon and apple muffin recipe. Apple muffins are super moist because they contain apple flesh, which doles out moisture and flavor.
The cinnamon is the perfect companion, warming up the taste of the muffin. It's also beneficial to your health, giving your morning metabolism the kick that it needs to get going.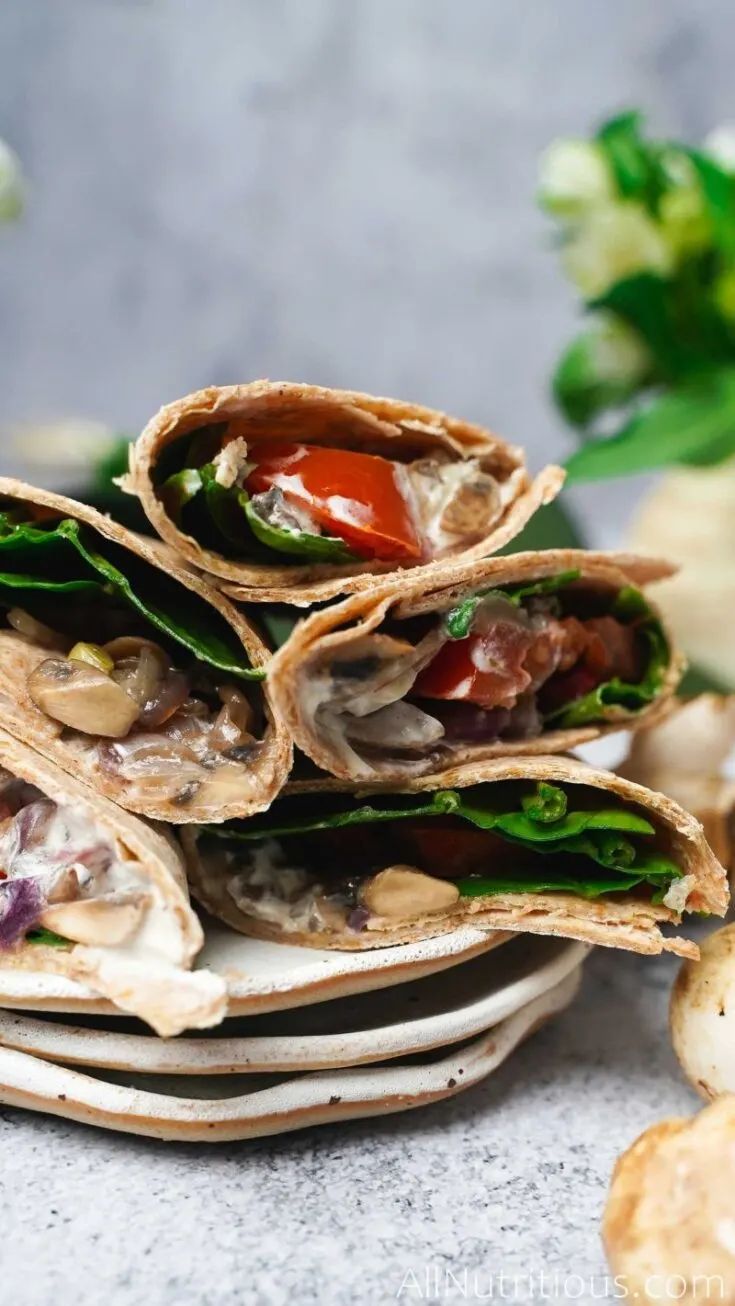 Source: allnutritious.com
Mushrooms are an under-utilized breakfast food, and I'm on a campaign to fix that. This spicy mushroom wrap is something I reach for all the time!
Paleo-friendly and plant-based, this is a delicious way to start the day on to go. If you need a quick work breakfast or something to take to the great outdoors, this recipe has your back.
Source: bellyfull.net
Sometimes, you just need to start your day with a cinnamon roll. No judgment here. I've got the hookup. Here's a super easy cinnamon roll recipe you can use!
However, even the easiest cinnamon rolls need a little bit of lead time to get really good. So, I recommend this as more of a meal prep recipe than an out-and-out on-the-day preparation.
Source: allnutritious.com
Pack your system full of protein with this high-powered high-protein power bowl. It's called a 'power bowl' for a reason, promising enough fuel to keep you going no matter what the day has in store.
Where you might be picturing a bowl of sweet potatoes or even bacon, what you actually get is a bright and fresh bowl of granola and fresh fruits. It's great for summer!
Source: thegoodheartedwoman.com
I firmly believe that egg-in-a-hole breakfasts are for people of all ages. Kid or not, we should all be able to enjoy a little bit of whimsy with our breakfasts.
Now, this dish does something that American dishes do very well: combining two good things to make something even better. Egg-in-a-hole, meet grilled cheese sandwich.
Source: allnutritious.com
When I know I have a busy week ahead of me, I make sure to have these egg muffin cups waiting for me every morning. These little nuggets of protein are the perfect kickstart to the day.
They're simple to prepare in large batches, so you can feed not only yourself but your whole family with a single batch.
Source: marleysmenu.com
Cooking or baking with brown sugar lends your meal a deliciously caramel-like taste, which is why these pancakes are so much better than standard ones!
Brown sugar pancakes are in their own world, humming with an undercurrent of dark sweetness. These are best balanced with a dollop of fresh whipped cream or some fresh fruit.
Source: allnutritious.com
The only thing better than a super quick breakfast is enjoying a breakfast you didn't have to make at all. Do your future self a favor and get familiar with these strawberry protein overnight oats!
While the recipe calls for strawberries, I came up with it to be versatile enough to suit any fruit you like. Choose your fruit of the moment and give it the spotlight with this fiber-filled breakfast.
Source: healthyrecipes101.com
While avocado toast may be simple, it's far from boring. This amazing breakfast has a ton of nutrients to keep you going on even the busiest days! Plus, you can make it your own.
Scatter the top with chili flakes, sesame seeds, and lemon for a bright hit of flavor, or keep things simple with salt and pepper.
Source: allnutritious.com
Here's another take on protein overnight oats, and these use classic fall flavors to warm your morning. Cinnamon and apple are an ideal pair in this luxurious make-ahead breakfast.
I just love overnight oats, and this recipe is proof of how good they can be.
Source: senseandedibility.com
I know, I know, sweet potato and chocolate? It sounds like a strange combination, but when you try it, you'll see why this deserves your attention.
The dark chocolate chunks are surprisingly delicious with the earthy sweet potato muffins. They're rich, hearty, and filling enough to promise you enough energy for your day.
Source: allnutritious.com
Here's yet another one of my overnight oats recipes, and this time, you can use whichever berries you happen to have on hand! Make these your own with a handful of dark chocolate chips.
Or try them with some desiccated coconut for a little bit of extra crunch where it's needed.
Source: twocloveskitchen.com
If you're a fan of sandwiches, then you know that they're the perfect breakfast for a day on the go. Self-contained and delicious, they're easy to take with you into the world, no cutlery needed.
Whether you start your work early or you just need something quick to get you going, this sandwich has you covered. Lean turkey, protein-packed egg, and tasty cheese are the stars of the show today.
Source: ihearteating.com
This is possibly the worst-kept breakfast secret, and for that, we're all grateful: buttermilk makes the perfect waffle! It adds a little dash of sour to counteract the sweet, but the real bonus is the airiness.
Buttermilk forms more bubbles in the batter when it cooks, ensuring your waffles are light on the inside and crispy on the outside. Best of all, you can make your own buttermilk at home with ease!
Source: profusioncurry.com
Put a healthy spin on a dessert with this classic American breakfast combination: fruit and cottage cheese. This is a wonderful way to celebrate the intersection of dairy and light, delicious fruits.
I would say that this is a great make-ahead breakfast, except these only take five minutes to assemble, so you don't even need to worry about the time!
Source: savorthespoonful.com
Americans have mastered the art of transforming desserts into breakfast and vice versa. So, this healthy version of chocolate pudding should come as no surprise!
This is an incredible chocolate-baked oats recipe that promises moist, filling, almost cake-like bites with the lovely crunch of chocolate chips.
While these are best enjoyed fresh from the oven, you can also make these ahead of time to enjoy somewhere outdoors. They transport well, and nothing beats a quick bite outside to begin your day.
Source: amandascookin.com
Finally, we have one of the most classic – and simple – American breakfast foods to hit the world's culinary scene: banana pancakes. Much like banana bread, these pancakes are moist and nutty.
However, the best part is that you can whip them up in as little as fifteen minutes. Healthy, naturally sweet pancakes in under half an hour, all while tasting as they came out of a café? That's heaven.
So, there you have it! Fifty-one of the best American breakfast food recipes out there. If you're looking to go on a culinary tour of all fifty-two states, this is the place to begin your journey.
If you're curious about other recipes, check out my other Recipe Roundups to give you some more delicious ideas. Leave a comment below, letting me know which recipe was your favorite!
51 Classic American Breakfast Food Recipes To Start The Day
Indulge in breakfast bliss with these popular American breakfast foods that will leave you craving more.
Ingredients
1. Egg Sausage Casserole
2. Homemade Waffle
3. Fluffy Blueberry Pancakes with Blueberry Compote
4. Breakfast Sausage and Peppers Skillet
5. Sourdough French Toast
6. Cinnamon Roll French Toast Casserole
7. Sous Vide Poached Eggs with Hollandaise
8. Apple Maple Baked Oatmeal
9. Banana Chocolate Chip Waffles
10. Buttermilk Biscuits
11. Giant Skillet Cinnamon Roll
12. Southern Fried Potatoes and Onions
13. Chocolate Chip Pancakes
14. Eggs Benedict
15. Bananas Foster Pancakes
16. Banana Bread Pudding
17. Breakfast Skillet with Sweet Potatoes
18. Grits Breakfast Bowl
19. Sweet Potato Breakfast Bowl
20. Breakfast Casserole
21. Sweet Potato Breakfast Hash
22. Hash Browns and Eggs Breakfast Skillet
23. Sausage Hashbrown Breakfast Casserole
24. Corned Beef Hash
25. Spinach and Mushroom Casserole
26. Chicken and Waffles with Honey Butter
27. Corn, Spinach and Feta Frittata
28. Tater Tot Breakfast Casserole
29. Skillet Breakfast Scramble
30. Puff Pastry Breakfast Pizza
31. Peanut Butter and Jelly French Toast Casserole
32. Bacon Pancakes
33. Crispy One Pan Potatoes with Eggs
34. 3-Ingredient Breakfast Skillet
35. Cinnamon Apple Muffins
36. Spicy Mushroom Wrap
37. Cinnamon Rolls
38. High Protein Breakfast Power Bowl
39. Egg-in-a-Hole Grilled Cheese Sandwich
40. Egg Muffin Cups with Veggies
41. Brown Sugar Pancakes
42. Strawberry Protein Overnight Oats
43. Smashed Avocado Toast
44. Apple Cinnamon Protein Overnight Oats
45. Sweet Potato Muffins with Chocolate Chunks
46. Berry Protein Overnight Oats
47. Turkey Egg and Cheese Sandwich
48. Buttermilk Waffle
49. Cottage Cheese and Fruit Parfaits
50. Chocolate Baked Oats
51. Banana Pancakes
Instructions
Scroll up to get a bunch of easy, yummy, and delicious recipes. Don't be afraid to get creative with the ingredients, you might discover a flavor you didn't know you liked.
Get your shopping list going and make sure you've got all the ingredients.
Get cooking and make your next American Breakfast Food Recipe!
Notes
Which one of these recipes was your favorite? Let me know in the comment section or on Pinterest!