Craving a sandwich with bagels to shush your rumbling tummy? Look no further, because these foolproof bagel sandwich recipes that satisfy everyone!
Juicy, crunchy, meaty, with veggies, and oh-so-yummy! If a bagel sandwich is your idea of comfort food, then you've landed at the right place!
Some of the most delicious bagel sandwiches you could possibly find, all in one place. This roundup of yummy bagel sandwich ideas will seriously upgrade your menu.
Whether for breakfast, lunch, or dinner. With meat, vegan, or super healthy. Here is the ultimate filling or topping combos for your chewy bagel halves.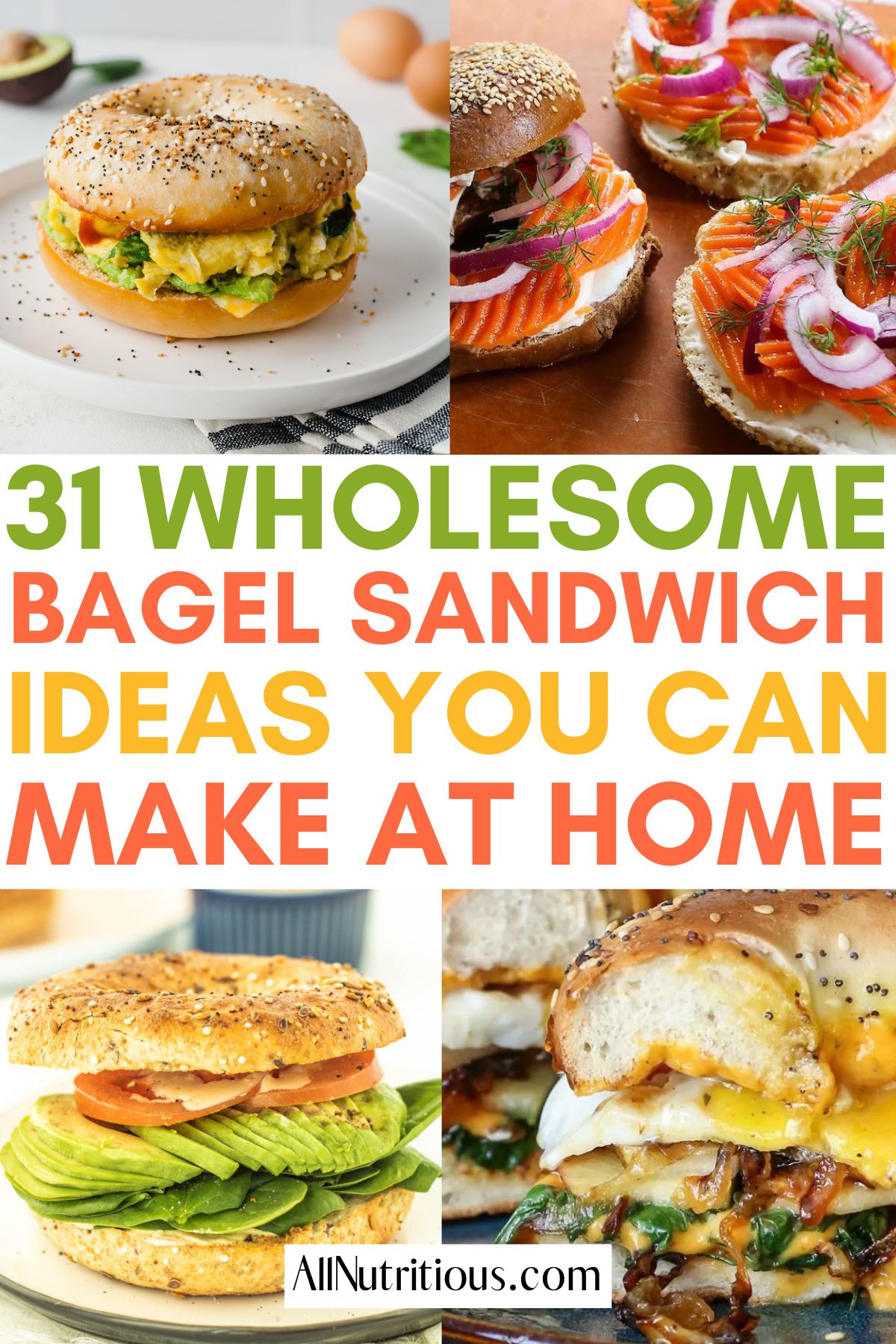 What Goes Well on a Bagel?
Cream cheese and smoked salmon, duh! But if you want to step away from the classics, there are many other exciting flavors to liven up a plain bagel.
Poached, fried, or scrambled eggs. Steak, ham, bacon, or turkey slices. Fresh veggies, avocado slices, or even apples for sweet crunchiness. Hummus, sauces, and all kinds of spreads. And lots of cheese.
Anything you usually enjoy as a sandwich filling can be just as delicious as a bagel topping.
Best Bagel Sandwich Ideas
Looking for some foolproof ideas to wow your taste buds? Grab your favorite bagels and find your pick among these ultimate best bagel sandwich recipes!
Source: happykitchen.rocks
Speaking of best choices, here is a recipe that you simply cannot go wrong with. This is one of my favorite ways to enjoy a soft bagel, even if you're not vegan!
A plant-based sandwich loaded with baba ganoush, sun-dried tomatoes, cucumbers, and arugula.
The recipe recommends adding some parsley. But any other herb will do fine. Basil also pairs well with the Mediterranean flavors here. Plus, it will infuse some extra freshness.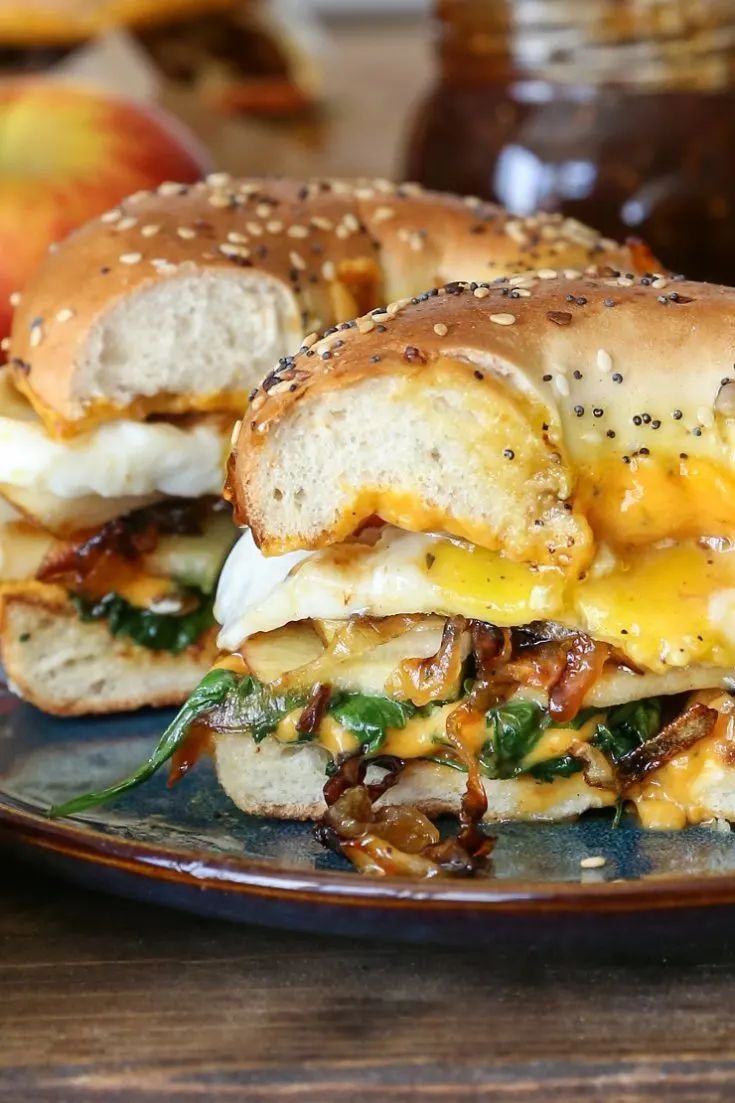 Source: theroastedroot.net
Pears, apples, and caramelized onion. A winning combo that will taste good whatever you put it on. A chewy bagel, though, is by far the best pairing!
It also features fried eggs, arugula, and cheddar.
But the thing that makes this sandwich so sweet is not the pears or apples. It is the fig preserves. Other fruity preserves will do fine but figs definitely round out this filling best.
Source: biteswithbri.com
Are you in the mood for some pizza flavors in a jiffy? Then these pepperoni bagel bites are just the thing you need.
With Italian pasta sauce, mozzarella cheese, and mini pepperonis, this tastes like real pizza, too.
And the best part? These pizza bagels are super convenient to make in the Air Fryer. They are also perfect for little kids. Or as a tasty treat on game night.
Besides, they come together in just 10 minutes, so they're also great as a last-minute snack.
Source: olivesfordinner.com
Lox bagels are probably everyone's favorite. But what if you are following a plant-based diet? Then this vegan alternative is something you must try.
As close to the classic as possible, this smoky carrot sandwich tastes like the real deal.
Who needs salmon when you can turn carrots into such a decadent indulgence?
Served with some vegan cream cheese, this will be a total hit!
Source: entirelyelizabeth.com
The best bagel sandwich you can have! This delicious breakfast bagel sandwich is packed with scrambled eggs, sausage patties, cheddar, and delicious seasoning.
Anything that you want for breakfast pressed in between two chewy bagel halves. Then baked for some crispier and gooey treat.
This is the ultimate breakfast sandwich, but this easy recipe can be enjoyed any time of day.
With so many layers of deliciousness, it will be really hard to pinpoint your favorite ingredient here. Maybe the melted cheese? Or the buttery and slightly crisped bagels? It is just too darn hard.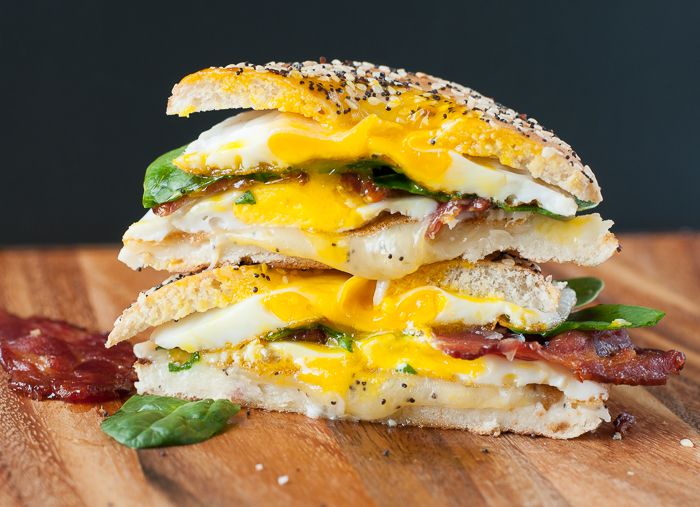 Source: peasandcrayons.com
Grilled cheese, but made with everything bagels! Plus, bacon and a fried egg. Because what's breakfast without eggs and bacon, right?
For some nutrition, there is a handful of spinach in this easy breakfast bagel sandwich recipe.
And for incredible creaminess, two dollops of cream cheese to top off this cheese breakfast sandwich!
Crispy, cheesy, soft, and incredibly delicious! There's really no wrong way to crisp this goodness up. So, a panini maker or not, the point is to make those edges brown.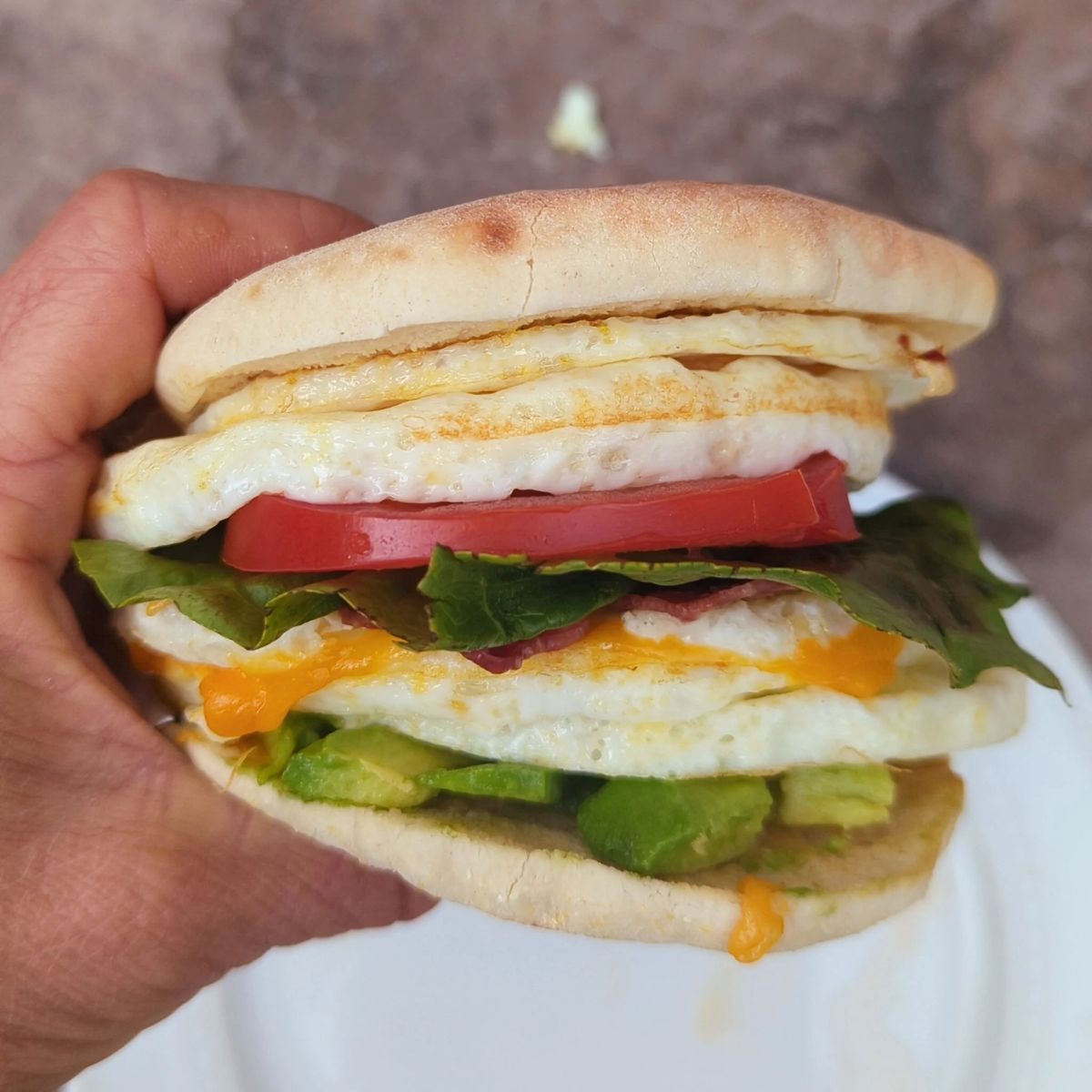 Source: healthbeet.org
Skinny bagels, egg whites only, and loads of avocados and fresh veggie toppings. This low-calorie breakfast is perfect for those watching their waistline.
Turkey bacon is leaner and recommended here. But if you're not following a diet, go crazy with some more grease.
This toasted bagel sandwich is the perfect way to balance your carbs and proteins.
Source: 4sonrus.com
Steak in a bagel? Yes, please! This 15-minute fast-food delight will make you forget all about your trips to McDonald's.
It is meaty, cheesy, and straight-up delicious!
This sandwich is also brushed with mayo and loaded with caramelized onions. So there's really no nice way of putting this. You will gobble up this yummy sandwich in no time!
A friendly warning – this is loaded with calories, so beware of your portions.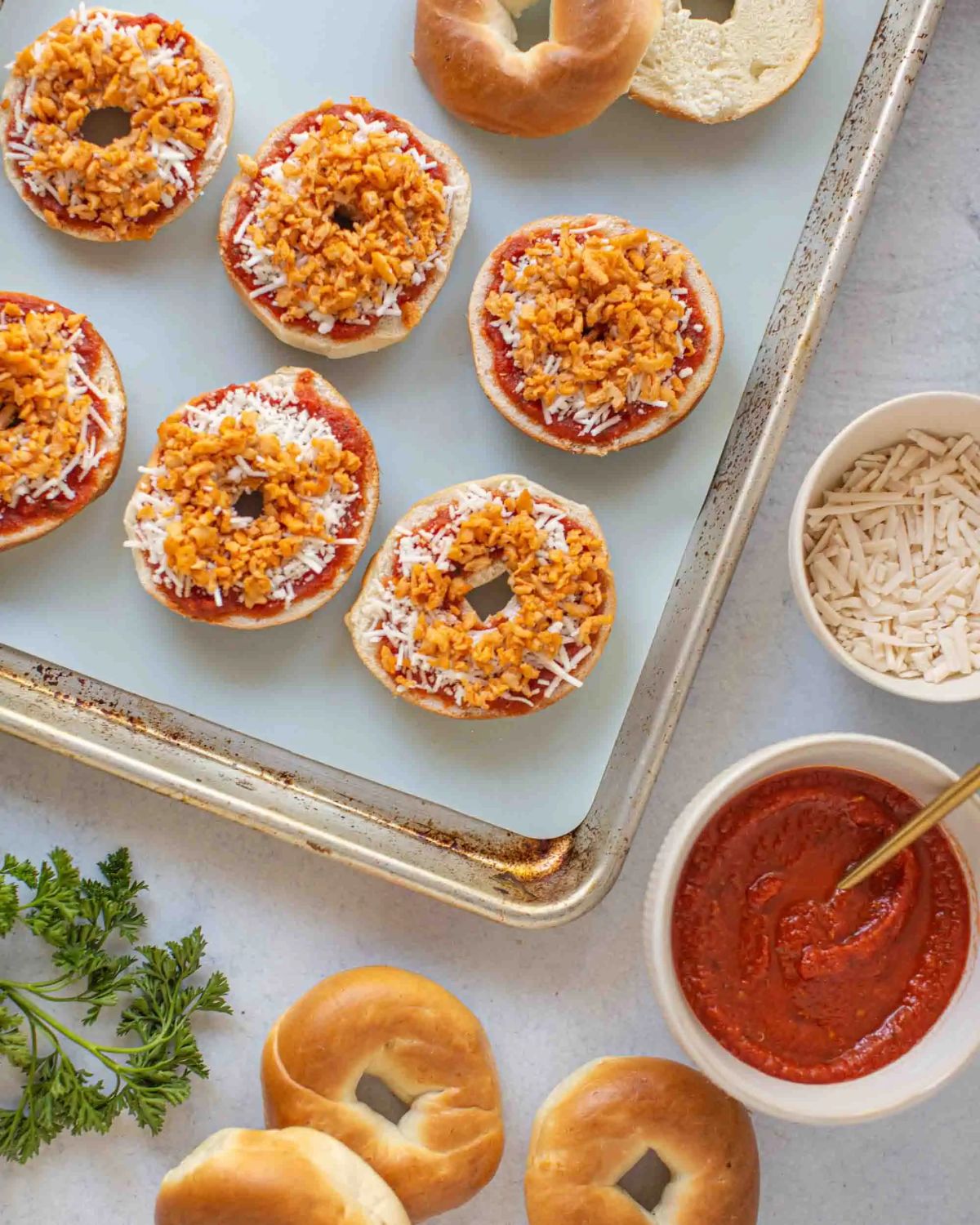 Source: worldofvegan.com
Another recipe for bagel bites, Only this time without any meat or dairy cheese.
Brushed with pizza sauce, sprinkled with vegan cheese, and topped with vegan meaty crumbles. Then baked until melted and crispy, just like you'd want your snack bites to be.
This recipe uses vegan beefy crumbles that you need to cook according to the package instructions. If you don't have any, some diced veggies will also do the trick here.
Breakfast Bagel Sandwich Recipes
If a bagel sandwich is what you wish to be indulging in for breakfast, these delicious bagel sandwich ideas will be a great addition to your recipe folder.
Source: adorefoods.com
Looking for authentic cream cheese and salmon bagels? Then this is it. Fresh bagels spread with creaminess, topped with smokiness, and sprinkled with tanginess.
With sliced pickles, capers, and thinly sliced red onions, this salmon bagel will be your regular breakfast.
And how can it not when it is healthy, delicious, and only requires 10 minutes of your time?
Serve this delicious breakfast sandwich with a glass of freshly squeezed orange juice for the ultimate morning nutrition.
Source: cadryskitchen.com
Veggie sausage patties, plant-based eggs, vegan cream cheese, and two toasted vegan bagel halves. That and 15 minutes are all you need to whip this breakfast sandwich up.
The eggs are sprinkled with nutritional yeast and some black salt for the ultimate taste.
This sandwich is loaded with protein and healthy fats. Plus, it doesn't even taste vegan, so it is a sneaky way to veganize a carnivore's morning.
Source: askchefdennis.com
This is a breakfast sandwich that I will gladly enjoy for lunch and dinner, too. It is loaded with the classics – cheese, slices of bacon, and a cooked egg.
This easy meal is super filling and satisfying.
Smoked bacon and American cheese offer the absolute best taste here. But keep in mind that this bagel sandwich can be easily customized.
If you don't mind the grease, a teaspoon of mayo will do wonders here.
Source: theliveinkitchen.com
Eggs, cheese, and avocado on crispy, buttery bagels. How can you possibly resist this delight for breakfast?
The secret is to make your eggs as fluffy as possible and use a sharper cheese.
The sandwich also features a touch of spicy sriracha, but you can use whatever condiment you prefer here.
This egg-loaded sandwich will also pair perfectly with some mayo. And if you spice it up with some seasonings, even better.
This is one of the best cheap lunch ideas to stay under budget!
Source: freshflavorful.com
For this sandwich to be as rich as possible, it is suggested that you use good-quality cream cheese that you enjoy.
Creamy, crispy, and spicy – that's how I'd describe this succulent comfort food.
With cream cheese and soft avocados, it is also as smooth as possible. The crispy bacon and tangy sauerkraut add flavor and texture.
But the toasted bagel halves just wrap up the whole thing beautifully!
Source: flavorfuleats.com
Creamy, crunchy, and smooth, this egg and avocado sandwich is the perfect light breakfast you need to get you going.
Loaded with fresh flavors, great texture, and plenty of nutrients, this velvety sandwich can also be a great lunch, too.
The key to the flavor lies in the shallots and the melted cheese. Make sure to saute the shallots nicely for a caramelized flavor that will go amazingly well with the egg and cheese.
Ready in 20 minutes. How can you not enjoy this bagel delight?
Source: thevegconnection.com
Vegetarians, beware! This bagel sandwich right here is the best way to start your day!
A runny egg, soft avocado, crunchy lettuce, and tomatoes. All topped with a finger-licking herb mayo that makes the taste pop.
Dill and chives are used to flavor the mayo, but whatever type of herbs you enjoy will be great here.
The bagels are toasted and crispy, which makes this breakfast delight taste amazing.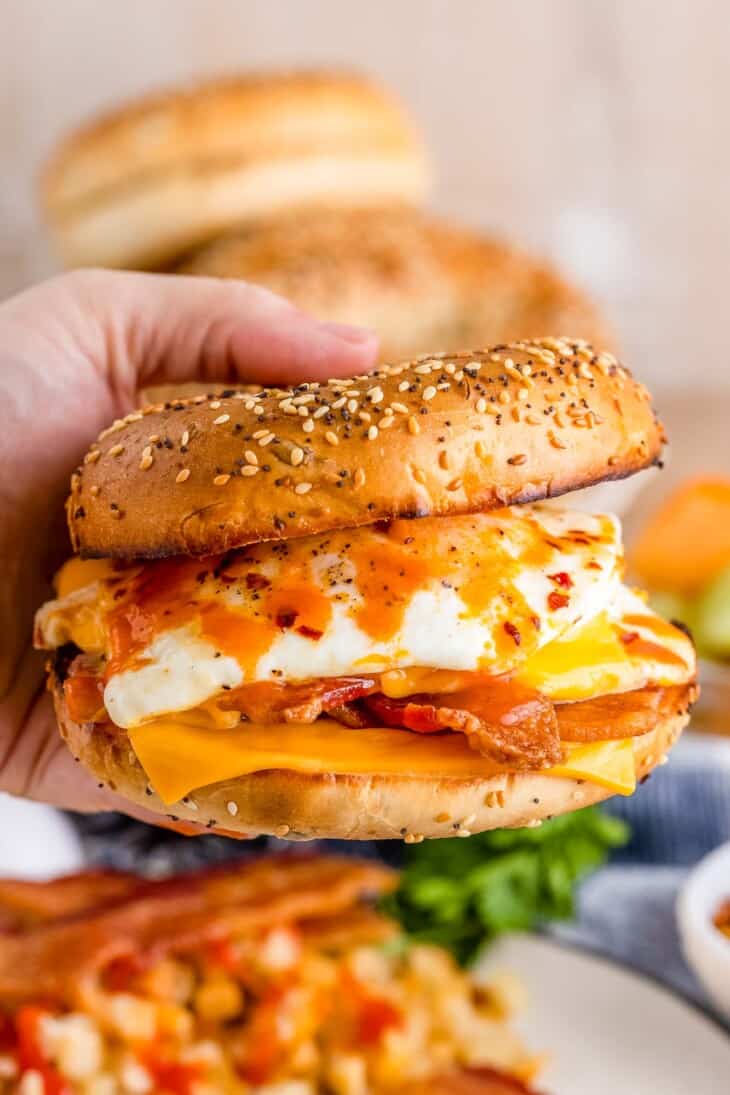 Source: littlesunnykitchen.com
Love adding fried eggs to your crispy sandwiches? Then this cheese and bacon breakfast delight is the perfect morning meal for you!
Gooey, buttery, crispy, and loaded with bacon. Even the fussiest kids will have their eggs this way.
Of course, the melted cheese is the real treat here, which makes this sandwich super comforting.
And you only need less than half an hour to make this satisfying dish. If that doesn't qualify for a decent and energizing breakfast, I don't know what does.
Source: createyum.com
The title may be a bit misleading because you don't need only two ingredients for this breakfast. What you need are two ingredients to make the bagels, though.
That's right; this recipe offers instructions on how to make bagels from scratch. And it is super easy. You just combine flour with yogurt, and voila!
The filling here is scrambled eggs, crispy bacon, and cheese.
So, with just 35 minutes to make, five ingredients in total, and bagels from scratch, this recipe is downright impressive.
Source: thriftandspice.com
Not only yummy, but this recipe also falls under the quick and easy category. Because, get this, you only need 7 minutes from start to finish!
And it couldn't be simpler! You just scramble the eggs, cook until set, place turkey slices and cheese, and flip over. Then simply assemble your bagel sandwich. And that's it!
If you want to, you can use some sauce or condiment on top of the eggs to spice things up.
Loved this bagel idea? You must see these other creative sandwich ideas!
Source: vikalinka.com
Cream cheese spread, smoky salmon, and a runny egg on top. Indulgence at its best, I would say!
The secret here is in the herbs. Use a handful of herbs, chop them up, and incorporate them into the cream cheese. This recipe suggests dill and chives, and they pair perfectly with the salmon.
This breakfast sandwich packs a serious protein punch, and it will kickstart your day right away.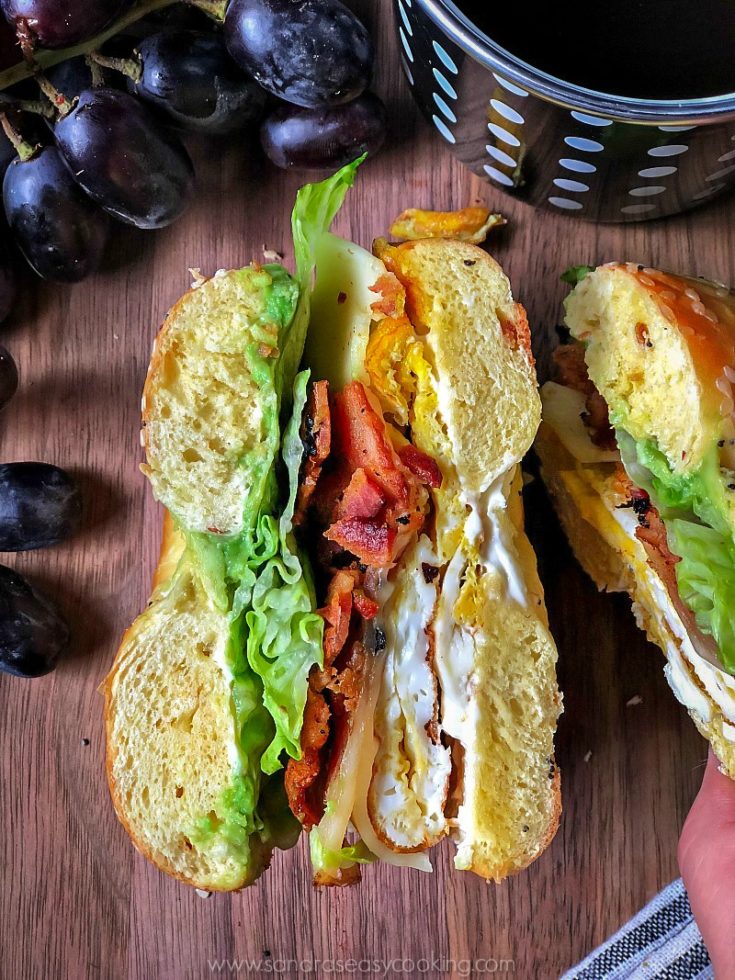 Source: sandraseasycooking.com
Are you a late riser, or do you just skip breakfast occasionally? Either way, this brunch sandwich will be perfect for you.
Bacon, mozzarella, cream cheese, avocado, crunchy lettuce, and an omelet tie everything together. This loaded sandwich is the perfect thing to get your day started.
Great for energizing your body. These heavily layered bagel halves are a delicious fuel.
Lunch Bagel Sandwich Recipes
A bagel sandwich for lunch is always a good idea. Here are some loaded choices that will keep you full until dinner. And satisfy your cravings, too!
Source: pipercooks.com
Lunch should be easy. But that doesn't mean you should skip on nutrition. Thankfully, with this sandwich, you can have both – a quick and a nutritious meal.
Plus, it will also fill you up! And not to mention, it is super yummy, too!
Soft avocados, tomatoes, spinach, creamy yogurt, and a dash of sriracha for some extra kick. Plus, a touch of feta cheese to introduce some saltiness.
Trust me, this is the most delicious way to eat a nutritious meal. And it only takes 10 minutes to make.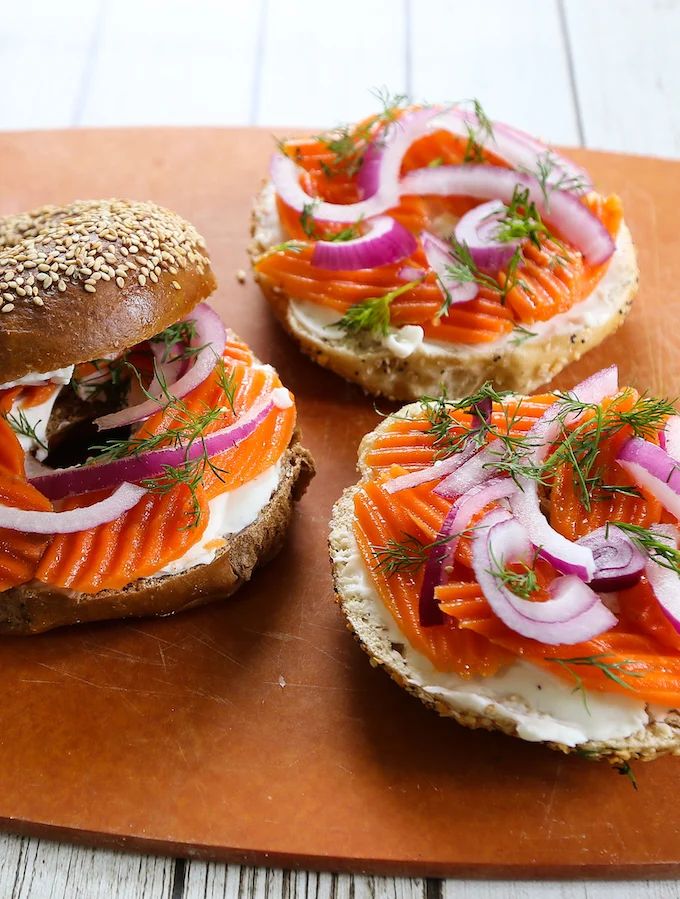 Source: theveganatlas.com
If you liked the carrot substitute for vegan salmon, this is another recipe you need to make.
Smoky and zesty carrot slices on top of some creamy vegan spread.
This recipe also uses nori sheets for delightful salty flavors. Which seriously transforms this root veggie.
The perfect toppings here would be dill, capers, and thinly sliced red onion. Yum!
Source: cadryskitchen.com
Is simplicity what you're looking for in a sandwich? Then this five-ingredient recipe will make a great lunch.
Chewy bagels with hummus topped with cucumbers, red peppers, and onions.
There's really not much to explain here. So go ahead, whip this up today. And enjoy a simple but very nutritious lunch.
This hummus sandwich would make a great lunch box idea for school!
Source: amummytoo.co.uk
Are you into Halloumi? Then this recipe is something that you will be thrilled to whip up in your kitchen.
And, even though there's grilling and frying involved, this sandwich comes together in just 20 minutes. Just the perfect time to make a quick lunch. Don't you think?
And with a deep garlicky flavor and a spicy harissa paste, how can you possibly resist?
Besides, thanks to the creamy mayo and fresh arugula, this sandwich tastes even better!
Have extra greens? Use them up with these best arugula recipes!
Source: flavorfuleats.com
To say that this bagel sandwich is tasty would be an understatement. Really, you need to try this bad boy yourself to see what I'm talking about.
So meaty and cheesy, it is simply glorious.
Besides, what better way to use up your leftover corned beef? Just make sure to add some tangy crunchiness and a touch of mustard. And there's nothing left but to enjoy the juiciness!
Love sandwiches? Find these best sandwich recipes!
Source: amummytoo.co.uk
Cooked turkey sliced and stuffing are the stars here. Which says what? That this bagel sandwich will be a great idea for those mornings when your fridge is stuffed with festive leftovers.
The sandwich also uses cheese and mayo. But it is the spread of sweet cranberry sauce that really gives it a pleasant oomph.
The recipe features drowning the turkey slices in broth, for the juiciest and most succulent sandwich ever.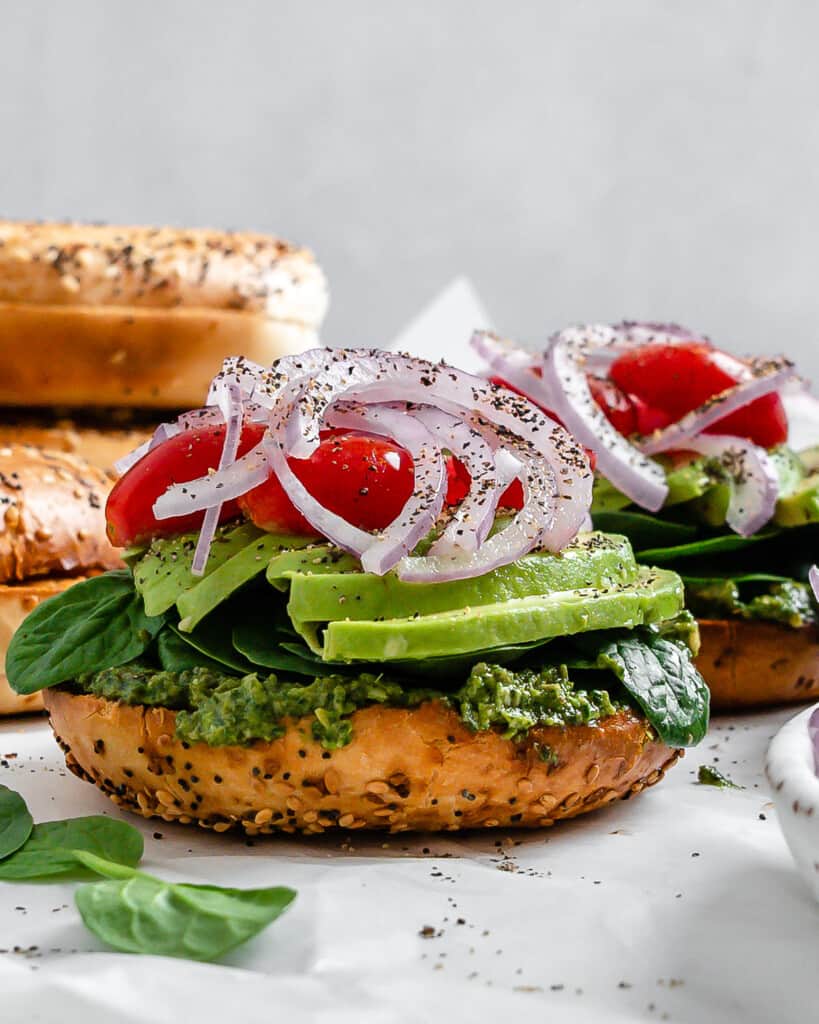 Source: plantbasedonabudget.com
Pesto sauce, spinach, and avocados are topped with juicy tomatoes and crunchy red onions.
With plenty of nutrients and fresh flavors, this is one of the healthiest plant-based sandwiches you can find.
The bagels are also toasted, which gives a nice crispiness that you will enjoy.
Source: sugarandsnappeas.com
Baked ham and cheese sandwich! For me, that says it all! I know it will be a guilty pleasure that will satisfy my fast-food cravings.
And this recipe lives up to those expectations. But in a much healthier way!
Ham, cheese, spinach, mustard, and mayo. How can you not love this recipe? The bagels are brushed with a buttery poppy seed mixture, which is super tasty.
Source: freshapron.com
Loaded with flavors and textures! This hearty sandwich is probably the easiest and most delicious bacon, lettuce, and tomato sandwich ever.
And this delicious sandwich is made in no more than 10 minutes. Perfect for us last-minute lunch packers.
The key here is to crisp the bacon to perfection and use only fresh veggies.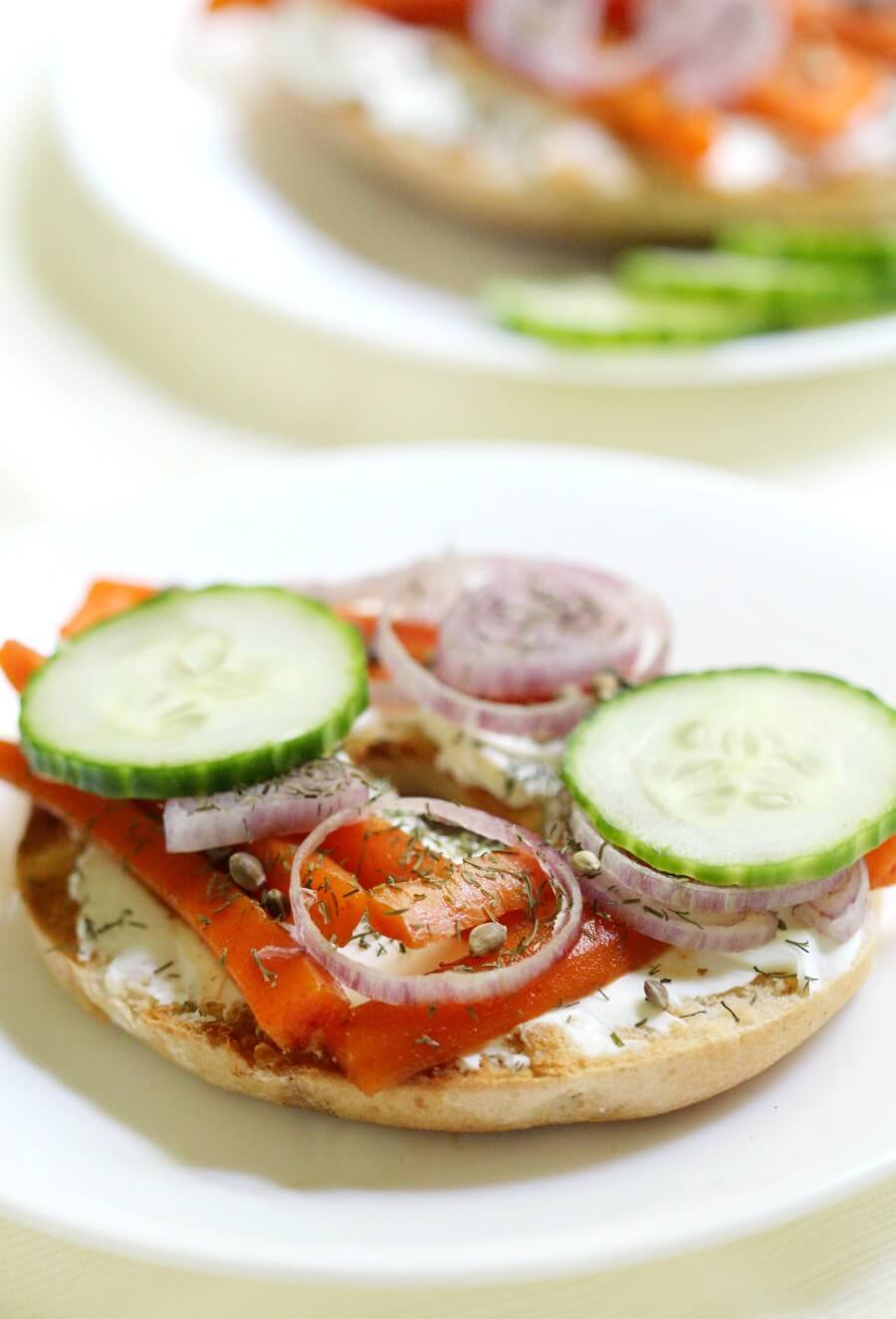 Source: strengthandsunshine.com
Gluten-free bagels have never tasted so good! And who would have thought that a plant-based sandwich could satisfy meat lovers, too?
This carrot salmon recipe is perfect for vegans. But equally beloved by absolutely everyone.
Plus, it is loaded with fresh veggies, herbs, capers, and a creamy vegan spread.
This cream cheese bagel is also seasoned with paprika. But you can use other spices, too.
Looking for more quick and delicious meals? Check out these easy chicken wrap recipes!
31 Best Bagel Sandwich Recipes for Breakfast and Lunch
From classic fillings to creative twists, this list of bagel sandwich recipes will suit every taste.
Ingredients
1. Ultimate Vegan Bagel Sandwich
2. Pear Apple Cheddar Caramelized Onion Grilled Cheese Bagel Sandwich
3. Bagel Bites
4. Vegan Lox
5. Breakfast Bagel Sliders
6. Everything Bagel Breakfast Sandwich
7. Bagel Egg Sandwich Recipe with Cheese
8. Steak Egg and Cheese Bagel
9. Vegan Bagel Bites
10. Healthy Smoked Salmon Bagel Breakfast
11. Vegan Bagel Breakfast Sandwich
12. Bagel Sandwich
13. Scrambled Egg Sandwich
14. Bacon Cream Cheese Breakfast Bagel Sandwich
15. Avocado and Veggie Breakfast Sandwiches
16. Vegetarian Bagel Breakfast Sandwich
17. Ultimate Bagel Breakfast Sandwich
18. 2 Ingredient Bagel Breakfast Sandwich
19. Everything Bagel Breakfast Sandwich
20. Breakfast Bagel Sandwich with Smoked Salmon
21. Brunch Bagel Sandwich
22. Avocado Bagel Sandwich
23. Vegan Carrot Lox
24. Bagel Sandwich with Hummus and Vegetables
25. Halloumi Bagel
26. Corned Beef Bagel Sandwich
27. Toasted Turkey Bagel
28. Vegan Bagel Sandwich with Pesto
29. Baked Ham and Cheese Bagel Sandwiches
30. Bagel BLT Sandwich
31. Gluten-Free Bagel with Vegan Carrot Lox and Cream Cheese
Instructions
Scroll up to get a bunch of easy, yummy, and delicious recipes. Don't be afraid to get creative with the ingredients, you might discover a flavor you didn't know you liked.
Get your shopping list going and make sure you've got all the ingredients.
Get cooking and make your next Bagel Sandwich Recipe!
Notes
Which one of these recipes was your favorite? Let me know in the comment section or on Pinterest!