The sounds of nature, and a warm cup of coffee. There's nothing better than waking up on a quiet morning while camping. You'll love having these camping breakfast ideas on your next camping trip!
Well, one thing might be better… waking up on a quiet morning while camping with an easy breakfast on the docket for the most important meal of the day!
Whether taking your family on the road or taking on the great outdoors solo, these easy breakfasts will keep you full of energy for the adventures ahead in a delicious way.
Easy Breakfast Ideas for Camping
On any camping trip, the last thing you want to deal with is a stressful breakfast. Easy, healthy, and filling are the orders of the day and these favorite camping breakfast ideas fulfill that!
These easy camping recipes make waking up in nature as relaxing as it should be, no matter how many people you're feeding.
Source: letscampsmore.com
With this simple camping breakfast, breakfast is in the bag. Yes, literally! With a brown paper bag, charcoal grill, or basic firepit, you can have a warm and filling breakfast ready and waiting for you.
There is no better way to enjoy a traditional bacon and eggs breakfast without any of the clean-up! The brown bags are your cooking container and dish, so clean-up is a breeze.
Source: quichemygrits.com
Single skillet recipes are fantastic for camping!
With hearty breakfast recipes like this loaded hash brown casserole, you don't need to pull out multiple dishes and clean up a ton once breakfast is ready.
Just whip up the casserole in the pan over your camp stove or hot coals, hand out the forks, and get munching! This is a super comforting dish that your whole family will enjoy without question.
Source: theroastedroot.net
If you want a slightly healthier version of a potato skillet to start your camping adventure, this cast-iron skillet recipe is for you!
Packed with sweet potato, bacon, and spinach, this is a simple breakfast for all ages. The best part is this cast iron skillet breakfast will keep you fueled for all your outdoor activities!
This quick and easy breakfast takes only twenty minutes to make with pre-chopped ingredients. Serve in the pan with some utensils for a knock-out autumnal breakfast on early mornings.
You will also love this yummy sweet potato breakfast bowl!
Source: cadryskitchen.com
Being vegan while camping can feel tough, but not with this super simple basic recipe by your side! This vegan breakfast skillet is easy and super filling, making it an excellent choice for an early start.
No matter the cooking facilities available, you can get this skillet together in under half an hour. The heart of this recipe is the tofu scramble, and you can use any vegetables you like to add flavor.
This power breakfast idea is sure to give you all the energy you need to start your day!
Source: homemadeheather.com
The foil packet is every veteran camping chef's best-kept secret! These foil packets are essential to simple campsite cooking, offering an easy way to cook, clean, and store all in one.
This breakfast bake recipe is a fantastic way to prepare a quick breakfast for a crowd. Like a quiche without the crust, this bake can host all vegetables, proteins, and spices.
Source: seasonalcravings.com
Oats are so great when camping! They're unlikely to go bad; you can make them with something as simple as water and a little sugar. However, sometimes it's good to indulge.
This fried apple oats recipe makes enjoying a delicious breakfast in the wild super easy. Use an apple, some oats, and a handful of spices to create a comforting, warming start to the day.
Source: theforkedspoon.com
Here's another take on quick and easy oats! This one uses instant oats, making your job super simple. To minimize packing, you can even make these oats in a camping kettle or teapot.
Sprinkle with your favorite fruits – you might even be able to forage some! This is a classic way to start your day, whether you woke up in a tent or at home in bed.
Don't forget a pinch of brown sugar for a sweet breakfast in the most perfect way.
These other healthy porridge recipes will give you inspiration to spice up your instant oats!
Source: littlesunnykitchen.com
That's right. You can still enjoy French toast while camping! This foil packet recipe offers all the flavors you know and loves from a sweet French toast breakfast but over a fire.
The idea for this hearty camping breakfast is to create a fake oven with your tin foil, helping the toast to cook to a crisp and the strawberries to soften. Together, all these flavors will delight your tastebuds.
Source: strengthandsunshine.com
Not in the mood for tofu? Chickpeas are usually easier to transport on an extended camping trip and keep much better than delicate tofu. So, this chickpea scramble is essential for vegan campers!
Pack this scramble with all your favorite vegetables to provide a tasty, filling start to your day. Nothing says adventure like a vibrant, bold spice palate and plenty of fresh vegetables!
You might also enjoy this other tasty chickpea scramble breakfast bowl!
Source: threeolivesbranch.com
This is a super cute treat the whole family can enjoy. I recommend reserving this for the last day of your trip to celebrate all the great memories you've made over your family's time together!
After all, what's a camping trip without s'mores? This is almost like a casserole dish, coming together easily thanks to a roll of Crescent dough and a generous dose of chocolate.
Source: ofbatteranddough.com
While it might not seem obvious, pancakes are a great camping breakfast! All you need to make them is a mixing bowl and a pan with any old heat source.
These super simple buttermilk pancakes are light, fluffy, and rich. They're the perfect hosts for a dash of maple syrup or a handful of fresh fruit.
Source: lovebakesgoodcakes.com
Out there in the wild, it's just you, your eggs, and your Ziploc bags against the world. Good thing you can make something as tasty as this omelet in a bag with a little ingenuity!
This great option is dead easy, allowing you to pack the omelet mixture with any desired ingredients in a plastic bag. Use ham, greens, peppers, onions, or whatever you like!
Source: ourplantbasedworld.com
Brussels sprouts don't get enough love, especially as a camping-friendly food. These little nuggets of nutrients are hardy, filling, and full of fiber. But they also taste great when you treat them well!
Get to know the taste of this delicious sweet potato breakfast hash in just twenty minutes.
If you don't have access to a camping stove or grill, wrapping the top of a baking sheet with foil and leaving it beneath some coals will work perfectly.
Source: frugalcouponliving.com
Did someone say cinnamon rolls? These insanely clever cinnamon rolls are baked in orange skins, making them ultra moist and perfect for summer. I can't get over how ingenious this idea is.
Not only are the cinnamon rolls easy to make, but the clean-up is a breeze! Barely any dishes are required. Just throw the orange peels away when you're done with them.
Source: sumptuousspoonfuls.com
This easy recipe ensures you're getting all the nutrients you and your family need from your camping breakfast. Ham, broccoli, and many other vegetables make a tasty appearance here.
Each bite is rich with savory flavor! This quick and easy one-skillet recipe will keep you full of energy for the day of adventuring ahead.
No Bake Camping Breakfast Ideas
These no-bake breakfast ideas are essential for those who don't want to whip out the camping stove. Kick off your day with a ton of energy. No baking is required!
Source: allnutritious.com
These date energy balls are a recipe I created to ensure I could always have something high-energy on hand. They're packed with long-lasting nutrients to keep you going for hours and hours.
That's what makes them so great for camping! They're portable, last well without a fridge nearby, and deliver energy in each bite.
Source: sumptuousspoonfuls.com
I think we've all wished we could have dessert for breakfast at one point in our lives. Well, now you can! This delicious breakfast banana split recipe is the perfect family camping breakfast.
You don't need a stove or oven to whip this up. Simply split the banana and sprinkle it with your favorite breakfast-friendly toppings!
Source: allnutritious.com
This is another one of my recipes. It's a twist on the date energy balls, featuring a healthy dose of lemon to keep your tastebuds on their toes! This is a light summer snack or breakfast.
Not only are these vegetarian and gluten-free, but they're also high-protein. That means they'll last longer, keeping you and your family fuelled for the adventures ahead.
Source: garlicsaltandlime.com
If you're a fan of oatmeal but don't want to get the stove out, this recipe is for you! These peanut butter oatmeal balls taste like a bowl of your favorite oatmeal, if a little crunchier.
These are ideal as a snack or for breakfast. They keep well, you can whip them up without a heat source, and they're easy to take anywhere.
Source: strengthandsunshine.com
Put the store-bought granola bars away and opt for your homemade version! These oat-free granola bars don't need any baking, and no sugary syrups are holding it all together.
Instead, enjoy the magical trifecta of quinoa flakes, sunflower seed butter, and bananas. The combination is sweet, chewy, and filling. Everything you want out of a granola bar!
Source: epicveganeats.com
Here's another take on energy bars that will ensure you never go hungry again. These are like a cross between a bliss ball and a granola bar. Best of all, it's super easy to customize them.
Choose your favorite raw ingredients to flavor the mixture. Maybe you want coconut, dates, or a healthy handful of your favorite nuts to add crunch. The world is your oyster!
These energy bars also make one of the best vegan brunch recipes!
Source: myplantifulcooking.com
Flapjacks are a camping breakfast staple for a good reason! They're filling, crowd-pleasing, and easy to make without a heat source.
These flapjacks are easy to whip up the night before you need them, but you can also take care of them the morning of. After all, you only need five ingredients and about thirty minutes of your time!
Make Ahead Camping Breakfast Ideas
The only thing better than enjoying a deliciously easy breakfast is a breakfast you didn't have to make!
These make-ahead camping breakfast ideas are perfect for saving your future self a ton of time and stress.
Source: allnutritious.com
Need a high-protein breakfast you can take on a morning hike with you? These egg muffin cups have you covered.
Make these the night before you head on your trip for a super simple breakfast the next day! You can use any vegetables you have on hand, so this is great for cleaning out the vegetable drawer.
These egg cups are one of the best breakfast potluck ideas if you are camping with friends!
Source: budgetdelicious.com
Overnight oats are a staple in the convenient make-ahead breakfast world. They take just five minutes to assemble the night before, chilling in the fridge in preparation for your enjoyment.
These cookie dough overnight oats are vegan and gluten-free, packed with flavor, and sure to have your kids chowing down without issue.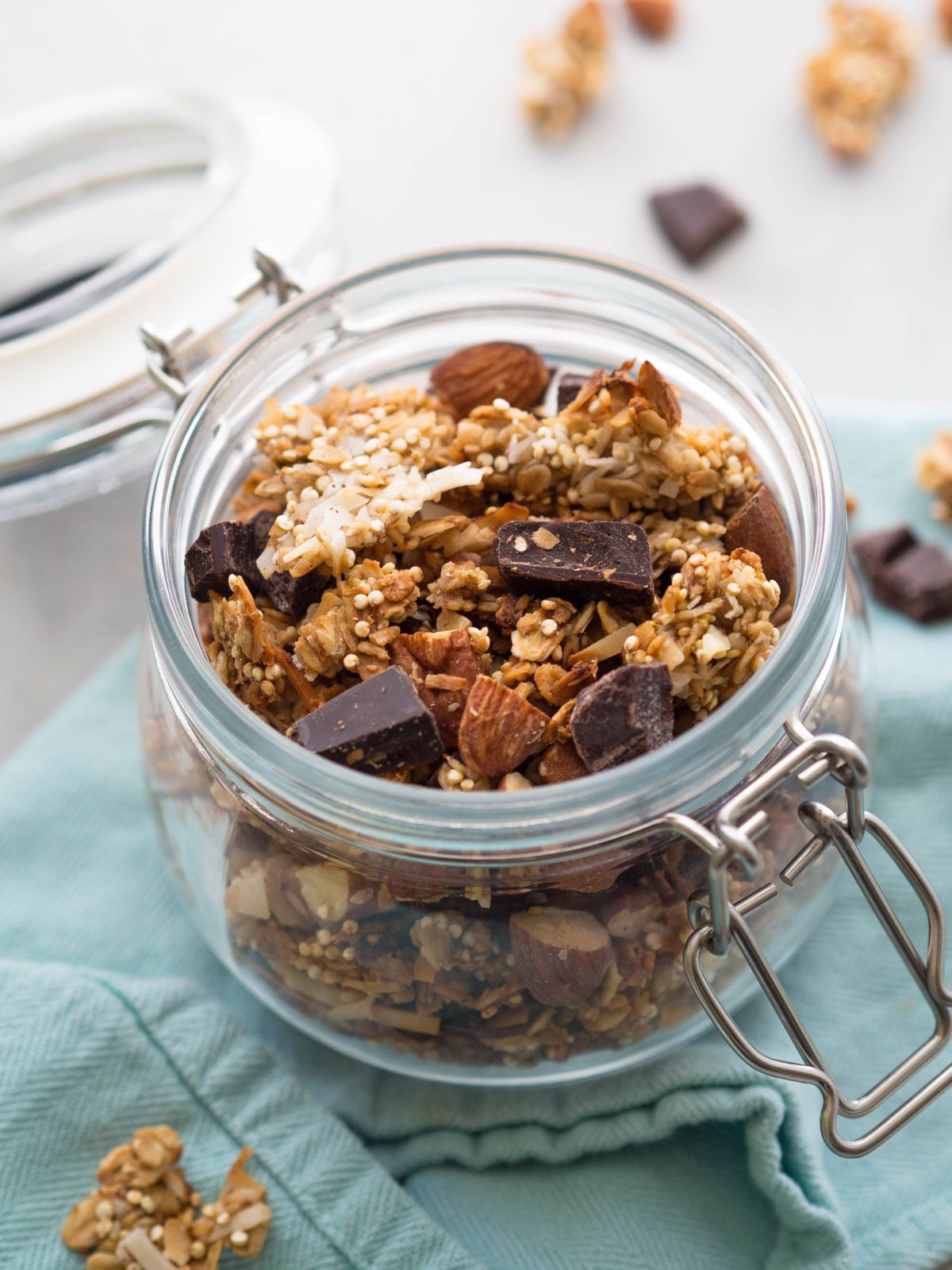 Source: rachaelhartleynutrition.com
Granola is one of the most well-known camping breakfast options. You can pack it with high-energy treats like dark chocolate and almonds to keep you and your family going for a busy morning.
Best of all, you can easily make a big batch of granola ahead of time! Store it in an airtight container and enjoy a super simple breakfast every morning of your trip.
Source: allnutritious.com
Living keto-friendly? Not to worry, these bacon and egg cups will take care of your camping breakfast needs! These high-protein and low-carb cups are easy to eat on a busy morning.
Best of all, they're total crowd-pleasers. Everyone on the trip will love the rich, bacony flavor of these delicious cups.
Source: fantabulosity.com
Who says we can't have cookies for breakfast? These oatmeal breakfast cookies are portable, delicious, and full of high-energy health to ensure you're geared up for the day ahead.
Take them on a hike or enjoy them fireside. There's no limit to the possibilities with these beauties.
Source: plantbasedwithamy.com
Coffee cake is the best thing to enjoy at brunch, so why not take some with you on your trip? These make-ahead coffee cake muffins are sweet, moist, and super easy to create in mere minutes.
They're much healthier than your standard coffee cake recipe, too.
Source: recipesfromapantry.com
Nothing makes overnight oats sing quite like a sprinkling of your favorite fresh fruit. If you're a strawberry fan, these overnight oats are sure to have your mouth watering!
This recipe is best if you have access to a fridge wherever you end up. Since you can prepare these in jars, they're ideal for feeding the kids on the trip to the camping site or even as a picnic breakfast.
Source: rachaelhartleynutrition.com
Baked oatmeal keeps so well, making it a great choice for a make-ahead camping breakfast. With tons of fiber and healthy, high-energy fruits, this breakfast will pack your system full of energy.
Sprinkle with a handful of dark chocolate to add an extra kick of flavor and energy to your breakfast.
Source: acedarspoon.com
Finally, put a flavorful spin on your egg muffins with this delicious Southwestern taco take! Featuring ground beef, cheese, bell peppers, and Southwestern spice, these high-protein bites are to die for.
They're the ideal camping breakfast, offering a quick and easy solution for breakfast on the go.
There you have it! Thirty-one deliciously simple ways to enjoy your camping trip with no stress. Are you headed somewhere special, or are you a regular camping fiend? Let me know in the comments!
31 Easy Camping Breakfast Ideas For Your Next Trip
Enjoy your morning in nature with these tasty camping breakfast ideas that are easy to make and sure to please.
Ingredients
1. Breakfast in a Bag
2. Loaded Hash Brown Casserole
3. Sweet Potato Hash with Bacon and Spinach
4. Cast Iron Breakfast Skillet
5. Foil Packet Breakfast Bake
6. Fried Apple Oats
7. Healthy Instant Oatmeal
8. French Toast Foil Packet
9. Vegan Chickpea Scramble
10. S'mores Cinnamon Rolls
11. Everyday Buttermilk Pancakes
12. Omelette in a Bag
13. Brussel Sprout Sweet Potato Breakfast Hash with Chorizo
14. Campfire Cinnamon Rolls Baked in Oranges
15. Ham and Broccoli Breakfast Scramble Supreme
16. Date Energy Balls
17. Breakfast Banana Splits
18. Lemon Protein Balls
19. Peanut Butter Oatmeal Balls
20. Oat-Free No-Bake Granola Bars
21. Raw Energy Bars
22. Banana Flapjacks
23. Egg Muffin Cups
24. Cookie Dough Overnight Oats
25. Coconut Almond Granola with Dark Chocolate Chunks
26. Bacon Egg Cups
27. Oatmeal Breakfast Cookies
28. Coffee Cake Muffins
29. Strawberry Overnight Oats
30. Pear and Dark Chocolate Baked Oatmeal
31. Southwestern Taco Egg Muffins
Instructions
Scroll up to get a bunch of easy, yummy, and delicious breakfast recipes. Don't be afraid to get creative with the ingredients. You might discover a flavor you didn't know you liked.
Get your shopping list going and make sure you've got all the ingredients.
Get cooking and make your next Camping Breakfast!
Notes
Which one of these recipes was your favorite? Let me know in the comment section or on Pinterest!