Overnight oats a perfect make-ahead breakfast. These strawberry protein overnight oats are sweet, yummy, and flavorful!
Ready in just 7 minutes and packed with protein and fiber.
Are you trying to lose weight? Then having a healthy breakfast in the morning can make all the difference.
When you have a healthy breakfast, you're less likely to binge on high-fat, high sugar snacks. Like muffins, doughnuts, and cookies.
But we all live busy lives, me included. And mornings can be so hectic.
With all the things we need to do in the morning, it's a wonder we have time to sit down to breakfast…let alone a healthy one.
So, we end up scarfing down sugary cereal. Or worse, head to the drive-through and grab a doughnut…or two.
These strawberry overnight oats are the perfect solution. They're packed with flavor.
The sweetness of the strawberries pairs wonderfully with the creaminess of the oats and Greek yogurt.
But the best thing of all? These overnight oats are packed with protein.
Why is that so good? Well, of all the macronutrients (protein, carbs, fat), protein fills you up the most.
So, when you eat these overnight oats, you feel full. So, you're less likely to reach for those cookies that are calling your name.
They're also really quick to make. All it takes is 5 minutes in the evening.
So, you already have your breakfast ready for the next day. That's one thing to cross off your morning To Do List…phew!
No time to sit down for breakfast? That's okay.
Since they're in jars, they're so portable. Just grab one and go!
Why These Overnight Oats are High in Protein
These overnight oats have a whopping 33 grams of protein. That's because they're packed with ingredients like:
Rolled oats: When you think of oats, you probably don't think of protein. But did you know that oats contain more protein than a lot of other grains?
Half a cup of dry oats provides 13 grams of protein. Now that's a whole lotta protein.
Chia seeds: Chia seeds are the perfect superfood. And for a good reason.
They contain more protein than a lot of plant foods. For instance, a one-ounce serving provides 4 grams of protein.
And unlike most other plant foods, they're a complete protein. That means they contain all the essential amino acids.
As an added bonus, they contain tons of brain-boosting Omega-3s. If you need to stock up on some, you can get some here.
Greek yogurt: When it comes to protein, Greek yogurt is king. It contains almost twice as much protein as regular yogurt.
For instance, a 100g serving of Greek yogurt contains 9 grams of protein. As an added bonus, it also contains about 50% less carbs and sugar than regular yogurt.
Vanilla Protein Powder: Adding protein powder to your overnight oats boosts the protein content to a whole other level.
Just one serving of this vanilla protein powder contains 25 grams of protein. Besides using it in your overnight oats, you can use it in shakes for a great post-workout snack.
Are Overnight Oats Healthy?
Overnight oats are quite healthy. Not only are they high in protein, but they're also high in fiber.
In fact, one serving provides close to half of your daily fiber needs. Fiber helps your digestion, and it helps keep you full.
They're also a good source of potassium. This is important for healthy blood pressure.
And they're packed with Vitamin C. So, they're good for your immune system.
But that's not all. They're also rich in calcium, which you need for healthy bones.
As an added bonus, they provide almost 20% of your daily iron needs. So, it helps you feel energized… And isn't that what we all want?
Last but not least, you get a nice dose of brain-boosting Omega-3s. These overnight oats are definitely the breakfast of champions!
What Protein Powder to Add to Oats?
To make the overnight oats, I used vanilla protein powder. But if you're not a fan of vanilla protein powder, or just want to change it up, you can use other protein powders instead.
For instance, if you want to amp up the taste of fresh strawberries, you can use strawberry protein powder like this.
And if you're looking to complement the taste of the strawberries, a chocolate protein powder like this would be a great option.
How to Make Strawberry Protein Overnight Oats
Here's how you can make these overnight oats in just 5 minutes and have them ready for the next day.
You'll Need:
rolled oats
chia seeds
unsweetened almond milk
Greek yogurt
vanilla protein powder (or any other of your favorites)
strawberries
Step-by-step Instructions
Slice strawberries and add strawberries into a blender and puree. It's best to use a smaller blender like this here.
If you have one of those larger blenders, make sure to add in a little bit of water. Don't add too much because we still want to keep this puree a little thicker.
The larger blender will ensure that you actually blend those strawberries well.
Add oats, chia seeds, almond milk, greek yogurt, and protein powder into a food container.
Mix all the ingredients.
Cover with strawberry puree and keep in the fridge for 8 hours or overnight.
Once the oats are out of the fridge, give them a stir so that the puree beautifully mixes in with the oats. Learn the general way on how to make overnight oats.
Love strawberries? Here is a berry protein overnight oats recipe.
Other Overnight Oat Ideas:
Watch Full Instructions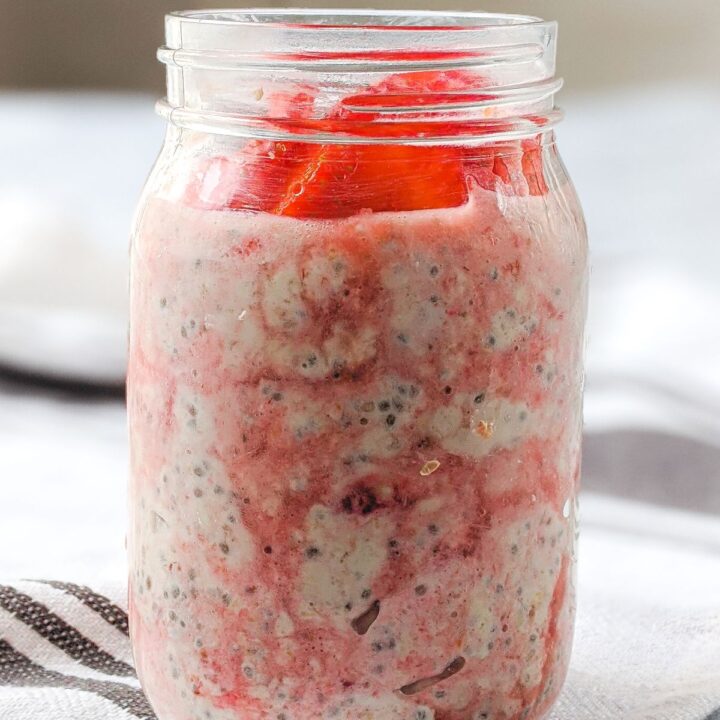 Strawberry Protein Overnight Oats
Total Time:
8 hours
7 minutes
Quick and delicious, these refreshing strawberry protein overnight oats are a perfect protein source for breakfast. It's gluten-free and vegetarian.
Ingredients
1/2 cup rolled oats
1 tbsp chia seeds
1/2 cup unsweetened almond milk
1/2 cup plain Greek yogurt
1 tbsp vanilla protein powder
1/2 cup strawberries, sliced
Instructions
Put strawberries into a blender and puree. If your blender is bigger, add a little bit of water.
Mix the rest of the ingredients as well as you can in a jar or food container. Cover with strawberry puree.
Keep refrigerated for at least 8 hours. Stir before serving and top it up with a few slices of strawberries!
Nutrition Information:
Yield:

1 jar
Serving Size:

1 jar
Amount Per Serving:
Calories:

378
Total Fat:

8.6g
Saturated Fat:

1.2g
Trans Fat:

0g
Unsaturated Fat:

6.3g
Cholesterol:

8.2mg
Sodium:

72mg
Carbohydrates:

45g
Net Carbohydrates:

34g
Fiber:

11g
Sugar:

8.4g
Protein:

33g
Nutritional values were obtained with automatic software using the amounts of products used. To get the most accurate representation of the nutritional values, you should calculate them with the actual ingredients used in your recipe. You are solely responsible for the nutritional information obtained to be accurate.