Your enchiladas need a side to boost their amazing flavor. If you don't know what to serve with enchiladas this roundup of recipes will give you some ideas!
Although you don't need more than a rich Enchilada to fill you up, this Mexican cuisine classic deserves a nice side dish on the table, too to complete your enchilada dinner.
Quick and easy? Vegan? Or healthy? It doesn't really matter what you're looking for. This article will surely help you out.
With 31 best side dishes that pair perfectly with enchiladas, your Mexican meals are all set. Now, pick your favorite, and get your corn tortillas ready!
What Sides are Good With Enchiladas?
You can serve enchiladas with pretty much anything you'd normally serve Mexican food with. That includes the classics such as rice, salsa, corn, beans…
But also, anything that handles spicy food well. Your enchiladas have a lot of seasonings, so make sure that the side dish can complement that.
If you want things super spicy, though, feel free to add something with jalapenos, for some extra heat. In that case, I strongly suggest a serving of sour cream on the side.
Mexican Sides for Enchiladas
Want to take the Mexican flavors a bit further? How about pairing your enchiladas with another delicious Mexican delight?
Source: pinchandswirl.com
This shrimp appetizer is perfect for fancy Mexican parties. And I mean perfect. It has such an elegant look. And every guest will ask for their fair share.
It's loaded with tomatoes, avocados, cucumbers, and fresh cilantro. But, yes, the shrimp on top is the real star in this delicious side.
This spicy cocktail goes with any enchilada fillings but it's especially great with chicken enchiladas.
Top with parsley for an Instagram-worthy look, and serve it on the dinner table proudly!
Looking for more sides with Mexican flavor? Check out these must-try easy Mexican side dishes!
Source: veggiefunkitchen.com
Okay, let's face it. No store-bought guac can taste as good as this homemade version. Period.
With avocados, tomatoes, red onions, cilantro, and jalapenos. And yes, some lime juice to wrap everything up. Just mash and dice. Mix it all up. And dig in!
With tortilla chips or enchiladas. However you serve it, it'll be a total hit.
Source: twopinkpeonies.com
Street corn salad is usually loaded with mayo. But not this lightened-up version. This salad is made with Greek yogurt, lime, bell peppers and cilantro. So, there's nothing but freshness here.
The corn features peppers, avocados, and jalapenos. And Queso Fresco on top.
The spices of choice are cumin and paprika, but you can adjust that to your taste buds. If you want more spiciness, just add chili peppers.
Source: flavormosaic.com
Cutting back on rice? Then this cauliflower alternative will be perfect for your enchiladas!
Packed with veggies and tons of spices, this recipe makes one healthy and flavorful bowl.
The trick here is to use chicken broth instead of water. That will boost the depth, and make it more delicious.
I'd serve this with a generous amount of Parmesan cheese. But do omit for a plant-based side.
This yummy cauliflower rice would also be one of the best sides for stuffed peppers!
Source: gatheringdreams.com
Quinoa is one of the healthiest grains you could put on your table. And this recipe clearly lets this superfood shine.
With corn, beans, tomatoes, and fresh avocados by its side, this quinoa dish is super nutritious.
The recipe uses sliced jalapenos, but feel free to omit them. If you do, at least add some chili flakes for a touch of spiciness.
Are you a quinoa lover? You will love this vegan quinoa and chickpea salad!
Source: 24bite.com
This recipe is for Frijoles Puercos. The instructions refer to this as "refried beans on steroids." And really, when there's bacon, chorizo, and melted cheese, your protein levels will go through the roof.
Amazing bean dip that you will seriously enjoy with Enchiladas. Or tacos. Or just plain tortilla chips.
I love it with a scoop of sour cream to knock down the spiciness.
Source: pinchandswirl.com
Delicious ingredients straight from the rice cooker. You really cannot go wrong with this fluffy rice to compliment your main dish.
Just remember. Use chicken broth. Not water. That way, deep savory flavors are guaranteed for a hearty filling side.
Buttery, silky, and incredibly filling. Plus, versatile enough to pair with anything. What more could you need from your side dish?
A must-have for your recipe folder! Perfect for your favorite enchilada recipes or any Mexican dish!
Source: stateofdinner.com
Wild rice is much healthier than regular, white rice. If you want to sneak some more nutrients, this recipe is the way to go.
Fluffy rice in tomato sauce. Seasoned with your favorite spices like chili powder. Flavored with garlic. Served with cilantro. It's as simple and delicious as that.
Make sure to use the broth cooking method. If using water, you might want to up the seasonings a bit.
Source: consumerqueen.com
Refried beans are one of those perfect side dishes that just take every main course to the next level. And this Instant pot version of refried bean dip is easy and perfect for busy cooks.
The beans are cooked in broth, along with onion, garlic, jalapeno, and spices. Then, they're blended until smooth and creamy.
The perfect thick dip and snack for any occasion!
Vegetable Sides for Enchiladas
Serving dinner to a group of vegetarians? No problem! These vegetable enchilada side dishes have got you covered!
Source: newsouthcharm.com
Black beans are the perfect side dish. They are packed with protein. They are filling. And they're super versatile and go well with anything.
This recipe is also incredibly delicious. And even if you're not a fan of beans, you will be tempted to scoop a portion.
Because they're flavorful, garlicky, and, needless to say, they go amazingly well with all Mexican dishes.
Source: practicallyhomemade.com
A wedge salad is just that. Wedges of iceberg lettuce topped with cilantro, tomatoes, and shredded cheese.
But the most delicious part? The creamy mayo and ketchup dressing that's taco-seasoned! Drizzled all over, you won't help but lick your fingers.
Perfect for any Mexican delight. And super versatile, too. In fact, you can swap the taco seasoning for your spice of choice, and serve it with whatever entrée you find suitable.
Source: thiswifecooks.com
Looking for something light? That's also low in carbs? You might want to check this recipe out.
Corn, cauliflower, red onion, and cilantro. Seasoned with nothing but salt and pepper. So easy to customize!
Toss with dressing. Season with chili. Add some cheese to it. Seriously, the options are pretty limitless.
It also comes together in just 15 minutes. Perfect for last-minute dinners.
Source: the-bella-vita.com
Corn on the cob is a Mexican classic. Brushed with some olive oil. Sprinkled with salt and pepper. But instead of being grilled, this recipe is air fried.
Sounds too basic for your taste? Spice it up! Add some grated parmesan cheese, lemon, or chili flakes. They all go perfectly with corn.
If you haven't used your Air Fryer for corn, this is your chance to try this out.
Source: the-bella-vita.com
Another Air Fryer recipe to get your money's worth out of this appliance. Instead of baking or frying, this method is much more convenient.
And also healthier!
Again, this is a basic recipe to get your head in the game. It uses only salt, pepper, olive oil, and oregano. But feel free to go wild and play with the seasonings.
Source: how2doketo.com
If you think that Brussel Sprouts are an acquired taste that you don't quite have, this recipe will make you fall in love with these tiny cabbages.
Low in carbs, crispy in texture, golden in color, and oh-so-yummy in taste. Perfect for any family gathering. And amazing with enchiladas.
Plus, there's Parmesan and almonds. So, how can it possibly be less than delightful?
Source: smallfarmbiglife.com
Colorful, protein-packed, and fill-your-tummy delicious. Beans, tomatoes, corn, onions, and cilantro. And a sweet and tangy dressing to give you "that something" that elevates the veggie taste.
This summer dish is perfect for your backyard parties. And the best thing? You can make it ahead and serve straight from the fridge.
Easy Sides for Enchiladas
Don't have too much time or energy for the side dish? Then you need an easy recipe that will save your Mexican dinner. And here are a few suggestions.
Source: newsouthcharm.com
Yes, this recipe is as fun as the name sounds. And super colorful, too! Yellow, red, and green all take place in the same bowl. With corn, peppers, and onions, any Mexican dish will taste better.
This salad is also loaded with butter. Which is why it is super silky and smooth on the tongue.
Garlic acts as the main flavor, but feel free to use your fragrant ingredients of your choice.
Source: temeculablogs.com
Enchilada rice with enchiladas? How can you possibly go wrong with that? If you're looking for THE rice recipes for your tacos, burritos, or enchiladas, this Mexican-spiced dish will never fail.
With a handful of spices and creamy enchilada sauce, this rice is the most flavorful thing ever. It is also loaded with corn and beans, which gives them enough protein to forget all about meat.
Top with some grated cheese, and enjoy!
Looking to make this dish a little healthier? Check out these healthier alternatives to white rice!
Source: kendellkreations.com
Minimal ingredients for maximum joy. Who knew that pinto beans could taste this amazing?
Thanks to the chicken stock, limes, and the beloved Pico de Gallo, the beans take on an incredible flavor.
This recipe uses the pressure cooker method, so they are as quick and easy as they come.
Source: urbanfarmie.com
Who doesn't like jalapenos with enchiladas? But if you are not a fan of too much spiciness, then pickling these little peppers is just the thing you need.
The vinegar and sugar in the recipe tone down the heat. Therefore, pickled jalapenos are always less spicy than fresh ones.
Besides, pickling is also a great way to preserve them. Which is great if you happen to have a vegetable garden.
A foolproof pickling recipe that works every time!
Source: mycreativemanner.com
Cilantro and lime in rice. You can only imagine the fresh taste here! They also give your cooked rice a bit of tenderness, which is perfect for Mexican dishes.
This rice is cooked in the Instant Pot. That means that it is quick in a jiffy. And that you should not worry about it sticking to your pot.
Besides salt, there aren't any other seasonings. But feel free to change that.
Source: kendellkreations.com
If you use canned beans for your bean dip, it is destined to lack flavor. It will have a mushy and watery consistency at the same time.
This recipe uses dry beans. Cook them in chicken stock and lime juice, and you've got the most flavorful beans ever. Perfect for this side dish!
With a generous amount of butter, silkiness is added. And let me tell you, it goes perfectly with your spicy enchiladas.
Healthy Sides for Enchiladas
Want to healthify your enchilada night? Then how about serving these wrapped goodies with one of these tasty sides?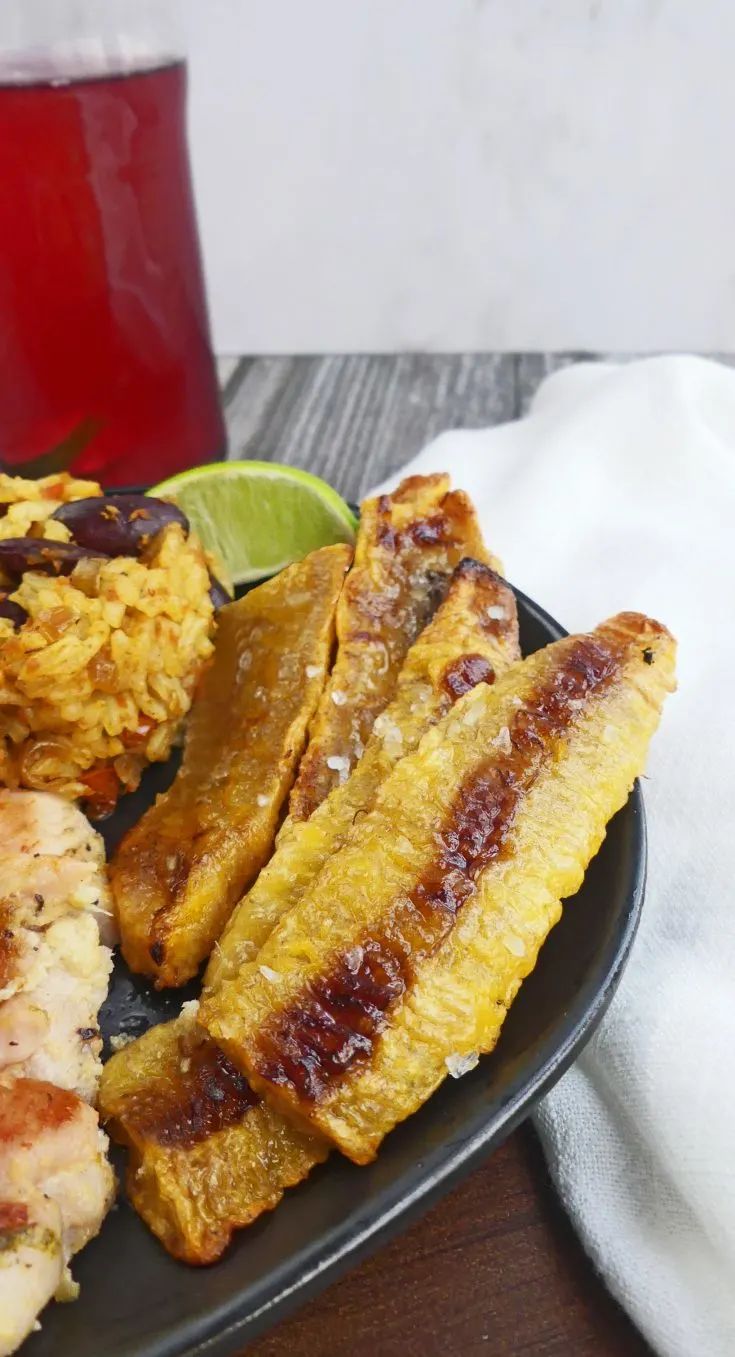 Source: kidtestedrecipes.com
For this recipe, you need super ripe plantains that are very dark in color. But don't worry. Unlike bananas, plantains don't become too sugary.
These banana's cousins are cut lengthwise, brushed with oil, and baked in the oven.
They are golden, crispy, and pretty addictive as a side dish.
Source: urbanfarmie.com
Avocados, mangos, tomatoes, red onions. How can that not be perfect for a Mexican dinner party?
So refreshing and easy to customize, as well. You will fall in love with this colorful recipe instantly.
Sweet, crunchy, soft, zesty, tangy… This salad has it all! I'd also add some chili flakes in there (or even jalapenos!) for some heat. As it is, this salad is not spicy.
Wanting to enjoy more tangy mango salads? Check out this yummy mango avocado salad!
Source: afarmgirlsdabbles.com
If you need a condiment-like side dish for your enchiladas, then this is it. Diced pineapples with peppers, jalapenos, red onions, and cilantro. And yes, some lime juice which gives it a nice flow.
This colorful bowl is perfect for your taco and nacho night!
Trust me, all you need here are some tortilla chips. And you will not stop until you reach the bottom of the bowl.
Source: beyondmeresustenance.com
Drunken beans made with beer, tomatoes, jalapenos, and tons of spices. Unlike the classic recipe, this vegan version doesn't use pork fat. But it doesn't fall short.
Garnish with some avocados, jalapenos, and lime wedges. I'd also add a scoop of sour cream on top, too. So delicious!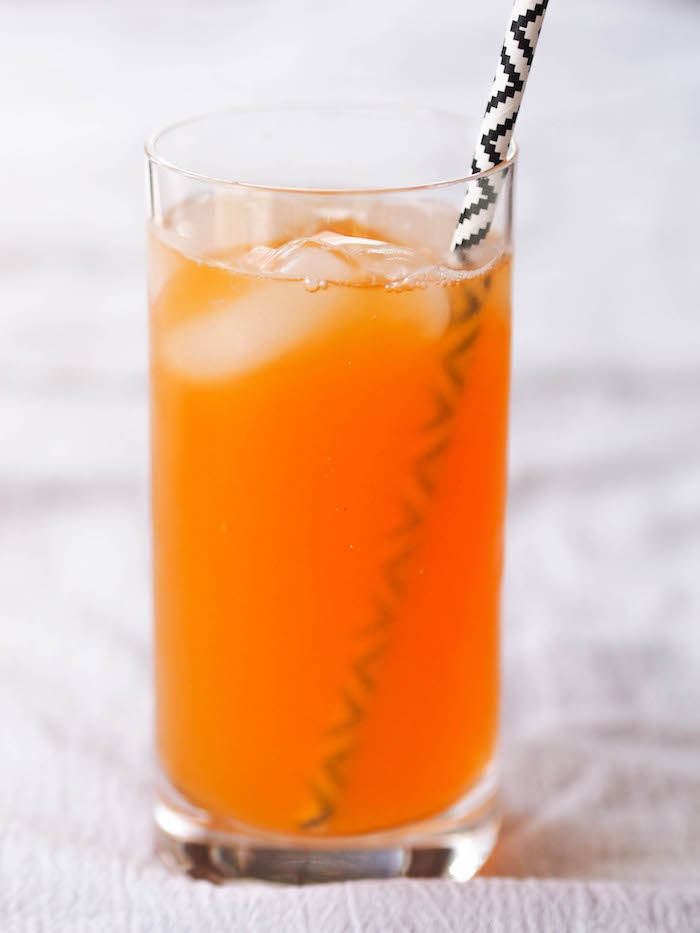 Source: rachaelhartleynutrition.com
Huh, I bet you didn't expect to find this recipe among the bunch! Okay, it is not a side dish. Nor is it food. But if you try it with enchiladas, you'll see why it has found its way on this list.
So refreshing and sweet, this lovely summer drink deserves to be praised!
Make sure to use only ripe melons for this, as it really makes a difference.
Source: thatskinnychickcanbake.com
Summer classics! These staple ingredients combine perfectly and make one delicious salad. It is fresh. Crunchy. It is zesty. And it is absolutely filling.
If you want to, add some crumbled feta cheese on top. That will give a soft bite that will only boost the texture.
The recipe uses fresh Basil, but you can go with cilantro if that satisfies your palate better.
Source: plantbasedonabudget.com
Delicious, nutritious, and good for your immunity. Rice, carrots, onions, leafy greens, peppers, and mushrooms. Plus, black beans cooked in vegetable broth. How's that for healthy?
This loaded rice pilaf is loaded with both color and taste!
Just sprinkle some parmesan cheese on top, garnish with some parsley, and it will have an elegant look worth displaying on your Mexican table.
Source: carriesexperimentalkitchen.com
This is not your ordinary grilled corn recipe. Because it is not only charred to perfection. It is also topped with the creamiest mixture of Mexican ingredients.
Sour cream, lime juice, cajun seasoning, and cilantro make one delightful crema that sits on top of the corn.
Furthermore, the corn is topped with crumbled goat cheese, for an even more delicious taste.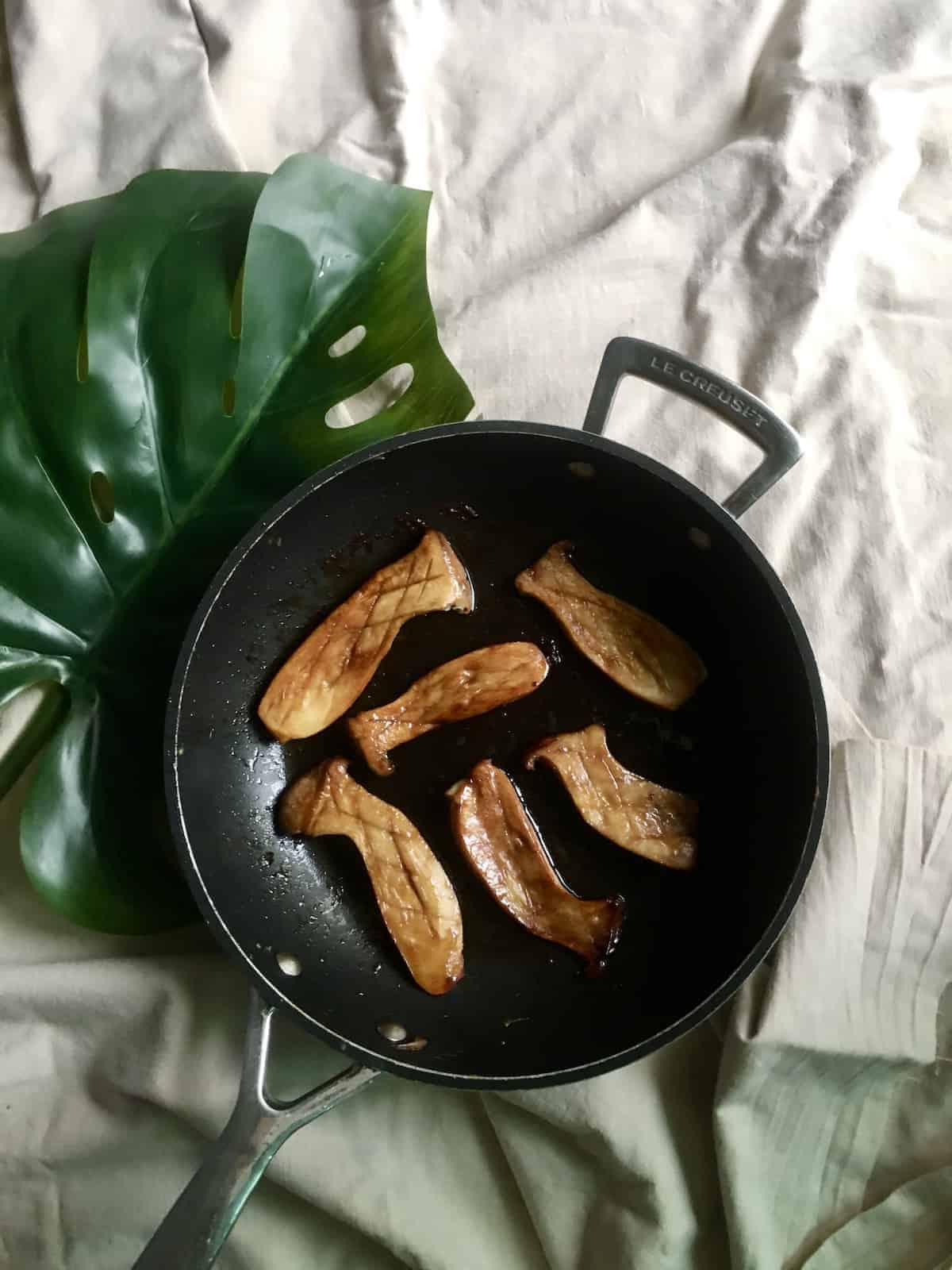 Source: greedygirlgourmet.com
Soy, butter, and mushrooms! An explosion of flavors that complements any dish. And how can it not? It is super silky with a delightful meaty texture.
It may not be an obvious choice, but your enchiladas will taste perfectly with these mushrooms.
Whip this up in an instant (literally, just 3 minutes of prep time), and give your Mexican food some umami flavors.
What to Serve with Enchiladas: 31 Best Sides
Here we are giving you the best ideas for what to serve with enchiladas. Pair these easy side dishes for a delicious meal the whole family will love.
Ingredients
1. Mexican Shrimp Cocktail
2. Guacamole
3. Mexican Street Corn Salad
4. Mexican Cauliflower Rice
5. Mexican Quinoa
6. Sinaloa Refried Beans
7. Mexican Rice
8. Mexican Wild Rice
9. Instant Pot Refried Beans
10. Seasoned Black Beans
11. Fiesta Wedge Salad
12. Cauliflower Rice with Cilantro and Corn
13. Corn on the Cob
14. Potato Wedges
15. Brussel Sprouts
16. Black Beans and Corn Salad
17. Confetti Corn
18. Enchilada Rice
19. Pinto Beans
20. Pickled jalapenos
21. Cilantro Lime Rice
22. Black Bean Dip
23. Baked Plantains
24. Mango Avocado Salad
25. Pineapple Salsa
26. Vegan Borracho Beans
27. Cantaloupe Aguas Fresca
28. Corn Basil and Tomato Salad
29. Black Bean and Onion Pilaf
30. Grilled Corn with Cajun Lime Crema
31. Eryngii Mushrooms
Instructions
Scroll up to get a bunch of easy, yummy, and delicious recipes. Don't be afraid to get creative with the ingredients, you might discover a flavor you didn't know you liked.
Get your shopping list going and make sure you've got all the ingredients.
Get cooking and make your next Side for Enchiladas!
Notes
Which one of these recipes was your favorite? Let me know in the comment section or on Pinterest!