Craving something sweet but healthy for breakfast? These chocolate protein overnight oats are high protein, healthy and flavorful!
It's a sweet breakfast that's packed with protein! What's great about it is a make-ahead breakfast that you can just grab and bring to work.
Do you have a sweet tooth like me? Then you're all too familiar with the struggle.
The struggle to have something healthy for breakfast. Like having eggs instead of doughnuts for breakfast.
But what if I told you that you could still indulge your sweet tooth. And eat healthily?
With these overnight oats, you can do just that.
They're packed with chocolatey goodness. Topped with bananas, it's the perfect combination of sweet and sweet.
And the creaminess of the oats complements the sweetness perfectly.
You'll think that you're eating dessert. But you're not.
Why You Should Try These Chocolate Overnight Oats
There are so many reasons why you should try these chocolate overnight oats.
First of all, they pretty yummy. Okay, enough said.
They're also pretty nutritious. One serving provides a whopping 33 grams of protein.
They're also packed with fiber. In fact, you get more than a third of your daily fiber needs from just one serving.
So, it's great for your digestion. And it fills you up too. Double win!
It is also a good source of calcium, which you need for healthy bones.
And it contains potassium, which you need for healthy blood pressures.
But that's not all. It's also an excellent source of iron.
So, it helps keep your energy levels up. And don't we all need a bit of energy to get us through the day?
And unlike your typical breakfast, you make these overnight oats. You guessed it-the night before.
So, that's one thing crossed off your To-Do list for the morning.
All it takes is 5 minutes, and you have your breakfast made. So, you're not stressing about it in the morning.
Just put your ingredients together in a jar, mix, and place in the fridge. These glass jars should do the trick.
No time to sit down and eat your breakfast? Not a problem.
Just grab a jar, throw it in your bag, and go. Easy, peasy.
Chocolate Overnight Oats Substitutes
When it comes to substitutes, the options are endless.
Want more protein in your oats? Use soy milk instead of almond milk. You can even use regular milk too.
Not a fan of bananas? Top with berries, unsweetened coconut, or even chocolate shavings. Yum!
Love bananas, but want to lower the carbs/calories a bit? Use banana cream flavor instead.
You can also use a low carb vanilla protein powder like this. It contains zero grams of net carbs and 25 grams of protein.
Not a fan of vanilla? Simply leave out the vanilla extract and use unflavored protein powder, or Gold Standard Double Rich Chocolate protein powder if you want it extra chocolatey.
Which Oats is Best for Protein?
There are so many types of oats to consider. Here is a couple:
Whole Oat Groats: These are simply oats that have been harvested, cleaned, and had their inedible hulls removed. They take the longest to cook.
A 100-gram serving contains 11 grams of protein. You can find them at health food stores, or you can find them here.
Steel Cut Oats: These are groats that have been cut into two or three pieces using a sharp metal blade. They don't take as long to cook as whole oat groats.
A 100-gram serving contains 12.5 grams of protein. You can find them at your local grocery store, or you can get them here.
Scottish Oatmeal: These are groats that have been ground with a stone. This creates tiny bits, which makes the oatmeal creamier.
A 100-gram serving contains 11 grams of protein. If you're having trouble finding them at your local grocery store, you can stock up on some here.
Regular/Old Fashioned Rolled Oats: These are oat groats that have been steamed and rolled into flakes. This helps the oats cook faster.
A 100-gram serving contains 12.5 grams of protein. You can easily get these at your local grocery store or get some here.
Quick or Instant Rolled Oats: You get these oats when you roll them thinner and/or steam them longer. Doing this changes the texture of the oats.
A 100-gram serving contains 12.5 grams of protein.
How to Make Chocolate Protein Overnight Oats
Making these overnight oats is super easy! In fact, it's probably the easiest breakfast you'll have to prepare!
Here all of the steps with pictures.
Ingredients You'll Need:
almond milk
rolled oats
banana
cocoa powder
protein powder (vanilla or chocolate)
maple syrup
vanilla extract
Step-by-step Instructions
Slice half a banana.
Get a blender and add almond milk, banana slices, unsweetened cocoa powder, protein powder, maple syrup, and vanilla extract.
You can use either a large or a smaller blender. A blender specifically for shakes like this one will work better.
Blend until one smooth texture. The mixture should be quite liquidy.
Add rolled oats into a glass jar or food container and pour them over with the mixture we've just blended together. Give it a good mix.
Leave the oats to soak for 8 hours or overnight. Give it another stir before serving.
You can top up the overnight oats with a couple of slices of leftover banana. However, that's optional. The oats should taste just as good without any toppings.
Eat within 24 hours, so the oats taste their best. However, you should be able to store it in the fridge for a couple of days safely.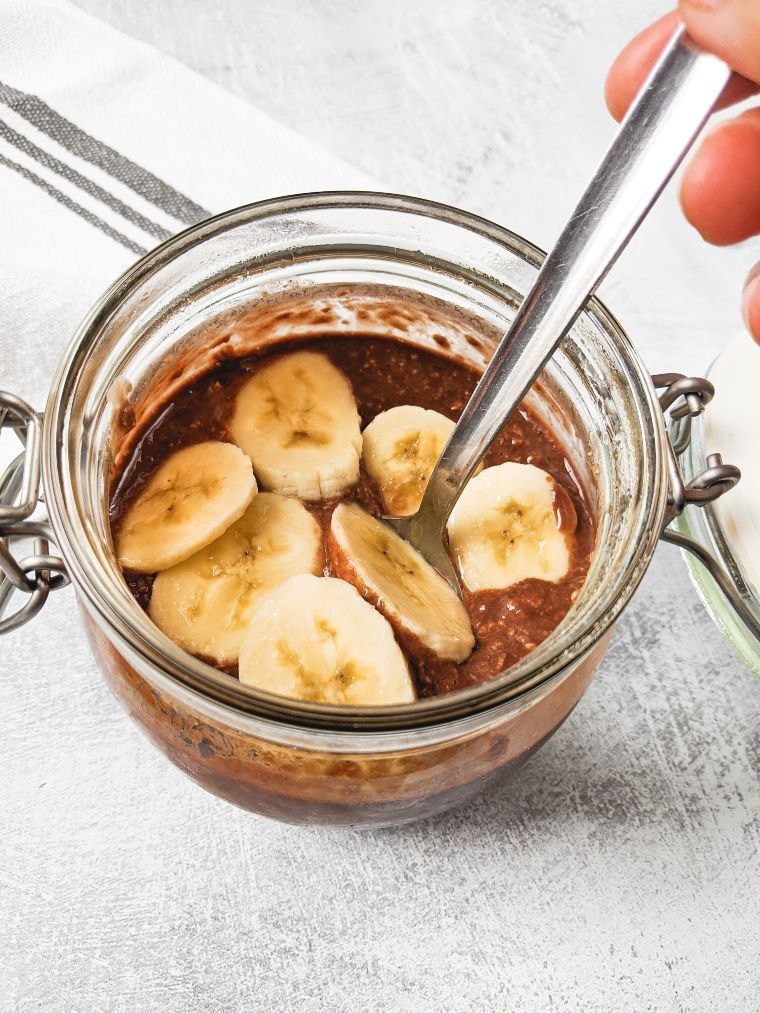 Other High Protein Overnight Oats You Might Like
Watch Full Instructions
Chocolate Protein Overnight Oats with Banana
Total Time:
8 hours
5 minutes
These chocolate protein overnight oats are super quick to make and can be meal prepped for the days to come. It's a perfect gluten-free breakfast that's also vegan!
Ingredients
2/3 cup unsweetened almond milk
1/2 cup rolled oats
1/2 ripe banana, sliced
1 tbsp unsweetened cocoa powder
2 tbsp vanilla protein powder
1/2 tbsp maple syrup
1/4 tsp vanilla extract
Instructions
Blend all the ingredients apart from rolled oats until smooth.
Pour the mixture over the oats and mix well. Leave it to soak in a sealable food container or a glass jar in the fridge for 8 hours.
Stir well once removed from the fridge. Top with slices of banana.
Eat directly from the jar/container or add to the bowl. Make sure you eat it within 24 hours of mixing for the tastiest outcome!
Nutrition Information:
Yield:

1 jar
Serving Size:

1 jar
Amount Per Serving:
Calories:

389
Total Fat:

5.6g
Saturated Fat:

0.9g
Trans Fat:

0g
Unsaturated Fat:

3.5g
Cholesterol:

5.1mg
Sodium:

56mg
Carbohydrates:

54g
Net Carbohydrates:

45.9g
Fiber:

8.1g
Sugar:

14g
Protein:

33g
Nutritional values were obtained with automatic software using the amounts of products used. To get the most accurate representation of the nutritional values, you should calculate them with the actual ingredients used in your recipe. You are solely responsible for the nutritional information obtained to be accurate.