Try these mouth-watering Traeger recipes that will wow friends and family.
A Traeger grill is the best thing that's ever happened to outdoor cooking. You use pellets to heat the grill, which hides a special secret. It seals the smoke in and keeps all that delicious flavor inside!
That means any meat you cook on this grill will be extra tasty.
Whether you've just bought one or had one forever, these easy Traeger recipes will show you something new.
What is the Best Thing to Cook on a Traeger?
The thing that sets a Traeger pellet grill apart from other grills is smoke. You get all the flavor of grilling your meat with an extra dose of smokiness. It's all thanks to the pellets and wood chips you use to cook.
Hearty meat like pork chops or whole chicken or vegetables are perfect for cooking on a Traeger smoker. They absorb a whole bunch of smoke and taste amazing when grilled.
Best of all, they're super simple to prepare and grill. This is the grill you want on your side when you're having a summer party or an outdoor get-together.
Best Traeger Grill Recipes
But which recipes are the best? Which recipes create mouth-watering delicious flavors and textures that your guests or family will love?
I have thirty-one options ready for you to experiment with, with your pellet smoker! Check out these best Traeger recipes.
Source: homemadeheather.com
Let's kick things off with a fan favorite easy recipe: baby back ribs.
Smoking the meat on the grill helps it fall right off the bone and fill it with smoke flavor. On top of that, the sticky glaze makes every bite twice as good as the last.
Source: cheesecakeitis.com
This new recipe for cooking outdoors is great, especially if you love sweet things.
The grill's smoke makes the cake's caramel taste even better. A little sprinkle of salt breaks up the heaviness. It makes this cheesecake so addictive. This easy dessert with so much flavor is perfect for special occasions.
Source: orwhateveryoudo.com
In the world of barbecue, two-hour smoked tri-tip is insanely fast. That's why I love this recipe so much!
The tri-tip comes out moist and juicy. No dry meat in sight here. Plus, the spice rub makes every bite to die for.
Source: orwhateveryoudo.com
Take your prime rib roast outdoors with this version of a family favorite.
The wood pellets add amazing flavors, taking this dish to a new level with smoked flavor.
This melt-in-your-mouth roast is a must Sunday dinner idea.
Source: goodlifeeats.com
Chicken is one of the best meats to cook with smoke because it absorbs flavor quickly. This is a delicious summer meal everyone will love. Pair the amazing chicken rub with a hot day for a winner!
This smoked chicken is a perfect Friday night dinner idea.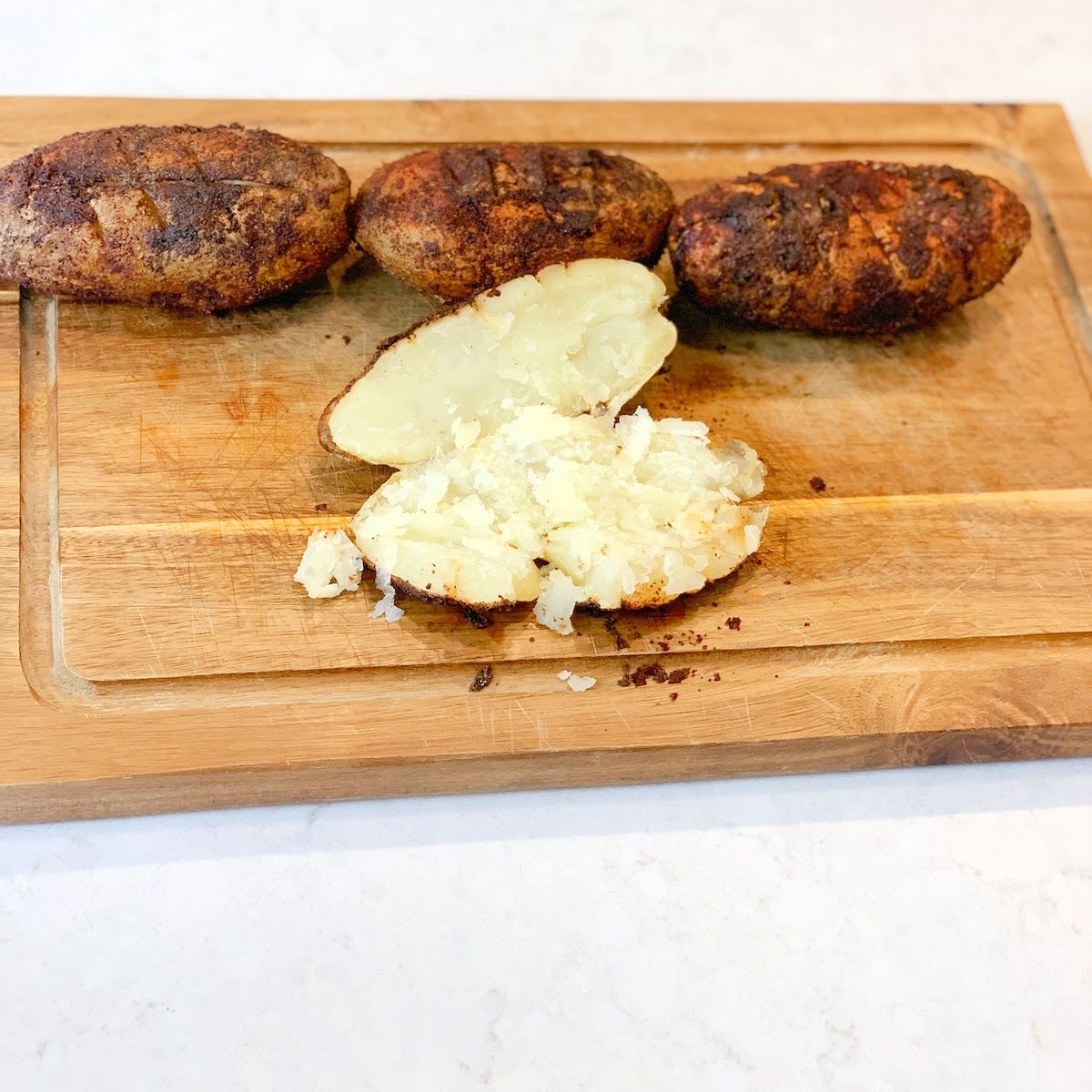 Source: thedudeblog.com
That's right. You can cook vegetables on the grill too!
Since they spend so long on the grill, these potatoes are smoky and delicious. Every bite sings with dark earthy smoke. They're a perfect side dish to any meal you cook on the Traeger.
Source: temeculablogs.com
Chicken thighs are perfect for smoking. Why? Because they're dark meat! Dark meat is much less likely to dry while smoking, even if you leave it for hours.
That's why these chicken thighs are so moist. Pair that with the tender teriyaki sauce for a sticky, sweet, delicious chicken thigh on the grill.
Source: littlesunnykitchen.com
Are you gearing up for game day? This smoked queso dip will have your guests drooling at the mere smell!
Get everyone outside for a drink and some great conversation while you work the grill. Serve it with some fresh vegetables and tortilla chips for a tasty treat.
Source: littlesunnykitchen.com
The Traeger is the perfect way to add extra flavor to your loaf as it cooks.
While this recipe comes with a meatloaf recipe, you can cook your usual recipe this way too. Pair it with buttery mashed potatoes and delicious greens for the perfect family dinner.
Source: homemadeheather.com
No matter what you like to put between the buns, these smoked patties will be the show's star.
Use your usual burger patty recipe, or try this new one. Either way, the smoke will soak into every inch of them. The result is a juicy and addictive patty everyone will be begging to try!
Source: berrymaple.com
This super simple smoked salmon recipe has enough for the whole family.
This makes so much that you'll probably have some leftovers. Don't worry. You can save this tasty salmon in the fridge for up to ten days.
You can even use this smoky salmon in this salmon stir fry recipe!
Source: thedudeblog.com
Beef ribs are a whole different beast from pork ribs. This red meat needs to be treated with care and smoked very well.
This recipe takes all the fear out of smoking your beef ribs and makes it fun! Plus, the spice rub recipe creates a fantastic crust on the delicious ribs.
Source: traeger.com
Next is a recipe from Traeger themselves! Every bite is dripping with delicious smoky flavor from the apple pellets they recommend.
Top that off with an insane glaze from Traeger's BBQ sauce and apple juice. It's a sweet and sticky treat you just can't beat.
Source: bakeitwithlove.com
Put a smoky spin on your turkey with this straightforward method for Traeger smoked turkey.
Wrap this turkey in seasonings and leave it on the grill. The Traeger will work its magic.
Complete your Turkey dinner with one of these stove top stuffing recipes.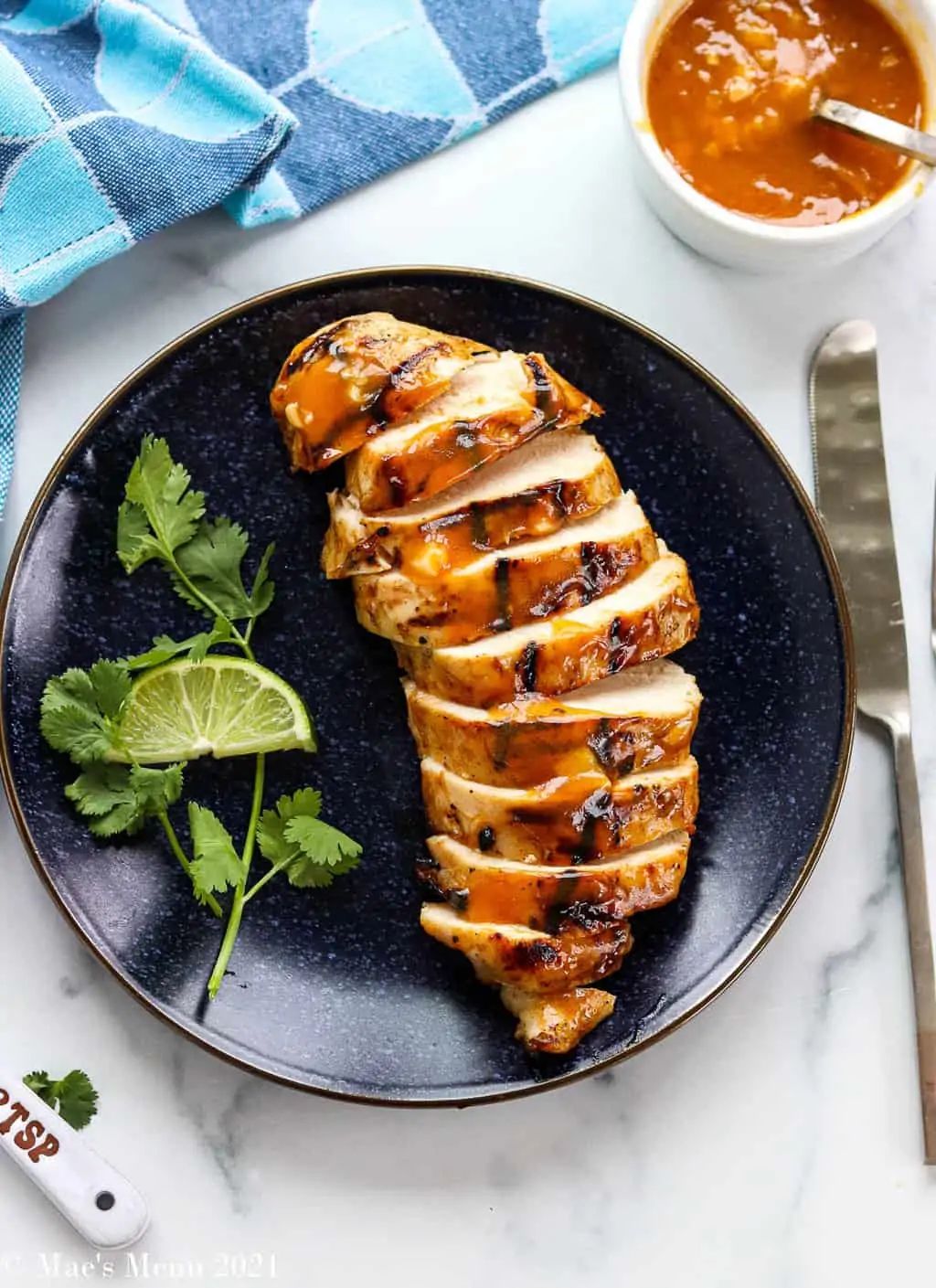 Source: maesmenu.com
While dark meat is excellent smoked, light chicken breast is just as good if you do it right! This incredible marinade makes your chicken breast sticky, smoky, spicy, and sweet.
Could you ask for anything else from a recipe?
Source: thepeasantsdaughter.net
Celebrate the catch of the day with this amazing smoked trout recipe. Fresh fish deserves to be treated right. Luckily, this recipe makes it super easy to do just that.
Enjoy crispy skin and flaky, succulent meat right off the bone. This showstopping dish is great for knocking your guests off their feet.
Source: littlesunnykitchen.com
Queso is the perfect dish to mess with. It has so much potential, and you can include anything you like.
This smoked queso dip will help you on your journey to make your queso. This one uses plenty of chorizos and is ready in just an hour.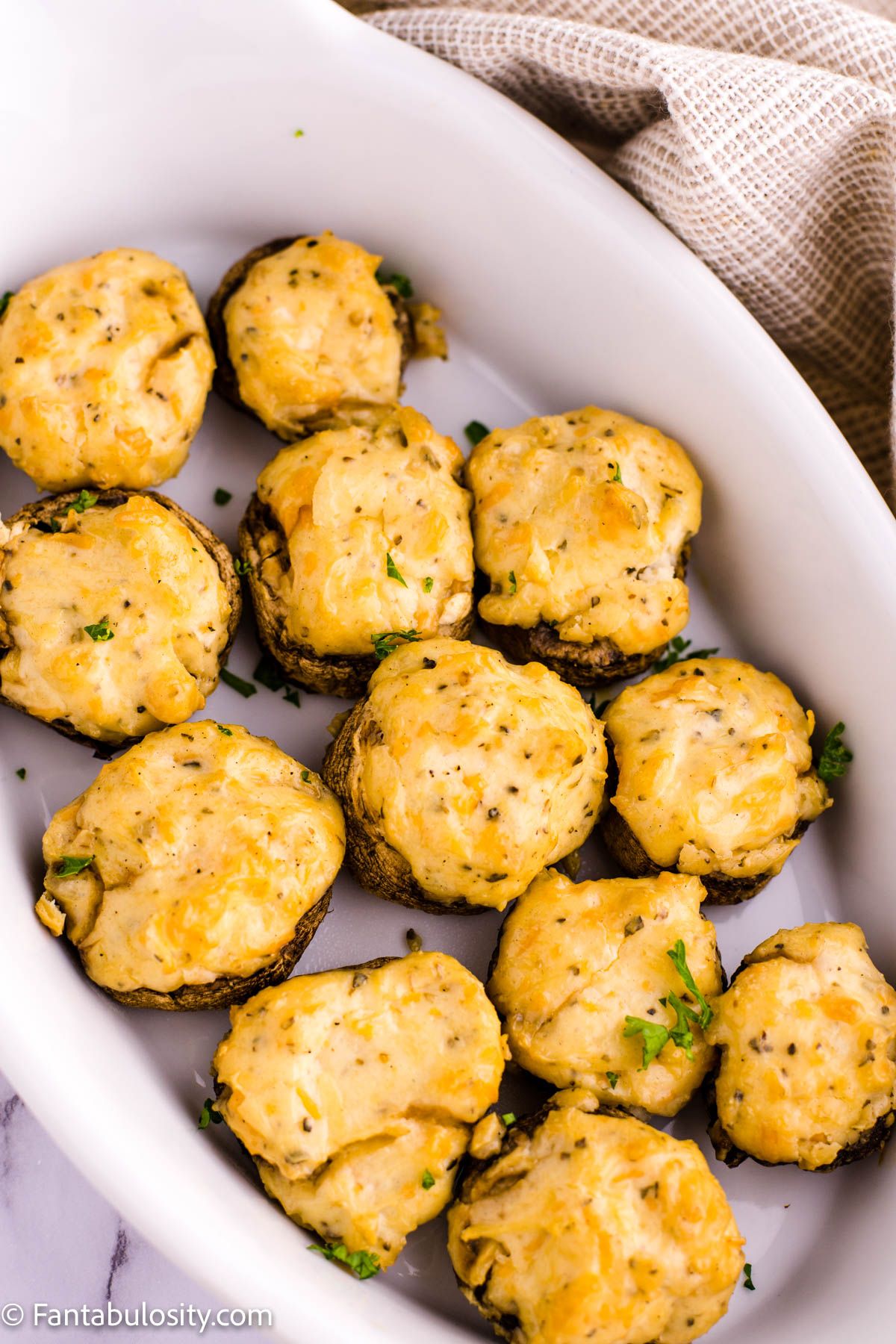 Source: fantabulosity.com
I don't know about you, but I think mushrooms aren't appreciated enough. They're so good at absorbing flavor. Their meaty texture is ideal for satisfying any vegetarians you're serving.
These incredible smoked mushrooms come with an insanely cheesy stuffing. They're creamy and smoky at the same time.
Source: thisolemom.com
Sometimes, simple is best. These smoked chicken legs embrace that idea! Each leg is basted in plenty of herbs and spices, then smoked to perfection.
The result is a plate of juicy chicken legs, with crispy skin and tender meat.
Source: thepeasantsdaughter.net
Heading out on a camping trip or road trip? This maple salmon jerky has you covered.
This is a fantastic recipe to use if you have any leftover salmon you want to save. It's packed with insane amounts of flavor and keeps for ages!
Try this herb crusted salmon if you love salmon!
Source: maesmenu.com
Flat iron steak has quickly become more affordable meat than flank. The problem is that it can get tough and flavorless if overcooked.
Smoking the steak on your Traeger after soaking it in this marinade will deliver a tender and juicy steak everyone will be dying to taste.
Source: cravethegood.com
This recipe is essential knowledge if you're a fan of pulled pork sandwiches.
This one takes a long time, so it's great for a relaxed Sunday. Spend the day outside with a cold drink, and a book as your pork smokes to perfection beside you. Use it for sandwiches, chillis, and more!
Source: ketofocus.com
This smoked meatloaf is keto-friendly and bursts with flavor.
Instead of bread, this recipe uses fried pork rinds that have been shredded. Not only is it a great binder, but it also packs the meatloaf with even more flavor.
If you are wondering what's for dinner tonight, this smoky meatloaf must be it.
Source: theprimitivedish.com
That's right. The Traeger can even make asparagus indulgent.
It's such a simple recipe. You only need a few ingredients, and it can cook alongside whatever your main meat is on the grill. Talk about a delicious dish-free dinner!
Source: ketofocus.com
Speaking of grilled vegetables, this summer salad is the perfect light element for a BBQ lunch. It has a touch of smoky flavor, but the lemon vinaigrette helps brighten the taste.
Balance the hearty meat on the table with this refreshing dish for a well-rounded meal the family will love.
Source: theprimitivedish.com
Slow-smoke your steak and give it a quick sear before serving it to a delighted crowd. The slow smoking makes the meat tender and flavorful. The quick sear adds a delicious crust.
Combine the two, and you've got a tomahawk steak that belongs in a hall of fame.
Source: lowcarbhoser.com
With this super simple recipe, you can create your own smoked bacon at home.
Choose your marinade and pellets to vary the flavors hiding in this salty treat. Use the smoked bacon on sandwiches, in stews, or even as an indulgent snack!
Source: theprimitivedish.com
These wings might beat the rest of the recipes!
Each bite comes with a big hit of smoke, but there's plenty of sweetness hiding underneath. The tender meat is a huge plus, and the crispy skin offers the perfect contrast.
Check out these honey chicken wings.
Source: celebrationgeneration.com
Macaroni and cheese is already one of the best dishes you can have on a bad day. Now, add a healthy dose of smoke. You've got something special!
The white sauce and pasta absorb the pellet smoke with ease. The creamy flavor and texture paired with that hit of smoke are addictive.
Source: littlesunnykitchen.com
Don't want to spend much money on a brisket? This smoked beef chuck roast gives you the same flavor at a lesser cost and cooks faster!
Trust me. This can happily replace your Sunday night brisket with all the same fixings.
Try these mouth-watering chuck steak recipes.
Source: homemadeheather.com
If you're tied to your brisket, try adding a little smoke for a whole new level of flavor! Every slice of brisket is more tender and juicy than the last, with a dark hit of smoke.
Paired with a sweet glaze and your favorite brisket sides, there's nothing better.
So, have I convinced you to invest in a Traeger yet? Which recipe is hitting the grill first if you've already got one? Let me know in the comments!
31 Best Traeger Recipes for your Pellet Grill
Get inspired by these Traeger recipes for grilling and smoking your meat, vegetables and more. This list covers some of the best pellet grill recipes, perfect for any occasion!
Ingredients
1. Baby Back Ribs
2. Smoked Cheesecake
3. Smoked Tri Tip
4. Prime Rib Roast
5. Smoked Chicken
6. Baked Potatoes
7. Smoked Chicken Thighs
8. Smoked Queso Dip
9. Smoked Meatloaf
10. Smoked Burger
11. Smoked Salmon
12. Beef Ribs
13. Not Your Mama's Meatloaf
14. Smoked Turkey
15. Honey Chicken Marinade
16. Smoked Trout
17. Smoked Queso Dip
18. Smoked Stuffed Mushrooms
19. Chicken Legs Quarters
20. Maple Salmon Jerky
21. Flat Iron Steak Marinade
22. Smoked Pork Butt
23. Meatloaf
24. Asparagus
25. Grilled Vegetables
26. Tomahawk Steak
27. Smoked Bacon
28. Chicken Wings
29. Mac and Cheese
30. Smoked Beef Chuck Roast
31. Smoked Brisket
Instructions
Scroll up to get a bunch of easy, yummy, and delicious recipes. Don't be afraid to get creative with the ingredients, you might discover a flavor you didn't know you liked.
Get your shopping list going and make sure you've got all the ingredients.
Get cooking and make your next Traeger Recipe!
Notes
Which one of these recipes was your favorite? Let me know in the comment section or on Pinterest!