Love German culture? Check out these easy German recipes your taste buds will love with unique flavors.
Germany is a mainstay of European cuisine. It's gifted the world with so many delicious dishes, each one enjoyed for hearty, rich flavors.
I'm a massive fan of authentic German recipes because they celebrate staple main ingredients in increasingly creative ways. Simple ingredients treated with love make delicious food, and Germany nails it.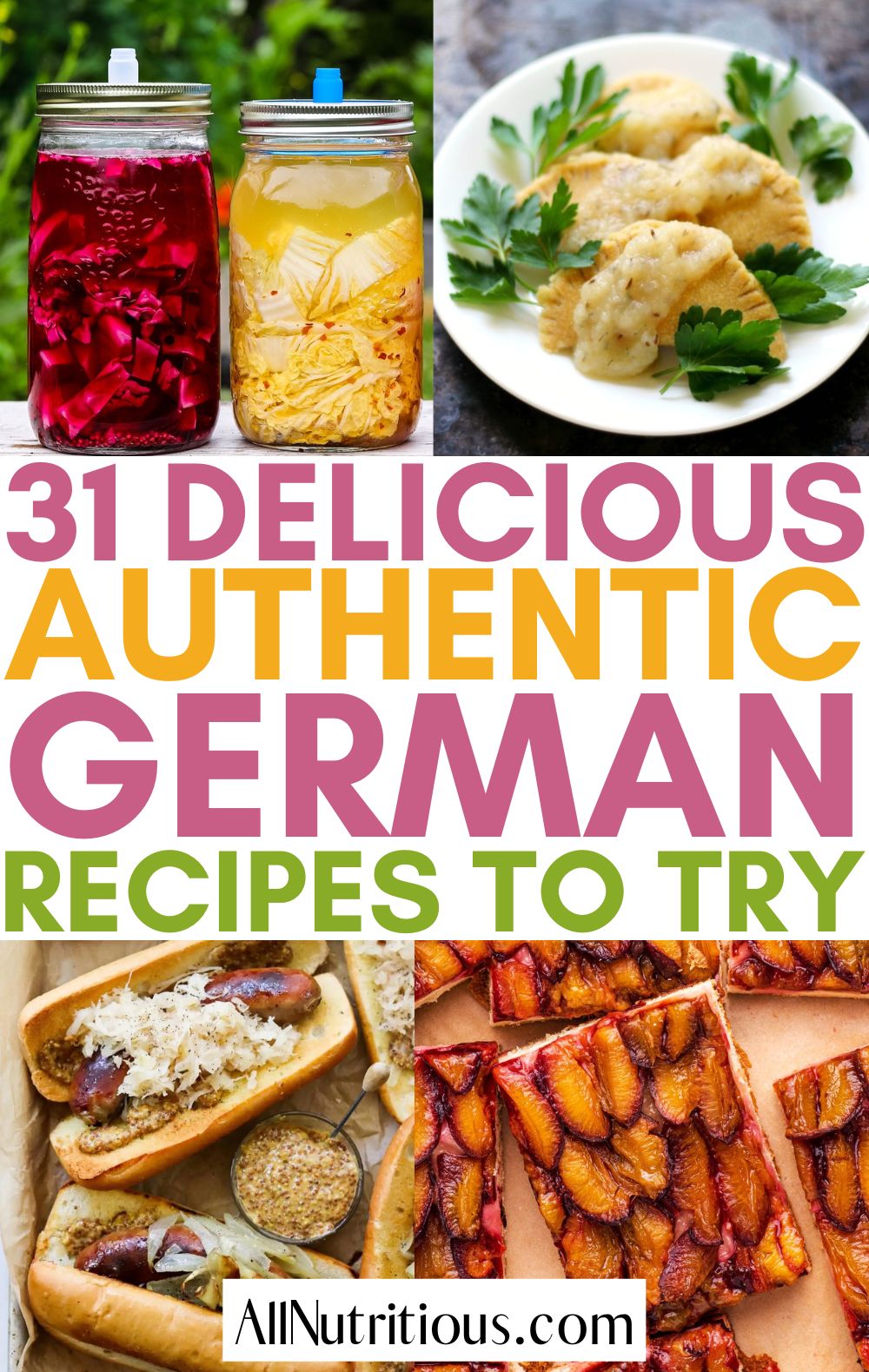 What Are Traditional German Meals?
If you're looking to understand traditional German meals, you need to know that German cuisine shifts according to which region of the country you're in.
This is a little-known fact, but German street food culture is actually one of the best in the world. Not to mention, their Christmas festivals and Oktoberfest treats are craved internationally.
What is the Most Eaten Food in Germany?
It's hard to nail down a single food that's commonly eaten in Germany. That said, a few foods and recipes act as pillars for the wider German cuisine.
A significant element is, of course, sausages (or 'wurst' in German). Made from various meats – usually pork and beef – wurst are beautifully-spiced sausages known for their high-quality taste and texture.
Bread is another big one, appearing in traditional loaves or even as pretzels sold from street food carts. Cabbage, potatoes, chicken, and even curry all make appearances on the list.
So, let's dive into the best of what German cuisine has to offer. Here are thirty-one of Germany's top recipes to try at home, from chicken to cakes.
German Chicken Recipes
Looking for traditional German recipes or a new popular dish for special occasions? Enjoy German cooking with these chicken meat dishes. Choose the perfect main course.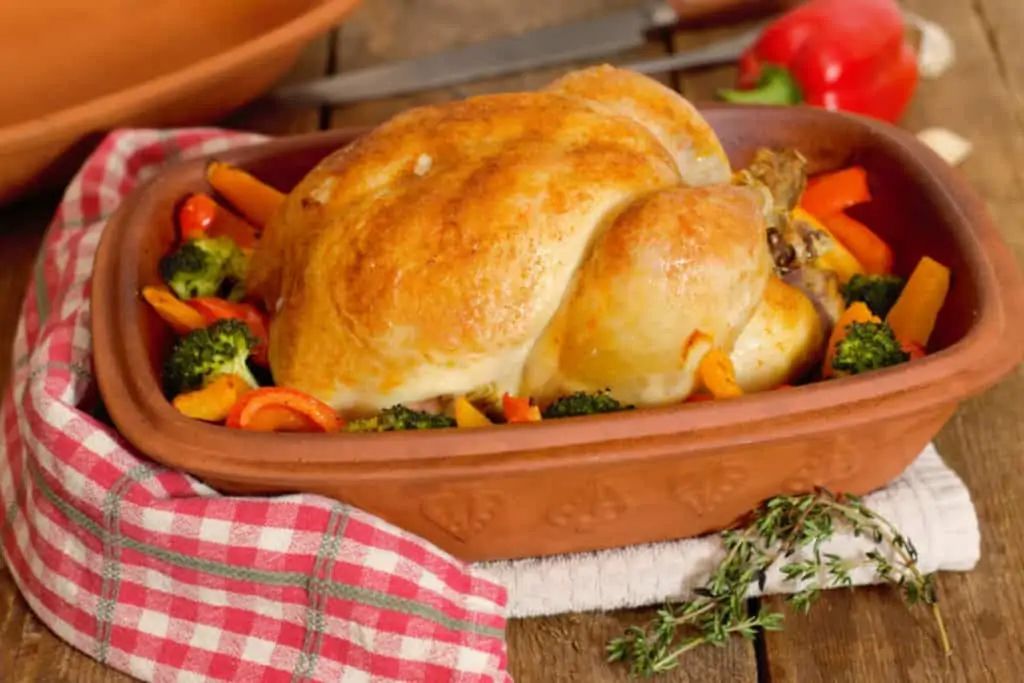 Source: earthfoodandfire.com
Traditional clay pot cooking adds a delightful earthiness to any meat, and this traditional German dish capitalizes on that taste. Take your classic roast chicken to a new level with a Römertopf.
A Römertopf is a clay pot used for roasting meat and vegetables. The natural surface means the contents steam while they roast, lending a juicy taste without any extra oil.
Love chicken? You might enjoy these side dishes for chicken wings.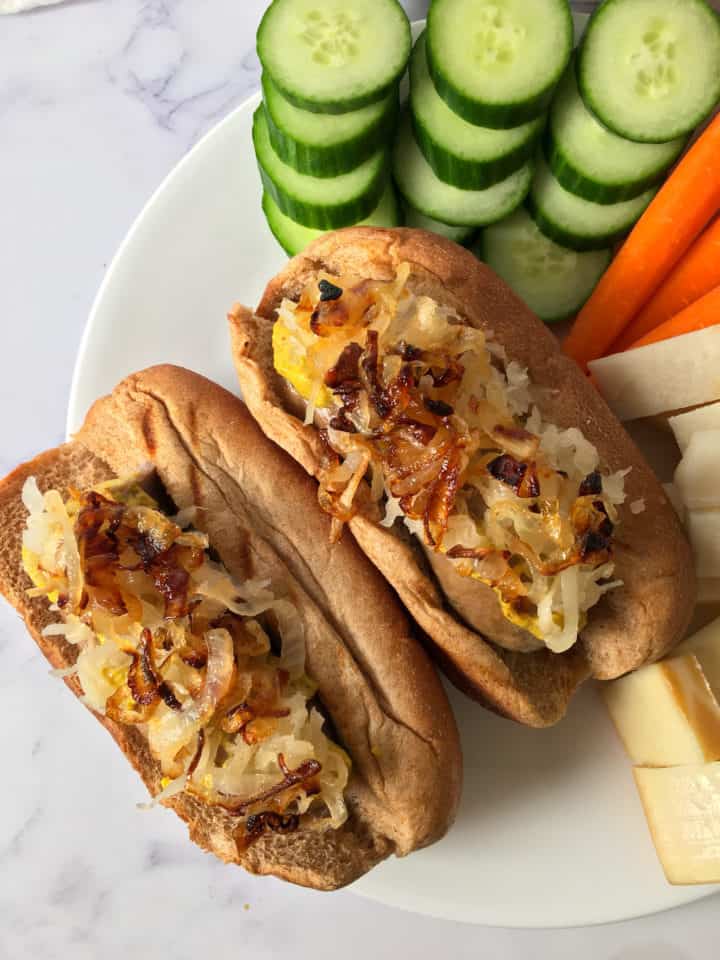 Source: summeryule.com
Traditional Bratwurst is made with pork, veal, or other gamey meats. This recipe incorporates chicken, creating a lighter version of the conventional Oktoberfest treat.
If you've never made homemade sausages before, this is a great place to start. The two types of meat are easy to find, and the result is a delicious sausage that's worth all the effort of its creation!
Love sausage? You might enjoy these Polish sausage recipes.
German Cookies
German baking is known for its delicious, warm, and rich spice profile. It's Christmas and Fall embodied, making liberal use of nutmeg and cinnamon.
No matter what time of year you happen to be experiencing, these cookies will blow away their recipients. From holiday gift bags to late-night treats, here are some recipes to try out for yourself.
Source: fearlessdining.com
Pfeffernusse cookies are a traditional cookie made around the holidays in Germany. The outside is deliciously crispy, but the inside is light and chewy with a mouth-watering hit of spice.
The gluten-free flour blend in this recipe makes the cookies even lighter.
Wrap up a batch of these to give out as a stocking stuffer, send them to school with the kids, or just have them at home for a treat.
Source: texanerin.com
These crescent-shaped cookies are based on a traditional German recipe. The chef has added a few extra flavor elements to make them even tastier.
This is an excellent introduction to German baking if you're not used to the mellow German flavors. They're also a great crowd-pleaser, with a delightful look, feel, and taste to wow your guests.
Source: plattertalk.com
Next up, we have another take on the Pfeffernusse cookie. This one isn't gluten-free, so you can call this a genuinely traditional Pfeffernusse recipe.
You can almost think of this as a spiced-up gingerbread cookie with a twist. Enjoy fluffiness with a crispy shell and powdered sugar coat rather than the hard crunch that we're all used to.
Source: veggiedesserts.com
Marzipan is one of the core ingredients of German cuisine. It makes many appearances in German recipe books, and for a good reason! This delicious almond paste forms the core of these cookies.
If you've never tried making these before, I'd recommend using store-bought marzipan to make it easier. Then, once you've tried them, you can give making marzipan a go!
Source: barthbakery.com
This is a recipe straight out of a German grandmother's recipe book. With a mellow sweetness and a delightful crunch, these cookies are a great choice for making gift bags.
They're strong enough to keep their shape, and well, so they're ideal for gift giving. Plus, the delicious honey flavor and gentle spice are everyone's idea of a good time.
Source: christinascucina.com
At Christmastime, Germany is lit up with Christmas markets in every corner of their major cities. These markets are dotted with stalls selling the country's favorite holiday treats, including these!
Cinnamon stars are warm, crunchy, spicy cookies with a hefty note of cinnamon. A single bite of one of these cookies will immediately put you in the Christmas spirit, no matter the time of year.
Source: barthbakery.com
If you're a fan of shortbread, these lemon heart cookies ('zitronenherzen,' in German) are the treat for you. They're not as well-known, but these delicious cookies are a staple come Christmastime.
The cookie itself is shortbread with the slightest hint of lemon. Crumbly and buttery, each bite is a melt-in-your-mouth delight. The real zing comes from the simple, sweet lemon glaze on top.
German Bread Recipes
German bread is world-renowned. It spans the full spectrum of taste and texture, from heavy rye loaves to light and soft pretzels. The Germans have cornered the market on breadmaking.
So, it makes sense to test out some popular German food recipes if you're looking to up your baking game. Check out these five staples to build up your baking skill.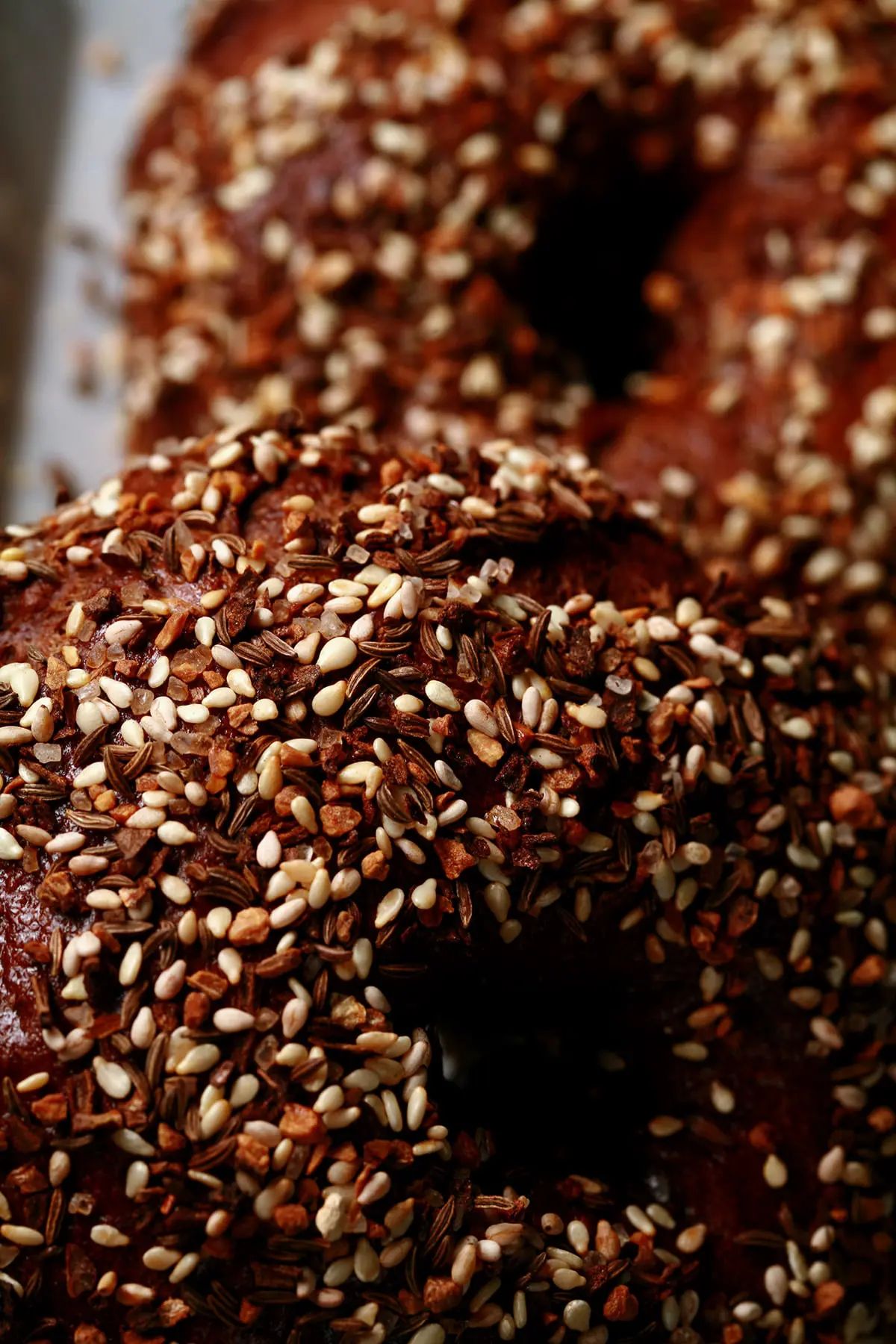 Source: celebrationgeneration.com
Amid the pandemic's peak, it felt like everyone, and their mother was learning how to make bagels. But in my opinion, you haven't really made bagels until you've made pumpernickel bagels.
These pumpernickel everything bagels embrace the heavy rye flavor and combine it with an everything bagel seasoning. The result? An easy bagel you'll never want to stop eating.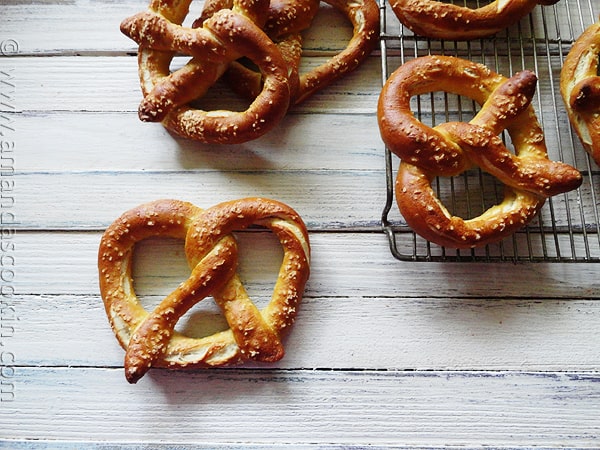 Source: amandascookin.com
Knowing how to make pretzels is like knowing how to pull a dove out of a hat: an excellent skill to bring to parties. These stunning pretzels are very straightforward, but they look incredible.
The key to good pretzels is boiling the dough once you've formed the knots. This seals the dough, allowing the baking process to create a golden, chewy crust on each knot.
Sprinkle with coarse sea salt, everything seasoning, or sesame seeds. Experiment with a bunch of spices to see what works for you.
Source: baked-theblog.com
If you're blessed with a cast iron pot or a Dutch oven, it's your duty to try this German bread recipe. Bauernbrot – literally 'farmer's bread' is an excellent introduction to the art of making sourdough.
This has a tight, dense crumb, perfect for making delicious sandwiches. The combination of white and rye flour makes this a gateway to heavier breads.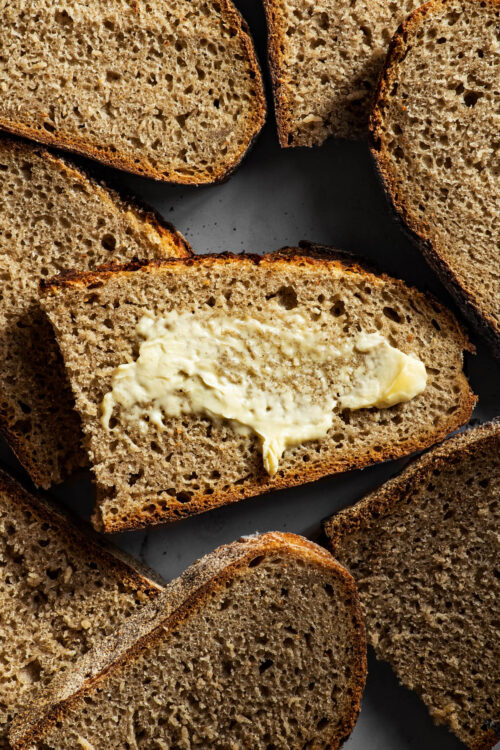 Source: occasionallyeggs.com
Speaking of which, here's a recipe for dense and delicious sourdough rye bread. Bursting with earthy flavor, this bread has a great crumb and mouthfeel.
Combine the rye flour with some spelt flour to lighten it up. The bread doesn't rise significantly, giving it a delightful density that's great for your morning piece of toast.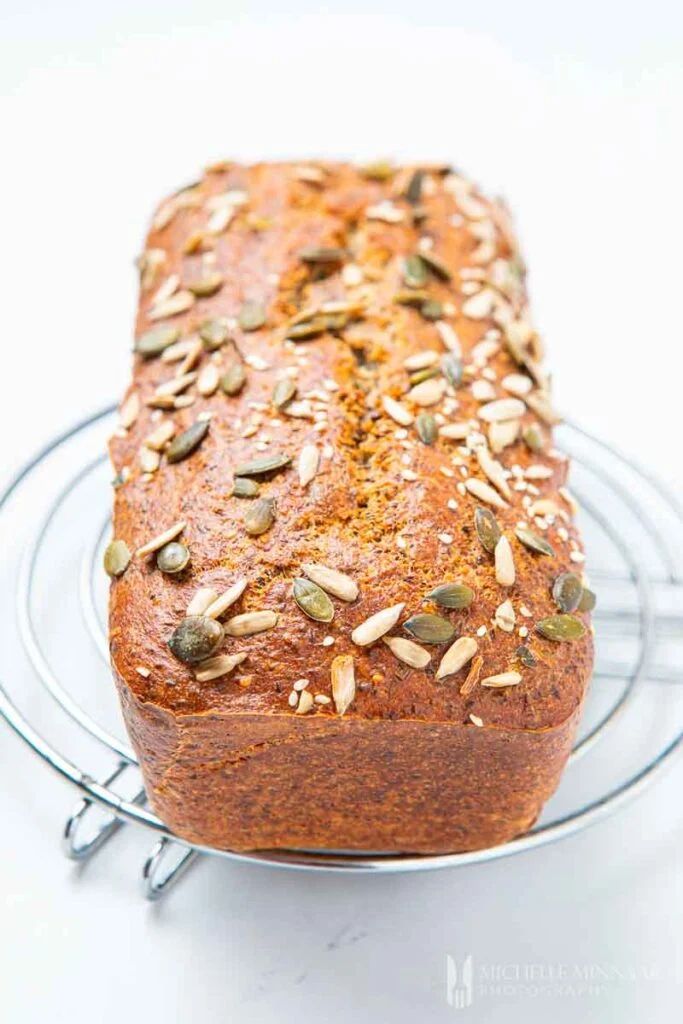 Source: greedygourmet.com
Finally, we have a chia seed loaf stuffed to the brim with healthy nuts, seeds, and grains. This is a high-fiber option that your digestive system will thank you for.
This is an excellent option for the novice bread maker. While it's not your traditional sandwich bread, the result will make you feel very accomplished, thanks to its great taste and gorgeous color.
German Desserts
When most people think of German food, they think of the savory stuff. However, German cuisine has a wide range of delicious desserts that families have been enjoying for decades.
So, find your favorite german cake recipe with these authentic recipes.
Source: cinnamonandcoriander.com
First on the dessert docket is a poppyseed-filled cake topped with delicious, buttery streusel. Named 'mohnkuchen' in the German language, this is a dense and delightful cake not for the faint of heart.
This thing is absolutely packed with poppy seeds. Topped with a crunchy, shortbread-style streusel on top, the poppy seed cake is a masterclass in the contrast of textures.
Enjoy this dessert with fresh fruit!
Source: frugalmomeh.com
German apple cake – also called 'apfelkuchen' – is like if apple pie went to Germany and settled down. It's a rich and delicious cake that celebrates the myriad flavors and textures of the apple.
From smooth, crumbly cake to soft baked apple slices, this cake is a journey of textures. That journey ends on an incredibly chewy crust where concentrated sweetness and spice come together.
If you love giving baked gifts, this apfelkuchen is a showstopper that will delight your recipient.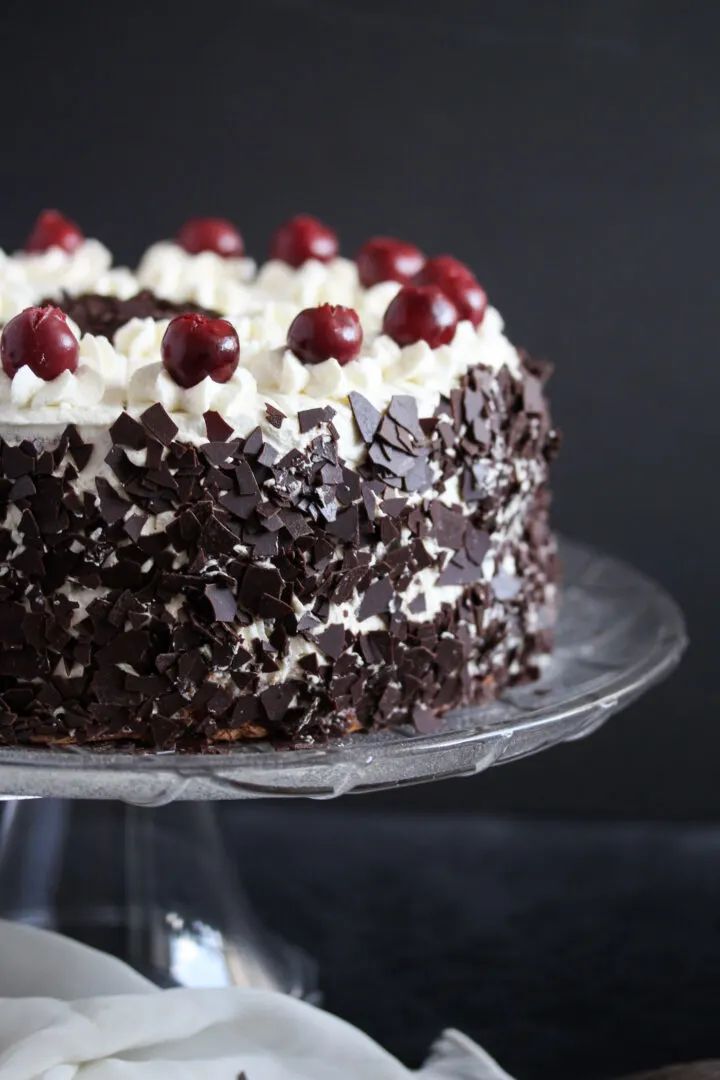 Source: whereismyspoon.co
The Black Forest Cake is one of the most iconic German desserts of all time. Layers of dark chocolate cake are soaked in cherry liqueur; this is a rich and luxurious cake that will perfect cap off dinner.
The first time you make a black forest cake can feel like a mission. It takes a while, but the result is so incredible that the time and energy spent are entirely worth it. From there, it only gets easier.
Source: baked-theblog.com
Next up, we have a lesser-known German dessert that celebrates one of the most delicious seasonal stone fruits: plums. Light and buttery sheet cake are topped with these darkly sweet roasted fruits.
These plums become utterly decadent when roasted with their deep flavor and sweet flesh. The cake below them balances out this richness, drawing you back in for another bite every time.
Source: keep-calm-and-eat-ice-cream.com
We looked at a recipe for black forest cake, but what if you want all of that flavor without the actual cake? That's where this black forest ice cream comes in.
Perfect for a hot summer day, this rich ice cream is packed with dark chocolate and cherry flavors. The decadent ice cream is threaded through with a punchy cherry swirl.
Source: xoxobella.com
If you're a pancake lover, you'll love this final dessert. It is gluten-free and vegan, so everyone at the table can enjoy this sweet treat.
These little crispy pancake pieces are covered in powdered sugar, bananas, and a stunningly good glaze. Enjoy this on a warm winter night as the ultimate dessert for the family.
Need more dessert ideas, you'll love these air fryer desserts!
Savory German Recipes
Now that we have a few dessert recipes to end the night, we need a hearty dish to complete our meal. Luckily, German cuisine is chock full of rich, warm, delicious main dishes to take the spotlight.
From potato dumplings to a lighter party dip, these delicious German recipes take a traditional aspect of German cuisine and highlight it. Let's finish off our journey through German food on a high note!
Find some of your favorite german recipes made with traditional methods.
Source: bobbiskozykitchen.com
We're kicking things off with your next party favorite: a Bavarian Party Dip. This is a meat-based dip, a little bit like pate, perfect for smearing on your favorite cracker.
This creamy and tangy dip carries a lovely underlying flavor that pairs beautifully with pretzel crackers. Whip this out on your next game day and watch it disappear almost immediately!
Source: thegingeredwhisk.com
Next up is a German take on the classic meatball (and, in my opinion, they may have beaten everyone else on this one). These meat patties, once mixed, are coated in flour and fried.
This creates a lovely crust on the outside that offers the perfect texture for a sandwich or burger. If you deglaze the pan and reduce it, you'll also get a delicious gravy.
Need more inspiration? You might enjoy these griddle recipes.
Source: mydinner.co.uk
Potato dumplings, a.k.a. is the intersection of the two best things in the world. These are flavored potato balls that you typically serve with a meaty main dish like stew or roast.
This is like the better, tastier version of your classic mashed potatoes. It's a great way to elevate a Sunday night roast's side dishes without a lot of time or effort on your part.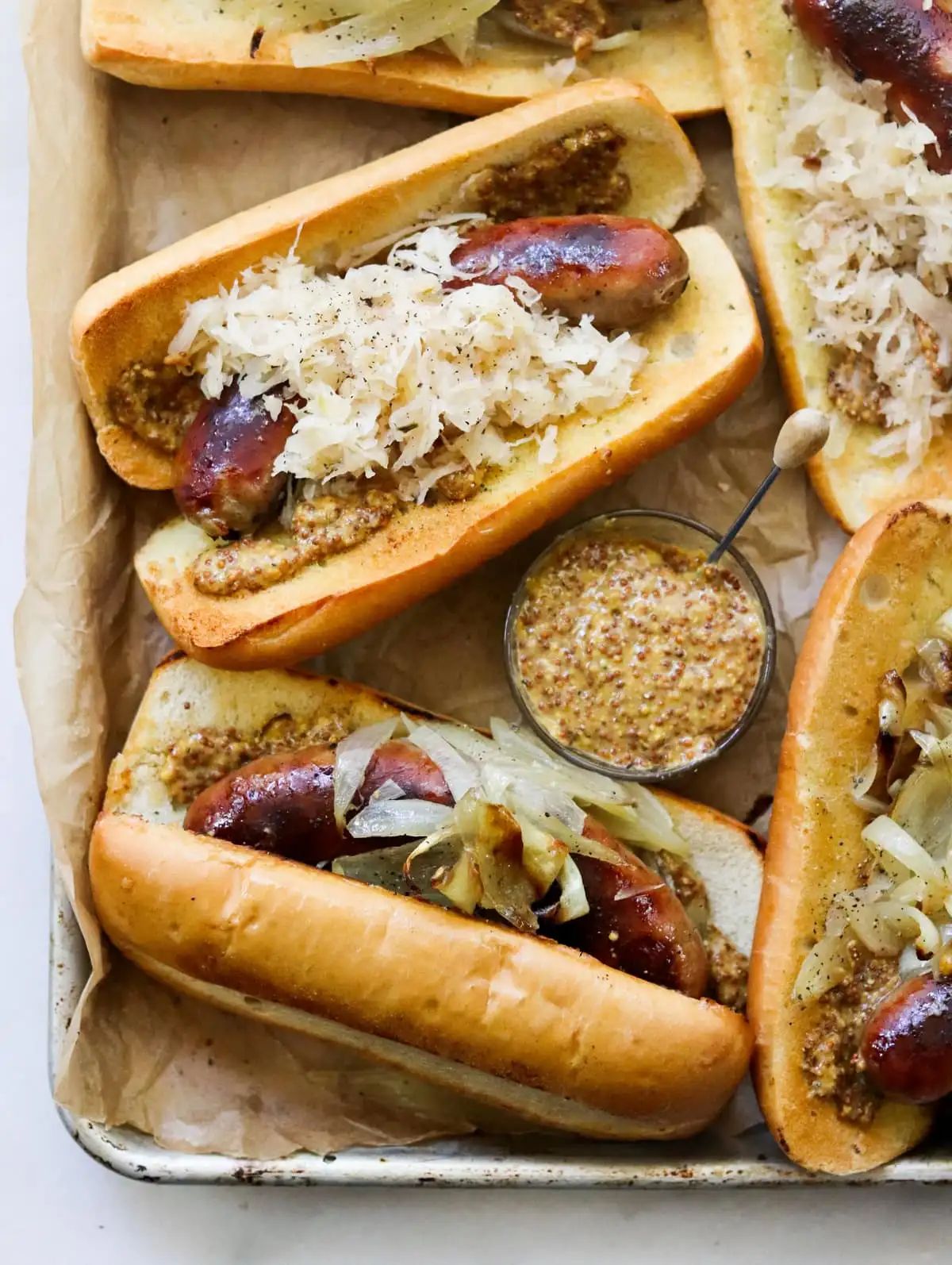 Source: cookathomemom.com
We can't possibly leave a baked bratwurst out of the discussion on a list of the best German traditional recipes—this sandwich heroes the well-loved bratwurst, covering it in onions for a sweet and smoky tang.
Take your hotdogs to the next level with these untouchably tasty sandwiches. Bring a platter of these to your next potluck; neighbors will be scrambling for the easy recipe in no time!
Enjoy this recipe with sour cream!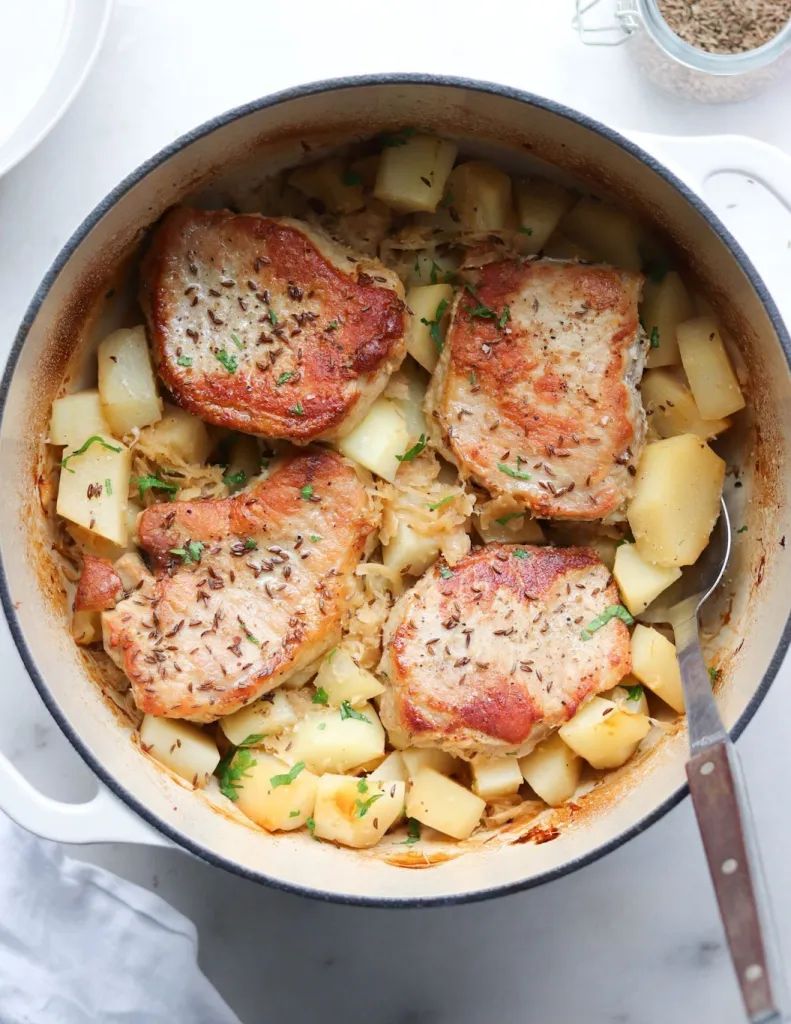 Source: cookathomemom.com
Pork and sauerkraut are a classic German combination, capitalizing on the smokiness of the pork and the tang of the sauerkraut. In this case, your pork element is a good-old pork chop.
Nestled on a bed of roasted potatoes, these pork chops are a stunning golden brown. This is an unbeatable dish with roast apples strewn through the mix to counterbalance the sauerkraut.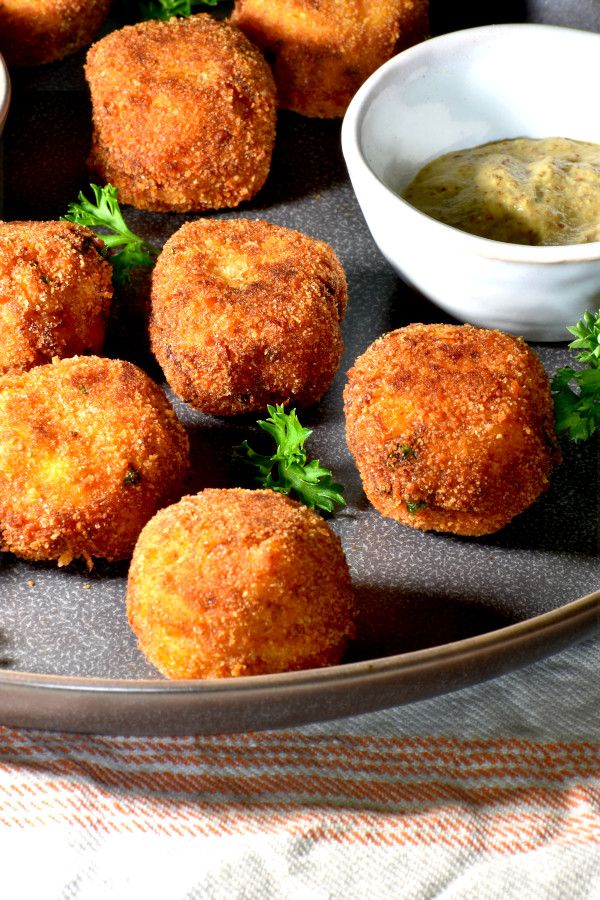 Source: gypsyplate.com
Speaking of sauerkraut, there are many different ways to use this versatile German ingredient—case in point: these sauerkraut balls.
Potatoes and sauerkraut blend into a delightful mix of creaminess and tanginess. Each ball is breaded and fried to golden perfection, creating a delicious crunch on the outside.
Love the recipe? You might also enjoy these ground lamb meals.
Source: giftofhospitality.com
Everyone does potato salad differently, usually due to the influence of family recipes. This German take on a potato salad highlights bacon and a tart vinegar flavor. In other words, it's delicious.
Take this potato salad to your next BBQ or potluck. It's great to make in advance as it will happily sit in the fridge until you're ready to serve it. Give it one last toss, serve it up, and scoff it down.
Source: burrataandbubbles.com
Spaetzle is to Germany as macaroni and cheese are to the southern BBQ. That is: it's the ultimate comfort food. A tiny German dumpling, spaetzle, can almost be treated like pasta.
In this case, you'll serve your spaetzle alongside a bed of creamy potato, delicious cheese, and crispy bacon.
Source: dishnthekitchen.com
Following the previous recipe, here's a quick and easy way to make spaetzle from scratch. You can make a large batch and freeze them for later use, so I love doubling down and saving some.
Don't worry if you've never tread this ground before. Spaetzle is super easy to make and even easier to cook.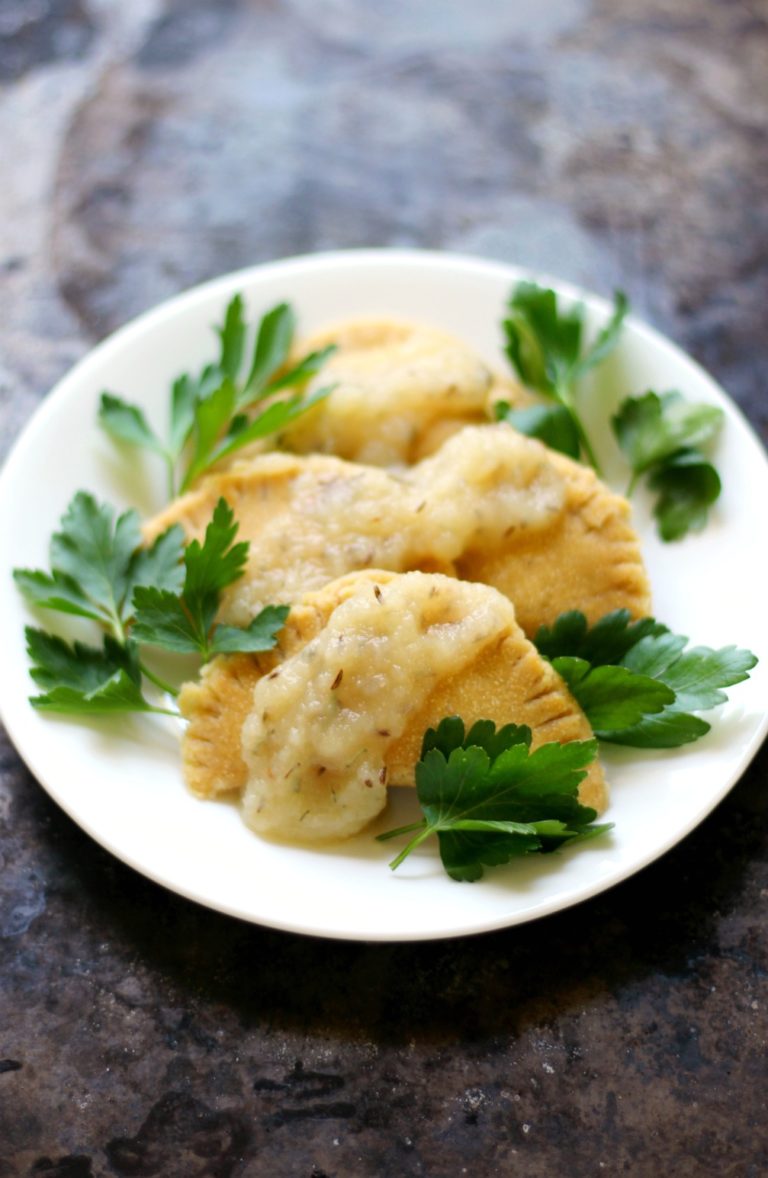 Source: strengthandsunshine.com
Looking for a fancy German dinner to spice up date night? These pierogies are a healthy and delicious option that will also teach you a new skill in the kitchen.
Each bite of these pierogies is offset by the delicate sweetness of the spiced applesauce. Serve as an appetizer or alongside a pork chop for a filling meal on your next date night.
Source: sabrinacurrie.com
The final entry on our list is arguably the symbol of Germanic foods everywhere: sauerkraut. While typically made with cabbage, this pickling technique works with many different vegetables.
This recipe heroes red cabbage, so the result is a beautiful dusky pink that looks stunning on the plate. Each bite is tangy and a little sweet.
This is the perfect condiment to have on the table alongside any of the other savory German dishes on this list!
31 Authentic German Recipes (Quick & Delicious)
Looking for all sorts of German Recipes? Check out these easy-to-make dishes - chicken, desserts, cookies, and savory meals.
Ingredients
1. Clay Pot Chicken with Bell Peppers and Broccoli
2. Chicken Bratwurst with Pork
3. Gluten-Free Pfeffernusse Cookies
4. Almond Paste Cookies
5. German Christmas Cookies
6. German Bethmannchen Marzipan Cookies
7. Old German Honey Cookies
8. German Cinnamon Stars
9. Lemon Heart Cookies
10. Pumpernickel Everything Bagels
11. Homemade Pretzels
12. Sourdough Bauernbrot
13. Sourdough Rye Bread
14. Chia Seed Bread
15. German Poppy Seed Cake
16. German Apple Cake
17. Black Forest Cherry Cake
18. Plum Sheet Cake
19. Black Forest Ice Cream
20. Gluten-Free Vegan Kaiserschmarrn with Bananas
21. Bavarian Party Dip
22. Frikadellen Meat Patties
23. Potato Dumplings
24. Oven-Baked Brats & Onions
25. Pork and Sauerkraut
26. German Sauerkraut Balls
27. Authentic German Potato Salad
28. Spaetzle with Bratwurst, Sweet Potatoes, and Caramelized Onions
29. Spaetzle
30. Sauerkraut Chickpea Flour Pierogies with Spiced Applesauce
31. German Red Cabbage Sauerkraut
Instructions
Scroll up to get a bunch of easy, yummy, and delicious recipes. Don't be afraid to get creative with the ingredients, you might discover a flavor you didn't know you liked.
Get your shopping list going and make sure you've got all the ingredients.
Get cooking and make your next Authentic German Recipe!
Notes
Which one of these recipes was your favorite? Let me know in the comment section or on Pinterest!