Steak is a dinnertime favorite all around the world. From fancy steak dinners to simple, comforting meals, you can do almost anything with a good steak and these steak toppings.
Even though the steak may be the show's star, adding a co-star to the plate is nothing wrong. Why not top your steak with something tasty to make your meal extra good?
What Toppings are Good on Steak?
The best steak toppings are sweet, salty, or earthy. They highlight the delicious smokiness of the meat without overpowering it and often add some tasty texture too!
Think crunchy onions, caramelized bacon, or a healthy butter-based sauce. In the case of steak toppings, the richer you go, the better the result will be.
Delicious Steak Toppings
Preparing for a delicious date night dinner or after a simple way to enjoy a quick steak? Make your steak shine with any of these tasty twenty-one steak toppings.
Source: goodlifeeats.com
The cilantro and lime butter adds a refreshing dash of flavor to this plate. Every bite feels filling but not overwhelming, so you can enjoy the whole steak and every last mouthful.
You need a few simple ingredients for this easy recipe like softened butter, fresh lime juice, garlic cloves, black pepper, sea salt, and cilantro!
Source: theroastedroot.net
Give cabbage the love it deserves with this incredible smoky steak topper. This is a keto, paleo, and Whole30-friendly recipe.
The bacon is the star of the show here, lending its delicious flavor to the juicy caramelized cabbage. The light crunch this topper adds to the steak is so addictive.
Source: bonappeteach.com
Caramelized Vidalia onions, blue cheese, cream cheese, and Worcestershire sauce are a contrast study in this wildly good steak topper.
This blue cheese sauce is sweet yet earthy, absolutely perfect for topping a smoky steak.
This is a great choice if you are looking for a fancy dinner recipe for special occasions.
Source: saltandlavender.com
This creamy mushroom sauce is so great for topping a steak!
You can whip this sauce up alongside your steaks, as it only takes twenty-five minutes from start to finish.
You likely already have many of the needed ingredients for this flavorful sauce like olive oil, lemon juice, yellow onion or white onions, and fresh parsley.
Source: noshingwiththenolands.com
This red wine reduction featuring shallots and bacon perfectly balances acidity and smokiness creating the perfect steak.
This reduction uses beef broth as a base, which is super hearty. If you're preparing dinner in advance for a fancy event, you can make this reduction ahead of time and refrigerate it.
Source: theforkedspoon.com
This garlic and butter sauce puts two of steak's favorite companions on the plate alongside it.
You only need ten minutes to pull this together! Make a big batch and refrigerate it to have delicious garlic butter on hand whenever you need it.
Pair this garlic butter sauce with any of these yummy eye of round steak recipes!
Source: peelwithzeal.com
Zippy, refreshing, and sweet, this is a delicious dressing. Chimichurri is perfect either as a marinade or a sauce, so you can even marinade your steak in this zingy dressing.
Use this savory sauce to create one of the most mouthwatering meat recipes for dinner!
Source: thewoodenskillet.com
Herbed butter is just as easy to prepare as garlic butter – and even better if you use fresh herbs.
While the recipe calls for parsley, this would work with any combination of fresh herbs. This is solid butter, so you can use it for cooking your steak or melting it to use as a sauce.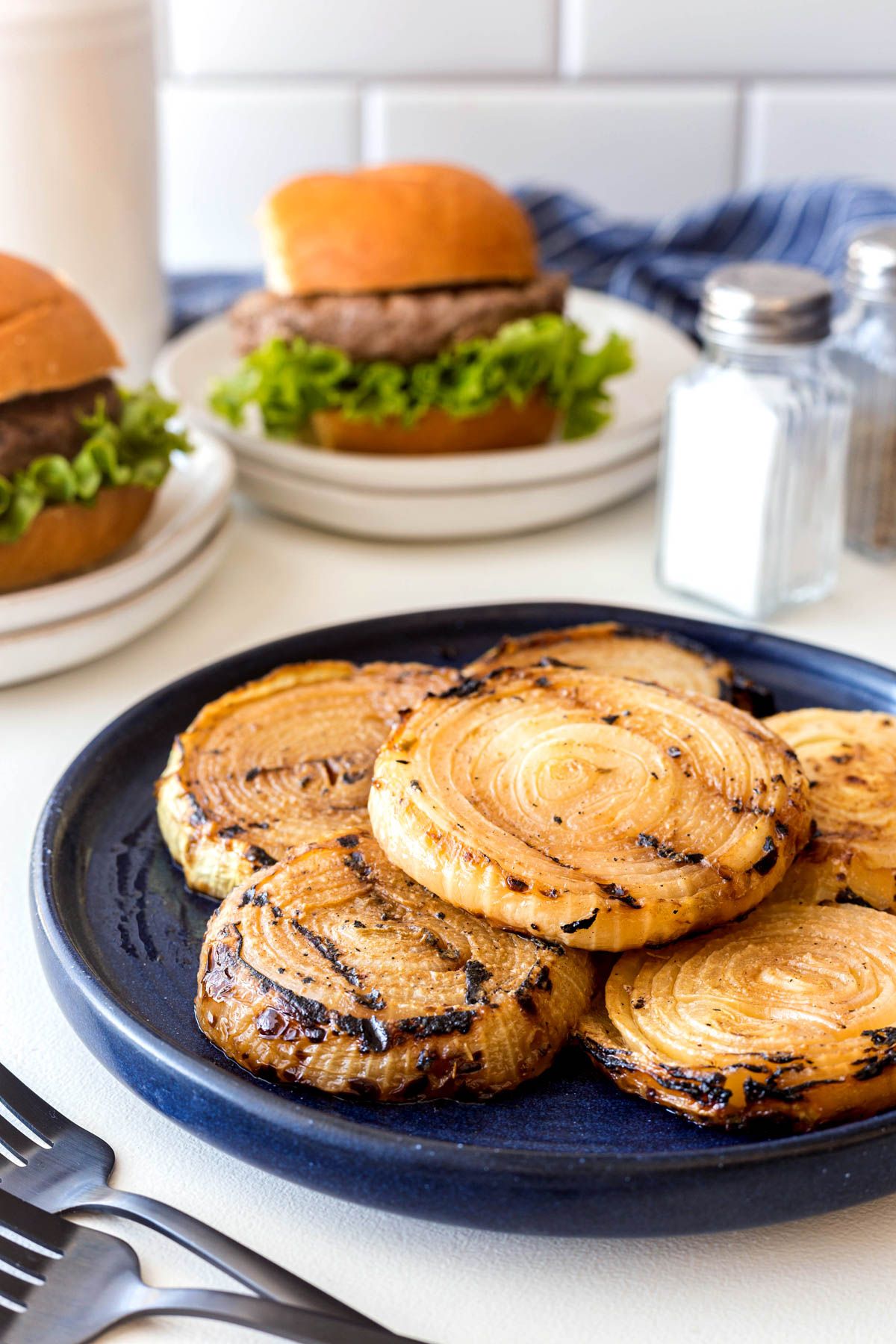 Source: bbqingwiththenolands.com
There's just something addictive about the combination of mustard and grilled onions. It's earthy, a little smoky, and a little spicy.
With char lines crisscrossing the sweet onion, the tangy mustard sauce really puts things over the top.
These grilled onions would also make great salmon burger toppings!
Source: inthekitch.net
Tomato gravy is hot, savory, and just a little bit sweet. Imagine this as a more savory version of tomato relish, offering a warming sauce for your steak on a cold night.
You only need ten minutes and the simplest collection of pantry ingredients to bring this gravy to life.
Source: drivemehungry.com
Skip the creaminess of the mushroom sauce and opt for a smoky, textural array of mushrooms with this recipe.
The sauteed mushrooms are super easy to concoct, and the buttery garlic doubles the flavor. This is a fantastic side dish or steak topper, thanks to the slightly chewy texture of the mushrooms.
Source: savorthebest.com
This steak topper uses white wine and beef broth to create a rich, almost gravy-like mushroom sauce perfect for a date night steak.
Once you have this recipe in your back pocket, you can use it for virtually anything. It's delicious on schnitzel, mashed potato, and of course, steak.
Source: confessionsofanover-workedmom.com
Avocado chimichurri is a creamy version of the light chimichurri recipe from earlier – perfect for grilled meats like steak or chicken.
This mixture is fairly unassuming, but every mouthful is actually packed with flavor. It's punchy, bold, and absolutely delicious. Plus, it's so simple to whip up in a food processor!
Source: savorthebest.com
The creaminess and strong pepper flavor of Creamy peppercorn sauce are perfect for rounding out a steak's flavor.
Creamy, dreamy, with a powerful bite, this is amazing on a winter night. The little hint of brandy is just what you need to warm you from the inside out.
Source: aimeemars.com
Spicy, sweet, and creamy, this bang bang sauce is insanely good on just about anything. You don't need to cook anything to prepare this; all you need to do is mix a few condiments together.
Prepare this ahead of time and keep it in the fridge for when you need a delicious sauce with no effort.
Source: aubreyskitchen.com
Red chimichurri is a sauce entirely unto itself, with a bold and punchy flavor you just can't ignore. You only need a few seasonal ingredients to bring this wild dressing to life.
The reason this is called 'red' chimichurri is that it features red hot peppers on top of the usual ingredients.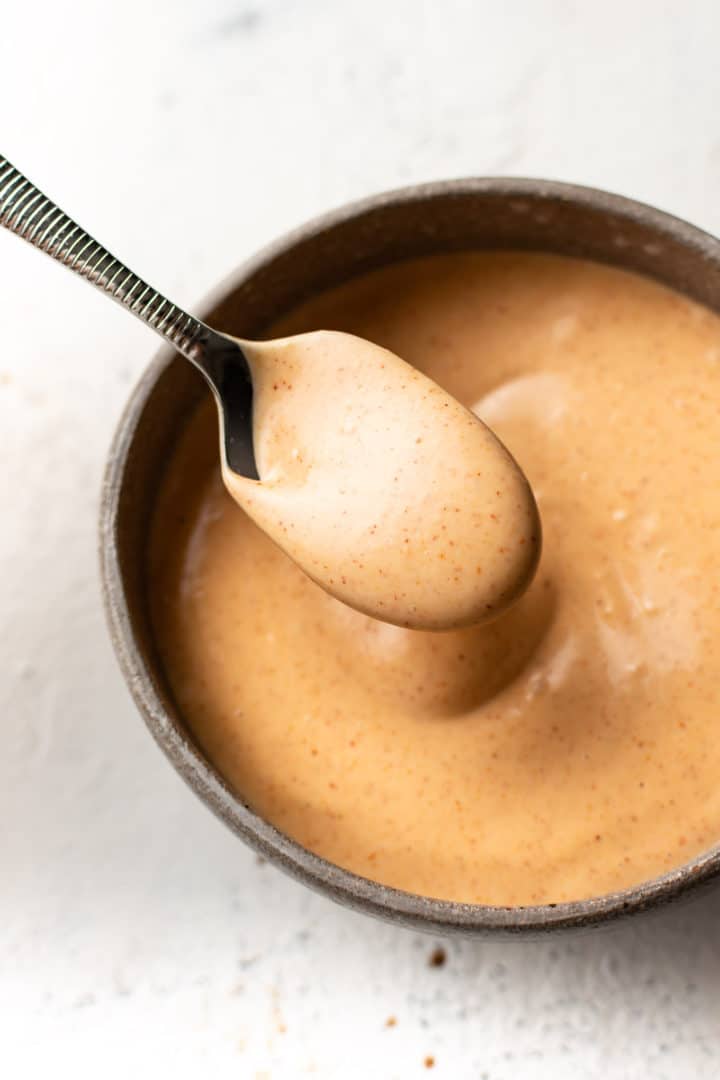 Source: saltandlavender.com
Replicate a Japanese steakhouse with this creamy yum yum sauce.
This sauce uses ingredients you most likely already have in your pantry. With a perfect balance of salt, fat, acid, and heat, this sauce will have your mouth watering with every bite.
Source: sabrinacurrie.com
That's right. You can pair bacon and aioli into an addictive sauce that is creamy, salty, and smoky.
While it doesn't keep for a long time, you can make this sauce a day ahead of your meal to save yourself the additional effort.
Source: cookingwithcurls.com
Our next sauce is the epitome of smoky sweetness. Brown sugar and bourbon pair in an unbeatable sticky steak sauce you can use as either a topping or a marinade.
Sure, it takes forty minutes to make, but it's forty minutes very well spent.
Source: joyfuleatingnutrition.com
Pivot away from the dark, sticky sweetness of bourbon sauce into the light, refreshing taste of this kiwifruit salsa. I know it might seem strange, but trust me on this pairing.
The bright and vibrant flavors of this salsa make it a stunning topping. Prepare it ahead of time and let it sit in the fridge for a while, allowing the flavors to mingle and become even better.
Source: casualfoodist.com
Our final recipe brings us full circle, pairing the sizzling snap of steak with a creamy, bright, citrusy crema. This is almost like butter, but the avocado and coriander make it feel lighter.
Take ten minutes while your steak grills to prepare this crema.
So, which of these steak toppings will you be whipping out the next time you get a steak on the grill? Let me know in the comments below!
This crema would pair nicely with any of these delicious chuck steak recipes!
21 Best Steak Toppings
Looking for ideas for steak toppings to complete your meal? Find the perfect recipe and accompaniment for your meal here.
Ingredients
1. Cilantro Lime Butter
2. Caramelized Cabbage with Bacon
3. Caramelized Onion and Blue Cheese Steak Sauce
4. Creamy Mushroom Sauce
5. Red Wine Reduction with Roasted Shallots and Bacon
6. Garlic Butter Sauce
7. Chimichurri Sauce
8. Easy Herbed butter
9. Mustard Grilled Onions
10. Tomato Gravy
11. Sauteed Mushrooms
12. White Wine Mushroom Sauce
13. Avocado Chimichurri Sauce
14. Creamy Peppercorn Sauce
15. Bang Bang Sauce
16. Red Chimichurri
17. Yum Yum Sauce
18. Bacon Aioli Sauce
19. Bourbon and Brown Sugar Barbecue Sauce
20. Kiwifruit Salsa
21. Avocado Lime Crema
Instructions
Scroll up to get a bunch of easy, yummy, and delicious steak topping recipes. Don't be afraid to get creative with the ingredients. You might discover a flavor you didn't know you liked.
Get your shopping list going, and make sure you've got all the ingredients.
Get cooking and make your next Steak Topping!
Notes
Which one of these recipes was your favorite? Let me know in the comment section or on Pinterest!