These eye of round steak meals are easy, delicious, and full of flavors. Perfect recipes to make for the whole family.
If you are a beef steak lover, you must have experienced the tender and juicy taste of the Eye of Round steak. These steak cuts are the juiciest and leanest boneless piece of beef.
The beef eye of round steak is cut from the rear leg of the cow. Besides being super juicy and tender, it's also great value for the money.
Moreover, the Eye of Round is also perfect for all types of cooking methods, high temperature, slow-cooking, dutch oven, or even air fryer!
What is Eye of Round Steak Good For?
The Eye of Round Steak is a versatile cut of meat. You can use it to make many dishes like steak sandwiches, burgers, beef stir fry, and stews. Apart from that, you can even dice up this lean cut of beef and use it atop a salad.
How to Cook Eye of Round Steak?
There are many ways to cook the Eye of Round steak; you can use any method, from pot roasting to slow cooking to stewing to braising. The steak from the cow's hind leg tends to stay soft, juicy, and flavorful no matter which way you choose to cook it as long as it is at the right internal temperature.
Best Eye of Round Steak Recipes
If you have scored a big chunk of the Eye of Round steak, here are some of the most popular eye of round steak recipe ideas you can make with this juicy piece of meat.
Source: peaktoplate.com
This hind quarter beef piece has many qualities, and you can get them if you decide to make Sous Vide with it.
For this delicious recipe with eye of the round steak, you will need a Sous Vide machine; preheat it and season your inexpensive cuts of beef. Once your beef is nicely seasoned, place it in a vacuum bag and put it in water.
Once your eye of round steak cooks for a couple of hours, take your meat out, pat dry, and re-season it. Now in a cast-iron large skillet, sear your top round steak for a couple of minutes on each side, and enjoy your hot plate of steak with a yummy side like green beans.
Source: thelazyslowcooker.com
Here's the best way of turning any piece of meat into a scrumptious meal with the help of a crockpot. Use your Slow Cooker to turn your Eye of Round steak slices into a delicious Pepper Steak.
This is a very versatile recipe with a longer cooking time; you can buy raw meat strips, or you can also use cooked beef strips for this; either way, this recipe will turn out just perfect.
Apart from meat, you will also need onion, soy sauce, ground ginger, minced garlic, brown sugar, and black pepper to cook alongside this affordable cut of meat.
Source: pressurecookrecipes.com
Another common name for Pho is Vietnamese Beef Noodle Soup, and it's the yummiest and the easiest way to eat the Eye of Round Steak.
This instant pot pho is packed with a rich buttery texture and profound flavors. The tender cut of steak, al dente noodles, and fresh aromatic herbs give this stew all the heartiness you need in a soup.
To make this easy recipe for beefy Pho, you need beef broth extracted from any kind of meat like beef feet, beef next, or marrow bones, the Eye of round steak that is thinly sliced, and all the spices that you like. You will also need al dente noodles and some fresh herbs to finish your Pho off.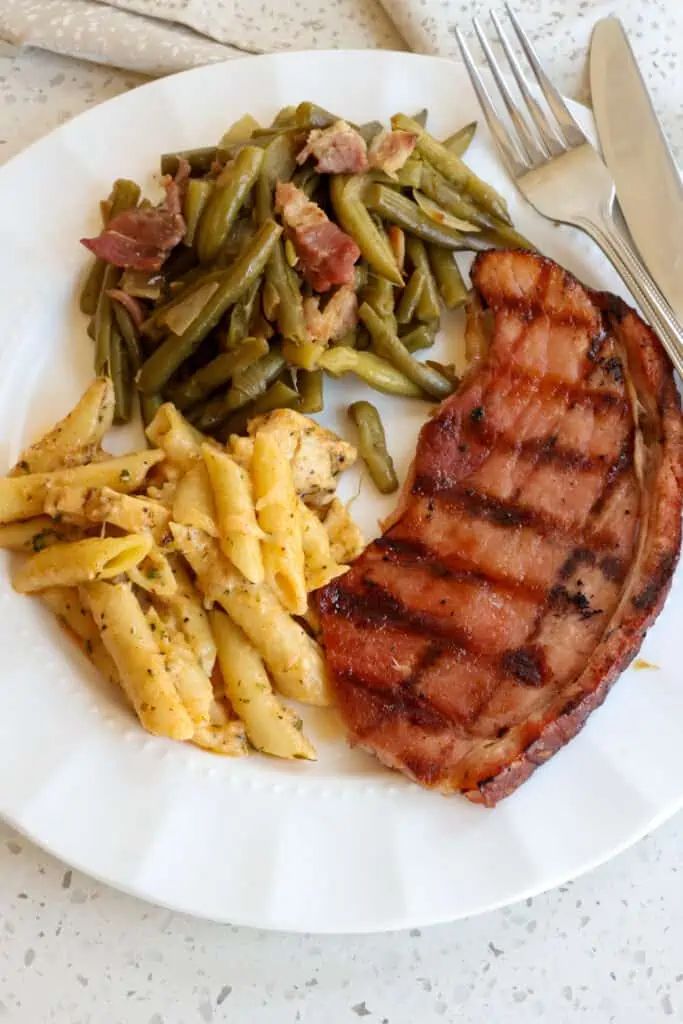 Source: smalltownwoman.com
I love eating the ham steak more because of the many sides I can add to my recipes, like potato salad, fried eggs, fried potatoes, cauliflower, and broccoli casserole.
For this Ham Steak, you need thinly sliced ham steak, the Eye of Round steak, Honey, Dijon mustard, and brown sugar. For sides, you can choose anything from rice to potatoes to fried veggies.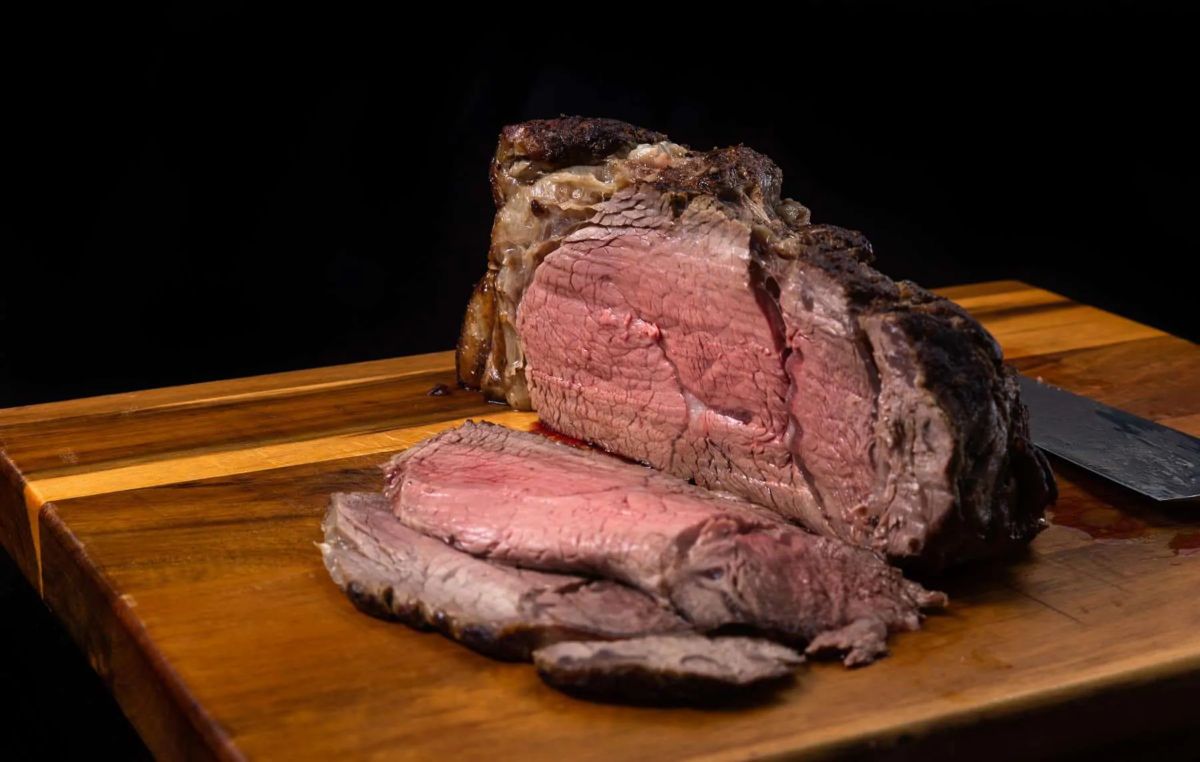 Source: pressurecookrecipes.com
Instant Pot Roast Beef is one of the best and most popular holiday recipes ever. It's perfect for a big family of meat lovers.
To make the most scrumptious pot roasts, you need Eye of Round meat, garlic, onion, chicken stock, soy sauce, bay leaves, and dried herbs.
Source: persnicketyplates.com
This Slow Cooker Roast with Vegetables is made with just a few ingredients, but it's perfect for a lazy Sunday dinner or a hearty family lunch.
This recipe doesn't need spice but Italian dressing, which gives the roast the right flavor. Moreover, this is a one-pot recipe that is even great as leftovers.
Source: smalltownwoman.com
If you think steak can't be comfort food, you need to think again and check out this Swiss Steak recipe. Made with light herbs and seasoning on a bed of tomato sauce, this steak is yummy to its core.
All you need to do is season the beef and cook it with light oil in the pot. Once brown, remove the meat and add garlic, fry it and later add your other ingredients with the beef. Let this cook till fork tender. Enjoy with a side of mashed potatoes.
Source: cookwhatyoulove.com
The Smoked Eye of Round is very easy to make, it takes a bit long, but the result is just divine. Moreover, the Smoked Eye of Round roast can be used in many elaborate meals like pasta, salads, pizza, calzones, and sandwiches. All you need is the Eye of Round roast meat and Montreal steak seasoning.
Need more inspo? Check out these chuck steak recipes.
Source: fromvalerieskitchen.com
Let's give your holiday roast a new twist and make this Roast Beef with Gravy the new holiday staple.
Mix all your dry ingredients in a bowl. You will need kosher salt, rosemary, thyme, black pepper, garlic powder, onion powder, and paprika. Rub these on your roast and add a good amount of olive oil as well.
Let the roast cook, prepare your gravy in a separate bowl, and serve thin slices of roast drizzled with thick gravy.
Need more ideas? Check out thee easy beef cube recipes for dinner!
Source: fromvalerieskitchen.com
This Beef Stroganoff recipe is the perfect comfort food you will ever have. The thick and creamy texture of melt-in-the-mouth beef is just too good to be true.
Make your Beef Stroganoff by browning your beef strips in a pan with oil and butter. Later, add onions, butter, garlic, Dijon mustard, and Worcestershire sauce in the same pan. Next, add your broth, beef, and mushrooms, and let this cook and gather flavor. Serve with rice.
Source: masonfit.com
Cooked to perfection and shredded to bits, barbacoa beef is the perfect meat for rice, salads, and sandwiches.
Cook your meat till tender in a pressure cooker. Once the beef is cooked, add spices, diced green chiles, lime juice, and beef stock and cook it for an hour. You will love the result when the lid comes off.
The Eye of Round has more or less 145 calories, 26g of protein, and 4g of fat every 4 oz. This meat is perfect for all kinds of hearty and comfort foods. You can cook it many ways, and enjoy the meat with several sides.
Check out more delicious crockpot recipes here.
11 Easy Eye of Round Steak Recipes
Love your steak? Enjoy these Easy Eye of Round Steak Recipes for dinner!
Ingredients
1. Sous Vide
2. Slow Cooker Pepper Steak
3. Instant Pot Pho
4. Ham Steak with Honey Mustard Glaze
5. Instant Pot Roast Beef
6. Slow Cooker Roast with Vegetables
7. Swiss Steak
8. Smoked Eye of Round
9. Roast Beef with Gravy
10. Beef Stroganoff
11. Pressure Cooker Barbacoa Beef
Instructions
Scroll up to get a bunch of easy, yummy, and delicious recipes. Don't be afraid to get creative with the ingredients, you might discover a flavor you didn't know you liked.
Get your shopping list going and make sure you've got all the ingredients.
Get cooking and make your next Eye of Round Steak!
Notes
Which one of these recipes was your favorite? Let me know in the comment section or on Pinterest!