Spanish cuisine is one of the richest and most delicious in the world. There's a ton of variation across the whole country, with incredible Spanish desserts spanning the different regions.
For many people, the main draw of Spanish cuisine is the range of delicious savory meals (which are, of course, fantastic). But there's a lot to be said for the realm of Spanish desserts!
Traditional Spanish desserts have made their way into the world, inspiring many fusion recipes. But there's nothing like enjoying a classic, right?
In today's roundup, I'm running through thirty-one absolutely delicious Spanish desserts.
Explore this amazing cuisine dessert first and discover what Spain has to offer to satisfy your sweet tooth!
What is the Most Popular Dessert in Spain?
By far, the most popular dessert in Spain is the iconic flan.
From restaurant menus to family dinner tables, you'll find this typical Spanish dessert cropping up all over the country, especially around the Christmas season!
This is a simple, rich dessert that sets to a wobbly consistency, usually coated in sweet caramel syrup. It's a classic Spanish dessert that everyone should try at least once.
While it's typically enjoyed around the holidays in Spain, you can make flan at any time of the year. It's a great birthday cake or dinner party dessert, especially in the warmer months.
If Spanish flan doesn't sound like your ideal choice, you're in luck. There are plenty of other incredible Spanish dessert recipes to choose from.
Let's review thirty-one other favorite Spanish desserts.
Best Spanish Desserts
Source: dishnthekitchen.com
Also known as 'Tarta de Queso', burnt Basque cheesecake is a rich and rustic delicious dessert that's been caramelized to perfection.
This traditional Spanish dessert is a common find in upscale cafes and on restaurant menus.
The best part? Even though it's super delicious and quite fancy, this cheesecake is simple to make. The Basque cheesecake comes without a crust, so if you're new to baking, this is the recipe for you.
Source: cilantroandcitronella.com
Almond cakes are a staple Spanish dessert! Crumbly, sweet, and light, you can enjoy one of these iconic desserts at any time of the year.
This particular delicious Spanish dessert recipe is vegan, thanks to a clever egg substitute.
This kind of cake is usually served with a sweet liqueur to cap off a dinner with guests, but it's just as at home as a family dessert.
Light, crispy, and easy to make, this is a sponge cake's less temperamental cousin.
You must know these other dairy-free dessert recipes!
Source: keep-calm-and-eat-ice-cream.com
A San Sebastian cheesecake is another name for the Basque burnt cheesecake, and it's worth repeating!
The cool thing about this kind of Spanish cheesecake is that it breaks all the rules for a good reason.
With no crust and a burnt, blackened top, you'd think this baked cheesecake would taste terrible.
But actually, the smoky sweetness and smooth crustless texture of the end result both make it super enjoyable.
Source: thefoodolic.com
In Spanish, this translates to 'Pera's al vino'. Hailing from the Spanish region of Rioja, this typical dessert makes use of rich, deep Spanish red wines.
That's what gives this dessert its iconic appearance. The rich red color and heady fragrance are so delicious, especially following a dinner party.
Best of all, it's easy to whip up a batch of these pears ahead of time and let them sit so you can focus on other things.
Source: fatgirlhedonist.com
Churros are a strong competitor for the most popular desserts in Spain. These Spanish sweet treats are almost on par with Flan! These fried pastries are warm, sugary, and dippable.
In other words, they're everything a donut wishes it were. Sipping on a cup of hot chocolate while munching on a cinnamon churro is the ultimate winter treat.
Luckily, this recipe makes it easy to accomplish!
Source: cookingwithcurls.com
This caramel custard recipe essentially yields mini flans, so your party guests can each enjoy a flan all to themselves.
The iconic texture and taste of this Spanish dish is all you need to make your day great.
Aside from how delicious these are, I love how well they work for dinner parties. You need to prepare the flans ahead of time so they save you a ton of effort and stress on the day.
Source: senseandedibility.com
While miniature flans are great, if you're looking for a showstopper, you can't go past a full-on flan. This gorgeous dessert would be a wonderful centerpiece for any Spanish dinner party.
Flan is a baked custard, meaning it's rich, cooling, and deliciously creamy when you get it right. And since you only need five ingredients to make it, odds are you'll nail it even as a novice baker!
Source: veggieideas.co.uk
In Catalan (and all around Spain), many people enjoy panellets on Dio de Los Muertos, which translates to the "Day of the Dead". This delicious November 1st treat is quite easy to make.
Panellets – or "little bread" – are sweet, chewy, and have a light marzipan flavor. That's what makes these sweet potato cookies so great.
They're a variation of the classic panellet recipe and are so good!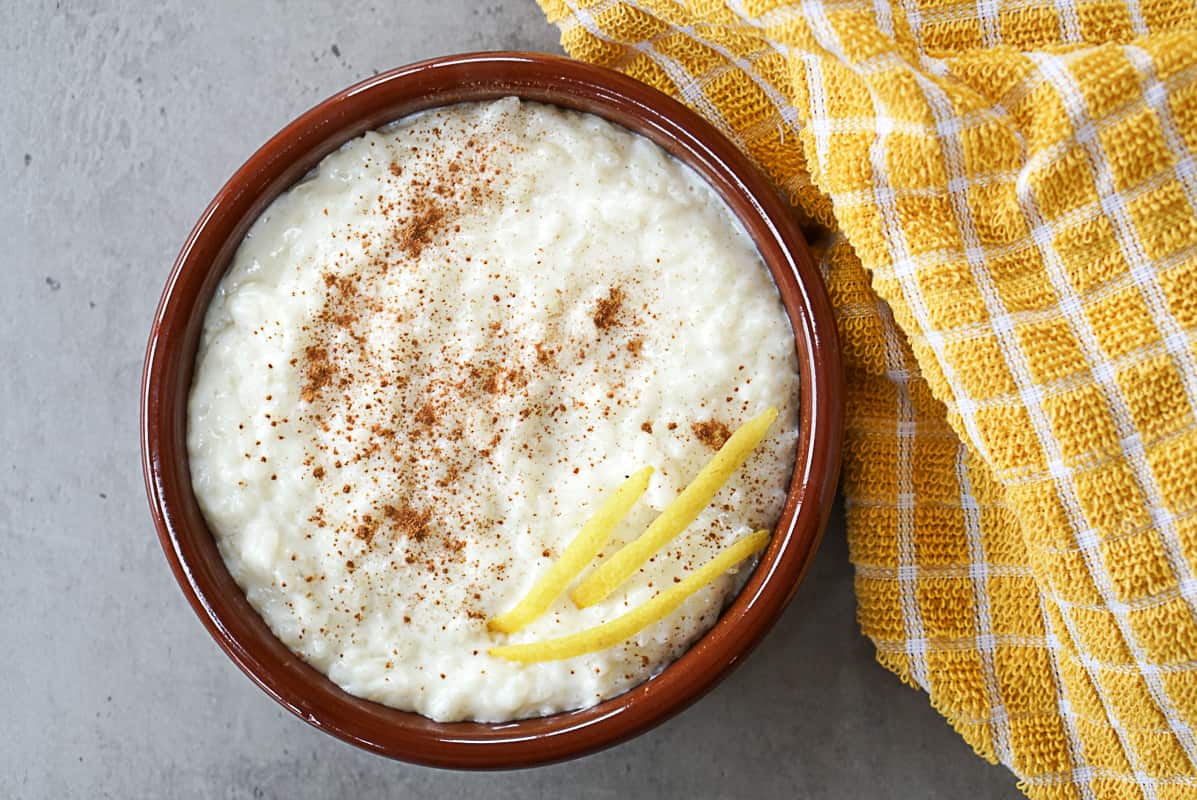 Source: fooddrinkdestinations.com
Translating to 'creamy rice pudding', this arroz con leche recipe is the perfect thing to reach for when you have guests over for dinner.
It's soft, creamy, rich, and super easy to prepare in large quantities.
Sprinkle with a generous dusting of cinnamon to bring out the flavor in this sweet, mellow Spanish rice pudding.
No matter the weather outside, this popular Spanish dessert will be perfectly suited to your occasion.
Source: greedygourmet.com
The word 'bienmesabe' is actually three Spanish words smashed together. 'Bien me sabe' translates to "tastes good to me", and you know what? This dessert really lives up to its name!
This version comes from the Canary Islands, where almonds became a big part of their cuisine thanks to early invasions. The dessert is almost a paste, so you can serve it on something or enjoy it solo.
Source: thethingswellmake.com
This recipe is technically two recipes! Learn to make mantecados and polvorones, which are both Spanish-style holiday cookies known for their crumbliness.
Once again, almonds feature heavily, which is what gives these cookies their signature texture.
That being said, you can alter the recipe to try out lemon, coconut, or even chocolate flavors to find your signature creation.
Source: bakinglikeachef.com
This might technically be a dessert, but these muffins are also at home when paired with a morning cup of coffee. They're also known as magdalenas, and they're absolutely delicious.
Magdalenas are fluffy, warm, delicious lemon muffins that are almost unfairly easy to make. You only need half an hour and a few simple pantry ingredients to make these rich lil' cakes.
Find more cupcake recipes here!
Source: thethingswellmake.com
Spanish Christmas pastries – or "pastissets de Boniato" – are an absolutely delicious Christmas time treat.
Whether you serve them with Christmas dinner or wrap them up as a gift for special occasions, they're so good.
They're also gluten-free, making them a simple and allergy-friendly way to gift your friend group some tasty treats with no stress.
Simple, tasty, and holiday-friendly, what could be better than this perfect dessert?
Source: juliascuisine.com
These are the Mexican equivalent of a donut, but they might honestly have donuts beaten! Buñuelos use baking powder instead of yeast, so they lack the bread-like flavor of donuts.
That makes them light, fluffy, and super crispy. In other words, they're perfect. Coat with your favorite selection of sugar, cinnamon, chocolate, or anything else you like on donuts.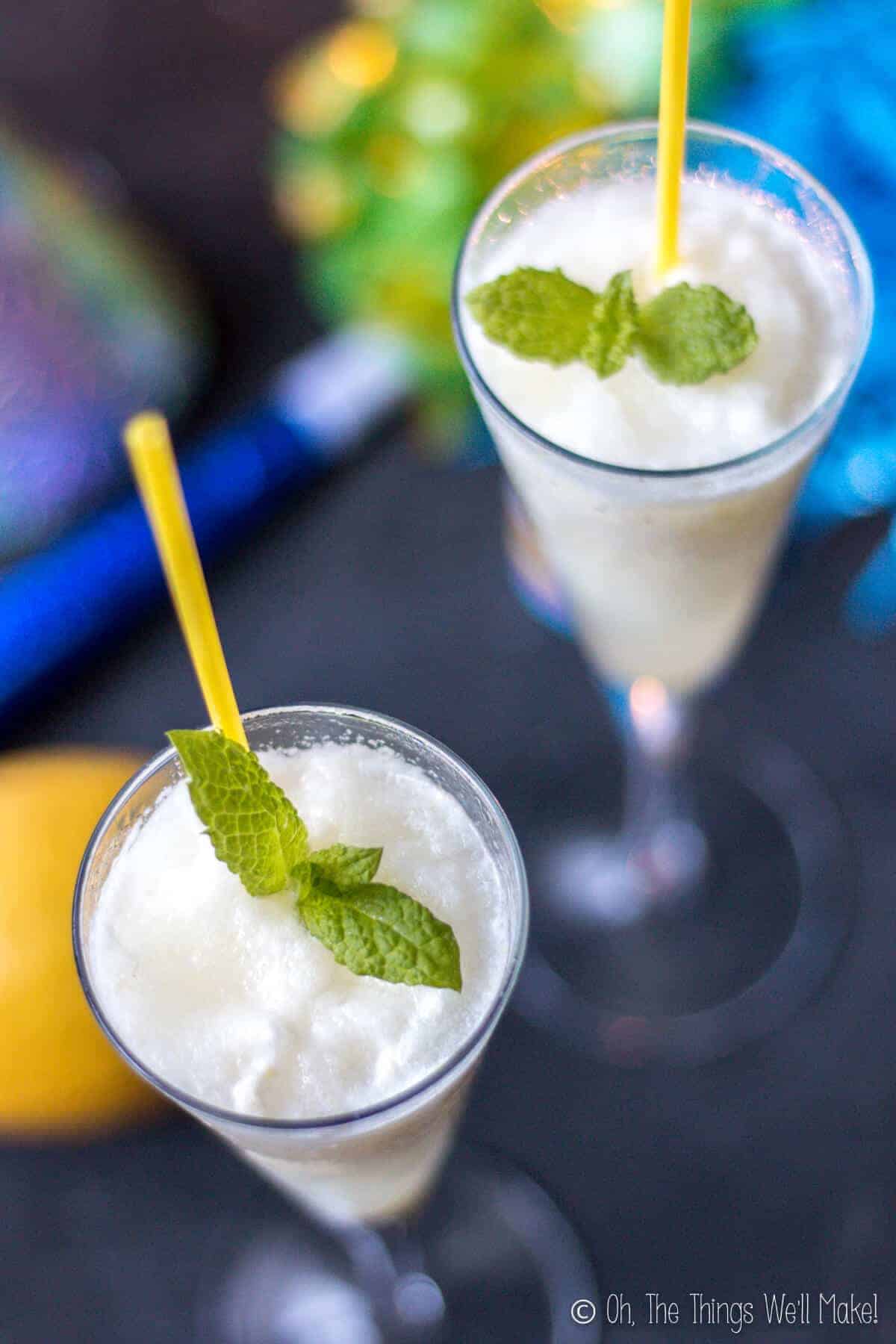 Source: thethingswellmake.com
Sorbete de Limón al Cava is one of Spain's signature desserts, perfectly suited to a high-class gathering in the warmer half of the year. It's refined light and a great way to enjoy something cool.
Best of all, it's so easy to make! You can prepare a big batch of this sorbet ahead of time and leave it resting in the freezer to scoop as needed.
The sorbet is good enough to enjoy alone, but when you prepare it as a cocktail along with the champagne, it takes this dessert to a whole new level.
Source: lemonblossoms.com
Literally translating to 'Catalan cream', this is a Spanish custard dessert that sings with delicate flavors of citrus, cinnamon, and vanilla.
Featuring a crunchy sugar topping, this is like a more rustic version of a crème brulee. Don't be intimidated! This dessert is deceptively easy to make and will absolutely impress your guests.
Source: thethingswellmake.com
Looking for a Spanish-inspired dessert that you can enjoy the day of or wrap up for your guests to take home? This Turrón de Jijona (or soft Spanish almond nougat) is the recipe for you!
You only need 45 minutes and just three ingredients to whip up this super simple dessert. Light and chewy, with an addictive nuttiness in every bite, your guests will fall in love with this in no time.
Source: thepurplepumpkinblog.co.uk
If you're looking to gently dip your toe into the world of Spanish desserts, this recipe is a great place to start. Natillas is a general term in the Spanish-speaking world that refers to custard.
So, this dessert is very similar to English and French custards. This one is baked in the oven to create that iconic velvety texture.
Simple, comforting, and delicious, this is a great place to begin your journey into Spanish cuisine.
Source: thegardeningcook.com
Pestiños is a super popular Spanish cookie typically enjoyed around Christmas or Holy Week, but you can whip them up any time of the year! They're a tradition in Southern Spain.
These crunchy, crumbly, sugar-coated cookies almost look like little envelopes. They're so easy to prepare, featuring a whole host of flavorful ingredients like wine, citrus, spices, and even coconut oil.
Source: allwaysdelicious.com
Also called "Pan de Higo", this Spanish fig cake is the ideal companion for a cheese board. If you want to serve your guests something refined, not too sweet, and delicious, this is the recipe for you.
It looks a little like pumpernickel, thanks to the dense texture. That texture also means this dessert component can last in the fridge for a month (or even longer), so it's great to keep on hand!
Source: juliascuisine.com
Also called 'yogurt cake', this Spanish dessert is exactly what it sounds like. A dense, rich cake somewhat similar to pound cake, this is a staple on Spanish dinner tables.
In fact, this is the perfect slice to serve with a cup of dark coffee or strong tea. Top with some whipped cream and sliced fresh fruit for a summery, addictive cake you can make in no time.
Source: endofthefork.com
As I said, almonds are a common ingredient in Spanish desserts thanks to the country's history. This orange and almond cake is a perfect example of how delicious an almond dessert can be!
The zesty orange syrup is the perfect counterpoint to the dense, nutty cake crumb. This cake is gluten-free, simple to make, and super addictive.
Bought too many oranges? Check out these other best orange desserts!
Source: veganonboard.com
If you're looking for a vegan-friendly Spanish dessert option, look no further. Rice pudding is an ideal starting point for vegan desserts, especially when you lean into Spanish food flavors!
Cinnamon, blood orange, and creamy rice are the perfect pair in this ultra-comforting dessert. I recommend picking coconut milk as your substitute since it produces creamy puddings!
Enjoy these other tasty coconut dessert recipes with a tropical twist!
Source: panningtheglobe.com
Short on time and need a great dessert? These Spanish almond cookies will do the trick! You only need four ingredients and twenty-five minutes to bring these ridiculously tasty cookies to life.
The simple ingredients list and the presence of almond flour make these cookies melt in your mouth. Topped with a single crunchy almond, they look delightfully rustic and have a great crunch.
Source: fooddrinkdestinations.com
Having some guests over for dinner? Give each person their own dessert with this classic Spanish dessert recipe for miniature burnt Basque cheesecakes.
Also called San Sebastian cheesecakes, these creamy baked desserts will have your guests buzzing as soon as they hit the table.
Plus, these Spanish recipes are beginner-friendly, thanks to the lack of a crust in the best way!
These other mini dessert recipes are perfect for dinner parties!
Source: greedygourmet.com
A sopapilla pastry is a simple bread-like puff. Sometimes made with honey or cinnamon, these puffs are a classic comforting dessert in many Spanish-speaking countries.
Well, imagine how good those would be transformed into a cheesecake! That's what this recipe delivers. Every bite of this sopapilla cheesecake echoes the cinnamon-y, flaky, butter-filled pastries.
Source: flavormosaic.com
Looking for something a little more portable? Try these sopapilla cheesecake bars! Topped with a melt-in-your-mouth cinnamon crumble, these Spanish sweets are the ideal picnic dessert.
Prepare the bars ahead of time and blow your family away with the unique crunchy-yet-creamy texture of these bars. Best of all, you can use pre-made dough to take care of the crust.
Source: littlesugarsnaps.com
Keep your after-dinner delights simple and refined with this café con leche. Instead of standard milk, this coffee-based beverage uses condensed milk to sweeten the deal.
With an almost caramel-like taste, this is an adult-friendly way to cap off a dinner party if you're looking for a caffeine kick.
Love a good latte? These decadent coffee dessert recipes are sure to impress you!
Source: spanishsabores.com
If you've never tried a lemon and olive oil cake before, this is your chance to enjoy a really delicious first one. Lemon and olive oil are an iconic savory combination.
Turns out, it's a delicious combination in sweet form, too! Using almond flour for a super light and crumbly texture, this cake is out of this world (and super easy to prepare for novice bakers).
Top this simple dish with some lemon zest and powdered sugar!
Source: dailymail.co.uk
Olive oil doesn't just make lemons sing! Chocolate and olive oil are good friends too, which is why this rich chocolate mousse has found a place on this list.
But hey, don't take my word for it.
Give this recipe a try, and you'll experience how a dash of olive oil can transform simple chocolate mousse into something ultra-decadent (yet somehow easy to make!).
Source: visitsouthernspain.com
Finally, we're finishing our list with another iconic Spanish dessert: the leche frita. This pretty much translates to 'deep fried milk', and it's much easier to make than it sounds.
You only need a handful of ingredients to bring this well-loved dessert to life, including the key ingredient: milk.
Take just an hour out of your day to prepare this comforting dessert, you won't regret it!
Is there a Spanish dessert you just can't get enough of? Let me know in the comments below, or check out my other Dessert recipe roundups for more internationally-inspired cuisine.
31 Popular Spanish Desserts You Need to Try Today
From cheesecake to traditional churros, delight your taste buds with the vibrant flavors of these Spanish desserts.
Ingredients
1. Burnt Basque Cheesecake
2. Spanish Almond Cake
3. San Sebastian Cheesecake
4. Mulled Wine Poached Pears
5. Traditional Churros
6. Caramel Custard
7. Flan
8. Sweet Potato Cookies
9. Creamy Arroz Con Leche
10. Canary Bienmesabe
11. Spanish Christmas Cookies
12. Spanish Muffins
13. Spanish Christmas Pastries
14. Buñuelos
15. Lemon Champagne Sorbet
16. Crema Catalana
17. Soft Spanish Almond Nougat
18. Natillas
19. Pestiños
20. Fig Cake
21. Biscocho de Yogurt
22. Orange and Almond Cake
23. Vegan Rice Pudding
24. Flourless Almond Cookies
25. Mini Burnt Cheesecake
26. Sopapilla Cheesecake
27. Sopapilla Cheesecake Bars
28. Spanish Latte
29. Lemon Olive Oil Cake
30. Chocolate Olive Oil Mousse
31. Leche Frita
Instructions
Scroll up to get a bunch of easy, yummy, and delicious recipes. Don't be afraid to get creative with the ingredients, you might discover a flavor you didn't know you liked.
Get your shopping list going and make sure you've got all the ingredients.
Get cooking and make your next Spanish Desserts!
Notes
Which one of these recipes was your favorite? Let me know in the comment section or on Pinterest!