Looking for the perfect desserts you can share? These mini dessert recipes are easy to make and taste so delicious.
I guess it's true what they say: good things come in small packages. In this case, that couldn't be more true.
Miniature desserts have all the delicious taste of their larger counterparts but are condensed into smaller portions to satisfy your sweet tooth. That means more bang for your buck and your taste buds!
If you're looking for an impactful, delightful treat to serve at your next dinner party, picnic, or potluck, you're in luck. This list has forty-one mini dessert recipes for you to try out.
What's the Most Famous Dessert in the World?
It's hard to pinpoint what the most famous dessert in the world is. Some sources say it's crème Brulee, a delicious custard dessert with a blown sugar top conceived in France.
Others say it's mochi, a soft glutinous rice dough surrounding a sweet paste filling. It was initially created in China but these sweet treats have become popularly associated with Japanese cuisine.
The real takeaway is that good dessert are well thought-out, play with various textures. And not too sweet to avoid overwhelming the eater.
Roll through these forty-one miniature dessert recipes to discover which one is about to become famous in your neighborhood.
Mini Chocolate Desserts
Let's start with the most indulgent of our ingredients in the best mini desserts: chocolate. With such a versatile and delicious main ingredient.
There are many potential avenues to take toward the perfect miniature dessert.
Here are just a few!
Source: allnutritious.com
First on the docket is a fantastic dessert recipe of my creation because I believe everyone should be able to enjoy adorable mini desserts! These are paleo, gluten-free, and vegetarian chocolate chip cookies, perfect for a dessert table for special occasions.
These cookies are delightfully soft and not too sweet. So, they're perfect for enjoying a cup of coffee or orange juice in the morning.
Source: lifecurrentsblog.com
Next up, we have an incredibly silken vegan chocolate mousse that you can prepare in five minutes that chocolate lovers will dream about. Topped with fresh berries and a spring-like sprig of mint, these are perfect for your next party, baby shower, or bridal shower.
In fact, the most challenging part might be waiting for these little beauties to set in the fridge. The secret to achieving these tremendous little chocolate cups is coconut.
Both the milk and oil help achieve a fantastic texture with the melted chocolate.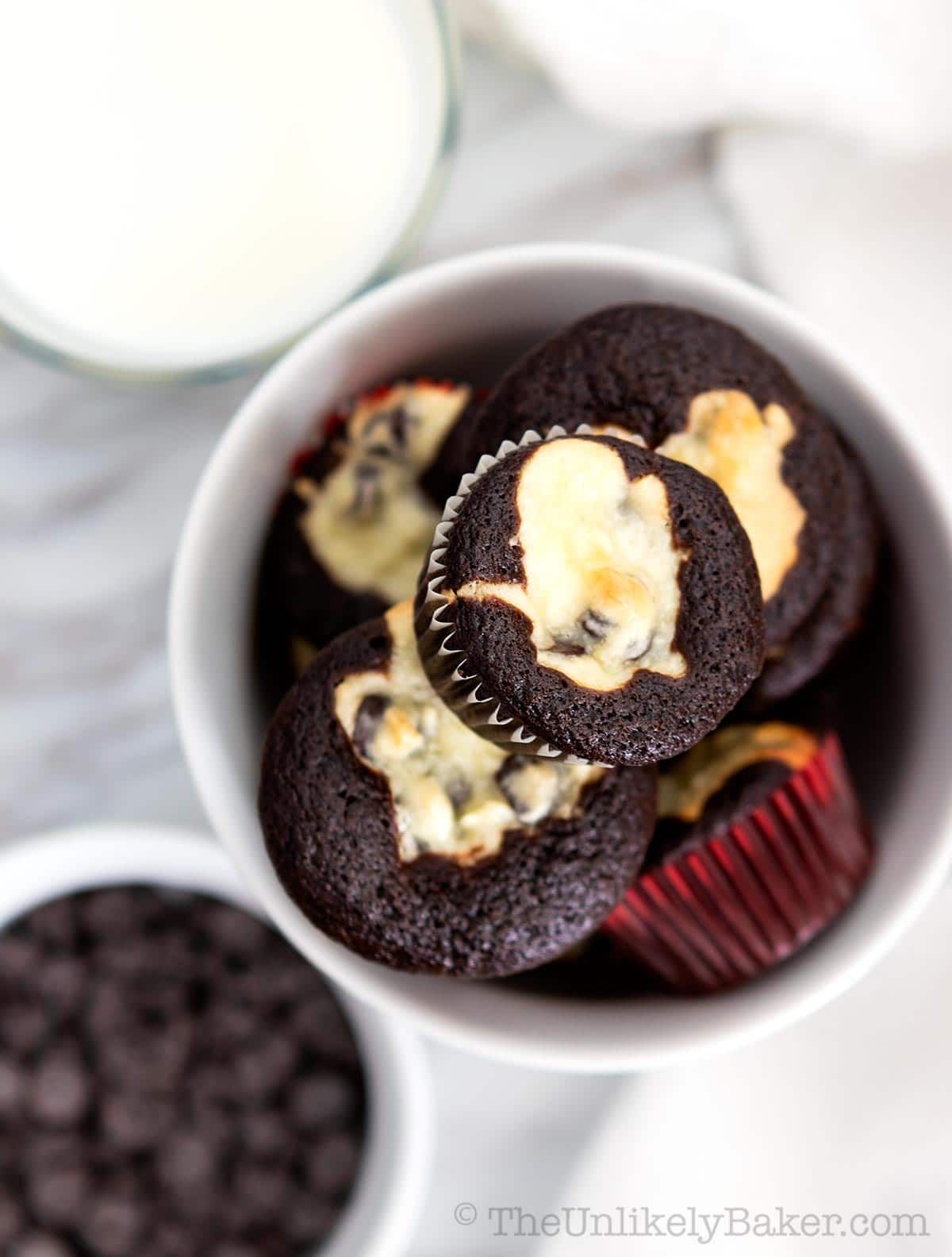 Source: theunlikelybaker.com
If you've never encountered it, a black-bottom cupcake is a rich dark cupcake with a baked cream cheese filling. It's sure to become one of your favorite mini desserts.
The cake's dark, sinful, rich flavor is cut beautifully by the cream cheese.
Not only does the miniature version taste amazing, but they also look stunning! That black and white marbling effect makes the mouth water as soon as you glimpse them.
Plus, they're so easy to make!
Source: mightymrs.com
There's almost nothing more luxurious in this world than a chocolate lava cake with a sumptuous liquid center. These are so insanely ooey gooey, with Nutella just pooling out of the center.
You might think these are tough to create, given how amazing they are, but they're pretty simple! Whip these out when searching for an impressive dish that costs little effort.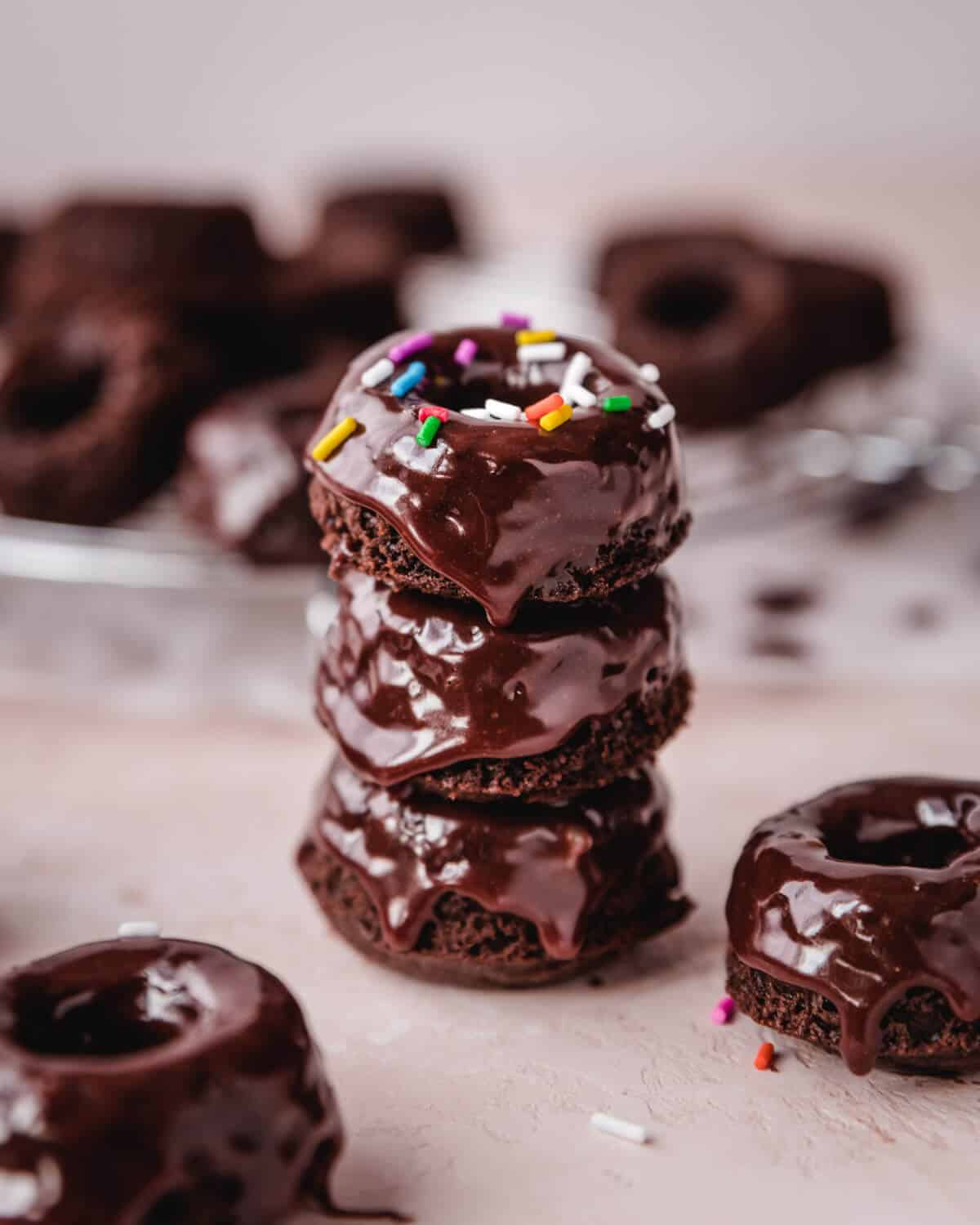 Source: kickassbaker.com
The only thing that could make donuts any better would be to condense all that flavor and texture into a single bite… and someone did it.
These scrumptious chocolate mini donuts are completed with a shiny chocolate glaze that kicks them up a few thousand notches.
These are tiny little texture and flavor bombs with the crunch from a generous handful of sprinkles.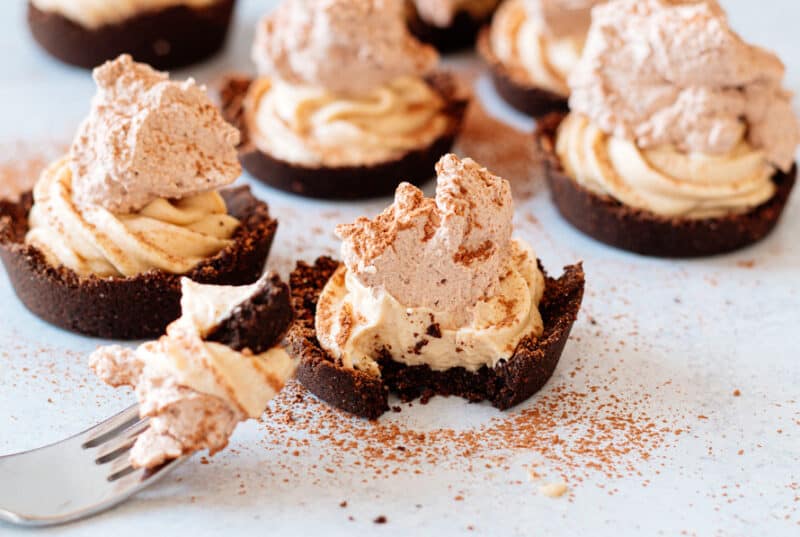 Source: thehowtohome.com
Chocolate and peanut butter are a match made in heaven; it has to be said. These chocolate peanut butter pies capitalize on that combination, creating a light whipped peanut butter filling.
A dark, crumbly chocolate pastry grounds that filling. When melded into a single bite, these two flavors balance one another, creating an utterly addictive dessert you can't put down.
Let's just say it's a good thing these are miniature because you can't stop until you've finished the whole thing.
No Bake Mini Desserts
Don't feel like turning the oven on? You aren't alone! There are plenty of people out there who love a chilled no-bake dessert.
They're great for summer or for taking on trips without a heat source.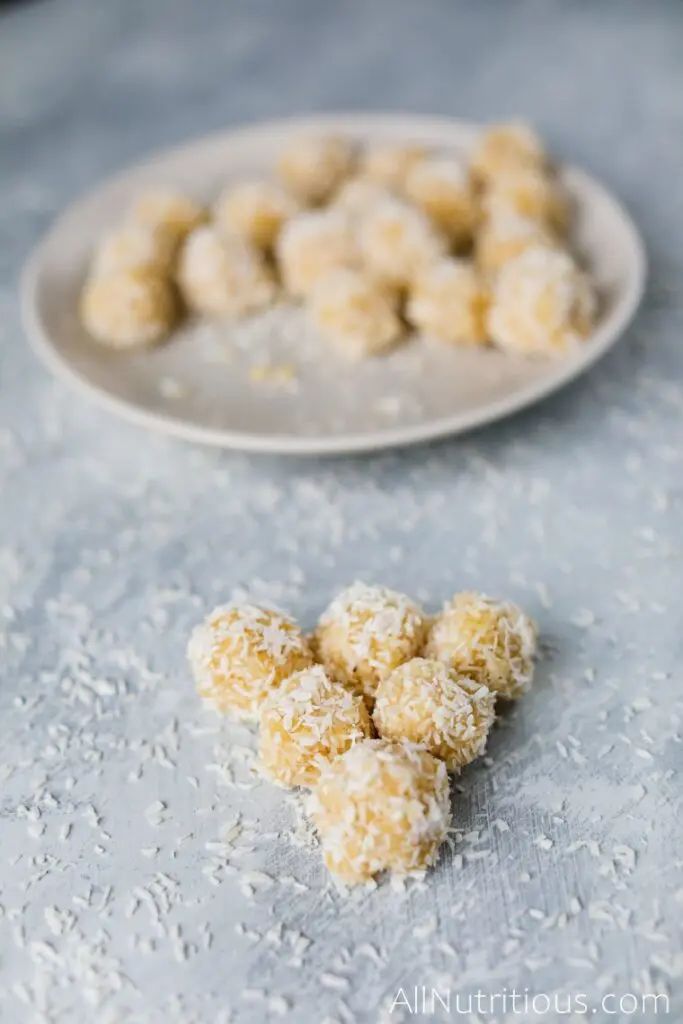 Source: allnutritious.com
Let's kick off our no-bake line-up with one of the most classic oven-free desserts: coconut protein balls. This is a personal favorite, so I created a recipe of my own.
If you've ever had a Rafaello chocolate, that's what these protein balls remind me of! They're covered in desiccated coconut and packed with sweet, smooth coconut flavor.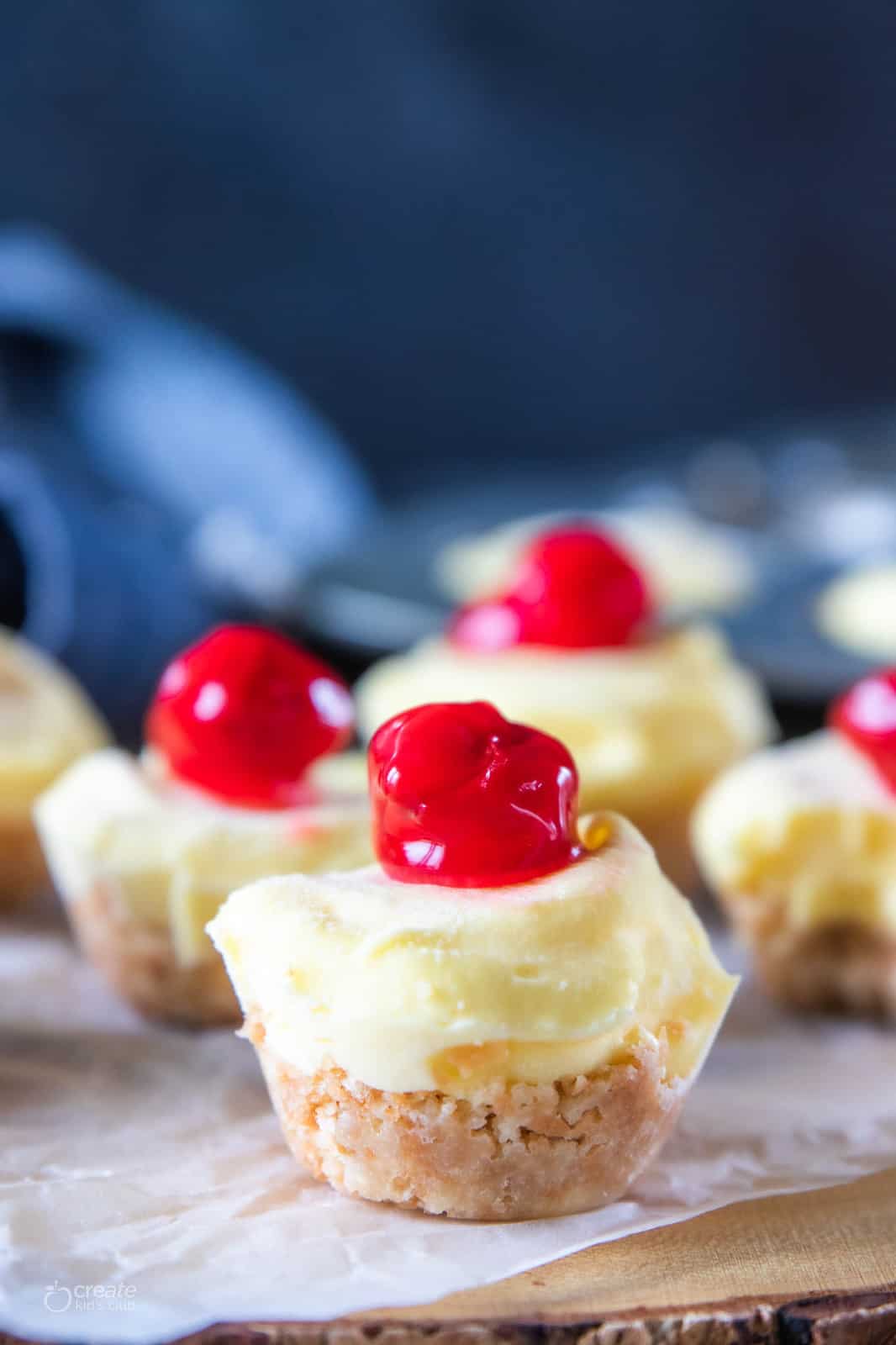 Source: createkidsclub.com
With just six ingredients, you can have mini cheesecake bites waiting in your freezer whenever those sweet cravings strike. Bursting with the flavor of fresh cherries, these are summer in a pastry.
If you want to be extra creative, add a splash of lemon juice to the cream cheese to contrast against that maraschino cherry. With no baking required, these take virtually no prep time; just let them set!
Source: lazy-girl.tips
If you're living the keto lifestyle, you deserve some delicious cheesecake action too! That's where this scrumptious chocolate cheesecake recipe comes in.
Topped with some fresh blueberries and slivered almonds as flavor accents, this is a stunning recipe with a lot to offer. The best part is that it comes together barely at any time!
Source: whatagirleats.com
If you're on the hunt for a straightforward dessert, the lemon posset is what you need. This dessert hails from ye olden days when it was made by incorporating sugar, ale, and cream and setting it.
That's it, just those three ingredients. These days, lemon is a more common choice than ale or wine. The cream and lemon juice reaction allows the dessert to set into a silken texture.
Source: beplantwell.com
Chocolate truffles are a fantastic no-bake dessert, especially if you're after a gift-friendly dessert. These come together in no time and keep very well in an air-tight container.
Make a huge batch and take it along to your next family gathering, or wrap them up in a box to gift a loved one. They're also vegan, so they're perfect for the chocolate-loving vegan in your life!
Source: veganhuggs.com
Speaking of vegan desserts, these mocha cheesecake bites are also in that category. You might not believe it at first glance, but these sumptuous mini-layered desserts don't contain an ounce of dairy.
These cheesecake bites are a showstopper, featuring three distinct layers with a topper to finish. The color palette, flavors, and texture combine to make these utterly drool-worthy.
Source: thishealthytable.com
Our final no-bake dessert knows how to utilize fresh fruit's natural sweetness combined with dark chocolate's gorgeous resonance.
The pomegranate seeds burst in your mouth as you bite down, while the smooth dark chocolate offers a delicious contrast that keeps you coming back. These are insanely easy and delicious.
Mini Easy Desserts
If you're looking to get to the tasty part of your meal quickly, you might not want to spend hours in the kitchen. That's where these super simple easy recipes for mini desserts come in!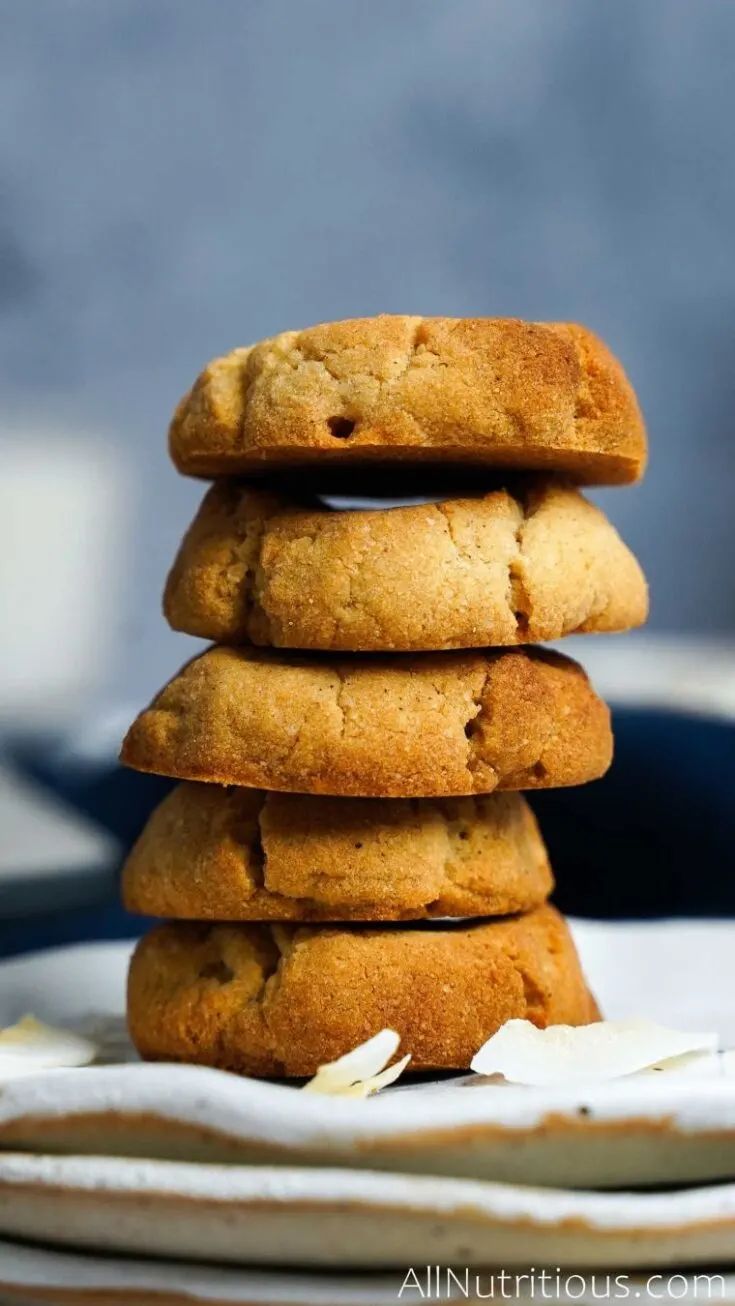 Source: allnutritious.com
The first of the easy desserts is my go-to recipe when I need something quick, simple, and delicious. These coconut flour protein cookies taste as good as they look and are suitable for you!
Packed with protein and a generous dash of coconut flavor. These mini cookies are robust enough to take with you on a picnic and keep you full long enough to get to dinner.
Source: twokidsandacoupon.com
The only thing better than a Reese's peanut butter cup is a Reese's peanut butter cup on top of a peanut butter pie. These are perfect as a potluck offering as these mini pies are indulgent and portable and use simple ingredients.
Thanks to the orange and brown color scheme, they're also perfect for whipping out around Halloween!
They're delightfully cool and smooth, so they're the perfect dessert for enjoying on hot summer days.
Source: inthekidskitchen.com
Whether you're lactose intolerant or just a big coconut fan, these fluffy coconut puddings are the ticket on a hot summer day.
These little desserts are insanely easy and delicious, so they're perfect for a quick after-lunch dessert and great for family gatherings.
Prepare them in advance and whip them out of the fridge to enjoy when the sun is highest in the sky.
Source: thefoodblog.net
Chocolate and berry historically pair very well together, which is why these chocolate berry cups are the perfect mini dessert! This delicious recipe is the perfect Valentine's Day treats for your significant other.
The combination of solid chocolate and fresh berries is a beautiful contrast. Each bite produces a burst of berry juice alongside creamy chocolate that's utterly addictive.
Need more inspiration? Check out these authentic German desserts!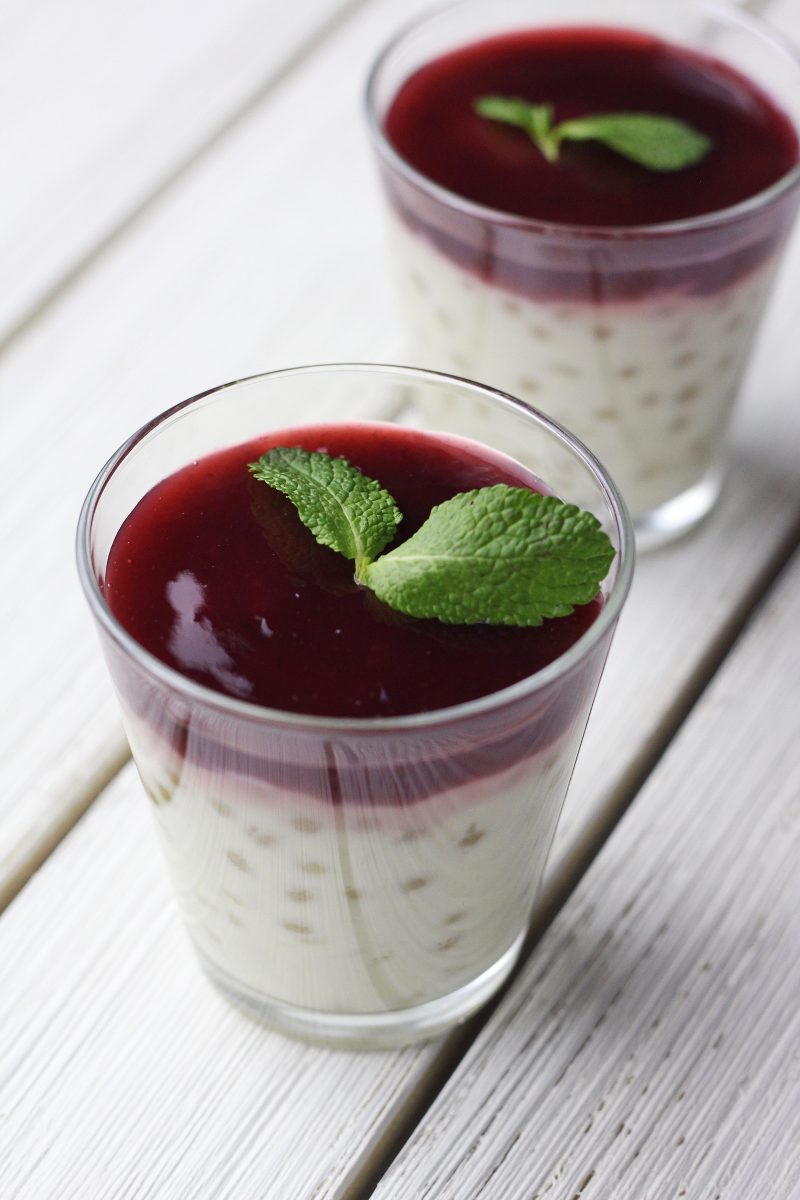 Source: coupleeatsfood.com
Speaking of berries, our next dessert is a refined no-bake dessert that fuses Asian and Western influences. The sweet and tart raspberry sauce is the perfect accent to creamy coconut pudding.
If you're looking for a unique twist on your next festive dessert, this is the recipe to turn to!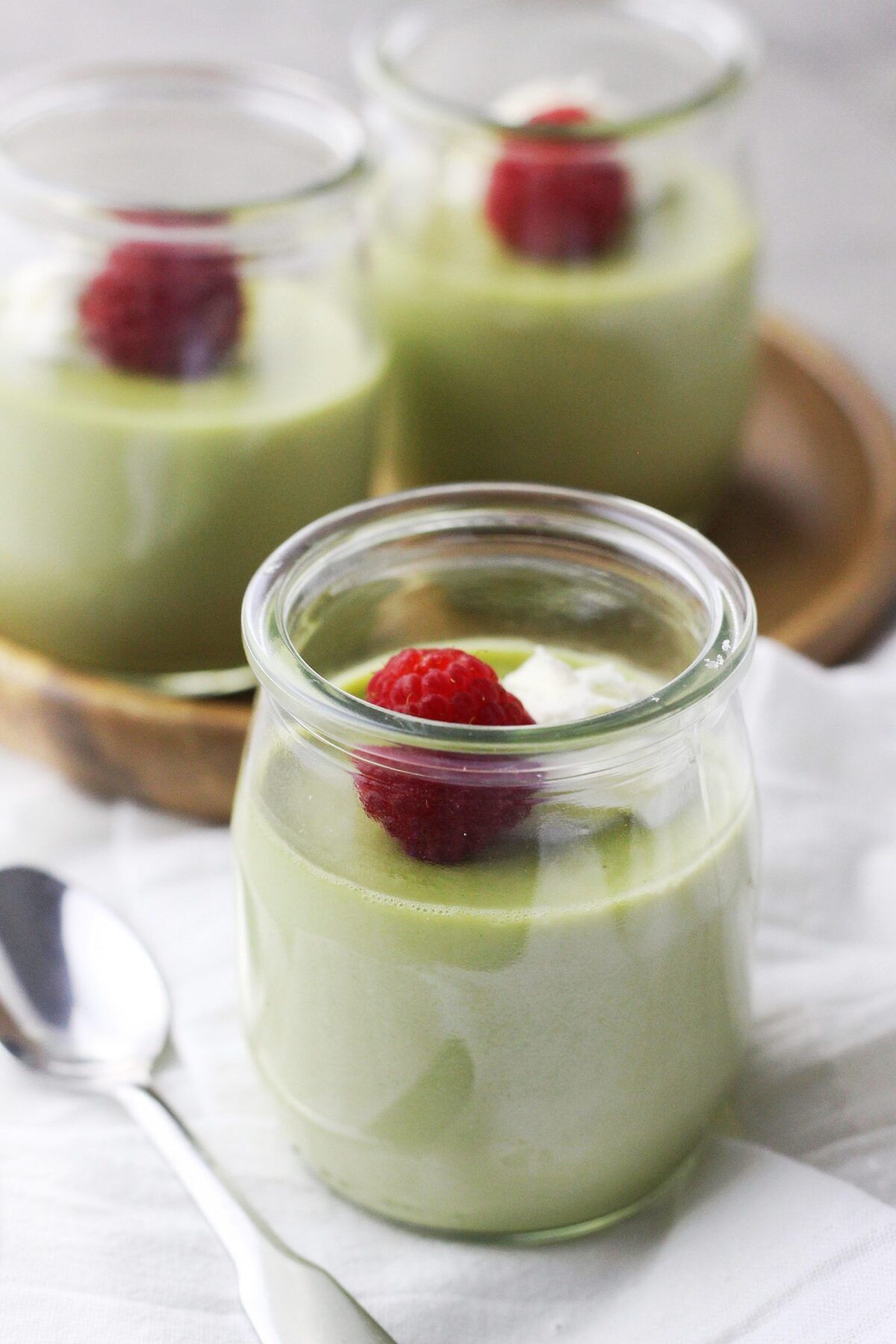 Source: coupleeatsfood.com
Matcha is a pillar in the dessert world, offering an earthy diversion from the usual sweet and indulgent dessert ingredients. The vibrant green powder adds depth to any dessert it touches.
That's why this incredible matcha green tea panna cotta will impress anyone to whom you serve it!
Mini Party Desserts
End your party with a bang thanks to these little parcels of joy and delight. These party desserts are designed to be eaten on the go while your guests mingle and enjoy the festivities.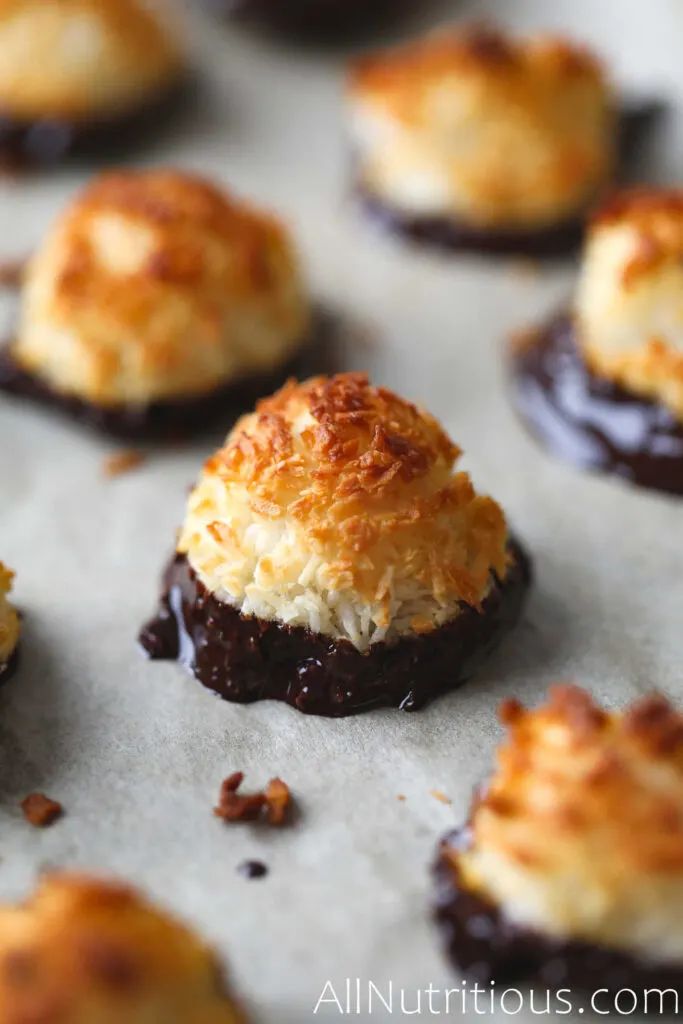 Source: allnutritious.com
Kicking off our party line-up is a recipe of my design, my coconut macaroons! These are the ideal party finger food, offering a delightfully sweet and chewy way to end a good party.
These are so easy that anyone can make them. Best of all, the ingredients are cheap, so that you can make a lot at once!
Source: pressurecookingtoday.com
Did you know you could make cheesecakes in your Instant Pot? Using an egg bite tray and a little ingenuity, you can have these ultra-creamy cheesecake bites gracing your table in no time.
Each bite is a little piece of heaven, with a creamy texture and crumbly base that contrast against each other wonderfully.
Source: beyondthechickencoop.com
Have you ever wished to eat lemon curd straight out of the jar? I certainly have, and these desserts bring us one step closer to that noble goal.
Topped with a single fresh raspberry, these tarts are a vibrant reminder of all the fantastic flavors seasonal fruit offers.
Source: mindeescookingobsession.com
Mini eclairs have a reputation for being difficult to create, but this recipe breaks it down super simply. Once you get the hang of that choux pastry, you're golden!
Plus, the effort is worth it to watch your party guests' eyes widen as you present them with a tray full of perfect little eclairs.
Source: partylicious.net
Add a touch of class to your party with these delicate and beautifully-presented mini fruit tarts. This ideal summer dessert is filled with a lush custard and adorned with jewels of fresh fruit.
They're small enough to be eaten by hand if necessary, but these tarts suit more of a brunch or tea party.
Source: joyfilledeats.com
Embrace luxury itself with these browned butter caramel donuts. Even as they sit on the plate, that glaze's color whispers a dark sweetness you can't wait to try.
Trust me; you'll want to keep that browned butter caramel recipe in your back pocket. It comes in handy whenever you need a last-minute dessert recipe with nothing in the house!
Fall Mini Desserts
Embrace all the flavors of fall with these delicious miniature desserts. From pumpkin spice to apple pies, there's something for everyone to enjoy as the leaves change their colors.
Source: ourwabisabilife.com
The first recipe in our fall category isn't just incredibly delicious; it also somehow manages to be healthy. With the recipe's natural sugars in pumpkin and a helping hand, you get magic!
Instead of cream cheese, the recipe calls for Greek yogurt to keep the sugar light. As a side effect, this is a sophisticated dish that doesn't tread too far into the sweet territory.
Check out more popular fall desserts here.
Source: mykitchenlove.com
Apple pies aren't a hallmark of American cuisine for just any reason. Apple pie is a staple of the fall experience, just bursting with autumnal spice and the aroma of fresh fruit to boot.
If you don't want to spend time creating an entire apple pie, these miniature versions are a simple substitute. They're also very helpful for portion control.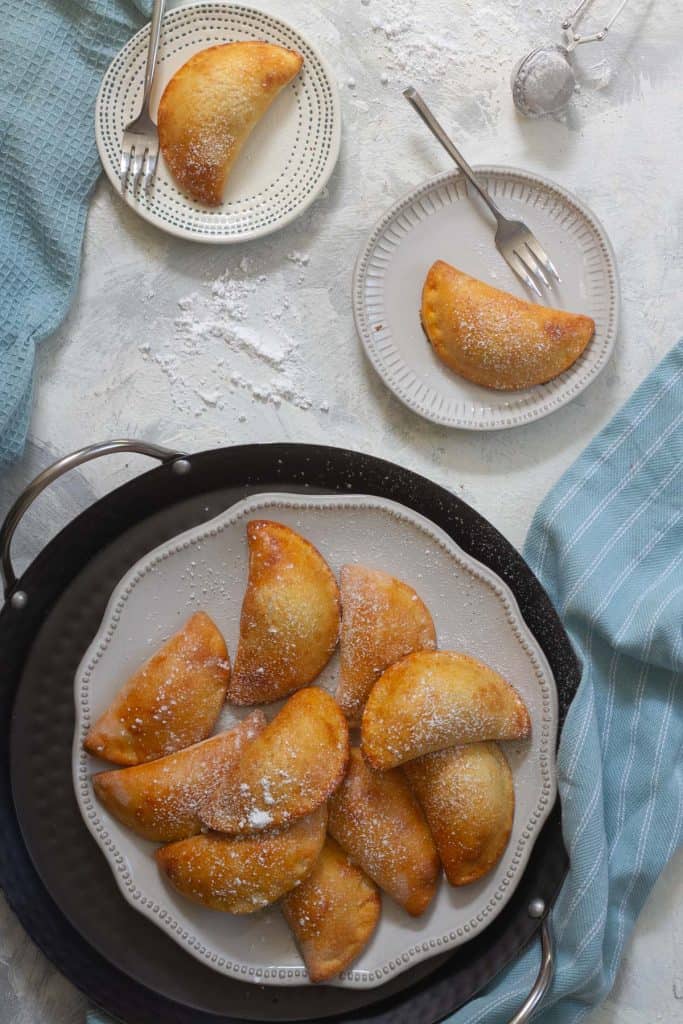 Source: champagne-tastes.com
Empanadas are a traditional Mexican dessert featuring a delicious pastry encasing whichever filling the recipe calls for. In this case, that filling is sweetened pumpkin!
This exceptionally comforting dessert is perfect for taking on the go. Each empanada is its own unit, requiring no extra sauces or storage, so it's ideal for picnics or road trips.
Source: thezhush.com
Similarly, these apple hand pieces cram all the best parts of an apple pie into an easily-portable package.
The aroma of cinnamon and brown sugar wafting off these beauties is enough to bring anyone to their knees. Pack these up for the road, or bring them out to cap off a tasteful brunch.
Source: loveandotherspices.com
With a name like "Fat Bombs," you might not expect a dessert as incredibly appetizing as these pumpkin cheesecake bites.
Their name comes from the keto lifestyle, implying a lack of carbs in favor of a little more fat in the recipe. But that's not the important part. The flavor is out of this world. You have to try them to see!
Source: likehotketo.com
Take your favorite pumpkin pie to a new level by removing much size and adding much protein. These bites have an entire pie's worth of flavor condensed into each one.
When you feel the first hint of a fall breeze come through, it's time to whip these babies out. They keep well, look amazing, and they're perfect for satisfying any last-minute sugar cravings.
Mini Thanksgiving Desserts
Thanksgiving is all about gathering your family to celebrate the passing of another year and the first signs of the holiday season. So, what better time to ply everyone with min desserts?
Source: bellyfull.net
Everyone knows the struggle of fighting for your own serving of pie at Thanksgiving dinner. Well, that fight is no more, thanks to these individually-portioned pumpkin pies.
These are so perfect you might think they'd jumped straight out of the Thanksgiving issue of your favorite food magazine.
But the truth is, they're simple to make so that you won't be overwhelmed by tasks on the big day.
Source: savoryexperiments.com
Similarly, these pecan pies are the perfect way to ensure everyone gets a serving of pie on Thanksgiving day. Drizzled with dark chocolate, these treacly tarts are the ideal holiday dessert.
These are great for sending around on trays if you're having a large party. Thanks to their size, guests can easily pick them up and pop them in their mouths in a single bite.
Source: noshingwiththenolands.com
Temper the tart sweetness of key lime with a generous dollop of creamy mascarpone. If you're stuck for a Thanksgiving dessert, these quick and easy pies are the perfect place to turn.
Not only do they taste delicious, but they're also gorgeous. That's what makes them so appetizing even after an entire Thanksgiving meal!
Source: cookingjourneyblog.com
Put a spin on the classic holiday trifle with everyone's favorite autumnal vegetable: the pumpkin! This rustic recipe capitalizes on pumpkin's natural sweetness, creating a well-balanced dessert.
Each trifle is just enough for one serving, and the individual layers look gorgeous in the glass. This approach would work well with other trifle ingredients, so feel free to customize at will!
Source: joyfilledeats.com
Our final Thanksgiving recipe celebrates the smooth texture of roasted pumpkin by incorporating it into a creamy cheesecake. These baked cheesecakes are so quick, easy, and delicious!
Top with a generous dollop of whipped cream and a sprinkle of cinnamon to complete the dessert. Despite their full bellies, your guests will be clamoring for one of these.
Mini Christmas Desserts
Ring in the holiday season with these stunning mini desserts. Let them adorn your table, sit on your mantelpiece, or even take up an honored spot beneath the tree as a gift to a loved one.
Source: moneywisemoms.com
Whether you're giving them as gifts or hanging them on your Christmas tree, having good gingerbread at Christmastime is essential. That's why I love this recipe so much.
It opens the door to delicious, easy bite-sized gingerbread cookies perfect for handing out on the big day.
Find out more low calorie cookie recipes here.
Source: mommalew.com
Sidestep the pain and anguish of making your own Christmas pudding and enjoy these delightful mini Bundt cakes instead!
They're piped with an adorable pattern meant to resemble Christmas puddings, and the dark sweetness in each cake is a perfect reflection of those flavors. Give them a try; you won't regret it!
Source: scotchandscones.com
Another alternative to the time-intensive Christmas pudding is these British-born sticky toffee puddings. Dripping with treacly sauce, every bite is another step through Heaven's gates.
Despite their intense flavor, these puddings won't consume much of your time or energy, leaving you to get on with the Christmas festivities.
Source: flavormosaic.com
Lean into the festivities with these seasonally-appropriate cheesecake bites! These are perfect party favors, giving everyone a small sweet treat following the big Christmas meal.
The real triumph of these bites lies in their gingerbread crust, which is so easy to make and absolutely to die for.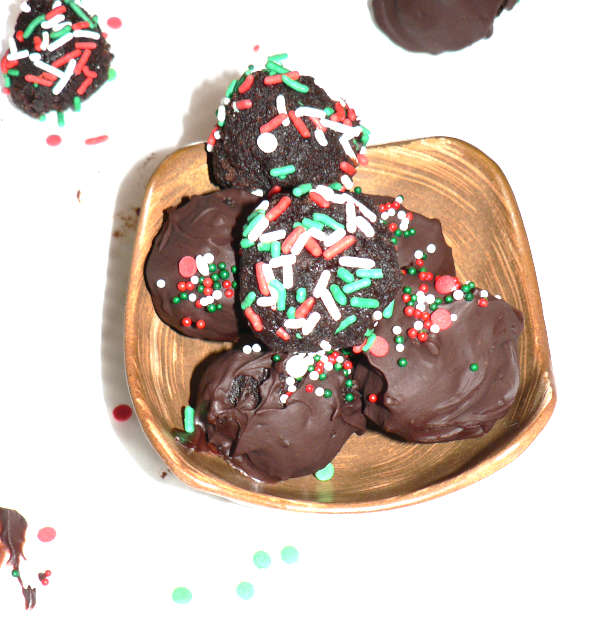 Source: tastygalaxy.com
Whether you have some leftover cake or are simply in love with cake balls, this recipe is a great way to get in the Christmas spirit!
These are soft, chewy, and full of deliciously dark chocolate flavor. Serve with a cup of coffee or wrap in cellophane to leave in your loved ones' stockings on Christmas morning.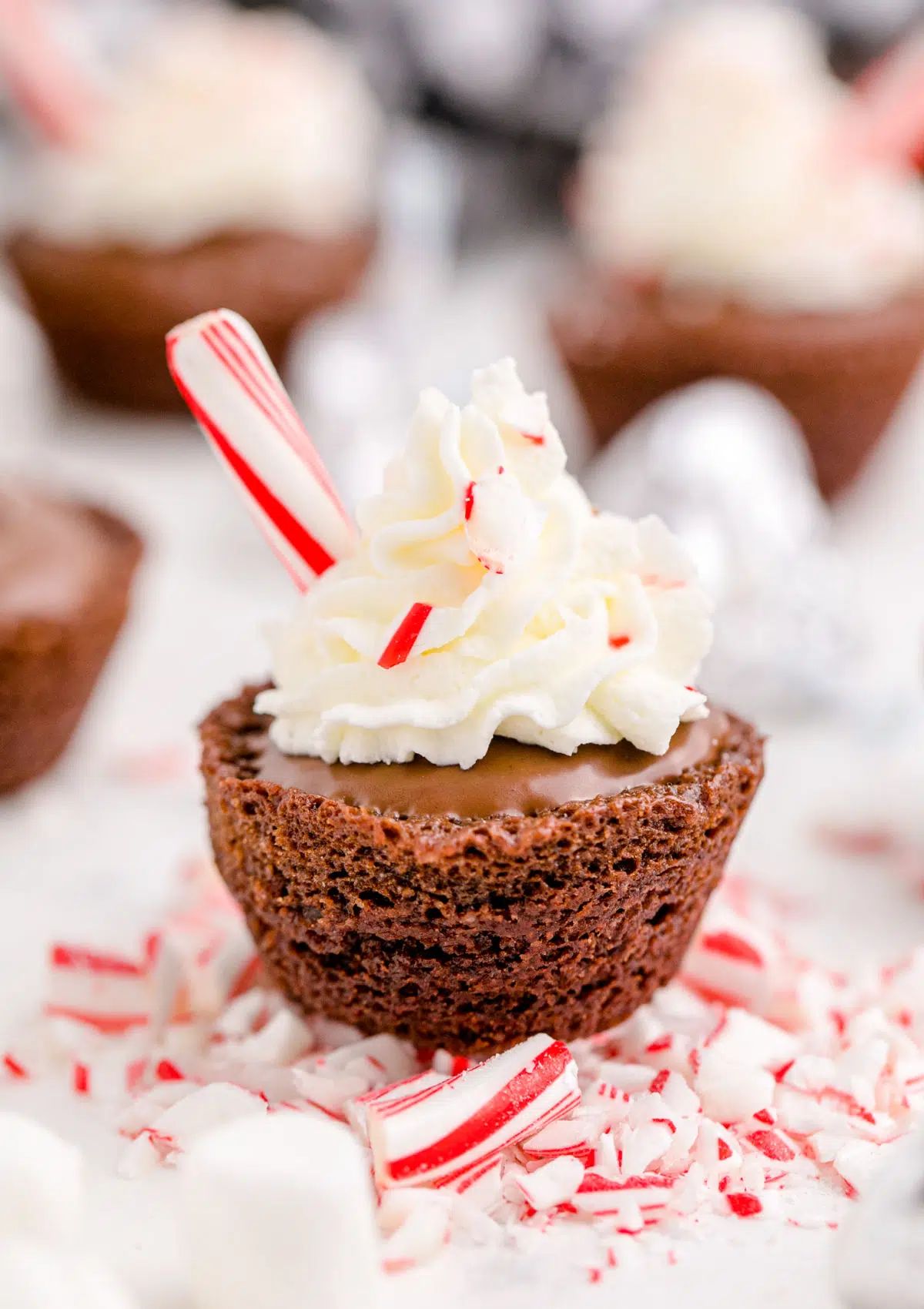 Source: thecaglediaries.com
Our final recipe celebrates one of winter's best parts of Christmas: the warming hot chocolate. These brownie bites are the perfect way to pay homage to everyone's favorite Christmas beverage.
They even have adorable little peppermint straws crafted from candy canes!
42 Best Mini Desserts That are Absolutely Adorable
Yield:
8-14 mini desserts
Looking for fun dessert ideas? Satisfy your sweet tooth with these mini dessert recipes that are sure to please a crowd!
Ingredients
1. Chocolate Chip Cookies
2. Chocolate Mousse Cups
3. Black Bottom Cupcakes
4. Chocolate Nutella Lava Cake
5. Chocolate Mini Donuts
6. Chocolate Peanut Butter Pies
7. Coconut Protein Balls
8. Frozen Cheesecake Bites
9. Chocolate Cheesecake
10. Lemon Posset
11. Chocolate Truffles
12. Mocha Cheesecake Bites
13. Pomegranate Dark Chocolate Bites
14. Coconut Flour Protein Cookies
15. Mini Reese's Peanut Butter Pie
16. Coconut Pudding
17. Chocolate Berry Cups
18. Coconut Raspberry Tapioca Pudding
19. Matcha Green Tea Panna Cotta
20. Coconut Macaroons
21. Instant Pot Cheesecake Bites
22. Lemon Curd Tartlets
23. Mini Eclairs
24. Mini Fruit Tarts
25. Browned Butter Caramel Donuts
26. Pumpkin Cheesecake Bites
27. Apple Pies
28. Pumpkin Empanadas
29. Apple Hand Pies
30. Pumpkin Cheesecake Fat Bombs
31. Pumpkin Pie Protein Bites
32. Pumpkin Pies
33. Pecan Pie
34. Mascarpone Key Lime Pie
35. Pumpkin Trifle
36. Pumpkin Cheesecake
37. Gingerbread
38. Bundt Cake
39. Sticky Toffee Pudding
40. Gingerbread Cheesecake Bites
41. Christmas Cake Balls
42. Hot Chocolate Brownie Bites
Instructions
Scroll up to get a bunch of easy, yummy, and delicious recipes. Don't be afraid to get creative with the ingredients, you might discover a flavor you didn't know you liked.
Get your shopping list going and make sure you've got all the ingredients.
Get cooking and make your next Mini Dessert!
Notes
Which one of these recipes was your favorite? Let me know in the comment section or on Pinterest!