Cupcakes are some of the best of the baking world. Small, flavorful, and easy to decorate, these best cupcake recipes are ideal to take along to everything from potlucks to birthday parties.
Whether you're short on time or short on ingredients, you're guaranteed to find a cupcake recipe that will do in a pinch.
But what about the best of the best? The cream of the crop? If you're looking to bring your cupcake A-game, I've got sixty-one recipes for fluffy cupcakes here for you to choose from.
But first, let's break down some essential cupcake knowledge.
What is the Secret to Super Moist Cupcakes?
The truth is, ensuring your cupcakes come out super moist and delicious doesn't come down to a single factor. There are a few things that contribute to nailing your batter! Let's review.
Take it gently. Overmixing your batter will collapse the little bubbles that form in there, leading to a dense cake that dries out in the oven. Since cupcakes are small and bake quickly, this is twice as important, so go gently!
Use high-quality dairy (or substitutes). The quality of your wet ingredients will go a long way toward determining how moist your cupcakes become. Higher cream content from products like yogurt, sour cream, or buttermilk is guaranteed to provide more moisture.
Store them properly. If you're making your cupcakes ahead of time, don't refrigerate them! The secret is to store them wrapped in plastic, unfrosted, and at room temperature. Then, frost them right before you're about to serve them for maximum impact and moisture.
Use the touch test. Traditional baking techniques tell us to use a toothpick to check the center is done. But that can let air into the center of the cupcake. Instead, gently touch the top of your cupcakes and watch for the bounce back to see if they're done!
What Makes Cupcakes Fluffy?
Keeping your cupcakes fluffy is one of the ultimate tests a baker faces. These small cakes are prone to collapsing or becoming too dense.
Even though cupcakes are fairly simple to make, you can ensure they're absolutely perfect by paying attention to a few different things:
Use high-quality flour and rising agents. Whether you're using self-raising flour, baking powder, baking soda, or something else to fluff up your cakes, make sure it's tip-top quality!
Use room-temperature eggs. Cold eggs impact the other ingredients, leading to denser cupcakes that aren't able to fluff up in the oven.
Don't overfill your cupcake tin. Shoot for ¾ of the way full to give the cupcakes plenty of space to rise without overflowing. Think of the perfect cupcake dome-like surface tension. If it overflows and spreads across the pan, that dome disappears, and all the air rushes out of the cake.
Now that you know some of the essential secrets of cupcake making, let's review these recipes! Here are sixty-one delicious takes on cupcakes to suit any occasion.
Grab a large bowl and cupcake liners, and let's get baking!
Easy Cupcake Recipes
We're kicking things off with simple cupcake recipes! These are the quickest and easiest recipes on the list, the ones to reach for when you need something tasty last-minute.
Are kids coming to you with a bake sale? Birthday party tomorrow that you ran out of time to prepare for? No problem, these best cupcakes have got your back.
Source: beyondfrosting.com
We begin our list by combining two of the most delicious sweet snacks on the block: cupcakes and chocolate chip cookies. There's something super-indulgent about these!
Even though they seem really fancy, these cupcakes are really easy to make. Even if you're new to baking, you'll be able to nail these in no time.
Source: cookingschooldropout.com
Simple, straightforward, and full of summery flavor, these orange cupcakes are a treat! This is a basic recipe that you can customize to create your own signature take.
The sweet, balanced flavor of orange throughout the cake is so good. This is a recipe you definitely need under your belt.
Source: fatdadfoodie.com
Have you ever heard of a poke cake? It's a cake that has holes poked in the top of it, allowing you to pour Jello over the cake, set it, and enjoy delicious set jello on the inside of the cake.
Well, this is the cupcake version! These 4th of July cakes are the perfect way to celebrate this all-American holiday. They're also great for anyone new to the art of baking.
Throwing a celebration? Check out these other patriotic 4th of July desserts!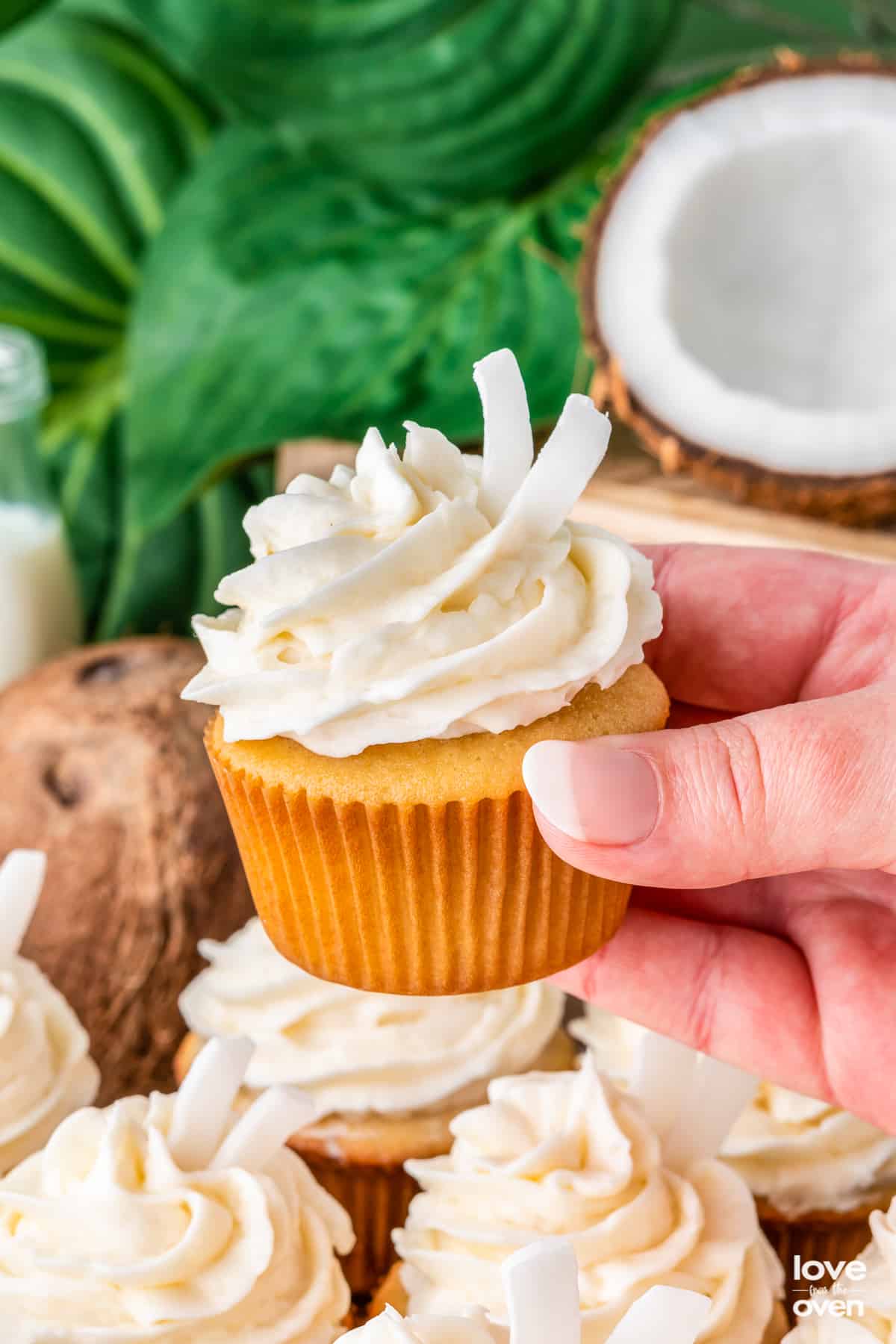 Source: lovefromtheoven.com
Take a trip to the tropics with these mellow coconut cupcakes. These are sweet and comforting, with a great coconut frosting on top to balance out the whole cake.
These cupcakes are so simple, and you might assume they're vanilla flavored at first glance. But your first bite will prove how deliciously tropical they are! Perfect for a summer gathering with friends.
Check out these other tropical coconut dessert recipes!
Source: bakingcapture.com
Speaking of tropical cupcakes, here's another option to enjoy your favorite tropical fruit. These mango cupcakes come complete with a sweet and sticky mango filling.
The thing that really makes these cupcakes stand out is the frosting method. With a delicious swirl of buttercream on top and a dollop of mango in the center, these are heaven to bite into.
Source: aimadeitforyou.com
Matcha and white chocolate pair beautifully, so of course, someone made a cupcake with those flavors! These fluffy matcha cupcakes are an adult-friendly way to enjoy a simple dessert.
Whether you need something to bring to a potluck or a birthday party, these simple cupcakes will do the trick.
Source: aimadeitforyou.com
This recipe is like a lovechild between a loaf of banana bread and a vanilla cupcake. Moist, perfect banana muffin batter beneath a swirl of vanilla buttercream? Sign me up!
Not only are these cupcakes delicious, but they're also so easy to make, and they're vegan. This is the ultimate crowd-pleasing batch of cupcakes.
This is one of the best-ever banana dessert recipes!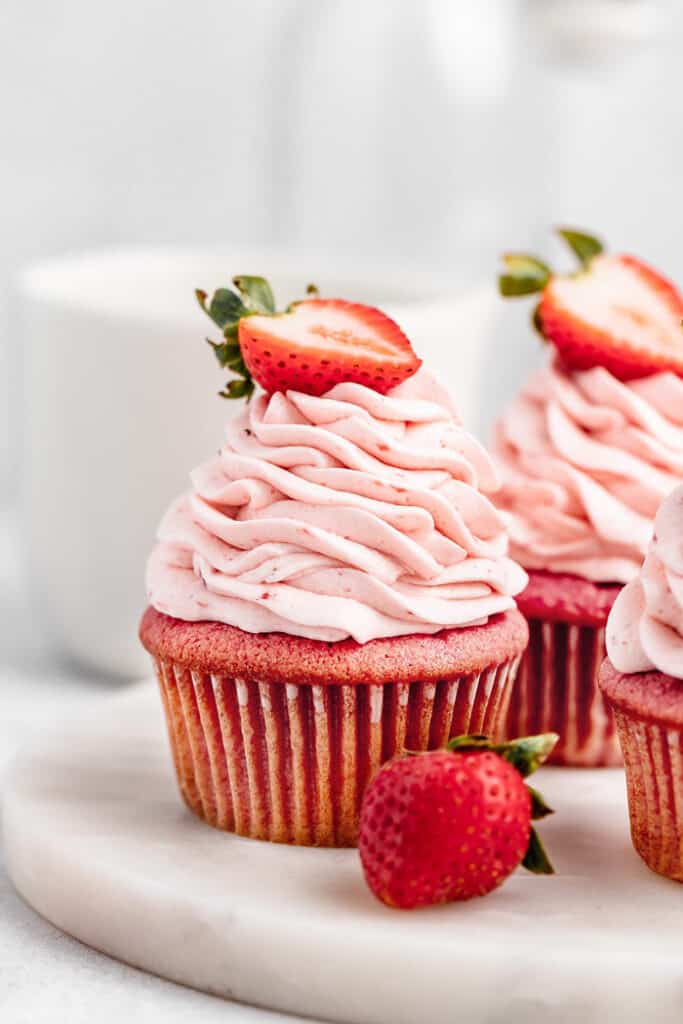 Source: grandbaby-cakes.com
Usher in the beauty of summer with this recipe! They're a gorgeous blushing pink with a tall swirl of delicate strawberry buttercream on top.
These are made with real fresh strawberries, so they look straight out of a rustic farmhouse. If you're a fan of real fruit ice cream, you have to try these!
Mini Cupcake Recipes
Mini cupcakes are a super fun little treat to offer on your next special occasion. Kids love them, and they're super easy to decorate.
Mini cupcakes also come with their own set of challenges since they're so small and are prone to becoming dense. So, go gently, make sure not to overmix, and use the touch test!
Source: greedyeats.com
First up, we have miniature vanilla cupcakes with vibrant pink buttercream. If your little one is a big fan of pink, this is the recipe to use for their birthday party!
The thing I love most about this recipe is that these cupcakes are freezer-friendly and make-ahead-friendly.
Make your batch ahead of time to save on stress, then freeze any leftovers. Genius!
Source: madhuseverydayindian.com
If you have Nutella in your recipe, it's guaranteed to succeed. I don't make the rules, it's just science. These Nutella brownie mini cupcakes echo the cracked batter of a perfect brownie.
While they may look simple on the surface, they taste anything but basic. Whip up a whole batch in about twenty minutes (and maybe keep a few for yourself).
Source: freshaprilflours.com
Cookies and cream is such a classic and well-loved flavor, so why not try it in a batch of cupcakes? The batter itself contains crushed Oreos to add crunch and that decadent cookies 'n' cream look.
On top is a light vanilla buttercream, all topped off with a single Oreo for the look. These are moist thanks to the addition of the cookies, have a great texture, and are dead simple to make.
Source: saltandbaker.com
When I tell you that these miniature cupcakes only take 15 minutes to make, I'm telling you the truth! You can have your cake and eat it too, no matter how short you are on time.
These simple mini cupcakes are the ideal bite-sized treat, featuring a crowd-pleasing vanilla flavor. Sprinkle with your favorite decorations to pivot these cupcakes in any seasonal direction.
Source: amummytoo.co.uk
Make Easter extra fun with a batch of mini chocolate cupcakes, complete with miniature eggs on top. You won't have to hunt for long to find all the necessary ingredients because these are so simple.
Bake, cool, and serve these in just half an hour. That's ample time to spend with your guests and make Easter a fun day for the little ones.
Source: ofbatteranddough.com
If you've never had it, chai is a delicious spiced tea packed with warm spices like cloves, ginger, and cardamom. Paired with a hint of vanilla, it's irresistible.
That's why these mini chai cupcakes will make you a fan favorite. The cupcakes are vanilla chai flavored, while the buttercream is a white chocolate and chai Italian meringue.
You might also enjoy these decadent coffee dessert recipes!
Source: amummytoo.co.uk
Red velvet cupcakes are the epitome of decadence. They really soared in popularity a few years ago, and they've stayed popular ever since, thanks to that iconic red color.
The flavor – if you didn't know – is a blend of chocolate and vanilla. Topped with a tasty cream cheese frosting, these simple mini cupcakes will be a party favorite.
Source: fearlessdining.com
Celebrate any special occasion with a splash of champagne even the little ones can enjoy. Don't worry. These cupcakes are non-alcoholic since all the alcohol is cooked out in the oven!
The result is a light and bright batter that's super moist and fluffy, thanks to the splash of bubbles. With homemade vanilla buttercream on top, there's really nothing better to ring in the New Year.
You must see these other adorable mini dessert recipes!
Chocolate Cupcake Recipes
Deep, rich decadence is hiding in every one of these chocolate cupcake recipe ideas.
This section of the list is proof that there are many ways to enjoy this classic flavor profile, so try putting a new spin on them!
Source: joyfoodsunshine.com
Rich, moist, decadent, and dark, these chocolate cupcakes are at the top of their game. Spires of delicious buttercream and scattered chocolate chips make these a feast for the eyes.
The real hero is the batter. A half cup of sour cream makes these incredibly moist while pulling back on some of that rich sweetness. The result? A perfectly balanced chocolate cupcake.
Source: seasonalcravings.com
Almond flour is an underappreciated ingredient in the cupcake world! Whether you're gluten-free or just looking for a nuttier flavor, these chocolate cupcakes are right up your alley.
In fact, these have no gluten, no grains, and no refined sugar. But they look and taste like they came straight out of a bakery! That's the magic of modern baking ingredients.
Source: veganhuggs.com
Hear me out. Vegan chocolate cakes and cupcakes are almost better than their dairy-rich counterparts. Why? Because they use oil!
Oil in the batter creates the ultimate rich and moist cupcake since it won't evaporate away. It's the same principle as using full-fat milk or sour cream instead of milk in your non-vegan batter.
Source: greedygourmet.com
Chocolate and orange might be a controversial combination, but these cupcakes will put that to rest. Have these beauties ready in under an hour for whatever special occasion is coming your way.
This flavor profile makes them ideal as a Halloween party snack, but you can enjoy them at any time of the year!
If you love the chocolate-orange combination, these orange dessert recipes are for you!
Source: boulderlocavore.com
If we've learned anything from Reese's, it's that chocolate and peanut butter are a match made in heaven. Ooey-gooey peanut butter lies at the center of these incredible cakes.
Topped with a light, nutty buttercream and a full Reese's peanut butter cup, these cakes are to die for. If you've got a Reese's fan in your life, a batch of these will earn you their love forever.
Source: savorthebest.com
Take the warm, comforting, marshmallow-filled taste of the perfect hot chocolate and transform it into a cupcake! These hot chocolate cupcakes are the perfect sweet winter staple.
Great on a cold winter's evening, these look just like a cup of hot chocolate. Even the wafer looks like a straw! Best of all, these are really easy to make and customize.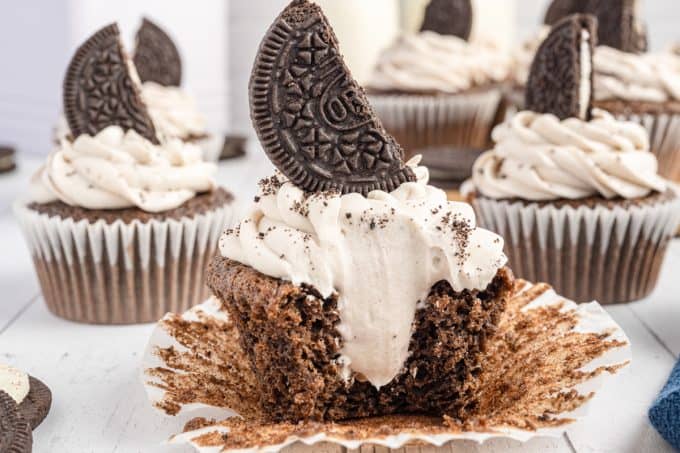 Source: 365daysofbakingandmore.com
While we often call Oreos their own distinct flavor, the truth is that they're actually a muted form of chocolate cookie. That's why Oreos are a great pair for a chocolate cupcake.
These chocolate cupcakes are also hiding a secret… a core of buttercream! They're rich, decadent, and guaranteed to blow your guests away.
Source: senseandedibility.com
Take a leaf out of a German recipe book and create these mind-blowing chocolate stout cupcakes. These come complete with a salty pretzel on top and Bailey's buttercream, plus caramel sauce!
This is a very gourmet cupcake with flavors that are made for one another. The stout helps the cupcakes feel rich and dense, while the caramel kicks things firmly back into the dessert side.
Source: ihearteating.com
Put a little spin on your batch of cupcakes by transforming them into miniature cheesecakes! This is a super cute and simple way to bring something new to the table.
Since these are miniature cheesecakes and baked, they're super moist and just a little bit chewy. The chocolate cupcake batter around the outside is so delicious with the creamy cheesecake core.
Lemon Cupcake Recipes
When Summer turns a corner, and lemons are in season, these recipes come out to play. Light, zingy, and so good on a hot summer's day, these lemon cupcake recipes are a must-try for any baker!
Source: bestdessertrecipes.com
Take your boxed cake mix to a whole new level with these lemon cupcakes! This is a great recipe to reach for when you have a last-minute celebration to get to.
Even though they used a boxed cake mix, they certainly don't taste like it! The light and bright homemade lemon buttercream go a long way toward making these look and feel gourmet.
Source: thesimple-sweetlife.com
On a hot summer day, what's better than a cool glass of raspberry lemonade? Perhaps a cupcake that tastes exactly like one! This recipe produces bakery-ready little cakes that are so simple.
The sweet raspberry is the ideal foil for tangy lemon. It helps these cupcakes feel super balanced, and you can have them ready in just an hour!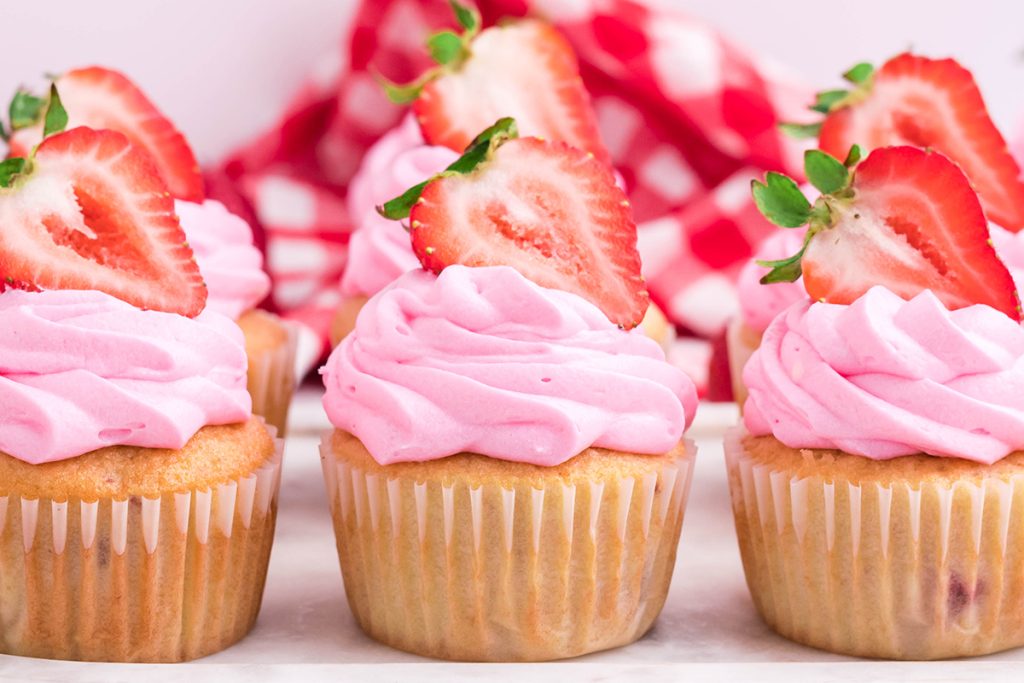 Source: bestdessertrecipes.com
If raspberries aren't quite your style, you can always opt for lemon strawberry cupcakes instead! This recipe features a rich strawberry buttercream atop moist lemon cupcakes.
The tangy cupcakes contrast with the sweet buttercream, creating a great flavor combination that everyone will love. These are simple, delicious, and they look beautiful thanks to the vibrant frosting.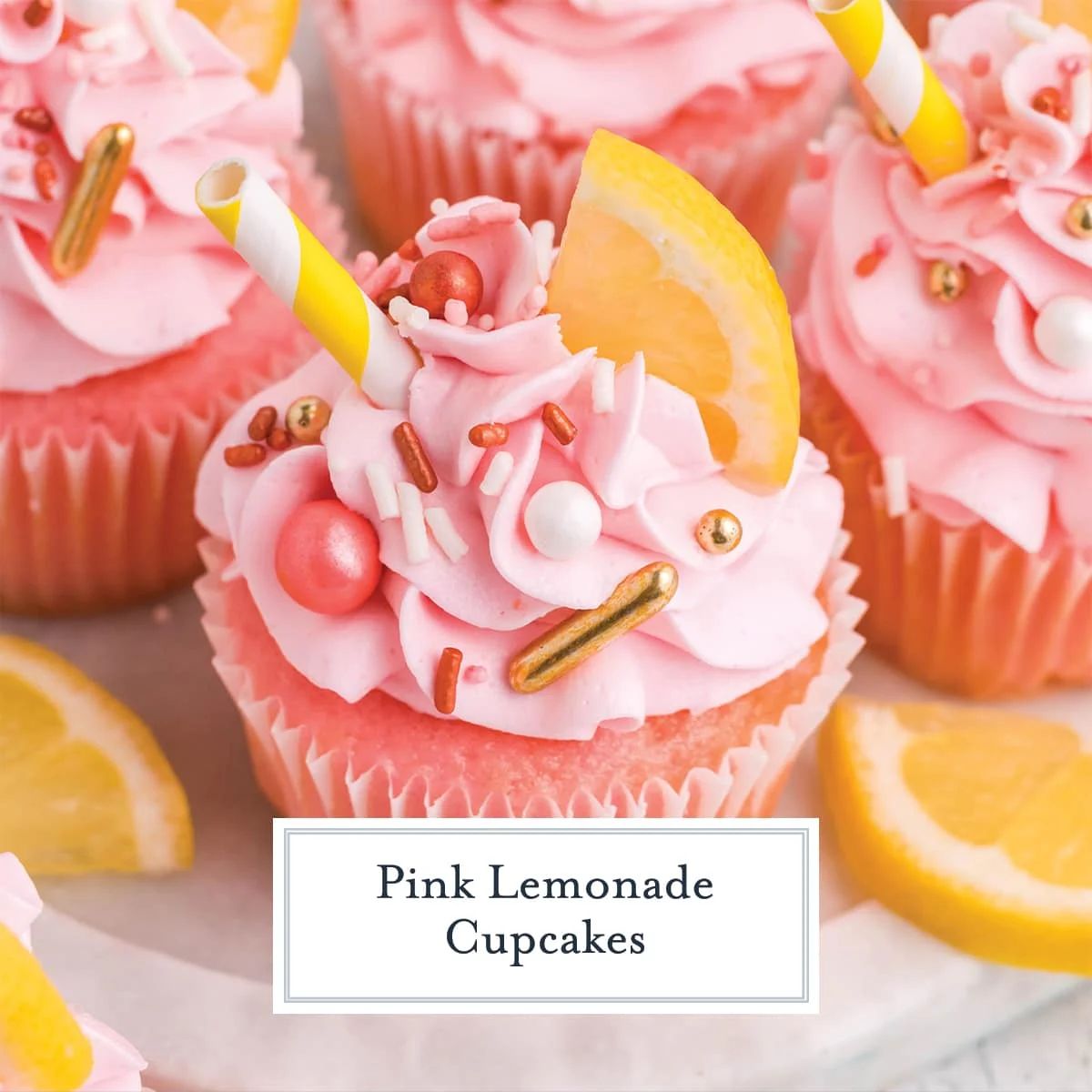 Source: savoryexperiments.com
Need something quick and easy that looks professional? These pink lemonade cupcakes will do the trick! Scatter your favorite pink sprinkles and toppings on them to make them extra pretty.
This is another cupcake recipe that uses boxed cake mix, making them super easy to make at the last minute. With a moist cake and fluffy homemade frosting, there's nothing better than these.
Source: joyfoodsunshine.com
Create a simple and refined version of lemon cupcakes with this beautiful recipe. These cupcakes have a little wedge of candied lemon on top to give them a boost in the looks department.
Apart from that, they look deliciously rustic. They wouldn't be out of place in a barn or at a garden wedding, perfect for a summer potluck!
Source: dollopofdough.com
Speaking of rustic beauty, here's another recipe to keep you on your toes. Lemon and lavender is a beautiful combination that enhances the floral and tangy notes to create perfect harmony.
The delicate purple of the frosting is such a nice touch. They don't feel bright like birthday party cupcakes. They're more chilled out, ideal for a relaxing summer picnic with friends.
Source: senseandedibility.com
If you don't have the time or energy to make a lemon meringue pie, there's a simpler way! These lemon meringue cupcakes deliver all that great flavor with none of the hassle.
The secret to this recipe's success lies in the core of delicious lemon curd in the center of the cake. Paired with the light meringue on top, these will go down a treat on any summer occasion.
Source: britneybreaksbread.com
If you're blessed with some fresh lemons and raspberries this summer, make them into this beautiful recipe! These cupcakes just scream 'authentic freshness'.
My favorite part is the luscious raspberry buttercream on top. Best of all, even though they look like they just came out of a professional bakery, these beauties only take an hour to make!
Source: laneandgreyfare.com
Finally, we're capping off the lemon section of our list with a classic. The lemon drizzle cake has been a staple in recipe books for decades because it's just that good.
These lemon drizzle cupcakes live up to their ancestors' reputation. Enjoy moist, floral, lemony cupcakes with a perfect buttercream on top. To finish, the iconic lemon drizzle looks so pretty!
Gluten Free Cupcake Recipes
Getting the perfect springy texture into a gluten-free cupcake can be a challenge. Luckily, many bakers have been working hard at their craft, and they've perfected a way to do it!
These gluten-free cupcake recipes promise a chewy, springy texture and tons of flavor. All without the gluten!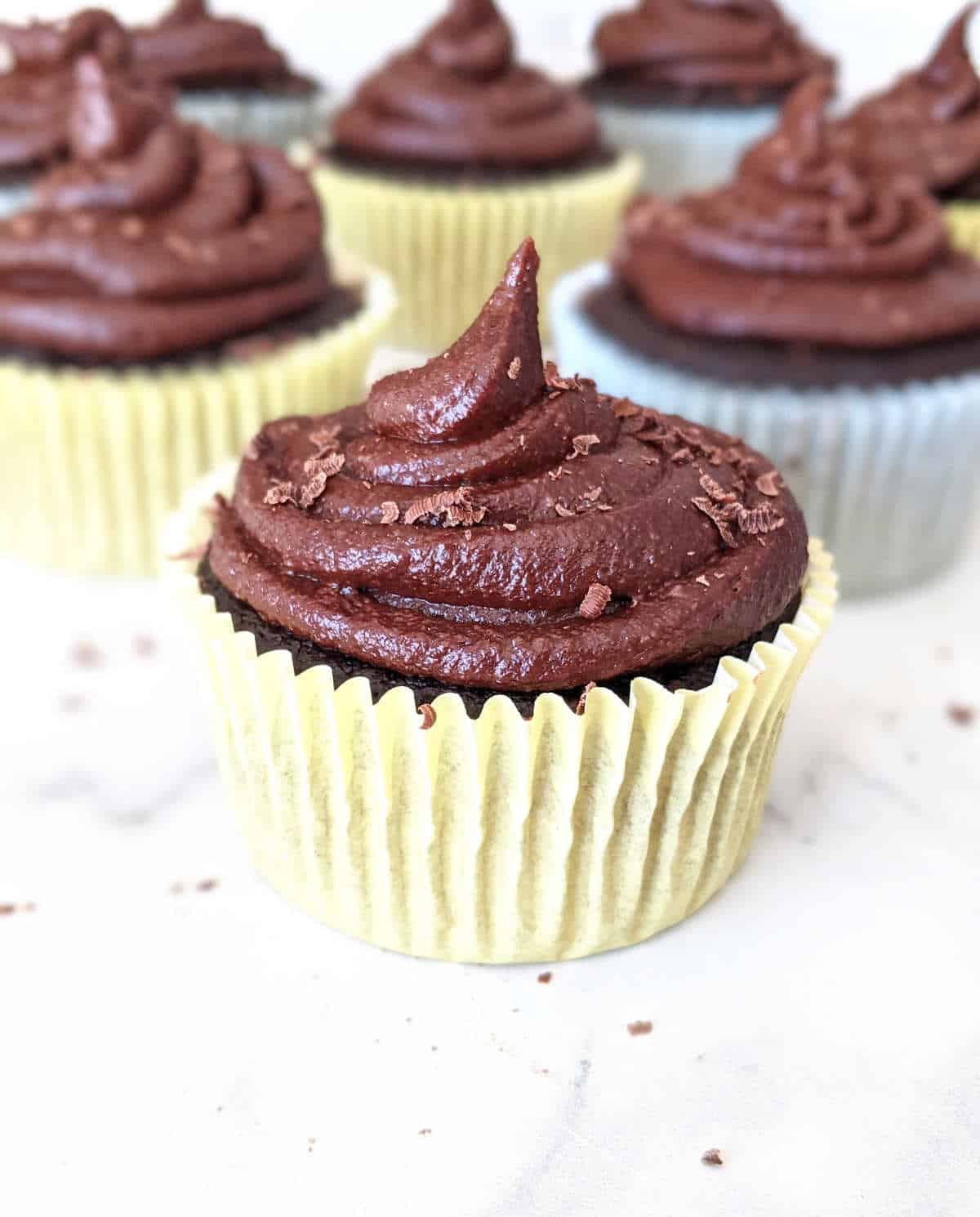 Source: healthmylifestyle.com
Making a vegan and gluten-free cupcake that is still somehow moist and delicious is no easy ask. Or, at least, it used not to be easy until this recipe came along.
These rich vegan chocolate cupcakes use rolled oats and a cashew cream frosting to accomplish their dietary requirements. Also, and this is mind-blowing, they only take thirty minutes to create!
Source: strengthandsunshine.com
Here's another cupcake to fulfill that gluten-free, vegan need. These are rich and moist, with the classic red velvet flavor packed into every square inch of the little cupcakes.
Dairy-free cream cheese is the secret to the vegan frosting, and it tastes absolutely perfect. Mild, tangy notes of cocoa and vanilla, all achieved in just thirty minutes!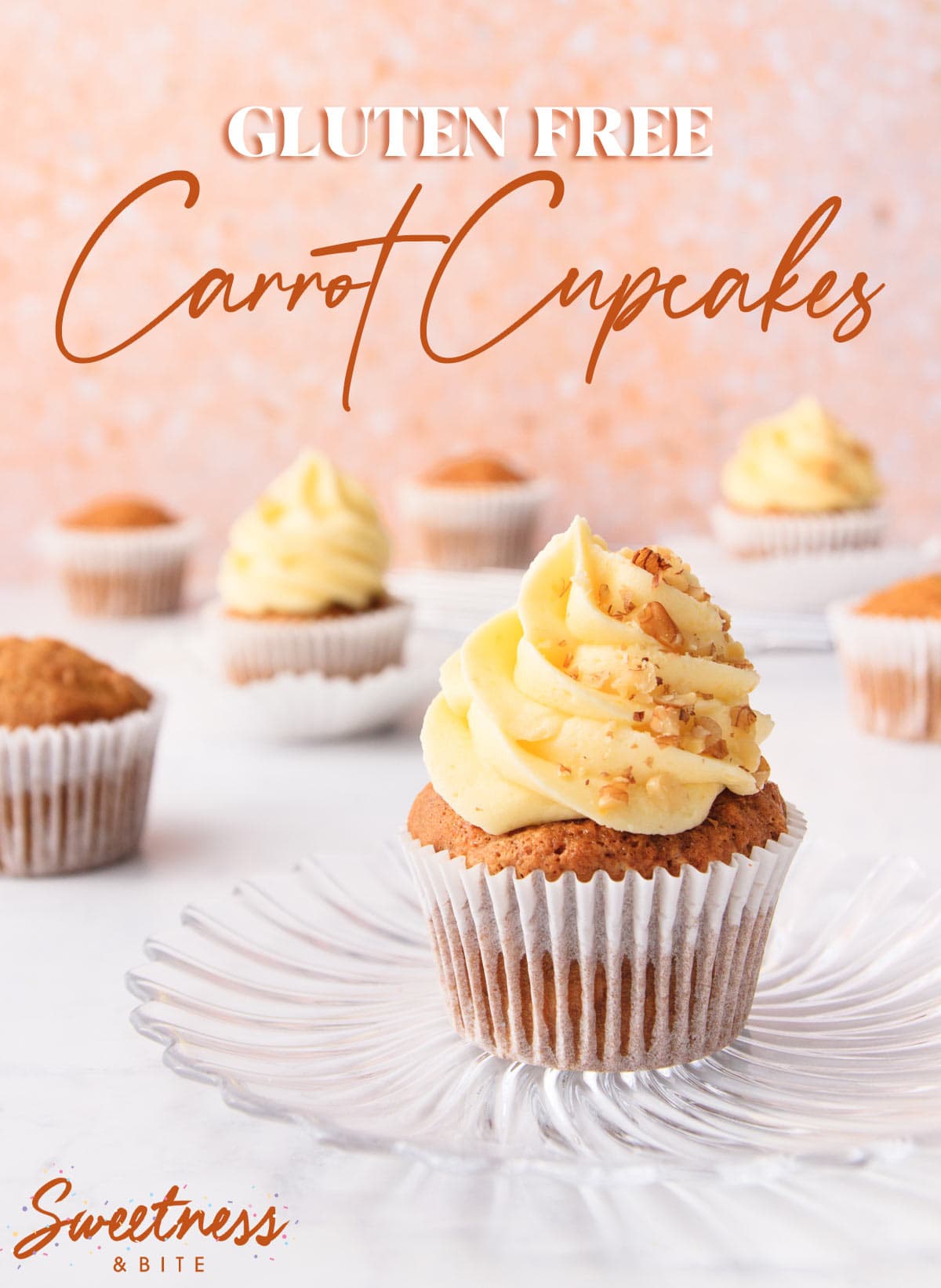 Source: sweetnessandbite.com
Even your kids will be jumping for joy when you put these down on the table. This is carrot cake as it was meant to be enjoyed. Sweet, moist, rich, and deliciously nutty.
If you're a fan of carrot cake, you have to give these a try. The smooth cream cheese frosting is so good, and the gluten-free batter is beginner-friendly.
Source: fearlessdining.com
When the warm seasons come around, and peaches are on the rise, these cupcakes are a must-try. These gluten-free peach cupcakes are for everybody, not just gluten-free lovers.
The cupcakes are lightly floral and just sweet enough, thanks to the peach flavor in the batter. The vanilla buttercream is smooth and delicious, the perfect home for a slice of fresh peach.
Source: strengthandsunshine.com
I know that mint chocolate can be a controversial flavor, but these cupcakes ought to smooth that out. The rich dark chocolate cupcakes are beautifully balanced by the light, minty buttercream.
This is proof that these two flavors can live in harmony. Vegan, gluten-free, and super quick to prepare, you need these cupcakes in your repertoire.
Source: peelwithzeal.com
Whether you're headed to a pride celebration, stocking up for a birthday party, or you just love colorful cupcakes, these rainbow cupcakes will do the trick!
Bright and beautiful, with a smooth white frosting to hide the color, these are a wonderful surprise for anyone who bites into them.
Source: fearlessdining.com
Even though these pink lemonade cupcakes are super simple to make, they come out looking elegant and charming. For anyone who regularly hosts guests, that's the ultimate combination!
You can decorate these however you like, but the recipe recommends some white chocolate butterfly wings for the ultimate fantasy feel.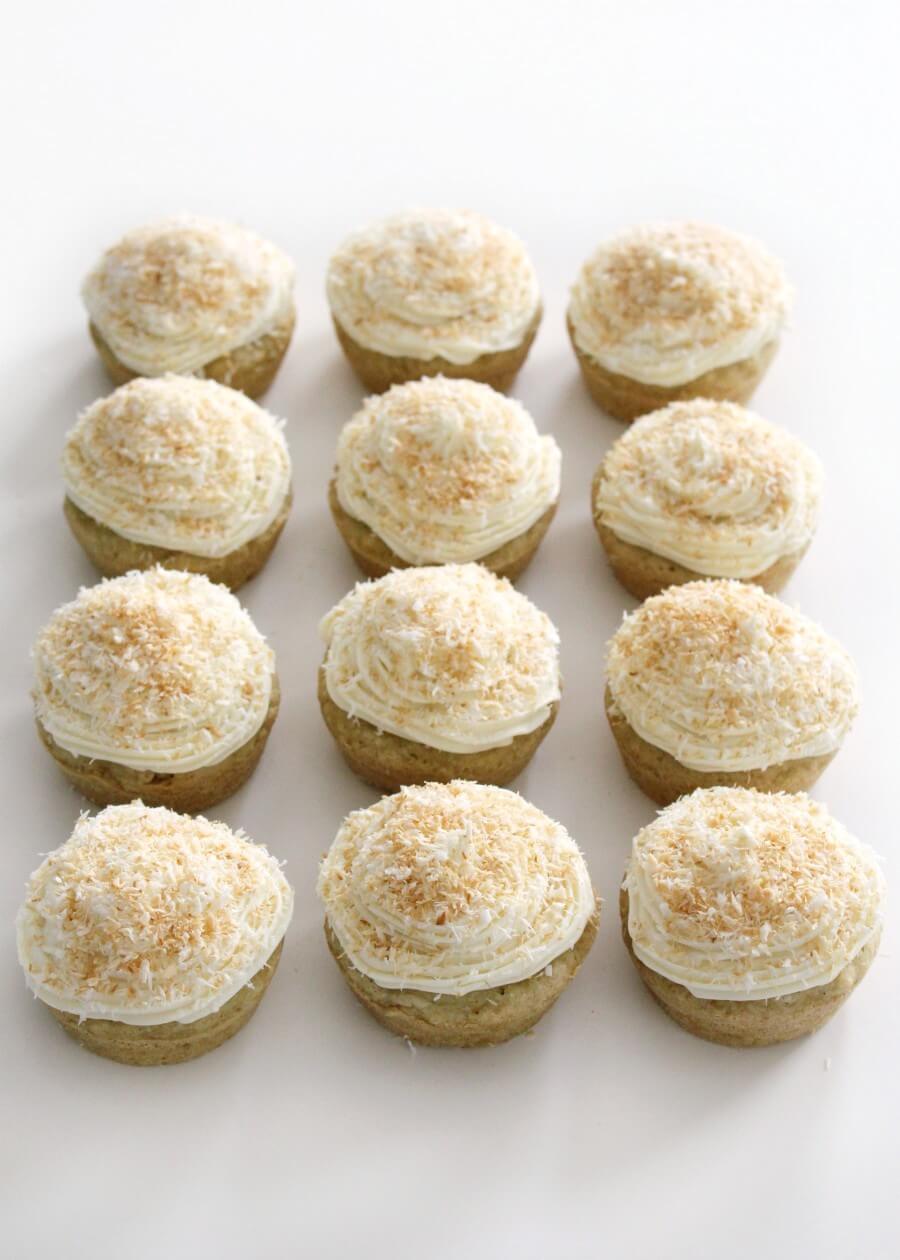 Source: strengthandsunshine.com
Coconut cupcakes are underrated! Mellow and toasty, these coconut cupcakes are proof that you don't need dairy or gluten to create the perfect cupcake.
These are chewy, light, and springy. The sweet buttercream on top is the perfect base for some shredded coconut to add some much-needed texture. These are a definite crowd-pleaser.
Source: glutenfreetranquility.com
Our final gluten-free recipe is for strawberry cupcakes! These bright and vibrant beauties have a delicate pink color and an even better strawberry flavor.
The fresh strawberries on top add to the texture too.
Vanilla Cupcake Recipes
Vanilla is the most well-known and popular cupcake flavor! For some people, that means that it's a boring choice, but not for me.
These tried, and true vanilla cupcake recipes prove that this flavor is more than deserving of a top spot in your recipe book.
Source: sugarpursuit.com
If you're after simplicity, it doesn't get better than these vanilla cupcakes. Beautiful deep vanilla flavor hums through every bite. The fluffy buttercream is yet another way these cupcakes stand out.
If you looked for the dictionary definition of 'vanilla cupcake,' this is the recipe that would turn up.
Every element is perfectly balanced, the vanilla flavor is rich and present, and they're so easy to make.
Source: thesimple-sweetlife.com
Looking for a unique summer treat? Look no further than these strawberry shortcakes! The simple cupcakes are topped with smooth, rich vanilla buttercream.
The real party starts with the fresh strawberry syrup on top, capped off with half of a strawberry. This is a gorgeous way to serve shortcake. It wouldn't be out of place at a fancy brunch or dinner party!
Source: cookingschooldropout.com
If you need something quick and easy, these vanilla cupcakes definitely fit the bill. They require only fifteen minutes of hands-on work, and they turn out beautifully!
Use this simple base to create your signature cupcake. Top with your favorite candy, syrup, some shredded chocolate, or even fresh fruit. The world is your oyster with this blank, tasty canvas!
Source: littlesunnykitchen.com
If you've ever attended a high tea, then you know the power a jam-filled Victoria sponge wields. It's sweet, sticky, but not so sweet or sticky that it puts people off.
But not everyone has time to make a full Devonshire sponge! That's where these cupcakes come in. Achieve a similar effect without the hassle thanks to this dead simple recipe.
Source: addictedtodates.com
I love making vegan vanilla cupcakes like these because everyone who tastes them can't believe that they're vegan! The rich vanilla flavor and unbeatable texture make it hard to believe.
But it's true! The vegan yogurt used to make these cupcakes keep them super moist, while the buttercream on top is hall-of-fame-worthy.
Source: bostongirlbakes.com
Create the perfect cookies and cream cupcake with this clever recipe! Yes, this is an entire cupcake recipe dedicated to honoring a single cookie, and I see nothing wrong with that.
The buttercream is really the star of the show here. It sits atop the moist, delicious cupcake and adds so much richness to the dessert. You might only need one, but you'll go back for more.
Source: dollopofdough.com
Baking in small batches is a great way to focus deeply on the flavor and texture of your cupcakes. Take things slowly and create the perfect batch every time with this recipe.
This is also ideal if you only need enough cupcakes for a few people. While I love having leftovers, munching down on cupcakes day after day might not be so great.
Source: 3boysandadog.com
What is a sugar plum cupcake? It's a holiday-themed dessert your kids will love. These are technically vanilla cupcakes, but they're filled with a sweet plum surprise.
Top with a delicately-flavored buttercream to create the perfect Christmas cupcake.
Whether your little ones need a contribution to a school potluck or they just need a holiday treat, this will do the trick!
Source: veganhuggs.com
You need vegan vanilla cupcakes, and you need them now. Don't worry, I've got your back. These cupcakes are exactly what you want out of a vegan recipe: moist, vanilla-rich, sweet, and simple.
So simple, in fact, that they come together in just twenty minutes. That's right, you can whip these up faster than you can finish an episode of your favorite TV show! How's that for convenience?
Birthday Cupcake Recipes
Finally, have your next birthday celebration sorted from top to tail with these birthday cupcake recipes. These are wonderful party favors for guests, plus they're super fun for all ages!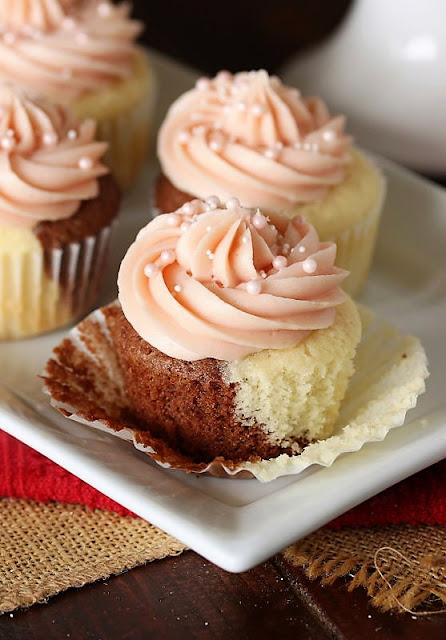 Source: thekitchenismyplayground.com
If you ever went to a birthday party as a kid, chances are you remember the bowls of Neapolitan ice cream that were so popular at the time! Well, these cupcakes deliver on that nostalgic taste.
Featuring chocolate, strawberry, and vanilla flavors, these cupcakes are deliciously marbled to keep things interested. Best of all, they come together in no time to feed a big crowd!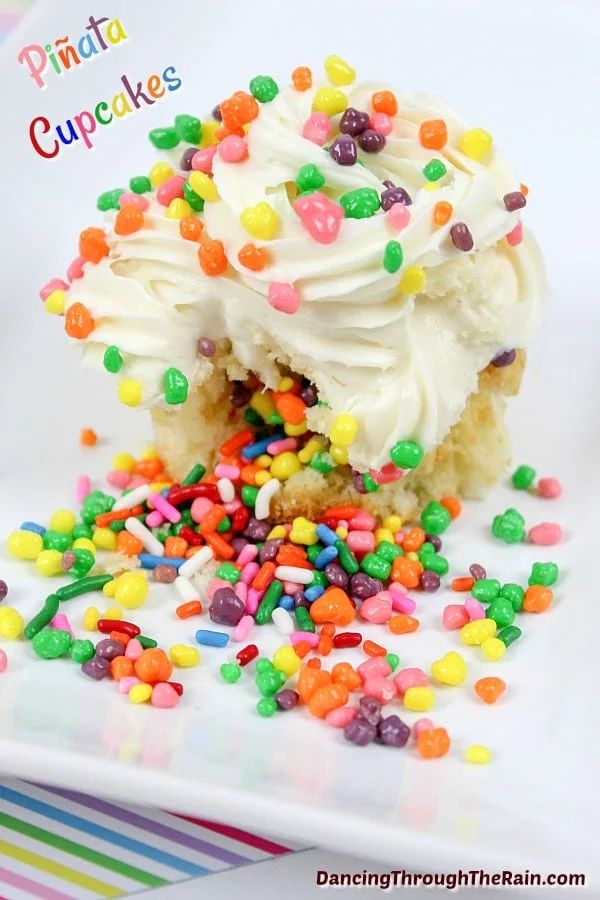 Source: dancingthroughtherain.com
Have you ever had a smash cake? One of those cakes with a chocolate dome on top that smashes to reveal a ton of candy?
Well! These cupcakes give you the same effect with a little candy center. These candy-filled cupcakes are guaranteed to make the kids at your next birthday party shriek with delight (and a sugar rush).
Source: annabanana.co
On the opposite end of the spectrum, we have a set of birthday cupcakes more suited to the adults in the family. Scented with gin and tonic, these cupcakes are delicate, botanical, and delicious.
The buttercream is a great touch here, featuring those floral notes that make you think of a gin and tonic. These are simple to make ahead, so they're a great option for your next friends' birthday party.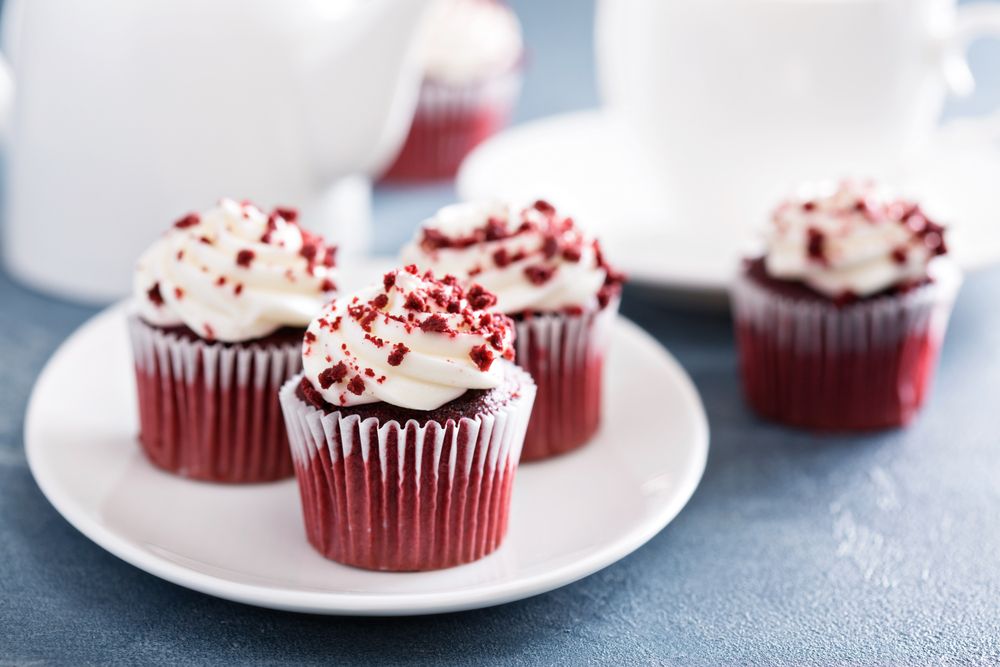 Source: cookingschooldropout.com
Red velvet cupcakes are the happy medium, guaranteed to make both adults and kids happy when they appear! The balance of vanilla and chocolate flavor is so great in these.
If you whip these up in advance, make sure to keep the cream cheese frosting and the cupcakes separate. That way, your cakes stay fresh, and your frosting stays cool and smooth.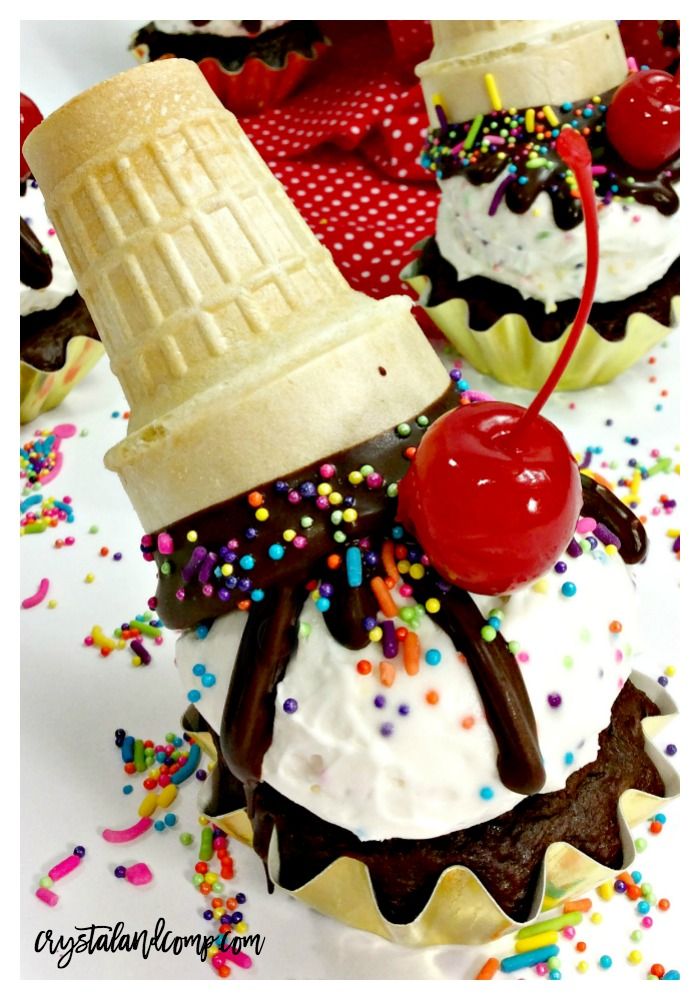 Source: crystalandcomp.com
Combine everyone's favorite desserts into a single wonderful creation! These ice cream cone cupcakes are so whimsical.
They're great for a little kids' birthday party, whether or not you're hosting.
Experiment by using this technique with the other flavors on this list. Chocolate, cookies and cream, mint chocolate, and classic vanilla. The world is your oyster with this awesome method.
Source: lovefromtheoven.com
Here's another birthday cupcake recipe that's suited to an adult birthday party. This is a cute interpretation of a classic dessert, using single pineapple rings on the base of each cupcake.
These are sweet, refreshing, and super simple to make. If you're after something unique to impress your guests, this is the recipe to reach for!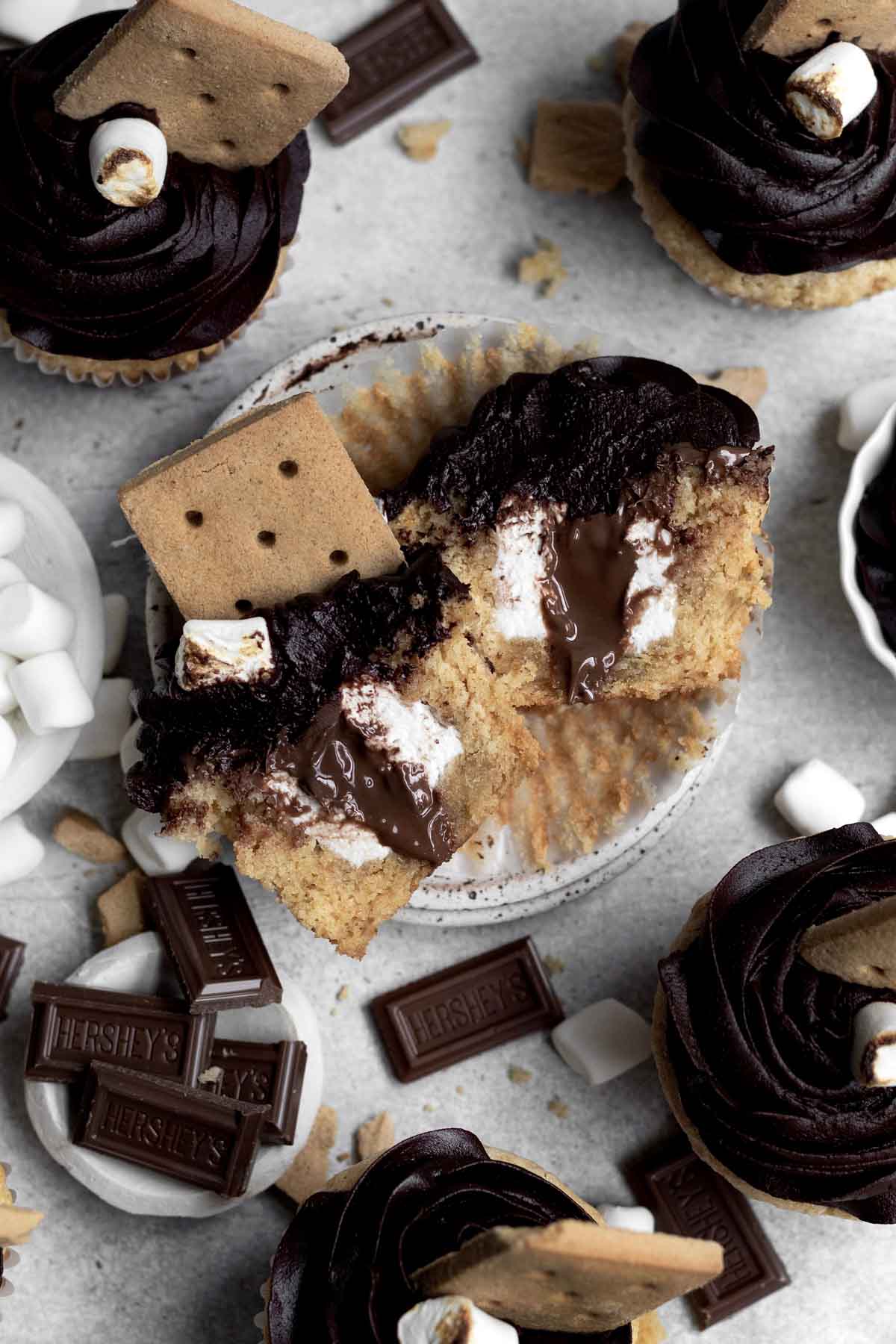 Source: laneandgreyfare.com
Bring the campfire to you with these smoky, sweet, chocolatey s'mores cupcakes. These will really live up to their name since everyone will be asking for s'more when the tray is clear.
The base is a simple cupcake, it's the toppings that make this clever dessert a hit. Scorched meringue, melted chocolate, and graham cracker crumbs are the way to anyone's heart.
Source: waitingforblancmange.com
These Mexican-inspired tres leches cupcakes are a new take on a classic dessert, loved throughout many Spanish-speaking countries. Tres leches translate to 'three milks', meaning this is super rich.
Even though they're a little more geared toward adults, kids, and teenagers will absolutely love the flavors in this recipe. Plus, they're easy to create the day before!
Source: greedyeats.com
Finally, what's a list of iconic cupcake recipes without one of the most iconic desserts of all time? These caramel apple cupcakes will have you feeling like you've stepped onto a fairground.
Topped with an unbeatable caramel drizzle, these look as good as they taste.
There we have it! Sixty-one ways to enjoy a delicious cupcake, no matter what kinds of flavors you're into. Did I miss any must-try cupcake flavors that you swear by? Let me know in the comments!
61 Best Cupcake Recipes To Make For Every Occasion
Unleash your inner baker with the best cupcake recipes, where every fun-flavored bite is a delightful surprise.
Ingredients
1. Chocolate Chip Cookie Cupcakes
2. Orange Cupcakes
3. 4th Of July Jello Cupcakes
4. Coconut Cupcakes
5. Mango Cupcakes with Mango Filling
6. Fluffy Matcha Cupcakes
7. Vegan Banana Cupcakes
8. Strawberry Cupcakes
9. Mini Cupcakes
10. Nutella Brownie Mini Cupcakes
11. Mini Cookies and Cream Cupcakes
12. Mini Cupcakes
13. Mini Chocolate Cupcakes for Easter
14. Mini Chai Cupcakes
15. Mini Red Velvet Cupcakes
16. Mini Gluten Free Champagne Cupcakes
17. Best Chocolate Cupcakes
18. Chocolate Almond Flour Cupcakes
19. Vegan Chocolate Cupcakes
20. Chocolate Orange Cupcakes
21. Chocolate Peanut Butter Cupcakes
22. Hot Chocolate Cupcakes
23. Chocolate Oreo Cupcakes
24. Chocolate Stout-Pretzel Cupcake with Bailey's Buttercream and Caramel Sauce
25. Chocolate Cheesecake Cupcakes
26. Lemon Cupcakes
27. Raspberry Lemonade Cupcakes
28. Lemon Strawberry Cupcakes
29. Pink Lemonade Cupcakes
30. Lemon Cupcakes
31. Lemon Lavender Cupcakes
32. Lemon Meringue Cupcakes
33. Lemon Raspberry Cupcakes
34. Lemon Drizzle Cupcakes
35. Vegan Chocolate Cupcakes
36. Red Velvet Cupcakes
37. Carrot Cake Cupcakes
38. Peach Cupcakes
39. Mint Chocolate Cupcakes
40. Rainbow Cupcakes
41. Pink Lemonade Cupcakes
42. Coconut Cupcakes
43. Strawberry Cupcakes
44. Best Vanilla Cupcakes
45. Strawberry Shortcake Cupcakes
46. Vanilla Cupcakes
47. Jam Filled Cupcakes
48. Vegan Vanilla Cupcakes
49. Vanilla Oreo Cupcakes
50. Small Batch Vanilla Cupcakes
51. Sugar Plum Cupcakes
52. Vegan Vanilla Cupcakes
53. Neapolitan Cupcakes
54. Candy Filled Pinata Cupcakes
55. Gin and Tonic Cupcakes
56. Red Velvet Cupcakes
57. Ice Cream Cone Cupcakes
58. Pineapple Upside Down Cupcakes
59. S'mores Cupcakes
60. Tres Leches Cupcakes
61. Caramel Apple Cupcakes
Instructions
Scroll up to get a bunch of easy, yummy, and delicious recipes. Don't be afraid to get creative with the ingredients, you might discover a flavor you didn't know you liked.
Get your shopping list going and make sure you've got all the ingredients.
Get cooking and make your next Cupcake Recipe!
Notes
Which one of these recipes was your favorite? Let me know in the comment section or on Pinterest!