Coconuts are one of the most versatile ingredients out there. Coconut lovers will adore these sweet coconut dessert recipes for a tropical treat.
You can use coconut in sweet or savory dishes to great effect, which is why it appears on menus all over the world.
From Thailand to Hawaii, there are hundreds of ways to enjoy delicious coconut recipes on the menu. But one of the best is undeniably a dessert. Coconut desserts are in a league of their own!
Creamy, sweet, and mellow, these sweet treats bring to mind beautiful days in the sunshine with blue skies stretching overhead. If you're a fan of coconut desserts, then you're in the right place.
What Dessert is Made from Coconut?
There are plenty of desserts made from coconuts. Coconut milk provides a great cream substitute for parfaits, ice creams, custards, and other milk-based desserts.
The coconut flesh is slightly sweet and has an iconic texture, making it an excellent addition to any dessert (either fresh or dried).
Even desiccated coconut and unsweetened coconut flakes make a ton of appearances in cakes.
That's not to mention the many other ways clever cooks have discovered to use coconut to satisfy a sweet tooth.
Coconut flour and coconut sugar are great substitution ingredients, appearing in many gluten-free or low-sugar healthy desserts. They taste just as good, which is why they're so popular.
What is the Best Combination with Coconut?
It's hard to choose the best combination with coconut because there are so many!
However, if you had to pick one of the most common choices in the dessert world, it would have to be another tropical fruit like mango.
Mangoes and coconuts often grow in similar regions, meaning they're utilized in many desserts together. But that's not the only reason.
The sweet, floral stickiness of the mango pairs beautifully with the natural creaminess of the coconut flesh and milk.
You'll find plenty of instances of this combination on this list of best coconut desserts because it's just that good!
Without any further ado, let's get into forty-one best coconut dessert recipes for you to try your hand at.
Coconut Flour Dessert Recipes
Once the coconut milk is squeezed out of the white flesh, that meat is dried down and ground up into fine flour. That flour has become a popular substitute in health-based communities.
However, it's also a great standalone ingredient to use as a base for some amazing desserts. Curious? Let's check some out!
Source: allnutritious.com
We're kicking things off with my coconut flour muffins. These are naturally sweet, nutty, and a great snack to have around the house when sugar cravings strike.
Best of all, they're super easy to prepare in advance and packed with delicious coconut products.
If you need to take something to your neighborhood potluck, these muffins will stand you in good stead with any crowd.
You might also enjoy these fruity blueberry oatmeal muffins!
Source: thegreenloot.com
Make Christmas dessert quick, easy, and delicious with this on-theme coconut dessert. These coconut and rum snowballs incorporate everything good there is about the end-of-year holiday.
These are clean-eating friendly, thanks to the coconut, plus they're happily vegan and gluten-free! Oat and coconut flour are the perfect healthy bases for this filling dessert.
Source: allnutritious.com
Whenever I'm making a dessert, I'm not just looking for great taste. I'm also looking for it to keep me full for as long as possible. That's why I love my coconut flour protein cookies.
This coconut cookie recipe is designed to keep you fuller for longer, thanks to the coconut flour.
These have a ton of protein in every mouthful, but they taste like delicious homemade cookies with a delicious coconut flavor!
Source: lifearoundthetable.ca
Speaking of cookies, here's another recipe to try. These lower the GI even more thanks to the presence of the oatmeal, making these cookies ultra chewy and super filling.
Best of all, they're so easy to make. These would be perfect as a family-friendly dessert or a snack to keep in your pantry for when sugar cravings strike.
Source: baking-sense.com
Who doesn't love shortbread? Buttery shortbread cookies are the epitome of everything a cookie should be: perfectly crumbly, delicious, and not too sweet.
This is why coconut flour is such a great substitute for white flour in a shortbread recipe! The mellow nuttiness adds a whole new dimension to the shortbread cookies.
Coconut Milk Dessert Recipes
Coconut milk is possibly one of the most well-known coconut-based ingredients used in desserts and for a good reason. It's naturally sweet and mellow, with a light creaminess.
In combination, those elements make it an ideal dessert ingredient, especially if you live a dairy-free lifestyle!
Source: allnutritious.com
If you're looking for a healthy dessert option, you can't go past coconut milk and chia seeds. Chia seed pudding with coconut milk as the liquid ensures this dessert will be creamy and comforting.
In fact, this dessert is so healthy that you could easily enjoy it as a breakfast, too! Top with your favorite fresh fruit, some dark chocolate chips, or nut butter to complete the picture.
You might also want to try this tropical mango chia pudding!
Source: mamalikestocook.com
Fruit leather is a wonderful dessert to keep around the house if you want something sweet after your meals. It's healthy, so it won't spike your blood sugar, but it tastes like all-natural taffy.
In other words, there's no downside. The secret is to add coconut milk to the equation, which helps the leather take on the smooth texture and mellow flavor that makes it so good.
Source: senseandedibility.com
Let Puerto Rican flavors guide you with this next recipe! Coconuts are a natural part of the cuisine in Puerto Rico, meaning they appear in a lot of different meals and desserts.
Also known as 'Tembleque,' this is an iconic dessert that will impress any guests you have around for dinner. It's sweet, creamy, and a great way to hero coconut as the main flavor.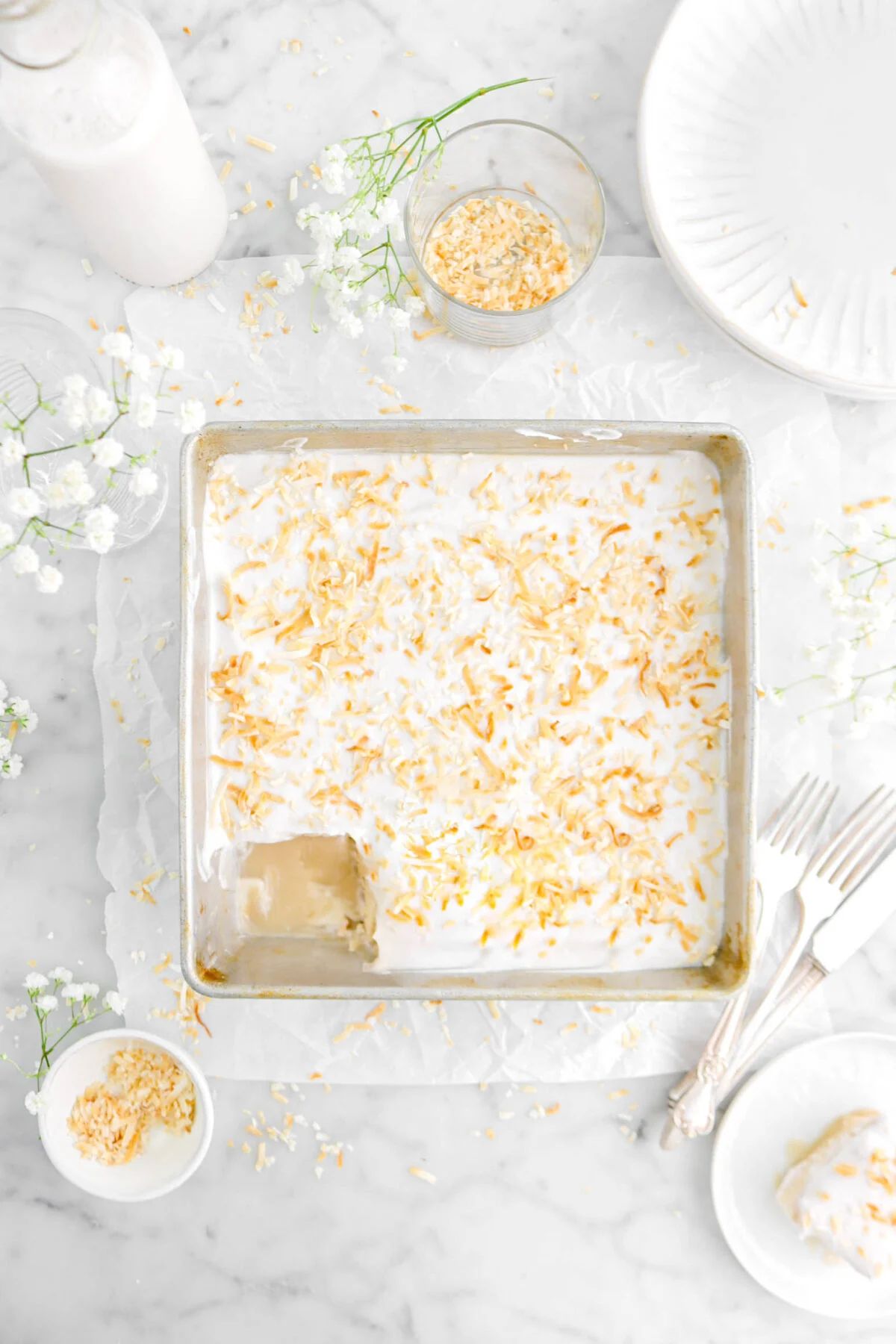 Source: bakerstable.net
If you've ever had a tres leches cake, then you know it translates to 'three milks' and that the cake itself lives up to the name.
It's super creamy, packed with mellow sweetness, and amazing with whipped cream.
Well, this vegan version uses coconut to handle the very same load, and it does it admirably. The coconut milk adds a distinctive nuttiness, cutting through some of the sweetness in the best way.
These other dairy-free dessert recipes are sure to satisfy!
Source: senseandedibility.com
Coconut and rum is another iconic flavor combination, and it's at play in this incredible twist on a coconut cream pie! The rum adds a boozy touch to the dessert, so it's ideal for a dinner party.
Serve with your favorite rum cocktails or serve it solo to let the pie take the spotlight.
Source: culinaryshades.com
That's right, you can make your own dairy-free ice cream! Whether you're vegan, lactose intolerant, or just a big fan of coconut, this ice cream will deliver everything you want out of a cold scoop.
Whip up a big batch at the start of summer and reach for it whenever the mercury starts to climb. Any of your favorite toppings would work beautifully on this ice cream, so go nuts!
Enjoy these other fresh ice cream maker recipes this summer!
Source: senseandedibility.com
If you picture a coconut cake, what do you see in your mind's eye? A hard, rock-like cake with no frosting? Because many people do!
This recipe is here to debunk that stereotype and prove that coconut cakes can be just as good as cakes with cow milk… and even better.
This fluffy, layered cake looks like something out of a magazine.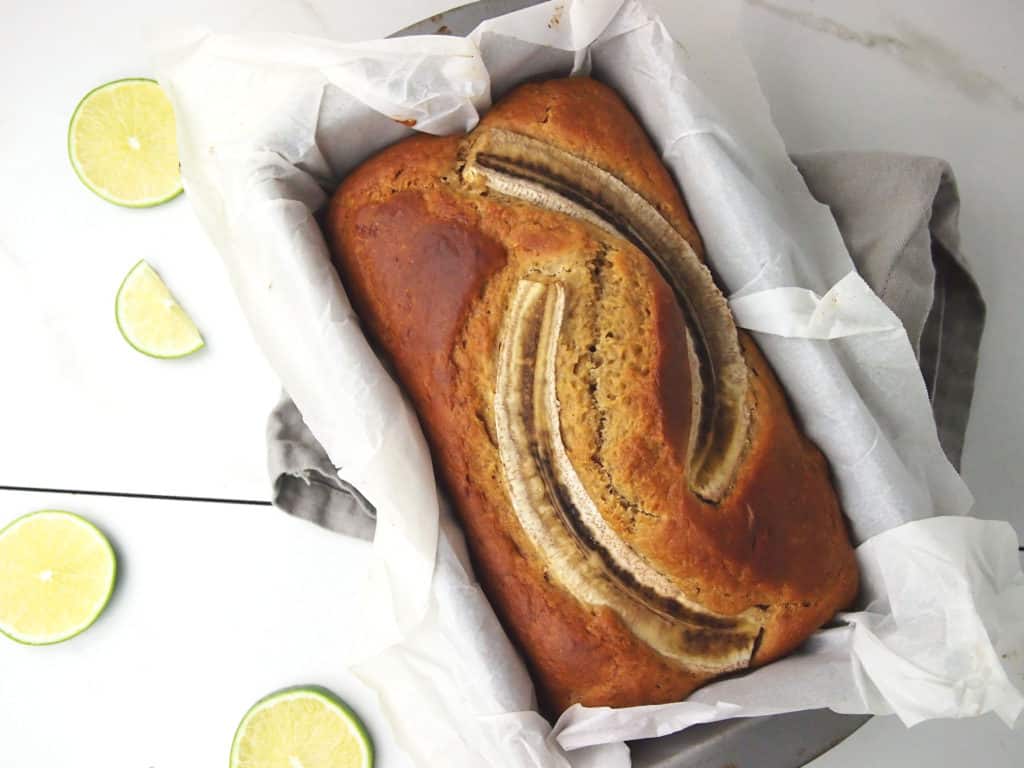 Source: agratefulmeal.com
Lime and coconut is a classic tropical combination, but not one you often see in banana bread. That's what makes this recipe so unique!
Banana bread is known for being incredibly moist, thanks to the natural moisture in mashed bananas. Pair that with coconut milk, and you've got an insanely moist and fluffy banana bread!
Bought too many bananas? These best-ever banana desserts are here to help!
Source: ifyougiveablondeakitchen.com
The same principle applies to these amazing coconut cupcakes. These also look like they leaped off the pages of a magazine featuring an amazing frosting and shredded toasted coconut on top
This would be an amazing thing to take to your next potluck, especially if you're looking to impress your dairy-free neighbors.
Source: temeculablogs.com
Rice pudding is an old-fashioned dessert, it's true, but it holds up for a good reason! This is an amazing dessert to enjoy in winter, and it uses affordable ingredients to make something tasty.
Making rice pudding can take a little while, but you can make it a lot easier on yourself with this ingenious Instant Pot recipe.
Source: siftandsimmer.com
If you're searching for authentic coconut desserts with delicious Asian flavors, you've found it!
This is a sticky rice pudding that incorporates both coconut and pandan, a mellow plant with a light green hue.
This sticky rice pudding is amazing in summer, especially served ice cold. Take it on picnics with you, road trips, or even to your next brunch for a midday-friendly light dessert.
Source: veggiedesserts.com
There's nothing quite like a flan after a filling meal. This is an incredibly unique and delicious flan featuring coconut milk, fresh fruit, and a crumbly sponge cake crust.
I can't overstate how cool this dessert is. Imagine the ultimate Twinkie but with fresh, natural flavors. This is the ultimate birthday cake for a coconut lover.
Source: barleyandsage.com
Donuts are one of the most iconic desserts and one of the easiest to make if you know what you're doing. Luckily, this recipe makes things super easy with simple ingredients and instructions.
If you're a fan of donuts – and really, who isn't? – this recipe is a must-try. Plus, it's a great way to make dessert for the coming days in one fell swoop.
Source: gohealthywithbea.com
Remember how I said that coconut and mango are an iconic flavor combination? This is why! This coconut mango tapioca pudding is humming with different flavors and textures.
The chewy sago makes the texture of this dessert absolutely addictive. The creamy coconut and sweet mango are the real heroes, though, transforming this into a tropical delight.
Source: addictedtodates.com
When the mercury starts to rise, beat back the summer heat with these delicious tropical mango passion popsicles! These dairy-free delights are so good for a hot summer afternoon outside.
Best of all, they're so easy to make that you can whip up a batch in a matter of minutes. These are perfect for both kids and adults, so everyone can get in on the tropical fun in the sun.
Other Coconut Dessert Recipes
There are so many parts of the coconut to use in so many different ways. Check out some of the other coconut dessert recipes making the rounds on the internet.
Source: allnutritious.com
Shredded coconut and cookies, what could be better? These ultra-chewy coconut macaroons only need four ingredients to come together, and one of those ingredients is chocolate.
Did I mention that these come together in mere minutes? In other words, this is the ultimate macaroon recipe, a companion for late nights when you need something sweet and easy to eat.
Source: bakerstable.net
Put a tropical spin on a French classic with this amazing coconut crème brulee! This ultra-creamy dessert would be more than at home on a dinner party menu.
The crack of the sugar on top is only paralleled by the creamy custard hiding beneath. If you love wielding a blow torch, then this is the dessert for you.
Source: allnutritious.com
Whether you need a snack or a healthy dessert, these no-bake coconut protein balls are the ideal solution. They're great as a make-ahead dessert, especially if you're headed somewhere outdoors.
Take a tray of these to your next potluck. Either way, the reception for these deliciously sweet and sticky coconut protein balls will be entirely positive.
Source: bakerstable.net
That's right. You can even make pound cake with coconut! Imagine the mellow, creamy nuttiness of coconut mixed in with the dense, buttery crumb of a pound cake. That's exactly what you get here.
This is such a good dessert for a quick and easy weekend treat. No need to spend hours in the kitchen, and no fancy ingredients. Just simple, wonderful comfort.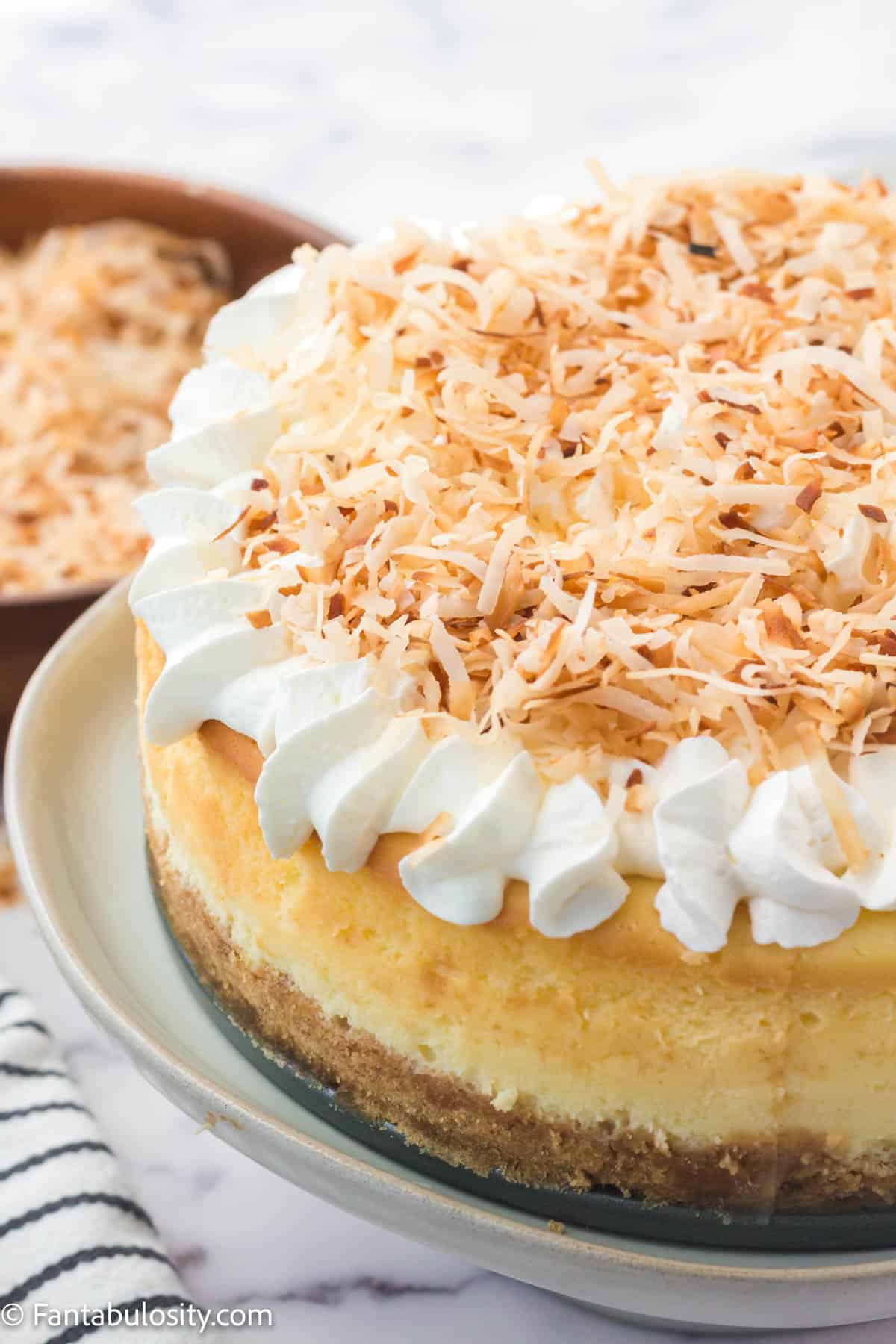 Source: fantabulosity.com
Speaking of creature comforts, what's more comforting than a cheesecake? This version sings with the mellow sweetness of coconut embedded into the cake itself as well as the crust.
This is a great make-ahead recipe because the cake needs to be refrigerated for long enough to hold together.
If you're really keen, try drizzling a mango coulis over the top for a kick of tropical sweetness.
Source: daniscookings.com
The only thing better than regular chocolate chip cookies is the same thing with the added twist of coconut! This recipe ensures your cookies stay chewy and super moist.
These come together in no time, with an iconic flavor profile that will have you thinking fondly of them for days after the batch is good and gone.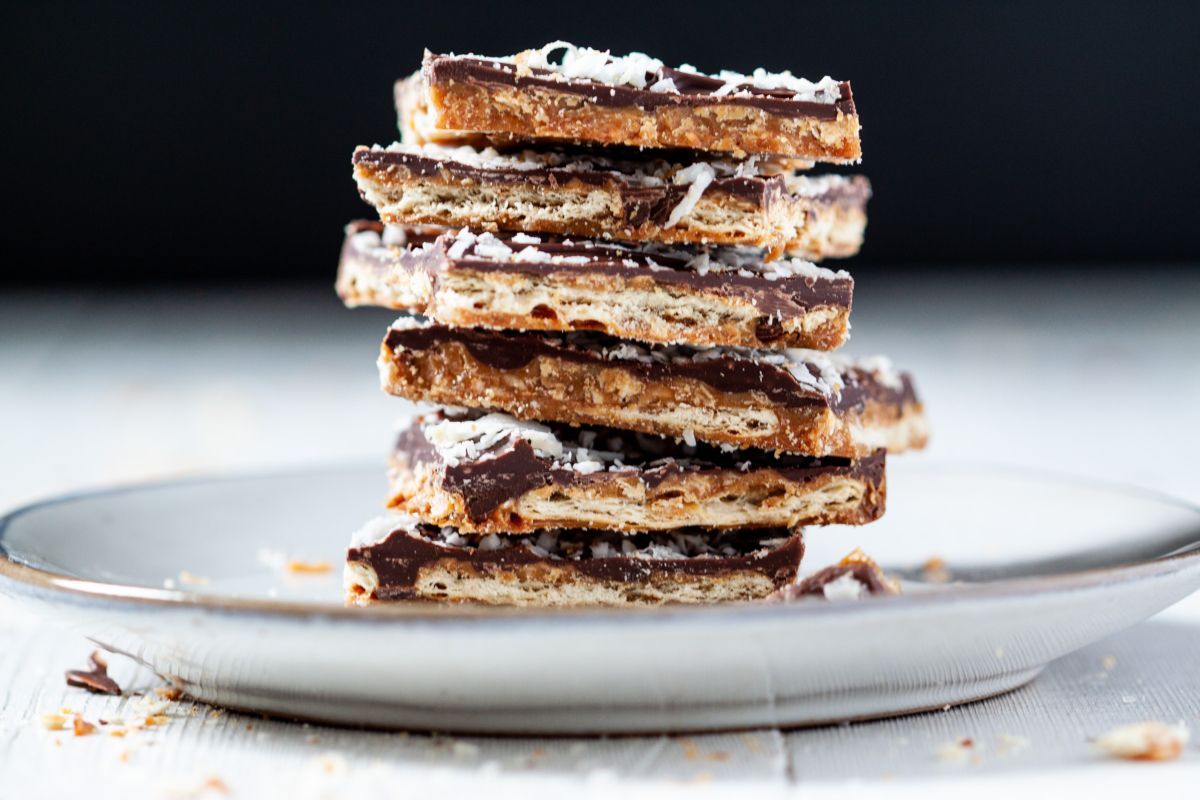 Source: midwexican.com
If you're after something unique and long-lasting, this coconut toffee is the place to look! This isn't all toffee. Instead, it's a layer of dark, sweet toffee on a base of crackly saltines.
This is also great to customize. You can sprinkle whatever you like in that sticky toffee layer before it sets, creating a signature candy you can take with you absolutely anywhere.
Source: passmeaspoon.com
If you're after something a little more traditional, this coconut sugar candy is the thing to reach for. This is another long-lasting dessert ideal for road trips, camping, and picnics.
It's super easy to make ahead of time and pack up in a container, so you can take it with you anywhere. It's just as good as store-bought taffy, with twice the satisfaction.
Source: thetoastykitchen.com
Lemon and coconut are such a great combination. The fragrant citrus is a light and bright addition to these no-bake snowball cookies, while the shredded coconut offers some much-needed chew.
These snowball cookies are great for adults and kids alike, especially in summer. The citrus makes them just tart enough to counteract the sugar, so they're pretty addictive too!
Source: pizzazzerie.com
Coconut sugar has its own unique flavor profile when compared to normal processed baker's sugar. It has a darker sweetness, almost treacly, which makes it ideal as a base for chewy sugar cookies.
Don't believe me? Give these coconut sugar cookies a try and see! Like normal sugar cookies, they're super easy to whip up, taking mere minutes to come together.
Source: livforcake.com
If you're a fan of the iconic Ferrero Rocher, then you most likely enjoy a Rafaello once in a while as well. This Rafaello cake puts this white chocolate and coconut combination in the spotlight.
Aside from the delicious flavor combination, it's the texture that makes this dessert sing. The flaky coconut and smooth chocolate, paired with light cake, is the ultimate triumph!
Source: emilyfabulous.com
Here's another example of why lime and coconut go so well together! Really, any citrus pairs beautifully with coconut because it offers a counterpoint to the creamy milk taste.
Parfaits are one of the best options for a dinner party dessert. Now, pair that with a cheesecake option and you've really got something with which to impress your guests!
Source: thecurlyspoonblog.com
Carrot cake is notoriously moist and nutty, thanks to the abundance of carrots and walnuts. Now, imagine that with the addition of coconut!
Not only will the coconut help make the cake moister, but it will also add to that iconic nuttiness to counteract the sweetness of the cream cheese frosting.
Source: thehomeintent.com
Toasting coconut helps to bring the woody, nutty flavors out of it, turning the coconut flesh a gorgeous golden brown at the same time. So, what could be a better ingredient for a cookie?
This recipe is so quick and easy, producing chewy, sweet toasted coconut cookies in no time.
Source: danastable.com
The only thing that could possibly make macaroons better would be the addition of chocolate chips… so that's what we have here!
Once again, coconut cookies are some of the easiest things in the world to make, and they keep well once made. That's what makes these cookies so great for picnics, road trips, and potlucks.
Source: perchancetocook.com
Toasted coconut paired with the deep, dark flavor of chocolate is an incredible combination! The two tastes pair to create a mellow, addictive chocolate flavor that hums with warmth.
This is the kind of brownie you just don't get tired of… so be careful how big your batch is! You might want to eat the whole thing.
Source: christinascucina.com
Pair two fruits together in this incredible bundt cake. The crumb on this cake is so good, with a light, buttery feeling moistened by all the bananas in the batter.
The coconut icing is the real hero here, though. Sweet, cooling, and the perfect counterpoint to the cake. What's really great about this recipe is how quickly you can pull it together.
If you need something last-minute for a function, this cake will have your back.
Keto Coconut Dessert Ideas
Living keto-friendly means choosing ingredients that maximize protein while minimizing carb intake. So, if you're keto, coconut is a wonderful ingredient to rely on for your desserts.
Enjoy something sweet that won't compromise your choice of diet, and – thanks to the fiber – will keep you fuller for longer.
Source: allnutritious.com
First up, we have one of my favorite keto recipes I've ever made! These keto raspberry coconut cupcakes are moist, sweet, and perfect for a quick and easy dessert.
You can even whip these up for the week ahead to combat any midnight sugar cravings.
Source: easymugcakes.com
Sometimes, you just want something super fast and simple to scratch the sugar itch. Whip up a keto-friendly dessert in literally five minutes, thanks to this amazing recipe!
The coconut keeps this mug cake moist, and the flavor is the perfect thing to end your day.
Source: lowcarbspark.com
Coconut cream pie is arguably a human right. Everyone should be able to enjoy it, regardless of the dietary restrictions you live with. That's why this is such a great recipe!
The secret to the crust is almond flour, offering a crunchy, crispy crust to hold the delicious coconut filling.
Source: lowcarbspark.com
In a similar vein, our final recipe embraces everything good about the coconut and puts it into a cake. Delicious frosting, a perfect crumb, and amazing flavor: this cake is a home run.
Use it as the showstopper for your next dinner party, bring it to a potluck, or whip a quick one up at home for a treat the whole family can enjoy.
41 Best Coconut Dessert Recipes To Satisfy Your Sweet Tooth
Treat yourself to a taste of paradise with these coconut dessert recipes. Sure to add a touch of sweetness to any occasion.
Ingredients
1. Coconut Flour Muffins
2. Vegan Coconut and Rum Snowballs
3. Coconut Flour Protein Cookies
4. Coconut Flour Oatmeal Cookies
5. Coconut Shortbread Cookies
6. Coconut Milk Chia Pudding
7. Coconut Lemon Fruit Leather
8. Coconut Pudding from Puerto Rico
9. Vegan Coconut Tres Leches Cake with Coconut Whipped Cream
10. Coconut Rum Cream Pie
11. Coconut Milk Ice Cream
12. Toasted Coconut Cake
13. Lime Coconut Banana Bread
14. Coconut Cupcakes
15. Instant Pot Pressure Cooker Coconut Rice Pudding
16. Malaysian Coconut Sticky Rice Pandan Custard
17. Coconut Fruit Flan with Sponge Cake Crust
18. Toasted Coconut Donuts
19. Coconut Mango Sago Tapioca Pudding
20. Tropical Popsicles
21. 4-Ingredient Coconut Macaroons with Chocolate
22. Coconut Creme Brulee
23. Coconut Protein Balls
24. Coconut Pound Cake with Easy Vanilla Icing
25. Coconut Cheesecake
26. Coconut Chocolate Chip Cookies
27. Coconut Toffee
28. Coconut Sugar Candy
29. Lemon Coconut Snowball Cookies
30. Coconut Sugar Cookies
31. Rafaello Cake
32. Lime and Coconut Cheesecake Parfaits
33. Coconut Carrot Cake
34. Toasted Coconut Cookies
35. Chocolate Chip Coconut Macaroons
36. Paleo Toasted Coconut Brownies
37. Banana Coconut Bundt Cake with Coconut Icing
38. Keto Raspberry Coconut Cupcakes
39. Keto Coconut Mug Cake
40. Keto Coconut Cream Pie
41. Keto Coconut Cake
Instructions
Scroll up to get a bunch of easy, yummy, and delicious recipes. Don't be afraid to get creative with the ingredients, you might discover a flavor you didn't know you liked.
Get your shopping list going and make sure you've got all the ingredients.
Get cooking and make your next Coconut Dessert Recipe!
Notes
Which one of these recipes was your favorite? Let me know in the comment section or on Pinterest!