Whether you have a ton of leftovers from your holiday family meal or you're just a big fan of ham, these soup recipes with ham are so good! They're a great way to enjoy this flavor-filled protein.
Simmering ham into a delicious broth creates an ideal soup base. When you layer even more flavors on top, it turns into a rich, warm, comforting ham soup recipe.
Not only that, but ham soup recipes are also really versatile!
Great for meal prep and easy to pack with healthy vegetables, this list is full of hearty soup recipes to make your mid-week dinners easier.
What to Do With Ham Fat and Bone?
As with many other proteins, the fat and bone leftover from ham preparation are full of flavor. Melted-down ham fat can replace butter in many recipes, almost like bacon fat!
The bones are also a great ingredient you can use to create a healthy, delicious bone broth. Browned off in a pan and boiled in water, these bones create an amazing foundation for any soup.
Studies show that ham bones contain peptides that are released when they're cooked down. These possibly have cardioprotective effects, meaning they help keep your heart healthy.
How Do You Thicken Ham Soup?
If you're looking for a thick and creamy soup, the best way is to add flour or cornstarch to your broth. Around three tablespoons of flour to a cup of liquid ought to do it!
You can also use natural thickeners like vegetables with a heavy starch component. Potatoes and sweet potatoes are ideal, as they release starch into the broth while boiling.
Best Ham Soup Recipes
Source: sulaandspice.com
First up, we have a classic soup recipe the whole family will love, and it doubles as one of the best leftover ham recipes.
Split pea soup echoes Indian dal recipes, but this recipe uses a meaty ham bone to create the ultimate tasty soup base. A bay leaf gives this ham bone soup recipe even more flavor depth!
Source: windingcreekranch.org
Make your mid-week dinners a breeze with this comforting Instant Pot recipe! The potato in this recipe helps to naturally thicken the broth, while the flavors are out of this world.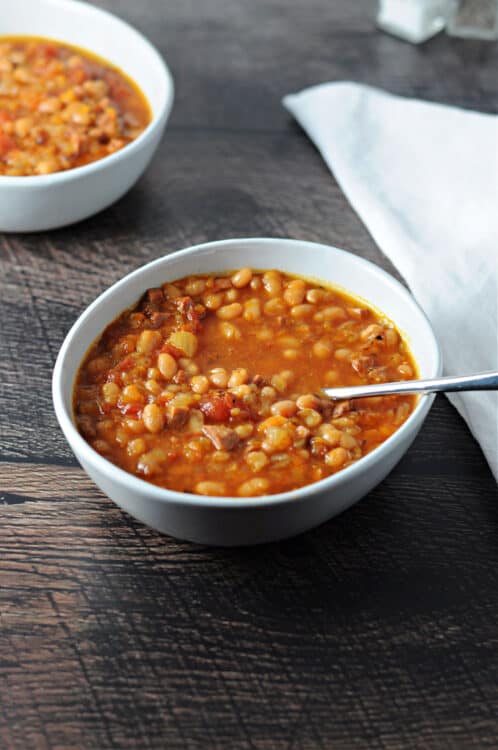 Source: sulaandspice.com
Also known as haricot beans, navy beans are a wonderful ingredient to include in your daily diet. They're rich in protein and nutrients, affordable, and absolutely delicious alongside a cut of ham.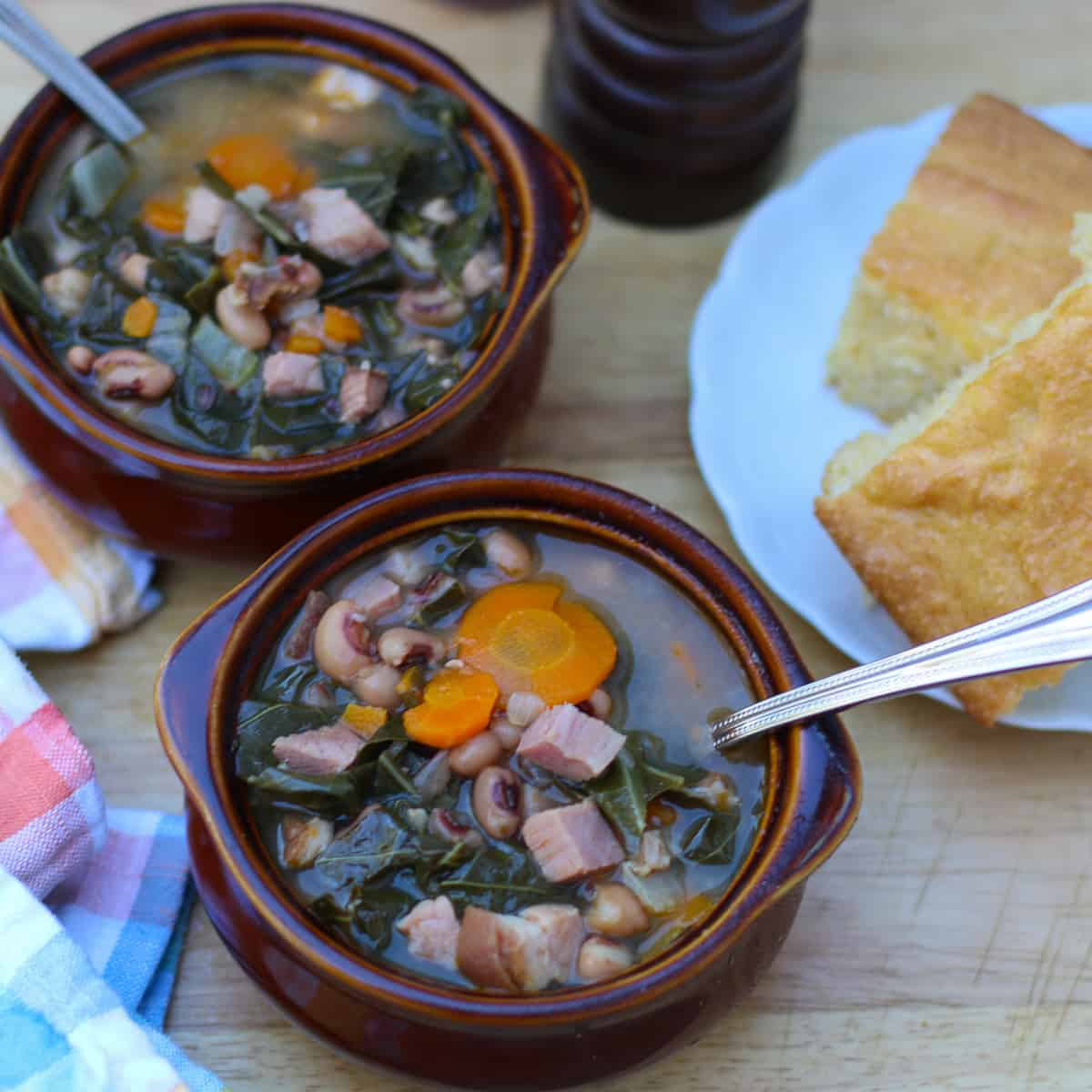 Source: aforkstale.com
Take all the best flavors from the South and transform them into an addictive soup with a smoky flavor!
This bean soup recipe with chicken broth is a super simple way to enjoy your favorite Southern side dishes. Plus, the best part is it's delicious and super healthy.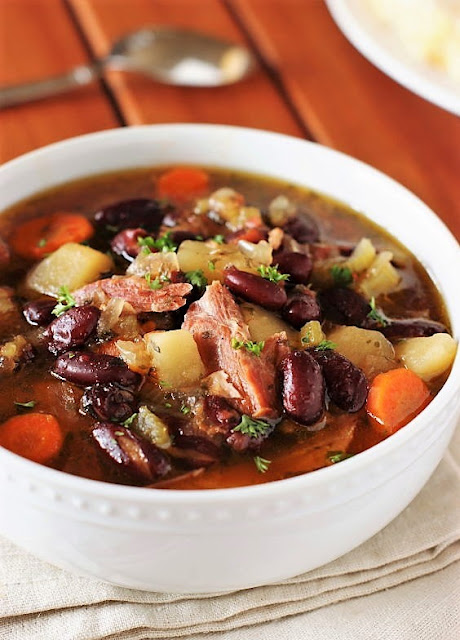 Source: thekitchenismyplayground.com
Inject plenty of healthy, high-quality protein into your day with this simple slow cooker soup recipe.
Leftover holiday ham and kidney beans are an ideal pair, offering tons of flavor without breaking the bank. This soup is best served with a side of crusty bread.
This is one of the best cheap crockpot meals for families!
Source: chocolatemoosey.com
If you're a fan of ham and cheddar cheese sandwiches, then this is the homemade soup recipe for you!
This super simple one-pot meal is guaranteed to put a smile on your family's face and save you time on a busy weeknight.
Source: thekitchenismyplayground.com
There's something so comforting about a warm bowl of chowder on a cold evening. Take care of your winter weeknight dinner with these easy dump-and-go slow cooker recipes.
This is one of the best easy crockpot recipes for anyone to make!
Source: everydayfamilycooking.com
Ham and cabbage are a combination as old as time itself and for a good reason! Cabbage is like a flavor sponge, absorbing all that delicious saltiness and tempering it with some earthiness.
Together, these humble ingredients create an amazing, affordable soup the whole family will love.
This is one of the best dinner ideas for tonight!
Source: lanascooking.com
If you've prepared a delicious holiday ham hock, don't let any piece of it go unenjoyed!
This leftover ham bone soup is proof that you can create something delicious, all while ensuring your hard work doesn't go to waste.
Source: temeculablogs.com
I love adding barley to soups because it's a great option to help the meal feel so much more robust!
It also keeps beautifully, which is why this Instant Pot barley soup is so great for meal-prepping.
Source: coupleinthekitchen.com
Transform your favorite sandwich into a nutritious, delicious soup perfect for a chilly evening. This Reuben soup is so easy it's almost unfair. Just throw four ingredients in a pot, cook, and enjoy!
Source: busycreatingmemories.com
Ham bone soup has been a staple for decades thanks to its deep, rich flavor. Adding potatoes to the mix helps thicken the tasty broth while making it more filling, so it's no wonder this recipe is a hit!
Source: sumptuousspoonfuls.com
Chickpeas are versatile, affordable, and packed with protein. That's what makes them so great in soup recipes!
This delicious ham bone and chickpea soup is proof that even the most humble ingredients can be mind-blowing when you know what to do with them.
This is also a great cheap dinner idea to stay under budget this month!
Source: amandascookin.com
Simple, warm, and comforting are the three words that come to mind when I think of this soup. It's so easy to customize by adding your own vegetables and spices, so make it your own!
You can also use any beans you like, such as cannellini beans, great northern beans, or even green beans!
Source: sumptuousspoonfuls.com
Take inspiration from Irish cuisine with this cabbage, potato, and ham soup. This recipe yields pure comfort in a bowl, and it's a great way to use up your leftovers after a big holiday dinner.
Source: masalaherb.com
Looking for something rich and luxurious to add to your recipe book? Look no further than this cheese and tortellini soup. The pieces of ham strewn in the broth make it absolutely delicious.
Source: simplystacie.net
Hearty, comforting, and packed with tender vegetables, this is a healthy soup your family or guests will love. Not only that, but it's also a great meal prep recipe.
Keep a few portions in your freezer for those nights when cooking just feels impossible. Simply defrost the soup, warm it up, and serve!
Source: cookathomemom.com
Keep things simple and hearty with his classic ham and white beans soup. Quick, affordable, and tasty, this is a great go-to meal for a busy weeknight at home with your family.
Source: savoryexperiments.com
That's right, this recipe features fifteen different kinds of beans!
From navy beans to pinto beans, this recipe features every protein-packed legume under the sun. It's so easy to customize and make your own.
The ham really makes the dish sing, offering a burst of saltiness to elevate the flavor of the beans.
You might also enjoy these other canned pinto bean recipes!
Source: bobbiskozykitchen.com
Soups are a great meal category for anyone who lives keto. With low carbohydrates and a ton of protein, this tasty cheese and ham chowder recipe is warm, comforting, and super flavorful.
Source: numstheword.com
Finally, we're capping off our list with a super healthy ham and bone vegetable soup! This recipe is a great way to use all the leftover ingredients from a big holiday meal with your family.
Serve it up the next day for a nutritious, easy dinner that's also gentle on the stomach.
There you have it! Twenty-one delicious soup recipes that make use of your leftover ham. Check out the rest of my Recipe Roundups for more great ways to enjoy leftover ingredients.
21 Best Soup Recipes with Ham
Looking for a quick and easy meal that will warm you up from the inside out? Look no further than these tasty soup recipes with ham.
Ingredients
1. Instant Pot Split Pea Soup
2. Instant Pot Ham and Potato Soup
3. Instant Pot Navy Bean Soup with Ham
4. Collard Green Soup with Smoked Ham and Black Eyed Peas
5. Slow Cooker Ham and Kidney Bean Soup
6. Ham and Cheese Soup
7. Slow Cooker Ham and Corn Chowder
8. Crockpot Ham and Cabbage
9. Leftover Ham Bone Soup
10. Instant Pot Barley Soup
11. Healthy Reuben Soup
12. Creamy Ham and Potato Ham Bone Soup
13. Ham Bone and Chickpea Soup
14. Ham and Bean Soup
15. Irish Cabbage and Potato Soup with Ham
16. 3 Cheese Tortellini Soup with Ham
17. Creamy Cabbage Soup
18. Classic Ham and White Bean Soup
19. Instant Pot 15 Bean Soup
20. Keto Cheesy Ham Chowder
21. Ham Bone and Vegetable Soup
Instructions
Scroll up to get a bunch of easy, yummy, and delicious recipes. Don't be afraid to get creative with the ingredients, you might discover a flavor you didn't know you liked.
Get your shopping list going and make sure you've got all the ingredients.
Get cooking and make your next Soup Recipe!
Notes
Which one of these recipes was your favorite? Let me know in the comment section or on Pinterest!