Not sure which side dishes go well with grilled shish kabobs? This article will give you inspiration! Read on to discover the best side dishes for kabobs.
Kabobs are the ultimate comfort food. They're associated with Turkish cuisine, but the meat-heavy meal is a favorite of college students, kids, and comfort food lovers worldwide.
Second, this is a great chance to pick the right side dishes to make your kabob experience the best. Luckily, I have thirty-one delicious side dishes to push the needle from good to great.
What to Serve with Homemade Kebabs?
All kinds of side dishes suit homemade kebabs. The great thing about making your kebabs at home is that you can chop and change your side dishes as needed.
Create delicious new combinations with any side dish options on this list! If you're looking for some broad ideas, here are a few for you to start with:
Rice: Serve your kebabs with a side of rice. You could make plain white rice or mix it with herbs or spices.
Salad: A fresh salad can be a great accompaniment to kebabs. Try making a Greek salad with tomatoes, cucumbers, feta cheese, and olives or a simple green salad with a lemony vinaigrette.
Hummus and pita: Serve your kebabs with some hummus and warm pita bread. This is a classic combination that always works well.
Grilled vegetables: Kebabs and grilled vegetables go together perfectly. Try grilling bell peppers, onions, and zucchini to serve alongside your kebabs.
Tzatziki: Tzatziki is a creamy yogurt-based sauce perfect for dipping kebabs. It's easy to make at home and goes well with various flavors.
Roasted potatoes: Another great option is serving your kebabs with roasted potatoes. Cut them into small pieces and season with herbs and spices for extra flavor.
Baba ghanoush: Baba ghanoush is a roasted eggplant dip similar to hummus. It's a great alternative if you want something different to serve with your kebabs.
Looking for something more specific? I've got your back. Let's dive into thirty-one other options for delicious kabob side dishes.
Best Side Dishes for Kabobs
Source: foxeslovelemons.com
We're kicking things off with a classically simple dish: coleslaw! Coleslaw is a great kabob side dish and a popular option at kabob shops worldwide. It's light, crunchy, and refreshing.
If you're making kabobs at home, this is an ideal side dish because it's easy to prepare..
Source: theorganickitchen.org
Rice is a popular side dish to serve with kabobs, so why not put a spin on the classic white rice? This Mediterranean rice recipe features a few extra ingredients to make it sing.
The crumbly feta adds fattiness, while the baby spinach and nuts add freshness. Altogether, this recipe will have you hunting for more in no time.
Source: foxeslovelemons.com
Elote is a Mexican street food made by roasting corn and cutting it off the cob. While pairing Mexican and Turkish food might seem odd, they share similar spice profiles!
The real kicker is how cooling and refreshing this elote corn salad with red onions is.
Source: myorganizedchaos.net
This cold macaroni salad goes hard on Mexican flavor with lime juice and fresh herbs, making it a great side dish for the punchy kabobs.
I love this recipe because – like any good macaroni salad – you can make this the day before you need it.
You will love these other flavorful Mexican side dish recipes!
Source: paintthekitchenred.com
If you're focusing all your energy on making your main dish of chicken kabobs, you don't want your side dish to draw the spotlight away.
These Middle Eastern-style green beans are made with simple ingredients. It's designed to be served as part of a platter, but you can also use it as your only side dish.
Source: thefeatherednester.com
Tie a simple kale salad into the Turkish flavors of your shish kebab with a delicious tahini dressing.
Light, nutty, earthy, and crunchy, this ideal salad balances a heavy, meat-forward main course. If you're trying to get your kids to eat their fresh veggies, you can also wrap this up in the kabob.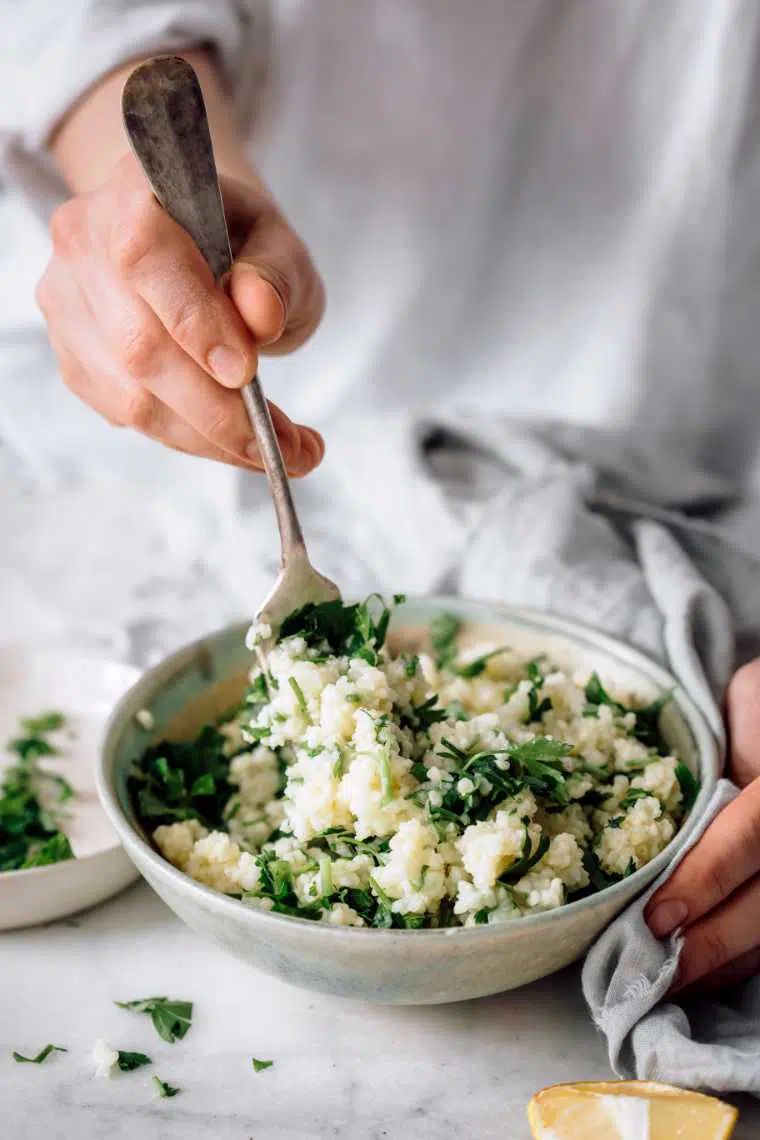 Source: nutriciously.com
This might be your recipe if you're stuck for a good side dish and running low on time (and fresh ingredients). Millet is a delicious, chunky grain used in many dishes worldwide.
Drizzle with lemon juice and whatever you have for a quick and easy side dish for chicken skewers! If you are having chicken kebabs, you'll want to see these best sides for grilled chicken!
Source: whatagirleats.com
Tabbouleh is a classic Middle Eastern side dish! It's cool and refreshing, designed to take the edge off a spicy or heavy meal.
If you go out and buy a kabob, you'll most likely find it served with this salad.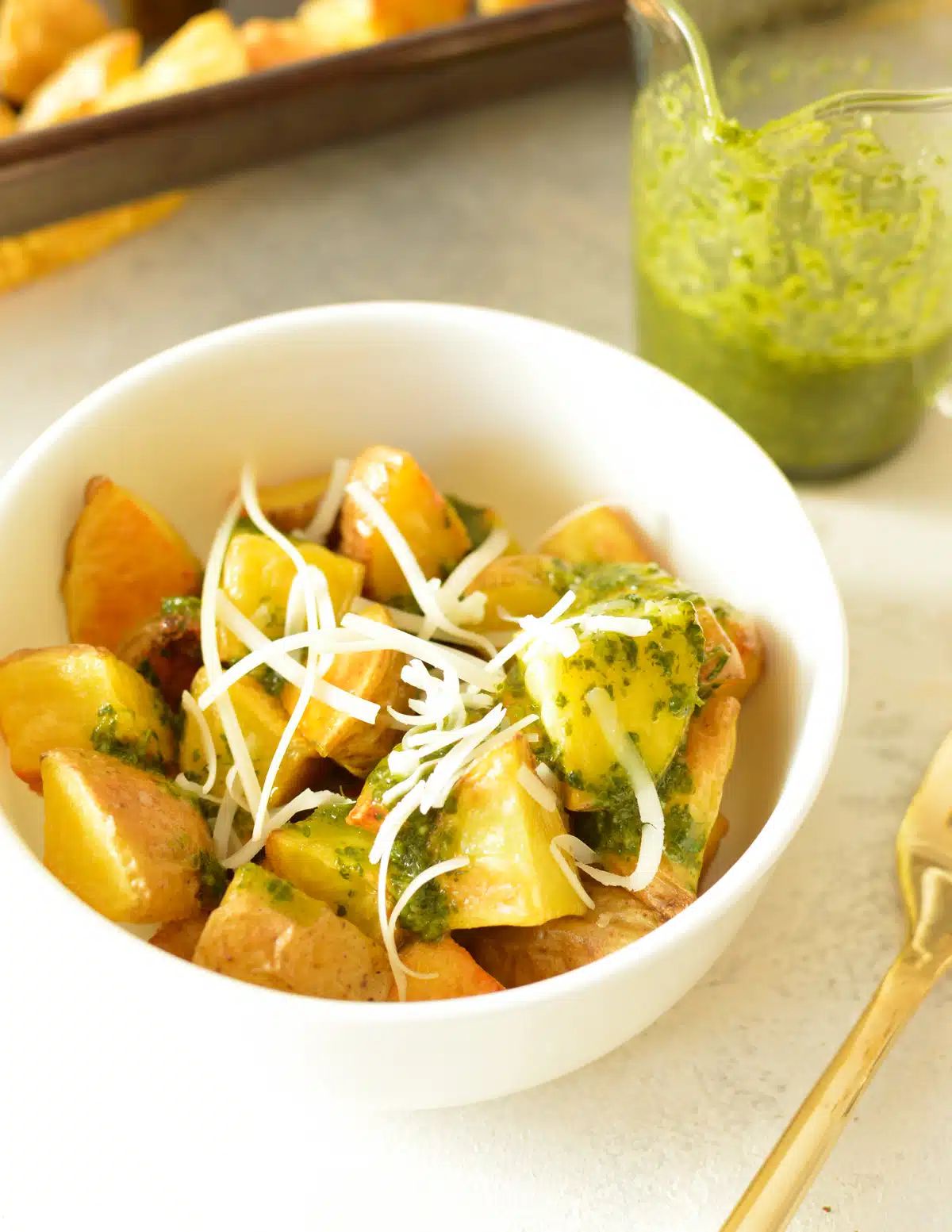 Source: caramelandcashews.com
Roasted potatoes are an amazing classic side dish for steak kabobs or chicken kebabs, especially if you have the filling outside the roll.
The secret to getting the perfect roasted potatoes is to place the potatoes onto an already hot sheet pan. It's a neat trick that ensures the potatoes form perfect roasted skin.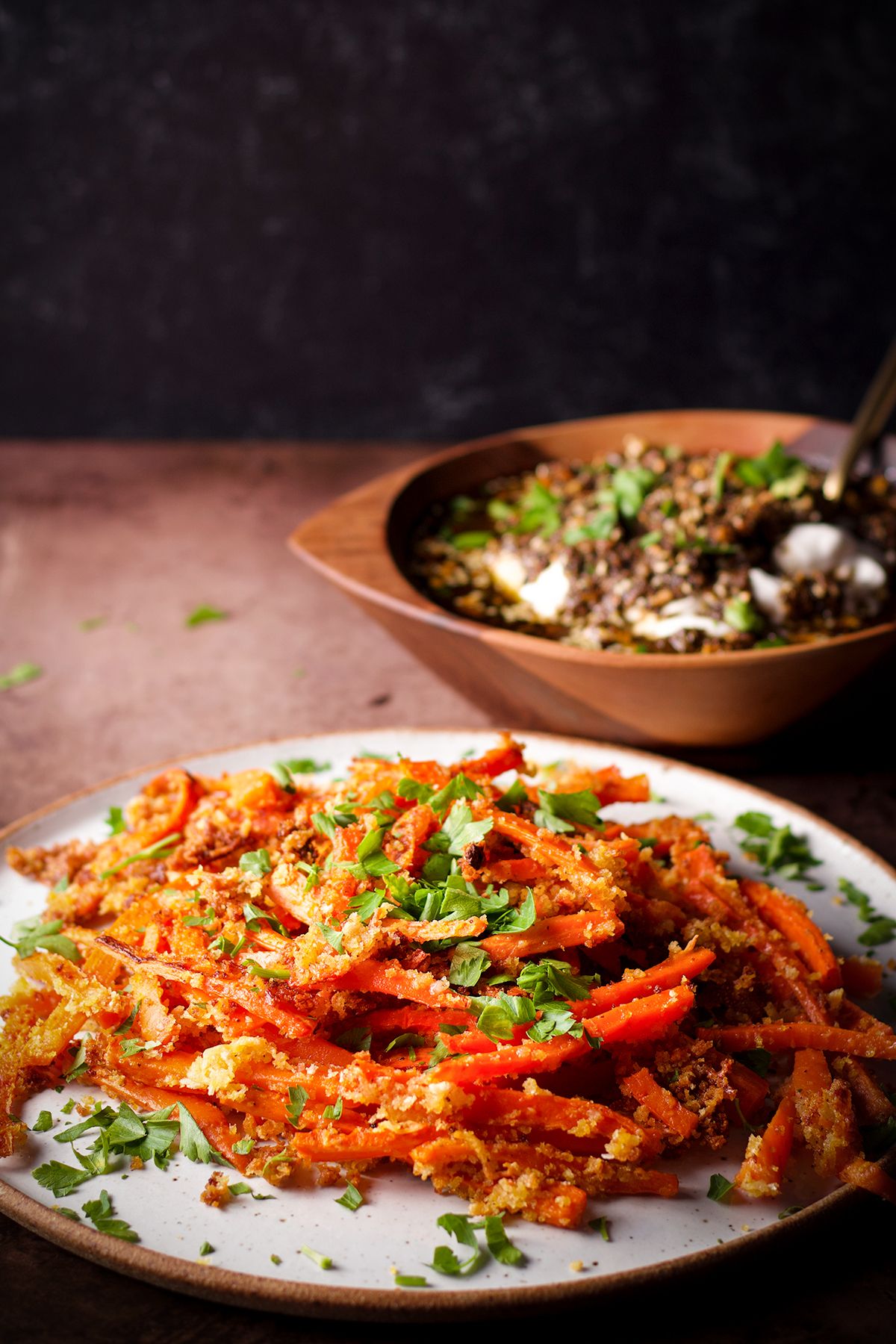 Source: alittleandalot.com
Carrots are a great healthy substitute if you want to make kabob on chips at home but don't want to use potatoes. Both carrots and potatoes are root vegetables, so they roast similarly.
The carrots have a natural sweetness that counteracts the heavy kabob, making it a more balanced meal overall.
Source: inspiringsavings.com
Broccoli salad with bacon is delicious on the taste buds! The creamy dressing, fresh broccoli, and crunchy bacon combine to create the ultimate side salad for grilled meat.
This is also a great simple side dish recipe to use with lunch the next day.
Source: noshingwiththenolands.com
If you have a smoker on hand, try these potatoes for an easy meal!
The best part is they are amazing with kabobs, as the smoky flavor in the potatoes pairs beautifully with the heartiness of the kabobs.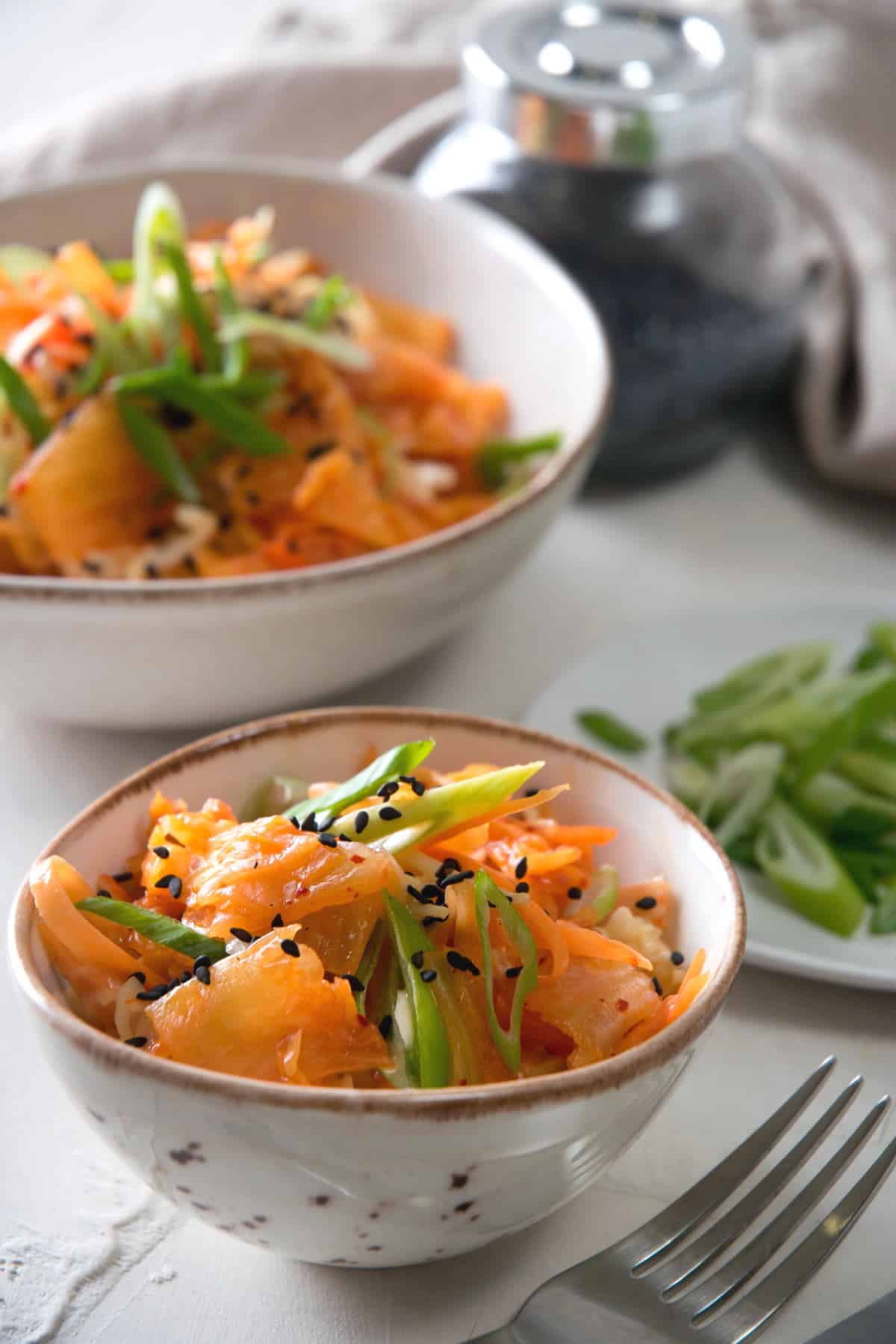 Source: inthekitch.net
Who doesn't love a little bit of fusion cuisine now and then? Kimchi is a traditional Korean side dish made with fermented cabbage and gochujang, a spice paste not for the weak of the heart.
The sourness of the kimchi is a great balance for the robust kabobs. It also kicks the spice level up a notch.
Source: noshingwiththenolands.com
Give all your time and attention to your kabobs, and rest assured that these fluffy crock pot baked potatoes will turn out perfectly.
Top with your favorite garnishes to complete the meal. Tabbouleh would be great on these! Or, you could even use them as the foundation for your kabobs.
Source: dishnthekitchen.com
Keep things fresh and healthy with a delicious carrot salad. This recipe calls on Asian influences, with a nutty sesame oil and maple syrup dressing.
It's not too sweet but refreshing enough to cut through the robust main meal. Try making this to let the flavors soak together in the fridge!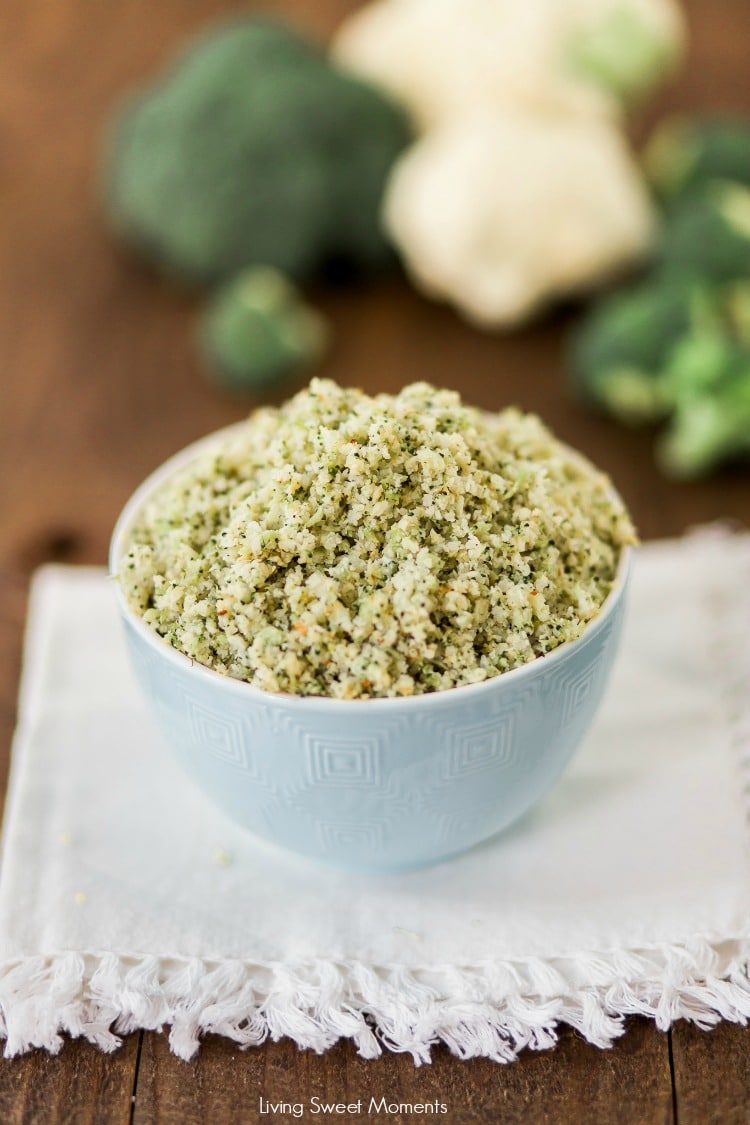 Source: livingsweetmoments.com
Rice is a popular option to serve with kabobs. But if you're on a low-carb diet, that's a tough choice. Instead, try this light and bright low-car broccoli and cauliflower rice.
This is much easier to make than it might seem. All you need to do is blitz the broccoli and cauliflower before steaming it for just a few minutes.
Source: livingsweetmoments.com
Lemon, parmesan, and quinoa are a wonderful combination. Pair that bright flavor profile with the earthy kale, and broccoli guarantees a satisfying side dish.
This is a little more filling than most side salads, so it's great if you don't have a lot of carbs in your dish to add the necessary calories.
Source: cookwithkushi.com
Cucumber is the perfect vegetable to base a kabob side dish on! It's crunchy, cooling, and ideally suited to Turkish cuisine. That's why this dill and cucumber salad is a must-try.
Ribbons of red onion bring a spark of heat to this dish, just enough to make it interesting without overwhelming the salad.
This salad truly is one of the most delicious side dishes for chicken kebabs!
Source: simplyscrumptiouseats.com
Also called Jerusalem Artichokes, these roasted sunchokes are amazing with kabobs. The sunchoke is a root vegetable related to the sunflower (hence the name), giving it a nutty flavor.
Roasted or raw, these are amazing with a side of hummus, olive oil, and thyme. You've got to try these the next time you make homemade kabobs!
Source: cookwithkushi.com
Add a healthy kick with some punchy flavor to your kabob's rice! This garlic and turmeric rice is characteristically yellow, with an addictive earthy garlic flavor singing through every grain.
Best of all, you can sneak a few vegetables into the rice. This is great for getting your kids on board the vegetable train!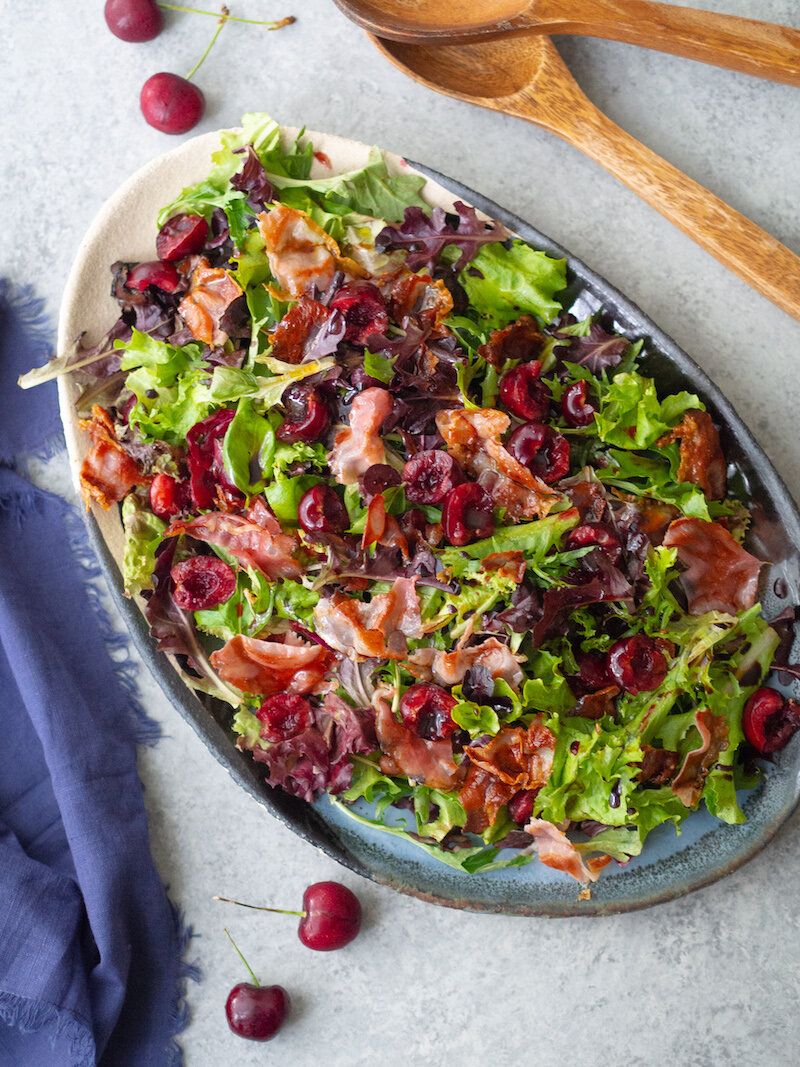 Source: rachaelhartleynutrition.com
While this salad is more Mediterranean or Italian, it's a great dish for your kabobs. It's fresh, a little bit sweet, a little bit salty, and super healthy. Plus, it's really easy to make!
Keep this recipe in your back pocket for the next time you need a salad to suit an Italian dinner party.
If you are having steak kabobs, check out these great side dishes for steak!
Source: killingthyme.net
Grilled asparagus is somehow both fresh and charred, naturally enhancing the flavor of the kabobs.
The charred lemon on the side makes this dish sing. Squeeze it on top to add a burst of freshness! This recipe is delicious, quick, and perfect for a quiet night.
Source: hauteandhealthyliving.com
Potato salad is perfect for putting on the plate with your kabob! It combines coleslaw and roasted potatoes into one delicious dish, but this recipe puts a healthy spin on that combo.
Fresh dill, no eggs, and a Greek yogurt dressing make this ideally suited to a night of Turkish food.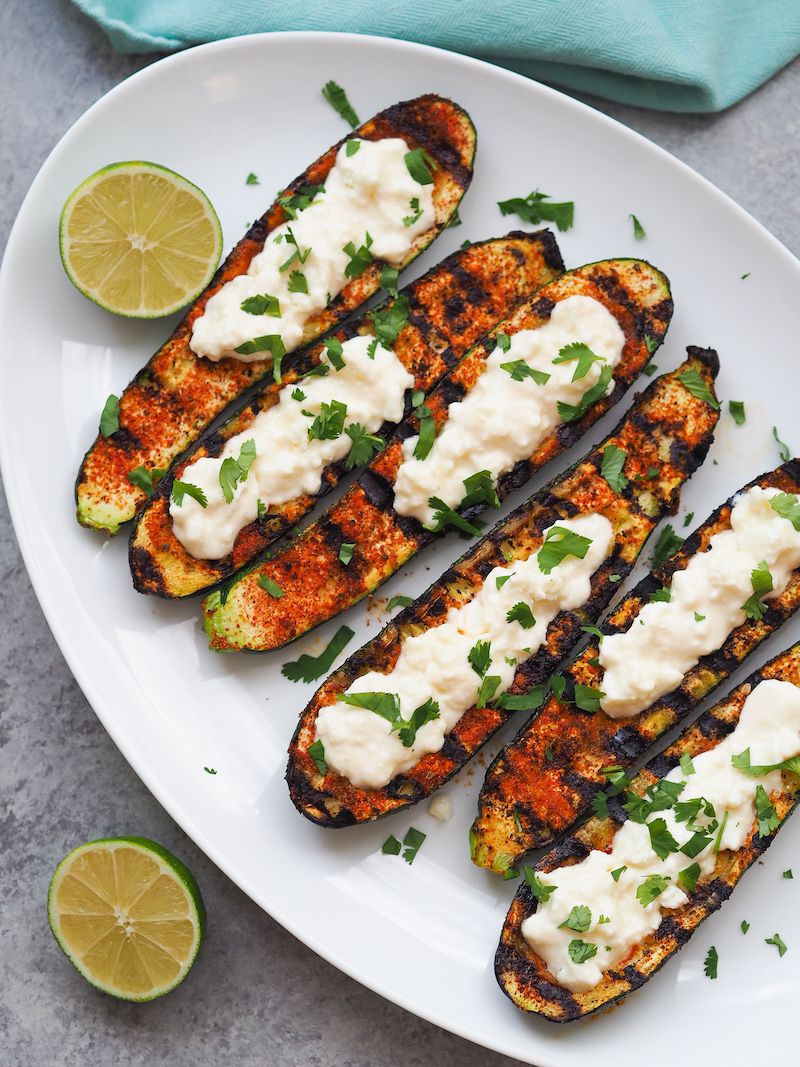 Source: rachaelhartleynutrition.com
Once again, we're reaching out to the annals of Mexican cuisine to search for inspiration. These zucchini boats almost mirror the flavor and texture of baba ghanoush.
They feature a creamy topping, tons of spice, and a cooling roasted zucchini at the base. Delicious, simple, and very good for you. What more could you ask for?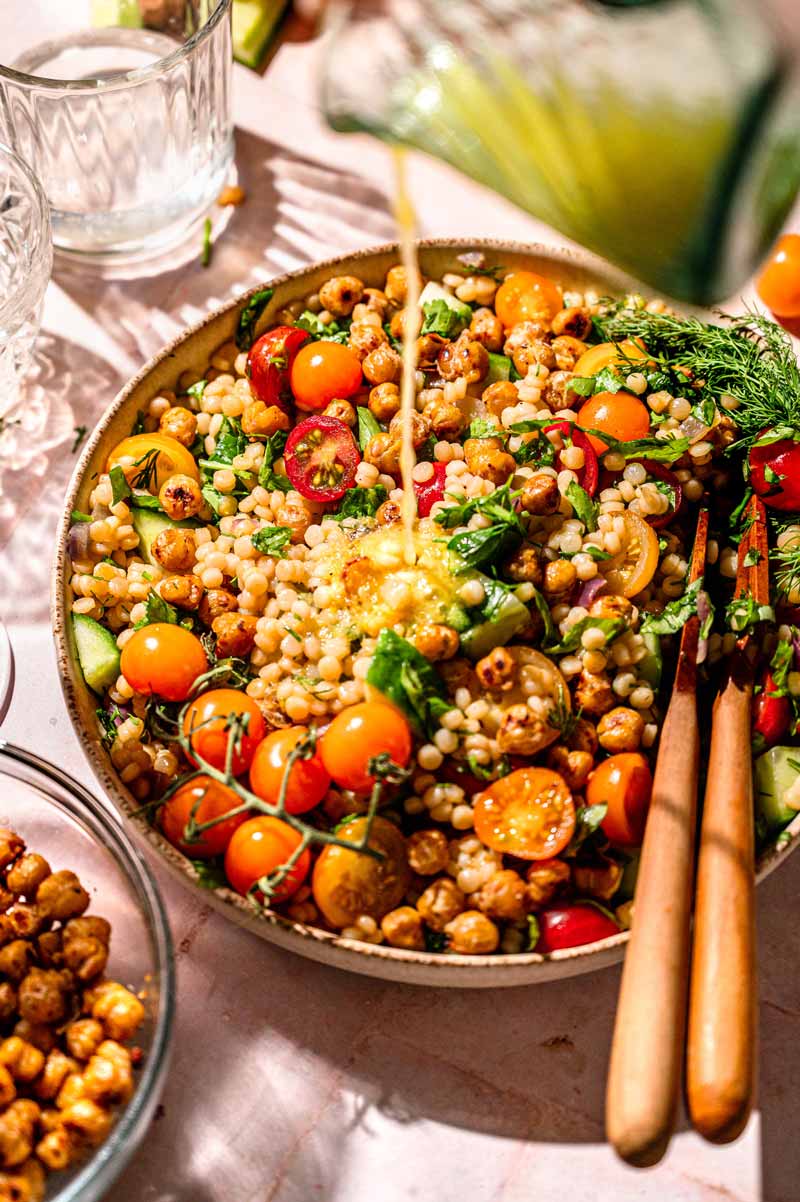 Source: tyberrymuch.com
Pearl couscous is one of those grains that can make any salad seem luxurious. This vegan couscous and chickpea salad are like a bigger, better take on a tabbouleh.
Gems of heirloom tomatoes, whole leaves of shredded herbs, chewy chickpeas, and gleaming couscous create true beauty.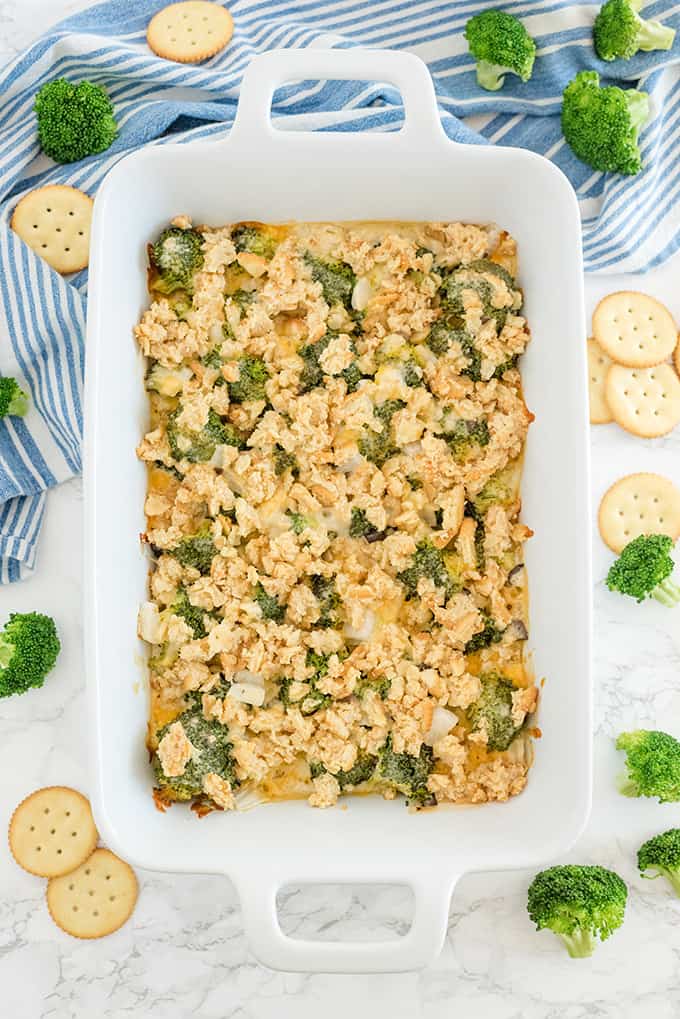 Source: simplystacie.net
If you're strapped for time, this broccoli casserole will serve beautifully in a pinch. Not only is it healthy, but it's also versatile.
Cheese, mushrooms, and broccoli may be an unlikely trio, but you won't look back after you take your first bite!
If you love broccoli, you'll enjoy this tasty cheesy garlic broccoli!
Source: biteswithbri.com
Take a Caesar salad and return it to its essentials; what do you get? Well, you get this! This is a Caesar salad recipe that might consider itself minimalist.
Featuring just greens, croutons, olive oil, and parmesan, this simple salad relies on great ingredients and textures to make you salivate.
Source: thedevilwearssalad.com
Bring the Australian bush to your dinner table with this genius cucumber and finger lime salad. If you've never tried finger lime before, it's an exotic Australian fruit with an explosive flavor.
There's no better partner to finger lime than cucumber, which is why this is a fantastic recipe in your arsenal.
Source: servedfromscratch.com
If you're headed to a local potluck or want something simple, this avocado pasta salad is for you. You can prepare almost everything in advance, making assembly a breeze.
Tweak the recipe to suit what you love most in a pasta salad.
Source: greenbowl2soul.com
Also called laccha pyaz, this onion salad is a North Indian recipe that packs a punch. It's super simple, requiring only a red onion and a trip to your spice cabinet.
Toss the spices onto your red onion rings and let them sit for a minute, allowing them to soak through. Serve with a leaf of mint for an extra kick of fragrance.
Source: inthekidskitchen.com
Finally, here's another great substitute for potato fries with your kabobs. They might take slightly more effort, but the creamy, delicious, healthy results are worth it.
Biting into the crust on these fries yields a soft, velvety center of fresh avocado. Paired with a main dish of kabobs, these are perfect for balancing the meal.
31 Best Side Dishes to Serve with Shish Kabobs
Discover the perfect side dishes for kabobs with these wonderful accompaniments to your main course.
Ingredients
1. Coleslaw with Celery Seed
2. Mediterranean Rice with Baby Spinach and Feta
3. Elote Corn Salad
4. Mexican Macaroni Salad
5. Instant Pot Green Beans
6. Kale Salad with Tahini Dressing
7. Lemony Herbed Millet
8. Quinoa Tabbouleh
9. Roasted Honey Gold Potatoes with Cilantro Vinaigrette
10. Crispy Carrot Fries
11. Broccoli Salad with Bacon
12. Garlic Herb Smoked Potatoes
13. Kimchi Slaw
14. Fluffy Crock Pot Baked Potatoes
15. Carrot Salad with Sesame Maple Vinaigrette
16. Low Carb Broccoli Cauliflower Rice
17. Lemon Parmesan Quinoa Salad
18. Dill Cucumber Salad
19. Roasted Sunchokes with Thyme
20. Garlic Turmeric Rice
21. Summer Kale Salad with Cherries and Crispy Prosciutto
22. Grilled Asparagus with Charred Lemon
23. Healthy Dill Potato Salad
24. Grilled Mexican Zucchini Boats
25. Vegan Lemon Herb Pearl Couscous Salad with Chickpeas
26. Broccoli Casserole
27. Caesar Salad
28. Cucumber Finger Lime Salad
29. Avocado Pasta Salad
30. Onion Salad
31. Baked Avocado Fries
Instructions
Scroll up to get a bunch of easy, yummy, and delicious recipes. Don't be afraid to get creative with the ingredients, you might discover a flavor you didn't know you liked.
Get your shopping list going and make sure you've got all the ingredients.
Get cooking and make your next Side Dishes to Serve with Shish Kabobs!
Notes
Which one of these recipes was your favorite? Let me know in the comment section or on Pinterest!