Need a perfect pairing for your fried fish? These best side dishes for fried fish will make for a delicious meal.
Fish is a delicious choice for any meal, whether pan-fried or dipped in batter and deep-fried. It's a super versatile protein that's cost-effective and packed with nutrients.
Beyond that, it's just really delicious! I firmly believe that there's nothing more important than enjoying the taste of your meal, and fried fish always delivers.
The question is, what do you serve with this light and flaky main dish?
What to Serve with Fried Fish?
The ideal fried fish sides highlight the juiciness of the fish, amplifying its sweetness without overpowering its delicate flavor. On top of that, the side dishes should be easy!
After all, you don't want to focus all your attention on the side and end up overcooking the fish, right?
Healthy Sides for Fried Fish
Looking for a healthier alternative? First up, we're diving into healthy fried fish side dishes. Each of these recipes definitely emphasizes health, but they don't compromise on taste.
From autumnal bakes to tropical takes, this list is stuffed to the gills with delicious recipes… I had to. Find the perfect side dish that'll become the best thing you've ever eaten.
Autumnal flavors burst forth from this delicious apple sweet potato bake. This is super simple to make; it's also the perfect complement to a light pan-fried fish.
This sweet potato bake's nutty and earthy notes offer a gorgeous contrast to the light fried fish. Each one cleanses the palette of the previous taste, so you'll constantly be going back for more.
What a great way to use sweet potatoes and serve with fish fillets!
You could settle for mashed potatoes… or put a spicy twist on this well-loved classic. These curried mashed potatoes are humming with aromatic spices, instantly elevating your dish.
Don't worry; you don't need the spice drawer of a professional chef! A simple dose of curry powder is all you need to lend these fluffy potatoes a vibrant flavor and color.
This is a great classic side that goes amazing with fried food. Add a little bit of fresh dill and you've got a great flavor.
This is also a great side dish for steak.
Next up, we've got a salad that puts a spring in broccoli's step. The light and vibrant flavors from this salad accent broccoli's earthiness, all while creating a filling salad that compliments fried fish.
Spring vegetables and fish get along like a house on fire, so it's only natural that this salad is on our list. Experiment with different ingredients to satisfy your palette and create your own take.
Pan-fried fish is a staple in Mexican and Spanish cuisine, so blending flavors from those regions into a side dish is a great choice. The following recipe is an utter breeze to whip up for any time of day.
Black beans anchor a blend of mango, tomato, and avocado in this deliciously filling salad.
The mango in the dish particularly highlights the sweetness of the fish, but the beans bring it back from sweet into savory territory. I'd highly recommend preparing this for a summer lunch or dinner.
Check out more side dishes for chili here.
The second I discovered this broccoli slaw recipe, I just knew it had to be on the list. This is a light and fresh option for a fried fish side that will perfectly highlight the fish's delicate texture and flavor.
You can easily make this salad in advance if you're headed to a dinner party or potluck. Let it sit in the fridge and allow the flavors to mingle, producing a salad with untouchable flavor complexity.
Celery is an underrated vegetable, especially when it comes to salads. So, why not put this underdog in the spotlight with this simple celery salad?
It takes virtually no time to make. The fresh taste and delightful crunch of this salad make it feel restaurant-quality, despite how simple it is to whip up. Highlight the fresh fish with this vibrant dish.
When I think of potato salad, I typically think of something with oodles of mayonnaise. This version sidesteps that expectation. Instead, you can enjoy a light Dijon dressing on this delicious salad.
Paired with pan-friend or deep-fried fish, this potato salad is an absolute treat. The mellow, warming mustard accents the fish, and the potatoes offer an excellent textural contrast.
I've said it before, and I'll keep saying that brussels sprouts don't deserve their reputation! This light and bright brussels sprout salad show what these little balls of delicious crunch can be.
The sharp pecorino and pistachios highlight the earthiness of the raw sprouts. Served with fish, this is the perfect salad to anchor your meal and make it feel a little more filling.
Check more side dishes for ribs.
Vegetable Sides for Fried Fish
Whether you're a pescatarian or just a fan of lighter good sides, this section of our list has the vegetable dish of your dreams.
Each one highlights the best aspect of its chosen vegetable. From earthy sprouts to light and bright green beans, experiment with these vegetable side dishes to find the one that suits your fish dish.
First up, we have a viral Tik Tok recipe that gained its fame after people started discovering how delicious sprouts can be. I gave it a go myself, creating this recipe for your next fish dish.
Crispy and healthy, these brussels sprouts caramelize so beautifully. This packs them full of flavor without having to add any extra touches.
They look impressive, so they're great for dinner parties or a date night.
Fish and zucchini go together like peas in a pod. Both are light in flavor but gain a delicious smokiness when grilled or fried. You don't have to do much to either one to make them tasty.
I'm a massive fan of this zucchini side dish because it's easy to prepare. All you need is a grill or a cast-iron griddle to get those delicious char lines on this springtime vegetable.
Feel free to also serve this side dish with pasta.
Are you struggling to get the kids on board with broccoli? This cheesy garlic-baked version will have them clamoring for broccoli every night of the week. Plus, it's a great addition to a fish dish.
This broccoli holds up whether you're pan-frying the dish or dropping it in oil. The light broccoli highlights the fish's delicacy, but the garlic and cheese bring the whole dish back down to earth.
If there's one thing better than fish on its own, it's fish with potatoes. That's why fish and chips are such a delicacy! This version of roasted potatoes balances the starch with a bit of greenery.
The broccoli mixed throughout these roast potatoes adds lightness, bringing a typically wintry vegetable into springtime. Combine that with your fish of choice for a delicious weeknight meal.
Speaking of springtime, this next fishy side dish celebrates a well-known spring green: green beans. These light, crunchy, and sweet beans are the perfect complement to a flaky piece of fish.
These are super quick to make, only requiring a skillet and some garlic to come to life. Take five minutes before you serve your fish to fry up these beans, serve, and you're ready to eat!
Need more recipes? Try these side dishes for lasagna.
Typical honey-glazed carrots can take quite a while to make since you have to fry them off in a pan. However, this simple recipe should take no more than fifteen minutes but delivers the same great taste.
Not to mention, the sweet baby carrots add a vibrant touch to any plate. This dish will accent the fish's sweetness and add a buttery note; the perfect thing to enjoy on an autumn evening.
Potatoes are a great dish to pair with fish, but sometimes you want something a little healthier to accompany your meal. That's where this air fryer cauliflower comes in!
Enjoy the same mellow flavor and delicious crunch a potato chip offers with none of the starch. These tiny florets are so delicious; they're ready in fifteen minutes and require almost no effort!
You can serve them as-is or experiment with some additional toppings to spice up the dish. Why not try adding some sharp pecorino cheese to offset the fish or a sprinkling of crispy bacon?
The Mediterranean is perhaps one of the most well-known places for serving delicious fish. So, these Mediterranean roast vegetables are tailor-made to place the spotlight on a tasty fish fillet.
Speckled with juicy roast tomatoes, this is a vibrant dish that tastes as good as it looks.
If you're hosting many people, this is a great dish to satisfy everyone without spending the whole night in the kitchen.
Check more side dishes for BBQ chicken.
Our final vegetarian fish side is a celebration of the warmer seasons. Calling on citrus notes and a hint of rich butter, these snap peas are a study of what spring has to offer.
Pair your next pan-fried fish with these peas to emphasize its delicate flavor. The lemon on the peas adds a lovely sharpness that contrasts the natural sweetness of all the dish's elements
Good Side Dishes for Fish
We've touched on healthy side dishes for fish and vegetable side dishes for fish, but what about the side dishes that are just plain good? The ones that make your mouth water at the sight of them?
The key lies in bold flavors and striking visuals. Trust me, each of the delicious side dishes on this list effortlessly meets those criteria.
That's right, not mashed potatoes, but smashed potatoes. This is a crispy take on a roast potato that embraces blue cheese's earthiness. It's light, it's crunchy, and it's utterly scrumptious.
Not to mention, these potatoes are super easy to make. Preparation is minimal; most of the cooking is spent on the potatoes roasting in the oven, so it's predominantly hands-off.
Pineapple and fish are a match made in heaven. The tropical fruit's sweet, punchy tartness shines a spotlight on the fish's sweetness. Plus, the two textures are really satisfying on the same plate.
So, how do you make pineapple and fish any better? Put that pineapple in a salsa. This adds some diversity in color and flavor, bringing the sweetness back from the point of 'too much' to 'just right'.
Check out more Mexican side dishes here.
You can think of a Hasselback potato as a fancy take on potato chips. By scoring deep lines into each baked potato, you allow the whole thing to crisp up as it roasts away in the oven.
These striations also create deep pockets for herbs, butter, and other seasonings to hide in. The more surface area on a potato, the more flavor it can absorb!
There are so many different ways to enjoy potatoes. They make for popular side dishes you can serve with any types of fish.
Next up, we have a fragrant and earthy take on a rice side dish that's great for clearing out your fridge at the end of the week. Rather than serving fish with plain old white rice, kick it up a notch!
As it fries, the mushrooms' juices leak into the surrounding rice to deepen the entire dish's flavor. The wilted spinach stirred throughout the dish adds vibrancy in color and flavor.
Take a page out of a Southern cook's recipe book with this fried cabbage and bacon recipe. This is bound to make you popular at your next neighborhood event, especially alongside some tasty fish.
The great thing about cabbage is that it's essentially a flavor sponge. So, when you cook it with bacon, it absorbs all those delicious juices! That's why every bite of this dish is utter heaven.
Orzo is one of my favorite pasta shapes, and it's fantastic for making pasta salads. It emphasizes the vegetables sprinkled throughout the dish. The pasta is just a delightful bonus.
Served with fried fish, this pasta salad creates summertime on a plate. Experiment with your choice of vegetables to add here; it's an experimental chef's game.
Finally, let's flip the script. Instead of serving fish cakes with fried potatoes, serve potato cakes with fried fish! These goat cheese potato cakes are a triumph that will rock your next date night.
Each one is crispy and earthy. The European balsamic brings it back from the edge of 'too much', creating a unique and easy side dish that will satisfy your palate.
Sauces for Fried Fish
Some of the best sides are sauces! It's often said that a dish can be good, but it's only great when it has a delicious sauce. Whether pan-frying or deep-frying your fish, you need an excellent sauce to finish it off.
That's where these three recipes come in. Each one uses a different flavor profile to accomplish the same task: making your delicious fish taste even better.
Find the great side dish for your favorite fish and let your taste buds enjoy it.
Our first dipping sauce is a tried-and-true classic that's even better when you make it from scratch. It's essentially flavored mayonnaise, but the resulting flavor is anything but simple.
Whip up a big batch and store the sauce in an airtight jar in your fridge. Trust me, as soon as you taste this; you'll want to put it on everything you make.
A remoulade is a classic Southern-style sauce that hails from Louisiana. It's bold, spicy, and daring.
This particular Cajun remoulade capitalizes on the spice element, adding earthy mustard and cayenne pepper. The result is a spicy, creamy sauce quickly becoming a new favorite.
Lastly, we have a deliciously fresh cilantro chutney with Indian roots. Cilantro is a hugely popular ingredient in India. It's used to freshen spicy dishes, and it will do the same with your next fish dish.
This vibrant chutney is a beautiful gift to hand out at your next dinner party if you're in a particularly generous mood. It's a tasty option that makes for a delicious recipe.
Just bottle it up, whack a label on it, and serve it alongside your fish. How cute is that?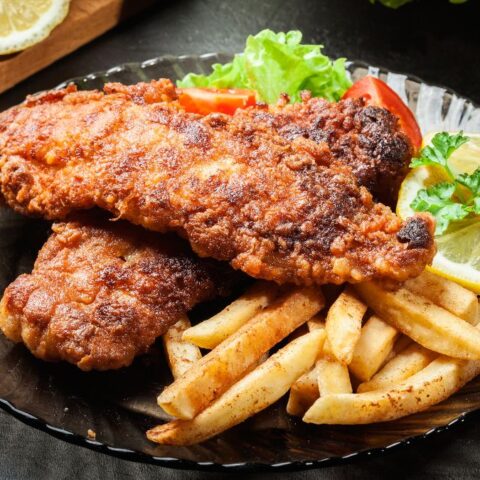 27 Best Side Dishes for Fried Fish (Easy & Delicious)
Looking for the perfect recipe to make with your fried fish? These Side Dishes for Fried Fish are delicious.
Ingredients
1. Apple Sweet Potato Bake
2. Curried Mashed Potatoes
3. Broccoli Salad
4. Quinoa Salad with Mango and Avocado
5. Broccoli Slaw
6. Celery Salad with Chives and Pecans
7. Potato Salad with Dijon Vinaigrette
8. Shaved Brussels Sprouts Salad with Pistachios and Pecorino
9. Smashed Brussels Sprouts
10. Grilled Italian Zucchini
11. Cheesy Garlic Broccoli
12. Roasted Potatoes and Broccoli
13. Skillet Green Beans
14. Brown Sugar Honey Glazed Carrots
15. Air Fryer Cauliflower
16. Mediterranean Roast Vegetables
17. Lemon Mint Sugar Snap Peas
18. Crispy Smashed Potatoes with Blue Cheese
19. Pineapple Salsa
20. Hasselback Potatoes with Herbs
21. Mushroom and Spinach Rice
22. Fried Cabbage with Bacon
23. Orzo Pasta Salad
24. Potato Goat Cheese Cakes
25. Homemade Tartar
26. Cajun Remoulade
27. Cilantro Chutney
Instructions
Scroll up to get a bunch of easy, yummy, and delicious side dishes. Don't be afraid to get creative with the ingredients, you might discover a flavor you didn't know you liked.
Get your shopping list going and make sure you've got all the ingredients.
Get cooking and make your next Side Dish for Fried Fish!
Notes
Which one of these recipes was your favorite? Let me know in the comment section or on Pinterest!