Want to cut your dinner prep work in half? Then, these recipes that use rotisserie chicken from the grocery store are just what you have been looking for for busy weeknights!
Don't have too much time for cooking? These recipes will put a delicious meal on your table in a fraction of your usual dinner-cooking time.
The secret to a family favorite easy recipe? Rotisserie chicken, of course!
By using already-cooked juicy and tender meat, your weeknight meals will be a breeze.
Whether you're in the mood for a salad, sandwich, pizza, soup, tacos, or even pie.
These easy leftover rotisserie chicken recipes are a true lifesaver for an easy weeknight meal. Check out these best recipes!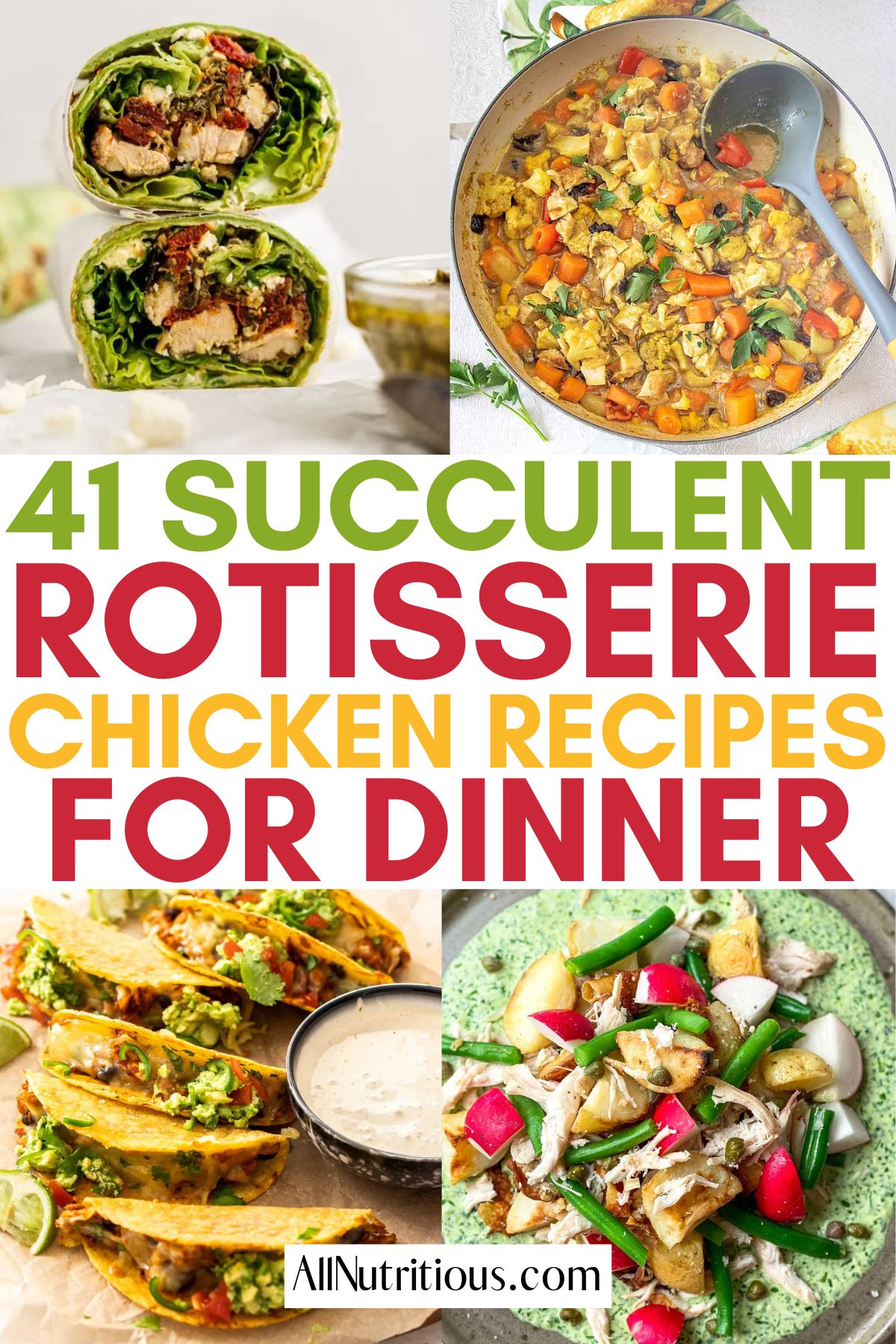 What is the Secret Ingredient in Rotisserie Chicken?
The Rotisserie cooking method means that the chicken will retain moisture. This usually happens as a result of many birds cooking in their juices together.
Store-bought rotisserie chicken, though, is often injected with concentrated saline solution to achieve juiciness.
This salty concentrate is often well-seasoned and gives the chicken a distinctive taste. Shockingly, up to 15% of their weight can consist of the seasoned saline solution.
How Do You Make Rotisserie Chicken Taste Better?
Your best shortcut to achieving better taste in rotisserie chicken is by adding sauces to it. This is by far the easiest and most flavorful way to spice things up.
And this doesn't have to be a store-bought BBQ sauce. You can make your own concoction by adding your favorite spices and condiments.
The point is to coat the meat well so it soaks up all of the yummy juices.
Ways to Use Leftover Rotisserie Chicken
Here are the yummiest ways you can use up your leftover rotisserie chicken. Spoiler alert: these best rotisserie chicken recipes are all simple to make and taste incredible!
Source: thedevilwearssalad.com
This is not your regular leftover chicken salad! It looks so good that everyone will think it came straight from a restaurant.
And you can achieve that by using simple ingredients. Leafy greens, avocados, carrots, cherry tomatoes, some bread, and eggs.
And a finger-licking green tahini sauce that you can easily whip up with some parsley, lemon, and sour cream.
Source: thepracticalkitchen.com
All you need is some pizza crust, shredded chicken, cheese, mushrooms, butter, and Marsala wine for this pizza.
Haven't used this flavorful wine in your pizza sauce before? Then, this recipe will blow your mind.
The recipe also uses shallots for taste, so please don't substitute with onions.
A clash between French and Italian cuisine. This pizza is made for cold winter nights when you need something filling and comforting.
Source: thedevilwearssalad.com
Why do I love this salad? Hmm, well, for starters, it uses leftovers in the most creative way possible.
It also tastes great. And it will look elegant on your table.
Not to mention, it is packed with nutrients that will energize your lunch. Seriously, this makes one darn good lunch.
Leftover chicken and potatoes are combined with radishes and green beans. Drizzled with herbal yogurt dressing, this is so irresistible.
Source: modernhoney.com
Shredded chicken, Mexican cheeses, tortillas, and salsa verde. No, really. Those are the only ingredients you need to make these stacked enchiladas.
This dinner recipe comes together in 50 minutes. And it serves six people.
It is cheesy and loaded with meat. The spiciness of the salsa is sure to keep you coming back for more.
If you don't have salsa verde, a regular one can be used as well. Find more chicken skillet recipes.
Source: fluxingwell.com
Do you have some avocados and leftover chicken in your fridge? And you need a lunch that will come together in an instant? Then, look no more!
This salad combines avocados, corn, chicken, green onions, and crumbled bacon. It is also smothered in a simple lemon and olive oil dressing.
For a vegan version, omit the bacon. Even without the meat, the salad will be delicious. If you need the crunchiness, you can add some chopped nuts on top.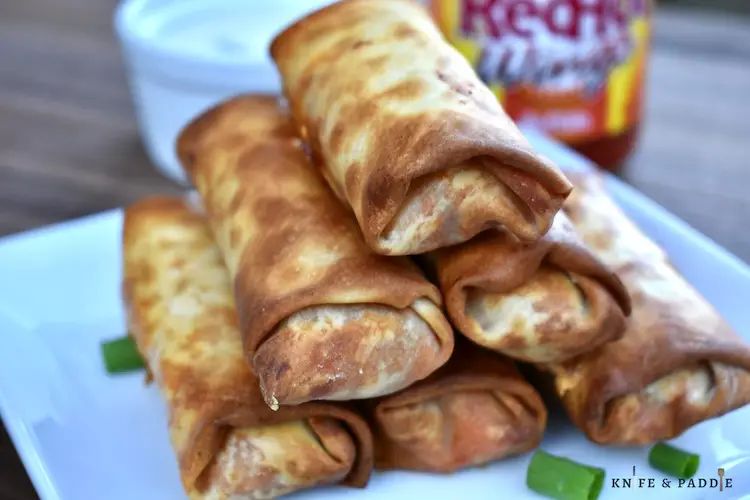 Source: knifeandpaddle.com
If you haven't tried egg rolls in your Air Fryer before, this lovely dish will be a regular on your recipe rotation.
Because it is crunchy. It is meaty. It is super cheesy. And it is the perfect finger food to enjoy at a casual get-together.
It really checks all of the boxes of a comforting dish. All you have to do is try it.
Source: cookingorgeous.com
Creamy white sauce is the base for these yummy chicken enchiladas.
They are loaded with shredded chicken, corn, cheese, and onions. Smothered in a spicy and buttery white sauce. And topped with mozzarella for extra cheesiness.
If this doesn't count as comfort food, I really don't know what does.
Serve this the next time you're hosting Mexican night, and watch these tortillas disappear from the dish.
Source: julieseatsandtreats.com
Craving some loaded and creamy meaty casserole but feeling too tired to be cooking? Then, I assure you this 10-minute prep recipe is just the thing your rumbling gut needs.
Ready in just 30 minutes from start to finish, this veggie-rich chicken pot pie is the ultimate comfort food on a busy night.
It consists of mixed veggies and shredded chicken smothered in a creamy mayo sauce. Then topped with crescent rolls and baked until flaky and delicious.
Find more summer casseroles here.
Source: borrowedbites.com
A hearty and creamy filling is topped with flaky goodness that fills up your tummy and heart at the same time. Yep, this sure brings some old-fashioned flavors and memories.
The pot pie is made with onion, celery, carrots, and peas. And it is so meaty and creamy that you will not be able to resist it.
The topping is a homemade pie crust, but even crescent dough will do well.
Source: lovetabitha.com
Super creamy chicken sandwich, anyone?
This is a simple mixture of shredded chicken, mayo, curry powder, and salt and pepper. Plus, it has some sliced almonds for crunchiness and added texture.
This recipe is one of those I-really-don't-have-the-time-to-cook nights. And it still doesn't fail to impress.
Serve it on a soft bun for the most filling and satisfying dinner in a snap. Find more sandwich ideas here.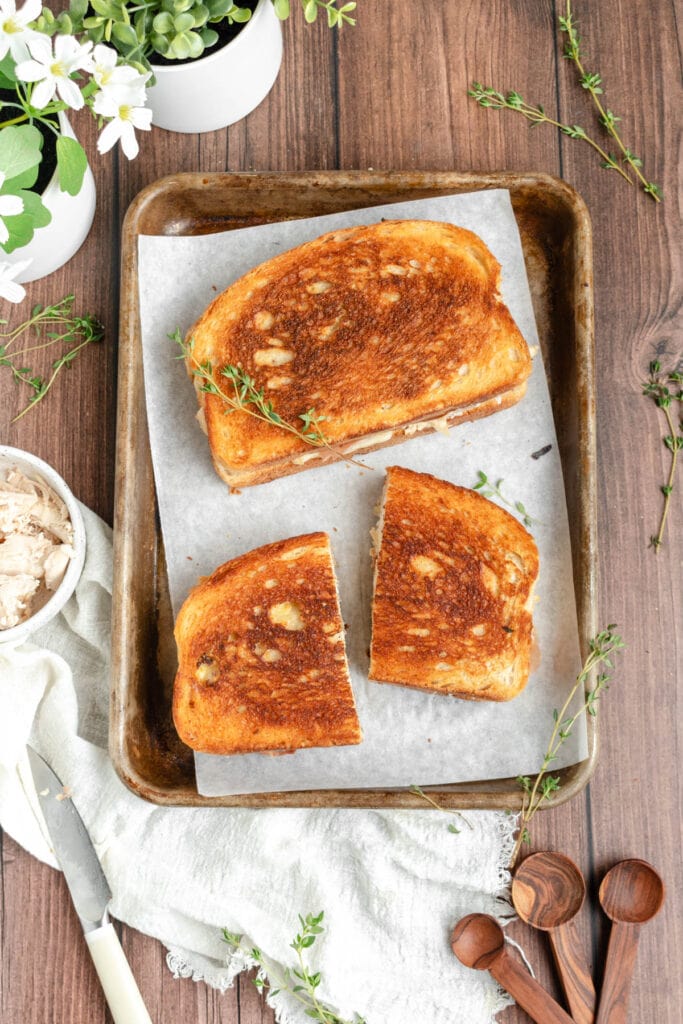 Source: thepracticalkitchen.com
Prosciutto and rotisserie chicken play the main part in this lovely sandwich. They are enriched with cheese mustard and infused with a wonderful thyme aroma.
This sandwich comes together so quickly. And it is the perfect idea for a simple lunch or dinner. Who are we kidding? Let's say midnight snack.
A blend of gruyere and havarti gives it a powerful cheese touch. But it is the brushed mayo on the outside that makes the bread so golden, crispy, and irresistible.
Source: knifeandpaddle.com
Now, let's talk fun dishes! This creamy dip is made for your game nights or tv-marathon parties.
No need to spend money on store-bought dips when you can turn your rotisserie chicken into the creamiest bowl ever.
This dip combines cooked chicken, cheese, ranch dressing, hot sauce, and some sliced green onions. The cream cheese shouldn't be substituted because it gives the dip a nice and smooth texture.
Source: onmykidsplate.com
Cranberries and pecans go really well with chicken. If you haven't tried this combo before, you will be pleasantly surprised.
The sweetness, the crunchiness, and the filling meaty bites. Ah! And don't get me started on the sweet and lemony mayo dressing. Yum!
This sandwich is best if served on bread for a filling dish. If you're ditching the carbs, though, you can even enjoy it in a lettuce wrap.
Source: onmykidsplate.com
Rich in the good old ranch flavors, these cheesy and meaty pinwheels will be a party favorite in your house.
It is loaded with cream cheese, sour cream, chicken, cheddar, bacon, and your favorite spices.
It is best to use large tortillas for convenience, but smaller ones will also work well. Only you'll have more wrapping to do.
If you don't like bacon, it can be substituted with some other crunchy ingredients. Red bell peppers will work well. And will also give the pinwheels a nice pop of color.
Source: gastronotherapy.com
Gourmet sandwich at its best! This focaccia sandwich with chicken and avocado will make you fall in love with making sandwiches at home.
The sandwich features cooked chicken, avocado, spinach, cheese, and mayo. But the key to the deep flavor lies in adding roasted red peppers.
It is ready in just 5 minutes, and it is a healthy and quick meal to enjoy on a hot summer afternoon. Because there's no cooking, duh!
You'll want to know these other chicken and spinach recipes if you love this flavor combo!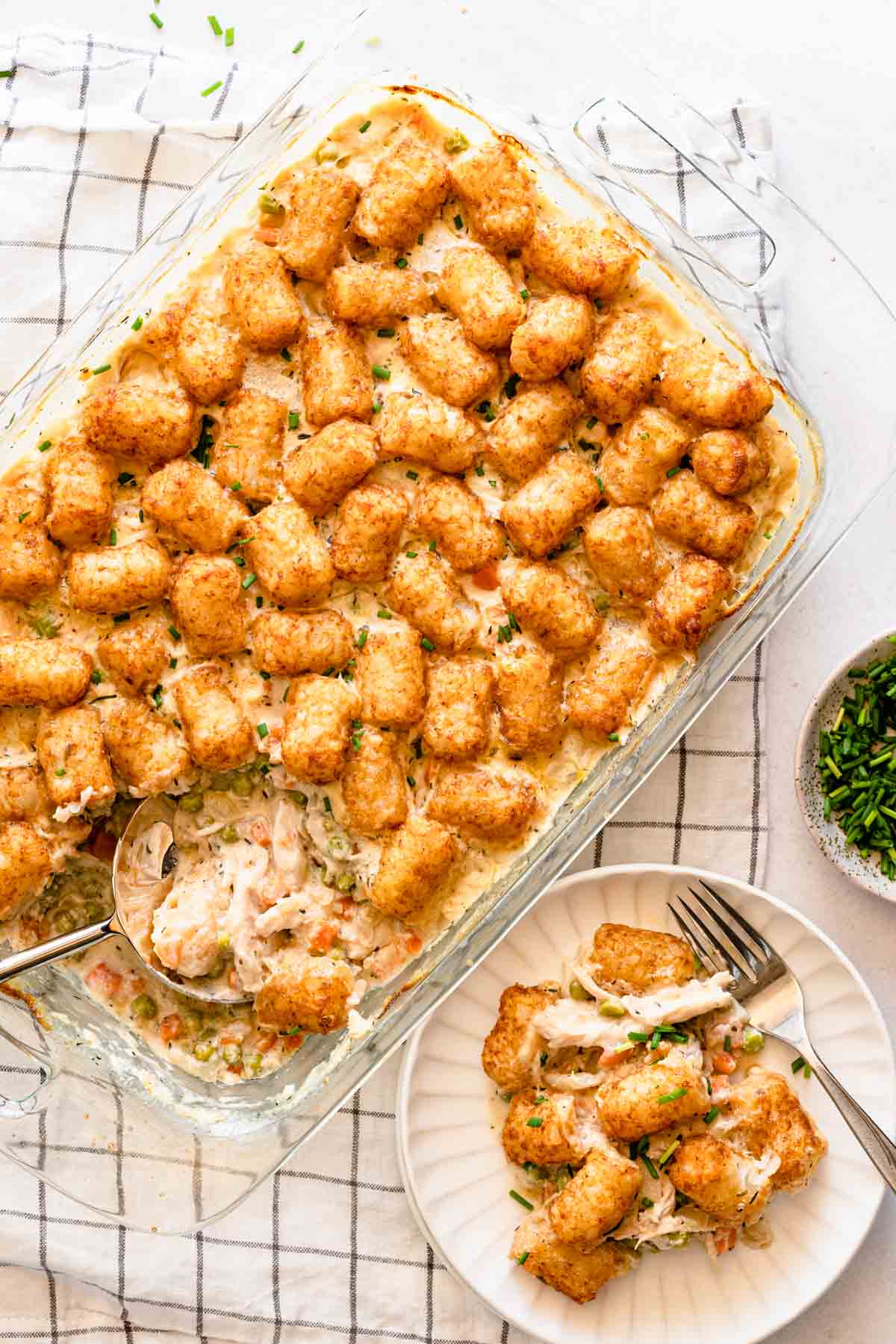 Source: nibbleanddine.com
Instead of cream of mushroom soups, this recipe uses a simple creamy sauce made with flour and sour cream.
A delicious base of rotisserie chicken, veggies, and creamy sauce. Topped with tater tots. How addicting does that sound?
The veggies of choice are carrots and peas, but you can use other veggies, too. Peppers and celery are some great options.
Source: twohealthykitchens.com
Smashed and creamy avocado. Cooked rotisserie chicken. Crunchy red onions. Crumbled cheese. And kicking salsa verde for some spiciness.
All of that is served in corn tortillas for the most comforting Mexican dinner ever.
Rotisserie chicken comes in really handy in this recipe. And you only need 20 minutes in total to make this lovely Mexican chicken recipe
Source: twohealthykitchens.com
You don't have to be cooking chicken from scratch to make a nourishing bowl of chicken soup. Did you know that?
This recipe uses rotisserie chicken, veggies, and chicken broth, and the result is a warming, comforting, and absolutely satisfying soup.
The veggies of choice are onions, carrots, and celery. But parsnips and celery roots can also be great here.
Not only is this soup nutritious, but it will fill your kitchen with the most inviting aroma ever.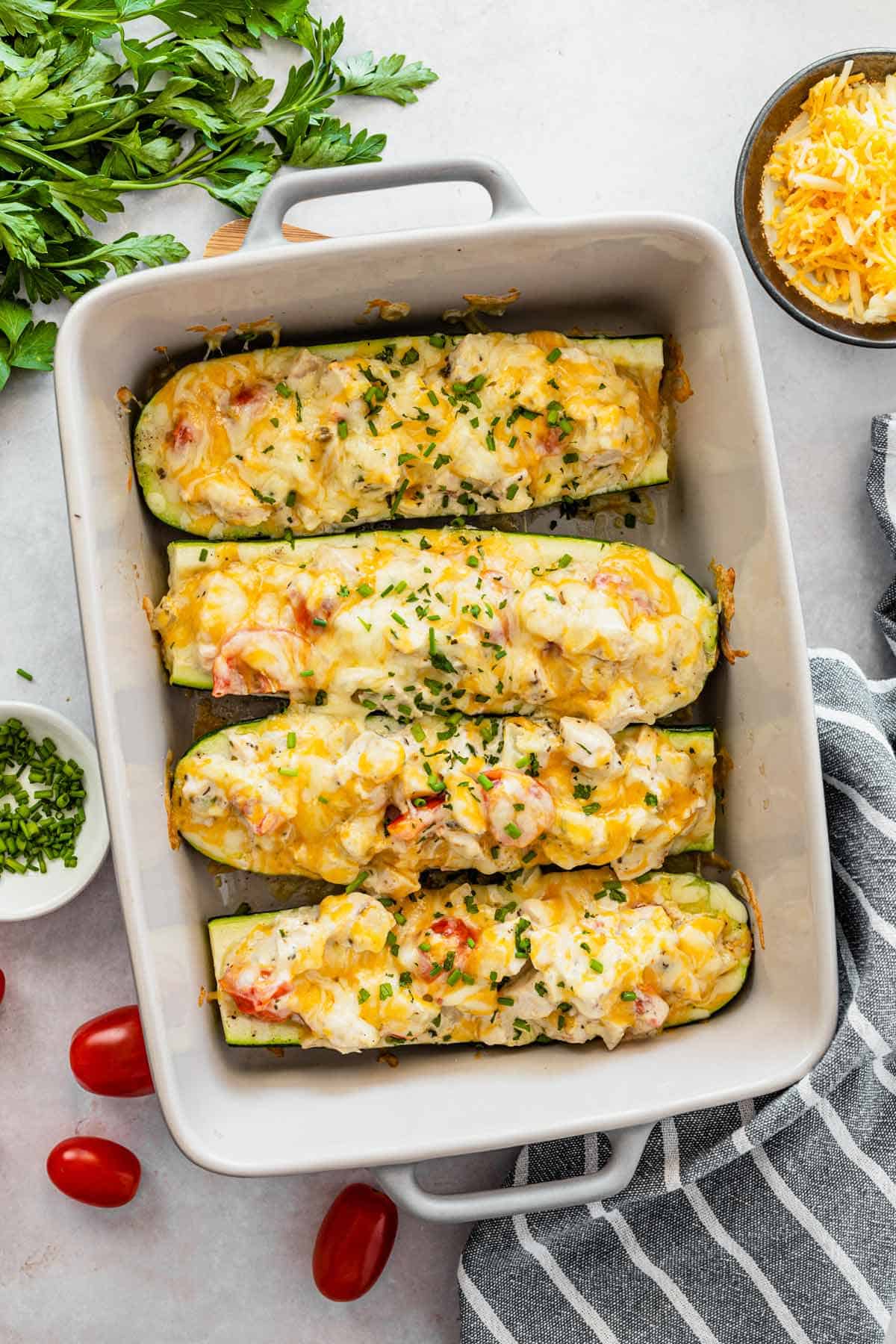 Source: theyummybowl.com
This recipe is an ideal dinner for two. But you can double the batch and feed your whole family.
That is if you're using it as the whole dish. If these zucchini boats are served with some side, half of the zucchini may be enough per person.
The boats are stuffed with chicken and tomato filling. And topped with gooey cheeses.
This dish is so nutritious and light. And it tastes just like chicken parm. Isn't that yummy?
This is one of the best chicken and tomato recipes!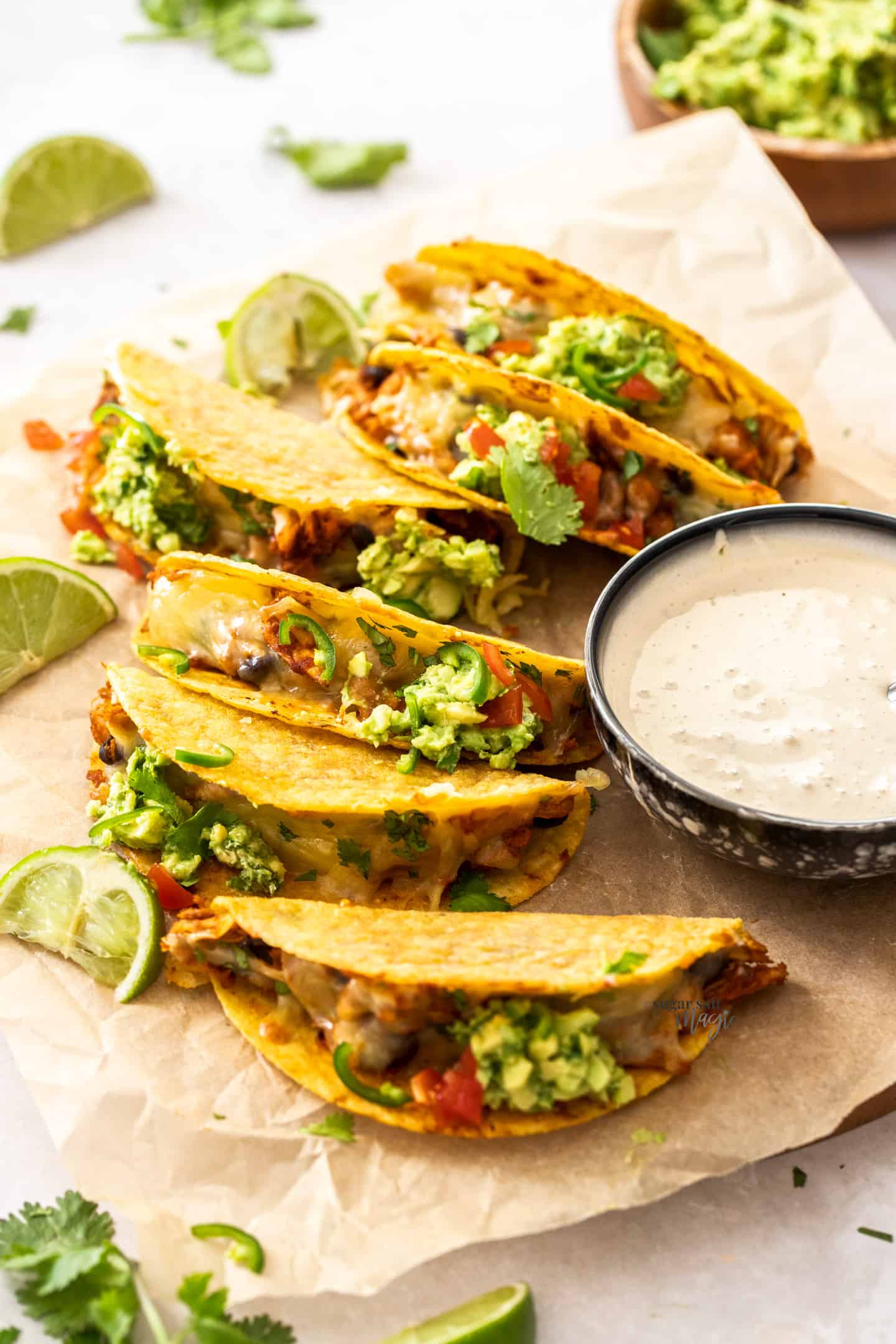 Source: sugarsaltmagic.com
These tacos are loaded with nothing but meaty, cheesy, and gooey flavors. And they involve absolutely no fuss.
That's right, in just 30 minutes, you will have authentic Mexican food on your table. And the whole family will love it!
The recipe also features black beans and adobo sauce, and I wouldn't change a single ingredient from that list.
Source: greedygirlgourmet.com
For those who haven't had Congee before, it is a silky and creamy rice dish resembling porridge.
So yes, this recipe makes a rice and chicken porridge that is full of flavors!
This dish is the perfect way to use up your leftover rotisserie.
Plus, it is perfect for those who love to experiment with flavors. The bland base takes on seasonings and aromatics pretty well.
This dish relies on Asian flavors, and it uses ginger, garlic, and fish sauce.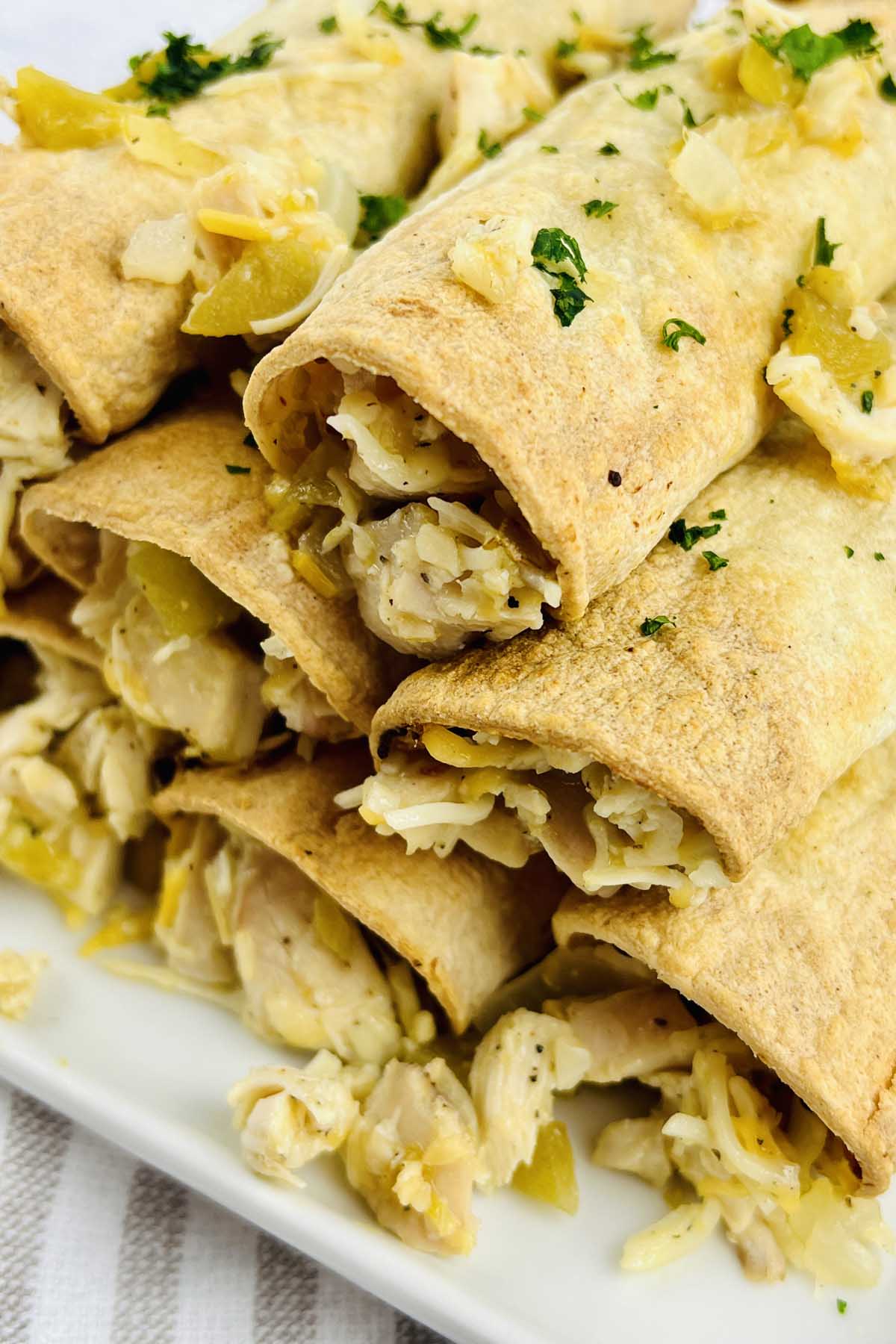 Source: simplylowcal.com
These chicken taquitos are not only filling and loaded with meat. Surprisingly, they're also low in calories.
These are made in the Air Fryer and require almost no oil to be made.
They are also stuffed with shredded cheese and diced chilies for some authentic Mexican taste.
They turn out crisp and golden. And no one will be able to resist them. Especially if you serve them with some dipping sauce or sour cream on the side.
Source: thestewlady.com
A classic Southern recipe that will bring old-fashioned flavors to your kitchen.
It combines veggies, chicken, and creamy broth for the most nourishing and satisfying dinner ever. And that's not even the best part. This dish has a fluffy dumpling top, which makes things tastier.
The dumplings are made with a Bisquick mix and apple juice, and I suggest you try this sweet and flavorful method.
Source: wendyshomeeconomics.com
You don't need to go to an Asian restaurant to enjoy a decent hot and sour soup. Heck, you don't even need to leave your house, for that matter.
If you have some rotisserie chicken in your fridge and Asian-cuisine staples in your pantry, then you can easily whip this recipe up.
A truly authentic soup with bamboo shoots, shitake mushrooms, and all your favorite Asian flavors.
It's ready in just 30 minutes. And it definitely satisfies a family!
Source: simplylowcal.com
All you need for this recipe is some leftover chicken, cheese, flour tortillas, and enchilada sauce!
This recipe uses both cream cheese and shredded cheese. And it gives it creaminess and gooeyness that is hard to resist.
It also combines green chili for a spicy kick. But you can totally omit that if you want this to be kid-friendly.
These enchiladas take just over 20 minutes to make, and they're made in the Air Fryer for convenience.
Source: gritsandgouda.com
This recipe takes a lot of shortcuts for a quick and fuss-free dinner. Not only do you not have to cook the chicken, but there's no bean-soaking involved, either.
Besides beans and chicken, this chili also uses broth garlic, green chiles, and cheese. And they're all smothered in tasty chicken broth.
If you want the chili to be thicker, you can try mashing half of the beans into a puree before adding them to the pot.
Source: montanahappy.com
Judging by the name, you can already tell that this salad is sweet, meaty, and offers a crunchy bite.
But what you don't know is that it is also loaded with celery and sweet relish. And that it tastes unbelievably good.
My preferred way of enjoying this would be between two slices of bread on top of crunchy lettuce. Now tell me, that's not drawing water to your mouth?
This is one of the best recipes to use up leftover BBQ chicken!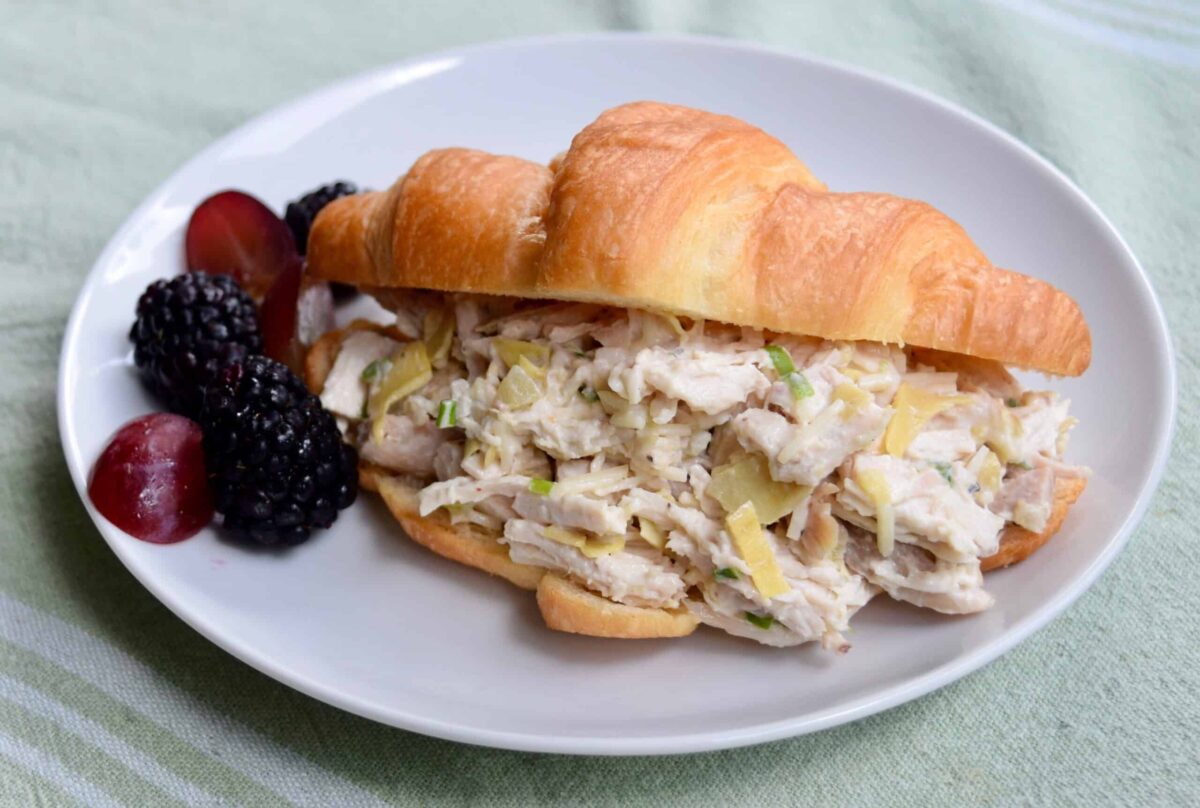 Source: gritsandgouda.com
Artichokes, parmesan cheese, rotisserie chicken, and some onions and mayo.
I think of this more as a sandwich filling than a salad, really. As it is almost a crime not to serve this with some bread. Or Kaiser rolls. Or even a croissant, like it is suggested in this recipe.
If you want to, you can mix it up with greens and enjoy it straight from the bowl.
Source: retrorecipebox.com
Okay, so why is this called a cobbler pie? Because it mostly resembles a cobbler because of how it's layered.
The chicken and melted butter are first arranged in a dish. The soup and broth are poured over. Then, the frozen veggies are arranged on top. And finally, everything is topped with Biscuit batter.
So, very much cobbler-like, right?
The dish is creamy, crispy, nutritious, and great in texture. And it feeds the whole family.
Source: artofnaturalliving.com
If you've been looking for a frugal dish that will clean out your fridge, this is it.
The ultimate mix of veggies and leftover chicken for a creamy, nutritious, and very filling dinner.
The recipe also uses curry, ginger, and coconut milk. And it is ready in 45 minutes from start to finish.
The lime juice here is a must, as it gives some acidity that plays well with the rest of the ingredients.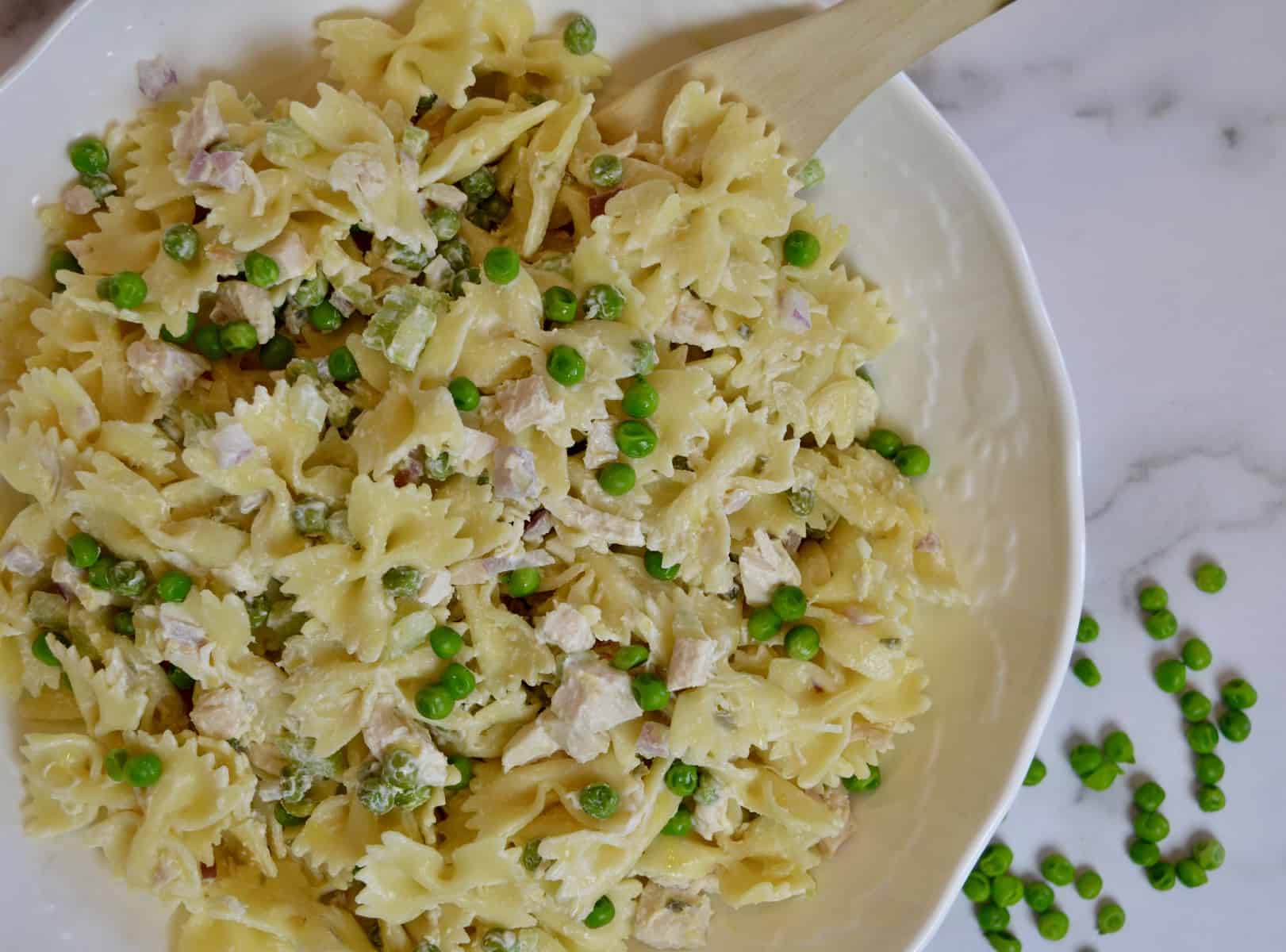 Source: thisdelicioushouse.com
Making a pasta salad with leftover chicken is probably the most popular way to use your rotisserie meat. Am I right?
But I just had to include this pasta salad to this list.
Because it is healthy, nutritious, creamy, and it comes together in 15 minutes.
It uses celery, peas, and red onions. And it is smothered in the creamiest mayo and yogurt dressing that's flavored with sweet relish.
Source: danastable.com
Tender, crunchy, and creamy. All mixed in one tasty and colorful bowl. That everyone will deeply enjoy!
A clash of textures and flavors for the most amazing Asian chicken salad ever!
The recipe uses cabbage, peanuts, carrots, and chicken. But it is the sweet nectarines that add a pop of surprising flavors.
The dressing is tangy and sweet peanut butter creaminess.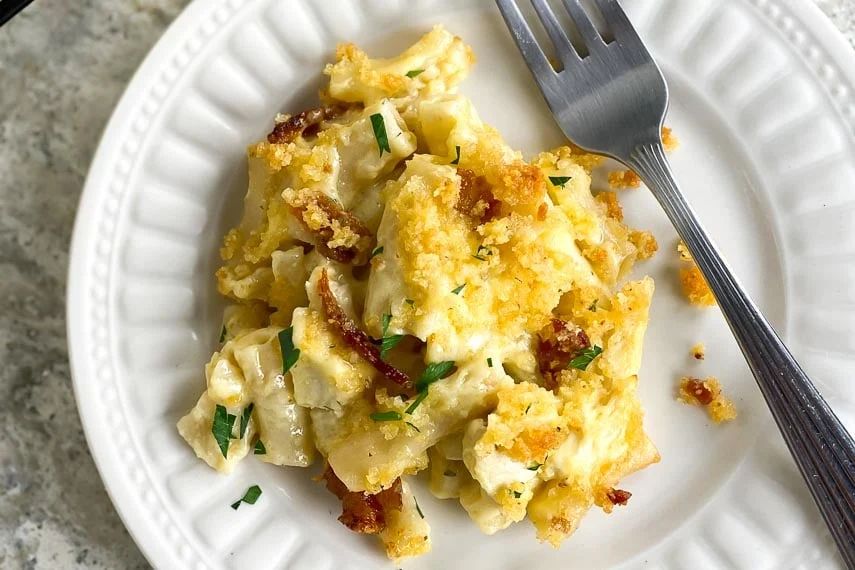 Source: fodmapeveryday.com
A mac and cheese dish with crunchy bacon and amazing ranch flavors that cheer up with a single bite.
The salad is creamy and meaty. But the crunchy breadcrumb topping really seals the deal. And it helps the bacon in giving more texture to the dish.
Source: thefamilyfoodkitchen.com
This soup couldn't be more convenient. With rotisserie chicken, canned tomatoes, and cooked rice, it is a great way to clean out your fridge from leftovers and make a meal from scratch.
It uses carrots, onion, garlic, and heavy cream. And it is nutritious, creamy, and ever-so-pleasing.
Trust me, this is about to become the most cherished soup recipe in your quick-meals folder.
Source: theforkedspoon.com
This buffalo dip will see a lot of games played. Because once you give it a try, it will become a staple on your game-night evenings.
Served with tortilla chips, it is more than addictive.
It is loaded with leftover chicken, cream cheese, shredded cheese, ranch dressing, and hot sauce. And it is meaty, spicy, and delicious as it sounds!
Source: chefnotrequired.com
Macaroni, bacon, shredded chicken, and a simple two-ingredient sauce. This loaded pasta bake makes one easy weeknight dinner.
It is also creamy, buttery, and silky, and you will be eating it straight from the dish as soon as it comes out of the oven.
The bacon can be substituted with salami or prosciutto. But you might lose some of the crunchy texture that way.
Source: killingthyme.net
Nothing beats a loaded burrito in a bowl for lunch at the office. Or dinner at home. Or a filling meal at any time of the day, really.
This nutritious and guilt-free dish is packed with shredded chicken, beans, rice, tomatoes, avocado, and seasonings.
And it is drizzled with cooling yogurt or lime for a refreshing touch.
You can use pico de gallo instead of diced tomatoes. But the bowl will be equally delicious, whatever you choose.
Source: borrowedbites.com
These tacos with rotisserie chicken and chipotle tomato sauce are the definition of Mexican comfort food.
And they come together in a snap. Seriously, you only need 5 minutes of prep time. And 15 minutes in total.
The tacos are topped with avocado, cotija, red onions, cilantro, and salsa.
But the oregano and garlic-flavored tinga is really something else. It uses fire-roasted tomatoes. And it gives the sauce some depth in taste.
This is a fun weekend dinner idea for family night!
Source: cookingorgeous.com
A stovetop soup made with leftover chicken, dumplings, and all your soup favorites. You know, stock, carrots, celery, and onions.
It also uses heavy cream for a velvety texture and thickness. And a touch of Worcestershire for some deeper notes. It is also infused with bay leaves.
The dumplings are made from scratch, and the instructions in the recipe are super easy to follow.
The best part? This lovely soup is ready in just 45 minutes.
Source: patternprincess.com
An Asian-inspired dish, but from the oven. This recipe takes simple and quick to a whole new level. And relieves you from standing over a wok and frying everything from scratch.
It uses leftover chicken and rice, veggies, and all of the Asian wok favorites.
The result is sweet, tangy, salty, and incredibly delicious.
A nutritious and quick meal with just 10 minutes of hands-on time.
Source: cinnamonandsageco.com
If you've been waiting for a decent wrap recipe, here you go. This Mediterranean-inspired green tortilla wrap is healthy and loaded with nutrients.
It is packed with leafy greens, cooked chicken, pesto, sun-dried tomatoes, and a touch of feta cheese.
It is the perfect thing to bring to lunch. Or enjoy for dinner. Or breakfast. Seriously, it is that guilt-free and yummy!
41 Best Recipes That Use Rotisserie Chicken Leftovers
Looking for the perfect recipes using rotisserie chicken? Explore a variety of delicious options to satisfy your taste buds.
Ingredients
1. Chicken Salad
2. Chicken Marsala Pizza
3. Chicken Potato Salad
4. Chicken Stacked Enchiladas
5. Chicken Avocado Salad
6. Buffalo Chicken Egg Rolls
7. Creamy Chicken Enchiladas
8. Chicken Pot Pie Casserole
9. Chicken Pot Pie
10. Curry Chicken Sandwich
11. Grilled Cheese Chicken Cordon Bleu
12. Buffalo Chicken Dip
13. Cranberry Pecan Chicken Salad
14. Chicken Bacon Ranch Pinwheels
15. Chicken Avocado Sandwich
16. Chicken Tater Tot Casserole
17. Chicken Tacos
18. Chicken Noodle Soup
19. Stuffed Zucchini Boats
20. Oven Baked Chicken Tacos
21. Chicken Congee
22. Chicken Taquitos
23. Chicken and Dumplings
24. Hot and Sour Soup
25. Air Fryer Enchiladas
26. White Bean and Chicken Chili
27. Honey Pecan Chicken Salad
28. Parmesan Artichoke Chicken Salad
29. Chicken Cobbler Pot Pie
30. Chicken Curry
31. Chicken Pasta Salad
32. Thai Chicken Salad
33. Chicken Bacon Ranch Mac and Cheese
34. Tomato Chicken Rice Soup
35. Buffalo Chicken Dip Recipe
36. Creamy Chicken Pasta Bake
37. Burrito Bowl
38. Chicken Tinga Tacos
39. Chicken Dumpling Soup
40. Chicken Stir Fry with Frozen Vegetables
41. Chicken Pesto Wrap
Instructions
Scroll up to get a bunch of easy, yummy, and delicious recipes. Don't be afraid to get creative with the ingredients, you might discover a flavor you didn't know you liked.
Get your shopping list going and make sure you've got all the ingredients.
Get cooking and make your next Rotisserie Chicken Leftover recipe!
Notes
Which one of these recipes was your favorite? Let me know in the comment section or on Pinterest!