Pureed, creamy, and incredibly smooth! These nutritious pureed soup recipes will put an end to your sneezy days and are an instant pick-me-up!
Enjoy a creamy and silky puréed soup that's packed with nutrients? Then, this collection is perfect for you for soup season!
These yummy soup recipes with a creamy texture are full of delicious flavors that will instantly make you feel better in the best way.
With a variety of colorful veggies and endless combinations, these healthy creamy soups will put your immersion blender to good use.
Is Pureed Soup Good for You?
Actually, for many people, consuming soups in the form of puree is a preferred option. That's because the pureeing breaks down the fibers, and the food is more digestible.
This process of breaking down also makes them slightly better for weight loss than non-pureed soups.
A creamy vegetable soup is usually slightly lower in fat and calories.
All in all, eating a pureed vegetable soup is definitely healthy and recommended.
Can You Puree Any Soup?
Technically, yes! Any soup vegetable soup recipe that doesn't contain bones or other tough parts can be pureed.
Vegetables like potatoes, carrots, a head of cauliflower, broccoli, tomatoes, beans, lentils, asparagus, and zucchini are the most common options for blend soups.
When it comes to meat, chicken definitely tops the list as a main ingredient for blender soups.
Best Pureed Soup Ideas
Whatever veggies you have on hand, we've got you covered with thick soups! These versatile blended soup recipes are the ultimate nourishment.
Source: anediblemosaic.com
Flaky salmon and creamy and hearty broth to make you feel good. How's that for an ideal lunch?
The homemade soup recipe also uses aromatics like onions, garlic, thyme, and bay leaves. But it is the white wine and tomato sauce that add that oomph to the dish.
Feel free to adjust the seasonings to your taste. Just make sure not to skip the celery and carrots, and they make this bisque more nutritious.
Source: thecleaneatingcouple.com
Squash soup tastes much better if the squash has been roasted first. And this creamy, thyme, and sage-infused easy soup recipe does just that in the most perfect way.
The apple may be an odd ingredient, but it really makes a lot of sense.
The ginger gives it a slight spiciness that rounds out the taste.
Source: thecleaneatingcouple.com
Ginger, carrots, and a vibrant orange color that is so inviting.
This may look like baby food, but every adult will be more than satisfied with this creamy soup.
The recipe also uses celery and minced garlic for some depth in flavor.
The milk is optional, but it gives it better silkiness.
Source: acedarspoon.com
A rich soup that features lentils, celery, carrots, onions, and warming spices.
There is also some lemon juice, which works well against the curry powder.
This vegan Lebanese soup comes together in 45 minutes, and it is definitely something you should try.
Garnish with some chopped herbs, chili flakes, and yogurt. Yum!
These yummy panini recipes would pair perfectly with your soup!
Source: acedarspoon.com
Carrots, red lentils, and tomatoes are the main ingredients of this pureed soup. But it is the warm spices that build up the amazing flavor.
Cumin, coriander, turmeric, paprika, and hints of cinnamon all give comforting touches to the bowl. And I promise that you will be coming for more.
Source: divinelifestyle.com
Potatoes with leeks, chicken broth, and butter. Plus, a bay leaf for some intense flavor notes that run throughout this creamy bowl.
I bet you can almost taste this silky goodness, right?
A touch of heavy cream is all it takes to make the soup more velvety.
If you want to, you can serve this creamy potato soup with a generous amount of crumbled bacon on top.
Source: emilyfabulous.com
Whether you serve this as a lunch on its own or as the beginning of a lovely dinner, it doesn't matter. Your guests will still be impressed. And everybody will be licking their bowls.
If you haven't tried orange juice in soup before, this recipe will show you how.
Citrusy tomato soup for a refreshing and incredibly filling meal.
Source: emilyfabulous.com
Heirloom tomatoes offer a deep and unique flavor to any dish. And this heirloom soup tastes just like the old days.
Made with lots of garlic and some basil, it takes on Italian flavors that everyone will enjoy.
Plus, with chicken stock for richness and heavy cream for silkiness, how can you not want to dive right into this smooth puree?
Source: learningandyearning.com
A creamy spring soup with watercress, potatoes, and butter.
This recipe also uses heavy cream for thickness, but milk can also be a good substitute.
Feel free to add more chili flakes to add more kick to the flavor.
It only requires 15 minutes of prep time, so it can be a quick nourishment after a long and busy day.
Source: rachaelhartleynutrition.com
Sweet, creamy, delicious, and incredibly thick. This filling sweet potato soup is destined to fill you up and make you feel good during the chillier time of year.
This creamy cauliflower soup roasts the veggies first, which gives the soup a nice depth and more intense flavor.
It also uses broth and half and half, but heavy cream or even milk will do well here, too.
Source: deliciouslittlebites.com
Gazpacho is one of the easiest creamy soups to whip up in your blender. Why? Because there's literally no cooking involved.
You just dump everything in your blender and you give the veggies a whirl.
All you need are tomatoes, peppers, onions, cucumber, and garlic. Plus some oil, vinegar, and spices.
So simple and incredibly nutritious, gazpachos are consumed cold.
Source: whereismyspoon.co
If you choose the right garnishes, this white luscious soup can be the perfect thing to serve on an elegant dinner.
White asparagus, leeks, butter, and heavy cream. Plus, a touch of nutmeg to elevate the flavor.
Seriously, this has to be the creamiest, most comforting soup you've ever tried.
Source: kleinworthco.com
Made in the slow cooker, this split pea soup is easy, convenient, and feeds a family. Seriously, this recipe yields ten cups, so you're all set.
Made with ham and chicken broth, it is loaded with protein, smoky meat flavors, and an incredible taste.
It takes over 16 hours to make, but it's surely worth the wait. This is one of the best cheap soup recipes to stay under budget!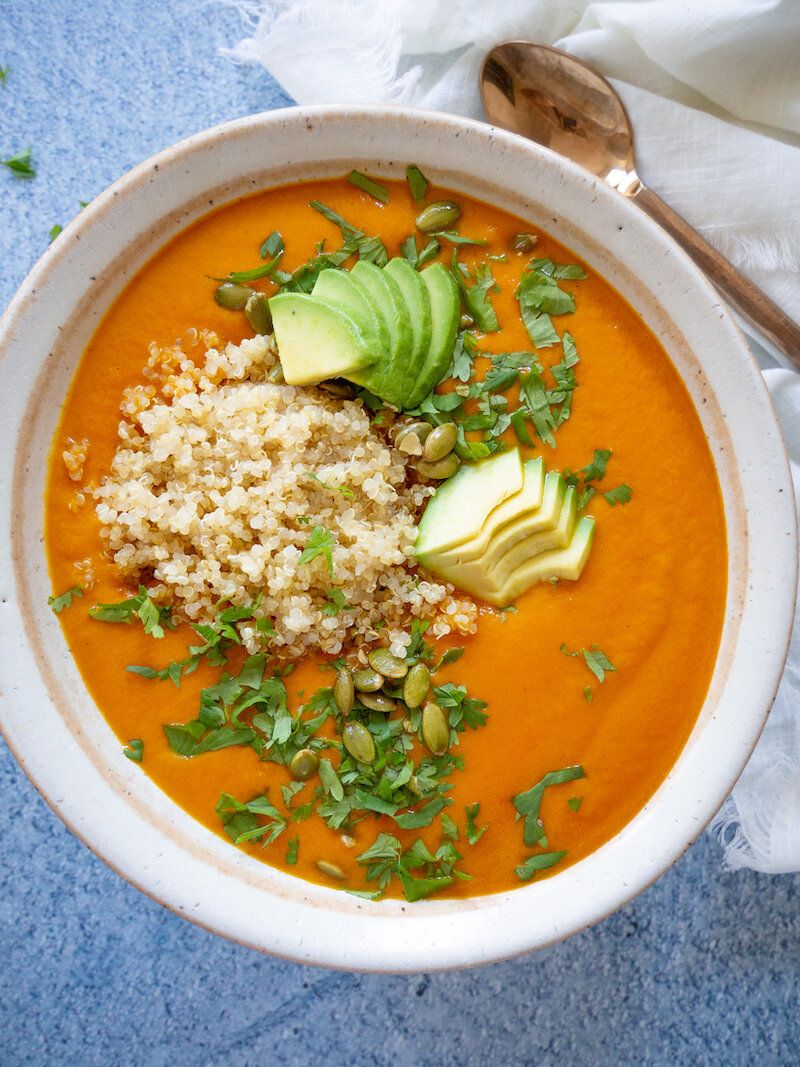 Source: rachaelhartleynutrition.com
Everyone has a good carrot soup recipe in their folder. But this one with tomatoes, coconut milk, and curry paste really knocks it out of the park.
The recipe recommends serving with cooked quinoa and garnishing with avocado.
That makes it more filling, so why not give it a try?
Source: thefastrecipe.com
It boosts the immune system. It fills you up. And it makes you feel good. What more could you need from a veggie soup?
This creamy orange bowl is the perfect fall comfort food that you can enjoy without ever feeling guilty.
It is made with pumpkins, sweet potatoes, coconut milk, onion, garlic, and ginger. Plus, cumin and coriander to wrap everything up.
Source: twokooksinthekitchen.com
Instead of heavy cream or milk, this creamy corn soup uses buttermilk. It is loaded with corn, spinach, tarragon, chives, basil, and parsley. And it is really a creamy herbal infusion.
It is best consumed cold. And it is the perfect starter or appetizer for any meal.
Fresh, tangy, and absolutely nourishing! You might also enjoy these other cold soup recipes!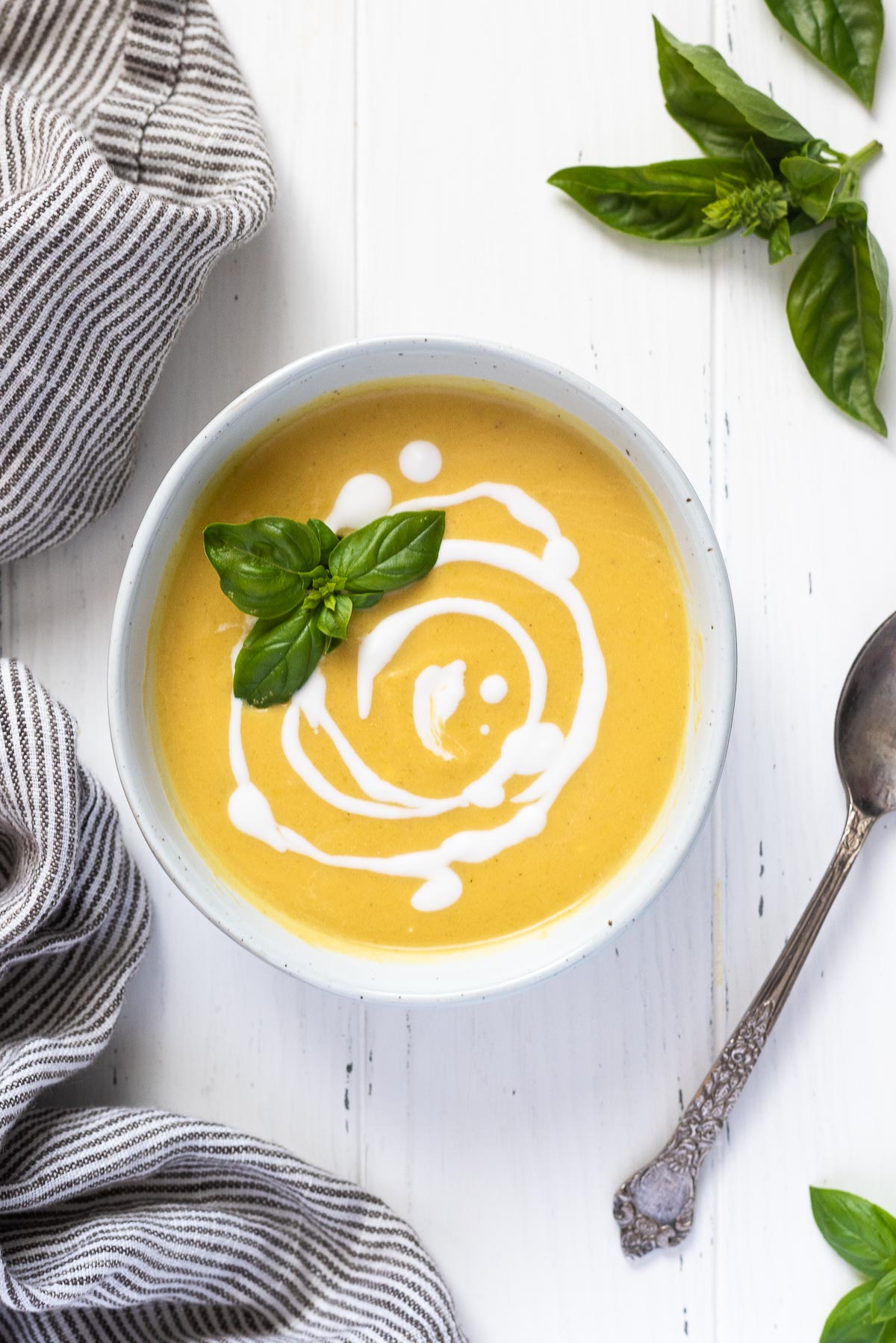 Source: flavorthemoments.com
Coconut, squash, and curry for a vibrant summer soup that everyone will love making.
Rich in veggie broth, thickened with coconut milk, and with a touch of lime that adds it a little zest.
Fresh, velvety, and super luxurious!
Besides, it is ready in 30 minutes, so save, save, save this winter soup recipe!
Source: thehealthyepicurean.com
Turmeric, cumin, ginger, and carrots. Plus, cilantro and limes for some freshness. This spicy, creamy soup is all about bringing comfort and warmth.
The soup is made with onions, carrots, and lentils. It is loaded with coconut milk and veggie stock.
Thick, creamy, and vibrant in color!
Source: urbanblisslife.com
No-cream pumpkin soup for the thickest and most flavorful soup you've ever tasted.
It features pumpkin puree, coconut milk, sage, nutmeg, and paprika. And a touch of cinnamon for deep and warm hints of flavor.
It also uses the aromatic onions and garlic, and it is rich in veggie broth.
Source: carriesexperimentalkitchen.com
Sweet potato and bean soup pureed to creamy perfection!
This soup uses apples, scallions, and sage. And it also combines water, milk, and veggie broth.
These may look like an odd choice of ingredients. But once you pair them together, the flavorful magic begins.
Source: thehealthyepicurean.com
Garlic. Ginger. Curry paste. Coconut milk. And lots of sweet potatoes.
This soup is nutritious, vibrant, and packs a serious flavor punch.
It also uses lime juice for something extra that makes the taste even more exciting and fresh.
Source: thefoodblog.net
Okay, okay. This soup looks like it has come straight out of a spell book. But if you have fussy girls in your home, the vibrant purple color will make them eat their creamy veggies, for sure.
The soup uses red cabbage, potatoes, celery, veggie broth, and coconut milk. Plus, onions, garlic, and cardamom for flavor.
These healthy wrap recipes would be great to complete your meal!
Source: fabfood4all.co.uk
Root vegetables pair well with curry and other Indian flavors. And this soup shows just that.
It uses parsnips, carrots, potatoes, and swede. Plus onions, garlic, and ginger. But feel free to add celery and sweet potatoes, too.
Besides curry, Garam masala, turmeric, and cumin flavor up the dish. No milk, no cream. Just some butter to make things silkier.
23 Creamy Pureed Soups
Perfect for any season, this collection of comforting, pureed soup recipes are a feast for the senses. Yummy, easy, and delicious.
Ingredients
1. Salmon Bisque
2. Butternut Squash Soup
3. Carrot Ginger Soup
4. Lebanese Lentil Soup
5. Moroccan Carrot Soup
6. Potato Leek Soup
7. Tomato and Orange Soup
8. Roasted Heirloom Tomato Soup
9. Watercress Soup
10. Roasted Sweet Potato and Cauliflower Soup
11. Pureed Gazpacho Soup
12. White Asparagus Soup
13. Split Pea Soup
14. Creamy Carrot Soup
15. Sweet Potato Pumpkin Soup
16. Chilled Sweet Corn Soup
17. Coconut Curry Squash
18. Spiced Carrot and Lentil Soup
19. Vegan Pumpkin Soup
20. Sweet Potato Cannellini Bean Soup
21. Sweet Potato Curry Soup
22. Purple Cabbage Soup
23. Curried Root Vegetable Soup
Instructions
Scroll up to get a bunch of easy, yummy, and delicious recipes. Don't be afraid to get creative with the ingredients, you might discover a flavor you didn't know you liked.
Get your shopping list going and make sure you've got all the ingredients.
Get cooking and make your next Pureed Soup!
Notes
Which one of these recipes was your favorite? Let me know in the comment section or on Pinterest!