Are you in the mood for a delicious panini but don't know how to put your panini press to good use? Here, I've gathered 31 of the most delicious panini recipes to wow your taste buds.
Each of these great sandwiches provides a different blend of flavors. So, there is an option for everyone in a great way.
Whether you have them as a snack or for lunch, I know you would enjoy each of these amazing panini recipes as much as I do.
This article is the ultimate round-up of the best panini recipes to enjoy a delicious hot sandwich.
What is the Best Bread to Use in a Panini Maker?
Ciabatta is the most common type of bread used to make paninis. You want bread that can withstand the pressure of the panini maker.
If you choose soft bread, it can end up breaking, and the filling might get all over the place.
You can also use other types of bread, such as sourdough or focaccia.
When possible, I always recommend using a whole grain option to make sure you are getting nutrients and fiber in the meal.
What Goes Best With Panini?
One of the benefits of a panini is that you can almost put anything into it.
You can add some melty cheese to make a gooey cheesy panini, or you can add different meats, vegetables, or sauces.
If you are looking for the best side dish to have along with a panini, tomato soup is always the best choice.
But if you are looking to add more nutrients, a nice green salad can also be a great side dish for a panini.
Best Panini Recipes
Looking for the best panini recipes? Grab your panini maker and get ready to make the most delicious paninis you've ever had.
Source: urbanblisslife.com
First on our list, we have this chorizo, queso, and pepper panini sandwich. Every bite you take will make you believe you are at a café shop in Spain.
The combination of chorizo, queso, and red peppers simply works.
For a different take on this recipe, try adding a couple of slices of tomato, or even sun-dried tomato will do.
These warm winter soup recipes would pair perfectly with your panini!
Source: savoryexperiments.com
The previous panini took us to Spain, but this one will take us to Italy. This chicken Caprese panini is a delicious take on the traditional Caprese salad.
One of the things I like about this recipe is that you can use your leftover chicken to make it. So, it takes you less time and less waste.
While this Italian sandwich recipe asks for mozzarella cheese only, try adding a couple of slices of parmesan cheese.
You'll thank me later. Adding some fresh basil and balsamic vinegar would take this to the next level.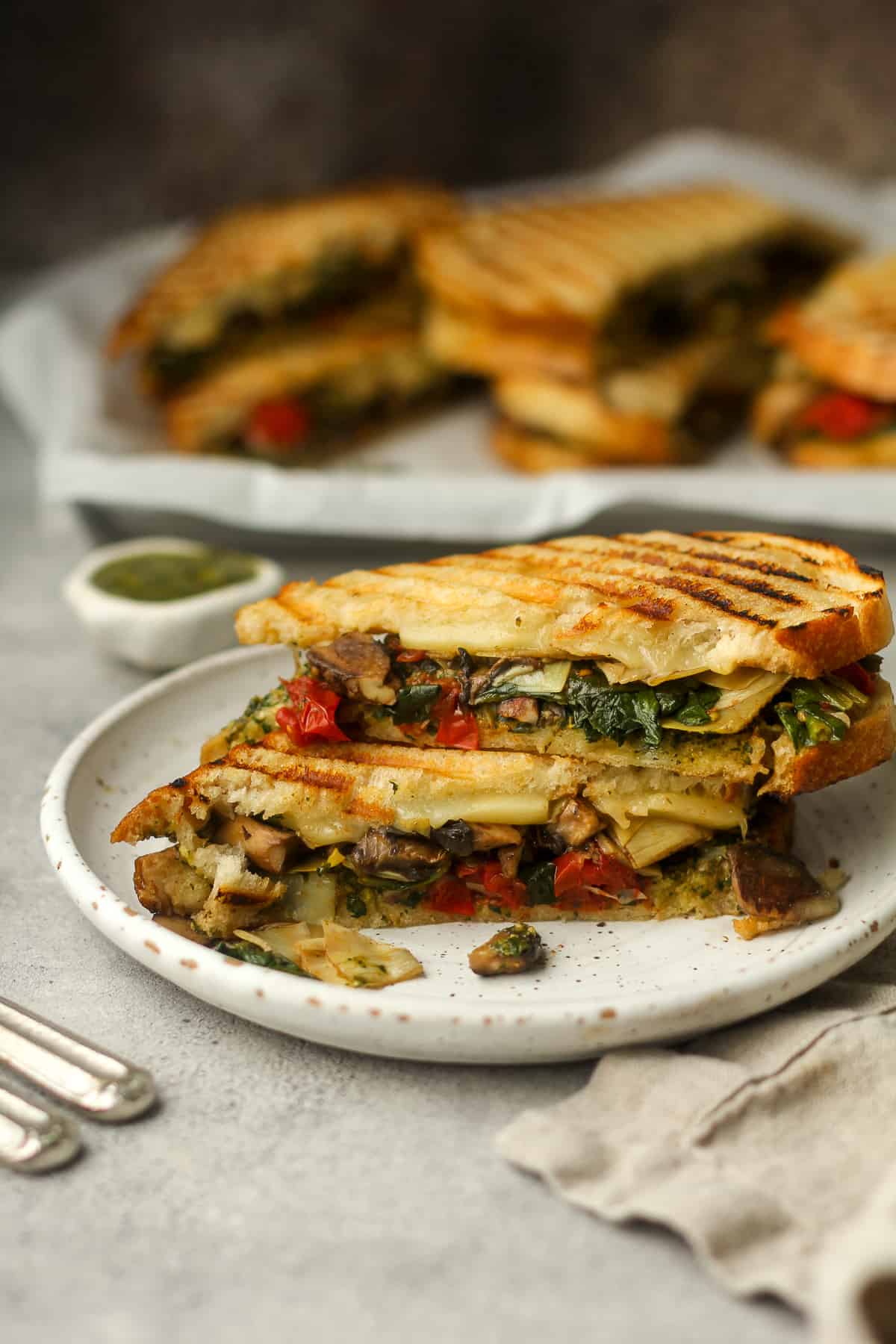 Source: suebeehomemaker.com
For those looking for a vegetarian panini, this roasted vegetable pesto panini is one of the best you'll even have.
The combination of pesto, roasted vegetables, and cheese creates the ultimate powerhouse of flavors.
You can adapt this panini based on the vegetables of your liking or the ones you can find available.
I recommend using fresh and seasonable vegetables since they tend to be the most flavorful and nutritious
Source: foodmeanderings.com
You are in the mood for chicken wings and a panini. If you don't know which one to have, why not have both? This buffalo chicken panini mixes the best of these two popular meals.
The tasty and spicy buffalo filling is ideal for those who can withstand some heat.
One thing I would change is that instead of having ranch dressing, try switching it to blue cheese dressing. And add some carrot and celery sticks on the side.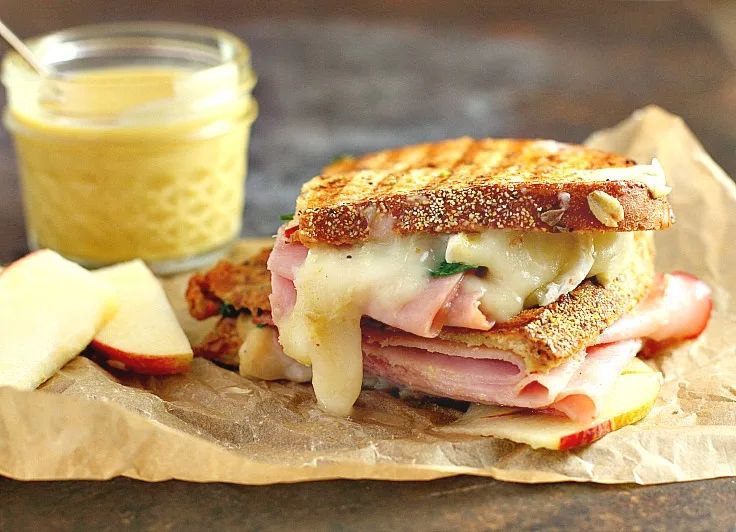 Source: adishofdailylife.com
Ham and Brie is a match made in heaven. And, if you use that as a filling for a panini along with honey mustard dressing, there are simply no words to describe the flavors you'll get with every bite.
What makes this a unique panini recipe is that the apples provide a nice crunchy texture to the panini. You'll see you won't need a pack of chips to add some texture when having this recipe.
Source: modernhoney.com
A turkey and bacon panini is a tasty option to have. But what if I told you that you can elevate this dish by adding some jam? More specifically, fig jam.
The delicious combo of bacon and turkey with the sweet and tangy flavor of the jam is something you'll want to keep having again and again.
Source: somebodyfeedseb.com
Another great vegetarian option is this grilled halloumi panini sandwich. It requires halloumi, eggplant, tomato paste, mayo, herbs, red onion chutney, and parmesan cheese.
This panini can be the perfect healthy lunch to have on the go. Or, if you make them into smaller pieces, you can serve them at your next dinner party. You'll guests will love them!
Source: brunchandbatter.com
There is something magical about mixing cheese, fruit, and prosciutto. This peach, prosciutto, and burrata panini is one of the greatest paninis you'll ever eat.
The sweetness of the peach, mixed with the creaminess of the burrata and the salty umami flavor of the prosciutto, creates an explosion of flavors in your mouth.
Source: recipezazz.com
Looking for another way to take advantage of your chicken leftovers?
This Tuscan pesto chicken panini is another great option if you are looking for a high-protein panini. In fact, the recipe provides a whopping 30 grams of protein.
Now, while the recipe asks for canola oil, I recommend using a healthier option, such as olive oil or avocado oil.
Source: thecookinchicks.com
How can you resist the combination of turkey, bacon, and avocado? You simply can't!
This turkey, bacon, and avocado panini can be your next lunch or dinner. You'll need sliced turkey breast, cheese, avocado, bacon bits, and sliced tomatoes.
I recommend adding a bit of Dijon mustard to elevate the flavor of the sandwich.
Source: thecookinchicks.com
Bored of the same old tuna melt panini? Here is a different take on the traditional tuna melt sandwich. So, what do you need to make this recipe?
To make this delicious panini, you will need tuna, cottage cheese, mayo, purple onion, lemon juice, Dijon mustard, sliced cheese, and focaccia bread.
Your mouth started to water after reading the ingredients, right? I know I did!
Source: recipezazz.com
I love recipes that add unexcepted ingredients. Such is the case of this raspberry chipotle turkey melt.
To make this panini, add turkey slices, cheese, bacon, arugula, raspberry jam, chipotle pepper, and white wine vinegar.
The tanginess of the vinegar and the raspberry goes nicely with the chipotle peppers' smokiness and the arugula's bitterness. In the end, it creates a complex array of flavors.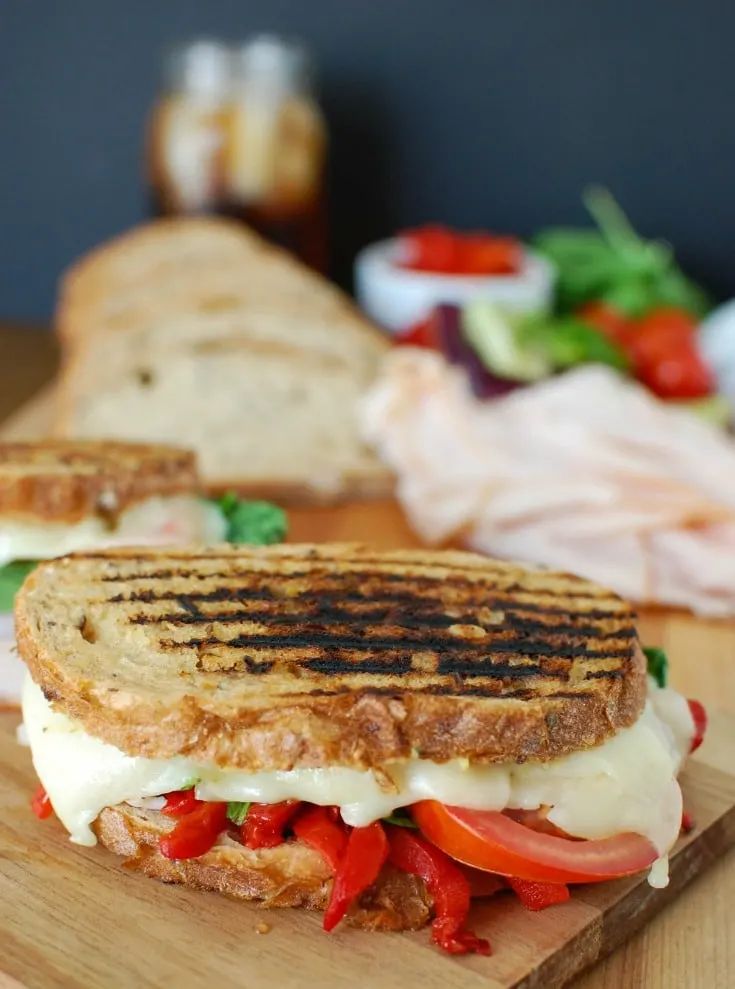 Source: acedarspoon.com
This panini will be a great option if you want to dive into Mediterranean cuisine.
The delicious garlic flavors, mixed with the herb hummus, make this one of the best panini recipes you'll ever have.
On top of that, you add grilled or roasted vegetables. So, not only will it be a punch or flavor, but it will also be packed with nutrients.
Source: chefsavvy.com
While this recipe might look simple, the range of flavors is far from simple. This recipe uses different herbs and spices that make this dish a unique panini.
You can use different vegetables to your liking, but I recommend using zucchini, mushrooms, roasted bell peppers, and eggplant.
As a tip, try scraping some roasted garlic on the bread instead of using garlic powder.
Source: healthyseasonalrecipes.com
This cheesy vegetarian panini option is loaded with nutrients. It uses artichokes and sun-dried tomatoes to create the ultimate veggie panini.
While most people add the ingredients straight onto the slices of bread, just like the recipe recommends, first mix them all in a bowl, and later you can add them to the slices.
This simple trick can make things way easier.
Source: melaniecooks.com
This flavorful and hearty panini option is going to be an all-time family favorite.
We've talked about how to use bread to make paninis in a panini maker, but what most people haven't thought about is that you can also use a panini maker to make delicious quesadillas.
One of the things I love about this recipe is that it only requires three ingredients. But you can add others depending on the flavors you want to add, such as avocado, sour cream, or pico de gallo.
Source: goodlifeeats.com
It's a cold night, and you want a soup. There is no better combo than soup and panini.
If you are a fan of onions, you'll love this slow cooker French dip panini. This classic French recipe makes you dip the panini in a delicious onion soup.
Dipping it won't only add tons of flavor, but it changes the consistency of the panini.
So, next time you are in the mood for comfort food. Try this recipe!
Source: fearlessdining.com
If you are short on time and want a quick lunch that will take you less than 10 minutes to prepare, I've got the recipe for you.
This roasted red pepper Italian panini provides all the nutrients you need in one meal. So, not only is it a quick meal to fix, but it is also a healthy option to have.
You might also enjoy these tortilla wrap recipes for lunch!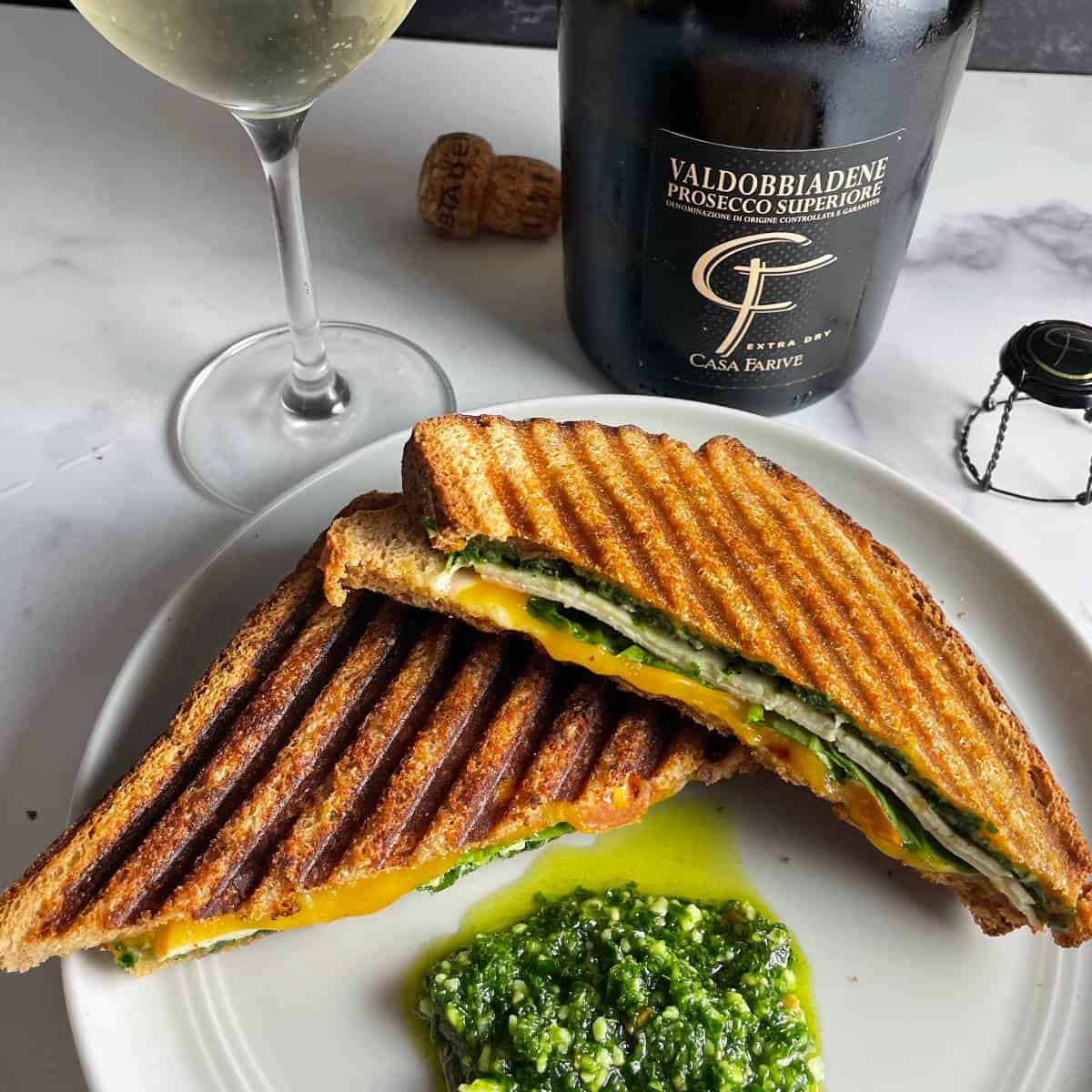 Source: cookingchatfood.com
If you have leftovers from Thanksgiving, this can be the best way to take advantage of them.
This turkey pesto panini combines turkey, pesto, cheese, spinach, and juicy tomatoes all in one meal.
While the recipe teaches you how to make fresh pesto (which I love!), you can use store-bought pesto if you don't have enough time to make it from scratch.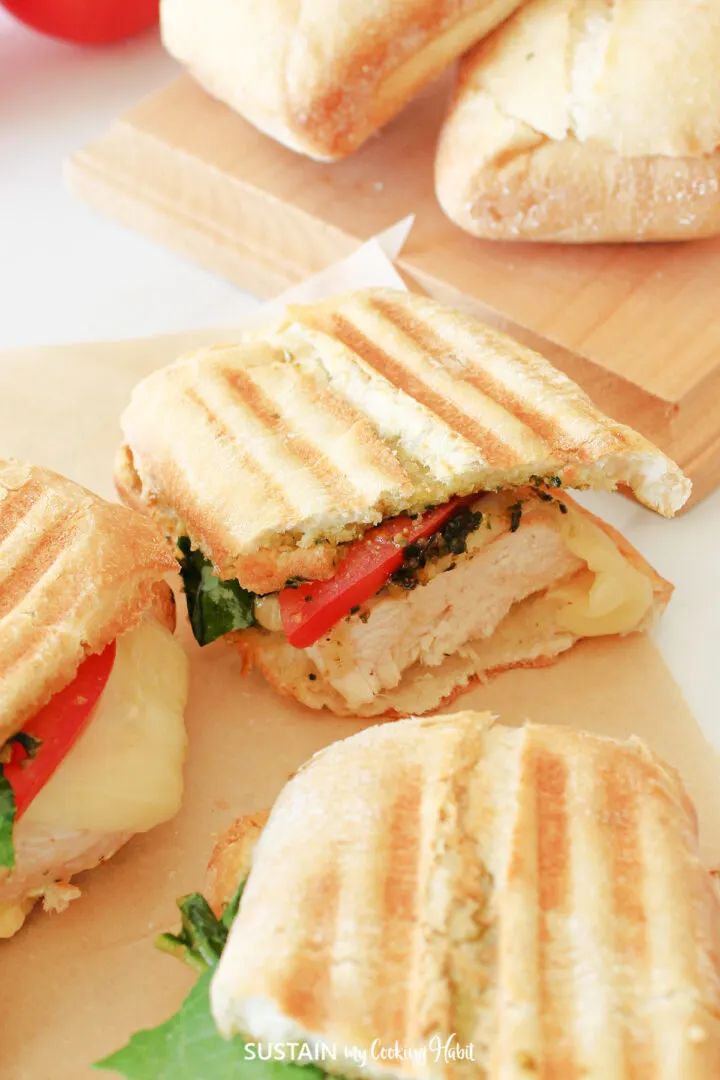 Source: sustainmycookinghabit.com
For a high-protein quick meal, this chicken pesto panini can be an excellent choice.
You can modify how much chicken you add depending on your protein requirements.
You can also add as many vegetables as you like. I love adding some grilled vegetables and bell peppers to add some flavor and more nutrients.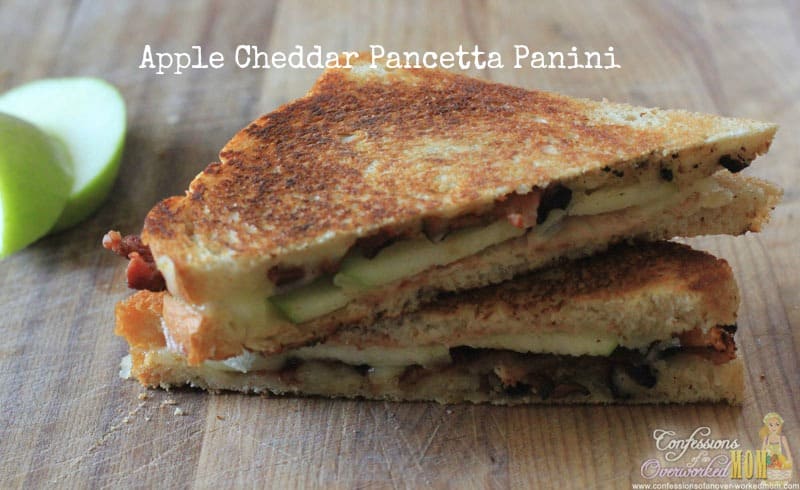 Source: confessionsofanover-workedmom.com
If you are looking for comfort food, you'll find this apple cheddar cheese and pancetta panini is just what your heart needs.
Using pancetta, or Italian bacon, is what makes this dish a one-of-a-kind experience.
On top of that, when you are feeling lousy, I am a firm believer that anything can be solved with a good slice of cheese.
Source: thismamacooks.com
One of my favorite sandwiches is a Cuban sandwich. While making it at home might take some time, let me assure you that it's worth the while.
This easy-to-make Cuban panini teaches you the best way to cook pulled pork using a slow cooker. Once you make it, you can put some in the freezer to have for later use.
Source: melaniecooks.com
When most people think about paninis, the most common filling that comes into mind is cheese, ham, bacon, and turkey. However, most people forget that you can create delicious recipes with fish.
This fish panini sandwich uses only bread, cooked fish, cheese, mustard, and mayo. So, if you are tired of having fish the same way, try this recipe and let me know how it goes in the comments.
This is one of the best sandwich ideas for an exciting lunch!
Source: thismamacooks.com
We've seen different ways for you to take advantage of your leftover chicken. Here, I came up with another great recipe to reduce waste in the kitchen.
What makes this recipe a unique option is that it uses Greek yogurt. As a result, it provides a creamy filling that will make you crave taking another bite each time.
Source: adishofdailylife.com
I love to cook, and I love Italian flavors!
This Italian panini uses bread, mozzarella, prosciutto, arugula and Parmigiano-Reggiano.
I recommend playing some Italian music while you are enjoying this delicious recipe since every bite you take will transport you to an Italian village.
You'll enjoy these other fresh arugula recipes as well! Don't let your greens wilt!
Source: modernhoney.com
If you don't have many ingredients available but are still looking for something delicious, this is the recipe for you.
This pesto panini with fresh mozzarella and tomato sandwich only requires those four ingredients.
You need bread, mozzarella, tomato, and pesto (you can add butter if that is to your liking).
This quick and easy-to-make sandwich is something the whole family is going to enjoy.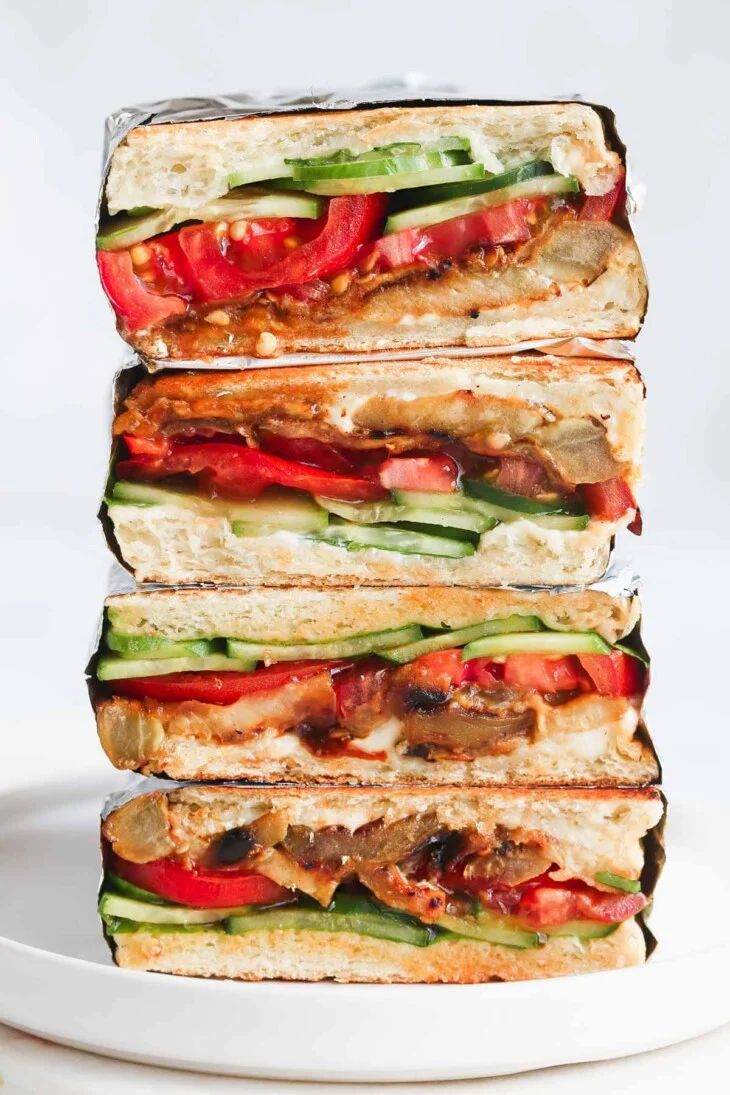 Source: littlesunnykitchen.com
We've gone over several vegetarian options. But what happens if you are looking for a vegan option?
Say no more! Here, I have the best vegan eggplant sandwich.
Now, just because it's vegan is going to be a bland experience. The dressing it uses combines several ingredients that pack a punch of flavor.
Source: daisiesandpie.co.uk
The best way to make a panini is by using a panini maker. However, you can also make great paninis using an air fryer.
If you are open to trying something different, this air fryer panini recipe is a great start. The air fryer makes the bread crispy while making the filling gooey.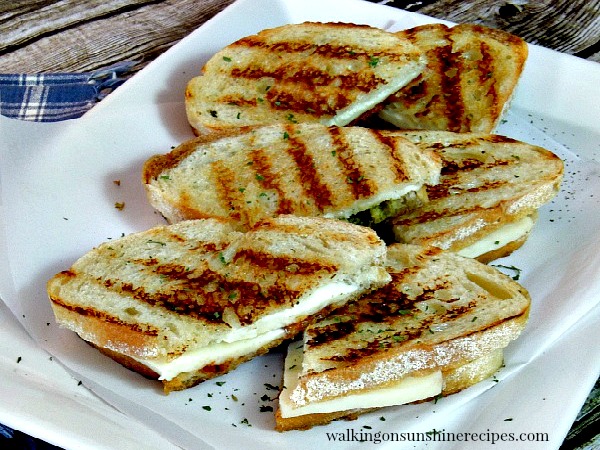 Source: walkingonsunshinerecipes.com
The last savory panini option I have for you is this delicious grilled pesto panini sandwich. Instead of using a panini maker, it requires a grill for cooking.
Keep in mind that you can do any of the previous paninis using this same method of cooking.
One of the benefits of using this cooking method is that it creates beautiful cooking marks and a delicious crunchy slice of bread.
Source: callmepmc.com
We are almost done with these best panini recipes. However, we cannot end this round-up without going over some sweet panini options.
The first option I have for you is this delicious Nutella dessert panini. I mean, who doesn't love Nutella?
Just by saying it, you should be convinced to try it. If you are still unsure, the recipe also has bananas, marshmallow cream, and French bread. Do I really have to say more?
Source: savoryexperiments.com
The last option I have for you is this amazing dulce de leche dessert panini.
If you love desserts (let's be honest, who doesn't), this is a recipe you need to try right now. To make this recipe, you'll need butter croissants, dulce de leche, strawberries, and marshmallows.
You can cut them into bite sizes and place them as a treat for the whole family to enjoy.
You might also enjoy these healthy wrap recipes for lunch!
31 Best Panini Recipes Full Of Grilled Melty Goodness
Discover an array of delectable panini recipes that will tantalize your taste buds. From classic combos to inventive twists, find your inspiration here.
Ingredients
1. Chorizo, Queso, and Pepper Panini Sandwich
2. Chicken Caprese Panini
3. Roasted Vegetable Pesto Panini
4. Buffalo Chicken Panini
5. Ham, Brie, Apple, and Spinach Panini with Honey Mustard
6. Turkey and Bacon Panini with Fig Jam
7. Grilled Halloumi Panini
8. Peach, Prosciutto and Burrata Panini
9. Tuscan Pesto Chicken Panini
10. Turkey, Bacon, and Avocado Panini
11. Tuna Melt Panini
12. Raspberry Chipotle Turkey Melt
13. Mediterranean Turkey Hummus Panini
14. Grilled Vegetable Panini
15. Veggie Panini
16. Turkey Quesadilla Panini
17. Slow Cooker French Dip Panini
18. Roasted Red Pepper Italian Panini
19. Turkey Pesto Panini
20. Chicken Pesto Panini
21. Apple Cheddar and Pancetta Panini
22. Cuban Panini
23. Fish Panini Sandwich
24. Chicken Panini
25. Italian Panini
26. Pesto Panini with Fresh Mozzarella and Tomato
27. Vegan Eggplant Sandwich
28. Air Fryer Panini
29. Grilled Pesto Panini Sandwiches
30. Nutella Dessert Panini
31. Dulce De Leche Dessert Panini
Instructions
Scroll up to get a bunch of easy, yummy, and delicious panini recipes. Don't be afraid to get creative with the ingredients, you might discover a flavor you didn't know you liked.
Get your shopping list going and make sure you've got all the ingredients.
Get cooking and make your next Panini Recipe!
Notes
Which one of these recipes was your favorite? Let me know in the comment section or on Pinterest!