Want to explore the world of puff pastries? Make these easy phyllo dough recipes and enjoy a variety of puff pastry dishes!
Phyllo dough is originally a Greek cuisine ingredient. It's a super flaky pastry that's great for making desserts! If you've ever had a Greek dessert, you know what I'm talking about.
Are you thinking about enjoying this delish pastry? There are so many recipes with sheets of phyllo dough to try that will have your mouth watering in no time! Impress friends and family with these tasty phyllo recipes.
Is Phyllo Dough the Same as Puff Pastry?
Not quite! The idea is the same, but the way it's made is different. Puff pastry is made by folding butter in between layers of dough. Homemade phyllo dough is created with oil on a hot pan.
That's why it's so crunchy and delicious. It's lighter than normal puff pastry, making it great for an after dinner dessert.
What is Phyllo Dough Used For?
Phyllo triangles are mainly used in Greek recipes. That doesn't mean you can't get creative with it, though! The filo pastry doesn't taste much, so you can use the pastry dough in savory or sweet dishes.
You can treat it like any other pastry. If you make it from scratch, then I salute you! But there are plenty of phyllo sheets you can buy from the store.
Best Phyllo Dough Recipes
The question is, which phyllo dough recipes are the best? Which ones will make you happy just by looking at them? Which ones are a great start to baking with phyllo from the grocery store?
Let's answer all those questions with these delicious phyllo dough recipes!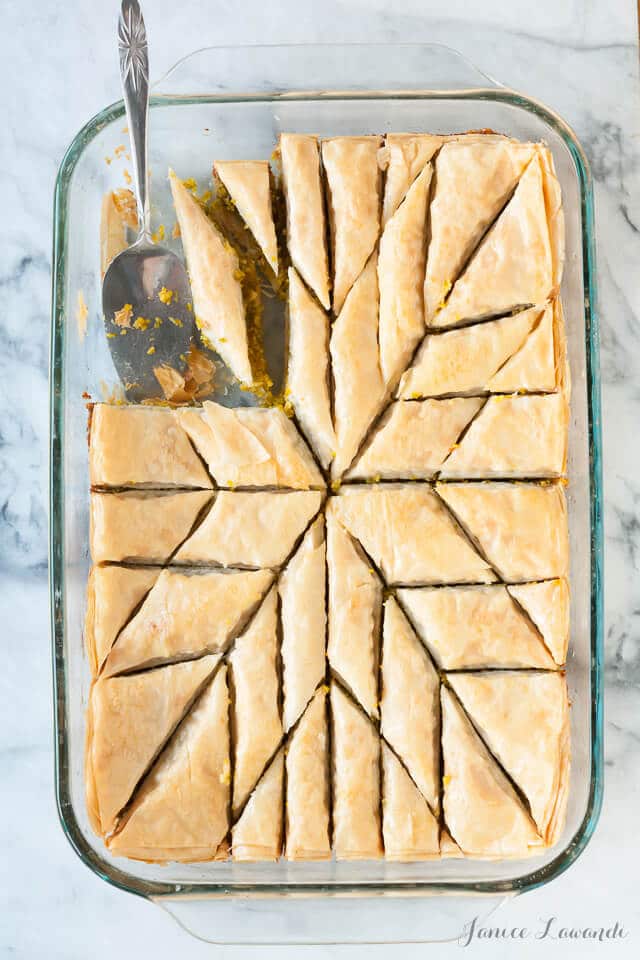 Source: bakeschool.com
Let's kick things off with a classic! Pistachio baklava is a well-known Turkish dessert with plenty of great taste. It's sweet and crunchy. Best of all, it's packed with butter.
If you make it from scratch, this dish can be pretty scary. But using store-bought pastry instead of your own phyllo dough lets you whip it up in no time. Just layer your mixture between the pastry sheets and bake. Simple!
Source: foodpleasureandhealth.com
I've never heard a meat eater say no to a tasty chicken-packed pastry. It's impossible! Every buttery bite of this chicken puff is a step through heaven's door.
These are great party food. They're easy to eat without a fork. Plus, you can make a lot of them pretty quickly. That's what I call ideal party fare. Just cook the phyllo layers until they are golden brown.
This would make a lovely potluck idea.
Source: bingeworthybites.com
Our third dish is a Greek dish, which is just right for this pastry. You're in for a treat if you've never tried spanakopita before!
It's simply Greek spinach and feta pie with phyllo dough crust. Every bite is creamy and packed with spinach flavor in this savory tart. The golden pastry around the filling makes it crunchy and delicious with every mouthful.
Source: baking-sense.com
Strudel is a fairly heavy German dessert. Phyllo pastry makes this simple recipe a bit lighter and easier to eat after a big meal. This sour cherry take on strudel is perfect for hot summer days!
Enjoy the crispy crackling of baked phyllo around stewed cherries. A layer of icing sugar on top really makes these decadent desserts sing.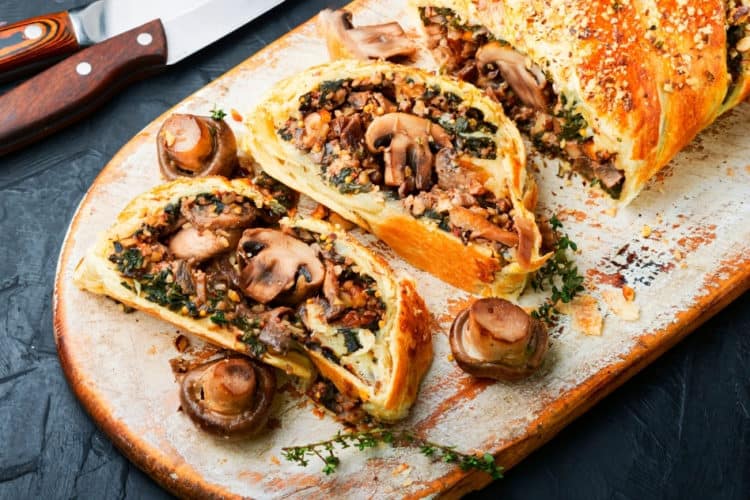 Source: annainthekitchen.com
A mushroom Wellington is just as good for anyone who can't eat a beef Wellington. It's rich and meaty. Just like the original dish!
Store-bought phyllo pastry is a great choice for making this dish a bit easier. Focus on making a tasty filling and leave the pastry to the pros.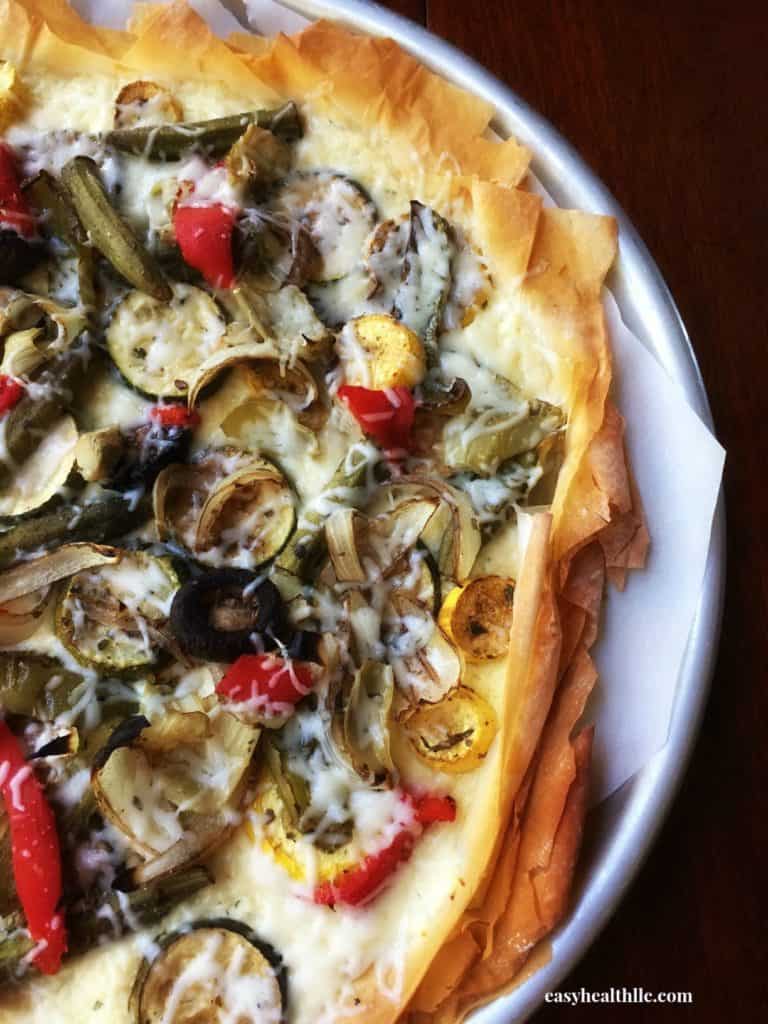 Source: easyhealthllc.com
I bet you've never had puffy pizza before! You won't want to return to regular pizza dough after trying this version. The puff pastry makes every bite so crunchy and delicious.
Play with your favorite pizza toppings to create something special. This is a great last-minute dinner if you're almost out of groceries!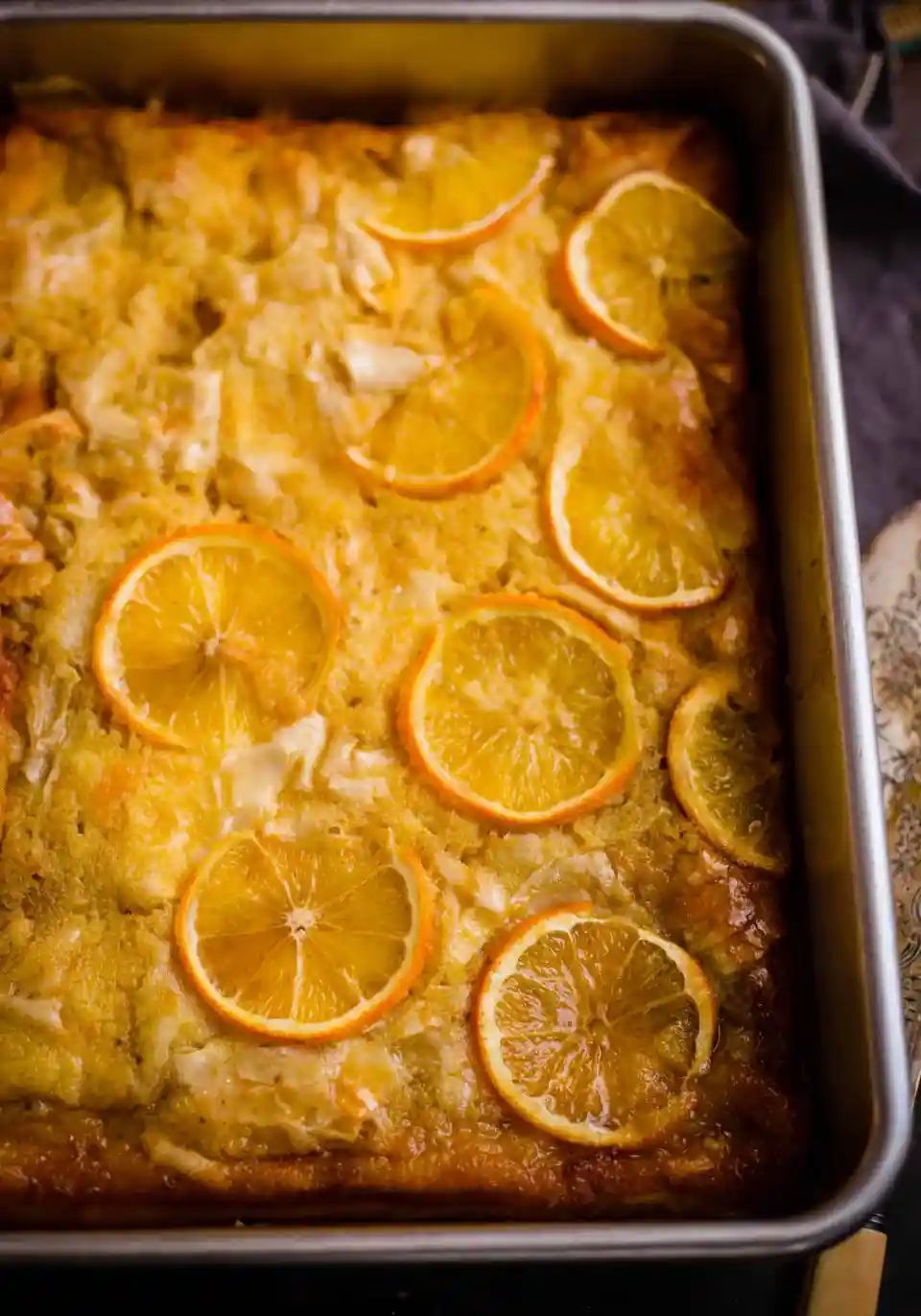 Source: tiffinandteaofficial.com
Portokalopita isn't as well-known as spanakopita, but it should be! This is an orange-filled phyllo pastry cake bursting with juicy citrus and spice. Every bite is better than the last.
This is super simple to create if you have some pastry hanging around. You can have a warm dessert on the table in no time!
Source: thegoodheartedwoman.com
Create a simple apple strudel in under an hour with this recipe. You can make it your own with any spices or dried fruit you want to include. Design a dish that's totally yours with minimal effort.
This is such a classic comfort dish. Similar to apple pie, this buttery pastry and stewed apples combine to create a heavenly bite every time.
Source: nofrillskitchen.com
Maltese cuisine isn't as well-known as it should be. Today, we're fixing that! These pastizzi are like cheese dumplings made from phyllo pastry. They're so good!
The best part is that you can fill these with whatever you want. Cheese? Yes please. Vegetables? How healthy! Nutella? Absolutely!!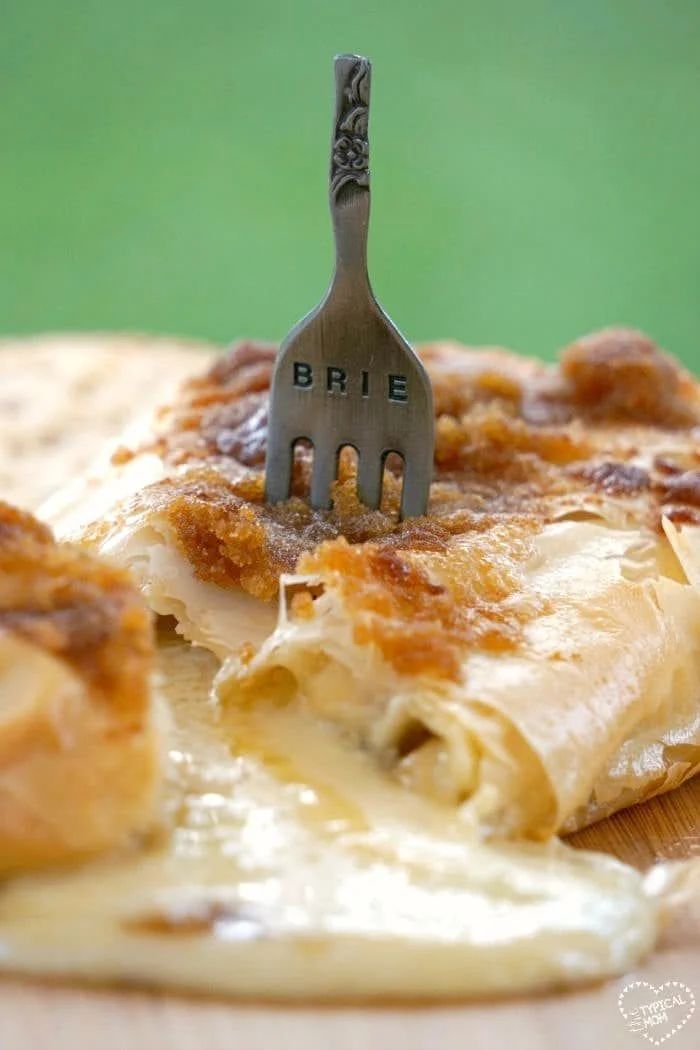 Source: temeculablogs.com
Baked brie is already such a treat. So what could make it even better? How about a layer of fresh-baked phyllo pastry to add some crunch?
This is an effortless dish perfect for brunch with the gals. Serve with a cold bottle of your favorite wine, and enjoy a day with your best friends.
Source: culinaryginger.com
Are you looking for a simple party dessert for a special occasion? These chocolate mousse phyllo dessert cups are the answer! They're crunchy and creamy at the same time, which makes them so addictive.
Top them with a heap of cream cheese to cut through the rich mousse. These flaky pastries look super fancy, but they are really easy to make!
Source: urbanblisslife.com
These buffalo chicken bites are a similar idea to the mousse cups. But instead of sweet treats, we have savory delights! Serve these tasty treats with flaky layers on game day for a snack your guests won't forget.
You can prepare the filling the day before. Then all you need to do is bake the shells and fill them. Simple!
Source: fromthecomfortofmybowl.com
Spanakopita is a great vegan go-to meal. Instead of traditional feta, use vegan feta to get the same creamy taste and texture. With the store-bought dough, this recipe is a breeze.
Just remember to let the dough come all the way to room temperature. Otherwise, it becomes really fragile and hard to work with.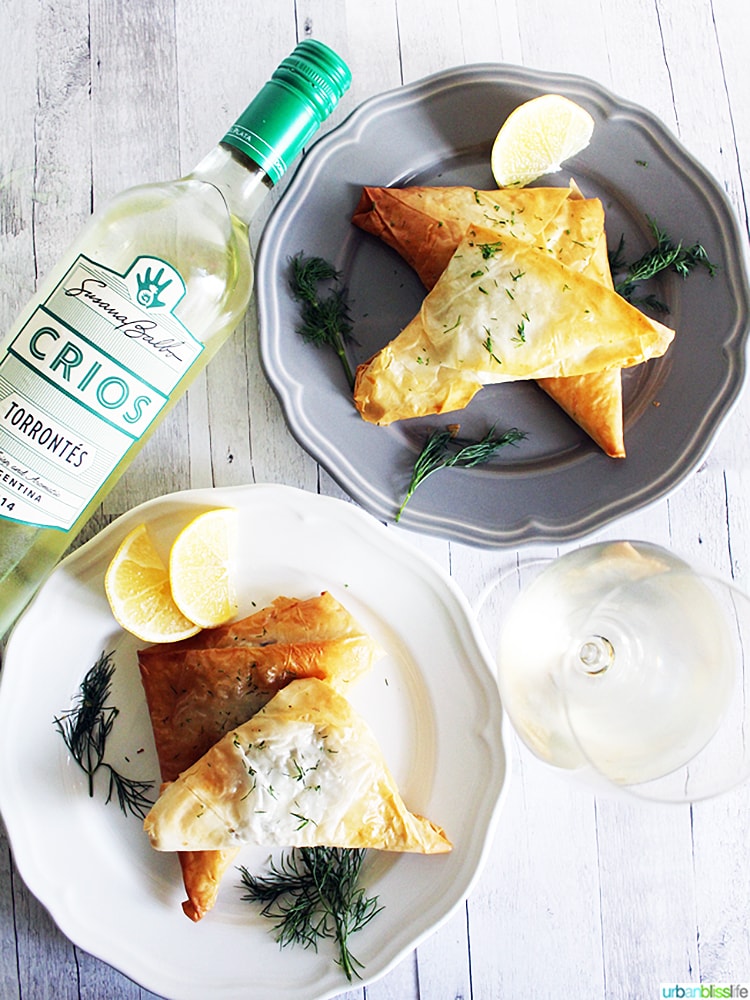 Source: urbanblisslife.com
Crab puffs are a party staple. If you're hosting an event, your guests will look for these beauties the whole night. Satisfy them with these super tasty (yet simple) puffs.
You can prepare these in advance. Then all you need to do is bake them and arrange them on trays. Use that extra time to mingle with your party guests!
Love crab? You'll love these crab meat recipes.
Source: simplebites.net
Imagine if spanakopita was a salad. That's what this dish is! The spinach and feta form a tasty base. Then the phyllo pastry crisps on top act like croutons to give the salad some crunch.
This super healthy take on a Greek classic is a great weeknight dinner. You can also use it for meal-prepping your lunches.
Source: carolinescooking.com
Tiropita combines a cheese mixture and egg in a crunchy phyllo pastry shell. This is the place to go if you're craving something a little naughty. They're super easy to make and even easier to demolish.
They're perfect as party food too. Serve them with plenty of dips!
Source: carolinescooking.com
Enjoy every bite of these tasty pesto cheese parcels. Fresh pesto and creamy cheese are perfect partners in crime. Whip these out to impress your guests while entertaining!
This is another dish you can prepare in advance. Make the filling the day before and store it. When it's party time, just fill the pastry, and you're ready to bake.
These pesto bites would be wonderful Christmas appetizers.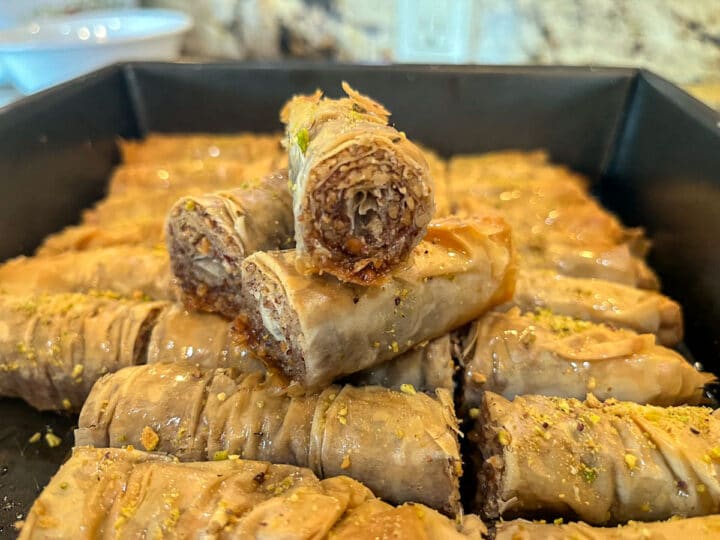 Source: hildaskitchenblog.com
Make baklava a great finger food with this clever recipe. Each roll is packed with everything we love about baklava. Pistachios give an incredible crunch to this well-loved dessert.
I love how easy to eat these baklava rolls are. They're perfect for serving at parties!
Source: globalkitchentravels.com
Semolina isn't appreciated enough. It's a super fine flour that makes super moist cakes. This cake also has layers of phyllo pastry to add an addictive crunch. Don't forget the sweet syrup!
Start here if you're looking into Greek baking for the first time. It helps you get familiar with some classic Greek ingredients and produces something delicious.
Source: daniscookings.com
Sesame and thin layers of phyllo are a match made in heaven. The nutty sesame and crunchy phyllo play off each other really well. This is a fantastic last-minute dessert you can whip up in less than an hour.
Give this a try with store-bought phyllo dough sheets. It's so quick and easy! Be generous with the sesame seeds to add even more nutty crunch.
Source: tacoandtiramisu.com
Next on the list is a Bulgarian treat. It's usually enjoyed the night before Christmas. But you know what? It's a great meal you can enjoy whenever you feel like some fall flavors.
Every bite is even crunchier than the last. I'd love this recipe at Thanksgiving or on Halloween!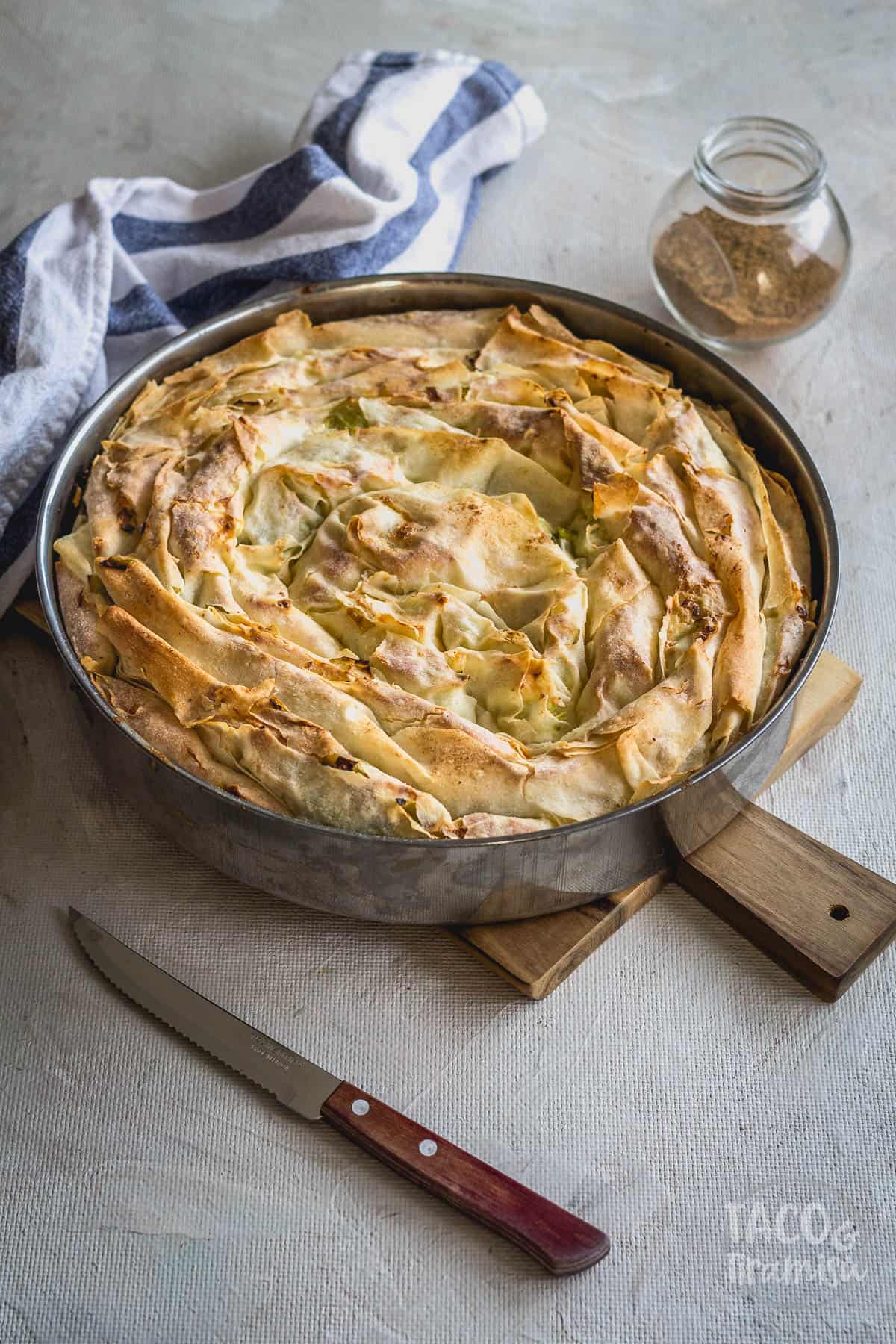 Source: tacoandtiramisu.com
This is a light version of the pumpkin banitsa. Leeks are great for adding flavor, but they're not super heavy. That's what makes this version of the banitsa so delicate.
Enjoy the summertime with a cold drink and plenty of friends.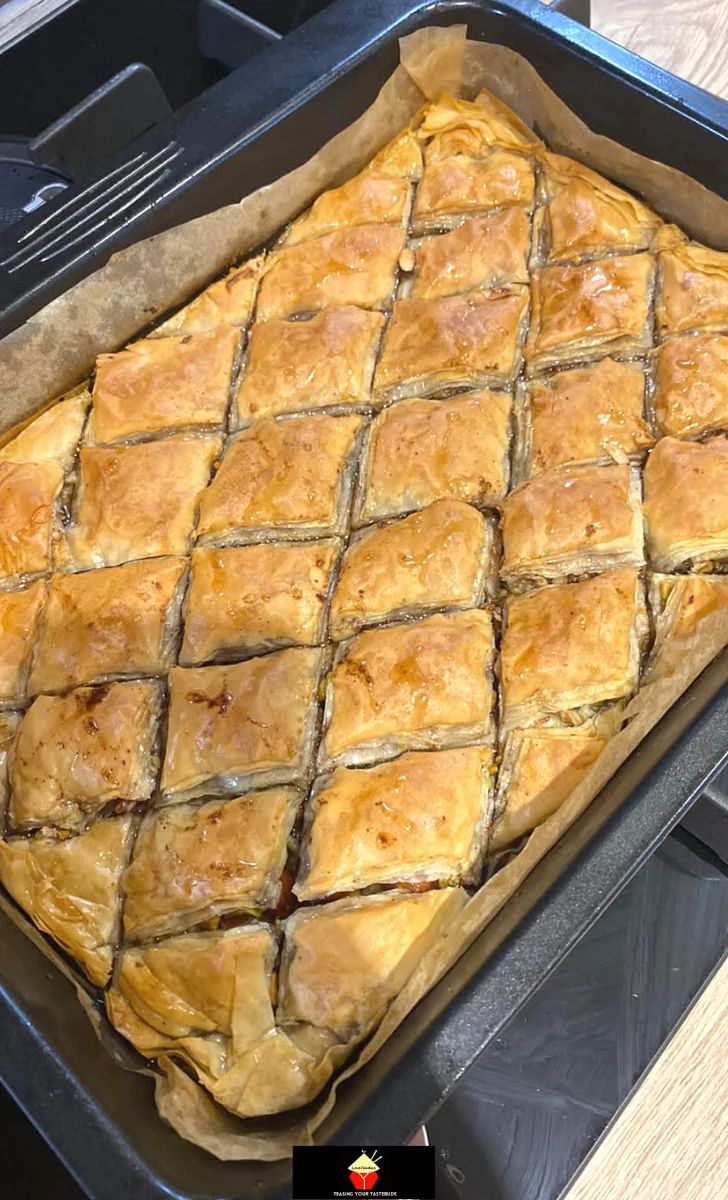 Source: lovefoodies.com
What makes baklava even better? A healthy dose of honey, that's what. This honey baklava will make your mouth water in minutes.
On top of that, it's super easy! Honey and citrus combine with crunchy pastry to make a fantastic treat. I can't get over how good this stuff is.
Source: tidymom.net
Searching for a party-friendly taco recipe? These cute mini taco bites are the answer. They're easy to pick up and eat. But their small size doesn't extend to their big, bold flavors!
Dollop with a generous amount of sour cream to finish them off. Trust me, these will disappear in minutes.
Wondering what to eat with these bites? These sides for tacos are a must.
Source: scrummylane.com
These filo triangles are another great party recipe. Satisfy the vegetarians and vegans at your gathering with these tasty morsels. They're a little meaty and very full of great taste!
The filling is a breeze to prepare the day before. Just fill the shells and bake on the day. Simple.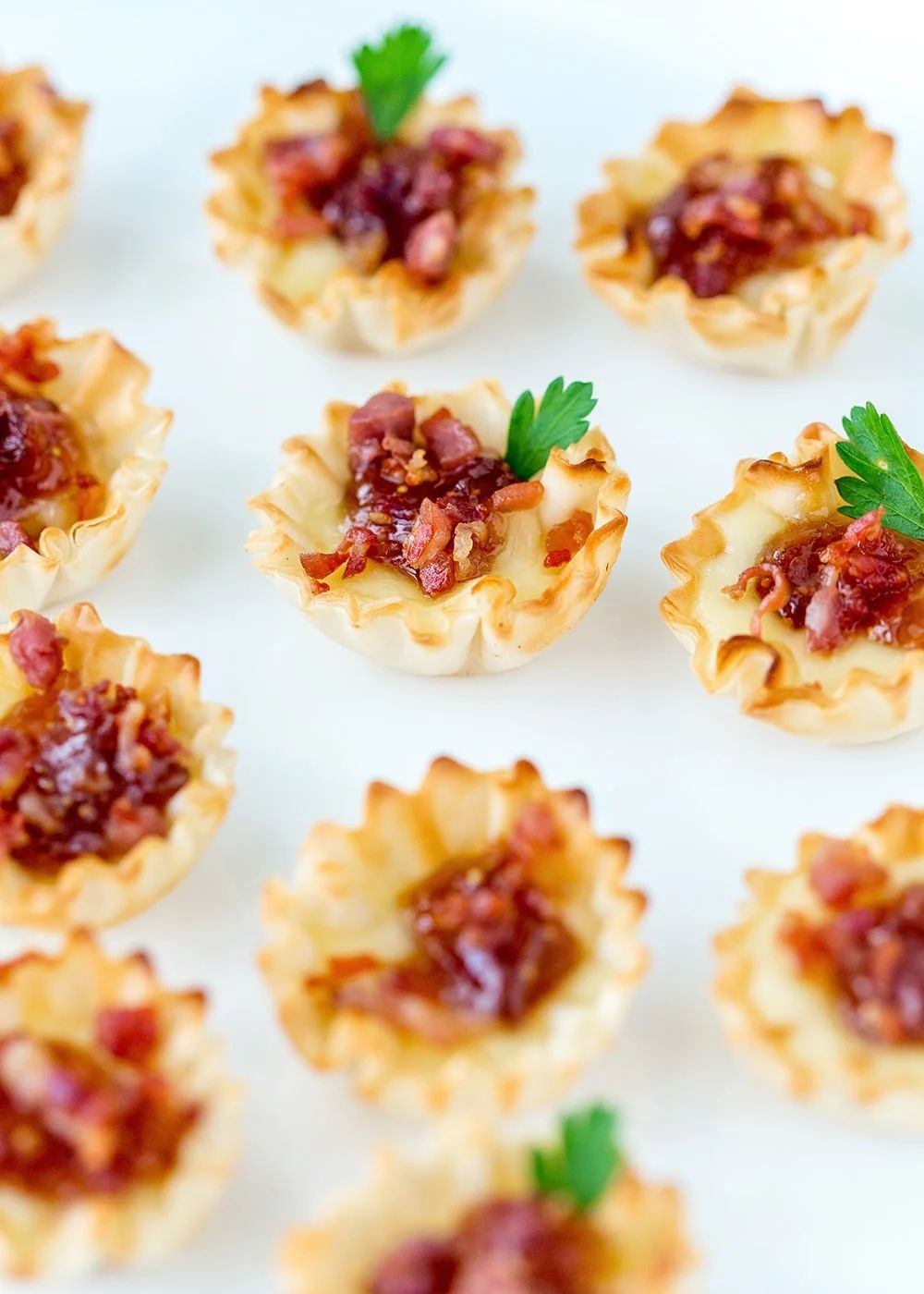 Source: pizzazzerie.com
Looking for something fancy for your next dinner party? These baked brie bites will do the trick! They're really easy to make, but they taste as if they came from a restaurant.
Best of all, they really wake up your appetite. Get your guests ready for the main meal with these delicious treats.
Source: mycookingjourney.com
This is another example of a great finger food recipe. No plate is needed. Just eat these on the go! You can use this technique and fill the cigars with whatever you want. This recipe uses a Turkish filling.
But play around with the fillings to find your take. Is it sweet or savory? Maybe it's both!
Source: divinelifestyle.com
Speaking of sweet pastries… give this amazing pastry a try this Christmas! This is a showstopping dessert you'd be proud to have at the center of your table.
This is a pull-apart recipe that's great for sharing. Try it with your other favorite Christmas fillings!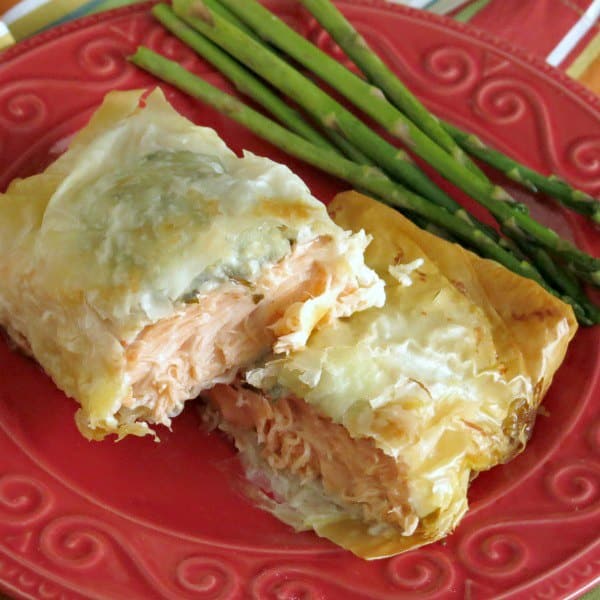 Source: dinner-mom.com
Elegance. Flavor. Texture. All of these things and more appear in this phyllo-wrapped salmon dish. The best part is how simple it is to prepare. You can have it prepared in just minutes!
Trust me, this one will leave your guests talking about it for the whole night. Serve with some fresh spring vegetables to complete the plate.
Source: all-thats-jas.com
Keep it super simple and delicious with this egg pie. A crunchy phyllo crust pairs with creamy egg filling. It's almost like a savory custard!
You can use this method to create a quiche if you feel like it. Toss vegetables through the whole pie for a healthy and filling dinner your family will love.
These egg yolk recipes will help you use up those leftover eggs.
Source: pointedkitchen.com
Our final recipe is a family favorite almost everywhere. Sausage rolls! These rolls use phyllo pastry to be gentler on your waistline. But they somehow taste just as good as regular sausage rolls.
Mess around with your favorite spices to create the perfect sausage filling. You can make small versions to serve on platters for your next party or game day.
If you're a sausage roll fiend, try making a larger one to enjoy at dinner or lunchtime. Serve with plenty of sauce and some vegetables to bulk up the meal. You're ready!
I can hear all the phyllo pastry unwrapping already. Which of these recipes are you going to try in this week's meal plan? Let me know in the comments down below!
31 Easy Phyllo Dough Recipes
Here you will find healthy, delicious phyllo dough recipes. Turn this ingredient into the best desserts and dishes that your family will love.
Ingredients
1. Pistachio Baklava
2. Chicken Puff Pastry
3. Greek Spinach and Feta Pie
4. Cherry Strudel
5. Mushroom Wellington
6. Pizza
7. Portokalopita
8. Apple Strudel
9. Pastizzi
10. Baked Brie
11. Chocolate Mousse Cream Cheese Phyllo Dessert Cups
12. Buffalo Chicken Bites
13. Vegan Spinach Pie
14. Crab Puffs
15. Spinach Feta Salad
16. Greek Cheese Pastries
17. Pesto Goats Cheese Filo Parcels
18. Sari Burma Baklava Rolls
19. Greek Semolina Cake
20. Sesame Phyllo Pie
21. Pumpkin Banitsa
22. Leek Banitsa
23. Honey Baklava
24. Mini Taco Bites
25. Mushroom Filo Triangles
26. Baked Brie Bites
27. Turkish Cigar Pastry
28. Nutella Puff
29. Phyllo Wrapped Salmon with Pesto
30. Savory Egg Pie
31. Sausage Rolls
Instructions
Scroll up to get a bunch of easy, yummy, and delicious recipes. Don't be afraid to get creative with the ingredients, you might discover a flavor you didn't know you liked.
Get your shopping list going and make sure you've got all the ingredients.
Get cooking and make your next Phyllo Dough Recipe!
Notes
Which one of these recipes was your favorite? Let me know in the comment section or on Pinterest!