Got your Ninja Foodi at home and not sure what to make with it? These Ninja Foodi Recipes will give you plenty of inspiration.
The only thing that comes close to having someone else to help you in the kitchen is having a Ninja Foodi waiting in the wings.
With so many different functions, it's a wonder they don't just make dinner for you. With a fantastic appliance, it begs the question: "which dish should I try first?!".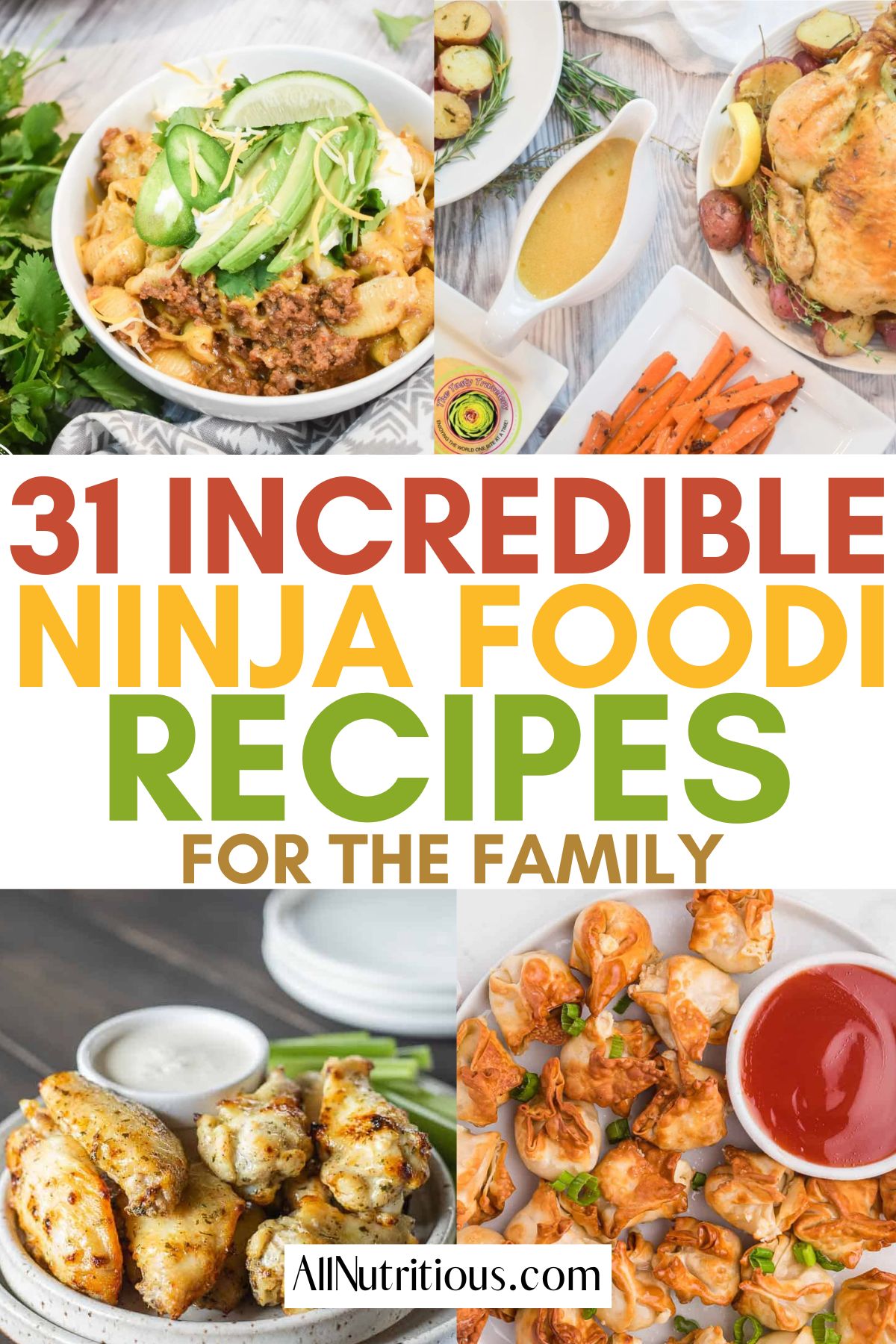 What is the Best Thing to Cook in a Ninja Foodi?
The best thing to cook in a Ninja Foodi is… everything. With so many cooking cycles to choose from, you can assemble your favorite recipes from start to finish without ever lifting the lid.
Can You Cook an Entire Meal in the Ninja Foodi?
You can absolutely cook an entire meal in the Ninja Foodi with these amazing recipes. You might have to be strategic about which recipes you choose so that everything comes together, but it's doable!
Let's explore thirty-one ways you can put your Ninja Foodi through its paces!
Ninja Foodi Grill Recipes
The grill feature on this magical appliance is ideal for enjoying perfectly-grilled meat every time. Set and forget as your Ninja Foodi grills your chosen meat to a delicious crisp.
Source: sparklestosprinkles.com
The best place to start is with the savory treat that has thwarted many breakfast addicts: bacon. Getting perfectly-crispy bacon is a mission, but it seems the Ninja Foodi can handle it with ease.
Using the grill mode, you can have deliciously crispy and savory bacon in just fifteen minutes. The best part? You can press a button and leave it alone!
Source: simplisticallyliving.com
Enjoy chicken drumsticks grilled to absolute perfection. Whether you have last-minute gifts or need a hassle-free family lunch, these legs are the recipe to turn to.
With these on the go, you can quickly turn your attention to other side dishes that will round out your meal.
Need more chicken recipe inspirations? This Creamy Tomato Chicken Skillet recipe and Crispy Baked Chicken Cutlets are delicious.
Source: sparklestosprinkles.com
That's right; you can even prepare a full meatloaf in the Ninja Foodi. With the massive container hiding in this appliance, this meatloaf will easily feed a family.
This is an utterly delicious meal for cold winter nights, featuring a delightful glaze, crispy exterior, and tender core.
Ninja Foodi Air Fryer Recipes
I've said before that the air fryer is one of the most convenient appliances you can have in the kitchen, and I stand by that. So, the fact that the Ninja Foodi has an air fryer mode is mind-blowing.
This mode has many possibilities, but let's touch on a few.
Source: createkidsclub.com
Let's kick things off with a delicious take on some simple chicken drumsticks. These are ideal as the centerpiece for a quick weeknight dinner.
They're ultra-crispy and juicy, requiring minimal effort from you but giving a whole lot back.
Source: simplystacie.net
Takeout cravings can arrive at the most unceremonious of moments. When they strike, it's good to have a go-to meal you can whip out at a moment's notice.
With the Ninja Foodi on your side, that meal could easily be these delicious crab Rangoon with yummy cream cheese. They're crispy, flavorful, and much healthier than the deep-fried version.
Source: southerncravings.com
If you have a frozen burger patty languishing in your freezer, give it new life with the air fryer setting on the Ninja Foodi.
Cheeseburgers are an even better option, especially since you can easily adorn the patties with cheese to melt during the frying. Serve them with the perfect side dish of french fries or sweet potato fries.
The best way to make the sides is to toss in some olive oil and get air frying!
Source: southerncravings.com
Cooking a moist, tender, delicious chicken breast can be quite the mission. That's why having this air fryer recipe on hand is perfect for achieving a succulent chicken breast every single time.
Set and forget while you prepare a simple side salad to highlight the beauty of a perfect chicken breast.
Source: southerncravings.com
That's right; you can even cook pizza rolls in this fantastic contraption. Enjoy a simple snack on game day with virtually no effort.
Serve the rolls with plenty of dipping sauce!
Source: bonappeteach.com
Salmon is a naturally oily fish with a lot of flavor on offer, so it's the ideal candidate for a spell in the air fryer.
Enjoy delightfully crispy skin and a flaky, moist texture. Adorn the top of your salmon with your dressing of choice – I recommend something creamy – and dig in!
Love flavorful salmon? You'll enjoy this easy salmon stir fry.
Source: the-bella-vita.com
Breaded mushrooms are a classic Italian appetizer with plenty of snacking potential. Whether serving these to begin a meal or as a snack for party guests, your Ninja Foodi will not disappoint.
Be generous with the creamy side sauce, which helps temper the delightful crunch on the mushrooms.
Source: nomss.com
Halibut is a wonderfully robust fish that will stand up to the heat of the air fryer. By glazing it with miso, you add a deep, complex level of flavor to this straightforward ingredient.
Serve with your favorite Asian greens or on a bed of cous cous for light and vibrant Friday dinner this summer.
Source: maesmenu.com
That's right; you can even fry your garlic bread to perfection in a Ninja Foodi! The air fryer mode draws the entire loaf of garlic bread into an incredibly crispy state.
Elevate it one step further by sprinkling a generous cloud of parmesan over the top, allowing it to melt in the fryer. Delicious.
Ninja Foodi Chicken Recipes
The Ninja Foodi is ideal for preparing chicken, as it can keep the steam or juices sealed tight. This helps the chicken cook in a moist environment, keeping it tender and juicy.
Source: createkidsclub.com
On a game day, few things are more coveted than a plate of good chicken wings. This method is a game changer to create wings of any flavor. They take just twenty minutes to cook!
Enjoy this easy air fryer recipes on your next game day! This is sure to become of one your favorite ninja foodi recipes.
This is also a fantastic approach to meal prepping, as chicken wings retain their flavor for quite a while.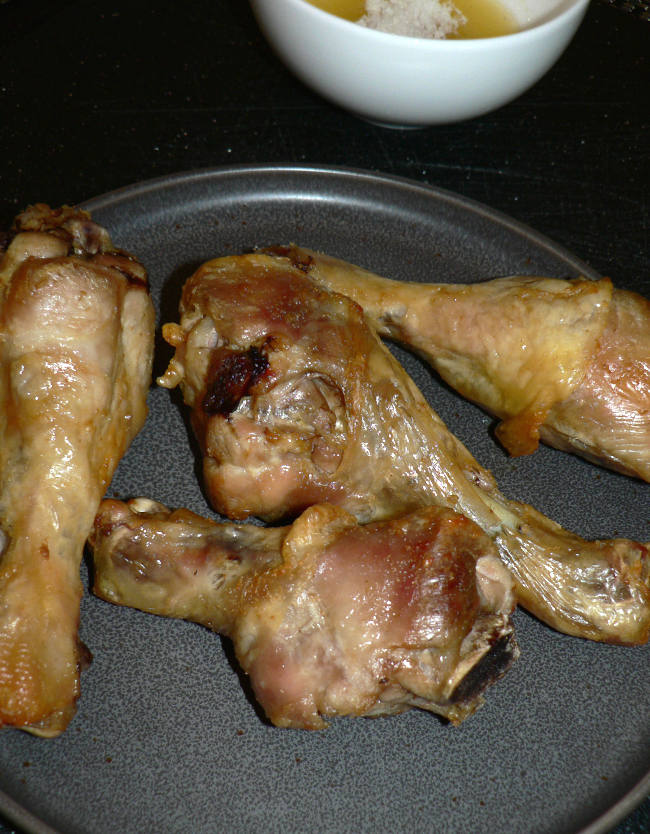 Source: tastygalaxy.com
These incredible chicken legs demonstrate how magical the combination of garlic and parmesan is. Each moist, tender, flaky bite sings with the earthy notes of these aromatics.
You can't go past this tasty, cost-effective, and simple option as a lunch or dinner dish.
Source: thetastytravelers.com
If you have neither the time nor the inclination to roast a whole chicken in the oven, you might find the Ninja Foodi pressure cooker function more to your taste. That's right; you can roast an entire chicken in it!
The large canister can easily fit the entire bird and its various flavorings with the pressure cook function. Set and forget, then come back to a perfectly-roasted chicken.
Source: summeryule.com
Speaking of whole chickens, this is another method for roasting your chicken in the Ninja. But this recipe takes it one step further, using the leftover chicken juices to craft a thick, luscious gravy.
Lay your chicken on a bed of rice and spoon over generous amounts of this incredible gravy. This is a meal the whole family can enjoy.
Source: fearlessdining.com
Orange chicken is a common craving, especially when you don't feel like cooking. Instead of shelling out for takeout, take five minutes to prepare this homemade version.
It's quick, simple, cheaper than takeout, and tastes twice as good. Not to mention, you can have the leftovers for lunch the very next day!
Need more inspiration? Find these chicken tenderloin recipes.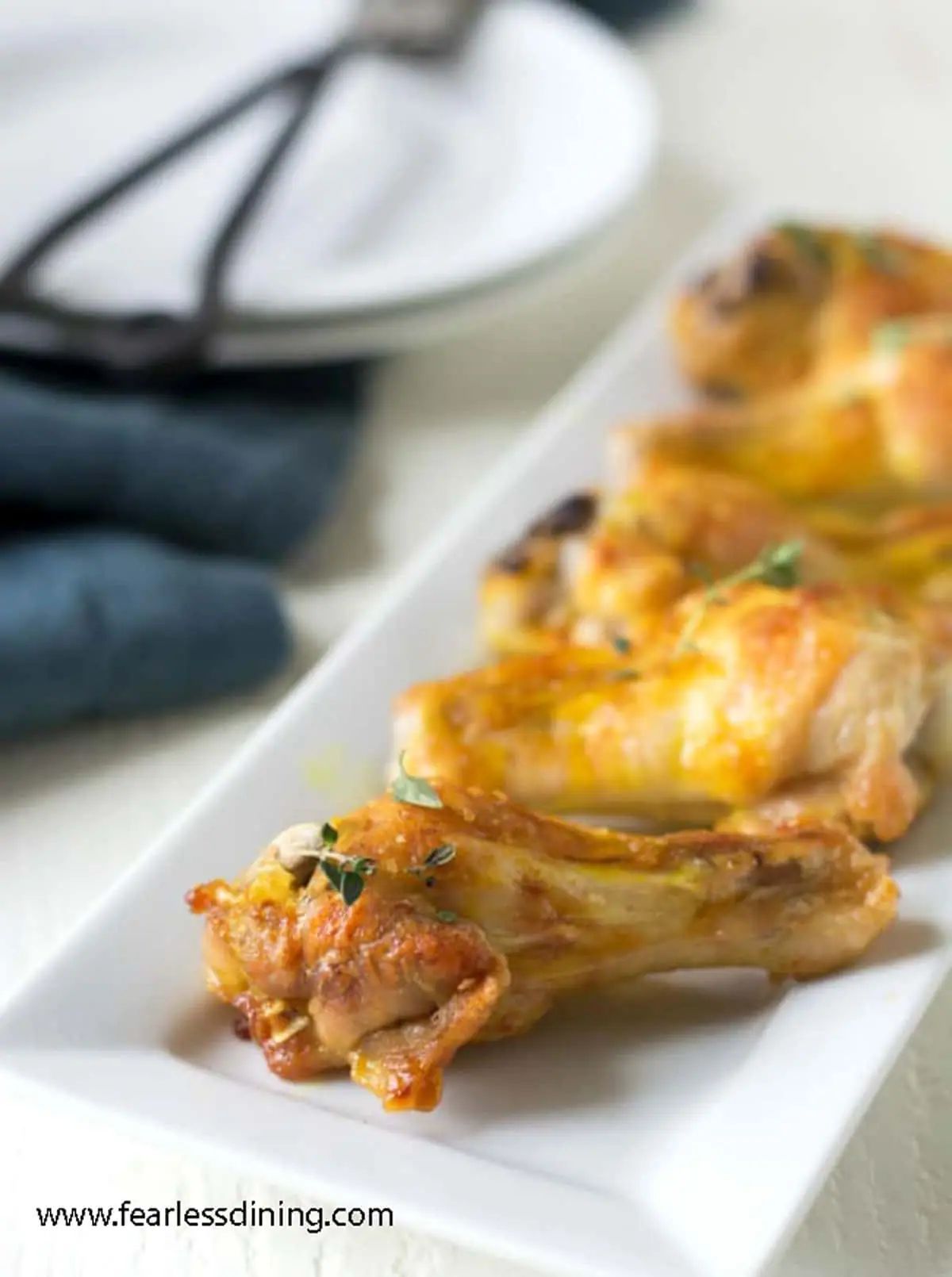 Source: fearlessdining.com
Here's another take on Ninja Foodi chicken wings with the air fryer function! This time, we're highlighting turmeric, a wonderfully vibrant spice known to have medicinal properties.
Whether you serve them as a snack for the kids or as a potluck meal, you're guaranteed a good reception with these easy ninja foodi recipes.
Source: thesaltypot.com
Here is our final take on a whole roast chicken in the Ninja Foodi. This is one of the best ninja foodi pressure cooker recipes variation relies on a bed of buttery, creamy mashed potatoes doused in a jus crafted from the leftover chicken juices.
This is a study in comfort food, singing with all the flavors that make a kitchen feel like a home with pressure cooking.
Ninja Foodi Dinner Recipes
The Ninja Foodi is an excellent companion in the pursuit of quicker, more accessible, tastier weeknight dinners. Discover a few ways to whip up a full spread in this fantastic appliance.
Source: organicallyaddison.com
Wondering what's for dinner tonight? The best ground beef chili recipes are passed down from generation to generation, each one adding its unique twist to the heirloom method.
My guess is that many favourite recipes will now use Ninja Foodis.
The reason? It's simple, but the result is the same dark, hearty, delicious chili we all know and love.
Source: mooreorlesscooking.com
I enjoy few things in life more than a one-pot meal. This tremendous corned beef and cabbage recipe has many accompaniments, but it only requires one pan!
That's right; your Ninja Foodi can take care of this ultimate comfort meal all by itself. Talk about easy!
Source: temeculablogs.com
We've discovered we can roast a whole chicken in the Ninja, and the same applies to roast beef! Achieve the delicate flakiness and rich flavor we all look for in roast beef.
With minimal effort and a cost-effective set of ingredients, you can have this easy dinner ready in under an hour. It is also one of the best recipes for special occasions.
Need more ideas? Check these eye of round steak recipes.
Source: mommafitlyndsey.com
Here's a Southwestern spin on the Ninja Foodi chili, featuring all manner of delicious toppings. This is a thick, hearty winter warmer perfect for wrapping your guests in a warm, tasty hug.
Let everyone assemble their bowls with their chosen toppings, and you've got a guaranteed crowd pleaser on your hands!
Source: thesaltypot.com
Spaghetti squash is one of the most underrated vegetables, but this recipe might change that. This delightful, unique, inventive, roasted BLT spaghetti squash is quick, easy, and delicious.
There's no better combination than that, especially if the result is also packed with nutrients!
Source: thesaltypot.com
If you've ever tried to make your own BBQ beef short ribs at home, you know it can be quite the mission. Well, a great way to make them is with your Ninja Foodi on hand, those days are over!
Instead, enjoy a deliciously sticky and tender beef short rib with almost no effort. Trust me; neighbors will be banging your door down to get their hands on this recipe with your favorite barbecue sauce.
Source: katykicker.com
This amazing spaghetti and meatball recipe makes Italian comfort food night as quick and easy as possible. This dish is a triumph, packed with rich tomato flavor and garnished with cheese.
Your kids will love this dish's bold, rounded, comforting flavors. With how simple it is, they could even make it alongside you.
Source: thetopmeal.com
Our final dinner recipe has saved many a time-pressed home cook over the years: a chuck pot roast. Whether you're putting on Sunday dinner or need a quick meal, this is the choice.
It's hearty, filling, and so simple to assemble that you'll feel like you're cheating at the dinner game.
Best Ninja Foodi Recipes
The real question is, what are the best things you can create that will put the Ninja Foodi through its paces? I have four answers for you to try, each more delicious than the last.
Source: recipethis.com
In my humble opinion, every home cook should have a pulled pork recipe in their back pocket. If you don't already have one, you might have just found it.
This simple, smoky, woodsy take on pulled pork is the ideal filling for a sandwich, taco, or bun. Need more pork recipes? Try this ground pork stir fry.
Source: thetastytravelers.com
In the world of comfort food, macaroni and cheese is king. Therefore, any recipe that claims to be able to make it in a Ninja Foodi had better measure up to the oven and pan-cooked versions.
Well, I think it's safe to say this one certainly does. This ninja foodi mac is light, creamy, and full of the cheesy flavor we all want from a good mac and cheese.
Source: thetastytravelers.com
Our penultimate dish is perfect for meal-prepping, as the flavors can soak into each other and deepen as the week progresses.
This taco pasta is just the thing if you're after simple and delicious food. Whether you take it on a picnic or serve it at the dinner table, this bold and flavorful pasta will succeed.
Source: thetopmeal.com
Finally, we celebrate a unique and delightful soup recipe. This broccoli and cheese soup is a stroke of genius, allowing parents worldwide to get their kids to eat some broccoli without complaint.
Give this a try, and I guarantee you'll be surprised by how much you love it.
That's it for this list, but I'm wondering: do you own a Ninja Foodi at home? What are some recipes on your bucket list that you can't wait to get to? Let me know in the comments below!
31 Best Ninja Foodi Recipes You Have to Try
If you're out of dinner ideas, check out this list of Ninja Foodi recipes. These are easy meals to prepare for those busy weeknights.
Ingredients
1. Bacon
2. Lemon Pepper Chicken Legs
3. Meatloaf
4. Drumsticks
5. Crab Rangoon
6. Frozen Burgers
7. Chicken Breast
8. Pizza Rolls
9. Salmon
10. Breaded Mushrooms
11. Miso Glazed Halibut
12. Garlic Bread
13. Chicken Wings
14. Garlic Parmesan Chicken Legs
15. Whole Chicken
16. Chicken and Gravy over Rice
17. Orange Chicken
18. Baked Turmeric Chicken Wings
19. Roast Chicken
20. Chilli
21. Corned Beef and Cabbage
22. Roast Beef
23. Southwest Chilli
24. Roasted Spaghetti Squash
25. BBQ Beef Short Ribs
26. Spaghetti and Meatballs
27. Chuck Pot Roast
28. Pulled Pork
29. Mac and Cheese
30. Taco Pasta
31. Broccoli Cheese Soup
Instructions
Scroll up to get a bunch of easy, yummy, and delicious recipes. Don't be afraid to get creative with the ingredients, you might discover a flavor you didn't know you liked.
Get your shopping list going and make sure you've got all the ingredients.
Get cooking and make your next Ninja Foodi Recipe!
Notes
Which one of these recipes was your favorite? Let me know in the comment section or on Pinterest!