Want to change it up with your salads? These simple lettuce salad recipes are delicious and easy to make.
Lettuce is a versatile winter vegetable to hold its own in any season. From sandwiches to san choy bau, lettuce can find a home in almost any savory dish on the planet.
While it's not the most delicious thing on its own, lettuce is the perfect foundation for other flavors. The most potent demonstration of that fact is in the humble salad.
What Can You Add to Lettuce?
Lettuce has a light, delicate flavor that doesn't conflict with many others. That's why there are so many potential things you can add to it to enhance that flavor.
This versatile vegetable does best with a strong contrasting element. Delicious black beans, crispy bacon, and a heaping helping of cheese are best friends with the humble lettuce.
How Do You Make a Lettuce Salad?
Your basic lettuce salad has four key elements: the base, the vegetables, the crunchiness, and the dressing. Using these categories, you can always assemble a lettuce salad that will delight you.
The base ingredient is lettuce. You can use any kind of green leaf lettuces or red leaf lettuce like butterhead lettuce, Boston lettuce or iceberg lettuce, or romaine salad.
Add your favorite seasonal fresh vegetables, such as capsicum, carrots, or avocado. The crunch can come from nuts, croutons, or even crispy onions!
You can also add in toppings or proteins like sun-dried tomatoes, kalamata olives, goat cheese, feta cheese, parmesan cheese, or even hard-boiled eggs.
The final step is a delicious salad dressing, and thousands of delicious dressing recipes are out there. From something as simple as vegetable oil like olive oil to a complex sauce, this final ingredient is what makes a salad.
Best Lettuce Salad Recipes
So, what are you waiting for? Whether you're after a quick, easy, delicious meal prep recipe or a great weeknight dinner, these thirty-one salad recipes are what you're after.
Just grab your large serving bowl and lots of lettuce, and let's make an easy lettuce salad.
Source: allnutritious.com
The first salad on the list is one of mine, and it's delicious (if I say so myself). The bulgur wheat adds great weight to the salad, ensuring it keeps you full for longer.
This is a quick and easy lunch to satisfy, packed with cruciferous vegetables and drizzled with a simple olive oil dressing.
Source: thishealthytable.com
Next up is a straightforward salad that's all about the dressing. Bursting with earthy mustard and sharp, tart notes from the vinegar, this salad is the perfect thing to highlight lettuce on its own.
Use this as the base for a delicious serving of protein, or serve it as a side salad to add a much-needed kick to your meal. It takes five minutes to throw together, but it tastes like a million bucks.
Source: bellyfull.net
Speaking of side salads, this next dish is perfect for an upcoming dinner party. This salad is packed with different elements that all work together to create a single delicious mouthful.
Tomatoes provide an acidic brightness, while the crunch of walnuts and the creamy dressing pair to create a satisfying bite every time. With lettuce as the foundation, this is a light yet robust salad.
Source: laurafuentes.com
Take one of the perfect sandwiches in history – the BLT – and transform it into a salad. What have you got? A salad that everyone wants to get their hands on, that's what.
This tasty BLT salad includes a healthy dose of bacon, creamy tomato, a handful of cheese, and fresh cherry tomatoes for a kick of sweetness. Add some olives and boiled egg to turn it into a whole meal.
Source: practicallyhomemade.com
I'm convinced that the wedge salad was invented by a rushed home cook who wanted something delicious quickly. From that desire rose the unique idea to cut a wedge of lettuce and dress it.
Let me tell you; it was a stroke of genius. That couldn't be better demonstrated by this fiesta wedge salad. Packed with bold, punchy flavors, this is a vibrant delight that tastes as good as it looks.
Source: littlesunnykitchen.com
Who doesn't love a good Caesar salad? It's one of the most popular salads on earth and proof that you don't have to do much to make lettuce taste delicious.
The thing is, it's also one of the most hotly contested dishes out there! Everyone knows it comes with a Caesar dressing, croutons, and lettuce…
But the rest of the ingredients are debated.
That's why you can quickly transform this dish into a signature salad everyone will recognize with the first bite.
Source: noshingwiththenolands.com
This delightful Caprese salad is super easy, celebrating simple ingredients in their most refined form. While it's best enjoyed in summer, wrapping this salad in a lettuce leaf also makes it great in winter.
Check out more healthy wrap recipes for inspiration.
Tiny balls of mozzarella contrast with sweet, juicy cherry tomatoes, with basil and an olive oil dressing completing the affair.
You wouldn't believe this salad only contains eight ingredients with a punchy flavor!
Source: noshingwiththenolands.com
Lebanese food is known for bold, vibrant flavors that celebrate the integrity of seasonal ingredients. This Fattoush salad packs your plate with delicious Mediterranean flavor and is healthy.
The unique aspects of this salad include little rounds of crisp radish and a healthy squirt of lemon to brighten the leaves. Every bite will have you coming back for more, I guarantee it.
Source: farmersgirlkitchen.co.uk
It's not quite a salad but a beautiful way to enjoy your lettuce. Most people may not know that lettuce makes a great soup base, but it makes a lot of sense due to the vegetable's liquid content.
This soup is delicious when served warm or cold, so it's excellent in any season. Serve it as a warm bowl for a winter evening meal or in cold shot glasses for a sophisticated party appetizer.
Source: simplifyingfamily.com
A good Cobb salad is a restaurant staple, appearing on appetizer menus worldwide. Is it any wonder why? It's a perfectly-balanced salad with a generous dash of creamy dressing.
I love serving this salad when I have guests, as it allows them to customize which elements they want to appear on the plate. Make sure you have plenty of crunchy lettuce to serve as a base!
Check out more macro-friendly recipes here.
Source: ourwabisabilife.com
Looking for something unique to kickstart your appetite? This raspberry chicken salad celebrates the delightful intersection between sweet and savory.
Rich sprinkles of feta bridge the gap between sweet raspberry and herbaceous chicken. The dance happens on a bed of delicious crunchy lettuce, allowing the flavors to burst across your palate.
Source: plattertalk.com
Speaking of unique options, this French-born salad recipe uses boiled elements to produce a tender, juicy plate of food. Everything from bacon to lettuce gets the five-star treatment.
Despite its simplicity, the flavor packed into this salad makes it utterly addictive. This is the perfect brunch salad with a perfectly-cooked egg acting as a dressing on top.
Source: thismamacooks.com
Put the pots and pans away to produce this deliciously simple chicken fajita salad with your leftover chicken. It takes just twenty minutes to come to life, so it's perfect for a simple weeknight.
Much like serving up tacos, you can quickly put all the different elements on the table and let each person assemble the salad they want for themselves. It's a simple, generous crowd-pleaser.
Source: theforkedspoon.com
Instead of using lettuce as the foundational element, this salad highlights the beautiful juicy tomato. Little squares of lettuce offer a relieving crunch, while red onions drop sparks all over the plate.
This quick and easy salad looks beautiful as the centerpiece of a table. Enjoy for a light lunch or as a side salad with the main protein dish. Be generous with the pepper; it makes it pop!
This is a great lunch for kids school lunch box.
Source: mindeescookingobsession.com
You've heard of overnight oats, but what about an overnight salad? This is an ultra-layered salad that's great for making ahead of time. Take this to a picnic or potluck for a crowd-pleasing meal.
While this salad has over seven layers, it's pretty simple to pull together. Those layers look as beautiful as they taste, offering a complex flavor payoff in exchange for minimal effort!
Source: cookingwithcarlee.com
"Wilted lettuce" are two words you don't typically think of as appetizing, but this salad recipe changes the game. It's a great way to bring old lettuce back to life. Waste not, want not, right?
It's also great if you grow your lettuce in your garden since you can harvest it and serve it straight away. That warm bacon dressing does wonders for the tastebuds.
Source: tidymom.net
Italian food is known worldwide as one of the most flavorful, comforting cuisines there is. So, it should be no surprise that even the most simple Italian salad is a total knockout.
Covered in a generous sprinkling of parmesan, this salad features lettuce, red onion, and a zesty vinaigrette to wake up the palate. This is a fantastic side salad that requires only minimal effort.
Need more inspiration? Find these salad topping ideas here.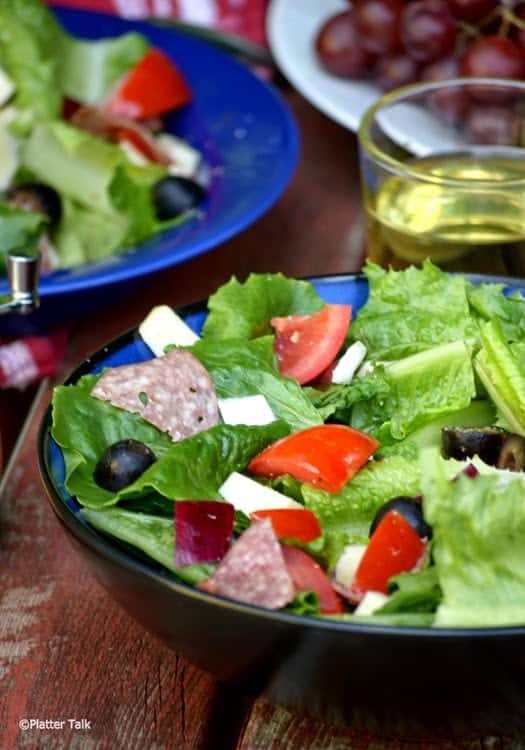 Source: plattertalk.com
A hero sub is a winner of a sandwich (as implied by the name). In salad form, you might argue that it's even better. This is a rich and robust main salad, peppered with cold cuts and black olives.
It can easily hold its own as a lunch dish. If you make it a little in advance and take it with you to a picnic, it gives the flavors time to meld together and become even more vibrant.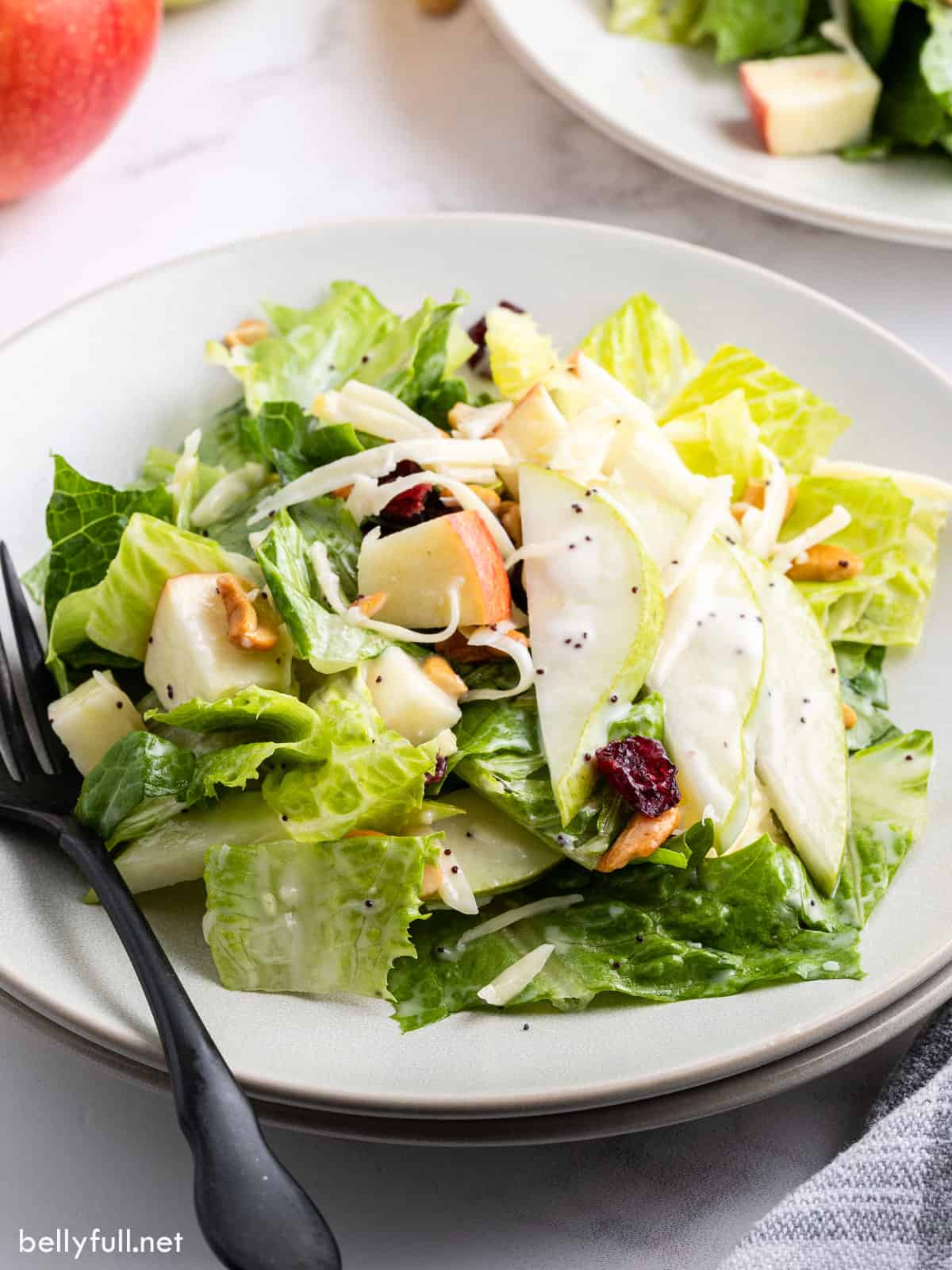 Source: bellyfull.net
Celebrate the wintry aspect of lettuce with these seasonal winter pear salads. The combination of flavors here are to die for sweet, crunchy pear and plenty of cheese.
Not to mention, you can whip this salad up in virtually no time at all. Whether you want a light meal or a quick side salad, this recipe will do you proud.
It's super sophisticated, so it's ideal for dinner parties.
Source: biteontheside.com
Greek flavors are all about celebrating the seasonality of ingredients. This Greek salad appreciates how good simple flavors can be, combining feta, tomato, olive, and lettuce with a delicious dressing.
The result is a light yet robust salad that could easily steal the spotlight from your main meal. With bright colors and crunchy textures, this salad promises to taste as good as it looks.
Source: globalkitchentravels.com
Fresh figs are a gift; when used properly, they can transform a simple lettuce salad into a sophisticated entrée.
This salad meets the criteria for proper use with balls of mozzarella and an orange emulsion dressing. Despite its sophistication, this salad is super quick to put together!
Source: thisvivaciouslife.com
Feeling the takeout cravings creeping up on you? Beat them back with this delicious yet healthy take on a Big Mac salad. Requiring just twenty-five minutes of your time. It's just as good as eating out!
The key to success with this salad is the delicious burger sauce dressing, which brings the echoes of a juicy burger through the leafy salad.
Source: timefordelish.com
Use two of the simplest, most humble ingredients to create an unbeatable salad. As with many salad recipes, the key to deliciousness lies in the dressing.
In this case, the dressing is a beautifully simple mixture of lemon juice, dill, salt, and pepper. After all, sometimes simplicity is best.
Source: hauteandhealthyliving.com
Feed a crowd in no time with this vibrant, punchy tossed salad. Everyone in attendance will love the crunchy textures and bold, satisfying flavors this dish promises.
Not only does this dish taste amazing, but it also comes together in less than fifteen minutes.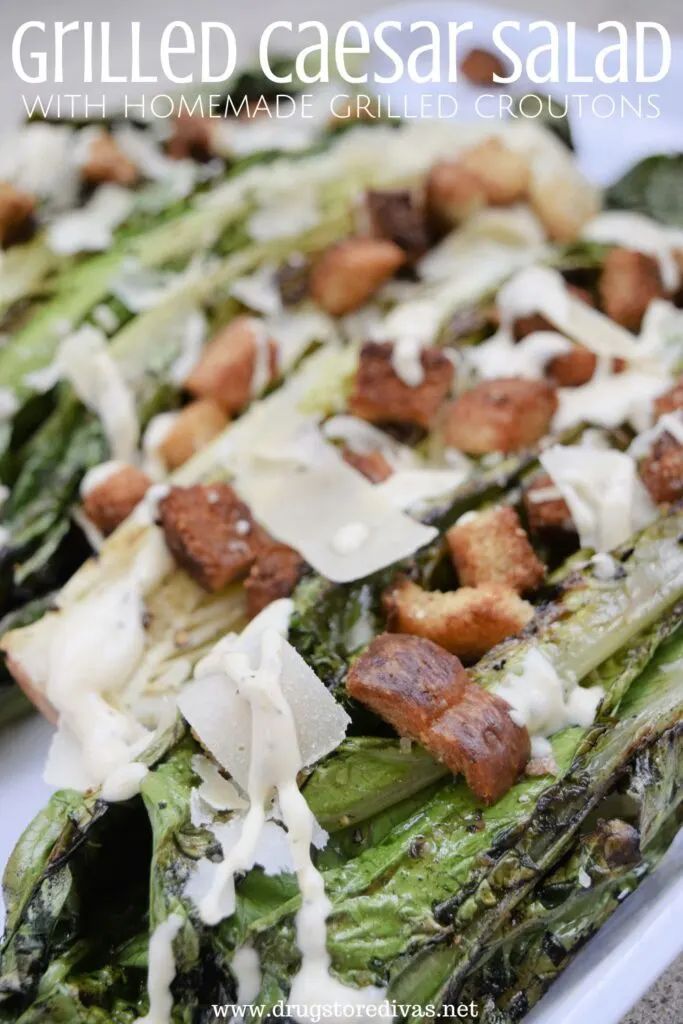 Source: drugstoredivas.net
Take a Caesar salad and crank it up by grilling the baby cos lettuce. The creamy dressing tempers the smoky flavors coming through in this salad.
The result is an addictive flavor cycle only made better by the crunch of the grilled croutons.
Source: theallergenfreekitchen.com
Jump head first into summer with a berry mint salad that's as refreshing as it is filling. This is the perfect dish to take along on a picnic lunch.
Featuring blackberries and salty prosciutto, this dish has delightfully complex flavors that are deceptively simple to make.
Source: fromvalerieskitchen.com
Butter lettuce is named for its smooth texture and delicious, slightly creamy taste. That's why it's such a fantastic base for a grape and gorgonzola combination.
The sweet and salty duo dance across the palate, chased by the mellow flavor of the butter lettuce. The tangy balsamic drizzled on top is the perfect finisher.
Source: thedevilwearssalad.com
Gem lettuce, named for its gem-like appearance, takes beautifully to being grilled. So, if you're looking for a quick, easy, and sophisticated last-minute entrée, this is the recipe for you.
Each gem half is quickly grilled to add some smoky flavor, then dressed in a quick creamy sauce. It comes together in no time, but it tastes restaurant-quality.
Source: makeitskinnyplease.com
Embody all the best flavors from Middle Eastern cuisine with this amazing Arabic salad. Gem-like tomatoes dot the landscape of crisp lettuce, cut by a bold, vibrant Middle Eastern dressing.
This would be a beautiful dish to use as a foundation for grilled protein, especially given its health!
Source: thefeatherednester.com
A cowboy salad lives up to its name, appearing both beautiful and chaotic on the plate. The real draw is the salad's insane depth of flavor, celebrating various seasonal ingredients in their best form.
As chopped salads go, this is one of the best!
Source: thedeliciousspoon.com
Finally, we turn to China for a unique salad recipe celebrating a plate of delicious fresh produce. Featuring mandarin wedges and an Asian-inspired dressing, this is fresh and tasty.
Serve with a poached chicken breast to allow all those exquisite flavors to come through. It will highlight the delicate meat in the most delicious way.
31 Simple Lettuce Salad Recipes
If you need salad ideas, we have lots of recipes to inspire you! These simple lettuce salad recipes make eating fresh, healthy foods easy and delicious.
Ingredients
1. Bulgur Wheat Salad
2. Easiest Green Salad
3. Simple Side Salad
4. BLT Salad
5. Fiesta Wedge Salad
6. Caesar Salad
7. Caprese Salad
8. Lebanese Fattoush Salad
9. Lettuce Soup
10. Cobb Salad
11. Raspberry Chicken Mixed Green Salad
12. Salade Lyonnaise
13. Chicken Fajita Salad
14. Tomato Salad
15. Layered Summer Salad
16. Wilted Lettuce Salad
17. Simple Italian Salad
18. Hero Sub Salad
19. Pear Salad
20. Greek Salad
21. Fresh Fig Salad
22. Big Mac Salad
23. Tuna Salad with Lettuce
24. Tossed Green Salad
25. Grilled Caesar Salad
26. Berry Mint Salad
27. Butter Lettuce Salad
28. Little Gem
29. Arabic Salad
30. Cowboy Salad
31. Chinese Chicken Salad
Instructions
Scroll up to get a bunch of easy, yummy, and delicious recipes. Don't be afraid to get creative with the ingredients, you might discover a flavor you didn't know you liked.
Get your shopping list going and make sure you've got all the ingredients.
Get cooking and make your next Lettuce Salad Recipe!
Notes
Which one of these recipes was your favorite? Let me know in the comment section or on Pinterest!