You have your salad dressings figured out, time to take them to a whole new level with these salad toppings.
Salads have a terrible reputation as boring or bland healthy food. The sad truth is, many people avoid salads because they think they don't taste perfect, usually because they've tried a subpar salad!
Salads can be an incredible way to make healthy meals quickly, efficiently, and with a vast range of flavors.
There are hundreds of salad recipes, but the best salad is one you know you'll love.
What to Put in a Salad?
Philosophers use 'salad' as a term in their courses to teach students that a word can mean whatever you want it to mean. You can arguably call any collection of ingredients a salad!
But, for this article, let's stick with the traditional concept. A salad is typically made from a base of mixed leaves, some vegetables, and maybe a protein or dairy component.
Hold these categories in mind as you create, and you'll have a perfectly-balanced salad in no time.
What are Good Salad Toppings?
Good salad toppings add a contrasting texture and flavor to the dish, keeping it interesting without overpowering the base elements.
Classic examples include seeds, nuts, cheese, grilled chicken, and olives.
But you can get super creative with your salad topping choices and combinations! Experimenting with different combinations is the key to discovering your signature salad recipe.
Healthy Salad Toppings
Let's start in a realm that holds to salad's roots: healthy toppings! Healthy can also mean delicious, as these topping options will prove. These ingredients have multiple health benefits and are easy to find in grocery stores.
Source: flawlessfood.co.uk
Red cabbage is an excellent ingredient for adding crunch and flavor to any salad. Your taste buds will enjoy it.
The leaves are simultaneously a little bitter and sweet, so they're an excellent highlight for other elements in the salad.
Not to mention, they add a splash of vibrant color that makes the salad even more delicious.
Source: runningtothekitchen.com
When adding a healthy crunch, swap out your croutons for a pile of delicious roasted delicata squash seeds. Delicata squash is a light and delightful root vegetable with tasty seeds.
Roasted, the seeds add a delightful nuttiness and crunchiness to your salad. They're super easy to make in advance, so keep a jar in your pantry for a quick and easy salad topping.
These seeds are great to use when you're tired of pumpkin seeds, which is obviously another great addition to a healthy salad.
Source: apaigeofpositivity.com
Red onions are naturally sweet and crunchy, with the slightest tang that makes your mouth water.
By pickling them, you increase the sweetness while mellowing the tang, creating a great salad topping. Depending on how long you pickle your onions, they'll have different textures.
Pickle for longer to have softer, sweeter onions, or toss them in the pickling liquid for an hour to keep them crunchy.
This will quickly become one of your favorite salad toppings, no doubt.
Source: myplantifulcooking.com
Roasted black beans are a fantastic way to add protein to your salad without meat. They're earthy and chewy, adding a depth of flavor that makes salads tastier and more filling.
This is an excellent option for vegans or vegetarians looking to make a salad that will fill them up for longer and get some of that much-needed protein into their system.
Need more recipe ideas? Check out these macro-friendly recipes.
Source: happykitchen.rocks
Combine your dressing and your toppings into a single delicious element with this chipotle corn salsa recipe.
It tastes both sweet and spicy, adding a whole heap of flavor to your salad without a lot of effort.
This salsa is great to make in advance, so you can store it in your fridge until you're ready for your next healthy bowl of vegetables.
6. Dried Fruit
It might sound strange, but don't underestimate what dried fruit can do for your salad game! Little nuggets of sweetness speckled throughout your salad will elevate it to new levels.
Some good options include dried apricots, prunes, raisins, or even dried peaches for a light and delicate touch.
Try different flavors and make a unique salad everyone will love.
7. Avocado
This is one of my favorite salad ingredients! Avocado is a great way to add a creamy element without amping up the calories or the dairy content in your salad.
This is a tasty choice whether you smash it into guacamole or serve it straight out of the shell.
The key is making your salad in advance and serving the avocado at the last second. This prevents it from browning in the air, so your salad looks and tastes its best.
Need inspiration for a recipe? Check out this mango avocado salad!
8. Melon
Our final healthy option is another fruit, but we're taking a little trip to the tropics this time. Melon is often used in savory dishes because it's not too sweet, but the flesh is light, juicy, and refreshing.
Small chunks or slices of melon in a salad promise to brighten the dish. Prepare a gorgeous summer salad with melon as your secret weapon.
Who could have thought that melon could be a great option to take your typical salad from tasty to mouth-watering!
Add this ingredient to your favorite summer salad recipes.
Protein Salad Toppings
While I love a good side salad as much as the next person, using salad as your main dish requires it to be a little more filling. That's where these delicious protein salad topping options come in!
Source: sunglowkitchen.com
First off, the block is a favorite of vegetarians and vegans everywhere: tempeh. Specifically, crispy tempeh. This soy-based meat substitute can get a bad reputation, as it is often prepared improperly.
But if you take the time to flavor it and crisp it up in your air fryer (or in a pan), you'll have a delicious salad topping that will have you feeling full and satisfied.
Source: strengthandsunshine.com
Next up, we have a classic protein salad topping: grilled chicken. As one of the healthiest and tastiest ways to prepare chicken, this is an ideal choice for bulking up your next salad.
Make your grilled chicken shine with this recipe. The chicken is grilled with the skin to create little crispy flakes of delicious skin surrounding tender, juicy meat. Atop a salad, this is unbeatable.
Check out this chicken salad with apples!
Source: theforkedspoon.com
Beef is a less common salad protein option, but I say that's a shame! Treated right, you can enjoy little slices of beef in your salad that won't overwhelm the base elements.
Case in point; this delicious garlic butter steak bites recipe. The buttery and earthy flavors complement the beef, and the small chunks go beautifully with a salad.
Source: theforkedspoon.com
Shrimp is light and juicy protein option that's great for summer salads.
Serve up a plate of colorful vegetables topped with fat, succulent shrimp cooked to perfection in this spicy cilantro and garlic sauce.
This is ideal for summer lunch gatherings or picnics, especially when served with a glass of chilled white wine.
Source: thebellyrulesthemind.net
If tempeh isn't to your liking, perhaps tofu will be a better pick! This is another soy-based meat substitute that takes well to being fried.
Make sure you squeeze all the liquid out before you start cooking. The result is a light, crispy, filling salad topping perfect for creating healthy and hearty salad meals.
14. Tuna
Tuna is another classic protein option for salad because it's so simple! You can either go the fancy route with seared ahi tuna or take it back to basics with canned tuna and mayo.
Either way, tuna is a healthy and easy option to bulk out your next salad. It blends easily with many other topping choices, and the texture contrast of the fish is to die for.
15. Salmon
Salmon is another fantastic topping option hailing from the sea. Rich in omega-3 and essential amino acids, this slightly fatty fish is excellent for anchoring a salad either raw, cooked, or smoked.
If you opt for raw salmon, I highly recommend using fruit as another topping, such as pomegranate seeds. The two elements play off the other's delicate sweetness and texture for a tasty treat.
16. Eggs
Our final protein is eggs, a quick and easy option for anyone who enjoys a good salad. Boiled eggs are perfect for topping salads, thanks to their texture.
The eggs add some much-needed protein to the salad but keep the texture and taste light. Combined with a creamy dressing, you can't beat these as your next salad topping choice.
Vegan Salad Toppings
There's a misconception that vegan salads can only use vegetables or bland flavors to remain vegan, but that isn't the case! Let's look at a couple of creative salad toppers every vegan will love.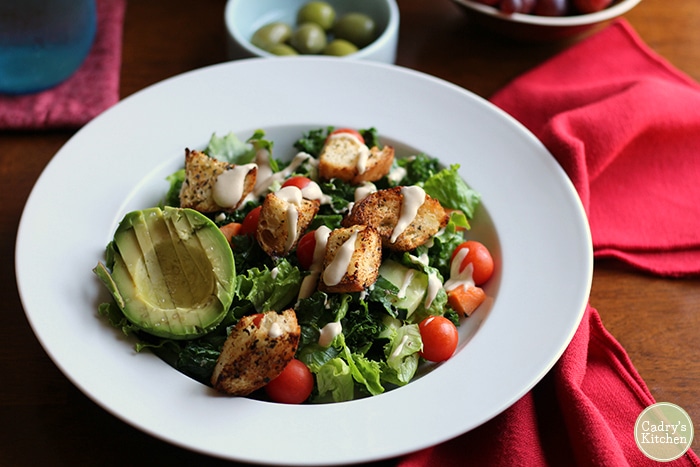 Source: cadryskitchen.com
First up, we have a classic: croutons. Not only do croutons add a great textural element, but they also act as little flavor sponges!
Brush your croutons with butter and garlic oil or your choice of spices to create flavor bombs.
Croutons are simple to prepare in advance, and they're also a great way to use up any leftover bread you don't want to waste.
Source: foodpleasureandhealth.com
Bacon bits are one of the quickest ways to add crunch and flavor to your salad, but what to do if you're vegan? Well, use chickpeas!
Chickpeas are fantastic at soaking up flavor, and when they dry out, they take on a crispy, chewy texture similar to bacon. These chickpea bites will have your guests singing your praises.
Source: runningtothekitchen.com
Speaking of chickpeas, this next salad topper is an excellent choice for your next potluck. You roast your chickpeas in various spices to create that iconic BBQ flavor.
Because they're roasted, they're super simple to make. Just toss the chickpeas through your spice mix, roast, and sprinkle on your salad once you're done.
Source: strengthandsunshine.com
You don't often see coconut and bacon in the same sentence, but trust me, this recipe will blow your mind. Coconut is an amazingly creative way to replicate the crunch of ultra-crispy bacon.
Coconut flesh is also great at absorbing flavor, so it's ideal for taking on all those smokey spices that make it taste bacon-y.
21. Tofu Feta
Finally, we have tofu feta for all those vegans who love a good Greek salad! This is a crumbly substitute for your favorite goat's cheese, offering a similar look and feel.
The key is to choose the suitable variety of tofu – firm – and ensure it is pressed well to remove most of the moisture. That way, it's crumbly enough to resemble feta. It's also great for adding protein!
Best Salad Toppings
The real question is, which salad toppings will have you come back for bite after bite? Which ones are so tasty that you forget that you're eating something healthy? Let's find out.
Source: cadryskitchen.com
Instead of traditional croutons, why not try these creative tortilla strips? The recipe uses an air fryer, but you could just as quickly prepare these in a pan or the oven.
They add a delicious crunch to any salad, and they're outstanding when you pair them with avocado and sweet salsa.
Source: findingzest.com
Are you preparing a salad around the holidays? Thanks to their luscious sweetness and nuttiness, these honey-roasted pecans are perfect for salads at celebratory dinners.
They're super simple to prepare in advance so that you can remove this from your holiday meal preparation list a day early.
24. Cheddar Cheese
Adding cheese to a salad is the perfect way to add just enough luscious texture and flavor without overpowering the healthier elements.
Cheddar is delicious, as it has a tasty sharpness that contrasts the freshness of the vegetables. Pair it with a few other toppings to create a well-rounded, tasty, filling salad perfect for any occasion.
25. Feta
Feta is an ideal topping for anyone who loves Greek and Mediterranean flavors. It adds interest to an otherwise simple salad with a light fattiness and crumbly texture.
Feta is best enjoyed with other toppings and elements highlighting its flavor and texture, such as bacon, olives, or capers. Top with a generous drizzle of olive oil, and you've got something magical.
Source: goodlifeeats.com
Bacon bits are undeniably in the pantheon of delicious salad toppings. Bacon is a salty, crunchy, rich addition that will elevate your salad to new heights.
Not to mention, bacon bits are super easy to use. Using this homemade recipe, you can make them yourself or use the store-bought variety if you want something even more straightforward.
I highly recommend giving the recipe a try for the best bacon bits you've ever had. Check out these easy meal prep salads for more inspiration!
Source: brooklynfarmgirl.com
Are you looking to add crunch, but you're sick of the same old options? Then fried onions are for you! These delicious little morsels are bursting with flavor and spice.
Store-bought fried onions will do in a pinch if you don't feel like making them from scratch. But you'll get the best results from freshly-made fried onions!
28. Quinoa
Quinoa is an underrated salad topping, in my opinion. It's fantastic for adding a healthy dose of fiber and protein to your meal, making the salad much more filling, but it's also super tasty.
Prepare the quinoa with a broth or spiced water; the quinoa soaks up the flavor like a sponge.
29. Sweet Potato
Roasted or fried sweet potato is a personal favorite salad topping. It adds a delightful sweetness, almost like caramel, and the soft yet crunchy texture is perfect for bulking out a salad.
This is an easy option to prepare since it only requires a single pan and your oven to roast the sweet potatoes.
30. Pistachios
Pistachios are another underrated salad addition that offers a lot of crunch and flavor with minimal effort. All you have to do is sprinkle your salad with a handful of these nuts to take it up a few levels!
Combined with other toppings that highlight their saltiness – such as pomegranate or feta – pistachios are a dream topping for your next salad.
31. Olives
Our final salad topping is olives! These salty little gems are juicy and crunchy, the perfect ending to a Mediterranean salad.
Pair with feta and some olive oil to perfectly round out your next summer dish. You can slice them up into thin little medallions or even opt for stuffed olives to make them the star of the show.
More Salad Topping Ideas
Red bell pepper
Fresh herbs
Sunflower seeds
Pumpkin seeds
Goat cheese
Cherry Tomatoes
Feta Cheese
Parmesan Cheese
Tortilla Chips
Any fresh fruit
Chia seeds
Whole grains
Brown rice
31 Salad Topping Ideas to Take Salad to a Whole New Level
Love your salads but need something extra to make them a little more special? These salad toppings are simple to add, delicious, and nutritious!
Instructions
Scroll up to get a bunch of easy, yummy, and delicious salad toppings. Don't be afraid to get creative with the ingredients, you might discover a flavor you didn't know you liked.
Get your shopping list going and make sure you've got all the ingredients.
Get cooking and make your next Salad Topping!
Notes
Which one of these recipes was your favorite? Let me know in the comment section or on Pinterest!