Do you like gelatin desserts? Good, because I've got 31 delicious old-school Jell-O recipes to scratch your sweet-craving itch after a single wobbly bite.
Have you ever wondered why pretty much every hospital has Jell-O on the menu? Besides the obvious sugar content and calories, this gel-like sweetness is also packed with protein.
And if you are hooked on this jiggly and gluey treat, that has to be good news!
So, without any shred of guilt, let's explore the most satisfying sugary Jell-O recipes, ever.
What Is the Best Fruit to Put in Jello?
Strawberry and orange are by far the most popular Jell-O flavors.
But, many other fruits can be used to make this delicious treat. Peaches, lemons, apples, and berries are some other tasty options.
There are some precautions, though. Some fruits can cause trouble with the process of solidifying the gelatin. Those include figs, guava, papaya, mangoes, pineapples, and kiwi.
Also, make sure that the gelatin does not contain excess juices.
That means that you should thaw frozen fruits, drain canned pieces, and cut your fresh fruits into smaller pieces before combining.
What's the Best Way to Make Jello?
The thing you need to be the most concerned with when making Jell-O is that the gelatin sets well.
If you're making it from a box, just follow the instructions. If you're making it from scratch, you need to master the perfect technique. And here is how.
First, stir the gelatin with cold water. Then, stir in some hot (not boiling!) water. Add the fruit juice. Pour into your mould of choice. Add fruits. Cover. And keep it in the fridge for a few hours.
Jello Salad Recipes
Is classic Jell-O too boring for you? Then these uniquely loaded and flavorful gelatine salad recipes will be so much fun to make. And eat!
Source: littlesunnykitchen.com
Creamy. Cheesy. Super fluffy. If you need a dessert to lighten up a heavy meaty dinner, then this jello salad recipe is it.
Besides the orange Jell-O, this salad is packed with pineapples, coconut, mandarin oranges, cottage cheese and mini marshmallows. And tons of creaminess.
This different dessert tastes like an orange creamsicle and only takes 10 minutes to whip up. This has to be one of the easiest treats ever.
Check out these other lovely cottage cheese recipes.
Source: thatskinnychickcanbake.com
Not so much of a salad, and more like a sandwich. Nevertheless, these stacked Jell-O layers deserve their spot on this list of Jell-O salad recipes.
All you need for this colorful dessert is sweetened condensed milk, five packets of gelatin, and five different flavors and colors of Jell-O.
Stack them up starting from the darkest color, then work your way up until you have the lightest one on top. Classic rainbow-style.
Source: ramshacklepantry.com
This may sound weird, but I promise, this tangy dessert tastes nothing like that.
Retro-inspired and loaded with flavor, this delicious dessert features cherry Jell-O, walnuts, pineapple, cool whip, and yes, coke.
It is soft, wobbly, crunchy, fruity, cool, and a bit fizzy on your tongue. All at the same time. How cool is that?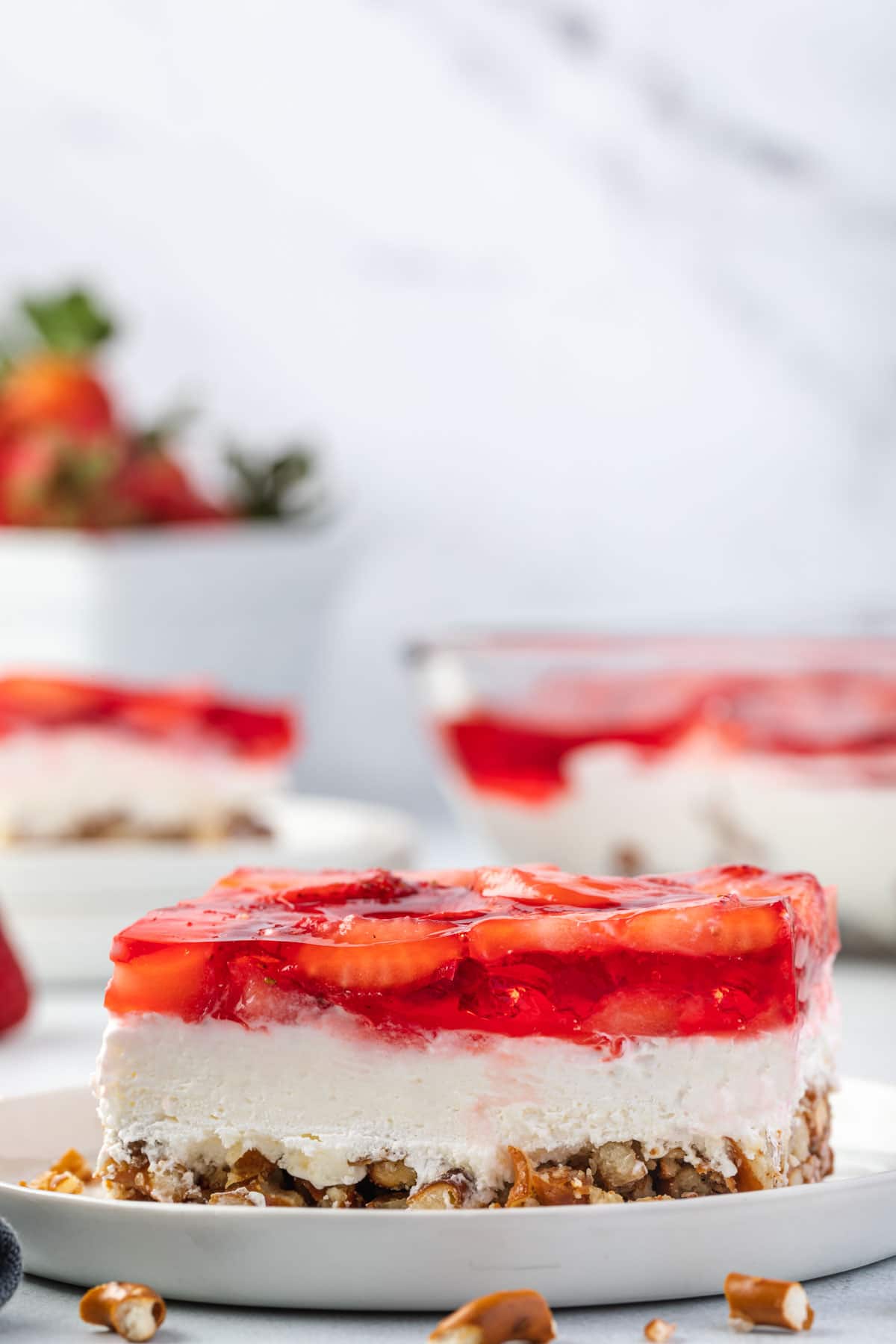 Source: stateofdinner.com
A crunchy base of pretzels. A creamy layer of sweet cream cheese. And a jiggly strawberry Jell-O topping.
A different version of a cheesecake that your guests will be impressed with.
The gelatin topping on this strawberry jello salad also includes sliced fresh strawberries, so you can rest assured that this is one fancy dessert.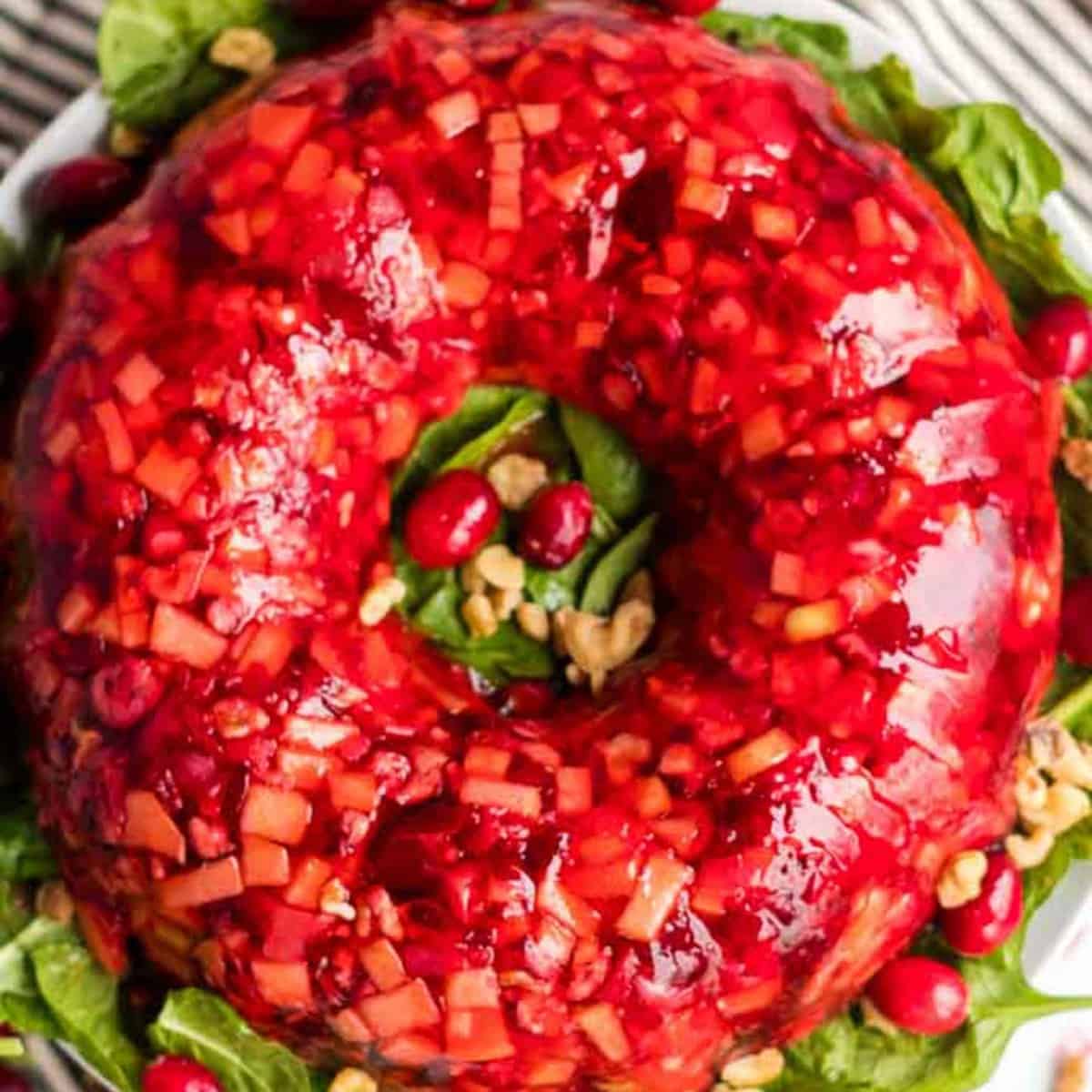 Source: plattertalk.com
Loaded Jell-O salads. Shaped like a bundt cake.
It combines fresh cranberries, oranges, and apples. And it is only made with water, sugar, and gelatin. Yet, it is so rich in flavor.
Perfect for any gathering. And a tasty finish to any holiday dinner.
It will surely brighten up the table.
This jello salad would make a tasty Christmas recipe as well!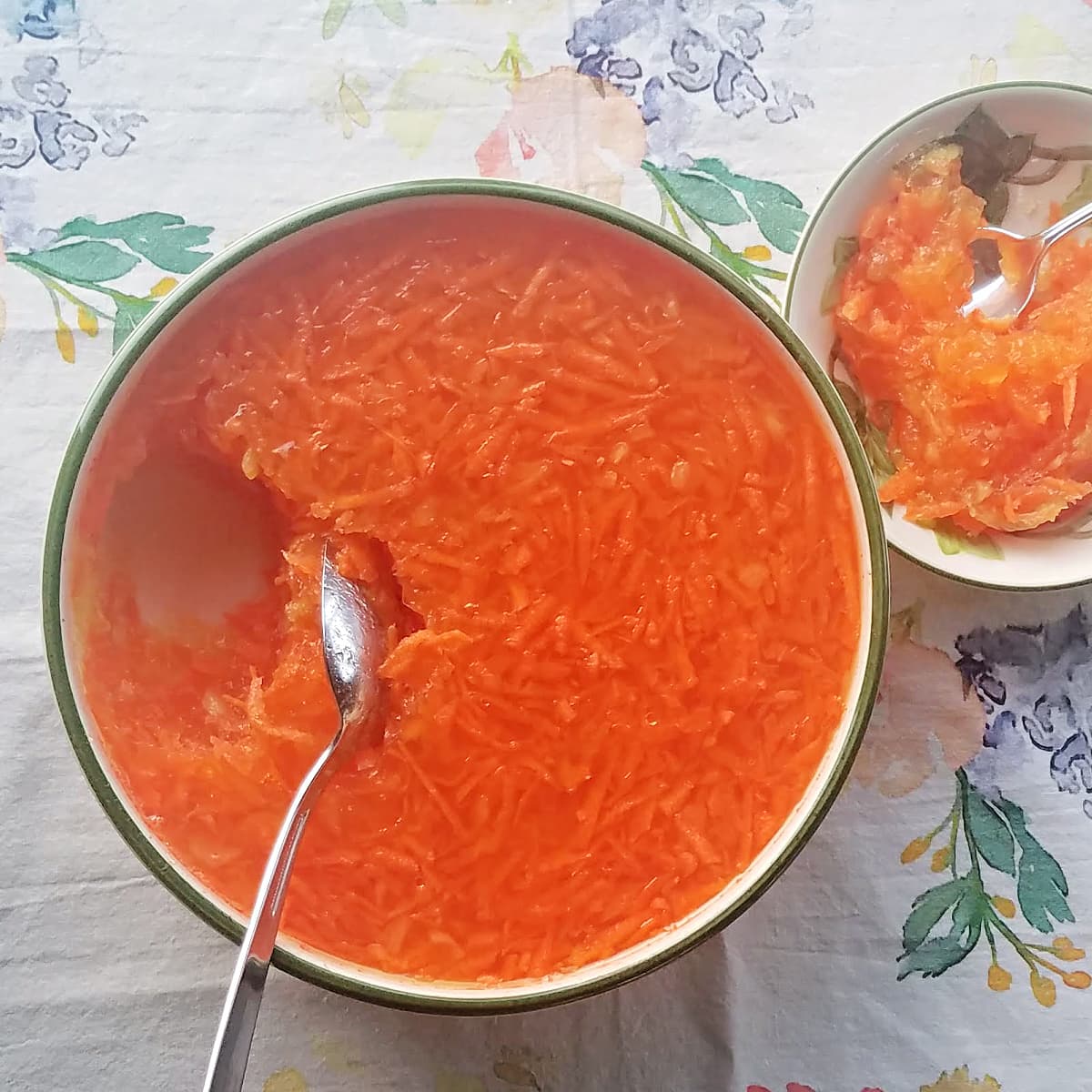 Source: thegoodheartedwoman.com
Lemon gelatin. Crushed canned pineapples. And shredded carrots. This "sunshine Jell-O" is an old-fashioned recipe that you will love to put on your modern table.
It may sound odd, but this easy jello recipe is refreshing, fruity, and incredibly bright. And it has a zesty sweetness that just melts in your mouth.
Make sure to use canned pineapple for this recipe. The fresh one will prevent the Jell-O from setting properly.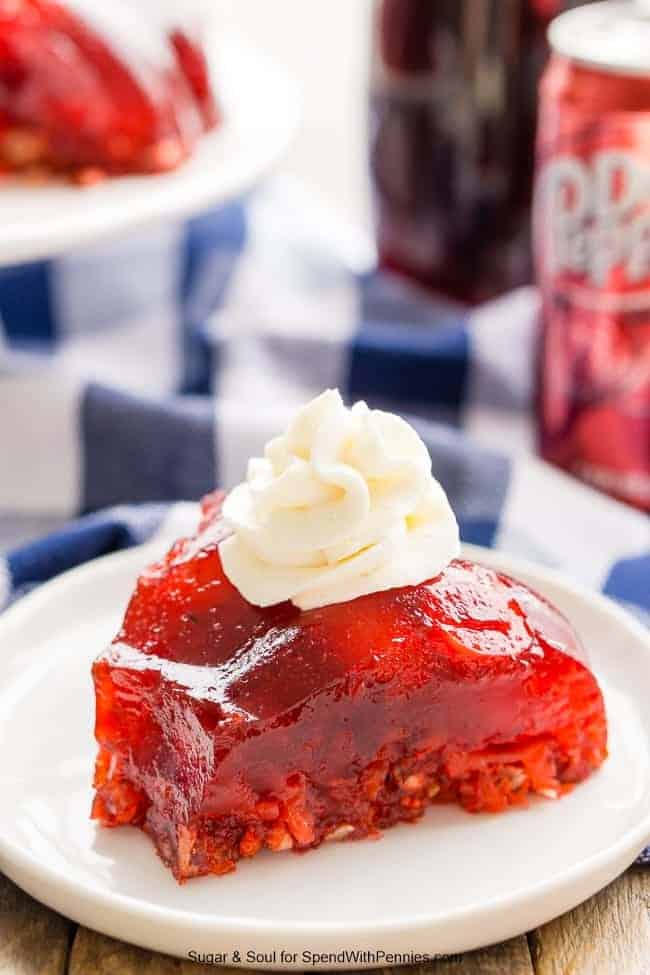 Source: spendwithpennies.com
Did you like the coke Jell-O salad? Then here is another tasty recipe for your gelatin-craving taste buds.
With a jiggly, retro look on your table, this salad will be a real crowd-pleaser.
It is fruity, fizzy, and loaded with crunchy pecans and soft maraschino cherries.
I promise you, this is not one of those weird Jell-O combos you so cautiously steer clear from.
Source: 24bite.com
If you need a simple dessert to whip up in a jiffy, look no more. Because this citrusy fluff is all you've been looking for.
It is quick – only five minutes to prep. Simple – it has only three ingredients. It is cool, refreshing, fruity, sweet, and super delicious.
Canned mandarins, lemon Jell-O, and cool whip!
This fluff salad is a must-have potluck recipe.
Jello Shot Recipes
Whether with alcohol or not, jello shots are an all-time party favorite. Here are my top six choices.
Source: conservamome.com
Vodka-loaded pink shots. Topped with a starburst candy. With the texture of a strawberry Jell-O. Aren't these like made for a bachelorette party?
An only-adults treat that will be a real hit at your next house party.
Sweet, fruity, with a strong vodka punch to have you reach for another shot before even putting down the glass.
Source: mooshujenne.com
"If you like pina coladas…" Then make these pineapple Jell-O shots with rum and coconut.
These cocktail-inspired Jell-O shots are perfect for an outdoor summer party.
They are topped with coconut. And come with a maraschino cherry on top.
Really, your wobbly shot cannot possibly get any fancier than that.
Source: mooshujenne.com
Serving Jell-O shots at a family reunion? Then these kid-friendly non-alcoholic shark treats should definitely be on the table, too.
Blue Jell-O, topped with a blue shark gummy, and sprinkled with crumbled Graham Crackers. For the ocean, beach, and the hungry shark attacks!
Play "Baby Shark" in the background, and the little ones will go crazy!
Source: ramshacklepantry.com
Ginger beer, vodka, and lime Jell-O. With these green monster shots, no party can turn out boring.
They surely add that oomph to every gathering. But they're also super tasty, too.
A real adult treat, everyone will be asking you for the recipe.
The grated ginger root adds a touch of spiciness that makes everything come together.
Source: freshaprilflours.com
Are you looking for some booze treats for your fancy party? Then you cannot go wrong with these champagne gel-like shots.
Colorless, bubbly, and loaded with alcohol.
There's vodka, champagne, flavored seltzer, and plain gelatin.
If you want to give them color, skip the flavored seltzer and just use some fruity Jell-O instead.
Source: easypartycocktails.com
Rum-spiked Jell-O shots for a bit of pizzazz at your next party!
Made with blue raspberry Jell-O and coconut rum, there is nothing but exotic flavors in these boozy treats.
Plus, there's a cherry on top and a small pineapple cube for garnish. Because let's face it. It cannot be Hawaiian unless there's pineapple involved.
Jello Cake Recipes
Jelly cakes are making a huge comeback! These gelatine-y retro desserts will fluff up a party in no time. Here are the best melt-in-your-mouth jell-O cakes for a tasty treat.
Source: cookingwithk.net
A decent makeover to your classic Angel Food cake! This strawberry Jell-O upgrade is as impressive as it sounds.
All you need is your usual Angel Food cake (yes, you can even buy it, if you want to cheat!) strawberry Jell-O, and whipped cream.
Poke holes in your cake and press down in the prepared Jell-O. Chill for a few hours. Then simply frost with whipped cream, and voila!
Suddenly, you have a strawberry cake to die for. Pretty nifty!
Source: hotrodsrecipes.com
Sometimes, when we're too tired to cook, these pre-packaged recipes come in pretty handy.
With some eggs, yellow cake mix, and lemon Jell-O, you can create a moist, flavorful, and super delicious cake. In no time!
The recipe includes a sugary lemon drizzle, but that is totally optional. I love this cake even without any toppings. And I'm sure you will too.
Source: aseasonedgreeting.com
Make this cake the next time you're hosting dinner, and let your guests guess what's inside. I bet they'll have a hard time guessing it is packed with raspberry Jell-O.
But it is. And it makes total sense. Vanilla cake loaded with Jell-O and frosted with a silky cream cheese frosting.
Plus, the most intense red color you've ever seen on a cake. How's that for original?
Have extra eggs? Check out these leftover egg yolk recipes.
Source: crayonsandcravings.com
Poke cakes are my new favorite thing. Especially when I'm feeling down and lack the energy for making desserts.
All you need is a cake mix, a Jell-O, and some cool whip. And just like that, a proper, even frosted, shortcake is on your table!
Of course, if you prefer making things from scratch, you can use your favorite vanilla cake recipe here.
But, it is wise to have a shortcut like this recipe in your folder. Just in case.
Source: all-thats-jas.com
Without even turning on your oven, here comes the creamiest 4th of July treat ever.
Red, blue, and white colors paint this lovely Jell-O cake. Strawberry Jell-O, blueberry Jell-O, and a light cream cheese filling.
Fluffy and light, this cheesecake has a base of Graham crackers, two layers of filling, and one of each Jell-O flavor.
Of course, you don't have to go all patriotic with this one. You can easily use the colors and flavors of your choice. I am sure it will turn out to be just as delicious.
Source: whiskingupyum.com
The name is strawberry crunch, but it's more of a strawberry creaminess.
Because the interior of this cake is a melt-in-your-mouth delightfulness. Literally, it's almost like filling your mouth with cotton candy.
The crunchy part comes from the base. It is made of crushed Oreos and dried strawberries. And it is as crispy as it sounds.
Jello Pudding Recipes
If you have some Jell-O pudding at home, these recipes offer you a great use for this sweet treat.
Source: littlesunnykitchen.com
Who doesn't enjoy a chocolate pie that is as creamy as pudding? It sounds like there are some heavy baking skills involved, but it is really simple.
All you need is a store-bought Oreo pie crust. Mix some chocolate Jell-O pudding with whipped cream. Fill the pie with the mixture. Top with more whipped cream. And chill!
Cool, refreshing, better than ice cream, even. I bet this will reward you with a round of applause from your friends and family.
Source: myorganizedchaos.net
If you want something cold and creamy, this is guaranteed to satisfy you. A mix between ice cream and a popsicle, these pudding pops will bring back childhood memories.
If you were a kid in the 80s who used to enjoy Jell-O's pudding pops in the summer, that is.
Well, whether you have or haven't tried them, this recipe recreates this delightful treat. And I'm sure you'll love it.
Cold cream with an intense banana flavor? What's not to like?
Source: mooreorlesscooking.com
A pumpkin cake, poked and then filled with cheesecake Jell-O.
This recipe uses a pre-made cake mix, but you can use your favorite pound-cake recipe and make it from scratch.
Frosted with whipped cream and chilled to a refreshing perfection, this has to be one of my new fall-dessert favorites.
This Jello cake is sure to become one of the most popular fall desserts.
Best Jello Recipes
If you don't have time for experimenting and are just getting started with Jell-O recipes, here are the absolute best recipes to get your head in the game.
Source: howtomakeeasycookies.com
Don't be fooled by their look! These cookies may look too colorful and play-doh-like to be eaten, but they are incredibly tasty!
Haven't tried folding Jell-O packages into your cookie dough? Then you're in for some exciting flavors to discover!
Sugary cookies, flavored and colored by choice. A dream come true for every kid!
Source: momfoodie.com
Bake a pie crust. Fill it up with fresh strawberry slices. Pour over prepared strawberry Jell-O. And refrigerate for a few hours until set. Yup, that's it!
This is one of those "why haven't I discovered this before" recipes. Because it is unique, interesting, and yet so simple.
Source: freshaprilflours.com
These coffee Jell-O parfaits are a tasty and one-of-a-kind way to get your caffeine fix.
If you feel like your coffee get-togethers are missing a dash of "that something," spice things up with these.
If you want to fancy up your coffee game, these cool parfaits are the way to go.
Perfect as a fun treats after a backyard summer dinner.
Source: lowcarbyum.com
Following a Keto diet? Then you desperately need this hack under your sleeve!
Why? Because it gives a jolt of protein, a bit of sweetness to satisfy your sweet tooth, and lots of healthy fats.
Gelatin, coconut cream, coconut stevia drops, and a flavoring of choice. This recipe uses vanilla. Feel free to swap with your desired taste.
Source: amandascookin.com
Adults, step aside! Because this is one for your kids!
Sticky, flavorful, sweet, and with the most intense color ever. These roll-ups are just the thing any children's birthday party needs.
And, they're really easy to make, too.
Mini marshmallows melted in Jell-O. Then chilled, rolled, and cut.
Source: mightymrs.com
Not a cheesecake. Not an upside-down cake, either. Yet, it has elements of both.
With a fruity base and a creamy topping, this is a dessert you have to try.
Cherry Jell-O and pie filling, mixed with crushed pineapple. Now, top that off with some whipped cream and yogurt frosting, and add some crunchy nuts for texture. Yummy, right?
Source: thegoodheartedwoman.com
Layered or sandwich Jell-O for the softest, jiggliest, melty, and fruity indulgence.
This recipe uses the right greenish colors to celebrate St. Patrick's day. But you can change that according to the occasion.
Once you give it a try, it will win a special place at your party table.
Source: cookingwithjanica.com
Hello, Jell-O apples! Before moving to the next line, I suggest you guess what this recipe is for. Come on, do it! I'll give you some time to think…
Just don't cheat!
Ready?
Did you think about apple pieces covered in Jell-O powder? I bet you didn't!
Well, that's exactly what this recipe is for. And it is so delicious!
Sprinkled apples with sweet strawberry "crystals" will be your kid's favorite thing to pack for lunch.
31 Best Vintage Jello Recipes for Dessert
If you need dessert ideas for a party, this list of jell-o recipes is for you. These tasty desserts are so easy to make and will be a hit with kids and adults alike.
Ingredients
1. Orange Jello Salad
2. Rainbow Jello Salad
3. Coca-Cola Salad
4. Strawberry Pretzel Salad
5. Cranberry Salad
6. Carrot Pineapple Jello Salad
7. Dr Pepper Jello Salad
8. Lemon and Mandarin Orange Fluff Salad
9. Pink Starburst Jello Shots
10. Pina Colada Jello Shots
11. Shark Beach Jello Shots
12. Moscow Mule Jello Shots
13. Champagne Jello Shots
14. Blue Hawaiian Jello Shots
15. Strawberry Jello Angel Food Cake
16. Lemon Jello Cake
17. Raspberry Cake
18. Strawberry Poke Cake
19. Red White Blue Jello Cheesecake
20. Strawberry Crunch Cheesecake
21. Chocolate Jello Pudding Pie
22. Jello Pudding Pops
23. Pumpkin Cheesecake Jello Pudding
24. Jello Cookies
25. Strawberry Pie
26. Coffee Jello Parfait
27. Coconut Jelly
28. Jello Roll-Ups
29. Jello Cream Cheese
30. St Patricks Layered Jello
31. Jello Apples
Instructions
Scroll up to get a bunch of easy, yummy, and delicious recipes. Don't be afraid to get creative with the ingredients, you might discover a flavor you didn't know you liked.
Get your shopping list going and make sure you've got all the ingredients.
Get cooking and make your next Vintage Jello Recipe!
Notes
Which one of these recipes was your favorite? Let me know in the comment section or on Pinterest!