Got some nice quiche but need a side dish to serve with it? Check out these sides for quiche and enjoy your food!
Quiche is a traditional French tart that is savory in flavor. Quiche filling is made with many different ingredients like meat, cheese, bacon, vegetables, etc.
It's a popular main course that is served with a side dish. If you are looking for the perfect dish to serve with your favorite slice of quiche check out these great options for a tasty quiche side dish.
What Side Dishes Go Well with Quiche?
Quiche is a versatile dish served as lunch, dinner, and even breakfast. Everyone has their take on Quiche. But since Quiche is the main course, you need to pair it up with a side dish.
The best side dishes to go with Quiche are Sauteed Mushrooms, different kinds of salads, Crispy Roasted Lemon Potatoes, and Zucchini Fritters.
Quiche is a hearty meal that doesn't need a side dish, but if you are planning to serve an extensive dinner with multiple courses, you will need a good side dish to complement your Quiche. Here are some of the best side dishes that go well with Quiche.
Source: fantabulosity.com
Even if you aren't a salad person, this creamy Apple salad will make you a fan in no time. This is an unusual salad with pudding and yoghurt, but it works well, and both of these ingredients combine to make the most flavorful salad ever to enjoy any time of day.
The second thing is the nuts and fruits that go in this salad. Apples, cranberries, and nuts give this salad the best crunchy taste.
You need to try this salad if you always crave something sweet, but avoid it due to the extra calories. The best way to serve this simple salad is with a crisp glass of iced tea.
This is also a lovely side dish for grilled chicken.
Source: foxeslovelemons.com
Every kind of Quiche goes well with any kind of salad; here's good choice for a Spring Salad that will refresh your mood in no time and make you want a second helping. The key ingredients in this salad are ​​Asparagus, snap peas, prosciutto, and cheese.
Apart from these, you add lemon zest for a tangy after flavor and hard-boiled eggs to make the salad filling for any meal.
This is one of the great side dishes for shrimp as well!
Source: beyondfrosting.com
The zesty flavor of lemon is all you need to make your crispy roasted potatoes smell and taste great.
This is a restaurant-style salad with crispy roasted potatoes that are melt-in-the-mouth from the inside, folded into lemon juice, seasoning, and parmesan cheese.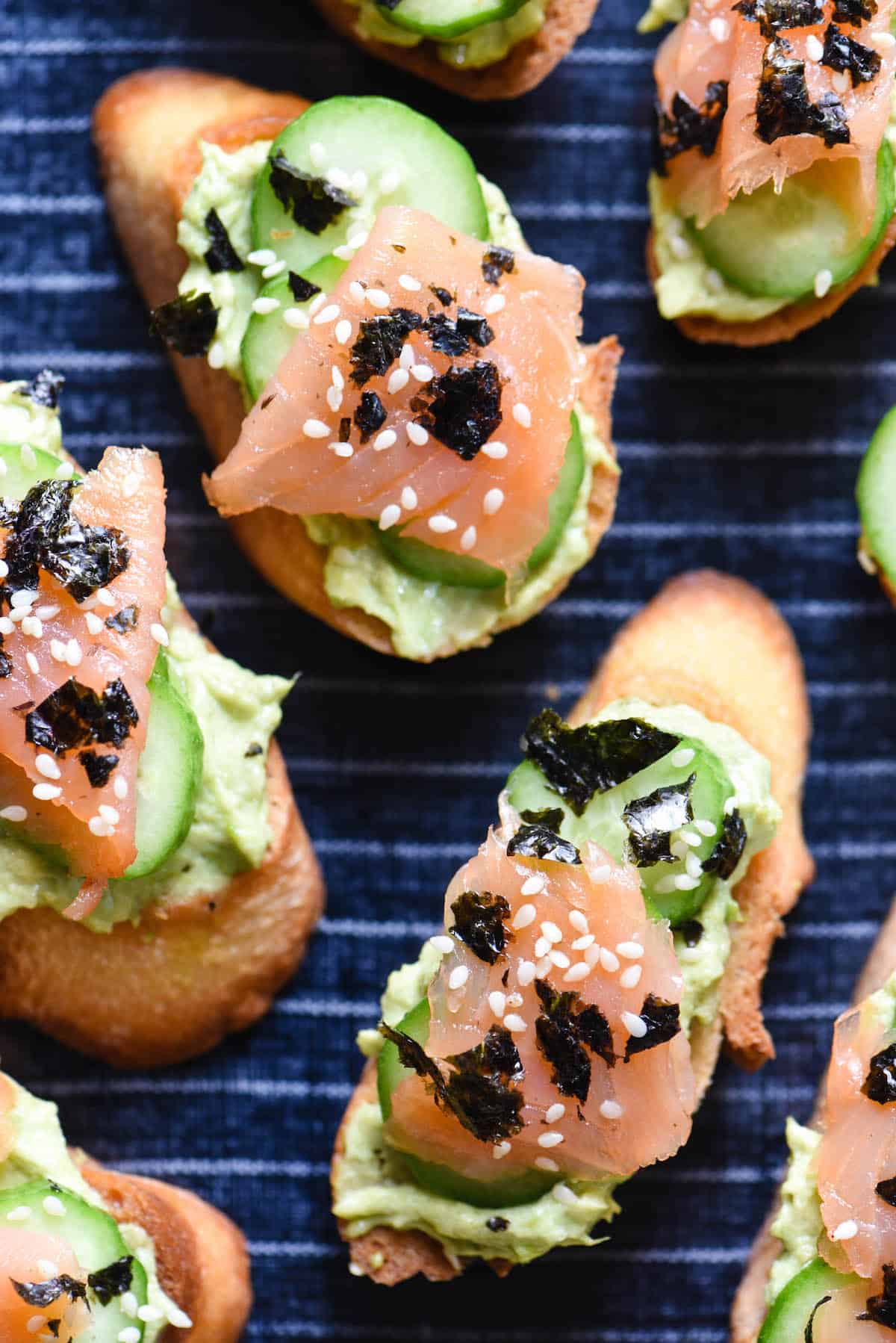 Source: foxeslovelemons.com
Here's a little snack with crusty bread to go with your Quiche. This will quench the craving for sushi in no time.
Apart from smoked salmon, our Crostini also has avocado, scallions, sesame seeds, and cucumber as a great way to refresh your palate paired with your rich quiche.
To prepare your Crostini, you will also need a few other ingredients like a sliced baguette, Olive oil, cream cheese, and wasabi. This is the perfect side dish to go with Quiche as it's light and flavorful.
Source: beyondfrosting.com
Here's a simple summertime salad recipe you can easily pair with your Quiche. The main ingredient of this summer salad is Quinoa.
Did you know that Quinoa is high in fiber that helps with cholesterol and blood sugar levels?
This is a cold salad that can easily be customized for picky eaters, you can alter the recipe to add anything you like, and it will taste just as good.
The main ingredients for this salad are Cherry tomatoes, Bell peppers, Red onion, cucumbers, Avocado, and Parsley.
You can also have this side with burgers.
Source: thelittlestcrumb.com
Here's an exquisite salad that is both rich in color and taste. Moreover, it's the perfect salad for summer and springtime.
The main ingredients for this wonderful salad are strawberries, goat cheese, spinach, walnuts, and pine nuts.
This is an easy-to-throw-together salad that takes as little as 30 minutes to put together.
Source: dizzybusyandhungry.com
Here's a salad that is bursting with flavor, made with Apples, Walnuts, cranberries, and olive oil. This is the healthiest and yummiest salad recipe ever.
Apart from that, you should add spring mix salad, gorgonzola cheese, red onion, and olive oil for dressing. The gorgonzola cheese will add a sharp taste to your otherwise subtle and sweet salad.
You could also have this salad as a side dish with salmon.
Source: dizzybusyandhungry.com
Either way, call them fritters or Zucchini cakes; they taste the best when fried in the Air Fryer. For this recipe, you will need a large zucchini, eggs, flour, parmesan cheese, baking powder, and sour cream.
Give your fritters an Italian touch by adding Italian seasoning.
Shred your Zucchini with a grater, and add the rest of the ingredients with shredded Zucchini in a big bowl. Shape your mixture into small patties or fritters and Air Fry them till they are golden brown.
Enjoy with a dip of your choice.
Source: crumbtopbaking.com
Before serving your Quiche next time, you should try the Air Fryer Sweet Potato Wedges for a healthy snack or side dish.
These are soft on the inside, while the outer skin stays nice and crispy.
To season your sweet potatoes, add olive oil, cornstarch, dried oregano, dried parsley, garlic powder, ground cumin, smoked paprika, and salt. The great thing is you can add crushed red pepper with a bit more spice if you like it.
You could also serve this side dish with ribs.
Source: therusticfoodie.com
Here's a beautiful recipe that you can marinate in the evening and serve at dinner with all its glory. All you need is to dice your tomatoes and dress them in Olive oil, red wine vinegar, Dijon mustard, garlic, Italian seasoning, mozzarella, and basil.
No cooking is required, the prep time is about 15 minutes, the marination takes 2 hours, and you have the best no-cook side dish ready to enjoy with your Quiche.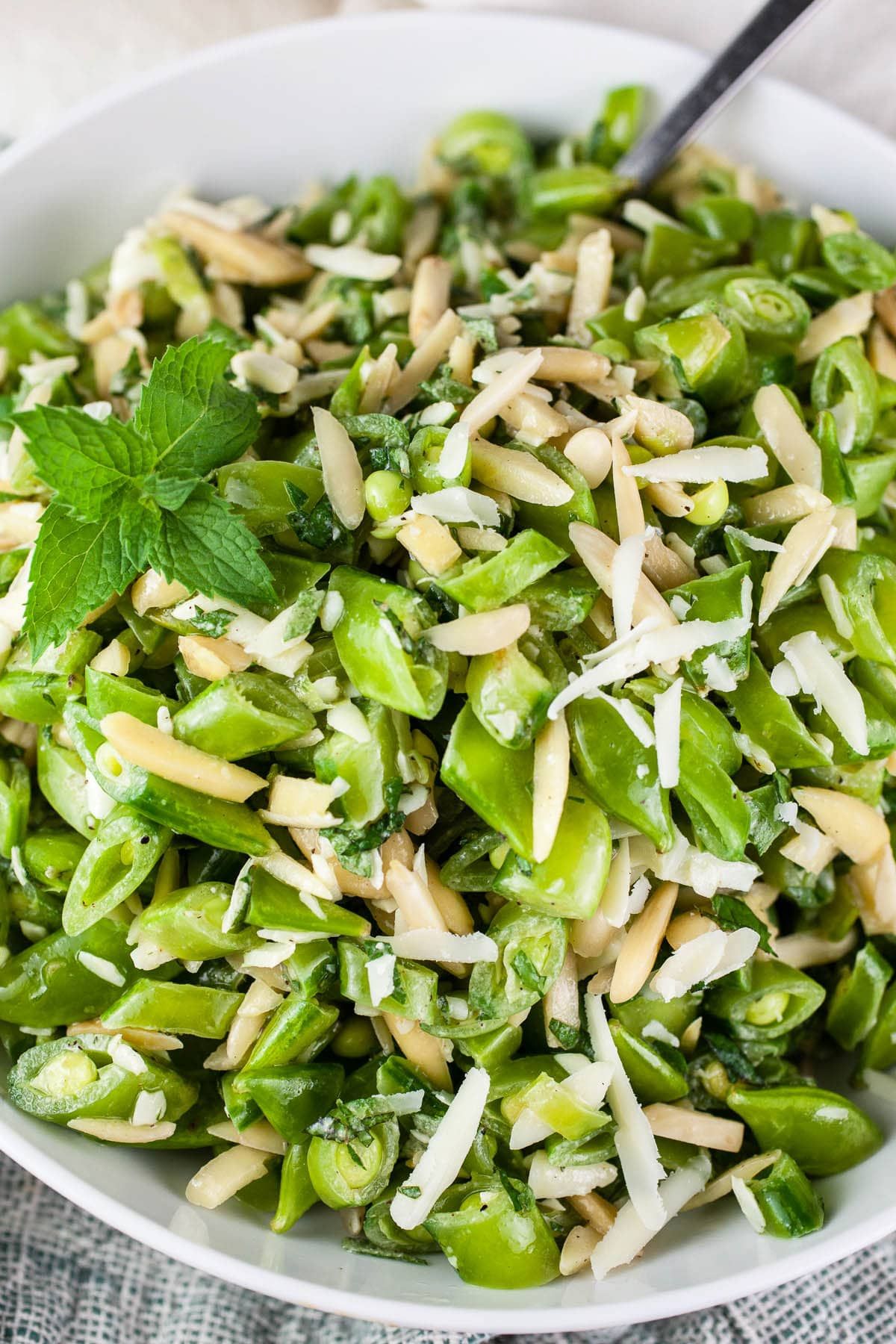 Source: therusticfoodie.com
If you have never had a pea salad to impress your taste buds, you need to try this one as soon as possible. If you think salads are boring, this Minty Pea Almond Salad will change your views completely.
Pick fresh peas and add olive oil, apple cider vinegar, lemon juice, sugar, and salt and pepper as seasoning. The dressing should sit for an hour before adding to the peas.
Lastly, add your almonds and enjoy this beautiful and refreshing salad.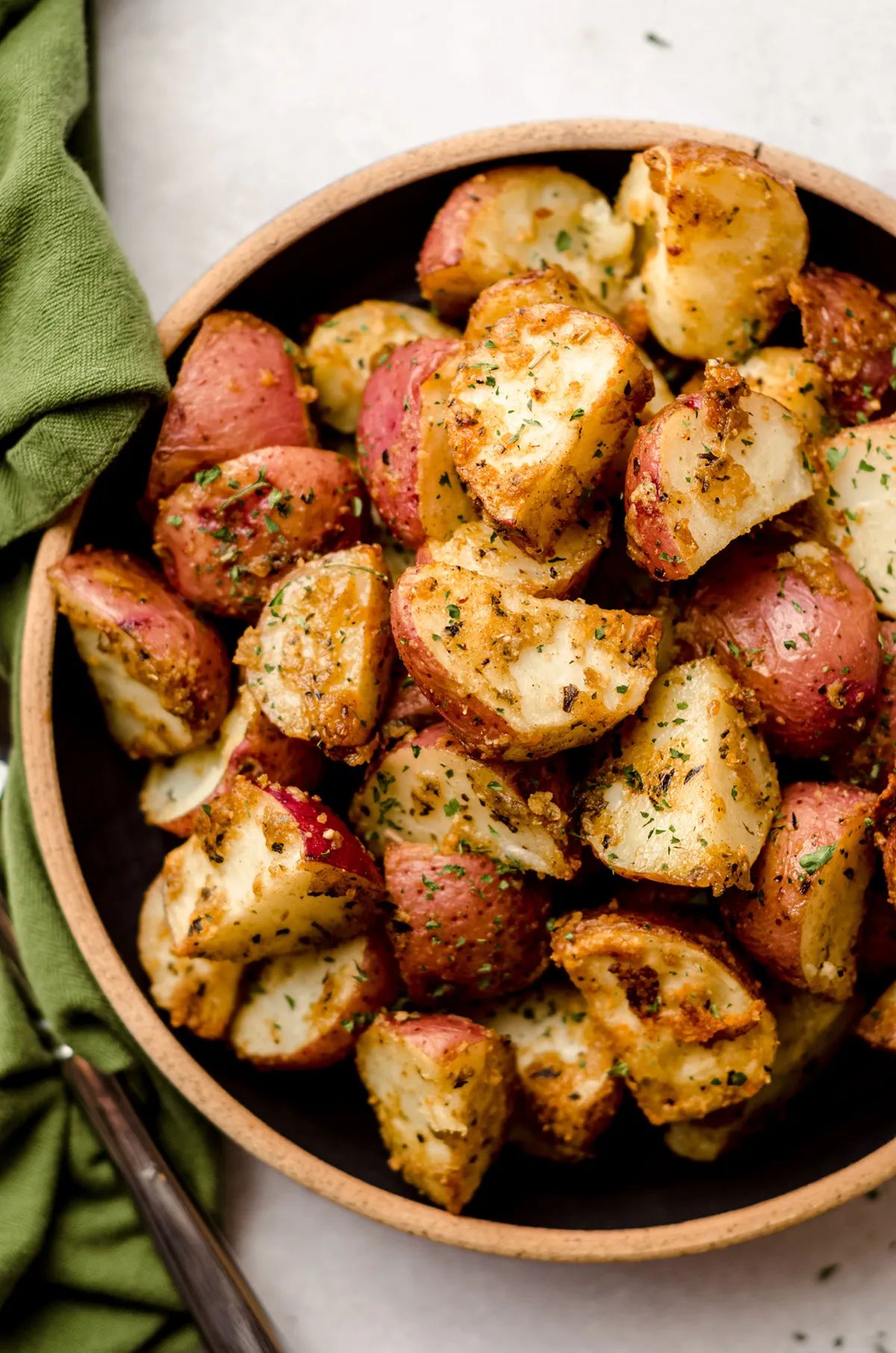 Source: freshaprilflours.com
You are missing out on the life you have never tasted: Roasted Herbed Red Potatoes. These potatoes are the perfect side dish to be served with Quiche. Moreover, they are effortless to make for a big crowd.
The key to making the best-roasted potatoes is choosing the right type of potatoes; the rest is just dice, season, and bake.
Source: venturists.net
Here's an appetizer to enjoy with your Quiche on a hot summer's day. To make this appetizing salad, you will need Lettuce, White Onion, Orange, Strawberries, Carrot, Cabbage, Cherries or Cranberries, Walnuts, Feta Cheese, and Olive Oil.
Dice and chop all your veggies as well as your fruits. Next, arrange your salad bowl with veggies at the button, fruits on top, and walnuts on top of the fruit. Next, add your crumbled Feta cheese and drizzle with olive oil.
Enjoy this side dish with steak.
Source: swirlsofflavor.com
This Cucumber Tomato Cauliflower Rice Salad can be your appetizer as well as your full course meal as it has a good quantity of Cauliflower rice and veggies.
Cauliflower is low in carbs. Hence this salad is as healthy as it gets. Did you know your Cauliflower is packed with fiber, potassium, vitamin B6, vitamin C, and vitamin K?
Can you think of a healthier meal?
Source: theforkedspoon.com
Crispy Hash Browns are great ideas for perfect appetizers for all kinds of food, not only Quiche; you can have them with your eggs or even your steaks or really any breakfast food served with a nice cold glass of orange juice.
Shred and soak your potatoes; after 5 to 10 minutes, add your potatoes to a hot pan with seasoning and butter. Leave your potatoes for 5 minutes to fry and get the perfect brown color.
The tip to making the crispiest hash brown is to not touch them while they fry for a good 5 minutes. Turn sides only when the bottom is nice and crisp.
Source: healthmylifestyle.com
Cooking Asparagus in the Air Fryer as a side dish is just the perfect side dish to serve with your Quiche. It's also the easiest side dish ever.
All you need is a bundle of Asparagus seasoned with garlic powder, smoked paprika, lemon juice, and Italian seasoning.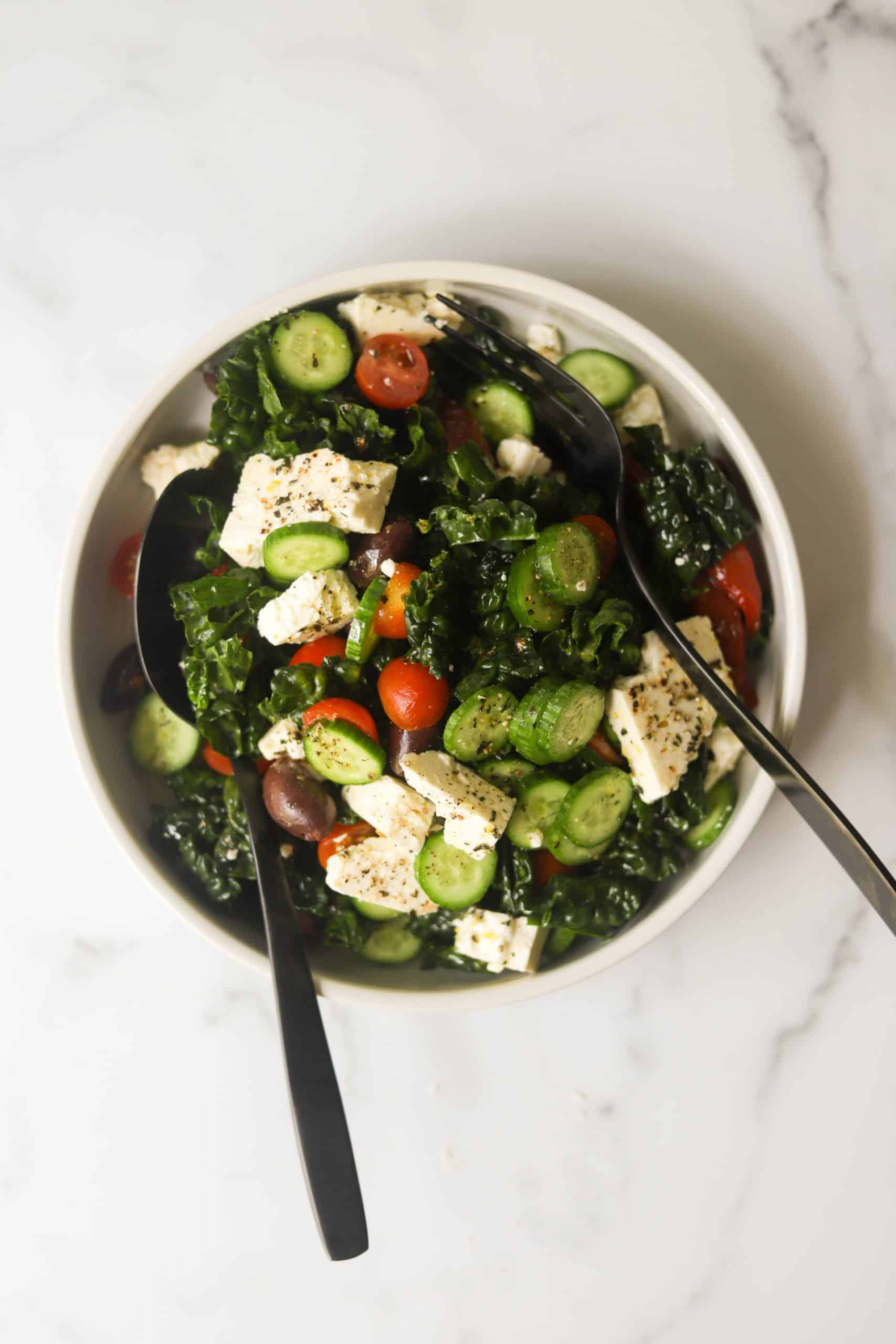 Source: thehealthyepicurean.com
Here's a salad that will become your favorite side dish due to its bold and flavorful bites. To make this salad, the main ingredient you need is Kale.
Did you know that Kale is the healthiest vegetable out there? It helps lose weight, is an ideal snack for people with diabetes, and is also great for your eyes.
Apart from Kale, this salad also has feta, oregano, olives, cucumber, and Pepperoncini or Roasted Bell Peppers.
Source: thedevilwearssalad.com
Did you know that Parsnip fries can be the best substitute for potato fries, and you can make them even healthier by frying them in an air fryer?
These turn out to be crispy on the outside and mushy on the inside, and the subtle nutty flavor of the Parsnip is also pretty cool to enjoy.
Source: mondayismeatloaf.com
This instant pot bread recipe will make your bread-making life easier by cutting the time of proofing by half or even less.
You can proof your bread in the instant pot and bake it to a perfect texture without any hassle. This bread can be used for sandwiches, snacking, or appetizers.
It takes around 25-minutes to cook bread in an instant pot, whereas if you do it the traditional way, you will need a whole day to cook your perfect loaf of bread.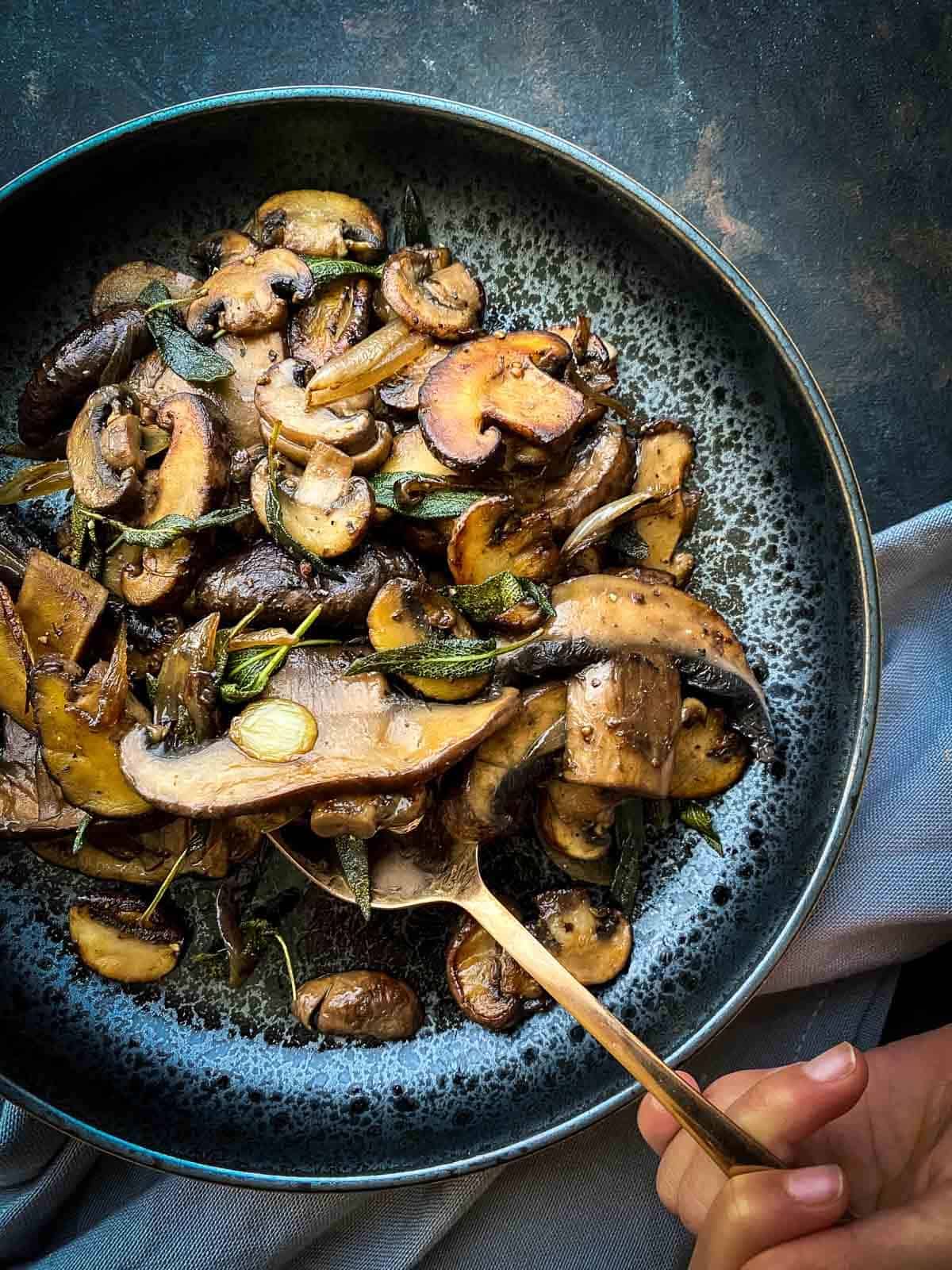 Source: thedevilwearssalad.com
Here's a side dish to be served with your Quiche that you can make in just 15 minutes. It's also the perfect side dish for steak or rice.
Did you know all edible mushrooms are packed with nutrients and antioxidants? Moreover, mushrooms are fat-free and have vitamins B, C, and D and potassium.
You will need Butter, Mushrooms, Sage, onions, and soy sauce to put together this recipe. Sautee your ingredients and enjoy a hearty side dish with earthy flavors.
Source: mondayismeatloaf.com
Asparagus is the perfect vegetable to have to make any kind of side dish for your main course.
For this cool Asparagus recipe, we are going to use thin strips of bacon to wrap the bacon with. You can both bake this or air fry these Asparagus.
For seasoning, you can use Italian seasoning, or just salt and pepper will suffice. To dress your Asparagus, you can use olive oil.
Source: endofthefork.com
If you are a salad lover, you need to try this Summer Tomato Salad; if you are not a salad lover, you still need to try this Summer Tomato Salad.
Apart from tomatoes, you will also need onions, a simple dressing, and gremolata. You can make the gremolata by combining parsley, garlic, and lemon.
Adding gremolata is genius as it adds a bursting flavor to your tomato salad.
Source: chocolatemoosey.com
The beauty of salad is that you can have it as a side dish or replace your meal with a hearty salad. Apart from being tasty, most salads are pretty healthy as well.
To prepare your Freekeh Salad, you will need olive oil, onion, garlic, freekeh, vegetable stock, arugula, lemon juice, grape tomatoes, goat cheese, and chopped parsley.
This is a hearty and filling salad made with whole grain. So, you can either have it as a side dish or enjoy it as a complete meal.
Source: alittleandalot.com
This is one recipe I can make with one and behind my back and my eyes closed. In short, you can't find an easier recipe than Roasted Beets.
Just dice your beets over the stove and add olive oil and salt. Roast it till your heart's content, and you are done.
Source: makeitskinnyplease.com
Here's a colorful summer salad you'd want to eat daily. Add in watermelon, raspberries, cherries, strawberries, and fresh mint.
Now dress your salad with lemon juice and enjoy the balmy summer day with your cold fruit salad.
Source: neighborfoodblog.com
I have never liked Sinach, but this is one salad even I wouldn't say no to. A Strawberry Spinach Salad is the perfect salad to have with your Quiche.
It's also the perfect summer salad. Apart from being super tasty, this salad also has many health benefits.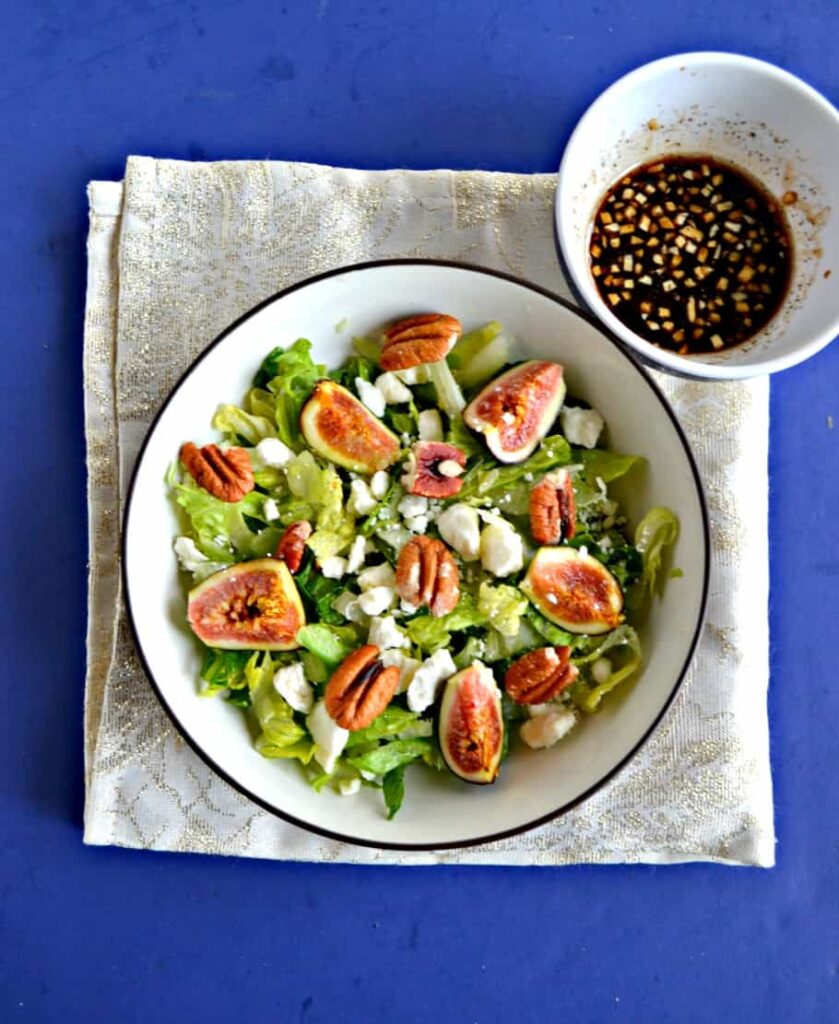 Source: hezzi-dsbooksandcooks.com
Enough of the summer salads. Here's one for fall; Fig Salad with Honey Balsamic Vinaigrette.
Fresh figs only last for 3 to 4 days, so make sure you make your salad while your figs are fresh and ripe.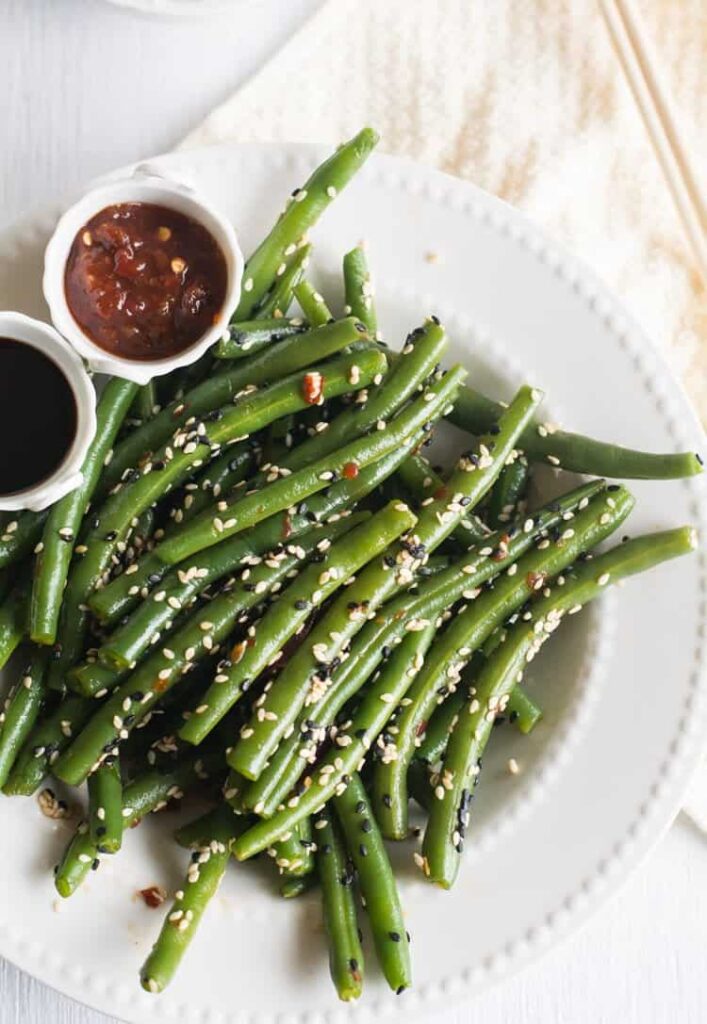 Source: pepperbowl.com
Sesame seeds can make any dish look restaurant-worthy. This Spicy Chinese Green Beans also looks like it came out of a food magazine.
Moreover, this side dish is a crowd-pleaser. You can whip this up in about 15 minutes and serve it as a side dish to any kind of the main dish, not only Quiche.
Source: hezzi-dsbooksandcooks.com
What makes a salad the most perfect salad? You need three things to make your salad loom tremendous and taste even better; fruit, nut, and any kind of cheese.
While fruits have sweetness, cheese adds salt and creaminess. And the crunch of the salad can be achieved with your nuts.
This beautiful salad has the perfect combination of fruit, cheese, and nuts. It has a bit more than that because blood oranges add a tangy touch as well.
Source: meaningfuleats.com
If you are a health fanatic, a kale salad is all you need to encourage your diet even more. Apart from being healthy, this kale salad is also very easy to throw together.
If you are one of those people who have never had Kale due to its bold taste, you need to try this one.
To make the kale salad, you will need lemon juice, olive oil, honey, garlic, and salt.
Source: jugglingactmama.com
With one egg, parmesan cheese, sliced bacon, puff pastry dough, and basil, you can make a side dish that will make you a popular chef in your hometown.
In a total of 40 minutes, you can make the mouth-watering Bacon Puff Pastry Twists. Your guest will forget the Quiche and devour the Bacon Puff Pastry Twists.
Side dishes are great. They not only complement the main dish but also help add creativity and flavor to the whole dinner spread.
What to Serve with Quiche: 31 Best Sides
Got a quiche cooked up but not sure what to serve with it? Try these Side Dishes for Quiche and enjoy your brunch or lunch.
Ingredients
1. Apple Salad
2. Spring Salad
3. Crispy Roasted Lemon Potatoes
4. Smoked Salmon Crostini
5. Quinoa Vegetable Salad
6. Strawberry Goat Cheese Salad
7. Apple Walnut Salad
8. Air Fryer Zucchini Fritters
9. Air Fryer Sweet Potato Wedges
10. Marinated Tomato Salad
11. Minty Pea Almond Salad
12. Roasted Herbed Red Potatoes
13. Salad with Fruit, Walnuts, and Feta Cheese
14. Cucumber Tomato Cauliflower Rice Salad
15. Hash Browns
16. Air Fryer Asparagus
17. Mediterranean Kale Salad
18. Air Fryer Parsnip Fries
19. Instant Pot French Bread
20. Sauteed Mushrooms
21. Air Fryer Bacon Wrapped Asparagus
22. Summer Tomato Salad
23. Freekeh Salad
24. Roasted Beets
25. Summer Fruit Salad
26. Strawberry Spinach Salad
27. Fig Salad with Honey Balsamic Vinaigrette
28. Spicy Chinese Green Beans
29. Dragon Fruit and Blood Orange Salad with Pecans
30. Kale Salad with Cranberries
31. Bacon Puff Pastry Twists
Instructions
Scroll up to get a bunch of easy, yummy, and delicious recipes. Don't be afraid to get creative with the ingredients, you might discover a flavor you didn't know you liked.
Get your shopping list going and make sure you've got all the ingredients.
Get cooking and make your next Sides for Quiche!
Notes
Which one of these recipes was your favorite? Let me know in the comment section or on Pinterest!