Looking for a perfect side dish for lobster? Whether it's special occasions or just a regular weekend dinner, these side dishes are great for any lobster dinner.
Lobster is historically one of the most challenging yet rewarding dishes. If you're taking the time to cook up some quality lobster for your next special event, you want side dishes that will live up to it!
That's where these twenty-three dishes come in. Each side dish offers a new way to elevate your lobster to new heights. Let's dive into each one and see which comes out on top!
What to Serve with Lobster
A lobster is a delicate crayfish with tender, aromatic flesh. The key to picking great side dishes for this quality ingredient is to choose dishes that elevate its flavor without overpowering it.
Aggressive, heavy flavors with too many spices can overwhelm the dish. But creamy, mellow, sumptuous side dishes will take the podium.
So, get going to the grocery store and enjoy the sweet taste of lobster!
Potato Side Dishes
Let's start with one of the most versatile vegetables on the planet: the humble potato. There are many ways to turn this simple root vegetable into the lobster-worthy side dish of your dreams.
From French-inspired gratins to elegant fingerling potatoes, discover all the ways this vegetable can be oh so sophisticated.
Source: bigflavorstinykitchen.com
Simple flavors combine into luxurious decadence with this Calabrese potato salad, an Italian family favorite. This type of potato salad contains no mayonnaise, relying on olive oil and fresh herbs instead.
This ideal dish highlights your lobster with a gentle, herbaceous aroma and plenty of fresh ingredients. Whip this up a few hours in advance to give the flavors time to mingle.
This recipe is great when you need a hearty Italian dish. One of the good options to enjoy with your lobster.
Source: jamjarkitchen.com
Next up, we have a decadent French side dish that's creamy, cheesy, and incredibly flavorful. The potato is definitely the star of the show, but sauteed leeks and bacon add a much-needed kick.
Potatoes au gratin can take a little while to make if you're not used to the layering technique.
However, you can do a lot of the prep work in advance to minimize time away from your lobster main.
Source: bigflavorstinykitchen.com
Speaking of minimizing time, this Instant Pot herbed potato salad is a time-saving dish as delicious as easy. Toss all the ingredients into your Instant Pot, set it, and forget it.
You'll have an aromatic and sophisticated version of a potato salad your guests will fawn over when you lift the lid. Instant Pot also reduces your prep work since you don't need to peel the potatoes!
Source: cravingcalifornia.com
A classic, sophisticated side dish is the roasted potato. Fingerling potatoes are a perfect choice, thanks to the touch of natural sweetness hiding in their flesh.
This sweetness, combined with the delicate aroma of garlic and rosemary, is the perfect way to highlight the delicious lobster. Dress the whole affair in butter for a luxurious date night dinner.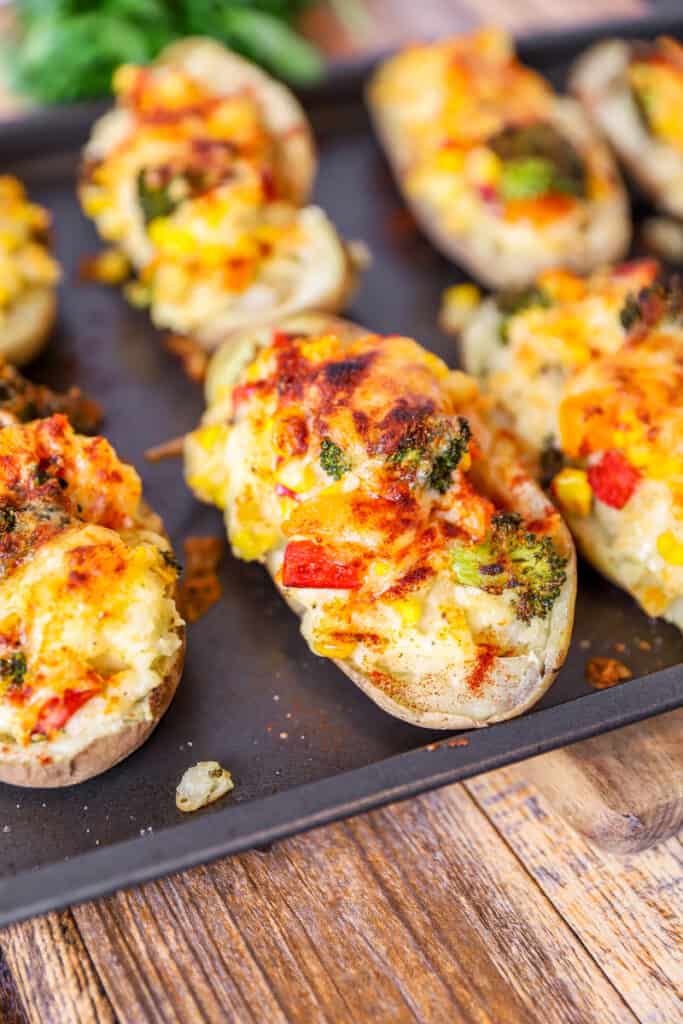 Source: aseasonedgreeting.com
Twice-baked potatoes are typically stuffed with bacon and cheese, which can be a heavy combination.
If you're making this as a lobster side dish, why not try a lighter vegetarian version instead?
This version is just as good as the classic but leaves more room on the plate for the lobster to shine. The sweet peppers effortlessly pick up on the lobster's delicate flesh, rounding out the meal.
Enjoy this simple baked potato made from basic ingredients. It'll definitely be the best thing for lobster bisque!
Source: plantbasedonabudget.com
Scalloped potatoes are almost like sideways potatoes au gratin, but with thicker slices.
The mellow flavors are a perfect companion for a piece of delicious lobster, adding a light creaminess to the plate.
This is a super simple recipe that's vegan-friendly, and potato preparation can be done in advance to save time.
For an extra bit of crunch, try sprinkling the top with breadcrumbs for the last few minutes of baking.
Source: healthylifetrainer.com
Take the standard potluck potato salad and elevate it with this wilted spinach variation. The leaves add a gorgeous tinge of green to the light sauce, making it look at home on a plate of lobster.
The wilted spinach also adds a delicious earthiness, just enough to make the lobster's sweetness stand out.
This is easily the best option for any main dish. Take your seafood dishes to a whole new level!
Vegetable Side Dishes for Lobster
Vegetarian fare is a great place to look when choosing side dishes for a lobster meal.
Most vegetable side dishes are light and fragrant, so they're tasty without drawing attention away from the star attraction.
Vegetables make for the perfect accompaniment for any main course. They're definitely one of the best sides for a whole lobster.
Source: karenskitchenstories.com
Succotash is a delicious, vibrant, and simple salad that perfectly highlights seasonal produce. Organic flavors sing in this straightforward side dish, from corn and zucchini to peppers and onions.
This is an excellent pairing for lobster because of its sweet freshness. Feel free to make this dish ahead of time and store it in the fridge to serve cold for your summertime lobster meal.
Source: wholesomeyum.com
Since lobster is so light and luxurious, an earthy vegetable like broccoli or cauliflower is a great way to balance your plate. Enter this super simple roasted broccoli and cauliflower recipe.
Minimize dishes and maximize taste with this one-pan wonder. There's almost no prep time to this. Just chop up your vegetables, toss them with garlic and oil, and bake in the oven.
Source: amandascookin.com
What would you say is lobster's best friend? The answer is butter. These brown sugar and butter-glazed carrots are an ideal pairing for this jewel of the sea.
These carrots taste as good as they look. They're soft enough to bite into but still retain some of their crunch, adding a new texture to the plate. Dip your lobster in the extra butter for a luxury treat.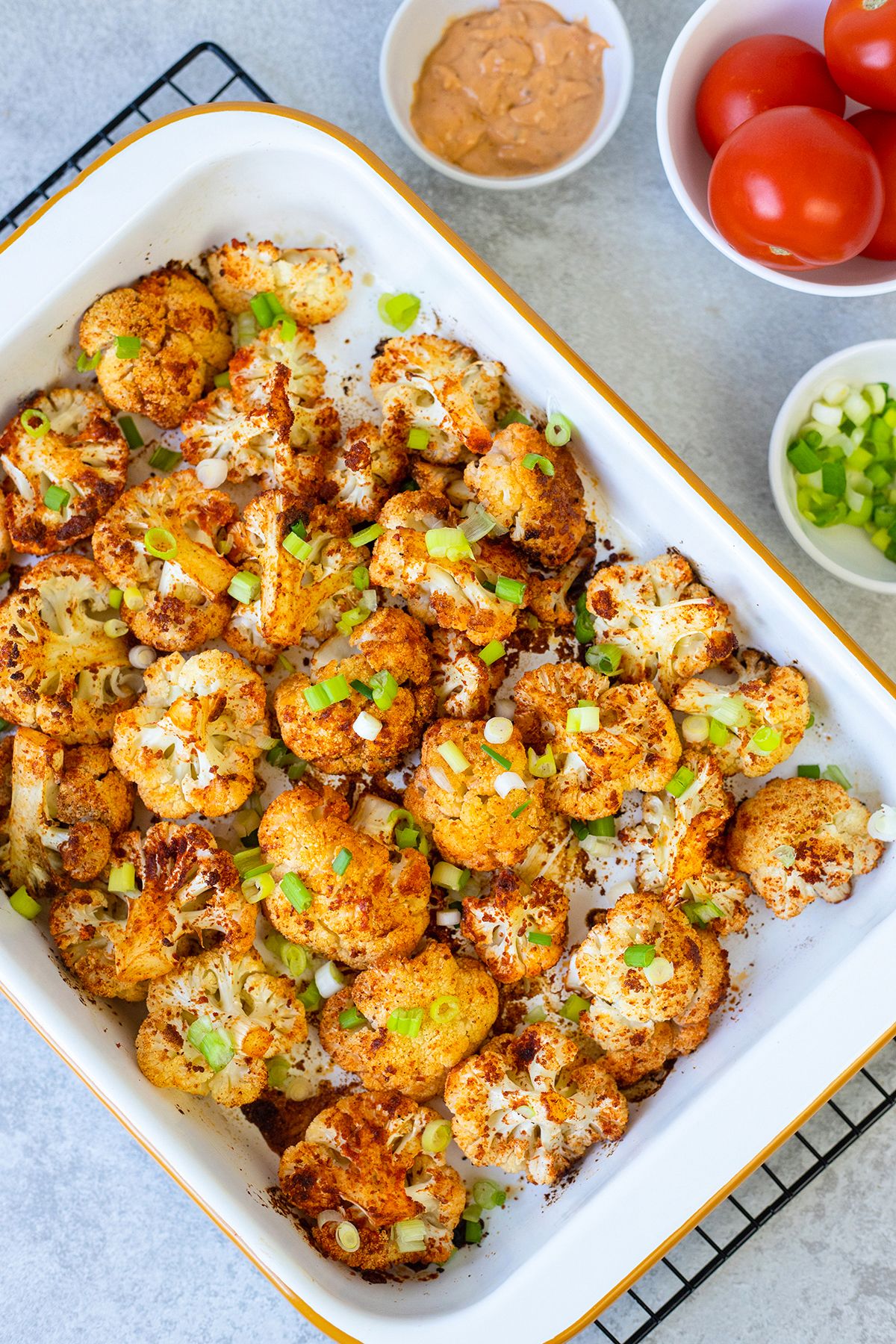 Source: healthylifetrainer.com
Here's a spicy take on cauliflower that adds a warm vibrancy to the plate. Get your appetite humming with this earthy side dish, complementing the juicy lobster.
This cauliflower is easy to prepare, requiring only one pan and a handful of spices. Chop, toss, bake, and you're done! It's also great for meal prepping.
Source: lovefromtheoven.com/green-beans-almondine/
Green beans almondine hails straight from the home cook's holiday recipe book. It's fresh, light, and luxuriously crunchy.
It's a great way to add texture, color, and freshness to the plate in one fell swoop. If you're cooking lobster for a holiday meal, you can't go wrong with this option.
It's super simple, so you won't have to dedicate much energy or time.
Source: knifeandsoul.com
Tired of green salad? Mooli, also known as daikon, is a fantastic vegetable to accompany fish. It's used throughout many Asian regional cuisines to freshen dishes and add a little kick.
This light and fresh salad celebrate the purest form of carrots, cucumbers, and mooli. It's a vibrant addition to the plate, helping to refresh your palate between bites.
Source: apaigeofpositivity.com
Brussels sprouts deserve a better reputation than the one they've got. They act as flavor sponges, soaking up the aromas around them to create little balls of compact deliciousness.
In this case, these crispy parmesan brussels sprouts are infused with parmesan and rich olive oil to create a luxurious side dish. They're perfect for lobster, balancing the dish with their earthiness.
Best Side Dishes for Lobster
We've talked about potatoes and vegetables, but which side dishes will give you the perfect plate of lobster? Which dishes were born to take their place beside this crustacean?
Let's find out.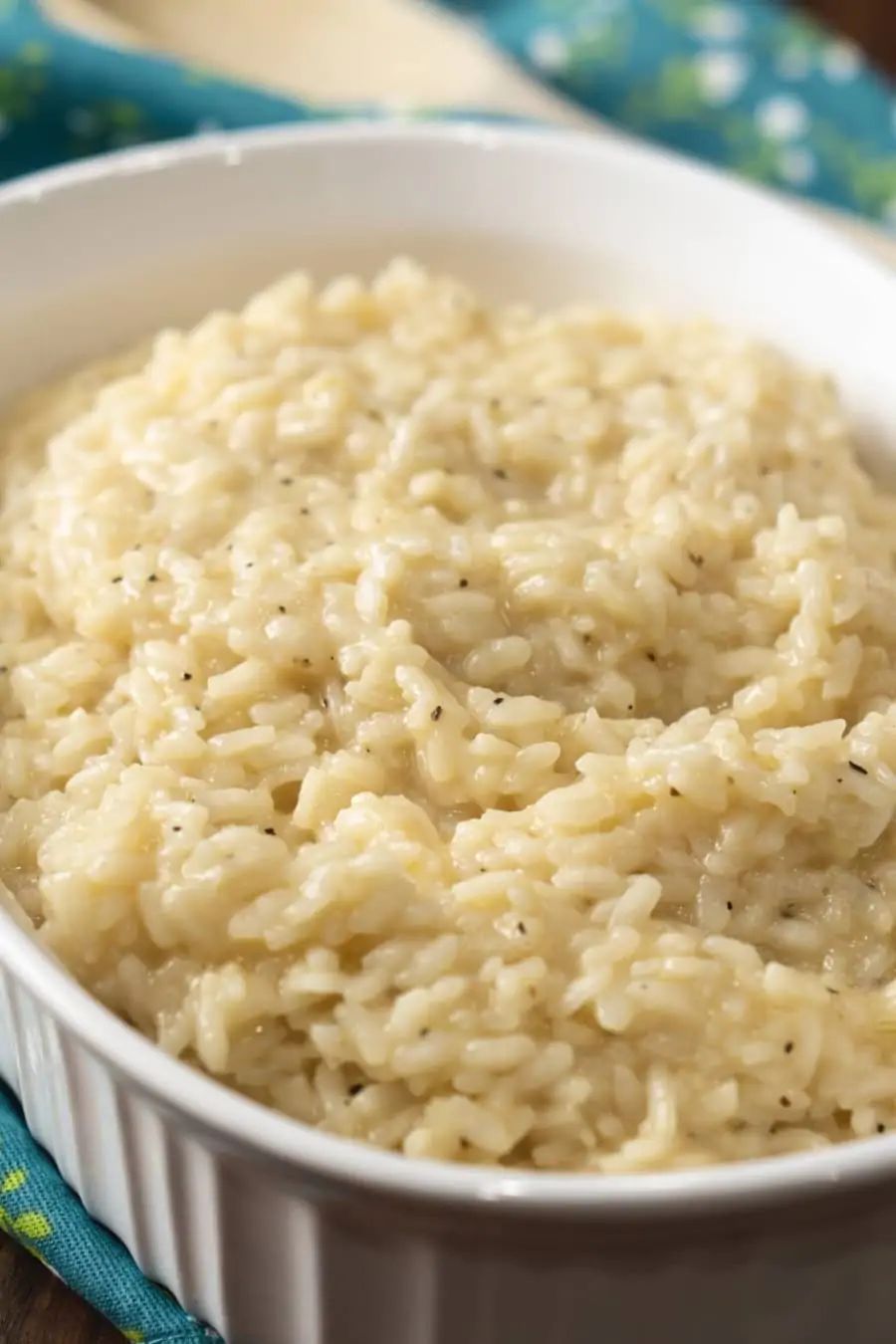 Source: onehappyhousewife.com
Creamy risotto is a plate of lobster's best friend, matching its luxury every step of the way. Preparing a risotto doesn't have to be difficult either. Thanks to the Instant Pot, it's downright simple!
This delicious parmesan risotto adds an element of sharp creaminess to the plate, cutting the lobster's delicate sweetness. The two form a perfect cycle, pulling you back in for a bite after bite.
Source: cravingcalifornia.com
Sophistication demands simplicity, which this herb salad brings to the table. Parsley, dill, mint, and chives combine in an unbeatable quartet. It's super aromatic and flavorful.
The parmesan cheese shaved on top is the final element that pushes this simple salad over the top, helping it stand up against the heavy-hitting lobster.
This is a perfect salad to have when you're tired of romaine lettuce.
Source: bonappeteach.com
Instead of chunky wedges, this is a delicate and refined take on butternut squash that perfectly suits a lobster meal.
Little orange gems form a vibrant pile, sprinkled with pieces of feta and shredded herbs. The air fryer gives the butternut squash a velvety texture that's hard to beat, and the flavors are to die for.
This is an easy recipe you can enjoy with a little bit of black pepper. You'll enjoy the sweet flavor!
Source: joyousapron.com
This isn't your basic macaroni and cheese. This sophisticated take on a family classic uses smoked gouda instead of cheddar, adding a delightful depth to the meal.
Creamy macaroni and cheese is a fantastic way to highlight your lobster, as anyone from the South will tell you. Enjoy bite after bite of this luxurious dinnertime treat.
Source: maritimeglutton.com
Are you looking for a healthy crowd-pleaser? This dill pickle salad is the perfect way to ensure everyone sitting down to dinner will enjoy their lobster side dish.
This tasty salad incorporates many different fresh flavors, and the radish gives it a well-needed kick that elevates the whole meal.
Source: wholesomeyum.com
Mushrooms are perfect if you're searching for a vegetarian side dish with a little bit of 'oomph.' They're still sophisticated, but the hearty, juicy flavor of each mushroom anchors the plate.
That's especially true when your mushrooms are sauteed in melted butter, which complements buttery lobster. This is a great recipe to have in your back pocket for last-minute guests too!
Source: throughthefibrofog.com
Few things go better with seafood than tropical fruit. Both have delicate flesh and delicious sweetness, but with distinct enough flavors that the meal doesn't feel one-note.
This tropical mango coleslaw is quick, easy, and beautiful. It effortlessly brightens up your dish in both appearance and flavor, leaving plenty of room for the lobster to shine.
Make sure you use fresh fruit to make this decadent meal. Definitely, the best way to incorporate more fruit into your diet!
Source: apaigeofpositivity.com
Here's another sophisticated take on macaroni and cheese that will blow your socks off. Featuring tasty gouda and an assortment of roast vegetables, this robust side dish helps anchor the lobster.
I enjoy this recipe because it's delicious in the moment and keeps well, so it's excellent as a leftover lunch the next day.
Source: budgetdelicious.com
Finally, we come to the ultimate lobster side dish: garlic butter pasta. Pasta is a beautiful choice to accompany lobster, offering a filling portion without overwhelming the lobster's flavor.
It's the garlic butter that makes this dish sing. Garlic butter is ideal for a lobster portion, so dressing your side dish in the same thing is great to round out the dish.
You can also transform the dish into a pasta salad!
What to Serve with Lobster: 23 Best Sides for Lobster
Take your dinner to a whole new level with these wonderful Side Dishes for Lobster. Easy to make yet so suiting for any special occassion.
Ingredients
1. Calabrese Potato Salad
2. Potatoes Au Gratin with Pancetta and Leeks
3. Instant Pot Herbed Potato Salad
4. Roasted Fingerling Potatoes with Garlic and Rosemary
5. Veggie Twice Baked Potatoes
6. Vegan Scalloped Potatoes
7. Spinach and Potato Salad
8. Summer Squash Succotash
9. Roasted Broccoli and Cauliflower
10. Glazed Carrots
11. Spicy Roasted Cauliflower
12. Green Beans Almondine
13. Carrot, Cucumber, and Mooli Salad
14. Crispy Parmesan Brussels Sprouts
15. Instant Pot Parmesan Risotto
16. Herb Salad with Shaved Parmesan
17. Air Fryer Butternut Squash
18. Smoked Gouda Mac and Cheese
19. Dill Pickle Salad
20. Sauteed Mushrooms in Garlic Butter
21. Tropical Mango Coleslaw
22. Gouda and Roasted Vegetable Mac and Cheese
23. Garlic Butter Pasta
Instructions
Scroll up to get a bunch of easy, yummy, and delicious side dishes. Don't be afraid to get creative with the ingredients, you might discover a flavor you didn't know you liked.
Get your shopping list going and make sure you've got all the ingredients.
Get cooking and make your next Side for Lobster!
Notes
Which one of these recipes was your favorite? Let me know in the comment section or on Pinterest!