Looking for a tasty hot dog pairing? Leave your French fries aside, and come explore amazingly delicious options with these easy sides for hot dogs!
Whether you're hosting a game night or having a casual summer backyard party, hot dogs are the ultimate crowd-pleaser at any fast-food-inspired table.
But this outdoor staple food cannot be served alone. If you're wondering what to pair your hot dogs with, I've got the best sides for you.
Creamy, crunchy, crispy, spicy, sweet, super healthy… take your pick. With the most delicious hot dog side dishes, and there are 27 of them, your hot dog dinner will be nothing short of yummy!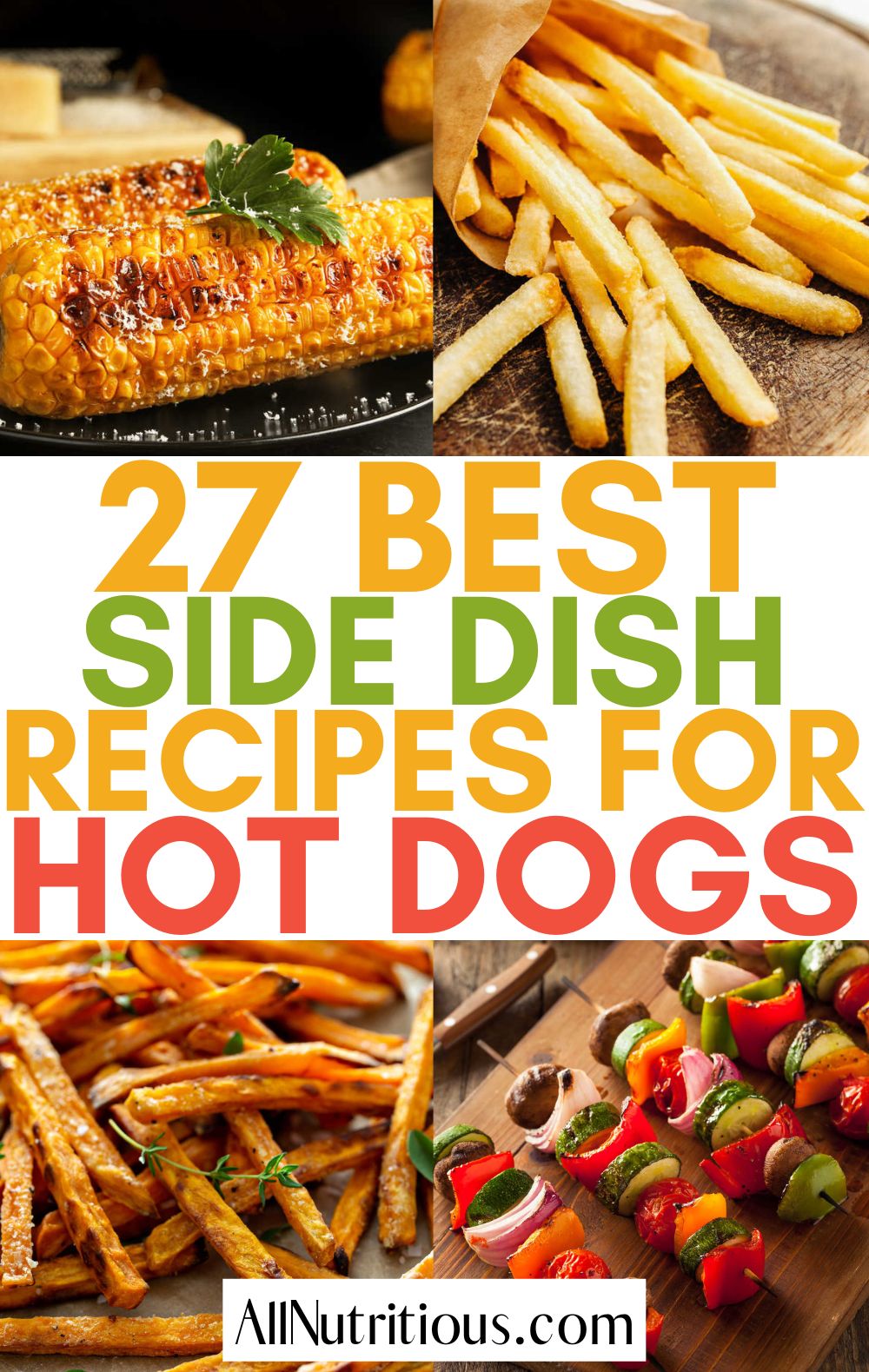 Toppings for Hot Dogs
Did you know that each American state has its own fixing they prefer on top of their hot dogs?
My personal favorite – the Chicago dog (from Illinois) is loaded with onions, pickles, tomatoes, relish, peppers, and mustard. Yummy right?
I also love the baked beans from Massachusetts, the sweet Minnesotan relish, and the New York Pushcart Sauce (kind of like sauteed onions with ketchup).
I have yet to try the Alaskan coca-cola caramelized onions, but maybe we'll devote a post to that sometime in the future?
Anyway, the point of the hot dog toppings is to add sweetness, crunchiness, saltiness, or spiciness – whatever works for you.
Fresh veggies, chips, pickles, baked beans, and all sorts of condiments are always a nice option!
What to Serve with Hot Dogs
From classic potatoes to corn, coleslaw, and salads, the options for hot dog pairings are endless.
Personally, I like to change it up depending on the season – fresh veggies in spring and summer, creamy pasta salads in winter, potatoes for when I'm serving a crowd, etc.
But just like mustard and ketchup make sense on top of your hot dog, some dishes will make this fast-food favorite taste even better if served alongside.
If in doubt, then I'm sure the different choices below will offer good and super yummy assistance!
Potato Sides for Hot Dogs
If you want to stick to the classics, then potatoes are probably a great side dish for hot dogs. But who says it has to be boring?
Here are some great potato dishes to try with the main course. They'll become some of your favorite things to enjoy in different ways.
Loaded sweet potato bake with apples, walnuts, and raisins for the ultimately sweet, perfectly-textured, and deeply pleasing dish. Did I mention that it is also super nutritious?
Generously sprinkled with cinnamon, this sweet bake is not only wrapped in warm flavors but is also health-boosting as well, since cinnamon is a medicinal powerhouse of a spice.
The butter gives smooth silkiness that your palate will more than enjoy, and the dash of nutmeg and ginger makes this sweet potato and apple dish even more festive than it already is.
Perfect for the holidays, and an incredibly delicious pairing for your good hot dogs, whip this bake up today and see what I'm talking about! This is a great way to enjoy sweet potatoes.
If you try to steer clear of fried potatoes or chips because of their fatty content, well, you shouldn't worry about a thing with this recipe.
Made in the Air Fryer with absolutely zero amount of oil, this plain but crispy and delicious recipe will taste perfect if served with fast or BBQ favorites such as hot dogs.
Feel free to spice these chips up with some paprika, chili powder, garlic, or whatever flavorings your taste buds prefer.
If you want to take the crispiness to a whole new level, then give these sliced potatoes a few spritzes of cooking oil.
Hold your ketchup, because these baked potatoes deserve some fancier toppings such as butter, sour cream, and yes, sliced chives on top!
With no more than three ingredients (if we're not counting the toppings of choice), you can have crispy skin and a fluffy potato interior in the fuss-free way possible. Thank your Air Fryer for that!
Simply by scrubbing your whole russet potatoes well, brushing them with some oil (olive or peanut), and seasoning with salt, you can have the perfect hot-dog side on your table in an hour.
And the prep time? Barely 5 minutes! This could also be a great side dish for pork chops.
Air fried sweet potato sticks for a nutritious, healthy, and super crispy side dish. Isn't that what any hot dog needs?
Simple seasonings such as salt, paprika, and garlic powder, will give the natural sweetness of the potatoes a pop in flavor that your taste buds will be pretty excited about!
The key to making them crispy all around lies in not overcrowding your basket. Make sure that each of the sticks has its fair share of space so that the circulating air will do its crispy magic.
Serve them with something to dip into on the side, and you'll definitely be named the best host of the year.
Potatoes loaded with cheese are a good side dish that will completely transform any protein-based meat. No, seriously! Serve these with your hot dogs and I guarantee your guests will be wowed.
Tender and soft potato cubes topped with Velveeta chunks and sliced butter, and then smothered with a milk and sour cream mixture.
Slow-cooked to perfection, you can only imagine how creamy and irresistible this dish will turn out to be.
In my opinion, this recipe deserves a spicy kick on top – maybe chili powder or some hot flakes – but feel free not to take my advice if you want a more neutral flavor.
Rectangular, waffle-like Hasselback potatoes that are brushed with garlic butter, threaded onto skewers, and baked to crispy delight.
So simple to make but extremely fun and very good looking – especially on your fast-food or BBQ-style table – this potato side is perfect for your hot dogs.
If you want to make them as crispy as possible, make sure to rinse the sliced potatoes with cold water and then drain thoroughly before buttering them up.
Topped with parmesan cheese, these potatoes on sticks are practically irresistible!
Twice-baked for twice as crispy, these baked whole potatoes are really something you need to try. Especially with a fast-food staple such as hot dogs.
The potatoes are first baked whole, then cut in half lengthwise. The flesh is scooped out and combined with butter, cheese, broccoli, and sour cream, for the ultimate filling.
And you can already guess where this is going. The potato shells are then stuffed with the mashed mixture, topped with some extra cheese, and baked until super gooey and cheesy.
This recipe uses an Air Fryer, but you can easily make this recipe in the oven if you don't have this appliance in your kitchen. Enjoy this side dish with steak as well!
If you love to open a bag of chips when serving hot dogs, then you've definitely hit the jackpot with this recipe.
Seven different spices are here to jazz up your plain and salted potato chips. Garlic, mustard, chili, cumin, onion, cayenne, and smoked paprika.
This combo is not set in stone, though, so feel free to adjust this recipe as you see fit. Perhaps you're more of a curry and turmeric fan? Or you don't like the chili?
Whatever flavors you find satisfying will work here. I'd also top these chips with some Parmesan cheese, but that's just me!
Easy Side Dishes for Hot Dogs
For when you're not in the mood for multi-layered preparations, these easy side dishes will totally come in handy. And the best part? They all pair perfectly with your hot dogs:
Your next potluck better be prepared because this lovely Southern salad will have everyone digging into this colorful bowl!
With macaroni, eggs, peas, pepper, onions, celery, cheddar, and herbs of choice (dill and parsley taste amazing), this filling and nourishing pasta salad is the perfect companion to many meals.
Smothered in a mayo/Dijon dressing, this side dish is really an amazing hot dog pairing.
Don't have peas or peppers? No worries! Feel free to customize it with whatever you have in your fridge or pantry, as this vivid salad can definitely take on some makeovers.
You could also serve this side dish with brisket.
Homemade, super crispy, healthy, and grease-free straight from the Air Fryer, this recipe is the only onion-ring method you will ever need.
Take all of the mess of deep-frying away with this recipe, and simply coat your onion rings and pop them into the Air Dryer until they are golden brown and super irresistible.
The onion rings are breaded and seasoned with nothing but some paprika, but you have the green light to experiment with different seasonings and add-ins.
I believe that garlic powder and Parmesan cheese are a vital part of any crispy breading recipe, so feel free to take my advice and see how that works out.
Haven't enjoyed a hot dog alongside saucy baked beans before? Then, what are you waiting for?
Smothered in sweet, tangy, and mustardy salsa, and topped with bacon slices, these baked beans bring nothing but comfort to your plate.
The recipe uses sweet onions, so make sure that you don't use a spicier and more pungent version for the best taste.
For a sugar-free dish, replace the brown sugar with some sweetener alternative, but do not omit it by all means. Otherwise, you will be left with a dish that is way too acidic to be enjoyed.
As Southern or Georgian as it gets, this summertime slaw with sweet peaches is the perfect way to add a sunshiny vibe and fun twist to the too-frequently-used coleslaw.
Of course, this recipe is also loaded with cabbage, but it is not the main ingredient.
With corn, peaches, and tomatoes all playing almost-equal parts, this is a dish that will surely have your guests raving about it.
The cilantro, lime, and garlic are used to add flavors, aroma, and a zesty kick to make it all come together. Enjoy this side dish with chicken wings.
Sometimes, the simplest ingredients work best. And if you're looking for such a side dish, then these garlicky Brussels Sprouts will more than deliver.
Charred, browned, and loaded with parmesan cheese, even those who always make a face when someone mentions this green veggie will adore this side.
Sprinkled with lemon juice, these Brussels Sprouts will taste super refreshing!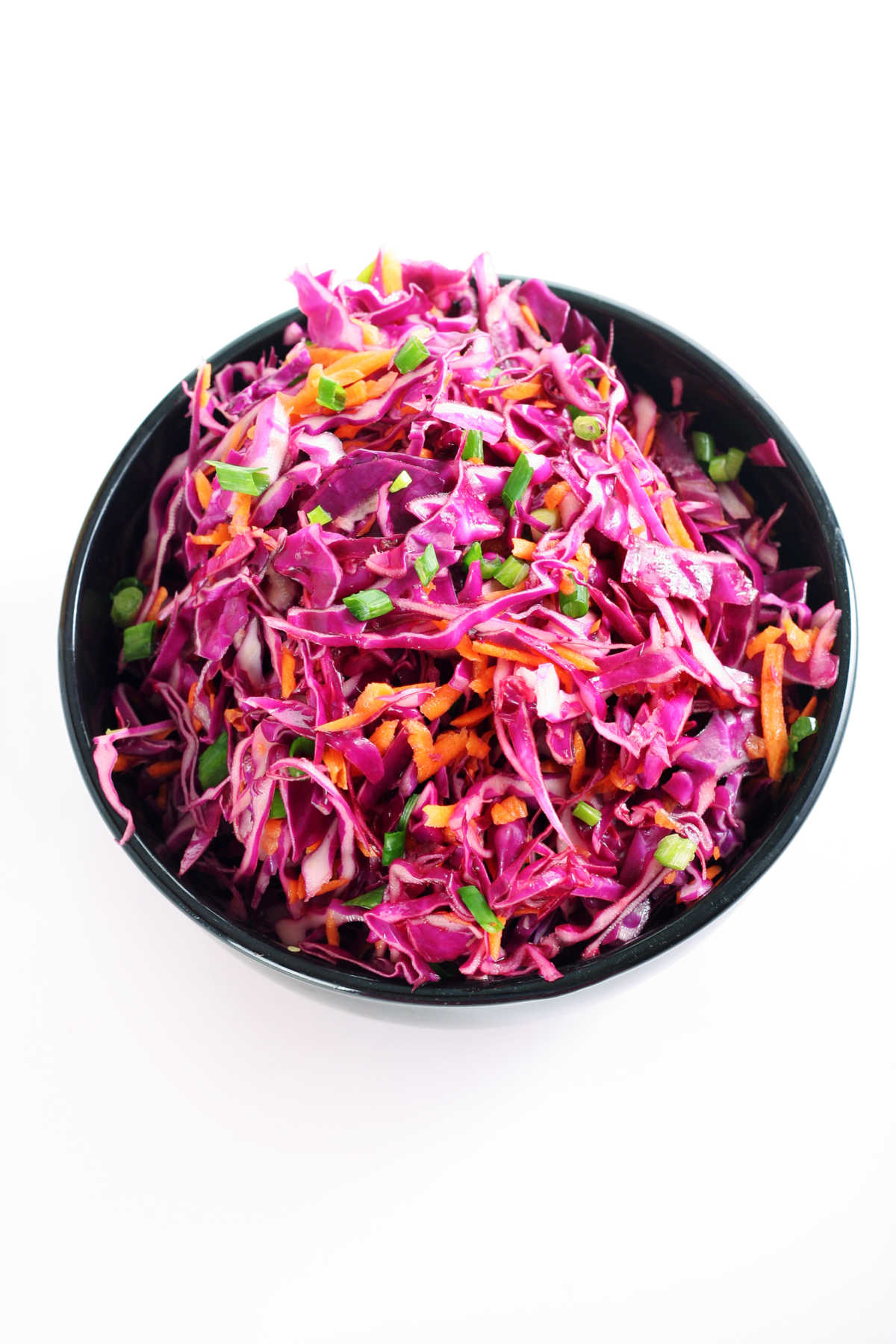 Crisp, vivid, and super colorful, this Oriental coleslaw is packed with nutritious veggies and drenched in the ultimate Asian dressing.
The edamame gives the salad a nutty flavor that beautifully combines with the rest of the ingredients, so I suggest you do not skip on this ingredient.
Garnish with sliced onions for the most beautiful look, and watch your guests devour this sunshiny bowl with your grilled hot dogs.
Healthy Sides for Hot Dogs
A hot dog is an always-satisfying guilty pleasure, but it's not necessarily healthy. If you want to healthify your dinner, you need something nutritious on the side.
Make the perfect healthy side dish and enjoy your hotdogs in the best way possible.
Spinach, tomatoes, cucumbers, red onions… Does it get any fresher and healthier than that? This feta-loaded and sweet and tangy-dressed salad is the definition of nutrition in a bowl!
The recipe also uses pumpkin seeds for some crunchy texture, so please don't omit that. Besides, pumpkin seeds also pack a healthy touch, so there's yet another reason to use them.
For a sugar-free version, substitute the honey with a liquid sweetener. Enjoy this salad recipe and make it with fresh vegetables.
You could also serve this side dish for ribs.
Three types of beans for three times more fiber, this nutritious veggie-packed salad will fill you up and nourish you at the same time.
Perfect for any barbecue dish – hot dogs included – this colorful and fresh-tasting bowl will please your guests.
The dressing is as simple as it gets because you really don't need any more flavoring than you already have here. Enjoy your summer BBQ with this side as it will become one of your new favorites.
Packed with healthy fats and a fruitiness that will knock your socks off, this fruit salad with mangoes, tomatoes, and cucumbers will be the freshest sweet pairing for your hot dogs.
The juice of lemon, parsley, and garlic give these veggies and fruits a zesty and aromatic taste, so they are an absolute must here.
The recipe uses parsley, but feel free to substitute it with another herb if you prefer. It's a perfect side to make for a summer day when you're having your summer cookout.
Low in carbs but super rich in taste, this healthified fry version made with parsnips is best if served alongside some fast-food dish. Or even enjoyed as a snack with a creamy sauce to dip into.
And this recipe will show you how to Air fry the perfectly crispy hot dog parsnip side, but also how to make a delightful dip for these well-seasoned sticks.
With four simple ingredients – mayo, red peppers, garlic, and lemon – the most finger-licking fry dip will be made in a jiffy.
I dare you to dip your parsnip fries in it! Not possible, right?
Farro is a trendy wheat grain that is packed with fiber and other nutrients, always capable of filling your tummy up when you add it to your salads.
And this one with beans, corn, avocado, and onions, is nothing but filling! You can serve it as a vegan lunch or as a side dish in small portions.
The chili-lime dressing and fresh cilantro give this salad a refreshing kick that pairs well with any BBQ-style meal. This is an absolutely delicious Mexican side dish.
Sliced veggies, threaded onto skewers, and grilled until charred is always a good side. And if you try to make your skewers as colorful as possible, well, a total hit is served.
Besides being so tender, caramelized, and delicious, grilled veggies are also the healthiest and most nutritious side you can put on your table.
If that's what you were looking for, then this recipe is a must! This is a perfect side dish you can have with hot dog bun.
As fresh as a salad can get, this watermelon and basil salad with feta cheese in a sweet lime dressing will definitely refresh your summer backyard dinners.
I strongly believe that watermelon and feta are a winning combination, so I don't suggest using a different type of cheese for this recipe.
I'd also suggest freshly squeezed lime as the bottled version cannot possibly beat the fresh kick. This is the best thing you'll ever have. A great delicious side dish!
Best Side Dishes for Hot Dogs
Some ideal sides are created with hot dogs in mind. If you want to serve something that will be a guaranteed success, then perhaps the recipes below can help you out.
Make these for the next cookout and enjoy your hot dogs with your favorite toppings.
One of the most versatile macaroni salads you can find, this creamy side dish with eggs, veggies, and cheese will look and taste perfect alongside your hot dogs.
This particular recipe relies on gherkins, peppers, celery, and onions, but feel free to add some more veggies to the mix. Carrots, peas, and capers will all work more than well.
The dressing receives its fair share of tanginess mainly from the pickle juice, so make sure not to use only vinegar for the most delicious creaminess.
This is a great option for pasta salad lovers! This is a lovely side dish for chili.
Haven't tried skillet mac and cheese before? Then, please, let this recipe enlighten you!
Besides only dirtying up a single pot, the thing I love most about skillet mac and cheese is how rustic this dish feels.
No fancy steps, nothing too special. Just good old, make the sauce and toss the cooked pasta with it!
You can sprinkle some more cheese on top and pop the skillet in the oven for a final cheese-bubbling session, but the sauce is already packed with so much cheese that it's totally unnecessary.
For the ultimate depth of taste, use smoked gouda. If you cannot find any, feel free to use the regular kind, and simply add a dash of liquid smoke or some smoked paprika to the dish.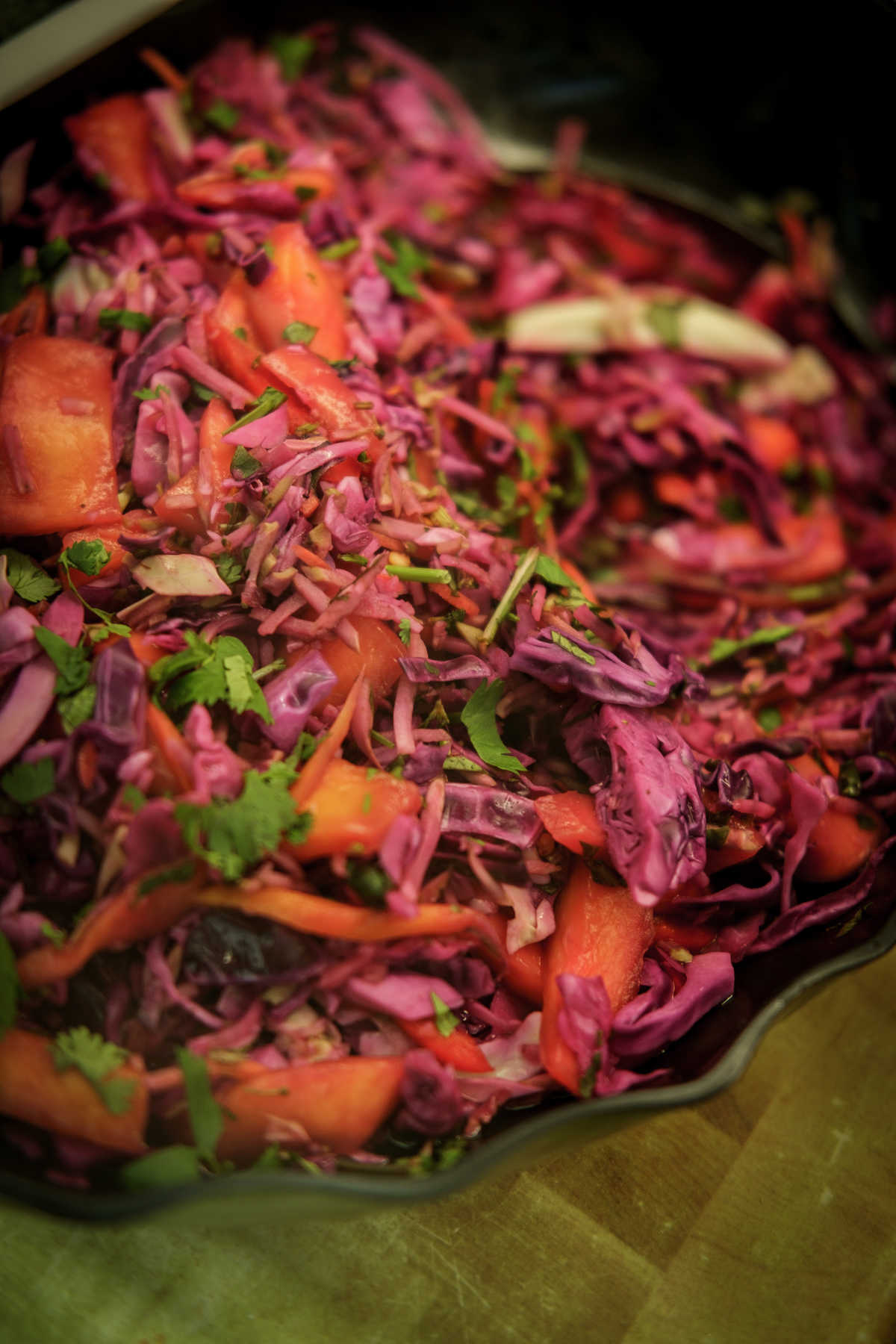 If you're always in the mood for experimenting with summer salads, then I've got a great recipe for you to try – an exotic coleslaw salad with mango.
Free of mayo, so instantly healthier, this light, fresh, and packed-in-flavor salad will be your go-to side (or lunch) for the most sizzling days of the year.
With simple olive oil and vinegar dressing (do we really need more?) these healthy and yummy ingredients come together beautifully.
The recipe uses pumpkin seeds for extra crunch and a fiber punch, but that's optional!
Perfect for picnics, BBQs, and cookouts, this super customizable and versatile macaroni salad is super fresh and easy to make.
Packed with beans, corn, olives, tomatoes, onions, and cheese, this lovely colorful bowl surely makes a great summertime side dish to serve alongside your hot dogs.
Smothered in a creamy dressing with salsa, mayo, and sour cream, this macaroni salad is as Mexican as it can possibly get.
Add a few dashes of Tabasco on top, to scratch the "hot touch" of your list, as well.
Since it is cowboy, you can already guess that the dish is loaded with beans. Or two kinds, to be more precise – black and kidney!
Along with corn, tomatoes, peppers, onions, and jalapeno, this colorful salsa-like crowdpleaser will transform any fast-food table.
Besides, it is packed with so much fiber and nutrients, that you can dig into this bright goodness without any guilt.
Whether you choose to serve it as a dip, relish, or even a full-blown lunch salad, one thing is sure – this cowboy caviar will curb your hunger and please your senses.
Elotes, mostly known as Mexican street corn, is the perfect pairing for BBQ-style dinners or backyard parties.
Grilled until slightly charred and then brushed with garlicky mayo and sour cream mixture, this corn is literally finger-licking.
The recipe tops the corn with Cotija cheese since it is the authentic Mexican choice and doesn't melt, but if you cannot get your hands on any, feta cheese will do just fine.
Serve with some lime to really seal this flavorful deal, and enjoy! Feel free to have this side dish with BBQ chicken.
27 Best Side Dishes for Hot Dogs for the Next Cookout
Serving hot dogs but don't know what to have on the side? Check out these delicious Side Dishes for Hot Dogs that taste awersome.
Ingredients
1. Apple Sweet Potato Bake
2. Air Fryer Chips
3. Air Fryer Baked Potato
4. Air Fryer Sweet Potato Fries
5. Slow Cooker Cheesy Potatoes
6. Accordion Hasselback Waffle Potatoes
7. Air Fryer Twice Baked Potato
8. Spicy Potato Chips
9. Southern Macaroni Salad
10. Air Fryer Onion Rings
11. Baked Beans with Bacon
12. Summer Slaw with Corn, Peaches and Tomatoes
13. Garlic Butter Brussels Sprouts
14. Oriental Coleslaw with Asian Dressing
15. Spinach Tomato Salad with Feta Cheese
16. Three Bean Salad
17. Mango Avocado Salad
18. Air Fryer Parsnip Fries
19. Chili Lime Black Bean Corn Farro Salad
20. Veggie Skewers
21. Watermelon Feta Basil Salad
22. Classic Macaroni Salad
23. Skillet Mac and Cheese
24. Tropical Mango Coleslaw
25. Mexican Macaroni Salad
26. Cowboy Caviar
27. Grilled Mexican Street Corn
Instructions
Scroll up to get a bunch of easy, yummy, and delicious side dishes. Don't be afraid to get creative with the ingredients, you might discover a flavor you didn't know you liked.
Get your shopping list going and make sure you've got all the ingredients.
Get cooking and make your next Side Dish for Hot Dogs!
Notes
Which one of these recipes was your favorite? Let me know in the comment section or on Pinterest!