Rustle up an exciting Irish menu for your St Patrick's Day celebrations! You can eat Irish-style all day with a full Irish breakfast, lunch, dinner, and dessert with these best Irish recipes.
There is more to Irish cuisine than corned beef, potatoes, and cabbage!
How about soda bread scones for breakfast, Irish nachos for lunch, Irish whiskey salmon for dinner, and Guinness chocolate cheesecake for dessert?
You will find many traditional Irish food recipes that feature Irish whiskey or Guinness stout – of course, they're a popular ingredient in Irish cooking!
However, many are kid-friendly, too, so you can satisfy your whole family.
What is Ireland's Most Famous Dish?
Ask yourself the food that comes to mind when you think of Ireland, and it's most likely Irish stew!
It's a staple dish for many families across Ireland, and it's easy to see why. It's affordable, hearty, comforting, and easy to make.
A simple dish of meat – usually lamb – and wholesome veggies. Potatoes, carrots, cabbage, and onions are common additions – all swimming in a flavorsome gravy sauce.
Find this dish and many more below in our round-up of the best Irish recipes!
Irish Breakfast Recipes
These are the best breakfast recipes to start your day the Irish way!
Source: veggiedesserts.com
Irish potato pancakes are traditionally known as boxty. They're soft on the inside and crisp on the outside!
Mashed potato and raw shredded potato form the majority of your pancake batter. Buttermilk and baking soda react to create a light and fluffy texture.
Fry spoonfuls of your batter until the pancakes are cooked through, crisp, and golden!
Source: smalltownwoman.com
These oatmeal biscuits are soft, sweet, and versatile! Try them with fresh fruit and yogurt for a healthy breakfast.
Oats are the star of the show here. Honey provides a natural sweetness alongside the caramel taste of brown sugar. Add a lightly spiced flavor with cinnamon and ground cloves.
Brush the top of your biscuits with melted butter and honey before baking until they're lightly golden!
Source: veggiedesserts.com
Soda farls differ from potato farls; however, they take on the same authentic triangle shape! Make this yeast-free bread version with baking soda and buttermilk.
Buttermilk adds a rich, tangy flavor to your farls and creates a tender center. It reacts with baking soda to produce fluffiness, too.
Serve your soda farls with butter, jam, honey, or even bacon!
Source: irishamericanmom.com
Use your Irish dinner leftovers to make this delicious corned beef hash topped with soft-cooked eggs!
Corned beef and diced potatoes are the stars of the show. Use sautéed onions, carrots, and cabbage for extra texture. Dried thyme and garlic powder add a delicious flavor.
When everything is warmed, crack some eggs on top, and cook until the eggs are how you like them!
Source: spoonforkbacon.com
Crunchy waffle fries are buried under creamy cheese sauce, crispy bacon, and golden eggs!
Layer your "nachos" with sautéed onions, bell peppers, cheese sauce, bacon, and fried eggs. Repeat this so you have two delicious layers!
Make your sauce with evaporated milk for a silky-smooth consistency. Shredded white cheddar is the best cheese to use. Add mustard powder and lemon juice for a kick!
Source: irishamericanmom.com
Crispy potato cakes make a delicious vessel for soft eggs poached with white vinegar.
Chopped red onion adds extra texture and flavor to your grated potato cakes. Other flavorings, such as garlic powder and dried herbs, work well, too. Fry your cakes until they're golden and crunchy!
Source: veggiedesserts.com
Potato farls are great for using leftover mashed potatoes!
Mix your mashed potatoes with butter and flour to form a buttery dough. Baking powder produces a fluffy center!
Fry your farls in a dry pan until they're golden. You can eat them as they are or fry them again with butter for a crispier texture!
This is one of the best potluck ideas for an Irish twist!
Source: christinascucina.com
Fluffy Irish soda bread scones are quick and easy for a tasty breakfast.
A handful of ingredients creates your scones. Flour is essential for the structure, and baking soda reacts with buttermilk for the soft center.
Try frying cooked scones in a skillet after you've cooked bacon. Delicious!
Irish Lunch Ideas
These traditional dishes are perfect for your lunch break to enjoy a main meal with Irish heritage!
Source: foxeslovelemons.com
Hearty and comforting potato and cabbage soup is inspired by traditional Irish colcannon.
Add leeks to your soup alongside potatoes and cabbage for a subtle onion flavor. Fresh thyme and bay leaf offer a fragrant herb taste, and lemon juice adds acidity.
Half and half helps deliver a silky, smooth texture to this traditional Irish dish. Garnish your delicious soup with pieces of crunchy, crumbled bacon and spring onions!
Use up any leftover cabbage with these great purple cabbage recipes!
Source: cookingchatfood.com
This comforting Irish soup is creamy, tasty, and packed with wholesome veggies.
The ideal veggies for your soup are leeks, carrots, and potatoes. Add an aromatic taste with yellow onion and minced garlic. Vegetable broth, dried rosemary, and parsley add flavor, too.
Sprinkle shredded Irish cheddar on your soup for a gooey melted topping!
Source: glutenfreehomestead.com
This is a fun Irish twist on traditional nachos. Potatoes, bacon, and cheese are a match made in heaven!
Thin slices of crispy potato act as nachos for this dish. Use cheddar, Colby, and mozzarella cheese for your nachos. This is the perfect combination for a creamy, melted layer!
Sprinkle pieces of crunchy bacon for the final layer, and garnish with sliced green onion! Serve your nachos with a tomato-sour cream dip.
Source: feastingnotfasting.com
These delicious, crispy fritters are perfect for using leftovers. Serve them with sweet and tangy honey and mustard sauce!
Finely chopped corned beef and grated potato are the primary ingredients for your fritters. Use yellow onion, salt, and pepper for extra flavor.
Cook your patties in a hot skillet until they're golden and crispy!
Source: plantpowercouple.com
Vegan Irish potatoes are bite-sized balls of creamy coconut goodness!
Combine vegan cream cheese, coconut oil, shredded coconut, and powdered sugar to create the balls. Vanilla extract elevates the coconut flavor.
Roll each ball in ground cinnamon to create the potato look!
Source: thetoastykitchen.com
Creamy Irish potato soup is hearty, comforting, and easy to make.
The most essential thing in your soup is the potatoes! Yellow onion and celery deliver an aromatic taste. Cook your veggies in vegetable broth for extra flavor.
Blend your soup and stir in full-fat milk for a silky smooth texture. Sprinkle with shredded cheese and crispy bacon!
Source: budgetdelicious.com
This chunky Irish chicken stew is flavorful, quick, and easy to make in your Instant Pot!
Ideal veggies for your traditional Irish stew are baby potatoes, carrots, and green cabbage. Onion powder, ground coriander, garlic powder, bay leaves, and thyme add flavor.
Caraway seeds and smoked bacon taste your stew to the next level! This is sure to become one of your favorite Irish recipes. Just make sure to pair it with some traditional Irish soda bread.
Source: christinascucina.com
This is a tasty twist on a classic Welsh rarebit. However, this version has a few differences. It has no beer and an extra ingredient to make it super delicious!
Your gooey topping combines Irish cheddar, milk, and butter. Add flavor with English mustard, white vinegar, and black pepper.
The secret ingredient in your rarebit topping is gherkins! Spread your delicious cheese mixture on four pieces of toast. Broil them until they're bubbling and golden brown!
Source: irishamericanmom.com
These Irish-style egg salad sandwiches are perfect for a quick family lunch!
Mashed, hard-boiled eggs are the star of the show. Mix them with chopped tomatoes, green onion, and soft butter lettuce. Bring everything together with creamy mayonnaise.
Spread your filling between slices of buttered sandwich bread, then cut into four triangles!
Source: cookingchatfood.com
Creamy Irish potato soup is the ultimate Irish comfort food!
Alongside potatoes, use green cabbage and carrots for your soup. Yellow onion and minced garlic are aromatic, while fresh sage offers a delicate herb taste.
Add Guinness to your cooking liquid for an authentic Irish depth of flavor! Blend your soup and garnish with crispy bacon, shredded cheddar, and sliced raw cabbage.
Irish Dinner Recipes
These wonderful Irish recipes are perfect for St Patrick's Day celebrations with friends and family!
Source: all-thats-jas.com
Hearty sausage stew with tender potatoes is commonly known in Irish cuisine as Dublin Coddle.
Smoked sausage works well for this dish; use bangers for an authentic Irish feel! Alongside potatoes, use sweet carrots for an extra-filling meal.
Smoked bacon adds a delicious depth of flavor to your stew. Yellow onion and garlic are aromatic. Garnish your stew with chopped parsley for a fresh, herb taste.
This is one of the best Sunday dinner ideas for families!
Source: threeolivesbranch.com
This is a classic Irish shepherd's pie recipe with a fun twist!
Use the traditional combination of yellow onion, carrots, and peas in your ground beef filling. Guinness beer and Worcestershire sauce add a delicious depth of flavor.
Add a deep layer of creamy mashed potatoes to the top of your Guinness shepherd's pie. Bake in the oven until the top starts to turn brown and crispy!
Source: cookingchatfood.com
Tender pieces of lamb and Irish vegetables make this hearty and comforting stew.
This stew is full of nutritious veggies. Potatoes, onions, carrots, leeks, and cabbage are perfect. Brown your lamb to lock in the flavor before adding it to your slow cooker.
Fresh rosemary and bay leaf add a subtle herb taste to your cooking stock. Garnish your wholesome stew with chopped mint leaves before serving.
Source: nourishedkitchen.com
A buttery homemade pie crust sits on a rich beef stew infused with Irish stout.
Slow-cook your pie filling for a meaty texture that melts in your mouth. Yellow onion and fresh thyme provide an aromatic base flavor.
Parsnips, carrots, and celeriac add sweetness to the savory taste of your pie. Irish Guinness (stout) delivers a delicious, rich depth of flavor.
Source: culinaryginger.com
Crunchy shamrock tortilla chips and Guinness give this chili con carne an Irish theme!
Ground beef and lamb produce the best taste for your chili. Tomato paste and puree deliver a rich tomato base. Garlic, mild chili powder, ground cumin, and chili flakes form the depth of flavor.
Add Guinness to your chili for an Irish touch! Make your tortilla chips with a shamrock cookie cutter and corn tortillas. Fry them until they're golden and crispy!
Source: askchefdennis.com
Tender salmon fillets are coated in an Irish whiskey marinade. They're wrapped in smoked salmon for an extra layer of delicious flavor!
Irish whiskey and honey are the stars of your marinade. Combine them with cider vinegar, thyme, Italian parsley, and lemon zest for a beautiful taste.
Wrap pieces of smoked salmon around your marinaded fillets before broiling to perfection!
Source: thecleaneatingcouple.com
Make corned beef and veggies in your slow cooker for an easy, delicious Irish meal!
Carrots, potatoes, and cabbage are perfect veggies to go with your corned beef. Celery, onions, garlic, and bay leaf provide an aromatic taste to your broth.
Add a bottle of light beer for an extra delicious depth of flavor!
Source: chezlalonde.com
These delicious Guinness braised short ribs have an incredible texture that melts in your mouth!
Your ribs' prep and cooking time is lengthy, but it's worth the wait! Use salt to dry brine your short ribs overnight before cooking them.
Minced garlic, yellow onion, carrot, shallot, and celery form the base for your sauce. Guinness adds an authentic Irish taste and a rich depth of flavor! Liquid smoke takes your ribs to the next level!
Source: recipezazz.com
Moist pork chops are smothered in a rich Guinness and onion gravy with a mouthwatering taste.
Season your pork with simple salt and pepper. Your gravy will impart flavor while your chops bake in it!
Make your simmering gravy with sautéed onions, Guinness, and chicken stock. When your pork is cooked and tender, stir in whole-grain mustard, fresh parsley, and balsamic vinegar.
Source: strengthandsunshine.com
Hearty lentil shepherd's pie is veggie-friendly, wholesome, and tasty.
This recipe has shortcuts for easy prep, but they're still healthy and nutritious. Use tender canned lentils to save on time. Canned or frozen mixed veg with carrots, peas, and corn is perfect, too.
Create a rich tomato base with canned tomato sauce, paste, and coconut aminos. Add flavor with black pepper, rosemary, dried thyme, and garlic powder.
Use leftover mashed potato for the topping to save prep time and effort, too! Bake your shepherd's pie until it turns crisp and golden brown.
Source: wholelottayum.com
Give classic bangers and mash a tasty Irish twist with caramelized onion & Guinness gravy!
Irish bangers are the best sausages for an authentic Irish feel. However, bratwurst is an excellent alternative.
Make your rich onion-stout gravy with beef broth, Guinness stout, and Worcestershire sauce. Simmer your sausages in the gravy while it reduces to a silky consistency.
Serve your bangers and gravy over a bed of creamy mashed potato!
Irish Dessert Recipes
Finish your meal the Irish way with one of these delicious desserts!
Source: akitchenhoorsadventures.com
This is a slightly sweet bread-like cake encasing chunks of sweet apple. Serve it with a caramel sauce drizzle or a spoonful of whipped cream!
Essential ingredients make the batter for your cake. Buttermilk and baking soda react to create a fluffy center. Fragrant cinnamon, cloves, ginger, and nutmeg go perfectly with apples.
Source: culinaryginger.com
Serve these individual desserts to the adults at your St Patrick's Day celebration! They're a delicious combination of coffee ice cream and Irish liqueur.
Blend your ice cream and liqueur and pour the tasty mixture into shot glasses. Pipe whipped cream on the top and sprinkle with chocolate shavings!
Source: baking-sense.com
Irish whiskey is the star of this moist cake. The delicious glaze infuses the cake so that you can taste whiskey throughout!
The lemon zest and honey in your cake go well with the whiskey. It's like drinking a hot toddy to treat a cold!
Make your sweet glaze with Irish whiskey, sugar, honey, and butter. Brush it on your cake repeatedly after it's soaked for maximum whiskey flavor!
Source: somethingsweetsomethingsavoury.com
This traditional Irish fruit cake is infused with tea and whiskey for a moist, delicious center.
Soak dried fruit in cold tea and Irish whiskey overnight to infuse flavor and moisture. Raisins, sultanas, and glacé cherries are ideal. Light brown sugar also offers a moist texture and rich taste.
Ground mixed spice adds a beautiful taste that goes well with dried fruit. Brush your slightly warm cake with marmalade for a zesty coating.
Source: whereismyspoon.co
This slightly sweet Irish soda bread is packed with dried fruit in its soft, fluffy center.
Raisins and cranberries offer a chewy texture to your soda bread. Buttermilk and baking soda react to create the fluffy center. Orange zest and juice deliver a hint of zesty flavor.
Honey adds just the right amount of sweetness to your bread. Although they're essential, caraway seeds provide an incredible depth of flavor!
Source: artofnaturalliving.com
This delicious Irish coffee crème brûlée is easier to make than it looks!
Heavy cream, sugar, and egg yolks produce your basic crème brûlée mixture. Vanilla adds a beautiful depth of flavor.
Strong brewed coffee and Irish whiskey deliver a tasty Irish twist to your dessert! Sprinkle brown sugar on your cooked crème brûlée and broil until it's brown and crunchy!
Out of cream? You need to know these best heavy cream substitutes to save the day!
Source: addictedtodates.com
This delicious Irish-inspired cheesecake is chocolaty, creamy, and vegan-friendly!
Vegan bourbon cookies and butter make your crumbly base. Irish Guinness enhances the chocolate taste of your cheesecake. Reduce it before adding to the mixture for a more intense flavor.
Use silken tofu for the firm yet soft structure of your filling. Combine with cream cheese and melted chocolate for a beautiful consistency!
Source: bakeitwithlove.com
Light and fluffy Irish oatmeal cake has a beautiful spiced flavor and a creamy caramel frosting!
Old-fashioned oats deliver a wonderful chewy texture to the center of your cake. Ground cinnamon and nutmeg impart a delicious depth of flavor.
Make your pecan caramel frosting with condensed milk, light brown sugar, and vanilla extract. Stir in crushed pecans before spreading all over your cake!
Source: thetoastykitchen.com
This moist, buttery Irish tea cake gets its name as it's perfect for serving with a cup of tea.
You don't need anything special for this cake. You probably have everything you need in your pantry if you're a baker! Flour, butter, sugar, and eggs are your primary ingredients.
The cake is lightly sweetened so that it won't overpower the taste of your tea. Dust the top of your cake with powdered sugar right before serving.
Source: cookingwithnanaling.com
Apple Amber is like a sweet lemon meringue pie but made with golden stewed apples instead.
Your apple amber filling includes apples, lemon juice, and zest for a sweet, sharp flavor. Combine with sugar, butter, and egg yolk for a rich taste.
Cook your filling in a pre-cooked pastry case until it's firm and cooked throughout. Spoon smooth, glossy meringue onto your pie and bake until lightly browned and crisp!
You'll want to know these leftover egg yolk recipes as well!
Source: thegraciouspantry.com
Irish Goody is an excellent way to use bread before it goes stale. It's a mixture of bread, milk, spices, and sweetener baked with an oatmeal-like texture.
Whole-grain bread makes it feel like a healthier dessert! Use honey as a natural sweetener. Cinnamon and pumpkin pie spice flavor the goody perfectly.
The recipe for this dessert is effortless. Add your ingredients to a pot, bring the milk to a boil, and cook until it resembles oatmeal.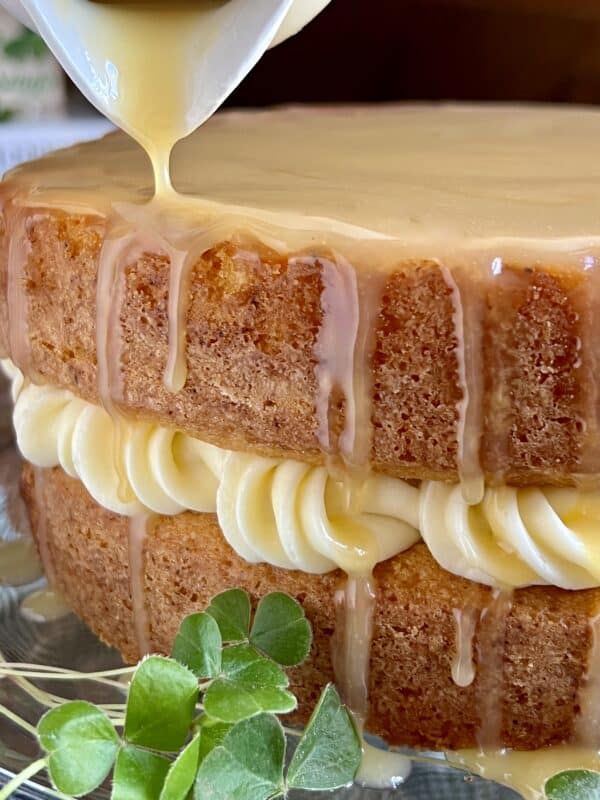 Source: christinascucina.com
Infuse a taste of Ireland into this moist cake with the delicious whiskey buttercream and glaze!
A little whiskey accompanies your simple cake batter with eggs, flour, butter, and sugar. However, the taste comes through more in the buttercream and glaze.
Make your smooth buttercream with butter, powdered sugar, and whiskey. Use butter, heavy cream, sugar, and whiskey for your silky-smooth glaze.
Fill your cake with the buttercream and drizzle the glaze all over the top. It should be the right consistency to drizzle down the sides for an extra wow factor!
41 Best Irish Recipes
Here are the best Irish recipes to make at home. Get a taste of Ireland though these traditional dishes.
Ingredients
1. Irish Potato Pancakes
2. Oatmeal Biscuits
3. Soda Farls
4. Leftover Corned Beef Hash
5. Irish Breakfast Nachos
6. Poached Eggs on Grated Potato Cakes
7. Potato Farls
8. Irish Soda Bread Scones
9. Colcannon Soup
10. Irish Vegetable Soup
11. Irish Nachos
12. Corned Beef Fritters
13. Vegan Irish Potatoes
14. Irish Potato Soup
15. Instant Pot Chicken Stew
16. Irish Rarebit
17. Egg Salad Sandwiches Irish Style
18. Irish Potato Soup with Bacon and Cabbage
19. Sausage Stew with Potatoes
20. Guinness Shepherd's Pie
21. Slow Cooker Irish Lamb Stew
22. Beef and Stout Pie
23. Luck of the Irish Chili Con Carne
24. Irish Whiskey Salmon
25. Slow Cooker Corned Beef
26. Guinness Braised Short Ribs
27. Pork Chops with Guinness and Onion Gravy
28. Lentil Shepherd's Pie
29. Irish Bangers and Mash
30. Irish Apple Cake
31. Irish Coffee Milkshake Shooters
32. Irish Whiskey Cake
33. Irish Barmbrack
34. Sweet Irish Soda Bread
35. Irish Coffee Creme Brulee
36. Guinness Chocolate Cheesecake
37. Old Fashioned Irish Oatmeal Cake with Caramel Pecan Frosting
38. Irish Tea Cake
39. Apple Amber
40. Irish Goody
41. Irish Whiskey Cake
Instructions
Scroll up to get a bunch of easy, yummy, and delicious Irish recipes. Don't be afraid to get creative with the ingredients, you might discover a flavor you didn't know you liked.
Get your shopping list going and make sure you've got all the ingredients.
Get cooking and make your next Irish Recipe!
Notes
Which one of these recipes was your favorite? Let me know in the comment section or on Pinterest!