Bring intense color and flavor to your dishes without breaking the budget, thanks to these tasty purple cabbage recipes.
Purple cabbage is one of those vegetables that you can use in just about anything.
Some of the favorite ways to enjoy it are raw, stir-fried, boiled, roasted, pickled, or even fermented.
With a long shelf-life and plenty of antioxidants to contribute to your immune system's health, this vegetable has no downside.
Happily, many countries worldwide discovered how great purple cabbage is a long time ago and have now incorporated it into many of their recipes in the best way.
With a gorgeous, vibrant color, a ton of health benefits, and oodles of texture, is it any wonder that there are so many recipes using purple cabbage out there?
Today, we're touring thirty-one ways to incorporate more of this super vegetable into your diet.
What Can Purple Cabbage Be Used For?
From raw salads to saucy stir-fries, there are so many ways to use purple cabbage in delicious recipes.
One of the most well-known ways is to ferment or pickle it, which is a practice you'll find in both Germany and Korea.
This process creates sauerkraut and kimchi, respectively. With the natural hardiness of the vegetable, as well as its ability to absorb flavor, cabbage is the ideal vegetable to ferment.
But there are so many other ways to use it! Add crunch to your meal with a side of sliced red cabbage, roast it along with some hardy root vegetables, or even braise it to serve as your main dish.
With something this versatile and nutritious, you really can't go wrong.
What Does Red Cabbage Go Well With?
Red cabbage is another name for purple cabbage, and there are quite a few popular combinations that bring out the best of this versatile vegetable to wow your taste buds.
Floral or fruity ingredients like apples and citrus fruits help to balance the richness of red cabbage, while nuts, herbs, and spices encourage that earthiness to shine.
Richer ingredients like pork or cheese bring out the natural umami in red cabbage, while vinegars, sesame oils, and aromatics like ginger are great for bringing out its acidity.
Best Purple Cabbage Recipes
Source: dishnthekitchen.com
Also known as rotkohl, this braised German red cabbage is proof that a low and slow cooking method can transform anything into perfection. In Germany, this is enjoyed as a condiment.
The rich flavor and acidity help cut through the heavy meats and cheeses that are common in German cuisine. This is a great thing to keep in your fridge to add a little interest to any meal.
Source: temeculablogs.com
Next up is a classic: roasted red cabbage. This is literally one of the easiest recipes on this list, perfect for a main course, requiring only a few ingredients to come to life.
But how do you enjoy cabbage steaks?
These are tender, crispy, and full of flavor! They're a great vegetarian substitute where you'd usually expect a steak, but also a great way to add some bulk to a salad.
This recipe would also work with green cabbage and some balsamic vinegar.
Source: jawnsicooked.com
Spaetzle is a classic German dish that almost resembles a Polish dumpling but is even smaller!
Usually, you'll find it served with a side of red cabbage and – if you're lucky – bacon. In this case, we're lucky.
This is a rich, comforting dish with all the creature comforts of a warm evening spent on the couch.
The cabbage and red onion bring up the acidity, while the heavy protein helps to balance it all out. Store your leftovers in an airtight container and enjoy delicious meals all week long.
Check out these other flavorful and authentic German recipes!
Source: thetopmeal.com
Our next recipe comes to us from Turkey! This is a super simple Turkish purple cabbage salad that you're likely to find in any Turkish restaurant, kebab stop, or Turkish home.
The simple recipe for an acidic side salad is the perfect thing to add some acidity and crunch to a sauce-heavy meal at the dinner table, especially if there's some flatbread in the mix.
It's also so easy to make ahead and keep in your fridge for an easy side dish!
Source: pitchforkfoodie.com
Take pages out of a few different cookbooks with this Chinese and Japanese fusion salad. Packed with a ton of fresh elements, this salad is a super crunchy, sweet, nutty adventure.
This would be a wonderful meal prep recipe for work lunches, but it's also an ideal side salad for heavier meals!
While it is influenced by Chinese and Japanese flavors, it's super versatile and suitable no matter what your meal is.
Source: nourishedbynic.com
Speaking of delicious Asian-inspired salads, here's another one to test your mettle against! This is a Thai chopped salad packed with all the great colors, flavors, and textures you could ask for.
Once again, this is one of the best red cabbage salad recipes to reach for when you need something quick, easy, and healthy eating to meal prep.
Customize this great dish with tons of veggies and delicious flavors to suit whatever you have available at home.
This fresh Thai salad would be one of the best pool party foods for a hot day!
Source: mypocketkitchen.com
Braising your cabbage is a surefire way to introduce a ton of fresh flavor into it in a short amount of time. Case in point, this delicious recipe, and perfect side dish.
Onions and apples play both ends of the sweet and savory flavors spectrum in this aromatic dish.
The floral apple notes and a light touch of savory from the onions create the perfect balance for the cabbage.
Source: healthyambitions.co
How often do the takeout cravings strike you? If you're hankering for a bite from your favorite Chinese fast-food place, don't give in! Save yourself some cash with this healthy egg roll in a bowl.
This is a super versatile recipe you can tweak to suit your exact tastes. It also happens to be keto-friendly, meaning it's low in carbs and super high in protein.
Source: greenbowl2soul.com
Cabbage soup has a really bad reputation for being stinky or unappetizing, but that reputation isn't deserved!
The truth is red cabbage soup can be wonderfully tasty and full of nutrients if you prepare it right.
This purple cabbage soup looks incredible. The vibrant purple stands out on the table, and the slightly sweet, slightly earthy taste of the soup is out of this world.
Plus, you only need forty minutes to make it!
Source: simplyscrumptiouseats.com
Gear up for a busy day at work or school with this super simple, super tasty Asian chopped chicken salad wrap. This lunch is packed with nutrients, fiber, and vitamins to get you through a tough day.
Best of all, it's quick and easy to prepare in the mornings. You can even whip these up ahead of time, creating the wrap mixture separately and assembling your wraps at work. Easy!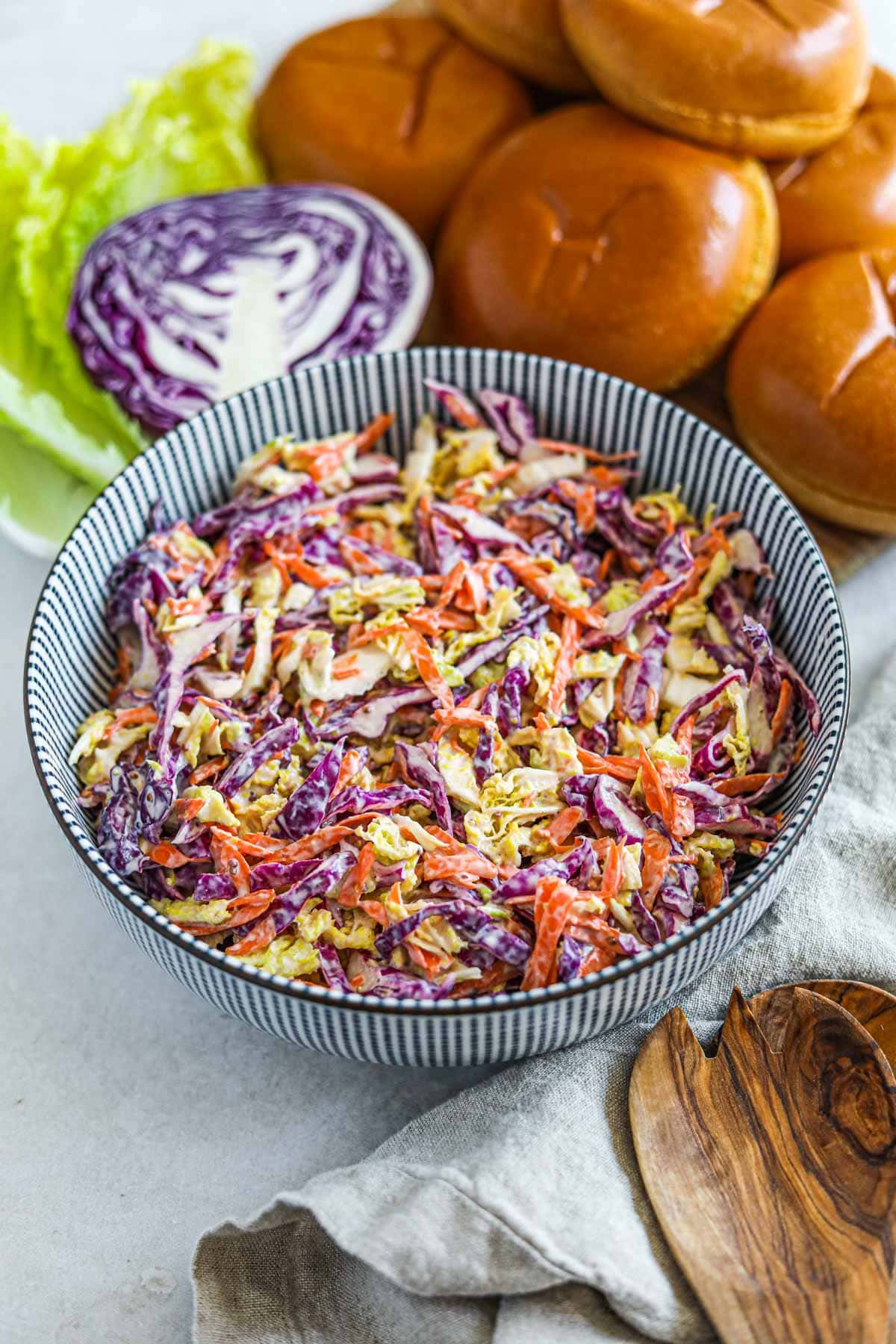 Source: theheirloompantry.co
Coleslaw is one of the most well-recognized ways to use purple cabbage. It's the perfect way to celebrate cabbage's crunchiness and natural earthiness alongside carrots and a tangy dressing.
However, most coleslaws use an excess of mayonnaise that can obscure all those tasty natural flavors. Well, not this one! This Greek yogurt coleslaw is light and refreshing. Perfect for summer.
Check out these other delicious Greek foods!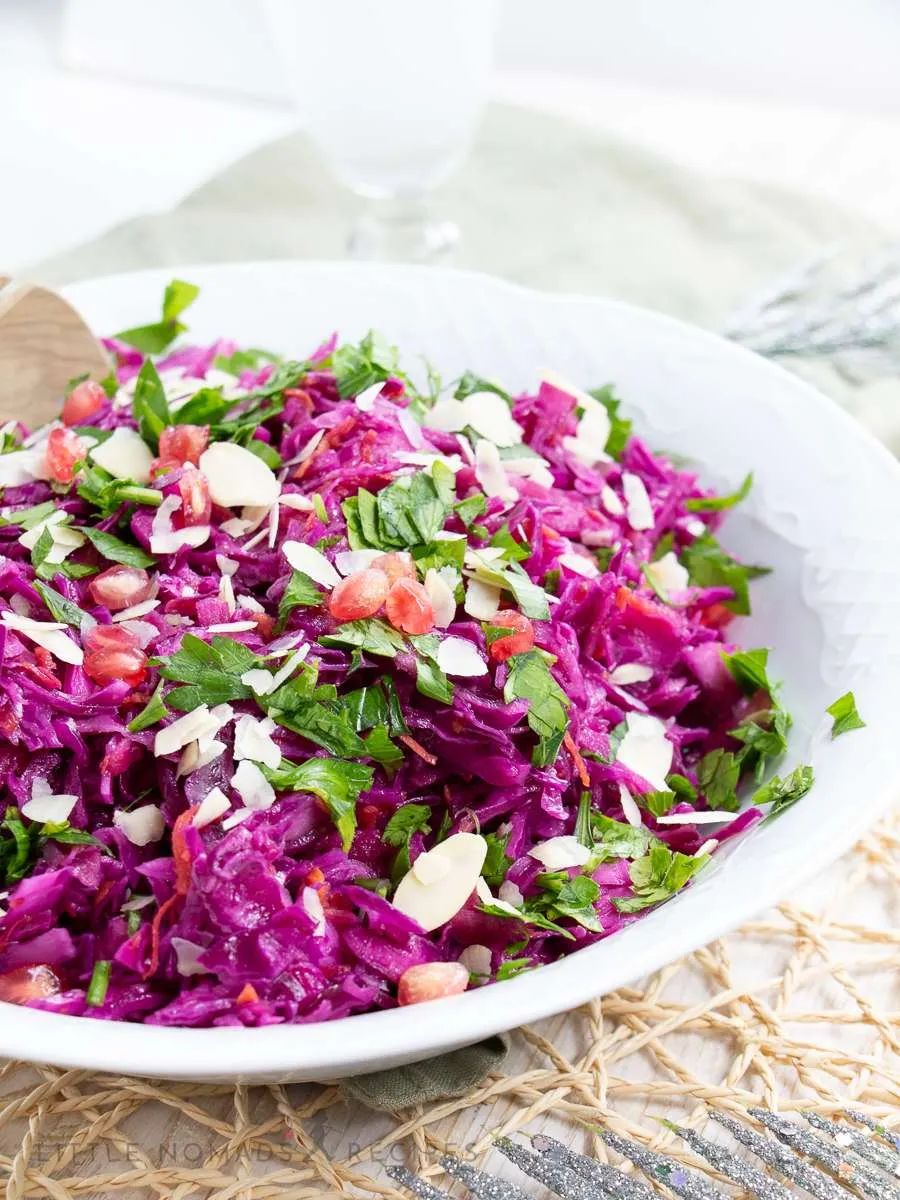 Source: littlenomadsrecipes.com
Speaking of great coleslaw recipes, here's another one to get the wheels turning. This cranberry and apply coleslaw adds a kick of sweetness and extra crunch to an already delicious coleslaw.
The result is a summery, satisfying slaw that would be perfectly at home on the table at your next potluck. Try whipping the slaw up – sans apple – a day before to let those flavors soak in.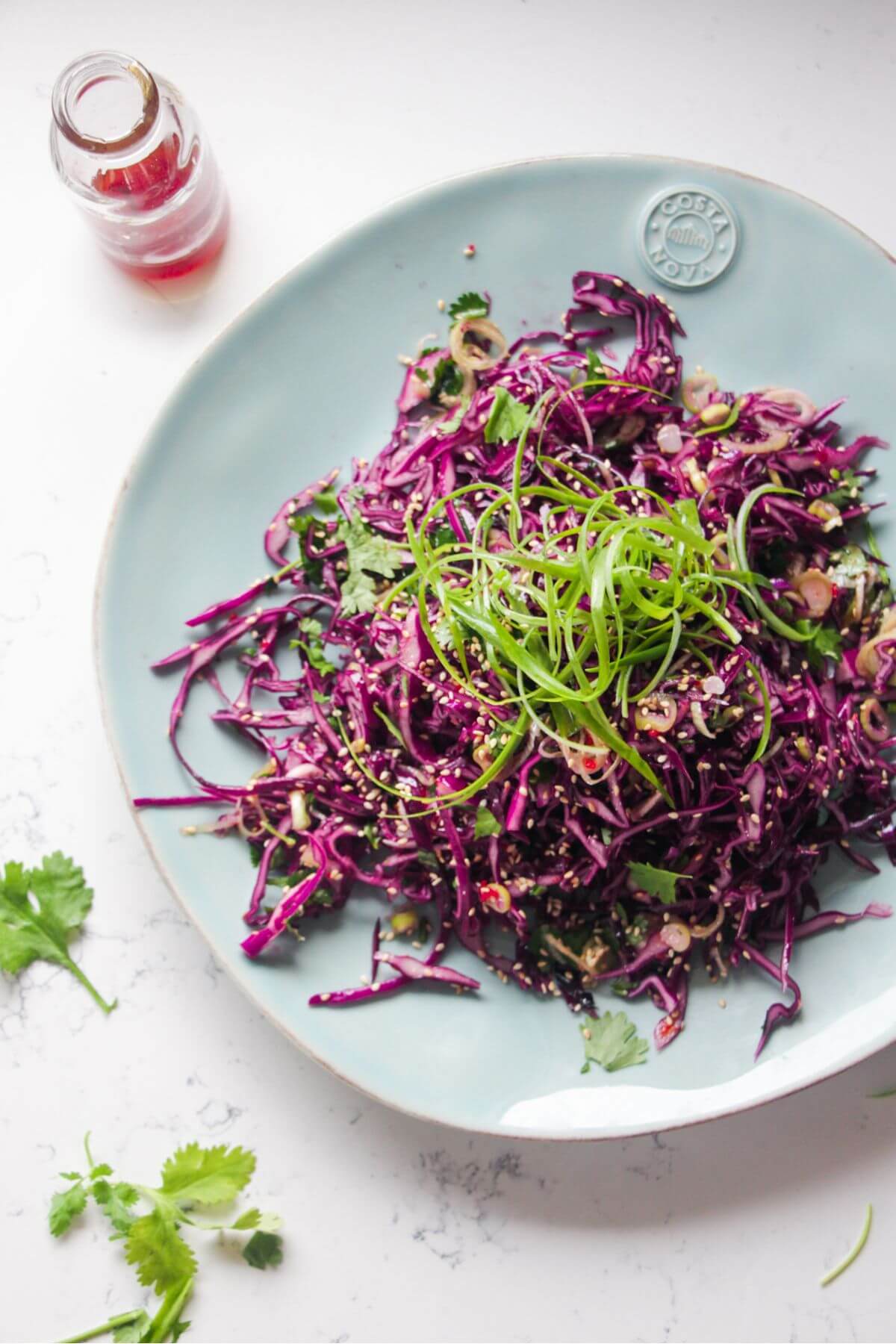 Source: dishedbykate.com
Need a quick side salad for your favorite Asian dish? This crunchy red cabbage salad will do the trick! The dressing is the real hero of this salad, featuring sweet chili jam and plenty of sesame oil.
This salad comes together in ten minutes, so it makes a wonderful side dish. Include it with wraps next to noodle soups, or even use it for your meal preparation to add a fresh element to your lunch.
Source: recipemash.com
In Baja, California, they really know how to make great fish tacos. If you're a lover of both seafood and Mexican cuisine, then that's really all you need to know to make this recipe a must-try.
Crispy, flaky fish and a fresh, crunchy salad on top really make these tacos sing. Be generous with the avocado crema to keep things light and summery. These are surprisingly filling!
These authentic Mexican bread recipes would pair nicely with your tacos!
Source: canadiancookingadventures.com
Keep your side dishes simple by relying on a classic: sauteed cabbage. If your purple cabbage is coming to the end of its life in your fridge and you need to use it quickly, this is the way to do it.
Sautéing the cabbage brings out its natural sugars, helping to sweeten the pot just enough to make this addictive.
The crunch, flavor, and color of this side dish make it an unforgettable addition to the roster.
Source: prepareandnourish.com
This recipe takes a week to make, but it's definitely worth the wait. Cabbage and sauerkraut are often heard in the same breath, thanks to Germany popularizing this tart vegetable condiment.
Paired with a sharp mustard and some cheese, this sauerkraut can make pretty much anything addictive.
Considering how easy it is to make, it's a no-brainer to have some in your fridge at all times!
Source: theveganatlas.com
Give your kale salad a new lease on life by whacking it in a pan with some sesame oil and a little bit of purple cabbage.
The cabbage imparts some of its crunch, while the sesame brings out the earthiness. Combined, this is a great side salad or a hefty base perfect for a more substantial green salad!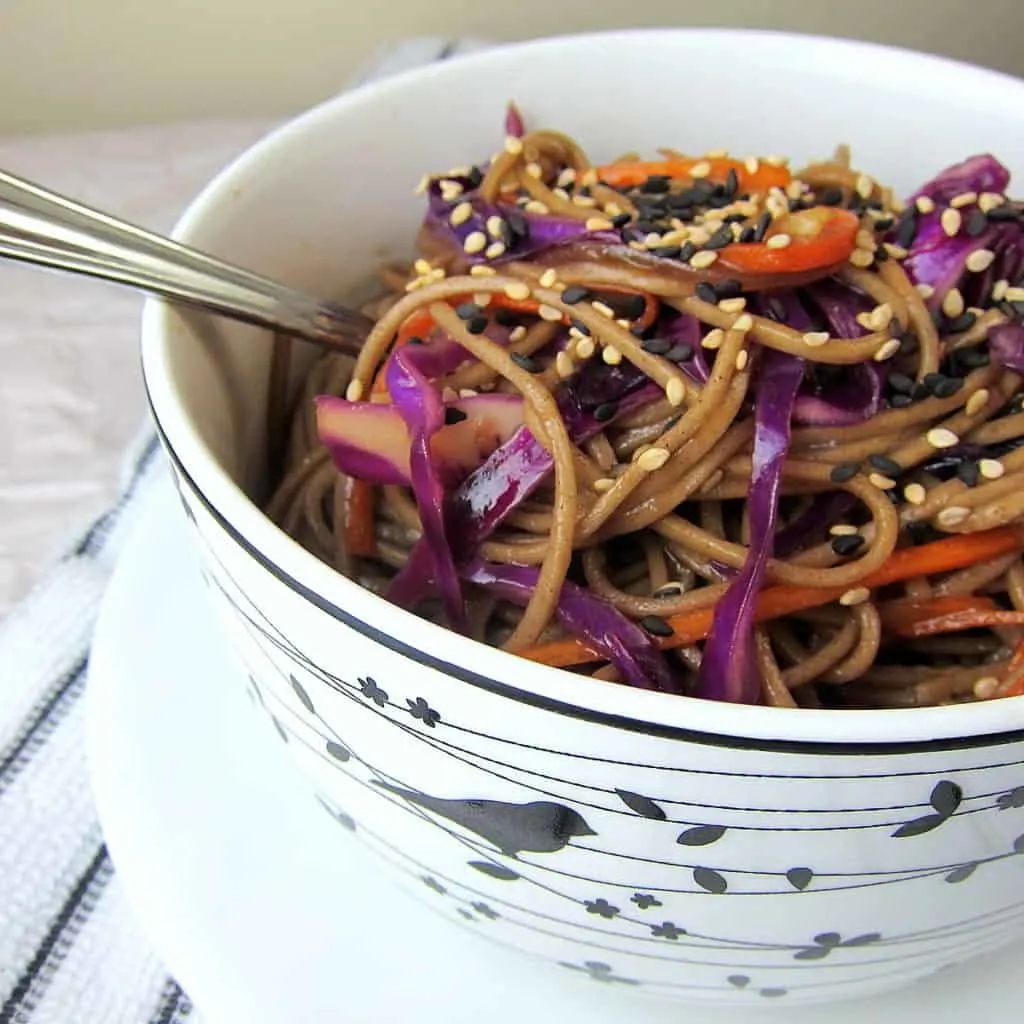 Source: babaganosh.org
Cap off a busy day with a simple, nutritious meal thanks to our next recipe! This is the perfect recipe for a hectic evening, only taking twenty-five minutes to come to life from start to finish.
The red cabbage, carrot, and sesame speckled between the chewy soba noodles are the perfect way to add some nutritious crunch. They also add color, so your kids will be more likely to enjoy a bite!
Source: thestingyvegan.com
There are a lot of Asian cabbage salads out there, but they tend to be a little too light to hold their own as a main meal. With this recipe, that isn't a concern.
Bright, colorful, and filling, this is a great lunch. The spicy peanut dressing, crunchy cashews, and fluffy quinoa all help to bolster this salad's nutritional value while making it extra tasty.
The array of textures, colors, and tastes makes this dish one of my favorites on the list!
Source: babaganosh.org
Whip up dinner in just fifteen minutes – yeah, you read that right! – thanks to this amazing recipe. Trou cooks super quickly and carries spice well, so this is a great way to pair it with some bold tastes.
The red cabbage and fresh salsa on top of the tacos help pull them back from the edge of 'too much'. This is an ideal summer dish for camping, especially with a squeeze of lime to finish it off.
Source: thermo.kitchen
If you have a trust Thermomix chopper, you can whip up this coleslaw in as little as fifteen minutes. If you need to chop everything by hand, don't worry, it won't take too much longer than that.
This is a quick and easy coleslaw with a light dressing, perfect for summer BBQ lunches with friends. Whip this up the day beforehand and let the flavors mellow before digging in.
This coleslaw is one of the must-have best potluck recipes!
Source: greenbowl2soul.com
Thai dishes are known for their fragrance. They use ingredients like ginger, lemongrass, fish sauce, and a ton of other aromatics to deliver a powerful punch to the senses.
So, it makes sense that the same would be true for even a simple cabbage salad! This is a vibrant side salad that might just steal the show from your main dish with its addictive flavors.
Source: twokooksinthekitchen.com
Crank up the flavor on a basic cabbage slaw by grilling the cabbage first! Grilling the cabbage adds a delightful smokiness, all while bringing out the natural sugars hiding in the purple cabbage.
The result is a still-crunchy but extra smoky, extra sweet, extra delicious cabbage slaw that everyone will be dying to dig into (yourself included!). The best part? It takes just twenty minutes to make.
Source: simplyscrumptiouseats.com
Jamaica is known for a lot of wonderful things, but the most notable dish from the region has to be jerk chicken. Spicy, bold, and in-your-face, jerk chicken is the star of any dish it features in.
The red cabbage in these jerk chicken tacos simply elevates the chicken. It provides a light and refreshing contrast, helping emphasize how tender the chicken is with its crunch.
Source: nutmegandvinegar.com
While braising is technically a 'low and slow' technique, you can get a lot of the same flavors you'd be pursuing in an hours-long cook in just half an hour with some clever tricks.
This braised cabbage recipe delivers the great taste of braised cabbage that's been braised for hours. However, the cabbage itself is still a little bit crunchy, which is a great way to enjoy it!
Source: dinneratthezoo.com
Cabbage and sesame go together like two peas in a pod. The earthy nuttiness of the sesame is a perfect complement to the same flavors in the cabbage, helping the salad feel grounded.
The bell peppers strewn throughout the salad add plenty of refreshing sweetness, so this is a very balanced salad overall! This is a make-ahead-friendly potluck dish you can be proud to serve.
Source: thefoodblog.net
If you want the taste of sauerkraut, but you don't have a week to wait for it, this quick pickled red cabbage recipe might be able to help! In just an hour and fifteen minutes, you can get pretty close.
The vinegars, sugars, and spices included in the pickling liquid help bring out all that natural acidity in the cabbage. It also softens it, adding to that 'fermented' feel.
This is great to keep in the fridge as a condiment.
Source: nordicrecipebox.com
Next up, we have a recipe that embodies the fusion of two unexpected cuisines: Asian and Nordic. This is a mutton and cabbage stew, but a handful of Asian aromatics help transform it.
While it keeps its natural heartiness, the handful of ginger, garlic, red cabbage, and soy sauce help lighten the stew. This makes it a great choice all year round rather than just in winter.
Source: glitterandgraze.com
Kick your dinner party off with a bang, thanks to these delicious cabbage steaks! These are coated in an addictive balsamic dressing.
The acid in the dressing creates a contrast with the cabbage, making it feel sweeter and more refreshing. This is a great way to wake up the palate ahead of a dinner party.
Source: dinneratthezoo.com
No vegan Buddha bowl would be complete without some fresh purple cabbage!
This essential crunchy element helps balance all the cooked elements of the bowl, pulling it firmly back into 'summery'.
If you want to go the extra mile, try lightly pickling your red cabbage. The acid will be an even better balance for roast chickpeas, hummus, and roasted sweet potatoes (not to mention the quinoa).
Source: prepareandnourish.com
Finally, we're capping off our list with a recipe that appreciates cabbage in one of its best forms: roasted. This is a super easy side or appetizer that comes together in just half an hour.
Brushed with a generous amount of garlic, these steaks are tender, earthy, and packed with great taste.
31 Best Purple Cabbage Recipes You Need To Try
Delve into a vibrant world of culinary exploration with our unique purple cabbage recipes. Enjoy these yummy meals!
Ingredients
1. Braised German Cabbage
2. Oven Roasted Cabbage Steaks
3. Spaetzle with Cabbage and Bacon
4. Turkish Cabbage Salad
5. Chinese Cabbage Salad with Ramen Noodles
6. Thai Chopped Salad
7. Braised Cabbage with Onions and Apple
8. Egg Roll in a Bowl
9. Cabbage Soup
10. Asian Chopped Chicken Salad Wrap
11. Healthy Greek Yogurt Coleslaw
12. Cranberry Apple Coleslaw
13. Crunchy Asian Salad with Sweet Chilli Dressing
14. Baja Style Fish Tacos
15. Sauteed Cabbage
16. Cabbage Sauerkraut
17. Sesame Stir-Fried Kale and Cabbage
18. Crunchy Soba Noodle and Cabbage Stir Fry
19. Asian Cabbage Salad
20. Trout Tacos with Mango Salsa
21. Thermomix Coleslaw
22. Thai Cabbage Salad
23. Grilled Cabbage Slaw
24. Jerk Chicken Tacos
25. Braised Cabbage
26. Asian Slaw with Sesame Dressing
27. Pickled Cabbage
28. Mutton and Cabbage Stew
29. Cabbage Steaks with Balsamic Dressing
30. Buddha Bowls with Sweet Potatoes
31. Roasted Cabbage Steaks with Garlic
Instructions
Scroll up to get a bunch of easy, yummy, and delicious recipes. Don't be afraid to get creative with the ingredients, you might discover a flavor you didn't know you liked.
Get your shopping list going and make sure you've got all the ingredients.
Get cooking and make your next Purple Cabbage Recipe!
Notes
Which one of these recipes was your favorite? Let me know in the comment section or on Pinterest!