Love Indian food? You can enjoy more Indian cuisine in your home when you prepare any of these rich and flavorful Indian recipes.
Bring Indian food to your dinner table with these fifty-seven amazing recipes for Indian meals. Each one offers a new and exciting flavor to enjoy!
Cooking Indian food recipes can feel scary. Especially if you've never done it! But each of these easy Indian recipes guides you through the steps to create something great.
What is a Typical Indian Dinner?
"typical" Indian dinners don't really exist. There are many states in India. Each one has its kind of Indian cooking. For example, South India has a lot of rice-based dishes.
North India has more curries with gravy and creamy sauces. They also use a lot of butter and meat as the main ingredient.
One interesting thing is that a majority of people in India are vegetarian. So many of their meals use grains, lentils, and legumes to add protein to their meals. Each state is unique in how they use them!
What Are Popular Indian Dishes?
Once again, it depends on whom you ask! Outside of India, the most popular dishes are standard curries. Think butter chicken or lamb vindaloo.
But within Indian homes, that answer changes. You might get a different answer based on where you are. For example, in Gujarat (a state), dhokla is a trendy dish. But it isn't elsewhere!
Indian Breakfast Recipes
Indian breakfast is quite different from what you might be used to. Many dishes use fermented basmati rice, dairy, or bread. These four recipes are a great place to start.
Source: simplystacie.net
Also called bhurji, these Indian scrambled eggs are a great way to start your day. They're packed with plenty of flavors. You won't need your coffee after you inhale all these aromatic spices!
I love how simple this breakfast recipe is. It's perfect for serving many people since you can make a big batch in one pan. Serve on bread or little dinner rolls for an authentic touch.
Source: acedarspoon.com
Mango lassi is like an upgraded smoothie. Kickstart your day with a burst of fresh mango flavor and bright colors. Every sip is smoother and creamier than the last one.
Add a sprinkle of cardamon for a tasty kick of spice in this authentic recipe. It picks up the earthiness in the mango! This is great for making ahead of time. Serve at brunch or even take it to a picnic!
Source: joyfilledeats.com
This chai-inspired latte uses an array of tasty Indian spices. Every sip is warm and comforting. It's a great option to replace your standard cup of coffee in the morning.
If you whip this out at brunch, you'll impress your friends. Use freshly ground spices for an even better result.
Source: ditchthecarbs.com
Being keto shouldn't mean that you miss out on roti! This coconut flour roti uses some trickery to make sure you can enjoy the roti along with the rest of the table.
This isn't meant to be eaten by itself for breakfast. Serve with a bowl of dal or a cup of chai for a morning pick-me-up. It will keep you going until lunch with no issues!
Indian Lunch Recipes
Are you searching for a bold and yummy lunch dish with a little heat? These best Indian recipes will serve you well! Each one is light enough to enjoy in the middle of the day. But they're filling enough to keep you satisfied.
Source: thefieryvegetarian.com
The first of our lunch recipes is a spicy tomato soup. In India, you might find this under the name "tamatar ka shorba." It's a hearty yet light soup meant to be eaten as an appetizer or main.
The best part about this soup is that it comes together in just fifteen minutes! Have lunch on the table for the whole family in no time. You'll also have some leftovers to spare.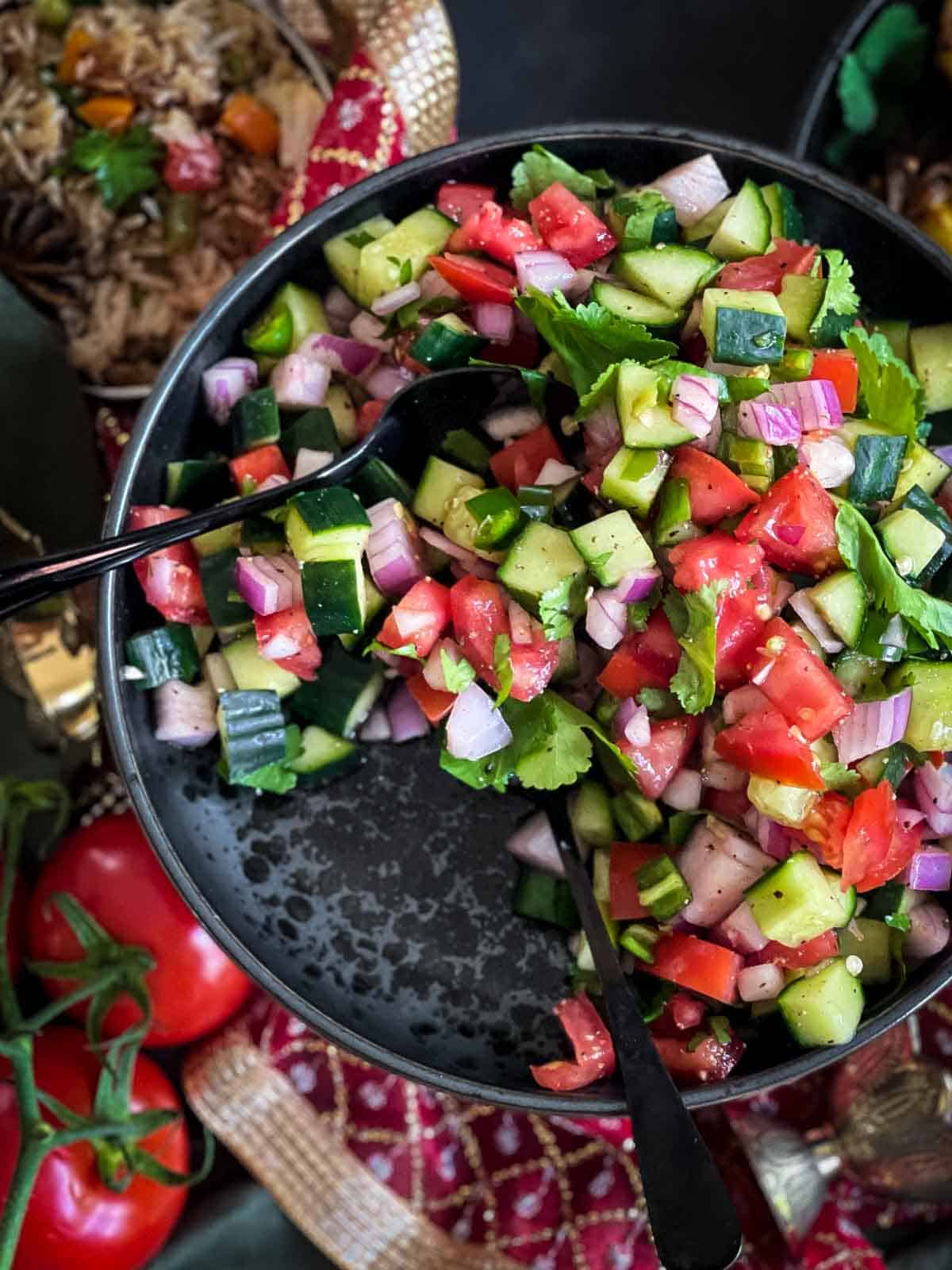 Source: thedevilwearssalad.com
Kachumber – "salad" – is a chopped salad dish made all over India. It's super fresh and great for cooling the palate after some spicy dishes. It's super delicious, thanks to all the coriander.
This is a salad to die for. It's packed with crispy fresh vegetables and herbs. You can make this ahead of time and let it sit in the fridge. Serve on a hot summer day for a cooling lunchtime treat.
Source: smalltownwoman.com
Use naan bread instead of a pizza crust if you want an Indian twist on an Italian classic! Naan is tasty, puffy, and crunchy. It makes for a tasty pizza crust with a great mouthfeel.
Best of all, it's easy! Naan is one of the simplest doughs in the world to make. Have this essential recipe under your belt for whenever you need it next.
Source: mrishtanna.com
Our next recipe is a tasty winter warmer with plenty of root vegetables and creamy coconut milk to fill you up. The spices in the gravy soak into every fiber of the vegetables. The result is a punchy curry great for cold nights.
This is a great meal prep recipe. Make a huge batch ahead of time and serve it up through the week. It becomes even tastier as it sits. A trick of the trade!
Source: thevegspace.co.uk
Brinjal bhaji is a rich eggplant curry full of spice and texture. It's great as a side dish or as the hero of your meal. You usually would cook this classic Indian curry in a tandoor oven first.
But this recipe is a super simple take on the classic version. You can crank this out in just twenty minutes! Use whichever eggplants you have on hand. Both normal and mini ones will do.
Source: tastygalaxy.com
Our next recipe is great for reusing leftover chicken. Give it new life with an array of tasty spices and simple ingredients! Curry powder will work fine if you don't have a big spice cabinet.
But if you do, this dish has a world of possibilities! Toss your leftover chicken and fresh vegetables through a spicy dressing. Finish it off with sesame seeds for a little crunch.
Source: mommysnippets.com
This South Indian treat is a great dish to come home after a long day. It's packed with warm and punchy flavors that make each bite better than the last.
Keep in mind that this dish is best when marinated overnight. Get your beef marinating the night before and whip this up in no time on the day of! It's terrific for lunches with guests.
Source: greedygirlgourmet.com
Make chai the hero with this tasty matcha chai latte. This latte fuses Japanese and Indian flavors into a fantastic combo. Enjoy it hot in winter or cold in summer. It's the dealer's choice!
Don't spend your hard-earned money on an overpriced Starbucks drink. Once you know how to make this, there's no going back.
Source: clankitchen.com
Lentil soup – or "dal" – is a light and fresh soup that is great for lunch. It's super filling and nutritious without overwhelming you with flavor. It's also super easy to prepare the day before.
I love this recipe because it's great for using all the errant vegetables at the end of the week. No matter what's in the crisper, you can include it. Go nuts and enjoy the super tasty result.
You'll love this as a healthy fall soup.
Indian Dinner Recipes
Dinner is one of the best times to enjoy a plate of tasty Indian food. There's nothing better than main dishes packed with bold spices and aromatic flavors. Try one of these easy Indian dinner recipes for your next dish.
Some of these dishes can take a little while. So they're great for preparing as you go about the rest of your day!
Source: theforkedspoon.com
Biryani comes in many different forms. Luckily for us, every single one is tasty! This biryani recipe sings with so many spices that it's hard to count them all.
It will give your spice cabinet a workout. Thankfully, the result is worth it. This is chicken biryani with Indian rice. So, it's super filling. The chicken is also even better if you marinate it first.
Source: champagne-tastes.com
Fish is one of the most popular meats in India. It's light and takes on flavor like a dream. Of course, it's perfect for this bold and yummy subcontinent!
This is a fish tikka masala recipe using one of the cheapest fish in the world: sardines. The sardines absorb all the spice and offer a bunch of salt to boost the curry's flavor.
Source: pressurecookrecipes.com
Goat is another super popular meat in India. Especially in South India! Many people don't explore this Indian food because they're scared of cooking or eating goat.
But this dish proves how tasty it is, especially with the curry sauce! You can create this tender and spicy dish using your pressure cooker. Bone-in goat is best for this dish as it adds the most flavor to the gravy.
Source: krumpli.co.uk
This recipe gives you a meal from your fridge to the plate in just thirty minutes. The mackerel in this curry is the real hero of the dish. It absorbs all the spices and flavors of the curry leaves and multiplies them tenfold.
Sinking your teeth into one of these tasty morsels is like finding heaven. So, you'd expect it to be hard, right? It's not hard at all! Enjoy warm and rich Goan flavors any night of the week.
Source: talesfromthekitchenshed.com
Madras is a classic Indian dish that almost everyone knows. This recipe uses a slow cooker to achieve a thick and luscious gravy. You can set it up in the morning and leave it alone for the day.
Return to a delicious curry waiting to blow your family's socks off. You'll get the best result if you take the time to roast the spices first. It just gives them a little extra strength and love.
Source: cuisineandtravel.com
Lamb is super delicious meat on its own. Now imagine it in a curry. Is your mouth watering yet? Mine is! This recipe creates a super yummy dish packed with an Indian-inspired taste.
Best of all, you just need your Instant Pot to make it happen. No standing over a hot stove the whole day. Try making this curry the day before and letting it sit overnight. The flavors get even better!
Source: neilshealthymeals.com
Prawn curry is out of this world. The sweet prawn flesh against the spicy gravy is a combo. You need to learn this recipe if you're a prawn fan.
South Indian flavors are bold and a little tart. In other words, they're the great flavors to host a bowl full of prawns.
Source: motherwouldknow.com
The only thing better than lamb shanks are lamb shanks with a whole bunch of spice. These are super easy to make! The sides cook with the lamb shank to feel like family.
This is perfect for anyone living the keto lifestyle. Lamb shanks are the cheapest cut of lamb and are fantastic when slow-cooked. So they're super cost-effective too!
Not sure what to serve with your lamb shanks? Check out these best side dishes for lamb.
Source: adamantkitchen.com
Vindaloo is a curry well-known for packing a lot of heat. Put the takeout menu down and step away from the phone. You're making your own vindaloo tonight!
Don't be intimidated by the complex flavor hiding in the curry. This vindaloo recipe breaks everything down in a super simple way. If using lamb leg, you can have it even faster than takeout!
Have leftover lamb? Try these easy ground lamb recipes!
Source: atastykitchen.com
As I said at the top of the blog, South Indian food uses a lot of coconut milk. With how tasty this fish curry is, it's easy to see why. The mellow coconut milk is a great foil for the rich spice mixture.
Pair that with expertly-cooked fish, and you've got a real winner. This is a dish you'll want to reach for again and again. Trust me.
Source: girlcarnivore.com
This clever recipe gives you a tasty korma with barely any effort. Standard korma recipes ask you to stand over the stove and stir for ages. This one uses a Dutch oven for the same effect!
It's true. The gravy isn't as thick as an average korma. But all the nutty flavors and tasty vegetables you'd expect are in the bowl. Shrimp makes this a unique and tasty dinner for any night!
Source: krumpli.co.uk
If you go hunting regularly, this is a great recipe to have in your back pocket. Step up to the plate this winter with a warming and comforting pheasant curry.
The bright orange color tells you just how tasty this curry is. Tamarind is the secret ingredient here! The sourness of the Indian fruit makes the gamey pheasant stand out in every mouthful.
Indian Chicken Recipes
Chicken is a great option when cooking Indian food. It's cheap and great at absorbing all those lovely spices. It also remains juicy when cooked in gravies. That makes it great for curries!
Source: hotrodsrecipes.com
This take chicken tikka masala has a pretty yellow hue and plenty of tomato flavor. Every bite is packed with juicy and tender chicken. It's perfect for a weeknight dinner or meal prep recipe too!
Make life easy on yourself with this super simple recipe. You should be able to make this dish just using ingredients you already have at home. Nothing special is needed, just flavor waiting to be had!
This would make an excellent Sunday family dinner.
Source: celebrationgeneration.com
This chicken shahi korma is great if you have little time on your hands. Enjoy every creamy bite as it sings with the many spices hiding within.
I can't think of a better way to spend my time than making this dish. While it might take a little while, the result is worth it. Make the day before a big event to save yourself some time!
Source: all-thats-jas.com
Next up is a dry Indian dish that comes together in no time. This is perfect if you need something last-minute. All the ingredients should already be kicking around in your pantry.
The chicken is bright and tasty. It's excellent served on a bed of jasmine rice! Speckle with fried red onions for an extra kick that will round out the dish.
Source: talesfromthekitchenshed.com
Jalfrezi is a pepper curry that celebrates super juicy bell peppers soaked in spice. Every element in this curry is treated with care. The result is a mind-blowing dish everyone will love!
This dish takes a little time to cook. But most of that is slow cooker time! All you need to worry about is a few minutes of prep at the start of the day. Leave the rest to your slow cooker.
Source: theviewfromgreatisland.com
While it's originally from Iran, India adopted biryani, becoming a trendy dish there. The aromatic rice and tender meat make it easy to see why that is.
If you want your biryani without buying takeout, look no further than this recipe. This super easy Dutch oven recipe seals all the flavor into a single dish. It's out of this world!
Source: motherwouldknow.com
Think of a Kathi roll like an Indian burrito. Instead of tortillas, you use roti or paratha. And instead of burrito filling, you use spicy grilled chicken or paneer. It's excellent picnic food!
This is a great dish if you're brand new to Indian food. It's super simple to create, but it doesn't taste that way. Every bite tastes as if you've stepped into an Indian restaurant.
Source: krumpli.co.uk
Achari chicken is a Punjabi street food that tastes as good as it looks. It's so good on its own, but it's also tasty with your favorite bread. Try using it as a sandwich filling for your weekly lunches!
This is a dry curry with a hot and sour flavor base you can't ignore. Best of all, it only takes forty-five minutes to bring to life. Even the pickiest eaters will love the taste of this curry.
Source: reciperunner.com
Are you getting ready for a barbecue? Delight your neighbours with this tandoori chicken skewer recipe. It smells incredible and tastes even better. The cilantro raita it comes with is the icing on the cake!
These skewers are excellent finger food. Get them marinating the night before and leave them to rest. Then all you need to do is grill them before serving. They're a smoky skewer anyone can enjoy.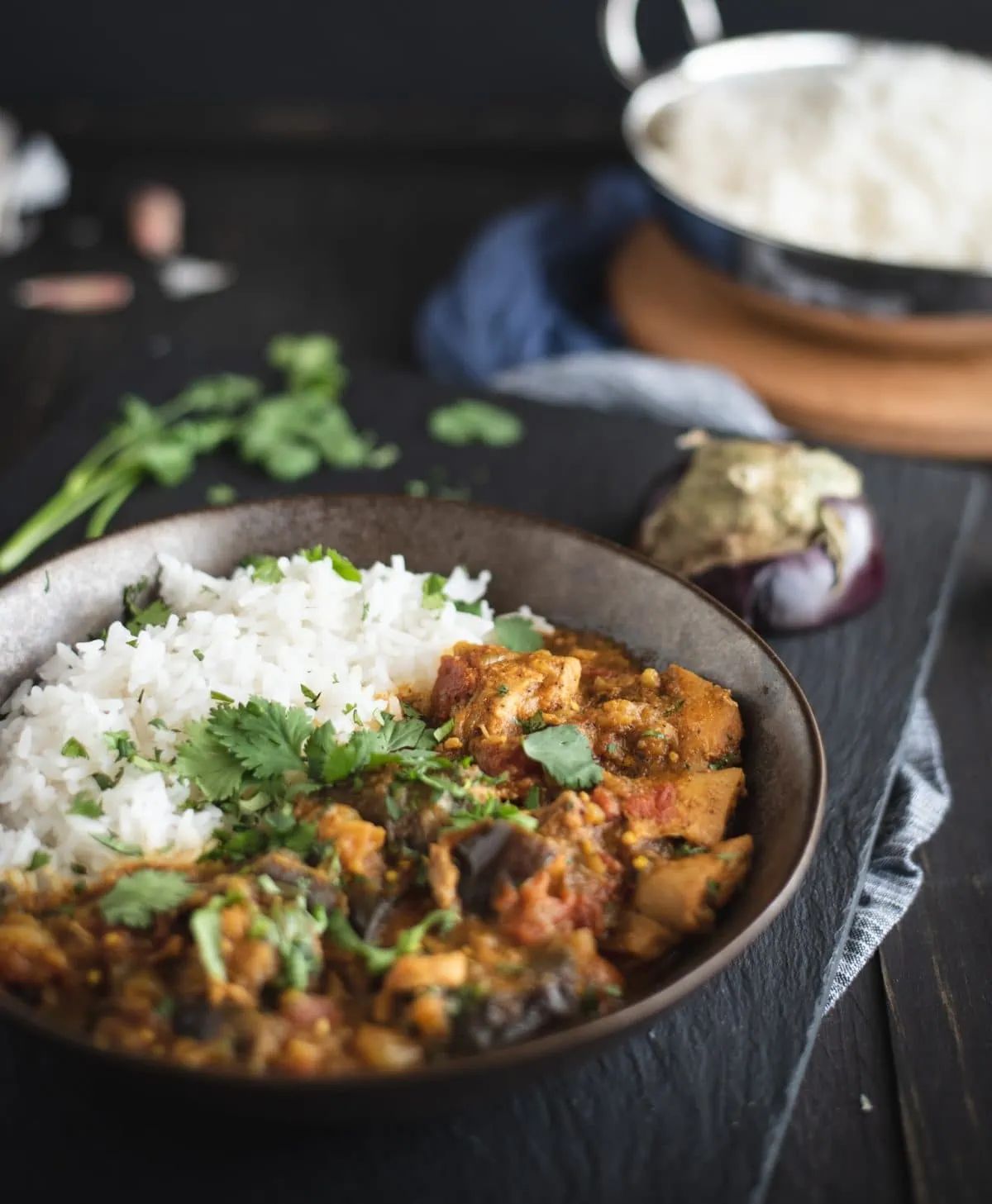 Source: feastingnotfasting.com
Eggplant and curry are a super standard combo in India. Both ingredients love to soak in spices. That's what makes them such great partners in crime!
This is the place to look for a quick weeknight dinner. You can slap all the ingredients in your Instant Pot and set it going. Dinner will be ready in no time.
Plus, you won't be stuck doing dishes all night!
Source: motherwouldknow.com
Real Indian butter chicken differs from the kind you can order from a takeout joint. It has a darker gravy from all the rich spices hiding inside.
So, hear me out. Put down the takeout menu and back away slowly. This butter chicken recipe will ruin you for all subpar takeout from here on out. Trust me. The effort is worth it.
Source: thehealthyepicurean.com
This is a unique take on a satay flavor profile. Lime juice and coconut milk balance the creamy peanut butter in this bright dish. It's super good and super simple! These are two of my favorite things.
Make this one-pot wonder in just half an hour on your stove. While it calls for chicken, you can also make this vegetarian. Roasted pumpkin or paneer would suit this recipe greatly.
Source: whatsmoking.com
Tandoori chicken is an Indian classic for a reason. The spiced chicken is grilled perfectly and served solo. The spices make it sing while the grill keeps the chicken juicy and tender.
I swear you'll be addicted to this fantastic chicken in no time.
Complete your Chicken dinner with one of these Chicken side dishes.
Indian Vegetarian Recipes
The majority of people in India are vegetarians. In other words, they know what they're doing regarding vegetarian food!
Source: beplantwell.com
Chickpea curry is a staple on dinner tables all around India. It's super creamy and tasty. Those chickpeas help give you all the protein you need for a vegetarian lifestyle.
You can use canned chickpeas or soak dry ones for this recipe. Both turn out tasty!
Source: thefieryvegetarian.com
Dal tadka is a protein-packed dish that comes together in no time. It's dal with many different lentil types in a single bowl. The textures are out of this world!
I love how quick and simple it is to make. This is the kind of dish you want in your back pocket.
Check out more fun foods that start with D!
Source: thefieryvegetarian.com
Busy home cooks know the plight of getting home and having nothing to make. Don't head to the supermarket! You can make this dish with a can of chickpeas in your pantry.
It's super rich and full of the dark, spicy flavor you know and love. Serve on rice for a quick dinner.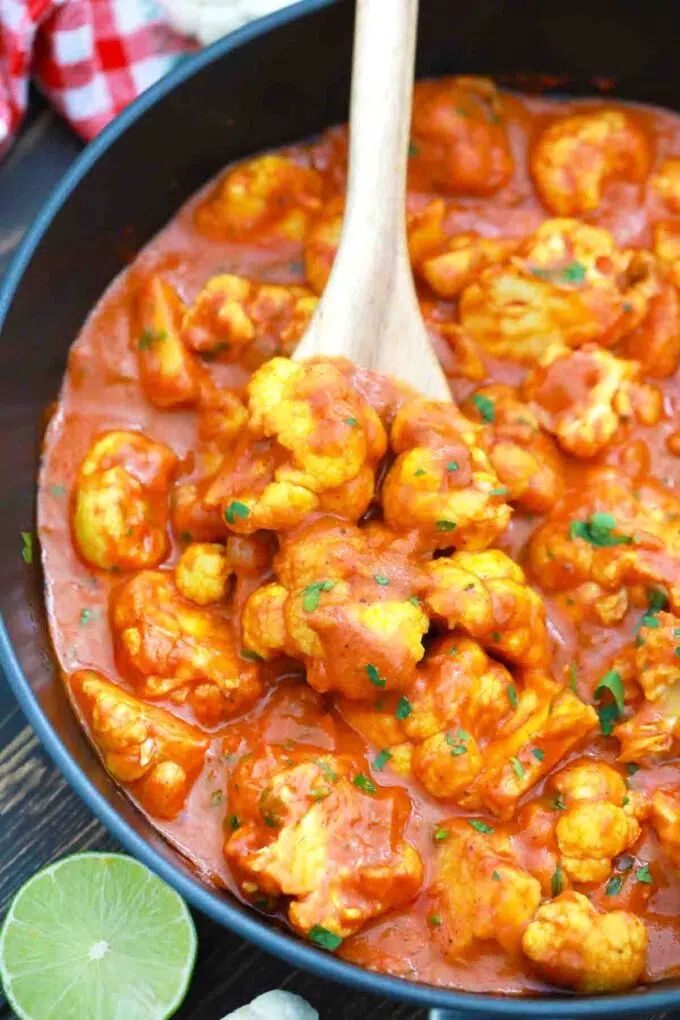 Source: sweetandsavorymeals.com
Here's a version of butter chicken that even vegan people can enjoy! Cauliflower is a great chicken substitute that soaks up the flavor with ease.
Coconut milk helps to make the butter chicken gravy super creamy. All that's left is to devour this at light speed!
Source: thedevilwearssalad.com
This is another takeout-inspired dish that will save your wallet a little heartache. Create your version of Bombay Aloo at home with a bag of potatoes and your spice cabinet.
This is a dry curry with flavor bursting out of every bite. It's seriously addictive.
Source: splashoftaste.com
Aloo gobi is a potato and cauliflower dish with bright yellow color. This is another dry dish that's great for a quick weeknight meal. It's healthy and full of flavor. That's why it's a family favorite!
Pack this with any vegetables you like. It's a great dish for clearing out the fridge at week's end.
Source: splashoftaste.com
You can think of Aloo Tikki as Indian hash browns. But they're even better than standard hash browns because of all the spice! Enjoy them at breakfast, lunch, or dinner.
These are super simple to make. The recipe is perfect for reusing leftover potatoes. You can even freeze it and defrost it later on.
Source: splashoftaste.com
This is another recipe that's great for an Indian food beginner. The steps are super simple. The result is impressive. Whole tomatoes make this curry extra juicy and yummy.
Best of all, it's 100% vegetarian! No need to stress about cooking meat perfectly.
Source: masalaherb.com
Everyone should be able to enjoy a tasty tikka masala. This mushroom version is great for vegetarians with a craving for Indian takeout.
The mushrooms are a great meat substitute. The texture is similar, and the flavor is to die for. Plus, it comes together even faster than the chicken version!
Source: thestingyvegan.com
I swear Indian food can make even the most boring vegetables unforgettable. This spinach curry is proof! Turn canned chickpeas and a bag of spinach into the best meal you've had all week.
The spinach gravy plays host to a whole array of spices. Pair it with delicious rice for a well-rounded meal the entire family will love.
Source: vnutritionandwellness.com
This butternut squash curry is packed with seasonal ingredients. If you're the type of person to hit up farmer's markets, this is the recipe for you!
Source: greenbowl2soul.com
Okra is a super popular vegetable to use in India. I think the best way to enjoy it is in some bhindi masala! A few basic spices and some onion transform the okra.
You can have this ready to go in mere minutes. Keep some frozen chopped okra in your freezer for an even faster weeknight meal.
Source: mygoodfoodworld.com
I think we can all agree that courgettes are underrated. That's why this curry heroing is so great! The soft zucchini absorbs all the gravy and spice to become extra yummy.
This is a tasty summer dish. Serve it with rice or roti for a well-rounded lunch or dinner.
Instant Pot Indian Recipes
Pressure cookers are pretty standard in India. They help hurry the cooking process along and seal all that tasty flavor. So these Instant Pot recipes can help accomplish that same goal!
Source: recipesfromapantry.com
We're kicking off our Instant Pot category with a comforting winter warmer. This tasty chicken curry is ready in under half an hour. So, it's great for feeding the whole family with little effort.
Every bowl is packed with endless flavors. It's tasty on its own or with rice. Serve naan for an extra authentic touch!
Source: champagne-tastes.com
Dal is the equivalent of a super simple noodle soup. It's just easy. But don't let that deter you because it's also packed with flavor at every turn.
Dal's primary ingredient is lentils. That means every bowl of dal is full of plant-based protein that tastes incredible.
Source: paintthekitchenred.com
Create a tasty and authentic chicken korma in no time at all. No store-bought korma sauce here! Just you and some quality time with your spice cabinet.
You can just set and forget this dinner in your Instant Pot. It's great for meal prepping because you can make large batches at a time.
Source: lovelylentils.com
Khichdi is a tasty dish enjoyed by people all over India. You can think of it like a savory rice porridge full of lentils, vegetables, and spices. It's the ultimate comfort food!
This take on khichdi uses quinoa. Besides increasing the fiber content, it tastes a little earthier than usual.
Source: pressurecookrecipes.com
Get a delicious chicken biryani with almost no effort. Thanks to your Instant Pot, this is a bright recipe you can pull together in no time.
Your best bet is to use chicken thighs. They're less likely to dry out. They can also absorb so much flavor!
Source: healthyseasonalrecipes.com
Looking for a recipe to clean out your crisper? This is a great end-of-week recipe. Use any vegetables you want to create this aromatic bowl of comforting curry.
Make sure to toss a can of chickpeas in there for protein. This will balance the meal and help it feel filling.
Source: pressurecookrecipes.com
Our final recipe is a fan favorite. Create an insanely good butter chicken in your Instant Pot. No takeout menu is needed! This comes together just as fast as it would take to order dinner to your door.
If you want to take it a step further, you can marinate the chicken ahead of time. This makes it extra tasty!
So, which dish will be your road to Indian cuisine? Do you have a tried and true Indian recipe you reach for when the spice cravings hit? Share them in the comments below!
57 Best Indian Recipes that Taste Delicious
Here are some Indian recipes that you can make at home. There are plenty of healthy meal ideas that are easy for beginners.
Ingredients
1. Indian Scrambled Eggs
2. Mango Lassi
3. Instant Chai
4. Coconut Flour Roti
5. Spicy Indian Tomato Soup
6. Kachumber
7. Naan Pizza
8. Pumpkin Curry
9. Aubergine Bhaji
10. Indian Style Chicken Salad
11. South Indian Beef Fry
12. Matcha Chai Latte
13. Lemon Lentil Soup
14. Biryani
15. Fish Tikka Masala
16. Goat Curry
17. Mackerel Curry
18. Beef Madras
19. Lamb Curry
20. Prawn Curry
21. Lamb Shanks
22. Lamb Vindaloo
23. South Indian Fish Curry
24. Dutch Oven Shrimp Korma
25. Pheasant Curry
26. Chicken Tikka Masala
27. Chicken Shahi Korma
28. Garlic Chicken
29. Chicken Jalfrezi
30. Lemon Chicken Biryani
31. Chicken Kathi Rolls
32. Indian Chicken Pickle
33. Tandoori Chicken Skewers
34. Chicken Curry with Eggplant
35. Murgh Makhani (Butter Chicken)
36. Peanut Chicken Curry
37. Tandoori Chicken
38. Chickpea Curry
39. Dal Tadka
40. Chickpea Spinach Curry
41. Coconut Butter Cauliflower
42. Bombay Aloo
43. Aloo Gobi
44. Aloo Tikki
45. Vegetable Bhuna
46. Mushroom Tikka Masala
47. Spinach Curry
48. Butternut Squash Curry
49. Bhindi Masala
50. Courgette Curry
51. Chicken Curry
52. Dal
53. Chicken Korma
54. Quinoa Khichdi
55. Chicken Biryani
56. Veggie Curry
57. Butter Chicken
Instructions
Scroll up to get a bunch of easy, yummy, and delicious recipes. Don't be afraid to get creative with the ingredients, you might discover a flavor you didn't know you liked.
Get your shopping list going and make sure you've got all the ingredients.
Get cooking and make your next Indian Recipe!
Notes
Which one of these recipes was your favorite? Let me know in the comment section or on Pinterest!