Looking for some delicious lamb side dishes? How about 27 of them? Simple, spicy, vegan, low-carb, or Middle Eastern, these best sides will satisfy all tastes!
Are you cooking a whole leg of lamb to impress your guests at your Easter dinner? Or have you just come home with small lamb chops and are looking for last-minute sides to serve with?
Whatever your lamb-based entrée is, I've got you covered! With twenty-seven delightful and carefully designed recipes that are anything but boring, your match is definitely hiding in this post.
Even if you're a lamb-cooking newbie, these recipes below will show you that finding best side dishes that pair well with lamb is not an overwhelming task. Spoiler alert, they're all drool-worthy!
What to Serve with Lamb?
If lamb is not that regular on your table, it can be tricky to pinpoint which side dishes pair well with this red meat, and which may not work so well.
And while there are always the classics potatoes, rice, and roasted veggies, to execute a lamb dinner perfectly, you need to have at least some insight.
Generally, everything that's even a tad exotic or Middle Eastern is a safe bet. Loaded with fresh herbs, aromatic, and deep in flavors are side dishes that will work well.
But don't shy away from the simple roasts or salads, though, as they can always offer a nutritious and delightful punch.
Side Dishes for Lamb Chops
Are lamb chops on your dinner menu tonight? Then you better find a side dish that will complement their taste, and you better do it now.
Here are six incredibly delicious choices for your main course. They will enhance the flavor of lamb chops and offer a great way to enjoy your dinner.
The name practically says it all – broccoli with garlic and cheese. But until you give this recipe a shot, you cannot possibly know how delicious three simple ingredients can taste when combined.
The tender and slightly browned, and crispy broccoli are topped with melted cheddar, flavored with garlic, and generously sprinkled with salt and pepper.
Of course, you can add other seasonings to the mix as well, but keep in mind that this basic version is a side dish you will be coming back to regularly.
Perfect with any meat-based dish, especially red meat cuts such as lamb chops. This is also a lovely side dish for BBQ chicken.
A shredded beet and carrot salad that will surely surpass your expectation. This is one of those delicious side dishes that's a must-try with your lamb.
Drenched in an olive oil, balsamic, and honey mixture, these crunchy shreds are not only super nutritious but sweet and delicious, as well.
Perfect for anyone ditching calories or following a gluten-free, no-dairy, vegan diet!
Be careful when grating your veggies, especially the beets, as they can make a red-splash mess around your kitchen. Enjoy these spring vegetables that are just a great choice for your taste buds.
Reduce cook time with this salad and enjoy your tender lamb.
Roasted squash has to be one of the most versatile side dishes ever. Easily paired with any meat dish these orange cubes offer natural sweetness to your dishes that go amazing with red meat.
Flavored with nothing but thyme and garlic, this side dish is a clear example of how simplicity with the number and choice of ingredients can create an extraordinary taste, too.
Don't want to raise the temperature in your kitchen? No worries! This recipe also includes an Air Fryer method for a quicker and even easier-to-make side.
Enjoy this side with chili.
A bunch of spring veggies and mint, all tossed together with a bright and lovely lemony dressing. How can that not be the perfect lamb side?
Lentils, asparagus, potatoes, radishes, and snap peas all join forces to give you rich-in-texture bites that are also super nutritious.
Make sure that the lentils you use can hold their shape well when tossed, but be careful not to overdo it, as well. You don't want to end up with a mushy salad, now, don't you?
The asparagus is roasted for the ultimate flavor, so don't be tempted to add it to your steam basket.
Creamed peas with basil have to be one of the most delightful spring side dishes. It is all green after all!
In a creamy bechamel sauce, nothing can taste bad. And even if you are not a fan of peas, you will find yourself licking your plate with this recipe.
Perfect for any protein-packed entrée, and absolutely irresistible alongside lamb chops!
For best results make sure to use garden-fresh peas. The frozen ones can be a decent alternative, but they really don't even come close to the taste or texture of the fresh version.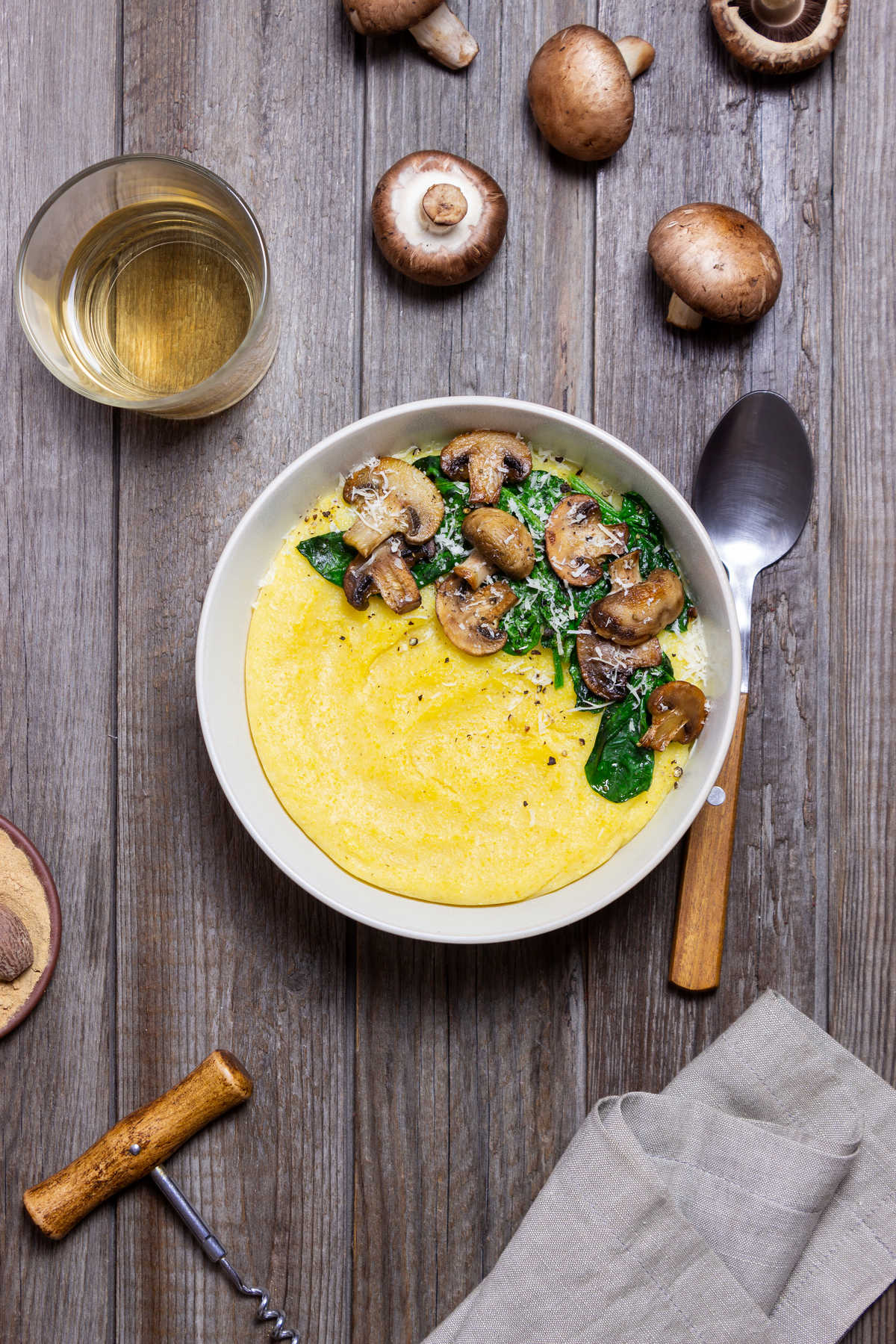 If you've had your fair share of failed polenta attempts, that doesn't mean that you should let this recipe pass you by. Once you remember the 4:1 (liquid to cornmeal) ratio, success is guaranteed!
The thing I love most about polenta is that it is super versatile and can easily endure and take on a lot of experimenting. So feel free to play around with ingredients!
This recipe uses shallots, garlic, and fresh herbs to intensify the taste. Then silky butter is added and a generous amount of Parmesan cheese is sprinkled on top.
Side Dishes for Leg of Lamb
When a whole leg of lamb is on the table, that means you're in charge of pleasing a crowd. And these lovely lamb side dishes below will definitely help you feed and please a large group.
Enjoy these favorite side dishes for a delicate flavor. They're a great option for family dinner and more.
If you're looking for something nutritious, delicious, and easy to feed a crowd, then this fiber and protein-packed black bean salad is the perfect side dish for you.
Loaded with all of the Mexican staples you can think of – corn, red onions, bell pepper, tomatoes, jalapenos, lime, and cilantro – this filling salad will bring a refreshing and zesty touch to your lamb.
This salad relies on a touch of cumin and chili powder, but feel free to up the seasonings if you want a spicier bite.
I suggest at least a couple of hours in the fridge before serving so that the black beans can absorb all of the flavors and the juices can really settle in. Enjoy this with a bit of lemon zest
What a great Mexican side dish!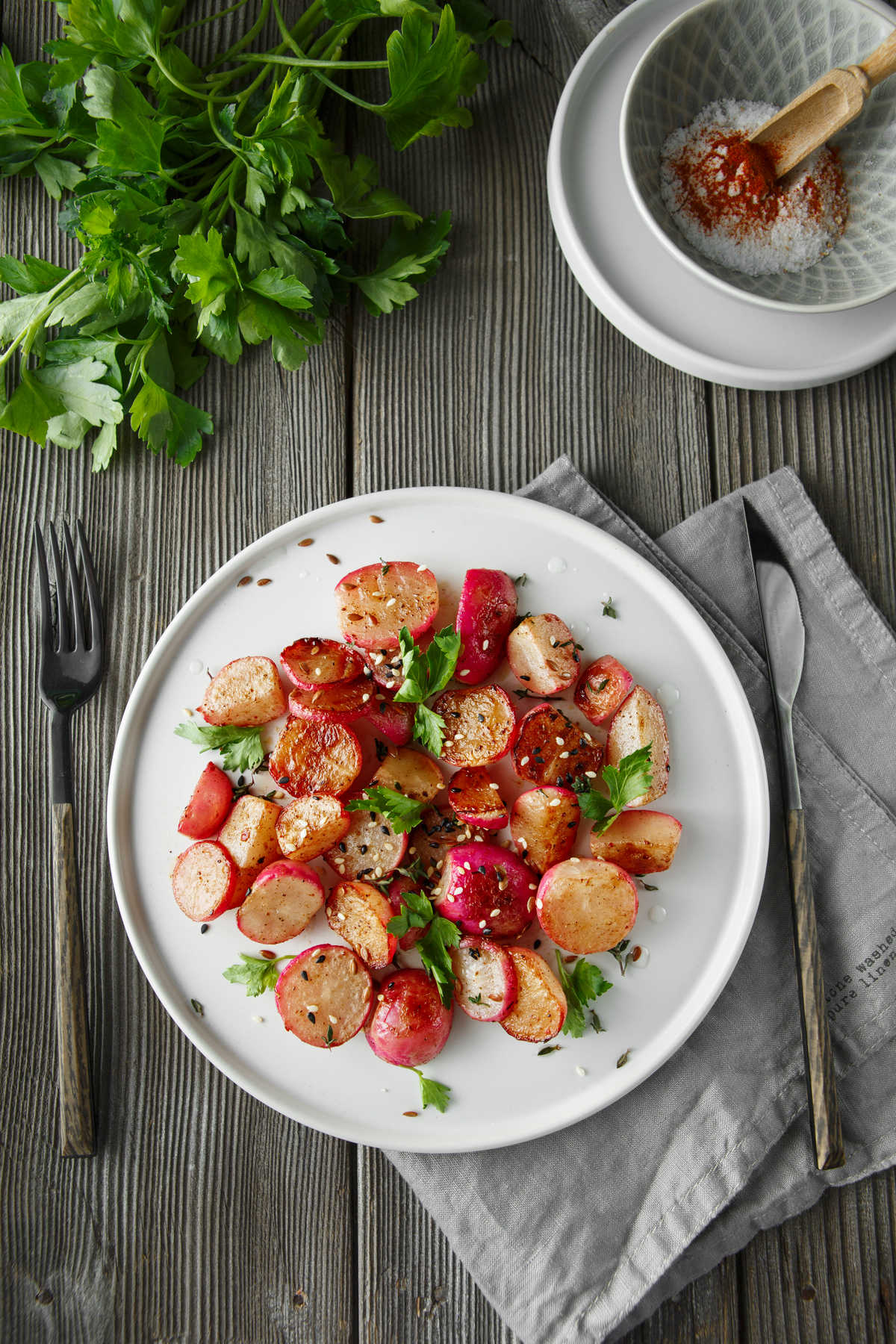 Are you ditching the carbs? Or are you simply tired of serving potatoes practically with every meal? In that case, this radish side dish will offer a breath of fresh air to your dinner table.
Cut in half, seasoned with garlic, herbs, and spices, and air-fried to tender and crisp perfection, this healthy radish dish doesn't even need oil. But we're drizzling some olive oil, just because it's healthy!
Make sure to toss the radishes occasionally while they're frying, to ensure even cooking and a unanimous texture with every bite.
Not to be confused with creamed peas, this is a pea-loaded salad that is simply tossed with a sour cream dressing.
The peas here are accompanied by crispy bacon, sharp cheddar, and crunchy red onions, for the absolute best combination of textures and flavors.
Peas are generally a very delicious lamb side dish, but this creamy bowl will pair ridiculously well with your leg of lamb.
For a spicy kick, swap the paprika with chili powder, or even better, add some sliced chilies to the mix. Feel free to serve this side dish with ribs.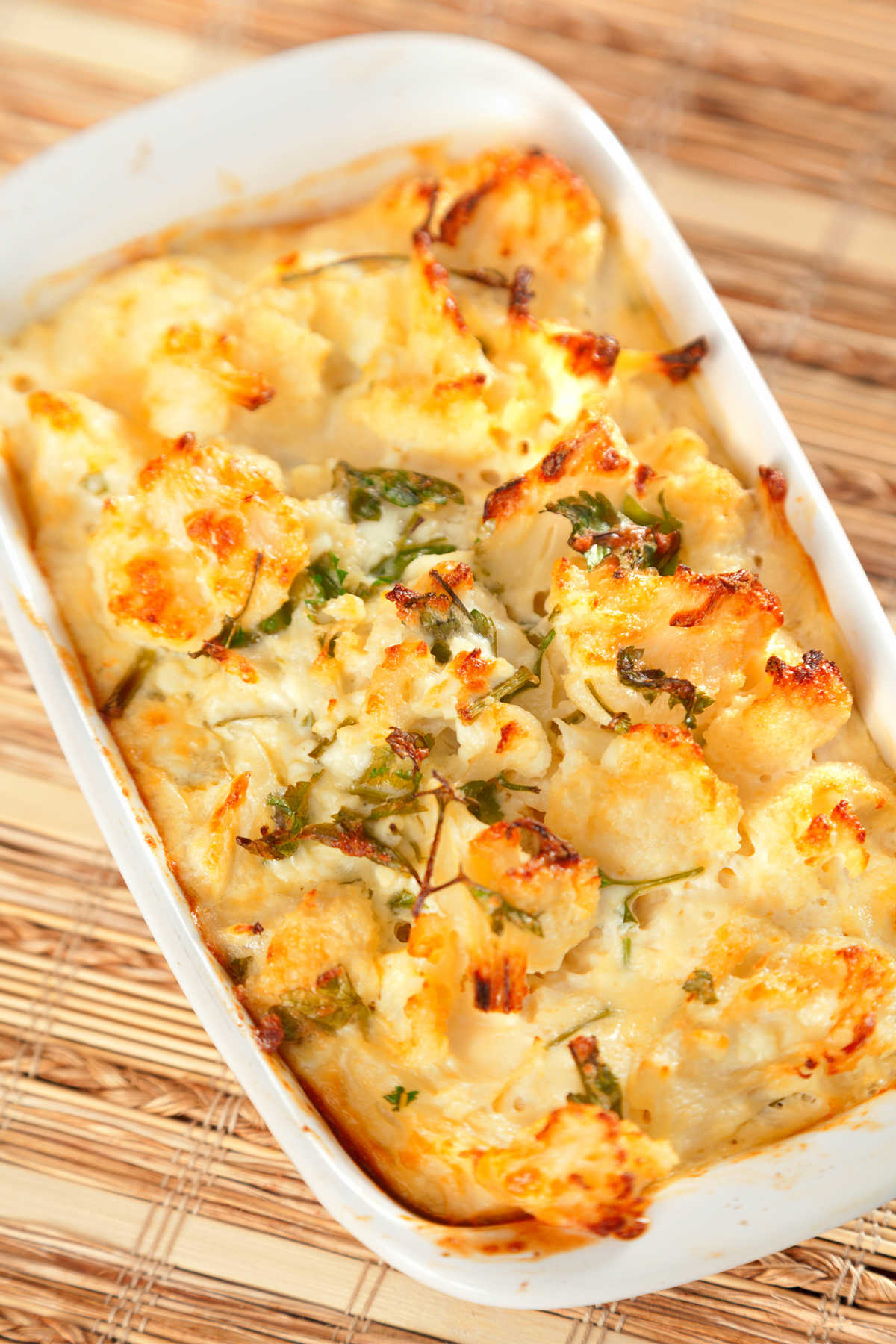 If you love scalloped potatoes but your low-carb regimen doesn't allow you to indulge in that delight, then this beautifully cheesy recipe is the most delicious alternative.
Creamy, low in carbs, loaded with melted cheese, and topped with a crisp crust, this has to be the definition of comfort food. One you can devour without a shred of guilt, that is!
The recipe uses fontina and parmesan cheese, but anything that melts well will practically do a good job here.
An easy side dish that you will definitely be coming back to!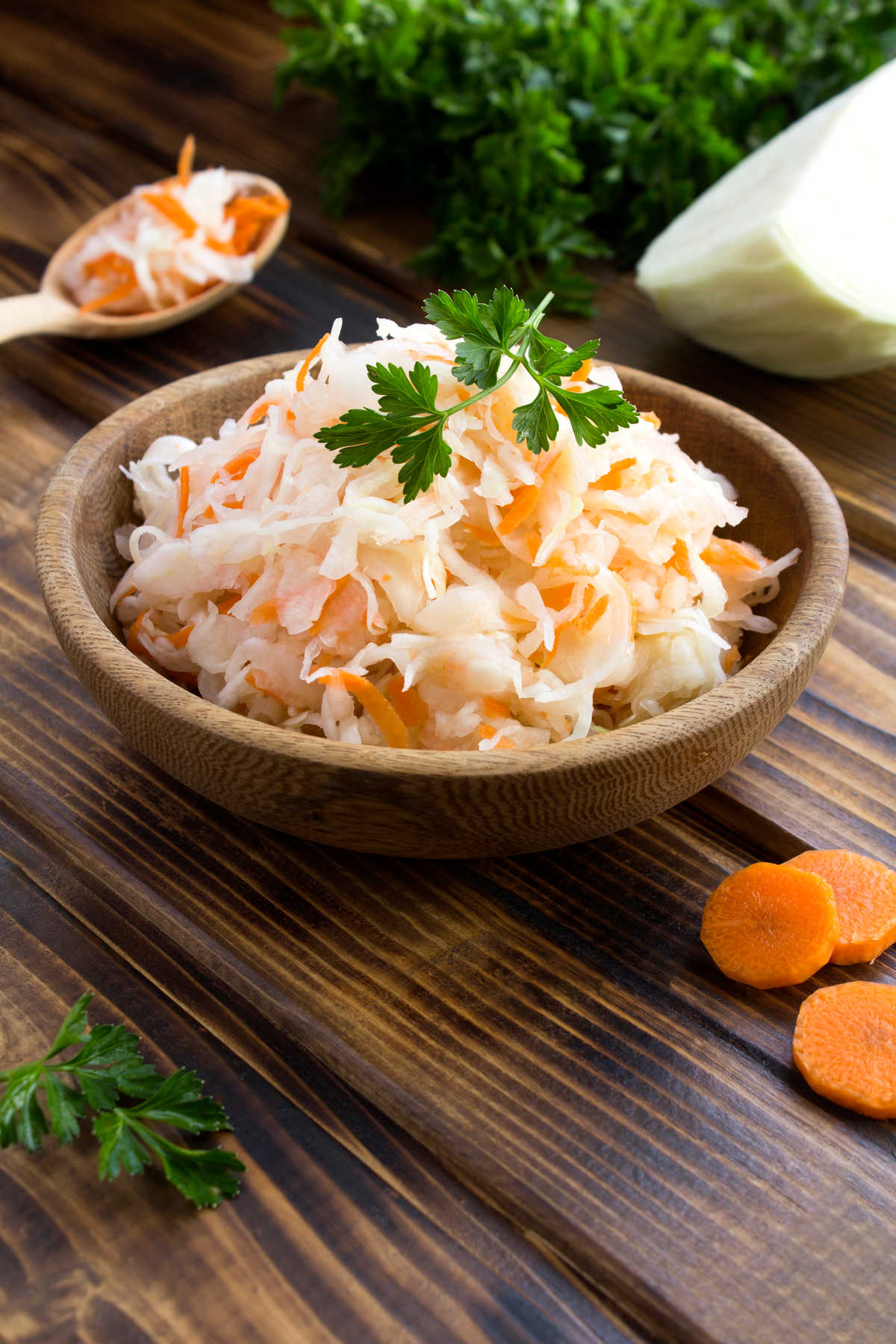 If you are tired of your green cabbage coleslaw, then it is about time for you to spice things up with this lovely kohlrabi recipe.
Somewhat similar to broccoli but with a crispier and juicier flavor, kohlrabi pairs perfectly with carrots and red cabbage in this recipe.
Smothered in a vinegary and mustardy olive oil dressing, I guarantee you will be making this side dish again and again. Perfect with red meat cuts such as a rack of lamb!
Dill, yogurt, cucumbers… and we're sold! This Greek-style creamy salad is nothing if not ideal for your lamb dinners.
The red onions here offer a spicy crunch that gives some life to the neutral yogurt, and the dill and cucumbers are just an obvious match.
So refreshing and light, this summertime salad will have you devouring the whole bowl in a second! Make this side dish for brisket as well!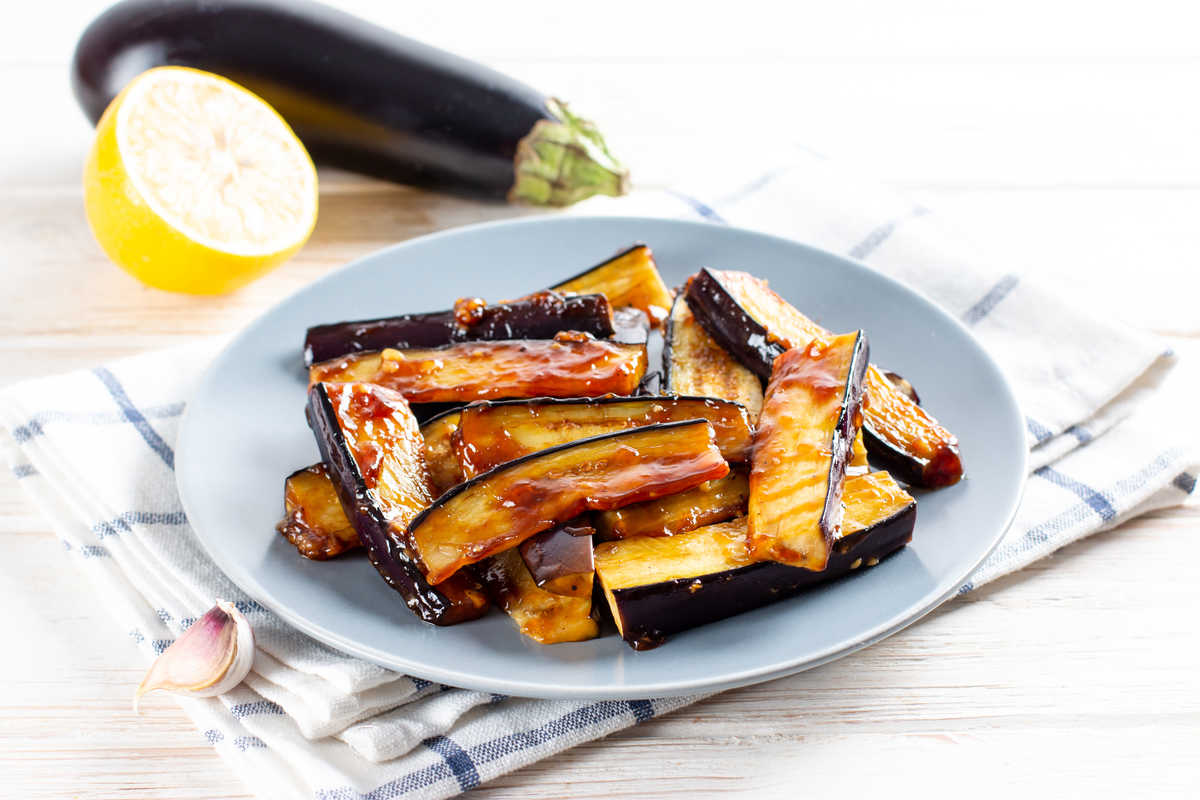 If you think this will be regular, air-fried eggplant slices, let me tell you how wrong you are.
First, there is a rich garlicky tomato and red pepper sauce.
Then, there are breaded eggplant slices, coated with a breadcrumb and parmesan mixture, and air-fried to the most satisfying crispiness.
And finally, there are these golden and crusty eggplant slices stacked on top of that super flavorful sauce.
All that's missing is a rack of lamb, and an incredibly fancy and super delightful dinner is served.
Side Dishes for Rack of Lamb
A rack of lamb has to be one of the fanciest-looking meat dishes ever. And such beauty deserves an equally presentative partner by its side. Here are the best rack of perfect sides to make for special occasions that will take a delicious dish to a whole new level.
Bulgur wheat salad with ultimate green superfoods! Maybe that should be the name for this recipe, huh?
Loaded with broccoli, avocado, lettuce, green onions, and dill, I cannot think of a more nutritious filling side dish that tastes so good.
The lemon juice is an absolute must in this recipe, as it gives a lively kick that practically makes the green-veggie flavors pop.
Season with salt and pepper generously, and your lamb has just found its perfect match!
Don't have any bulgur in your pantry? Don't fret! Try this recipe with couscous for an equally filling side!
This salad offers a great way to incorporate any green vegetable into your diet.
Yes, preserved lemons are a must here. They may be nothing more than salted lemons that sit and marinate in their own juices for a while, but the umami flavor they provide is so worth the effort.
Once you combine that with the caramelized tenderness from the roasted asparagus, the freshness of cherry tomatoes, and the generous crumbled cheese topping, all you'll need more is lamb.
I'd go with feta cheese with this simple recipe, but keep in mind that goat cheese will be just as delicious.
If you want to serve baked potatoes but are afraid that your regular Yukon golds are not the fanciest match for your rack of lamb, I'd suggest you try this recipe.
Baked sweet potatoes for a soft and fluffy interior and a lovely crispy skin on the outside!
The potatoes are left to rest for five minutes after baking, then they are cut in half lengthwise, topped with some butter, and seasoned with salt and pepper.
You can also use some more exotic flavors and seasonings here, but keep in mind that these sweet potatoes are super tasty even in their most basic form.
Sweet potato is an excellent choice for any versatile red meat. The best part of any dinner, for sure!
I've always found Hasselback potatoes to give the impression that a lot of effort has been used to make them, when in reality, they are super easy to whip up.
For best results, choose larger Russet potatoes that are roughly the same size.
And then with some butter, fresh herbs, and some slicing, culinary magic is about to happen.
Crispy, tender, and rich in flavor, how can these potatoes be anything other than the perfect pairing for your lamb dinner?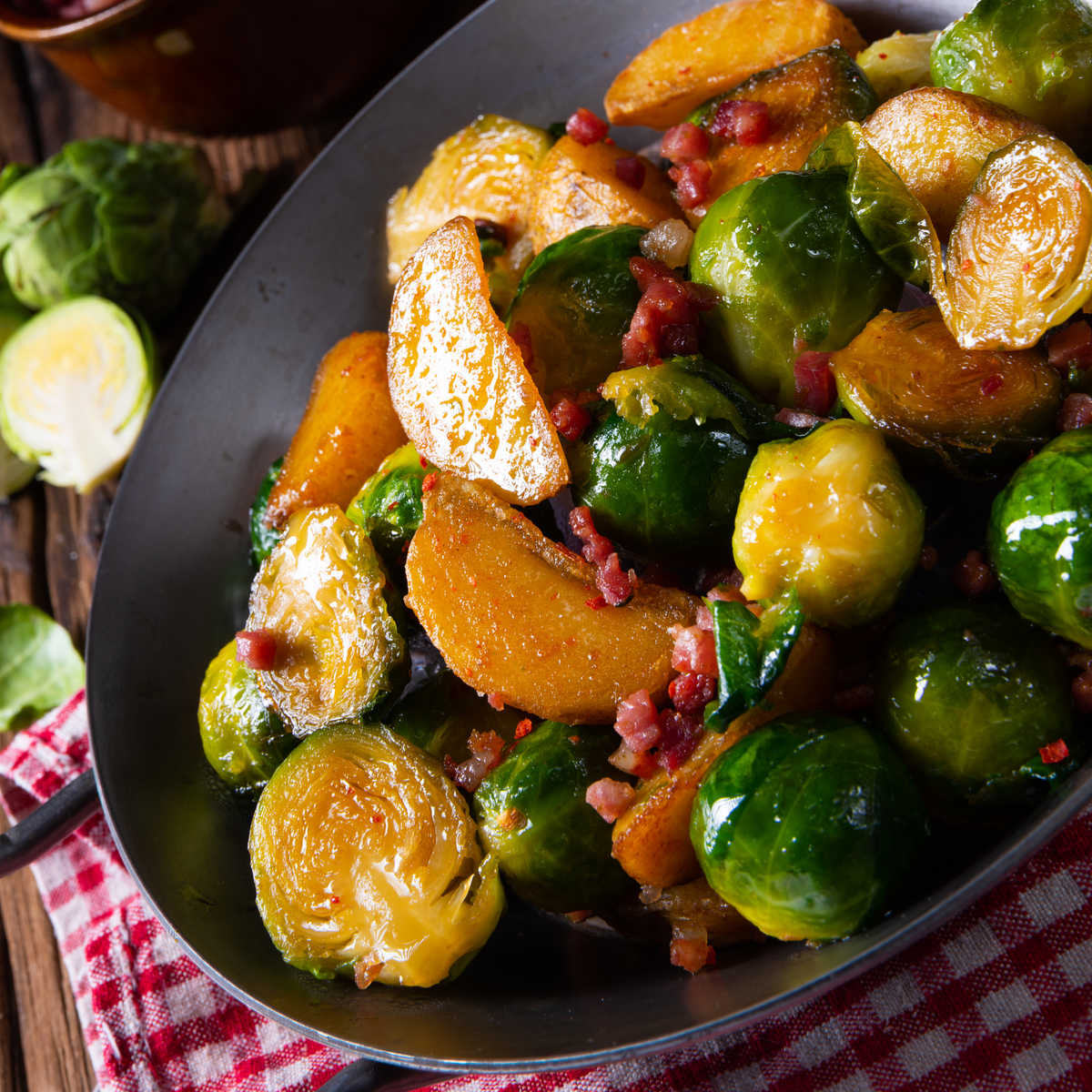 Glazed with lemon juice, maple syrup, and mustard (a winning combination, trust me!), these browned Brussels Sprouts will wipe away all the prejudice you have had against this veggie.
You really don't need more than a sprinkle of salt and pepper, but feel free to bring your seasoning game if you are into all things spicy.
Super delicious and even better with a well-done red meat cut.
Not a fan of maple or mustard? No worries! These crispy and sweet Brussels Sprouts with bacon and pomegranate make one heck of a palatable side.
Even if you're not too keen on cruciferous veggies, this recipe will be a side dish you will definitely be coming back to.
I'd finish off with some shredded sharp cheese on top, but that is totally optional!
Vibrant in color, deep in flavor, and silky smooth in texture, this carrot and swede mash surely has it all.
With a generous amount of butter and a few nutmeg gratings, this velvety and rich mash is sure to satisfy anyone who gives it a try.
Make sure to cook the cubed veggies with a couple of bay leaves, for a real flavor infusion that will make a total difference. But shh! Let's make that a secret ingredient for this recipe.
Middle Eastern Side Dishes for Lamb
If you're looking to bring some Middle Eastern vibes to your lamb dinner party, then these recipes below will surely help you find the perfect side dish to serve:
The chickpeas, onions, zucchini, and bell pepper are all roasted in the oven before being added to the salad bowl. That gives this dish an incredibly tender texture and an almost-caramelized taste.
The buttery couscous, tons of spices, and dried apricots give this dish an incredibly velvety, well-seasoned, and sweet flavor that is perfect for any Middle Eastern meat dish.
The secret ingredient here is the preserved lemon, which gives this salad an umami freshness that cannot be recreated with fresh lemons.
And besides, since it is so sweet and satisfying, this salad provides an opportunity to sneak in some veggies your picky eaters don't want to find on the dinner table.
If you love chickpeas, then I have nothing more to say then you should give this salad a try.
Besides with barely 15 minutes required from start to finish, you can whip this up even on your busiest dinner-cooking adventures!
The roasted chickpeas give this salad a deep and smoky kick that is much more comforting than simply dumping them into the bowl straight from the can.
A diced red pepper and the all-time favorites lemon, cilantro, olive oil, and garlic, are all you need to prepare this fiber-loaded side dish that will taste even better alongside your lamb.
Dill and pistachios may not be what first comes to mind when you think of rice. But trust me, this pilaf is created to be served with your leg of lamb. Or chops! Or any meat entrée, for that matter!
Loaded with Middle Eastern freshness, this rice side dish offers nothing but a rich taste, herbal aroma, and tons of texture.
With lemon, parsley, dill, pistachios, pine nuts, and orzo, who can pass on this delight?
Mint can work well, too, but I suggest you stick to the parsley because it makes a bit more sense in regards to the rest of the ingredients.
If you haven't tried sweet and crunchy rice pilaf before, then this recipe should definitely top your must-prepare list.
Loaded with cranberries, apples, pecans, and the freshest herbs, this wild rice bowl can healthify and complement any meal. And yes, it pairs perfectly with your lamb cuts, for sure.
The recipe suggests Granny Smith apples for a touch of tartness to combine beautifully with the sweet cranberries but feel free to use another kind if that's what you prefer.
The pecans can be surely swapped with walnuts, and the result will be just as delicious.
So filling and hearty, this recipe can serve as a nutritious lunch, too!
There's nothing that is more Israeli and Middle Eastern than some flavorful lamb cuts served with loaded couscous. And this sweet, nutty, and tangy pearl couscous is pure culinary joy.
Made with shallots, pine nuts, raisins, and cinnamon, this flavor-packed side will provide you with the carb-part of your meal in the most delightful way possible.
And the Instant Pot doesn't hurt either. Cooked in a jiffy with absolutely no guesswork involved, this recipe is made for your busy weeknight dinners.
Make sure to cook it in broth, as advised, for the ultimately flavorful pearls.
Nutritious and packed in fiber, this tabbouleh salad with green lentils, tomatoes, cucumbers, and onions, is perfect as a salad alongside a lamb roast, or even as a filling vegan main dish.
The zesty lemon, mint, and parsley balance out the protein-rich lentils and give fresh touches that combine perfectly with the garden veggies.
Make sure to scoop out the seeds of the cucumber to prevent your salad from turning watery.
This lentil twist on the traditional Middle Eastern bulgur tabbouleh is a definite keeper! Try it out and see for yourself!
Yogurt-based and incredibly creamy, Tzatziki has to be one of the most refreshing sauces I've ever tried.
Of course, I give into my occasional mayo temptations every now and then, but this healthy condiment is something to indulge in even daily.
Rich in Greek yogurt, cucumber, lemon, mint, and a touch of garlic, Tzatziki is nothing but delightful creaminess that can perfectly round out any lamb dish.
If you can get your hands on Persian cucumbers that would give this sauce a full-blown Middle Eastern note. If not, don't fret! Our English cucumbers will execute the job perfectly as well!
27 Best Side Dishes for Lamb
Have some lamb ready? Make a full meal with these Side Dishes for Lamb that taste awesome.
Ingredients
1. Cheesy Garlic Broccoli
2. Carrot and Beetroot Salad
3. Roasted Butternut Squash
4. Asparagus Salad with Potatoes and Lentils
5. Creamed Peas with Basil
6. Creamy Parmesan Polenta
7. Mexican Bean Salad
8. Air Fryer Radishes
9. Creamy Pea Salad
10. Creamy Cauliflower Gratin
11. Vinegar Coleslaw
12. Creamy Cucumber Salad
13. Air Fryer Eggplant
14. Bulgur Wheat Salad
15. Roasted Asparagus Salad
16. Baked Sweet Potato
17. Crispy Herbed Hasselback Potatoes
18. Glazed Roasted Brussels Sprouts
19. Brussels Sprouts with Bacon and Pomegranate
20. Creamy Carrot and Swede Mash
21. Couscous Salad with Chickpeas
22. Roasted Chickpea Salad
23. Lemon Rice Pilaf
24. Rice Pilaf with Cranberries and Pecans
25. Instant Pot Couscous
26. Green Lentil Tabbouleh Salad
27. Tzatziki
Instructions
Scroll up to get a bunch of easy, yummy, and delicious side dish recipes. Don't be afraid to get creative with the ingredients, you might discover a flavor you didn't know you liked.
Get your shopping list going and make sure you've got all the ingredients.
Get cooking and make your next Side Dish for Lamb!
Notes
Which one of these recipes was your favorite? Let me know in the comment section or on Pinterest!