Explore some of the most popular Hungarian dishes and discover an authentic recipe you love with these mouthwatering traditional Hungarian recipes.
Traditional Hungarian food is some of the best in the world. Hungarian cooking celebrates fresh, seasonal ingredients, including plenty of meats, cheeses, fruits, and bread.
Whether you've tried food from this part of the world or not, this list will have something for you to sink your teeth into. Discover some of the best and brightest of the traditional Hungarian recipes.
What is Hungary's Most Famous Food?
Perhaps the most iconic Hungarian dish is goulash, a rich and hearty beef stew spiced with paprika and seasonal vegetables.
It also happens to be the national dish of Hungary, appearing on menus and dinner tables across the region. Serve traditional Hungarian goulash with bread atop mashed potato or simply in a bowl.
This Hungarian national dish is the ultimate winter stew, providing protein and healthy vegetables to bolster your immune system in cold weather. Not to mention, it tastes incredible. It's comfort in a bowl.
Traditional Hungarian Recipes
Source: krumpli.co.uk
A delightful Hungarian pork stew is the first entry on our list. It's almost like beef stroganoff, featuring a slightly sour cream sauce, black pepper, and plenty of bacon.
Any meal with this much bacon is guaranteed to be delicious. But that's not the only thing this recipe has going for it! This old-school recipe has stood the test of time because it's quick, easy, and tasty.
These mouthwatering ground pork recipes are also sure to please!
Source: cilantroandcitronella.com
There is a Hungarian goulash recipe for everybody! This super satisfying soup can be just as good without an ounce of beef.
Instead of beef, enjoy this main course with kidney beans to keep things rich and hearty.
This is a fantastic freezer prep meal. This goulash retains a ton of flavor even after being frozen and defrosted. Even better, the initial preparation only takes thirty minutes. Talk about convenience!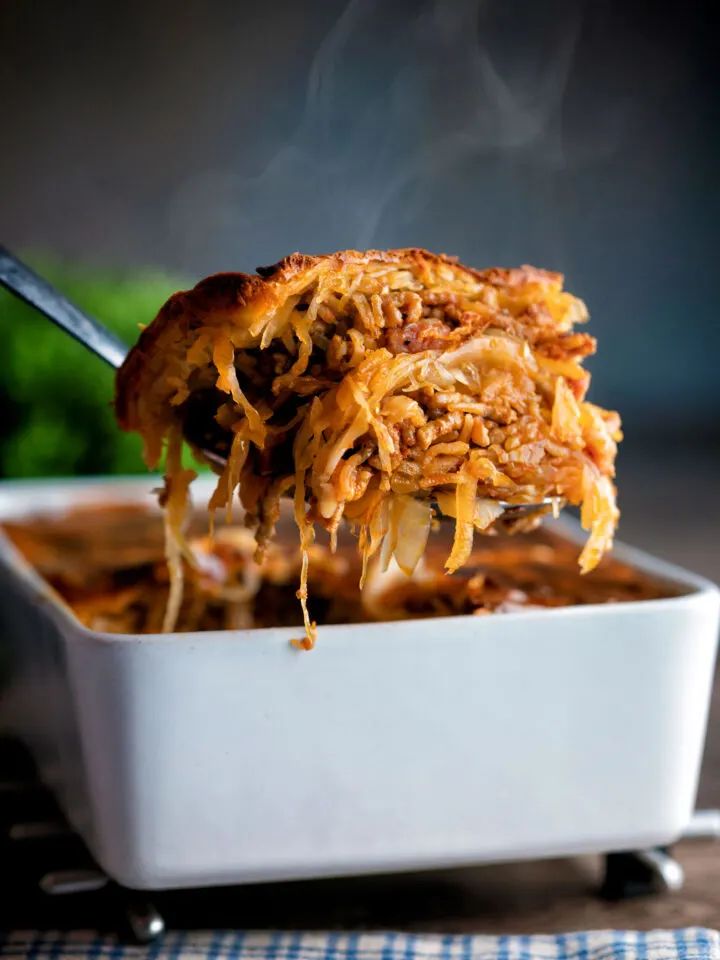 Source: krumpli.co.uk
Rakott kapozsta heroes sauerkraut is a slightly sour cabbage fermentation that tastes much better than it sounds. This is a layered sauerkraut casserole, almost like a Hungarian version of lasagne.
In between the layers of sauerkraut, you'll find a hearty pork ragout featuring rice and a ton of smoked bacon lardons. While it takes a couple of hours to make, the effort is worth it.
This also makes a lovely fancy dinner recipe for a date night!
Source: kopiaste.org
Kaposztas teszta – also known as Hungarian cabbage and pasta – is a simple dish and traditional recipe with only two main ingredients. You guessed it! Cabbage and pasta.
The dish looks pretty unassuming, but it's packed with a cheesy, peppery flavor. This is a great weeknight meal, especially when you feel like you need a little bit of comfort.
Source: thegoodheartedwoman.com
Mushrooms are one of those vegetables that almost feel like they shouldn't be real. They're just so tasty and versatile! And no dish celebrates them better than a delicious Hungarian mushroom soup.
This is comfort food at its peak. Packed with umami, every bite is creamy, with bright herbs singing at the top of the palate. It's deeply satisfying, comforting, and ideal on a cold winter's night.
Source: lowcarb-nocarb.com
Goulash usually takes a while to simmer and reduce, but if you don't have enough time to wait, this Instant Pot version comes together in forty-five minutes!
This is a low-carb stew with incredibly tender meat. While the stew's gravy isn't as thick as usual, it isn't lacking in flavor. This is fantastic for meal prepping as well!
You may also enjoy these other flavorful recipes with beef stew meat!
Source: mycookingjourney.com
If you're a pie-lover, these tiny pastries will capture your heart quickly. These bite-sized sweet treat recipes are like miniature pies, featuring a thinly;-wrapped pastry packed with pie fillings.
These Hungarian desserts are great to whip out when you have guests coming over.
They're quick and easy to make, even easier to eat, and you can create many different flavors for guests to enjoy. Nutella, anyone?
Source: theshortordercook.com
This is the truest representation of goulash on this list, featuring chunk pieces of beef cooked to fall-apart tenderness in a slow cooker. This is a great way to prepare dinner with barely any effort.
Set all your ingredients to simmer in the slow cooker at the start of your day. Lift the lid on perfection that night! What could be better than a rich, hearty stew at the end of a long day?
Source: whereismyspoon.co
Also known as monkey bread or Hungarian coffee cake, this pull-apart bread is fantastic with a cup of coffee. Kick-off brunch with a bang!
The yeast in this pull-apart cake makes it feel richer and weightier and adds delightful lightness. Set this in the center of the table and chat while everybody takes a piece.
Source: mypureplants.com
Here's another take on goulash, this time with a vegetarian twist. Served with a loaf of fresh sourdough, this is delicious on a cold winter's evening.
This is a quick and easy one-pot meal that won't leave you with many dishes to do once you're full and satisfied. If you've never made Hungarian food, goulash is a great place to start.
Source: budgetdelicious.com
Paprikash is another top-rated Hungarian recipe featuring a rich tomato sauce that sings with the flavor of paprika. You can serve this on top of egg noodles, dumplings, or mash.
The point is, you don't want to miss out on any of that beautiful sauce! This dish is super quick and easy, with a bold, punchy flavor you won't forget any time soon.
Source: recipesfromapantry.com
Here's another easy Hungarian goulash recipe! I love using the Instant Pot for soup or stews because it perfectly breaks down the meat. Soft, tender chunks of beef are the highlight here.
This rich and hearty Hungarian beef stew can stand on its own two feet without any crusty bread or mashed potatoes to grease the way.
It's also great for meal-prepping since it's easy to defrost and warm up.
Source: jamjarkitchen.com
Beef paprikash is a smoky, rich, addictive dish that celebrates the combination of beef and paprika. The paprikash sauce is super easy to make, so all that remains is to cook your beef perfectly.
There's nothing better than bonding over good food with the people you love. Try serving this to friends and family on a cold day and watch the meal warm them from the inside.
Source: cookingorgeous.com
If lamb is more your style, try this lamb goulash variation! Goulash is one of those meals that gets better the longer you let the flavors mingle, so try making it ahead of time.
Once it sits in the fridge overnight, those flavors multiply and create something unique. Serve with your favorite rice, on a bed of mashed potatoes, or with a simple slice of bread.
Source: cookingwithmammac.com
Enjoying a Hungarian chicken paprikash recipe with Hungarian dumplings is a whole new level of comfort. The creamy paprikash sauce is packed with flavor, while the chewy dumplings are addictive.
I'm a big fan of this main dish because it has a ton of protein, so you know it will keep you going. Much like goulash, this dish translates well into leftovers so that you can enjoy it the next day too.
This traditional dish is also the perfect way to celebrate special occasions!
Source: cooklikeczechs.com
If you've never heard of langos before, don't worry because you're not alone! These Hungarian street pastries have gone far too long without the appreciation they deserve.
The deep-fried dough has always looked better. And the good news is, you don't have to wander to Hungary to get one. Just whip up a batch in an hour at home and treat your family!
Source: twokooksinthekitchen.com
Chicken meatballs take center stage in this tasty version of paprikash chicken. This is quick and easy to make in advance, especially if you want to freeze the raw meatballs and use them later.
From scratch, this should only take you thirty minutes to make. Serve with a side of your favorite greens and a high-GI carb to keep yourself and your family going until breakfast time.
This really is one of the best meat recipes for dinner!
Source: natashashome.com
Also called makos teszta, these Hungarian noodles with poppy seeds are a simple dinner you can put on the table in just thirty minutes.
The simple ingredients make this easy recipe a great weeknight meal.
Not only does it produce very few dishes, but it's also easy to tweak to suit your needs. Serve it with a few vegetables to round out the meal and enjoy the earthy taste of poppy seed.
Source: mydinner.co.uk
Crank your goulash up a notch with a delicious dose of sauerkraut. The sauerkraut cooks in the goulash, lending it the slightly sour taste that kicks all the other flavors up a new level.
This recipe stays in the fridge for up to four days, so you can enjoy the leftovers long after creating the original meal. The flavors become even better as you leave the goulash to sit.
Source: natashashome.com
Rakott krumpli – layered potatoes – is a tasty smoked sausage and potato casserole that hides sliced sausage between layers of beautifully-cooked potatoes.
This recipe has tweaked the original recipe to suit a more international palate, so this would be a great introduction the Hungarian cuisine if you're new to it!
Your taste buds will love these yummy ground sausage recipes as well!
Source: glutenfreetranquility.com
Marha porkolt is a delicious blend of paprikash and goulash, which means you get the best of both worlds! The rich paprika flavor and the warming stew gravy are perfect for beating back the cold.
This is comfort food at its best, using affordable ingredients that are very easy to cook with. The only thing to note is that you should be using sweet paprika (preferably Hungarian paprika).
If you can't find it in your local store, you can find Hungarian paprika online fairly easily.
Source: whereismyspoon.co
Kick-off dinner or host a game day with a delicious dip in the Hungarian style. Featuring feta, paprika, and caraway seeds, this is a rich dip you can use in a number of ways.
Keep this perfect dish in the fridge and use it on toast for your breakfast. Serve with breadsticks, vegetables, and crackers for a healthy snack at brunch.
Source: hearthandvine.com
Clear out those leftovers and give them new life with this tasty recipe. This is another rakott krumpli – the layered potato dish – but this one includes eggs, ham, and potatoes leftover from another meal.
The best part of this meal is that all the flavors blend together into a single comforting spoonful. The cheesy potato layers house a ton of protein that makes this an excellent lunch or dinner.
Source: whereismyspoon.co
Our next recipe is a unique Hungarian pepper stew. It's vibrant, bold, and absolutely packed with the paprika powder flavor, which Hungary's best foods are known for.
If you have a lot of peppers and you need to use them quickly, this is the recipe for you. Like many of the other recipes on this list, lecso is rich, hearty, and juicy.
Source: theorganickitchen.org
Next up is a keto-friendly recipe for anyone who loves Hungarian cuisine but wants to sidestep the carbs! This meatball and cauliflower combination is deliciously rich but not too heavy.
In just thirty minutes, you can have a dinner ready that will satisfy anyone sitting down to eat. This is another recipe that's great for meal prepping.
You can freeze the meatballs in batches and keep them until you're ready to eat!
Source: petersfoodadventures.com
Töltött paprika – also known as stuffed peppers – are absolutely delicious. Picture moist, well-flavored meat tinged with the taste of peppers. This is a great summertime Hungarian recipe.
If you've ever made enchiladas before, the process is a little similar. The stuffed peppers are baked in a dish with a tasty goulash gravy poured over the top.
Not only does this keep the peppers moist, but it also packs every inch of this dish full of smoky, sweet paprika flavor.
If you don't have access to Hungarian peppers, you can also use bell peppers in this delicious dish.
Source: yuzubakes.com
Our final recipe is paprikás krumplileves, or 'paprika soup'. The key to success with this soup is in buying the right paprika to spice your broth.
Hungarian paprika is both sweet and smoky, so using the appropriate spice is essential to nailing the flavor.
There we have it! That's twenty-seven delicious Hungarian recipes to demonstrate how good cuisine from this region of the world can be. Do you have a favorite? Is there an essential recipe I missed?
Check out the rest of All Nutritious to discover favorite dishes from all around the world.
27 Traditional Hungarian Recipes You Must Make
Get stuck into these Hungarian Recipes that are bursting with flavor! From goulash to soups, there are so many traditional meals for you to enjoy!
Ingredients
1. Boros Tokany
2. Vegan Goulash
3. Rakott Kaposzta
4. Cabbage and Pasta
5. Mushroom Soup
6. Instant Pot Beef Stew
7. Kiffles
8. Slow Cooker Goulash
9. Pull-Apart Yeast Cake
10. Vegetarian Goulash
11. Instant Pot Chicken Paprikash
12. Instant Pot Goulash
13. Beef Paprikash
14. Lamb Goulash Stew
15. Chicken Paprikash with Dumplings
16. Langos
17. Paprikash Chicken with Meatballs
18. Poppy Seed Noodles
19. Goulash with Sauerkraut Bake
20. Layered Potatoes
21. Paprikash Beef Stew
22. Körözött
23. Leftover Egg, Ham, and Potato Casserole
24. Lecso Pepper Stew
25. Meatballs with Cauliflower Rice
26. Stuffed Peppers
27. Paprika Soup
Instructions
Scroll up to get a bunch of easy, yummy, and delicious Hungarian recipes. Don't be afraid to get creative with the ingredients. You might discover a flavor you didn't know you liked.
Get your shopping list going, and make sure you've got all the ingredients.
Get cooking and make your next Traditional Hungarian Recipe!
Notes
Which one of these recipes was your favorite? Let me know in the comment section or on Pinterest!