There are several ways to cook this affordable cut of meat that makes it tender and juicy, how we like it. Discover more ways to enjoy stew beef with these mouth-watering beef stew meat recipes.
Beef stew meat can refer to a few different kinds of meat. Most commonly, it means chuck steak! More generally, it describes affordable meat that gets better when you stew it.
Happily, you can use beef stew meat in many other ways!
So, if you're after a few tasty, affordable meals to add to your weekly rotation, you're in the right place! Let's review thirty-one of the tastiest ways you can use beef stew meat.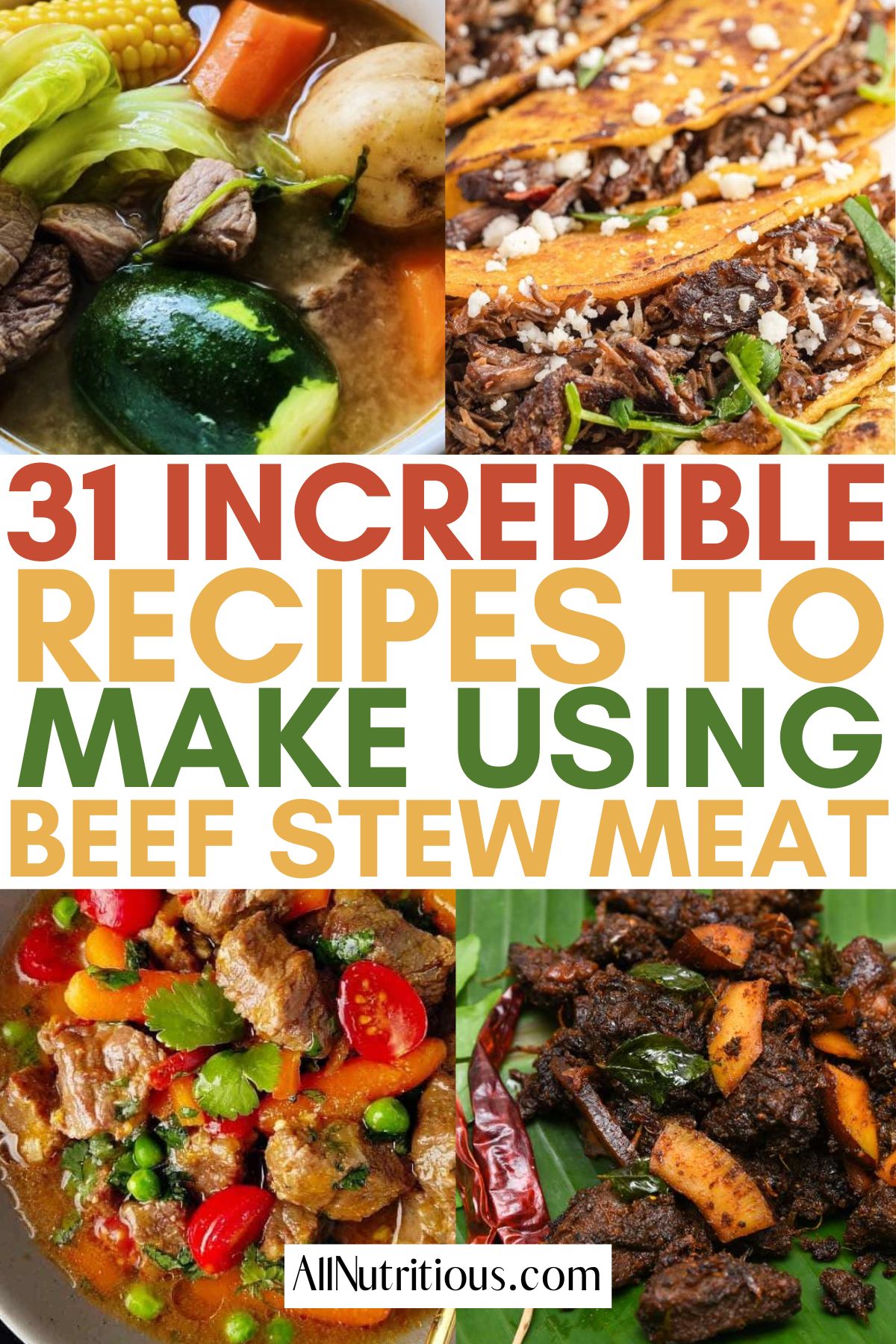 Does Beef Stew Meat Get More Tender the Longer It Cooks?
Absolutely! However, this depends on how you cook it. The key is to cook your chuck roast meat with plenty of moisture to ensure the meat never goes dry.
If the meat goes dry, it becomes less tender. So, if you want your beef chuck to remain tender, simmer it and with plenty of moisture.
Little known fact: this doesn't work with expensive cuts of meat! Cheap cuts become more tender the longer they cook, but expensive cuts tend to dry out. Who knew?
What Can Be Made from Stew Meat?
Anything you can put your mind to. Any recipe that calls for ground beef can be replaced by stew meat! You should include a little more sauce in the recipe.
Then again, more sauce can only be a good thing! You can use stew meat to achieve many delicious weeknight-friendly meals, from tacos to stir fry.
Quick Recipes Using Beef Stew Meat?
First things first. In the trifecta of home cooking, there is speed, taste, and ease. These recipes achieve all three!
Keep your weeknights simple and affordable with these quick beef stew meat recipes.
Source: 4sonrus.com
Beef tips are cuts from various parts of the cow.
They can be some of the toughest cuts of beef but also the best cuts, which is why it's essential to cook them properly. In this case, 'properly' means one thing…
Gravy! Beef tips simmered in gravy are wildly delicious. The Worcestershire sauce and soy sauce give it a rich flavor. This hearty and rich meal is ideal for winter evenings spent with your family.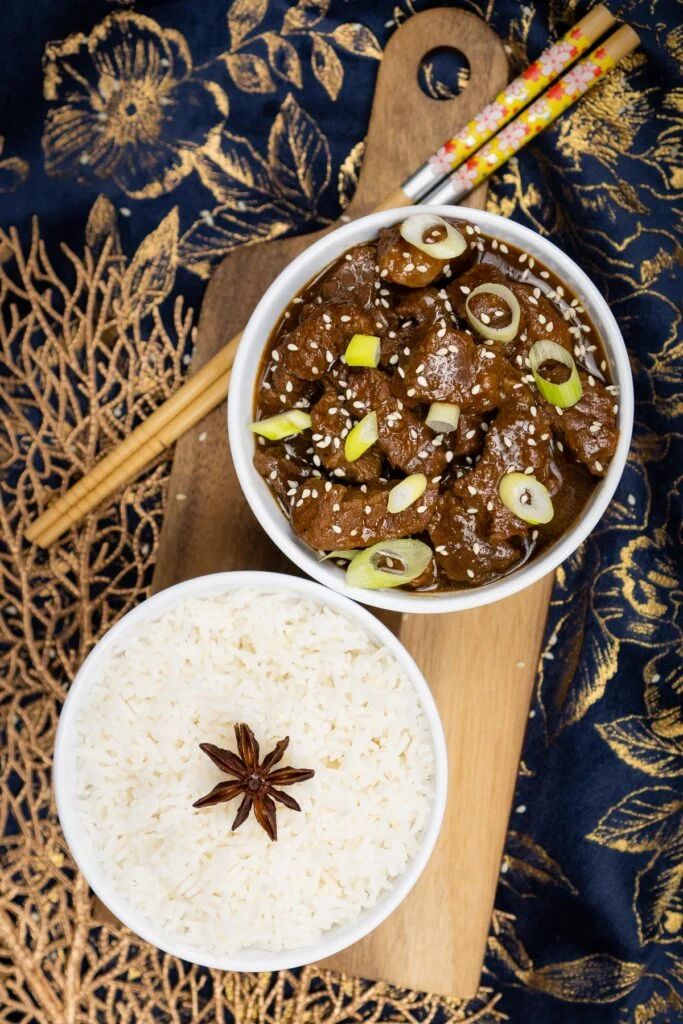 Source: flawlessfood.co.uk
Korean beef stew is one of the best ways to treat a cheap cut of meat. Using a pressure cooker, you can enjoy this restaurant-worthy meal in mere minutes!
The key to success with this delicious recipe is the sauce! It does two things: add flavor and tenderize. The meat gets softer and more flavorful with every minute it cooks in this magical brew.
Source: chefsavvy.com
Barbacoa beef comes from the Spanish word for 'barbecue.' The flavor is rich and intense, with a smokiness you can't ignore. This is the place to go if you need protein for taco night!
If you're short on time, there's nothing better than an Instant Pot. With only fifteen minutes of hands-on time needed, this meal will save you hours in the kitchen.
Source: coffeewithus3.com
Speaking of the Instant Pot, here's a recipe that perfectly delivers takeout-style beef and broccoli. When you start to feel takeout cravings, take fifteen minutes to prepare this instead.
Not only is this much healthier than ordering out, but it also tastes better. That's a win-win!
Source: corriecooks.com
Inspired by the flavors of Kerala, India, this beef fry is super punchy. You can see the spices on this beef, so you know a ton of bold flavor is packed into every bite.
Keep in mind that this recipe has a ton of spice. So, if you're not a spicy eater, you might need to skip this one!
Instant Pot Recipes Using Beef Stew Meat?
Your Instant Pot is one of the best ways to prepare beef stew meat. It allows you to achieve the same tender texture a slow cooker would without the hours of cooking time.
Source: askchefdennis.com
First on the list for our Instant Pot recipes is an easy recipe for authentic Guinness beef stew.
This super hearty recipe pushes the Irish flavor to the max with a can of tasty stout and tomato paste in the gravy.
The beer helps tenderize the meat and adds a ton of flavor to the gravy. Thanks to the root vegetables, this meal with yummy tender meat will keep you full and satisfied forever.
Source: emilyfabulous.com
You know that horrible moment when you realize you haven't taken the meat out of the freezer even though you meant to? Yeah, nightmare! Well, this simple recipe can help.
Using frozen beef stew meat, beef broth and other simple items from the grocery store, you can create a delicious stew in under an hour, thanks to your pressure cooker.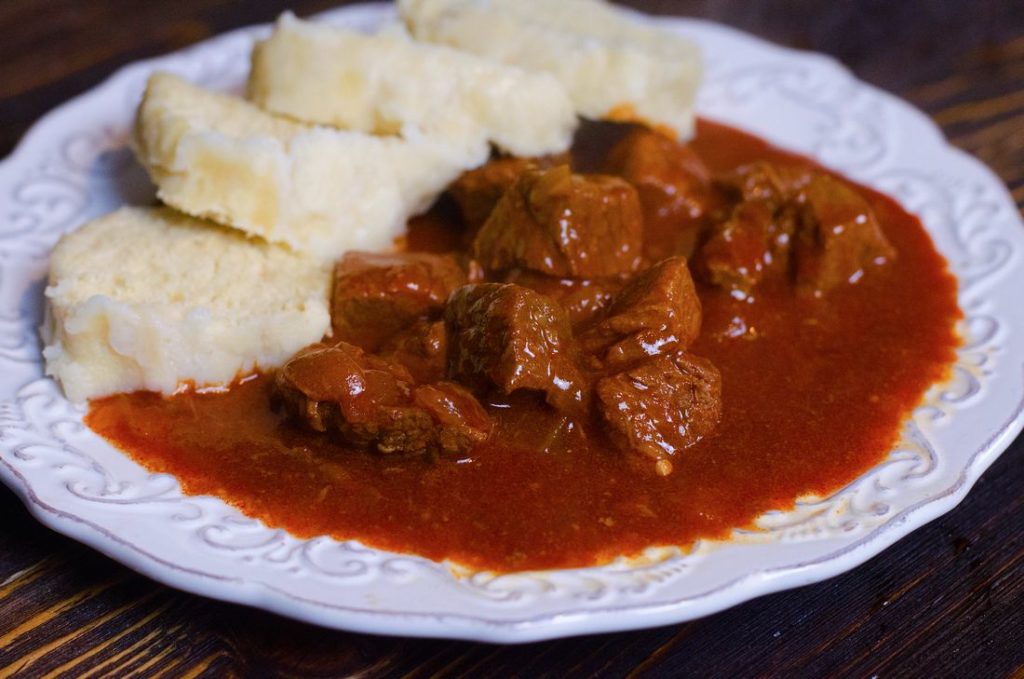 Source: mooshujenne.com
Next up, we have a bold and hearty Czech recipe perfect for warming up a winter evening. This is a goulash, which is packed full of paprika and tomato.
Serve your goulash with mashed potatoes or bread to mop up all that delicious sauce!
Source: mooshujenne.com
Create a delicious dinner with affordable ingredients thanks to this fantastic recipe. Pasta, beef stew meat, and some tasty broth create something beautiful here!
I recommend cooking the pasta separately from the beef. The pasta can overcook and dissolve into the soup if you cook them together. We don't want that!
Get more use out of your pressure cooker with these other tasty pressure cooker recipes!
Source: flouronmyface.com
I'm a huge fan of beef and barley soup. This is a cold-season soup with a thick, rich broth. You can best whip this hearty soup up in your pressure cooker with barely any effort.
Paired with beef and vegetables, the barley in this soup ensures you'll stay fuller for longer. This instant pot vegetable beef soup is sure to become one of your favorite meals.
Source: sweetandsavorymeals.com
Here's another take on beef tips and beef stock gravy! This time, instead of a crockpot, you'll be using an Instant Pot. This recipe is king on a busy weeknight when everyone is craving some comfort food.
These beef tips are meant to be served on pasta. Be generous with the rich gravy to coat every little morsel of that delicious pasta.
Source: nourishplate.com
Beef stroganoff is a classic family favorite. Every bite is super creamy and packed with rich, hearty flavor and yummy egg noodles.
Is it any wonder families worldwide love to see this on their dinner table?
Stroganoff is a beautiful way to use cheaper cuts of meat. The meat gets super tender while cooked in the creamy mushroom sauce.
Source: easyanddelish.com
Also known as Picadinho de Carne, Brazilian beef stew tastes as bold and vibrant as it looks. This cousin of a traditional stew is packed with a ton of healthy vegetables.
Not only does this add to the flavor, but it also makes this stew a fantastic healthy weeknight meal!
Source: coffeewithus3.com
Cheeseburger macaroni is a childhood classic. If you haven't tried this comforting dinner before, this is your chance! Give it an upgrade with beef stew meat instead of ground beef.
This super creamy meal is the definition of comfort food. Whether you need a potluck meal or a weeknight dinner, this recipe will please anyone you serve.
Crockpot Recipes Using Beef Stew Meat?
If you have a few minutes to kill in the morning, these crockpot recipes will save you much time in the evening! Get the perfect tender beef every time with these fabulous crockpot recipes.
Source: yousaypotatoes.com
If you don't have an Instant Pot, this crockpot Irish beef stew offers the same bowl of warm comfort in a slightly longer time.
All you need to do is toss the ingredients for this slow cooker recipe in the crockpot in the morning.
That evening, your home will smell like an Irish pub (in a good way). Lift the lid on the most comforting meal of slow cooker beef stew you'll enjoy all week!
This really is one of the best meat recipes for dinner!
Source: theshortordercook.com
Here's another take on goulash! This time, we're taking inspiration from Hungary. Hungarian cooking is known for its heartiness. That's why this stew is guaranteed to satisfy!
This recipe uses a lot of simple, affordable ingredients. If you need to clear out your root vegetable drawer, this is the way to do it.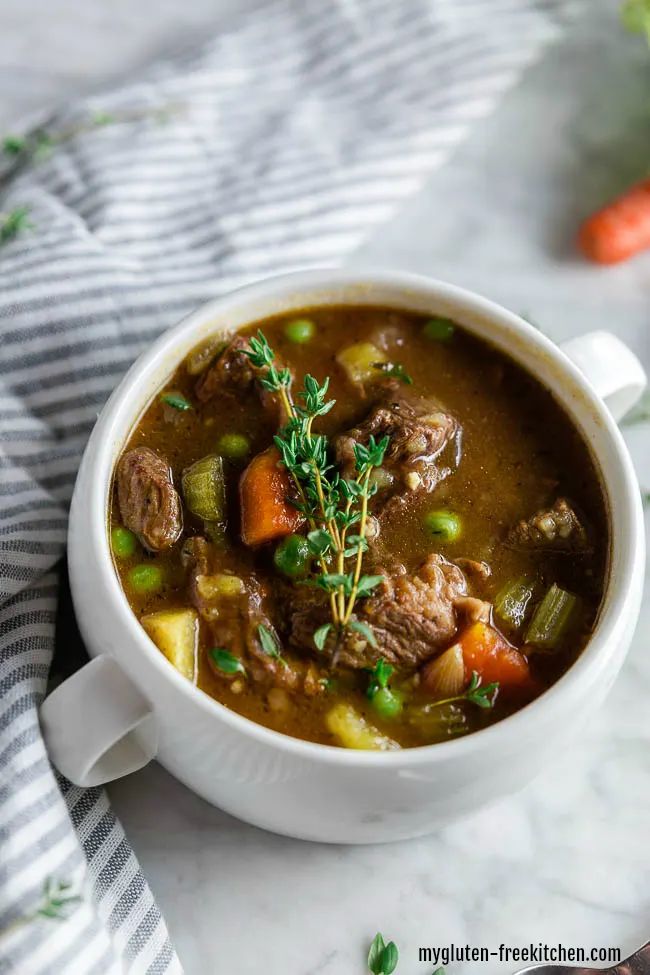 Source: mygluten-freekitchen.com
Many beef stews use flour to thicken the sauce, but that means anyone who's gluten-free can't partake. Luckily, this crock-pot recipe uses vegetables and patience to achieve the same result.
The stew takes roughly seven hours to cook in the crock pot. If you toss everything in before you start your work day, you'll lift the lid on the perfect stew seven hours later!
Source: slowcookerclub.com
This recipe sounds like something out of a Medieval pub. Beef and ale! It's rich, hearty, and full of healthy vegetables and tomato sauce.
If you need a winter warmer, this stew recipe will certainly do the job.
The ale is the hero ingredient here. It's malty and robust, adding a delicious undercurrent to this fantastic stew.
Source: hungryhealthyhappy.com
Looking for something spicy? This beef stew recipe brings a new meaning to the phrase 'winter warmer'!
This stew will warm you through, thanks to a generous amount of garam masala and chili. It's a fantastic weeknight dinner, but it can also double as a date night staple.
Source: thatskinnychickcanbake.com
Beef and mushrooms are a match made in heaven. Both absorb sauce like nobody's business! That's what makes them such great companions.
This is a semi-dry stew with a thick gravy. Serve it with a side of rice or mashed potatoes to soak up all the beautiful sauce.
Source: karenskitchenstories.com
Argentinian stew is in a category all its own. What makes it so unique, you ask? Peppers! Every spoonful comes with a heart-warming pepper to keep you and your taste buds on your toes.
Pair that with a few rashers of bacon, and you've got a crowd-pleaser for sure.
Source: moneywisemoms.com
Kerala is a state in India with one of the country's highest beef consumption percentages. That's what makes this meal so unique.
Using an Indian spice palate, these beef cubes take on a whole new life. This is a super simple way to enjoy a cheap cut of beef.
Punchy and flavorful, this is a simple yet delicious crockpot recipe.
Source: julieseatsandtreats.com
Anticipating a busy night ahead? No problem! This beef and noodle soup are on your side.
This can feed the whole family with almost no effort. Plus, you can tweak it to suit whichever ingredients you have on hand. That's the power of a simple yet tasty beef stew!
Source: stefseatsandsweets.com
Beef and peppers are two simple ingredients that create something unique. In this case, this peppered beef stew is hearty and humming with peppery goodness.
The sugar snap peas strewn throughout the sauce offer a little reprieve from all the heartiness.
Mexican Recipes Using Beef Stew Meat?
Mexican recipes are some of the best out there! Packed with bold flavors and nutrients, each of these recipes would be ideal for a nutritious weeknight dinner.
Source: lanascooking.com
Of course, if we're talking about Mexican flavors with beef stew meat, we need to start with an easy beef stew recipe.
This Mexican beef stew – Caldillo – is made for enjoying on a cold winter's night by the fire.
Serve the large chunks of stewed beef in the savory sauce over rice, or use tortillas with your favorite fixings.
Source: emilyfabulous.com
Mexican shredded beef can be used in so many ways and has tons of flavor. From tacos to enchiladas, shredded beef is at home wherever hearty protein is needed.
You can have this shredded beef ready to go in under an hour. It's so tender that it just falls apart when you stir it.
Source: inmamamaggieskitchen.com
Bistec a la Mexicana is a rich, tomatoey stew with many stewed vegetables. The serrano peppers offer spicier than jalapenos, so be sparing with them if you're sensitive to spice!
While the recipe calls for fresh tomatoes, you can use canned ones in a pinch.
Source: littlesunnykitchen.com
Chile Colorado is precisely what it sounds like. This protein-packed chile is bursting with hearty flavor and heat. Serving this with cooling cilantro rice creates the perfect balance of flavors and textures.
This is a fantastic meal prep recipe. The stew stays moist and flavorful for days, and the rice is easy to cook in minutes.
Plus, this freezer-friendly recipe gives you an easy dinner any night of the week.
Source: bennysfitness.com
Caldo de res – or beef soup, Mexican style – is a simple and fragrant soup you can make ahead of time. It stays good for up to three days, so it's the ideal meal prep recipe.
Best of all, you can use almost any vegetables you have on hand to bring it to life. Are you clearing out your vegetable drawer? This soup will help you do it in the tastiest way possible!
Love Mexican flavors? Warm up with more of these authentic Mexican soups!
Source: littlesunnykitchen.com
Birria tacos use perfectly-seasoned shredded beef as the filling. In other words, they're heaven on earth. Take Taco Tuesday up a notch with these ultra-crispy and cheesy tacos.
Guacamole and salsa will make this the perfect meal. If you don't have authentic corn tortillas, flour ones will work too!
This is one of the best ideas for a Friday night family dinner!
Source: inmamamaggieskitchen.com
Our final recipe is an authentic Mexican stew called Bistec Ranchero. The hero ingredients are beef stew meat and a hearty handful of roasted poblano peppers. In other words, it's fantastic!
This recipe has slight variations depending on the region of Mexico you're drawing inspiration from. Feel free to tweak the spice palate to suit your needs. Make it your own.
Ready for more mouth-watering beef recipes? Enjoy these easy beef cube recipes.
Enjoy a delicious beef meal without the hefty price tag, thanks to this collection of excellent recipes! So, which of these recipes will make it into your weekly meal rotation?
Do you have a beef stew meat recipe you reach for in a pinch? Let me know in the comments below!
31 Best Recipes Using Beef Stew Meat
From stews and simple crockpot meals to curries and tacos, here you will find the best beef stew meat recipes for tonight's dinner.
Ingredients
1. Beef Tips in Brown Gravy
2. Pressure Cooker Korean Beef
3. Barbacoa Beef
4. Beef and Broccoli
5. Kerala Beef Fry
6. Killarney Guinness Beef Stew
7. Frozen Beef Stew
8. Czech Goulash
9. Beef Parmesan Soup
10. Beef Barley Soup
11. Beef Tips and Gravy
12. Beef Stroganoff
13. Brazilian Beef Stew
14. Cheeseburger Macaroni
15. Irish Beef Stew
16. Hungarian Goulash
17. Gluten-Free Beef Stew
18. Beef and Ale Stew
19. Beef Curry
20. Beef Stew and Mushrooms
21. Argentina Style Beef Stew
22. Beef Cubes
23. Beef and Noodle Soup
24. Peppered Beef
25. Mexican Beef Stew
26. Mexican Shredded Beef
27. Bistec a la Mexicana
28. Chile Colorado
29. Mexican Beef Soup
30. Birria Tacos
31. Bistec Ranchero
Instructions
Scroll up to get a bunch of easy, yummy, and delicious recipes. Don't be afraid to get creative with the ingredients, you might discover a flavor you didn't know you liked.
Get your shopping list going and make sure you've got all the ingredients.
Get cooking and make your next Beef Stew Meat recipe!
Notes
Which one of these recipes was your favorite? Let me know in the comment section or on Pinterest!