Ground sausage is not limited to your breakfast casseroles! Check out these 41 tasty ground sausage recipes, and fall in love with this flavorful meat.
Do you like ground meat but your recipes always seem to be missing that tasty oomph? Then all you need is ground sausage!
Ground sausage comes already seasoned to perfection. It is a tasty addition to many dishes. Plus, you can use it as a substitute for your ground-meat recipes for a whole different flavor.
Whether you're cooking with pork, chicken, or Italian ground sausage, this roundup contains the most delicious ground sausage meals on the internet.
Is Ground Pork Sausage the Same as Ground Pork?
They might look nearly identical, but ground pork and ground sausage are not the same.
Although in most cases, the ground sausage you buy at the supermarket will be made of pork, we are talking about two different types of meat here.
Ground sausage is ground meat that is mixed with a lot of seasonings, fat, and preservatives that conserve the meat. And ground pork is just plain ground meat without any add-ins.
Ground sausages can also be made from different meats such as chicken or beef.
What Can be Made from Sausage?
Grilling link sausages and making hot dogs is easy. But many people don't know that cooking with ground sausage is just as simple. And way more delicious, too!
You can use your ground sausages for any recipe that requires ground meat. Whether in pasta sauces, soups, patties, casseroles… you name it.
Ground sausages are loaded with seasonings. And you barely need any flavorings to turn this meat into a spectacular dish!
Ground Italian Sausage Recipes
Wondering what to make with that spicy Italian sausage sitting in your fridge? How about these lovely delights?
Source: runningtothekitchen.com
Cornbread and chestnut stuffing with Italian sausage. Plus mushrooms, fennel, onions, garlic, and cranberries. There are also fresh sage and rosemary for some deep flavors.
As festive as it can possibly get, this stuffing will be the perfect addition to your holiday table.
Savory, crunchy, soft, filling, with hints of sweetness that wrap everything up. Every single guest will be tempted to reach for seconds. So you better make a larger batch.
The pop of red color from the cranberries will make this dish look incredible. Also, it may convince the picky kids to take a spoonful of this goodness.
Why stop here? Check out these best stovetop stuffing recipes!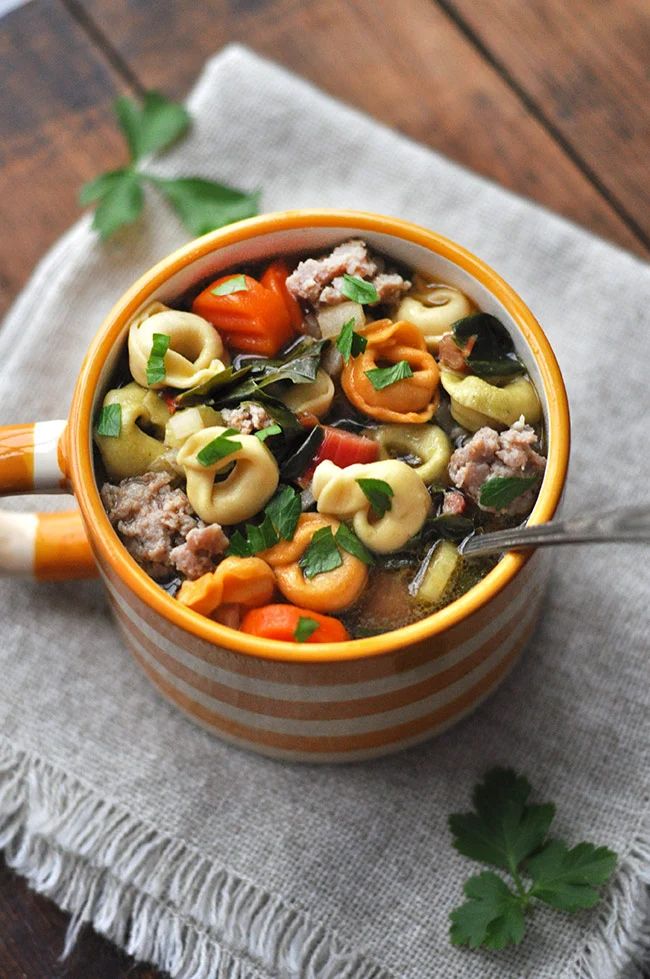 Source: mightymrs.com
Italian sausage with tortellini is a match made in heaven. And if you have this combo in the form of a soup, even better. Because this easy recipe is really as nourishing and filling as it sounds.
With carrots, spinach, celery, onions, and lots of chicken broth, this quick dinner is just the perfect recipe you need on a cold day.
The family favorite recipe uses cheese tortellini, but you can use the ones you prefer.
Source: twincitiesfrugalmom.com
Loaded with mozzarella cheese, Italian sausage, and pasta sauce. Penne rigate has really never tasted better.
This creamy Italian sausage pasta only uses a touch of garlic powder for seasoning. And for a good reason. The Italian sausage is already flavorful enough that it practically needs no company.
A spicier twist on your classic Bolognese sauce, with some extra cheese. Ok, more like loads of cheese.
Mozzarella and Parmesan cheese taste like heaven alongside ground Italian sausage in this favorite italian pasta recipe.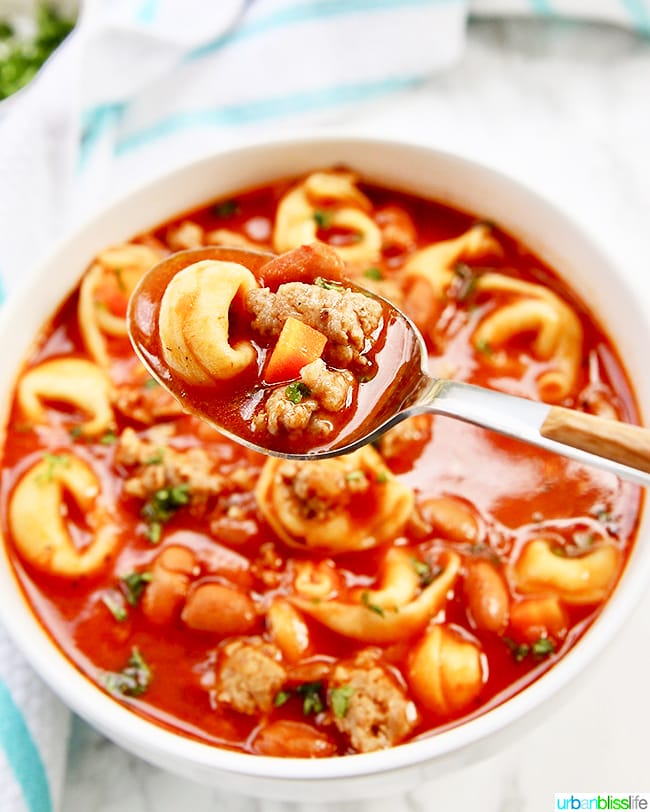 Source: urbanblisslife.com
Another comforting tortellini soup. But with more fiber and protein.
Packed with pinto beans, tomato sauce, veggies, savory sausage, and tortellini. All drowned in chicken stock for a really nourishing dish.
Hearty and satisfying! This will surely become a regular cold-day lunch. And trust me! A bowl of this tortellini soup will keep you full until dinner.
The recipe uses dried tortellini. But you can also add fresh ones. Just make sure they are cooked as specified on the package.
Source: urbanblisslife.com
Looking for a quick dish to comfort your late-afternoon cravings? Then this creamy sausage pasta is a perfect choice!
Drowned in tomato, enriched with peppers, super meaty, and well-seasoned.
There is nothing to change in this Italian sausage recipe. Except maybe add some red pepper flakes for extra spiciness.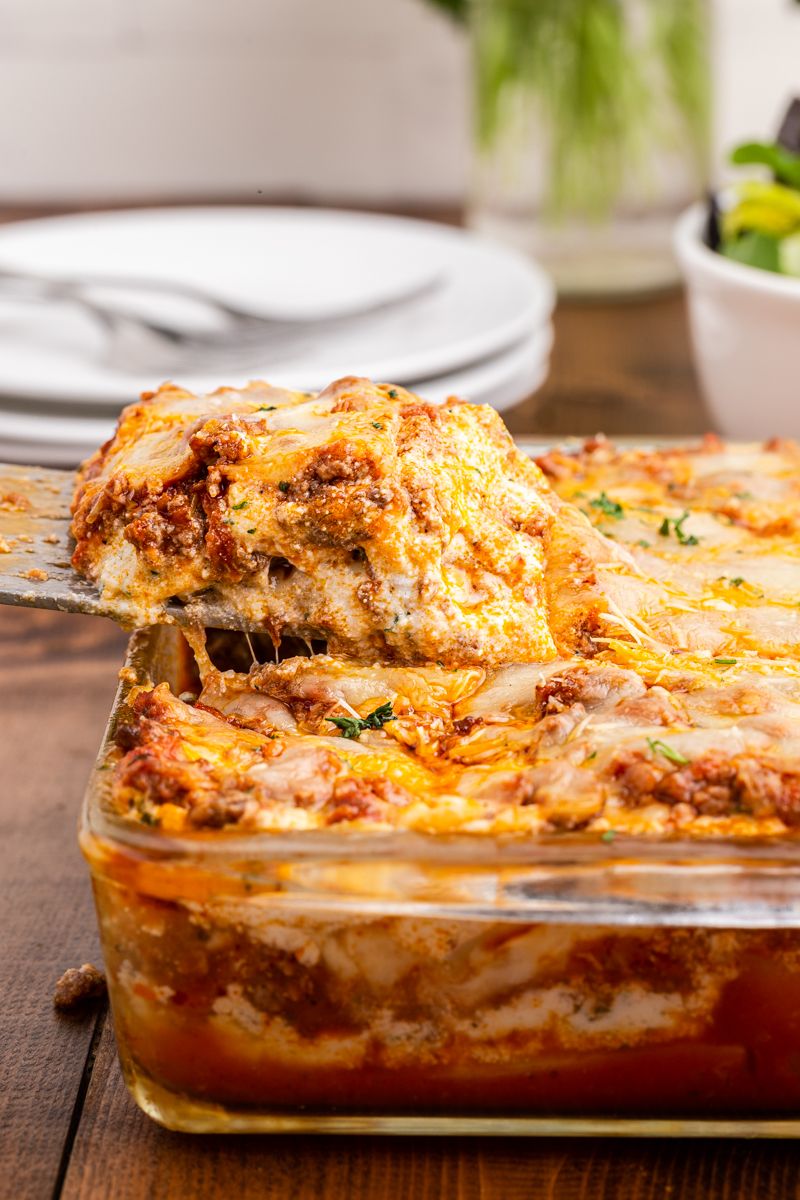 Source: bobbiskozykitchen.com
Low in carbs, but rich in layers! And flavor, of course! This keto lasagna is definitely a recipe worth keeping. With hearts of palms, cheese, meat, and tasty sauce.
Layered up to perfection. Plus super cheesy and meaty. Even hardcore pasta lovers will go crazy for this delicacy.
Low-carb and hearty, this has to be the best guilt-free comfort food. A great way to top it is with some fresh basil!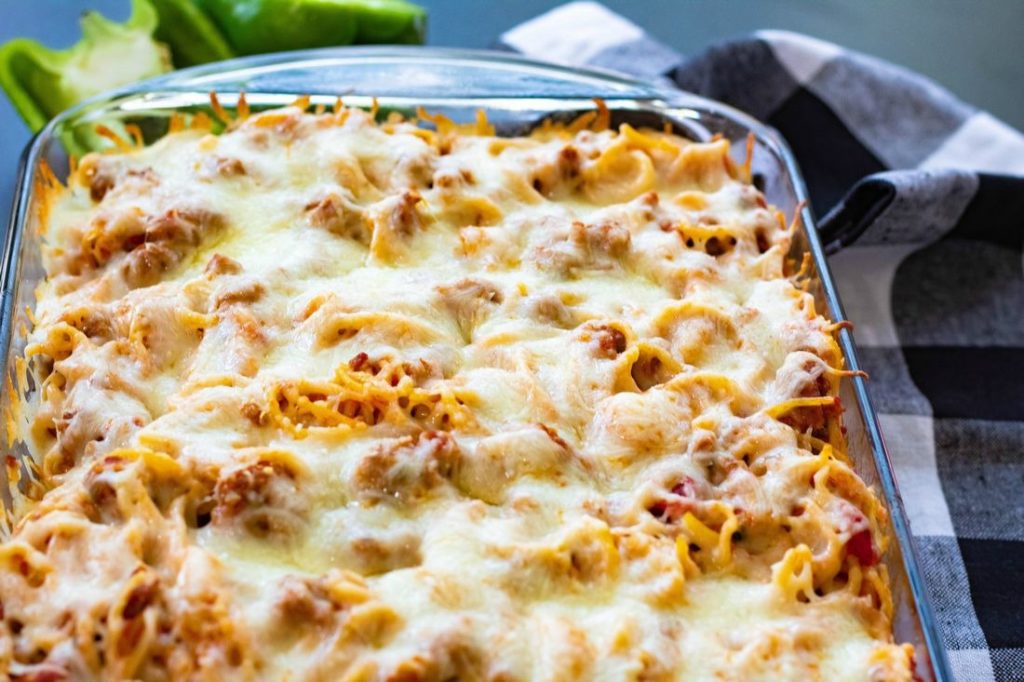 Source: thisolemom.com
Cook the spaghetti, make the sauce, combine well, pop into the oven, top with cheese, and enjoy. And trust me, your whole family will be satisfied!
If you're used to making spaghetti only when there are meatballs involved, this will be a fantastic way to spice things up.
Sausages, spaghetti sauce, and shredded cheese. I mean, how yummy does that sound?
Ground Pork Sausage Recipes
Have some ground pork sausage in your fridge and don't know what to do with it? Whip up one of these lovely recipes!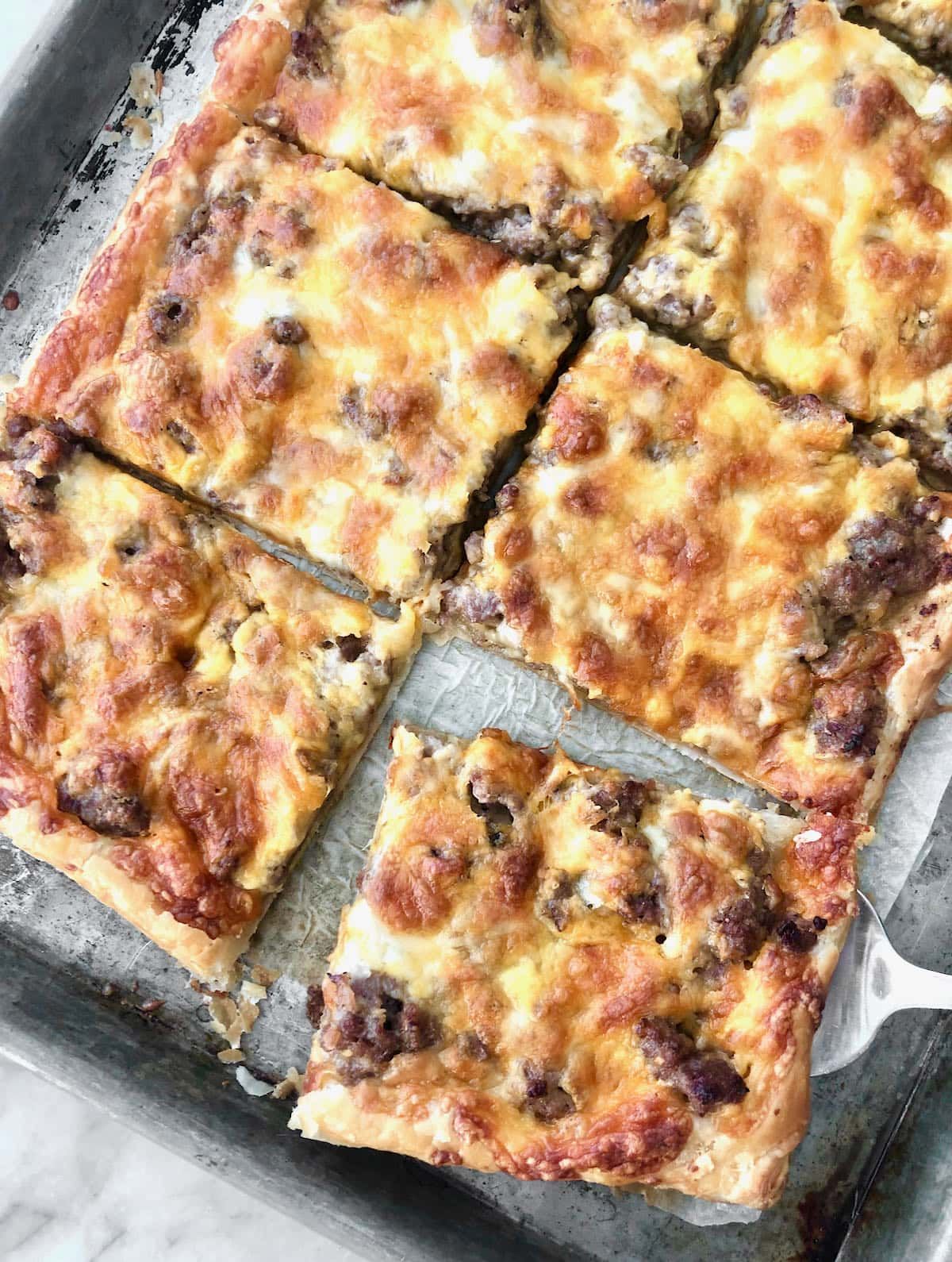 Source: quichemygrits.com
Crispy pastry filled with a meaty and cheesy filling!
With pork sausage, cheddar cheese, and a flavorful four-cheese blend. Plus, a touch of sage. Because, how can you make pork without this herb, right?
Plus, this main dish comes together quickly and easily. Within 40 minutes from start to finish, you have some high-class meat-stuffed pastry squares.
How can your guests not be impressed with this easy dinner?
Enjoy more of the best meat recipes for dinner.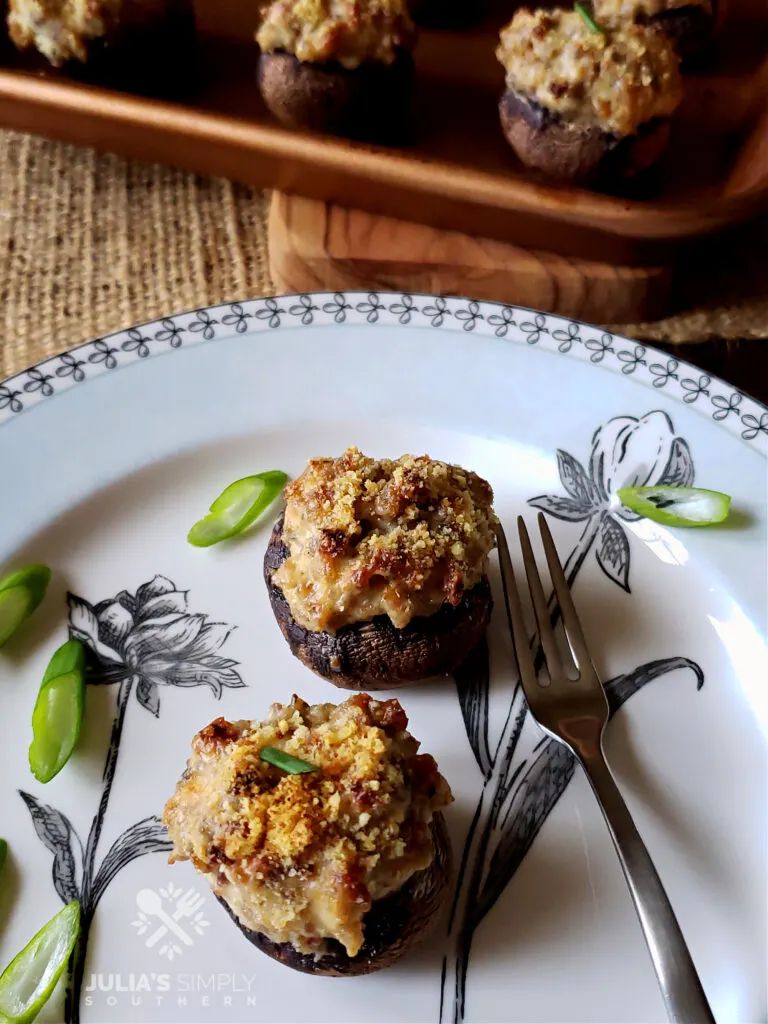 Source: juliassimplysouthern.com
Planning a fancy celebration? Then these stuffed mushrooms will look nothing short of elegant!
Cheesy, crispy, and incredibly meaty. I guarantee that this appetizer will be the ultimate hit on your table.
And the thing you'll love most? You only need 5 simple ingredients and 30 minutes to whip up these tasty bites.
Creamy cheese, sausage, and breadcrumbs. If you want to turn ordinary mushrooms into delightful party food, this is the way to go to have great flavor.
Source: juliassimplysouthern.com
If you haven't tried incorporating meat into your bread, then your breakfast has been missing out on a lot of flavors.
This biscuit bread with ground sausage is rustic and authentic enough to pass your grandma's quality test.
Buttery, cheesy, and loaded with meat. If this isn't perfect for your breakfast table, then I don't know what is.
Top it with some runny eggs (or even gravy!) and feel your taste buds go crazy.
Source: dinedreamdiscover.com
Who doesn't like biscuits and gravy? This creamy casserole with sausage and canned biscuits is the perfect wake-up meal to have on a Sunday morning.
Plus, there is a generous amount of cheese. Which will seriously please those who love their breakfast gooey.
Loaded with flavors and textures, this has to be one of the most comforting breakfasts to have on a cold morning.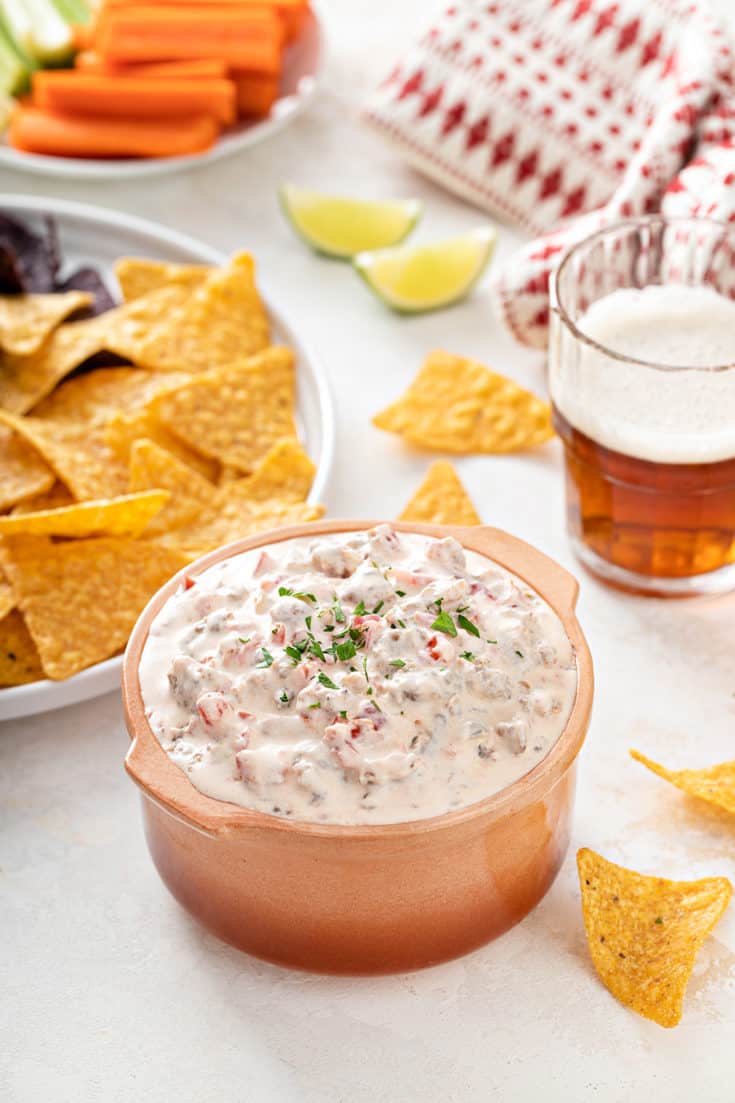 Source: mybakingaddiction.com
Hosting a game night? Watching football? Or are you in the mood for curling up on the couch with your favorite show? Whatever the occasion, this spicy dip will be the perfect snack!
Made with ground hot sausage, cream cheese, diced tomatoes with chiles, and some hot sauce to further spice things up.
And that's it! Just four common ingredients and 10 minutes. That's all it takes for this beautiful dip to come together.
Isn't this just the easy dish any potluck needs, or what?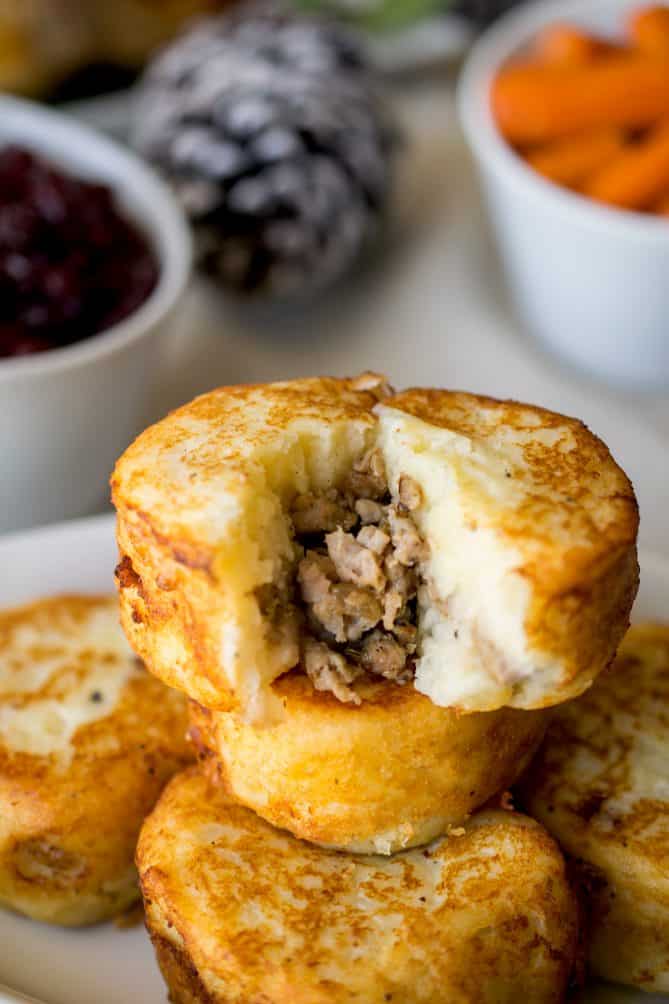 Source: culinaryginger.com
If you haven't made potato dumplings before, I suggest you try your hand with this recipe.
Because yes, it is tasty, flavorful, soft, meaty… But it is also almost foolproof. There's nothing to possibly mess up here. So cooking newbies, here's your chance to shine!
Prep the mashed potatoes, shape them around the sauteed sausage mixture and place in the fridge to set.
If you're hosting a party, this will be the first thing to disappear from your table. On that, you can count!
Recipes with Ground Chicken Sausage
If you're looking for some leaner sausage meals, then ground chicken sausage is the way to go. And here are the best choices.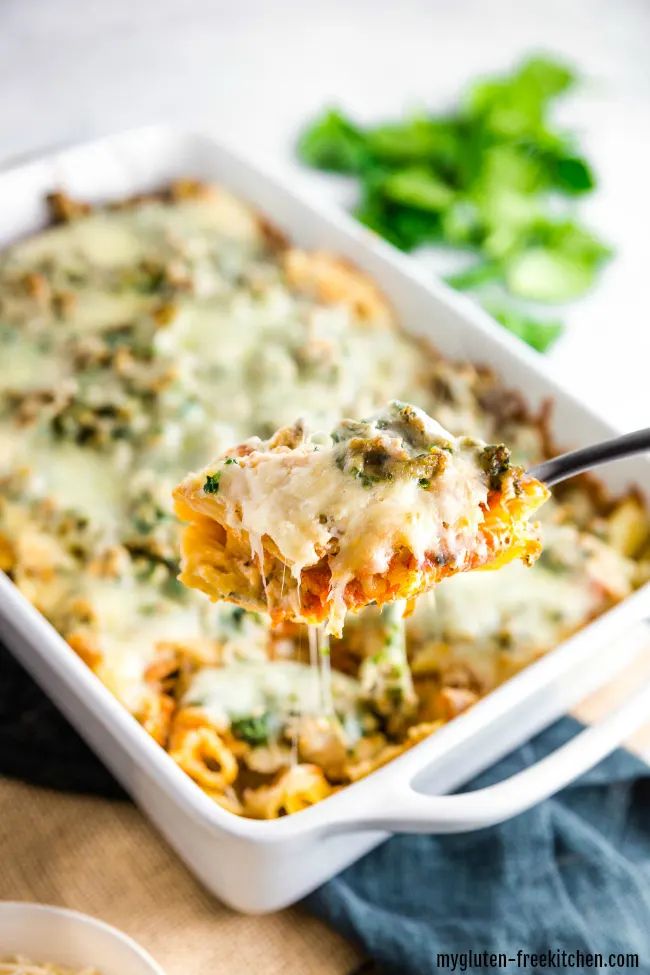 Source: mygluten-freekitchen.com
Ground chicken sausage, pasta sauce, spinach, and tons of cheese. This pasta recipe straight from the oven is to die for!
The recipe also uses gluten-free ziti, but you can use regular noodles, too. So easy to make and yet super delicious!
If you're tired of your old pasta recipes, here is a delicious way to introduce something new.
Source: dinedreamdiscover.com
Mini frittatas are just the thing you need to grab in the morning and eat on the go!
Loaded with protein, veggies, and cheese, they are nutritious and seriously filling. Of course, you can customize this recipe as you see fit, but I suggest you give this combo a try.
Arugula, tomatoes, onion, sausage, and cheddar for the win!
Also, these are the perfect egg bites for lunch.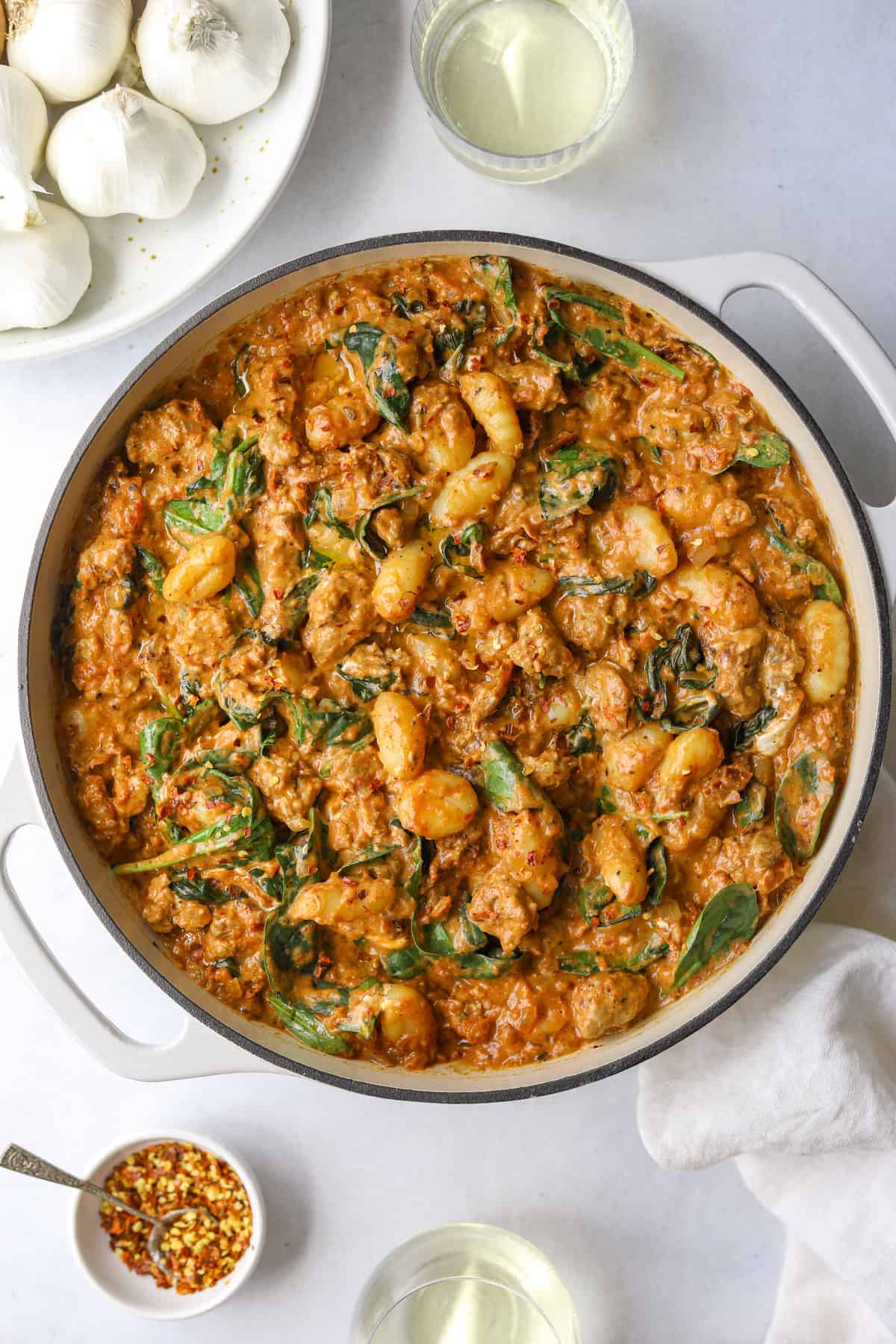 Source: cravingcalifornia.com
Want to serve pasta that is comforting but fancy-looking at the same time? Then, look no more! This creamy tomato gnocchi delight is as finger-licking as it can possibly be.
It combines chicken sausage, sun-dried tomatoes, spinach, and goat cheese.
Cream cheese will also work here, but it is really recommended that you try it with goat cheese. It gives the dish a distinctive flavor that works well with the rest of the ingredients.
Rich and super addictive! Seriously, you cannot have just a small portion. This pasta dish is a must-try.
Source: reciperunner.com
Chicken and broccoli is a combination that never disappoints. And that also stands true for chicken sausage.
And if you add some ricotta to the mix, even better! This pasta is also enriched with lemon and garlic flavors. Which is why no one will be able to resist asking for seconds.
Whether your sausage is spicy (like in this recipe) or not, I guarantee satisfied tummies.
Source: sweetandsavorymeals.com
Made with a creamy cheese and mayo mixture. Enriched with bacon, pickles, and onion. Loaded with ground chicken sausage. And spread over tortillas.
These pinwheel recipes are THE party and finger food you need on your table. Plus, they make great lunch-box additions your kids will absolutely love.
They also freeze well and can be made in advance.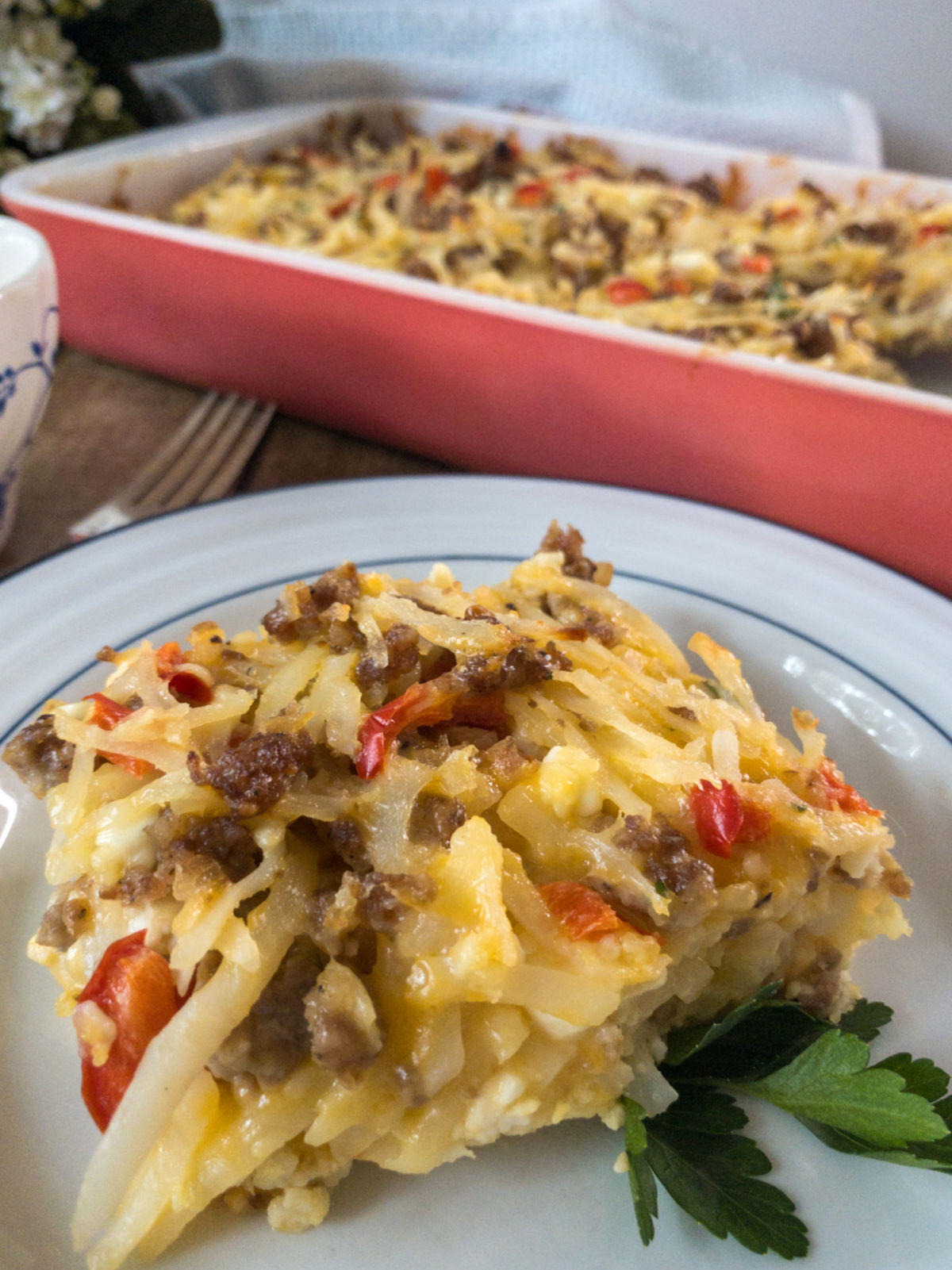 Source: onehotoven.com
When I hear "hash browns," I immediately think of sausages. And breakfast. If you share that with me, then trust me, this recipe is something you simply have to try.
Why? Because it is creamy and incredibly cheesy. It is loaded with sausages, potatoes, and eggs. And it takes only 15 minutes to prepare.
Source: crockpotsandflipflops.com
When in doubt, make chicken and rice! But this lovely recipe takes things to a much tastier direction.
Browned sausage, buttery mushrooms, garlic flavors, and tons of cheddar. All tossed with rice and cooked in a crockpot for the most convenient dinner ever.
Does this sound like it has the potential to become your family's favorite, or what?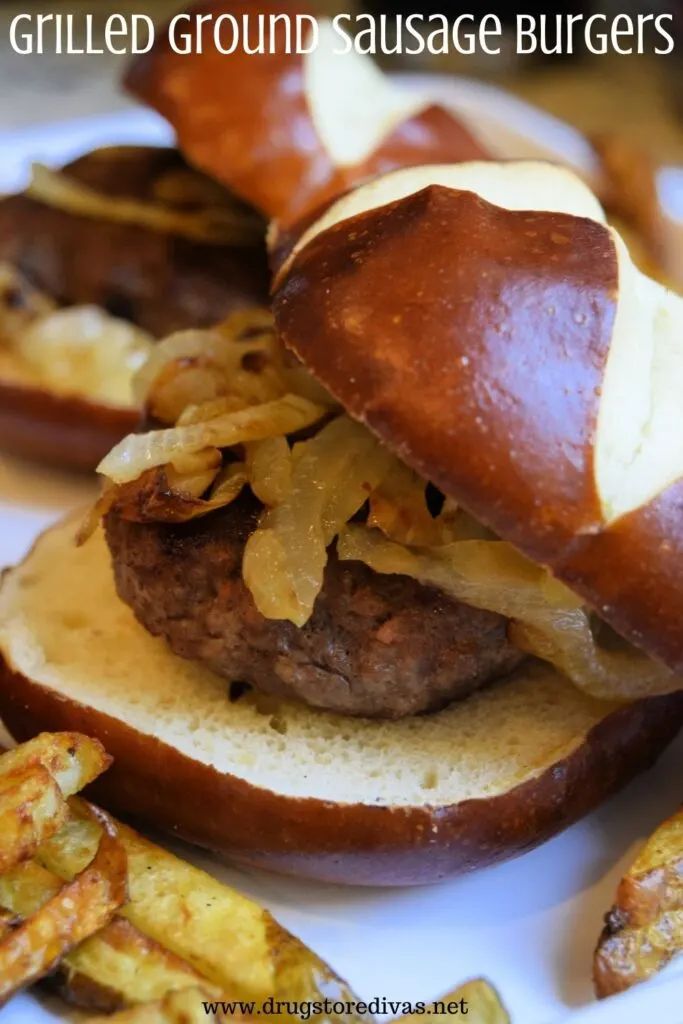 Source: drugstoredivas.net
If you've never tried sausage burgers before, this recipe will change your whole burger-grilling game, for sure.
The process? The same as with your regular ground meat. Season it, form patties, and grill. But the taste? Incredibly rich!
Don't reveal that it's ground sausage to your guests, and they'll all beg you to reveal your grilling secret.
Tender and juicy, these sausage patties belong in between some toasted brioche buns.
Ground Sausage Dinner Recipes
Ground sausage for dinner? Here are the absolute best recipes for a filling and delicious meal.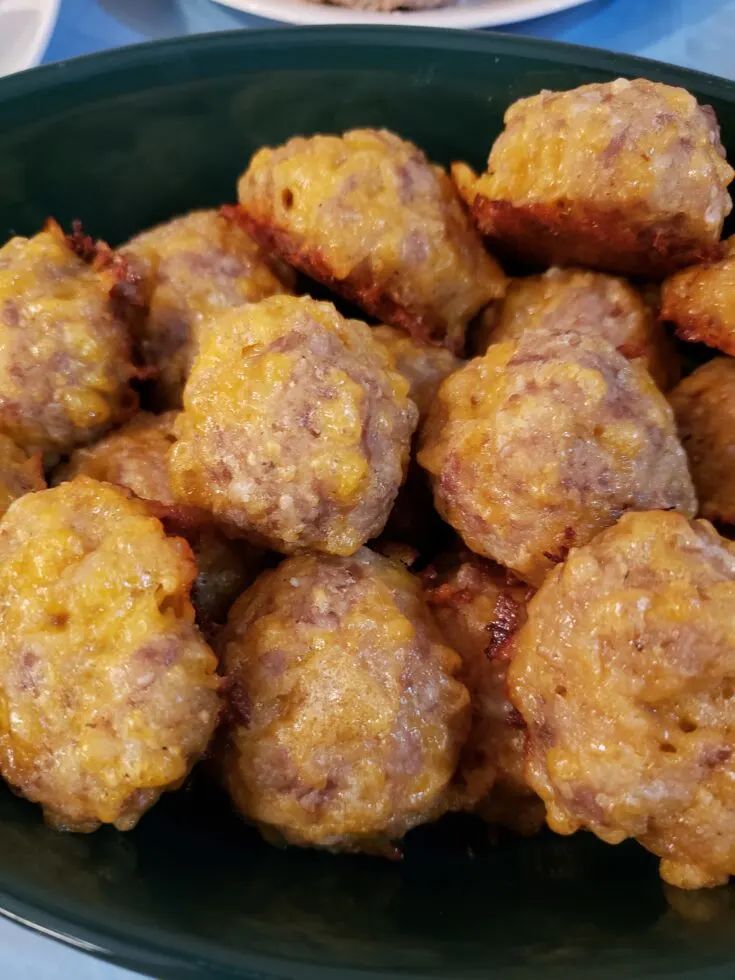 Source: myproductivebackyard.com
Tired of your good, old meatball recipe? Then, this one will be a fresh and delicious take on the classic!
Ground sausage combined with eggs, flour, and cheese, for delightful bites that you will love to top your pasta with. They also pair perfectly with grilled or sauteed veggies.
The recipe uses almond flour for a Keto-approved dinner. But feel free to use regular wheat flour if you don't mind the carbs.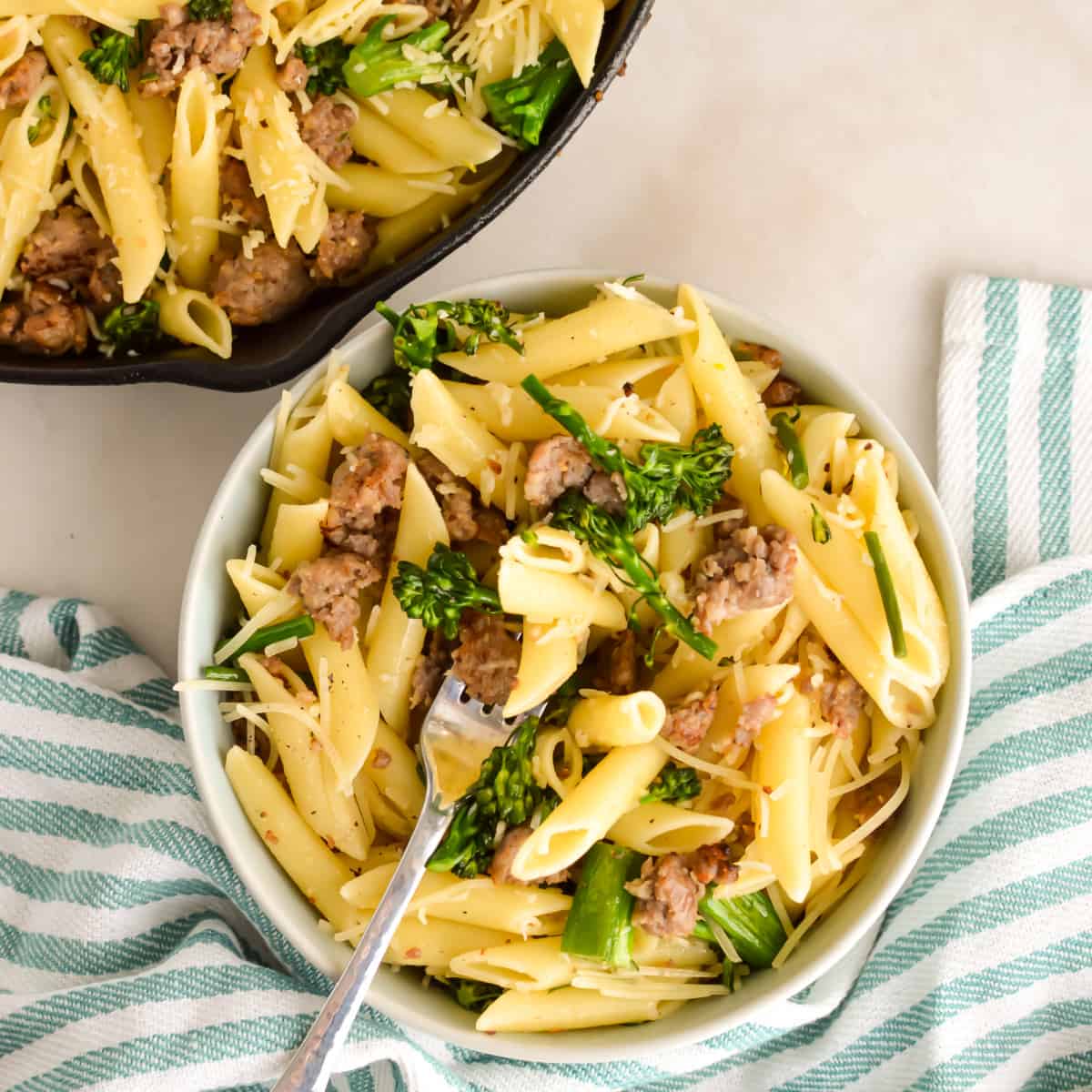 Source: jugglingactmama.com
Broccolini is a thinner version of broccoli that will be approved even by those who are not a fan of this green cruciferous veggie.
It is milder in taste. So, perfect for pasta recipes that do not contain heavy sauces.
With sausages, broccolini, garlic, and Parmesan cheese, any type of pasta will taste incredible.
The most delicious part, if you ask me, has to be the fact that the Parmesan cheese is melted. Yummy, yummy, and nothing but yummy!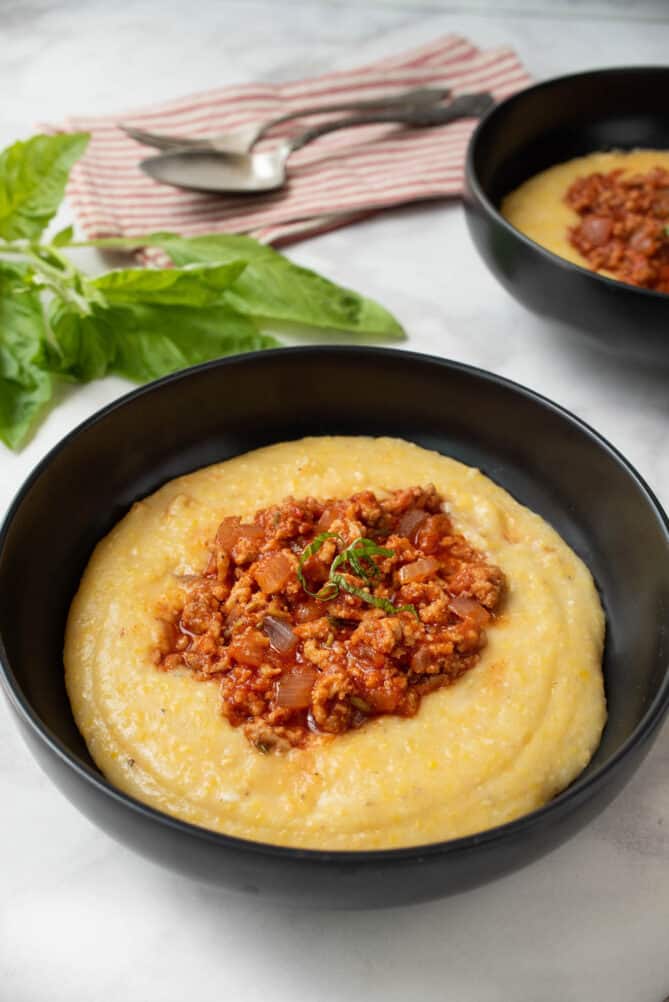 Source: culinaryginger.com
Cheesy polenta topped with saucy sausage mixture. All you need is a spoon. Or a fork, if you're that kind of eater. And there's absolutely no need to have something on the side.
The polenta is spiked with Asiago cheese, cheddar, and Parmesan. But it is really the sage and fennel-flavored sausage in tomato sauce that steals the show.
Source: theforkedspoon.com
Busy on a weeknight? Make this lovely pasta recipe!
Hearty, cheesy, and super lovely, this tomato, sausage, and cheese dish takes only 15 minutes to prep.
The waiting time is a painful 60 minutes, but once this comes out of the oven, you'll know just how worthy it is.
If you don't have Mostaccioli, use penne, macaroni, or any type of pasta you have on hand.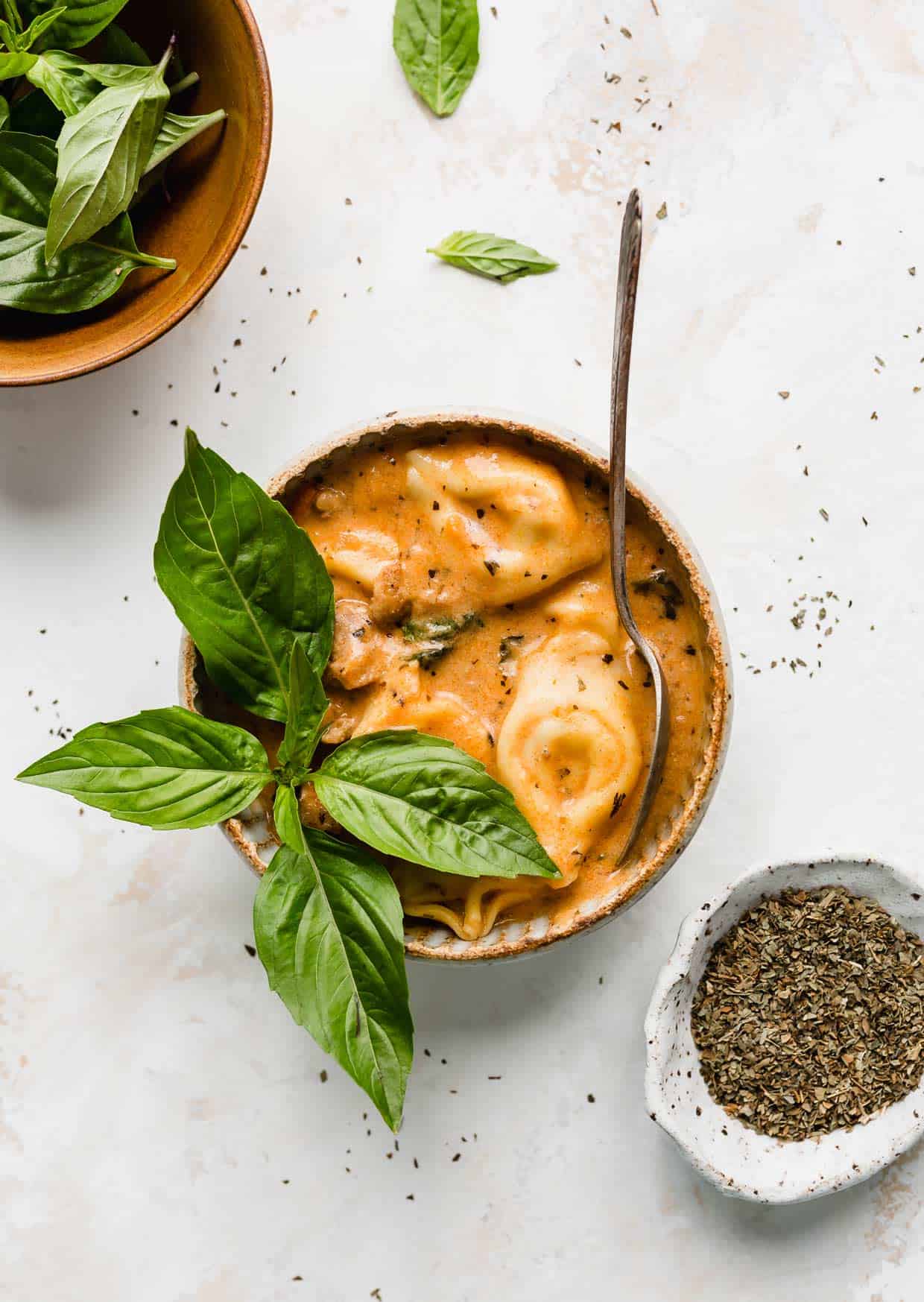 Source: saltandbaker.com
Soup for dinner, anyone? A filling and light way to wrap up your long and busy day. This tortellini soup is something you need to try.
Plus it is super creamy, satisfying, and loaded with nutrients.
With celery, carrots, onions, and spinach in a creamy sauce, anything will taste amazing. But this sausage and tortellini mixture is really something else.
The recipe uses half & half. But you can substitute with heavy cream if that's what your pantry is stocked with.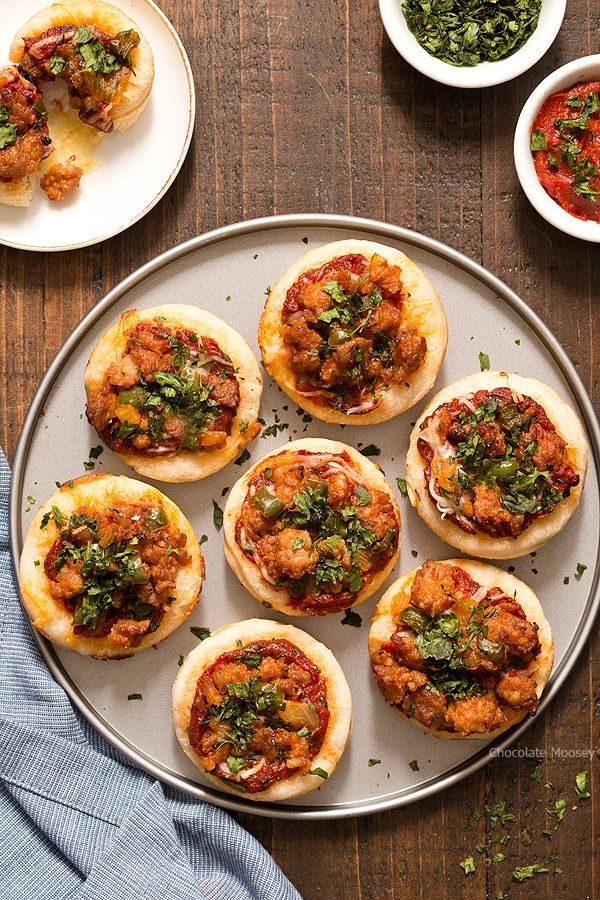 Source: chocolatemoosey.com
Tiny pizzas for dinner? Perfect for those looking to spend their night on the couch, having a bite, and watching TV.
The recipe uses hot Italian ground sausage, but feel free to use another kind if you're not into spicy food.
The pizza dough is cut and baked in muffin tins. So there's no fighting over who's taken the bigger piece!
You can even prep and freeze these bites ahead of time, so they are ready to be baked for a last-minute meal.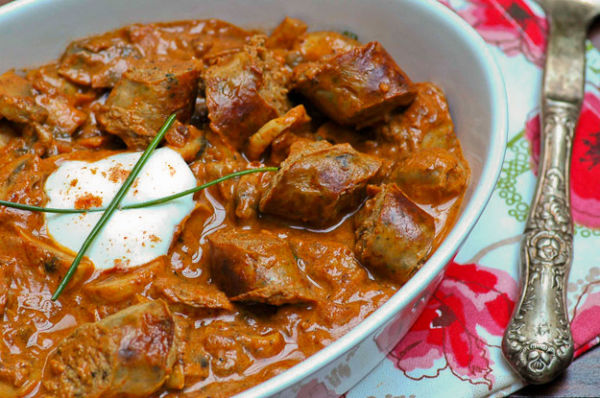 Source: mygoldenpear.com
Stroganoff is – and always will be – a classic and well-appreciated dinner choice. Everyone loves it. And I'm sure you have your favorite recipe.
But have you tried it with sausage?
It is saucy, creamy, meaty, and velvet-like delightful. It works well on pasta, rice, and on its own with some crusty bread on the side.
And unlike the classic recipe, this sausage version is ready in just 30 minutes.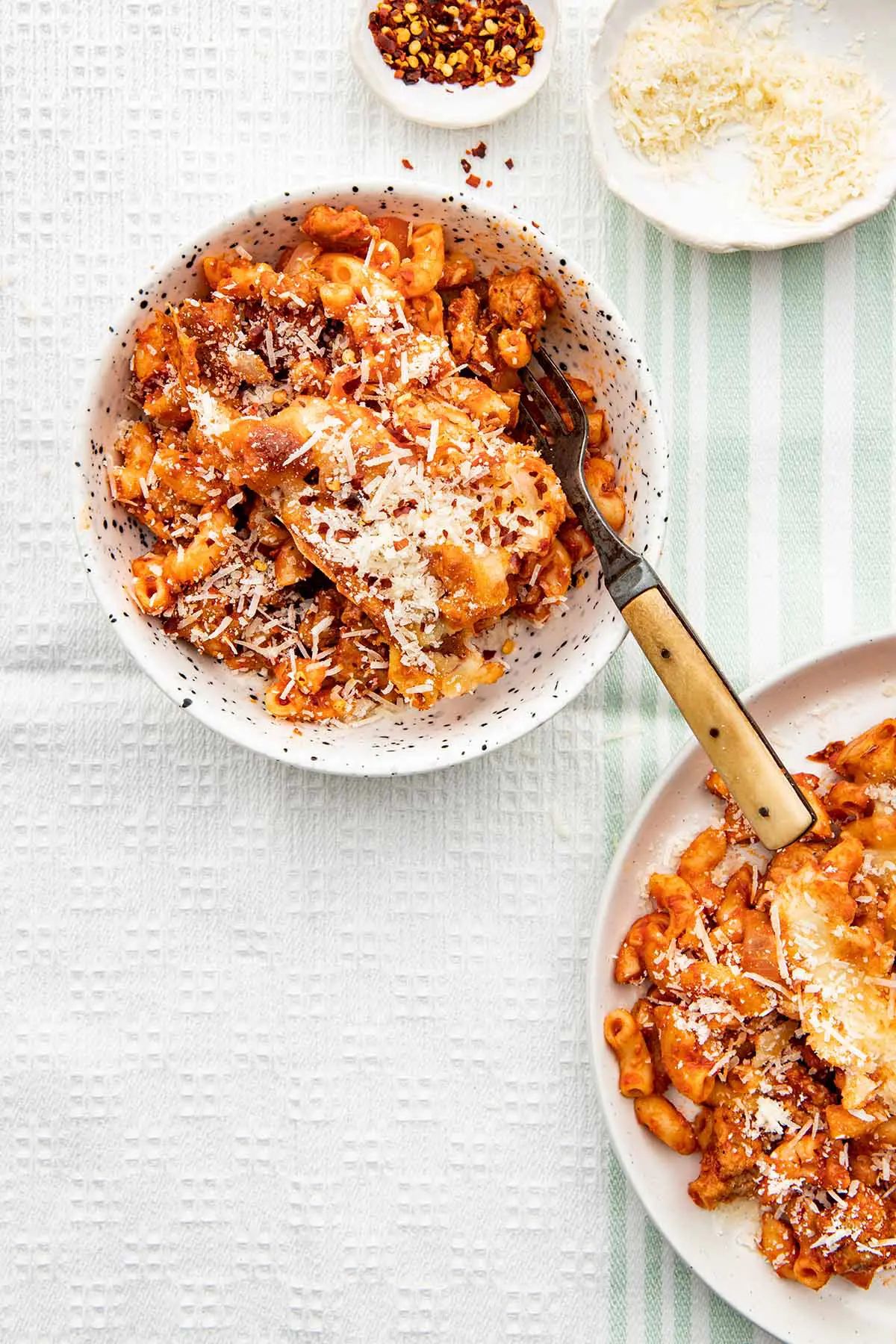 Source: kellyneil.com
Don't let the name fool you. This recipe is not a Hungarian stew. In fact, it is baked pasta with ground sausage and cheese.
In rich tomato sauce, this sausage and elbow macaroni mixture with mozzarella and Parmesan will be a beloved Italian meal on your table.
More flavorful than your regular ground pasta and with an extra touch of spiciness. How can you not love this macaroni goulash?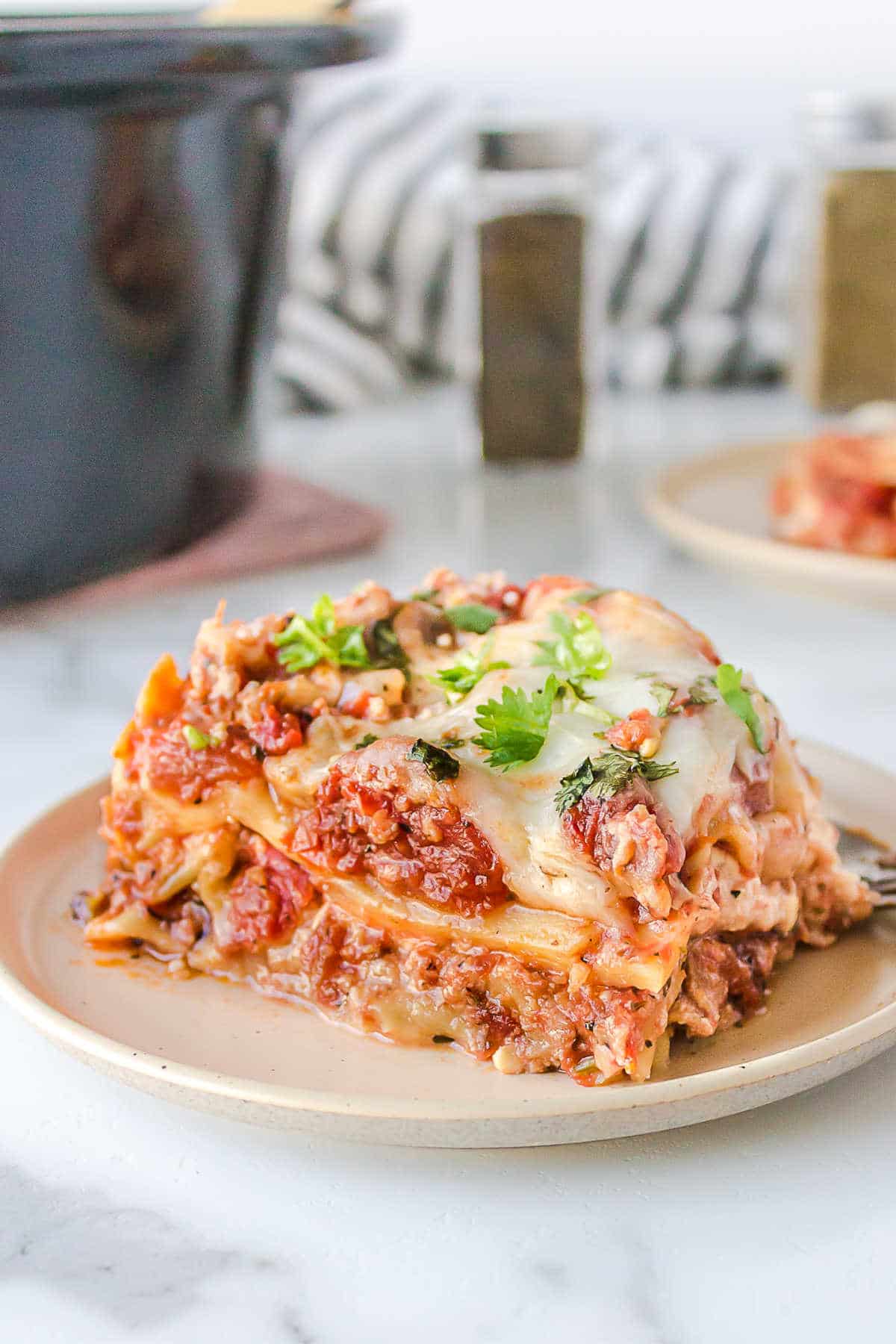 Source: ihearteating.com
I am a huge fan of lasagna. But I have to admit, I don't like all the work that comes with it. If you're anything like me, then you will fall in love with this recipe.
Much more convenient than the classic method, this crockpot lasagna is simple to make but equally delicious.
Make the sauce, arrange the noodles over, spread the cheese mixture over the noodles, repeat the process a couple of times, and put the lid on.
How easy is that?
This lasagna is one of the best Friday night dinner ideas for families.
Source: mychefsapron.com
Is spicy your idea of a comforting meal? Then this recipe is tailored to your preferences. Chorizos, sweet potatoes, onion, and peppers, in a flavorful tomato broth.
I love this with a bit of sour cream and crusty bread, but eating it on its own is also super delicious.
So comforting and warming. This has to be the most satisfying meal on a cold fall or winter night.
Besides, it is made in the Instant Pot. So you can just set-and-forget-it, and enjoy the delightfulness after 40 minutes.
Get more dinner inspiration with these best dinner ideas.
Healthy Ground Sausage Recipes
Pair fatty sausages with healthy ingredients, and there will be much less guilt. Here are the best recipes.
Source: therecipewell.com
Stuffed squash with sausages and veggies, and sprinkled with cheese. Then roasted to perfection! I don't know about you, but I'd eat this instead of steak.
Kale, bell peppers, celery, onion, and a vibrant orange squash. So colorful that even the pickiest kids will be tempted to take a bite.
And they definitely should. These squash slices are super nourishing.
Source: myproductivebackyard.com
Zucchini and sausages in a deeply nourishing bowl. Loaded with peppers, tomatoes, onions, and flavorful spices.
Also, it is low in carbs and without any gluten. So it's safe to say it is approved by the most restrictive diets.
So nutritious and delightful, this is destined to be a regular!
Feel free to add more veggies.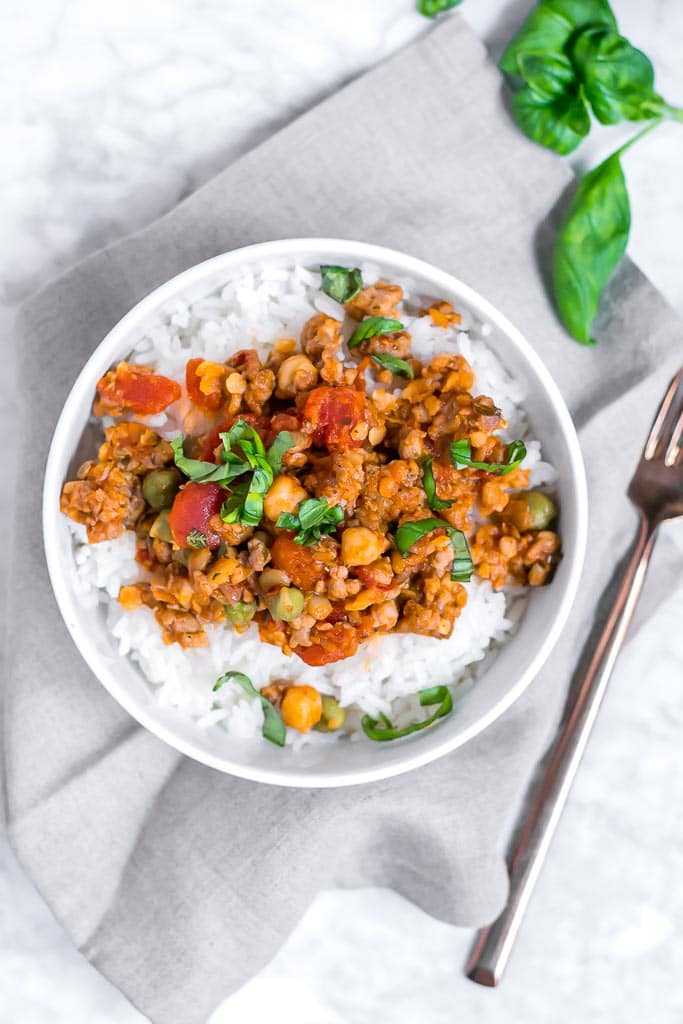 Source: adashofmegnut.com
Cooked rice and five more ingredients are all you need to make this easy weeknight meal.
Plus, 30 minutes from start to finish.
The recipe uses a packaged mixture of lentils and chickpeas, but you can use canned beans if you want to.
Source: asaucykitchen.com
Pumpkin chili for cozy and warm comfort food. Perfect for those cold days.
Satisfying. And not so harsh on the tummy.
Sausages, carrots, celery, tomatoes, pepper, and pumpkin puree. Including all of the tasty chili seasonings.
Serve with cornbread, and enjoy!
Source: umami.site
Lentil soup in the Italian style with sausages, veggies, and lots of spices.
If you're looking for a nutritious soup recipe, then this is it!
This soup combines spinach, mushrooms, fennel, carrots, leeks, garlic, and, of course, lentils and sausages.
It is hearty and nourishing, and it will instantly warm you up.
Source: mysequinedlife.com
Browned sausage, sauteed veggies, broth-deglazed flavors, plus sausages and orzo. With a generous mixture of spices, and spinach.
A comforting Italian meal to cheer you up after a long day. Great for year-round, this hearty soup is a real keeper.
I'd serve it with some bread for a full and super-filling meal.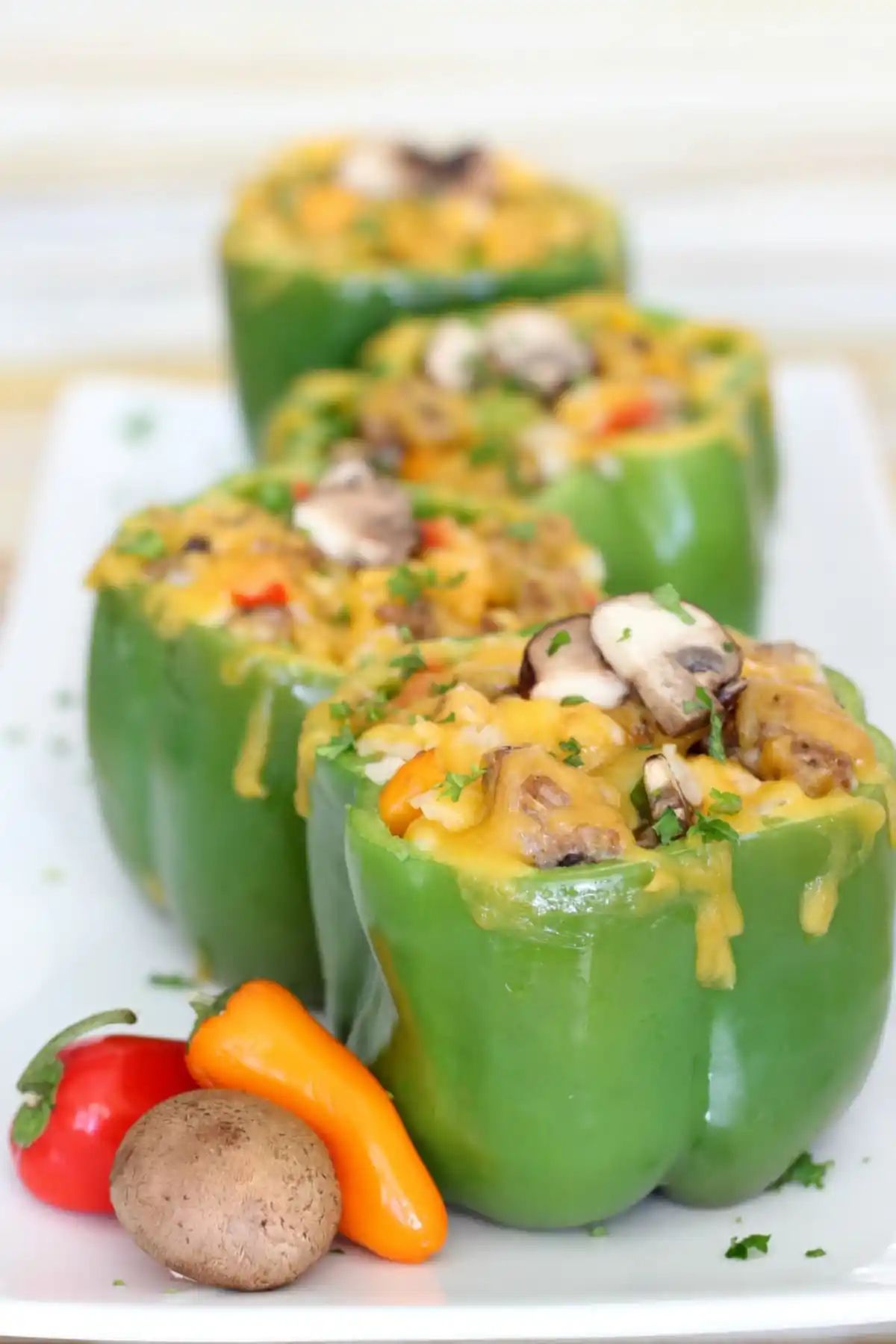 Source: funmoneymom.com
If you like stuffed peppers, I suggest you try them with sausages. They are just as tasty as your favorite ground-beef version. But with a bit of a kick that works with peppers well.
There are also mushrooms and rice in this recipe, so it is pretty filling and nutritious.
But the secret to its yummy flavor has to be the melted cheese on top.
Source: christinascucina.com
Silky, buttery, and so smooth on the tongue!
This recipe uses simple ingredients. But the taste is anything but ordinary. It is made with white wine, plenty of Parmesan cheese, and Italian sausage.
This creamy risotto is ready in just 30 minutes. Which is another huge plus.
You cannot help but flush it down with some wine.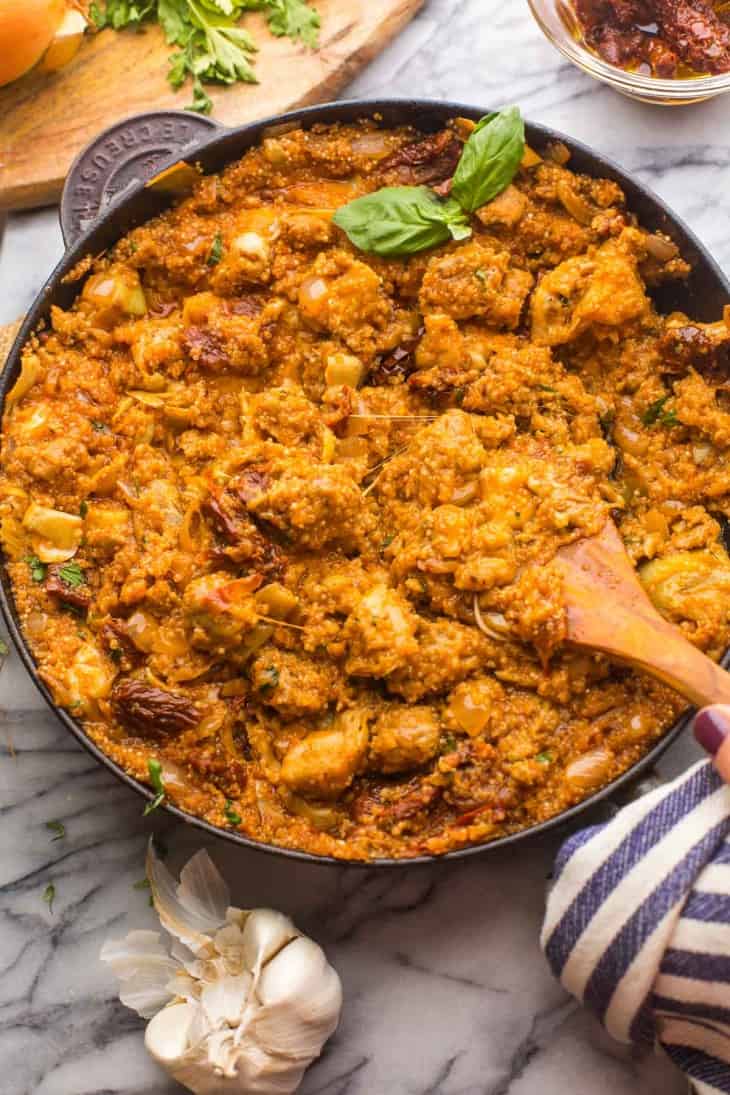 Source: asaucykitchen.com
Sausages and quinoa with artichokes, and tomatoes. How tasty and filling does that sound?
There is also a decent amount of onion and garlic. Which is what gives this dish a strong flavor.
The most delicious part, though? It has to be the mozzarella. It combines everything beautifully. I dare you to limit your portion to small. Not possible, I know!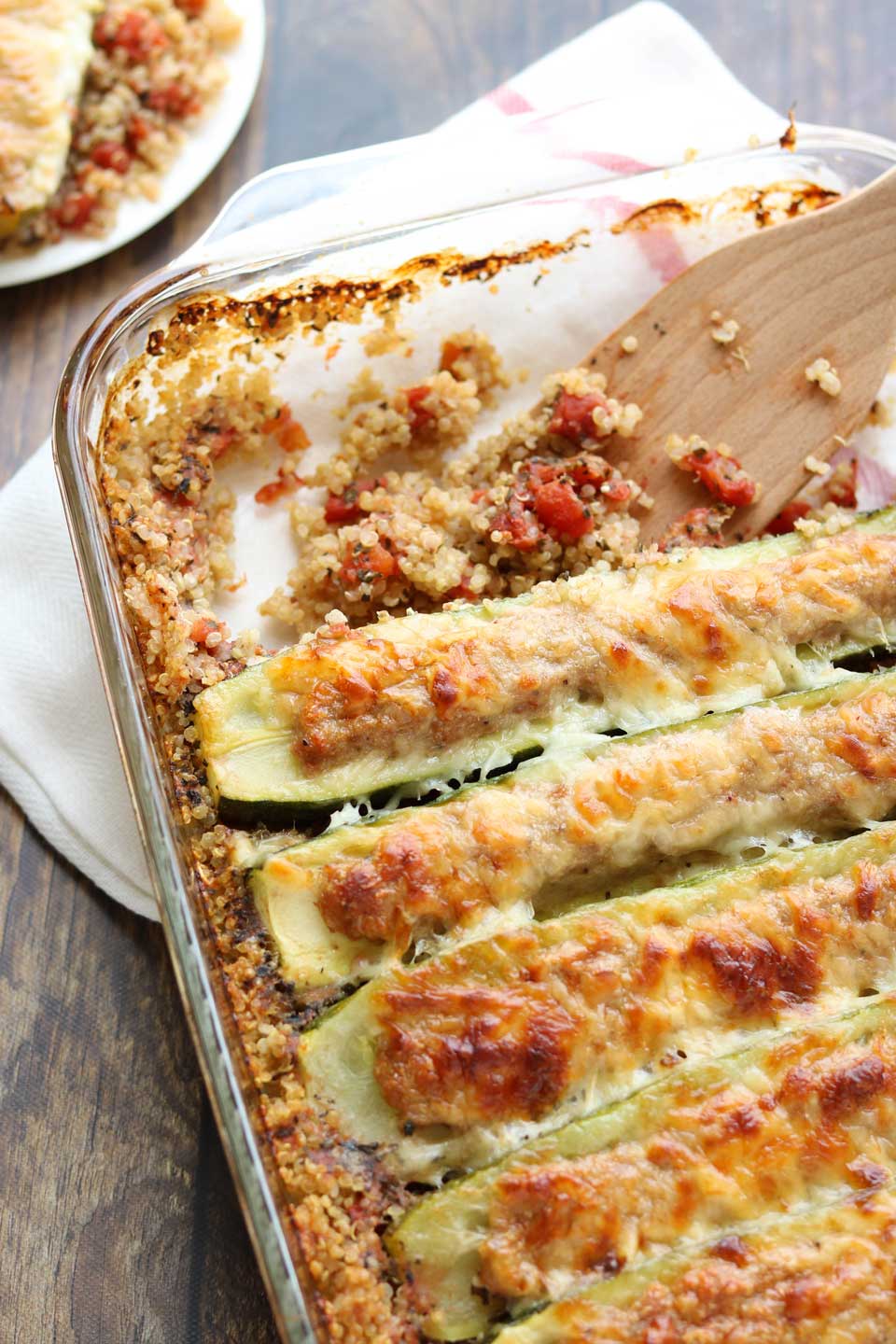 Source: twohealthykitchens.com
Zucchini boats, but in a different, much more filling way. A real casserole with quinoa, tomatoes, and sausage.
And yes, a generous amount of cheese, too.
Easy to make, well-seasoned, and super healthy. Your entire family will go crazy about this lovely recipe.
And the best part? It doesn't even need a side dish. Just serve as it is, and enjoy.
Have extra zucchinis from your garden? Make this Zucchini stir fry with garlic!
41 Best Ground Sausage Recipes (Easy and Delicious)
Learn about the best ways to cook with ground sausage. These ground sausage recipes will make a yummy dinner for the family.
Ingredients
1. Cornbread Chestnut Stuffing
2. Italian Sausage Tortellini Soup
3. Pasta Mostaccioli
4. Sausage Tortellini Soup
5. Sausage and Peppers Pasta
6. Keto Lasagna
7. Baked Spaghetti Casserole with Sausage
8. Sausage Cheese Bake
9. Sausage Stuffed Mushrooms
10. Sausage Bread Recipe
11. Biscuits and Gravy
12. Spicy Sausage Dip
13. Sausage Stuffed Potato Dumplings
14. Cheesy Baked Ziti
15. Sausage Arugula Mini Frittata
16. Sun Dried Tomato Gnocchi
17. Sausage and Broccoli Pasta
18. Cuban Sausage Pinwheels
19. Egg Sausage Hashbrown Casserole
20. Chicken and Rice Casserole
21. Grilled Ground Sausage Burgers
22. Sausage Balls
23. Pasta with Sausage and Broccolini
24. 3 Cheese Polenta with Italian Sausage
25. Mostaccioli
26. Tomato Tortellini Soup
27. Italian Sausage Pizza Bites
28. Sausage Mushroom Stroganoff
29. Goulash
30. Crockpot Lasagna
31. Sweet Potatoes and Spicy Chorizo Stew
32. Sausage Stuffed Acorn Squash
33. Sausage Zucchini Soup
34. One Pot Garbanzo Lentil and Italian Sausage
35. Chilli with Pumpkin
36. Italian Lentil Soup
37. Italian Sausage Soup with Orzo and Spinach
38. Mushroom Sausage Stuffed Bell Pepper
39. Italian Sausage and Mushroom Risotto
40. Italian Sausage Quinoa Casserole
41. Stuffed Zucchini Boats
Instructions
Scroll up to get a bunch of easy, yummy, and delicious recipes. Don't be afraid to get creative with the ingredients, you might discover a flavor you didn't know you liked.
Get your shopping list going and make sure you've got all the ingredients.
Get cooking and make your next Ground Sausage Recipe!
Notes
Which one of these recipes was your favorite? Let me know in the comment section or on Pinterest!